Content marketing is a significant avenue to consider for e-commerce businesses looking to improve their ROI. By creating and distributing high-quality, relevant, valuable content, businesses can attract and engage potential customers, build trust and credibility, and drive sales.
When executed effectively, your own content marketing strategy can be extremely cost-effective, as it can be used to reach a large audience without breaking the bank. Additionally, it can be a great way to differentiate your business from the competition, as most e-commerce businesses are not investing in content marketing.
If you're not yet using content marketing to promote your eCommerce business, now is the time to start. By creating and sharing quality content, you can increase your ROI and take your business to the next level.
Let's learn
What Is Ecommerce Content Marketing?
E-commerce content marketing is a vital strategy for any successful eCommerce store. It involves using eCommerce content marketing resources to create the best content for eCommerce, whether it's blog posts, infographics, videos, or images, all tailored to the specific products or services on offer.
The primary objective of this approach is to drive traffic to your eCommerce website and, ultimately, to catapult your content marketing efforts with smart content promotion that leads to increased sales.
Combining content marketing for eCommerce sites with other successful eCommerce strategies like search engine optimization (SEO) and social media marketing can be a game-changer. It's not just about creating content; it's about creating the best-rated content for eCommerce that resonates with your target audience. This way you can effectively showcase your products or services and establish yourself as an authority in your niche.
Content Strategy for Ecommerce
An effective content strategy is critical for any eCommerce business, as it plays a crucial role in attracting and engaging customers. To implement the best content creation for eCommerce, you must first understand your target audience's needs and preferences. What type of content will they find most valuable and engaging in the world of eCommerce content marketing?
Additionally, in the rapidly changing landscape of eCommerce, it's essential to keep your content fresh and up-to-date. Regularly publishing blog posts, articles, infographics, and other relevant content is a must. This approach ensures that your content remains aligned with the latest trends and developments, a key aspect of content marketing in eCommerce.
Furthermore, accessibility is paramount. To reach your target audience effectively, you should publish your best content on your website, social media channels, and other online platforms where your potential customers are likely to encounter it. By adhering to these practices, you can develop a robust content strategy for eCommerce that contributes to achieving your business goals.
Consider enlisting the expertise of an eCommerce content marketing agency or utilizing eCommerce content marketing services to streamline and optimize your strategy. They can provide valuable insights and assistance in crafting the best eCommerce content marketing strategy. Whether you're just starting or looking to enhance your existing content approach, understanding how to start content for eCommerce is vital for success in the digital marketplace. Contact our team at Comrade Digital Marketing for help.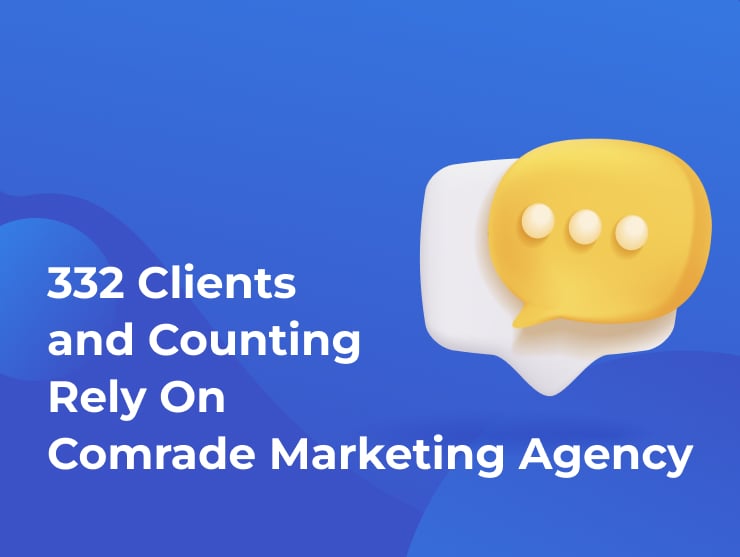 What Are the Greatest Ecommerce Content Strategies to Draw in New Consumers and Keep Existing Ones?
In such a competitive environment where the average attention span is eight seconds, the only way for brands to build and sustain relationships with loyal customers is to strategically create and curate content for eCommerce to maximize user engagement. From increasingly personalized ads to influencers, user-generated content, and the rise of commerce media, content marketing isn't going anyplace; it's just evolving.
Yet, smaller eCommerce sites are often hesitant to create an eCommerce content marketing strategy because it's not in their wheelhouse. And, it's okay. That's why marketing agencies like Comrade exist, offering content marketing services for eCommerce businesses. eCommerce businesses make between 30%-40% of their revenue from content marketing for eCommerce.
So, what are you waiting for? We'll teach you how to attract new customers and retain existing ones using the best eCommerce content marketing tactics, including franchise-generated content marketing SaaS, content creation for eCommerce, and eCommerce content strategy.


Success Stories
Delivering Business Results: Our Digital Marketing Case Studies
1/8 strategy
1. Write Comprehensive Product Descriptions
Before we get into traditional digital content creation, let's talk about underrated product descriptions. Potential customers are convinced or dissuaded to buy your products based on their description quality.
Descriptive, specific, and convincing descriptions that address customer pain points motivate readers to buy. Good product descriptions focus on features and benefits. They tell stories, answer questions, and target audiences using relevant keywords that build connections.
Consider all the questions your customers might have about your products and services, as well as reasons why they might not purchase them. Now, try addressing these in your product descriptions.
J.Crew's product descriptions are an outstanding example. Take one of their sandal descriptions, for instance:
"Introducing our new, elevated take on the sandal. With a comfy wedge sole, wear them on warm days with a sundress and bucket hat, and on breezy evenings in cropped pants and your favorite cashmere sweater. This pair features a cool soft metallic leather that goes with everything. This leather was sourced from a tannery that's certified by the Leather Working Group (LWG), an organization that works to promote sustainable environmental practices in the leather industry."
The brand inspires customers by suggesting what outfits to wear its sandals with (cross-selling) and assures conscious buyers of its sustainable business practices. See how the product description simultaneously sells the product and the brand itself?
Pro-tip: Never use generic product descriptions provided by suppliers as they're a major cause of duplicate content that's harmful to SEO.
Why Product Descriptions Matter for Ecommerce Content Marketing
When done properly, product descriptions have a positive influence on SEO. Including target keywords and crafting unique copy with customers in mind boosts organic traffic and increases the chances of getting product pages ranked on search engine results pages.
With an estimated 12 million -24 million eCommerce stores, the only way to rise above the sea of competitors is by having a solid content marketing strategy built on web copy that promotes differentiation.
Beyond that, the more detailed your product descriptions are the fewer questions your customers will have, and the higher the probability they'll buy from you.
Additionally, customers combing through your product descriptions spend more time on your website, which sends a positive signal to Google. Did you know the more cumulative time people spend on your website in comparison to your competitor's product pages, the higher your eCommerce website ranks?
2/8 strategy
2. Start a Brand Blog
Statistics suggest consumers read roughly 20 million blog post pages per month, so it's not surprising that over 50% of marketers prioritize blogging as their primary marketing strategy. As an essential part of most content strategies and inbound marketing, blogging builds trust, authority, thought leadership, and online engagement.
Content provided by blogging attracts customers because they don't feel like they're being sold to. Instead, this type of content marketing is welcomed by consumers for its educational and sometimes entertainment value.
How Helpful Content Can Attract Customers?
Let's hypothetically assume your eCommerce business, specializing in selling eco-friendly household products, has executed a content marketing strategy for eCommerce. You've published a blog titled "How to Clean Vinyl Countertops." Now, if a customer enters this query into Google Search, and your blog secures the top spot, they are highly likely to click on it.
Consumers who discover eCommerce companies through such means become organic leads, and there's no predicting or restraining the potential number of prospects who might convert into customers. This approach stands in stark contrast to classic marketing methods, which often disrupt prospects rather than offering them an open invitation to engage.
In our example, the prospect was actively seeking a solution to their problem, specifically learning how to clean a plastic countertop. While they might not have been directly searching for a product, upon reaching and engaging with your blog, an intelligent content strategy for an eCommerce website should strategically encourage them through a compelling call to action to explore your eco-friendly household products and make a purchase.
The Impact of Blogging on Search Engines
Companies with blogs receive 97% more inbound links, yet blogging's advantages extend beyond customer acquisition. Adding a blog to your eCommerce site drastically increases the amount of content it contains and the number of valuable backlink opportunities.
Consider this: You want your eCommerce website to rank high on Google search results (SERPs). However, even an optimized website won't have enough keywords to remain at the top of SERPs forever.
Consumption trends change, and what users type into Google today won't be the same in a year's time. Hence, the way to stay relevant without constantly updating your website copy with new keywords is via blogging and implementing effective content marketing campaigns.
The more high-quality content you publish, and the emphasis here is on high-quality, the more pages Google has to index, which ensures your eCommerce site is relevant and continues to maintain or improve its position in SERPs.
3/8 strategy
3. Invest in Video Marketing
Online videos comprise 82% of all consumer internet traffic. Thanks to YouTube, TikTok and Reels, 78% of customers say they prefer learning about a product or service by watching short videos.
Since there is a magnitude of information already online, today's customers engage differently and already know what your products and services do. When they choose to watch a brand's how-to videos, it's to understand a product's finer details and determine if it meets their needs and suits their lifestyles.
How Video Marketing Affects Social Media and Google Promotion
Well-placed videos can increase conversions by 80%! For a comprehensive eCommerce content marketing strategy, it's essential to recognize that YouTube videos can be deployed effectively across various channels, including social media platforms, emails, and even WhatsApp. FYI: Consumers are twice as likely to share videos than any other type of content, underscoring the importance of a robust content strategy for eCommerce.
When Google displays a video thumbnail in SERPs, which it reportedly does for 26% of search results, users are more likely to click on that listing. This signifies that an effective content marketing strategy for eCommerce website should incorporate video content. Additionally, although not officially confirmed by the search engine, there's evidence to suggest that Google tends to rank eCommerce websites with embedded videos higher.
For those eCommerce companies seeking guidance on creating compelling video content, they no longer have to adhere to the "one great ad" approach. In the contemporary digital landscape, characterized by highly fragmented audiences, there exists a significant opportunity to develop targeted ads for each audience segment.
You should consider collaborating with a specialized eCommerce content marketing agency to harness the potential of top-notch content creation for eCommerce and refine your eCommerce content strategy.
Ready to unlock the full potential of video marketing for eCommerce? Contact Comrade Digital Marketing Agency today! Schedule a free consultation.
The Real Benefit of Video Content Marketing for Ecommerce
Because Google owns YouTube, videos with SEO will stand a higher chance of ranking for target keywords, especially in the context of content marketing eCommerce. Besides Google, YouTube is one of the most popular search engines in the world. When you embed YouTube videos on your website, you increase content views and marketing ROI.
Again, videos improve the time people spend on your eCommerce website, which is a vital aspect of content marketing eCommerce. Also known as dwell time, this is a strong content quality indicator for Google to rank your site higher. Creating video content builds a connection with your customers and visually highlights the value of your products in a superior way to text and even images within the realm of content marketing eCommerce.
A pro video marketing tip: How-to videos offer a better user experience, especially when it comes to explaining complicated products. The human brain is visually wired, so it's easier for consumers to understand a physical demonstration than a written explanation.
We advise subtitling your videos for improved performance on social media. People watch videos in settings where they can't play audio, such as at work or in public spaces, and will only continue watching with subtitles.
This brings us to another video marketing advantage: product videos. Video-first marketing plays a convincing salesman role for brands as leads venture through the customer journey from consideration to purchase stages.
Product Videos
High-quality product photos are now a prerequisite, relegated to the lowest hanging fruit of content marketing tactics. It's video that catapults buyers from hesitancy to buying. In the eCommerce world, customers don't always have the luxury of going to a store and seeing products in person, so the more tools you use to convince them of a product's quality and value, the higher your conversions.
Product videos range from the high-gloss commercial type to low-key DIY videos. Both serve different purposes and can be equally effective. Shooting product videos as part of your content marketing strategy also increases your video marketing ROI because you can publish these videos to your YouTube channel and product pages.
4/8 strategy
4. Create Helpful Buyer's Guides
A buyer's guide helps your customers make a purchasing decision by providing information about a product such as functionality, size, maintenance, price, and different features between models or brands. They're helpful for selling high-ticket items like furniture and appliances or products a buyer may not have purchased before.
Most people have anxiety when buying high-ticket items, and don't want the burden of returning products. They'd much rather make a purchase decision and never have to worry about it again. This is where buyer's guides are advantageous content marketing assets that educate your target audience and convert them into actual buyers.
Some tips to help you create SEO-friendly buyer's guides:
Be honest and balance the pros and cons as fairly as possible. Potential customers will be skeptical of overly negative or positive write-ups
Include relevant keywords to boost your rankings in SERPs.
Guides can be standalone pages or gated and used for lead generation, so consider how you want them to fit into your content marketing strategies.
Write with your target audience in mind, and avoid complex jargon.
Another consideration is where your buyer's guide fits into the sales funnel. A top-of-the-funnel guide positions your brand as an expert, a middle-of-the-funnel guide prompts customers to sign up, call or find out more, and a bottom-of-the-funnel guide helps customers make a final decision before purchasing.
5/8 strategy
5. Implement Retargeting Campaigns for Abandon Shopping Carts
Abandoned cart emails are a series of emails sent to re-engage potential customers who abandon their shopping carts, leaving items inside instead of checking out. For every 100 website visitors, 70 of them will exit your eCommerce store without purchasing anything.
From high shipping rates to virtual window shoppers, numerous factors contribute to abandoned carts. It's stock-standard; however, you always want to reduce the number of abandoned carts as much as possible.
Therefore, emails sent within the first hour of cart abandonment perform best. It's possible to set up a campaign trigger to email customers instantly after they abandon carts. The point is to remind and educate them about why they wanted the product in the first place and convince them to buy it.
Best Practice for Email Content Marketing Success
Even if you have a steady stream of organic search traffic, it makes sense to capture as much revenue as possible. An abandoned cart email campaign can skyrocket cash flow.
Provide a Summary of Cart Contents
Images are important sales drivers. Providing a strong visual cue, along with key information and the price reminds prospective customers about the items they were interested in buying. If shoppers abandon multiple items, it's better to prioritize higher value products or those the shopper is more likely to buy.
Insert Clear Calls to Action (CTAs)
As a general rule of thumb, your calls to action should be placed as high as possible, be large and easy to see, and repeated throughout the email. Using a button with contrasting colors rather than a hyperlink can increase conversion rates by as much as 28%.
Send in Cycles
A key email content strategy is to send more than one automated reminder, usually three, with adapted messaging. First-cycle emails should remind shoppers of the items they abandoned, second-cycle emails can add urgency and third-cycle emails might focus on providing reviews or discounts to encourage buying.
6/8 strategy
6. Invest in Email Content Marketing
95% of the time eCommerce stores send one confirmation follow-up email to customers once they make a purchase and that's the end of their email eCommerce content strategy. They expect customers to make repeat purchases, but they do little to maximize their customer return rate or develop loyal customers.
Email marketing is one of the best ways to cultivate and nurture customer relationships. Using it as a content marketing strategy keeps your brand top-of-mind. Customers tend to appreciate this type of marketing because it isn't invasive and provides value, which is key.
Your email campaigns must add something to their lives and not just be a slew of endless promotions. Another benefit of email marketing is it helps create a strong brand identity in your customer's inbox and is a smart content marketing tactic to grow brand awareness.
How to Write an Effective Ecommerce Email
Every email should have one goal and a clear call to action. Remember, a typical campaign consists of a couple of emails, so you don't have to cram everything into the first one.
While eCommerce emails come in various forms from product launches to welcome messages, referral rewards, and more, they are usually:
Concise, to the point, and focus on a theme or topic;
Contain a combination of attractive images and compelling content; and
Provide links to product pages or relevant content to promote customer engagement.
Emails are also great for promoting the content you've created like guest posts, customer stories, or YouTube videos. Many eCommerce brands include email newsletters as part of their content marketing efforts. Sending a recurring email to subscribed contacts with curated content from discounted offers to news articles and tips is a good tactic to grow customer relationships and drive sales.
Content Marketing Strategies for Email
50% of your email content should be educational, 35% should be entertaining, and 15% should emphasize sales. Focussing too much effort on promotion stops your brand from leveraging the full benefits of email.
When building brand loyalty, you want customers to fall in love with your brand, and its ethos, so they buy your products time and again. To accomplish that, you have to educate and entertain them, and then pitch something that's relevant to your content marketing campaign.
Dollar Shave Club has some excellent eCommerce content marketing examples on the entertainment front. Their hilarious commercials are effective and intelligent. You can do the same thing with your digital marketing campaigns. Even if your brand isn't humorous, you can still find tons of examples online to draw inspiration from.
7/8 strategy
7. Use Instagram Stories to Market Customers
97% of Fortune 500 companies rely on social media to connect with customers. Over the past twenty years, social media marketing has become an integral part of digital marketing. Each platform comes with specific integrations, helping eCommerce companies build communities around their brands.
Instagram and Facebook stories are incredibly effective eCommerce content marketing channels. You can literally post anything you want without worrying about your brand's aesthetic, although eCommerce fashion and retail brands tend to consider this a great deal.
The point is, Stories give you the freedom to experiment with different content in a way that keeps your brand fresh and makes followers come back for more. You can also direct followers to purchase products on your website or set up an eCommerce store on Instagram.
Studies indicate that 30% of Instagram users become more interested in brands and products after seeing them in Stories. Instagram stories make audience engagement easy. You can create content by asking questions, running polls, and sharing user-generated content your brand is tagged in.
So, essentially, while you're publishing content and spreading brand awareness, you're also getting valuable audience feedback that helps you understand who your customers are and what they want from your eCommerce brand.
Other advantages of Stories:
Because Instagram Stories vanish within 24 hours, they're great for promoting flash sales and creating a sense of urgency that encourages impulsive buying.
They can be made with minimal resources.
Stories are ephemeral (unless you save them to highlights) and help brands remain fresh, flexible, and creative.
Ultimately, you want to reach and interact with customers through every digital channel they use, and Instagram is one platform where content marketing for eCommerce can be highly rewarding for visually inclined businesses looking to expand reach and engagement.
8/8 strategy
8. Repost User-Generated Content (USG)
User-generated content (USG) has been around as early as 2005, but it's only since social media networks became mainstream, and their content-sharing functionality improved that brands adopted USG.
User-generated content establishes greater trust between brands and customers because it's made by real customers and not ad executives dictating what the content should be like.
The Nielsen Consumer Trust Index found that 92% of consumers trust organic, user-generated content more than they trust traditional advertising.
It works phenomenally well because:
It gives you free content marketing material to post on your social media.
It builds loyalty with the customers who create the content.
It helps customers see how other people are using your products and thus convinces them to buy those products, too.
Lastly, it's vital to remember every piece of valuable content you create must have a call to action. Think of it as the Golden Rule of eCommerce content marketing.
Call to Action
Your call to action could be to buy a product from your eCommerce company, read your website's blog filled with content ideas, download a form from your online store, fill in a survey to redeem a promotion, etc. No matter what you choose, developing an effective content marketing strategy is crucial. The ultimate goal of content marketing is conversion, be it through purchasing products from your online store, reading informative how-to articles on your blog, or engaging with your amazing content. If there is no call to action, that won't happen.
And if there is no conversion, there is no sale, and then what's the point? Common content marketing mistakes often involve neglecting clear calls to action. You must have calls to action in your content, even for social media posts, with the exception of Stories (which should at least feature a hashtag, social media handle, date of an important event, or something else engaging). Creating exceptional content is your ticket to success in the world of online stores.
Not sure how well your content marketing strategy works?
Develop Your Content Marketing Strategy
So, now that you know more about eCommerce marketing, here's the next step: Assess whether content creation is something you should do in-house or if it's better to hire a full-scale digital marketing agency like Comrade to take care of your content marketing needs.
We can develop a customized strategy to help your eCommerce business attract more customers and increase your average order value and customer return rate. From experience, we know most brands love having the expertise that comes from hiring an agency and the subsequent ROI they receive from improving their eCommerce marketing efforts.
Our marketing team would love to hear from you, and if we're not the right fit, you'll still walk away with a recommended eCommerce content marketing plan free of charge.