You own a small law firm and want to compete with the larger players in your market. What can you do better than established law firms? How do you find a competitive advantage among so many other firms? What is the best business development strategy to help your firm increase revenue? To help you market your small law firm, we want to tell you about 12 steps that will help you challenge the Goliaths of the industry.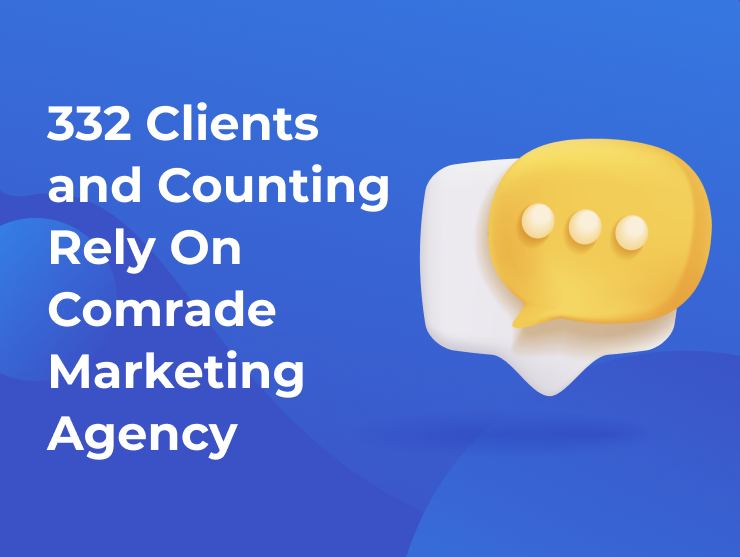 Success Stories
Delivering Business Results: Our Digital Marketing Case Studies
12 Steps to Grow Your Small Law Firm
1/12 step
1. Create a Law firm Marketing Strategy
When it comes to website marketing for lawyers, the first and foremost strategy is to have a marketing plan. Many law firms know they require one, but many do not write it down. Having a plan will determine which marketing tools and marketing tactics you need to rank higher in search engine results pages (SERPs).
According to the U.S. Small Business Administration, only 56% of small law firms and solo practitioners have marketing plans. It is vital to have one. The appropriate legal marketing plan guides you in the right direction, so you can focus on your paying clients
Does your law firm have a legal marketing plan for growth in 2023?
---
2/12 step
2. Build a Well-Designed Law Firm Website
Once you have a law firm SEO marketing plan, you must start with the end in mind. That's why $500K attorneys rely upon a quality website as part of their marketing efforts. Having a great site is the foundation of marketing for small law firms, and drives suitable prospects from your various traffic sources.
Law firm websites are the digital equivalent of walking into an office. Even small firms should have a well-designed site that highlights their practice areas while adhering to general and local SEO best practices.
Think about it this way: You shouldn't really invest marketing dollars in social media ads or content video content, for instance, until you're happy with your website. Once it showcases your firm in the best light, then you can ramp up your marketing efforts to rank higher online.
According to an Imarc Agency, 70% of law firms generate sales from their law firm website. You cannot compete today against larger firms, or get new clients, without having a quality one.

Need a high-performance website for your company?
Book a 15-min call to discuss
---
3/12 step
3. Pay Attention to Search Engine Optimization (SEO)
Search Engine Optimization (SEO) is a crucial aspect of marketing for small law firms as it can help improve website visibility, increase organic traffic, and ultimately save money on paid advertising. SEO involves optimizing your website and content to rank higher in search engine results, making it more likely for potential clients to discover your firm online.
Understanding the fundamentals of SEO is essential, including conducting keyword research and optimization. By identifying relevant keywords and incorporating them strategically into your website's content, meta tags, headings, and URLs, you can increase your chances of appearing in search results for specific legal services or areas of expertise. This targeted approach helps attract potential clients actively seeking legal assistance.
To maximize the use of SEO, small law firms should also focus on creating high-quality, informative blog posts, articles, and videos. By consistently producing valuable content that addresses common legal questions or concerns, you can position your firm as an authoritative resource in your practice area. Our team always stresses to our legal clients the importance of creating informative and relevant content.
Optimizing these pieces of content with relevant keywords and promoting them effectively can lead to increased website traffic, improved search rankings, and potential client conversions.
Improving website visibility and rankings through SEO can significantly benefit small law firms, allowing them to save money by reducing reliance on expensive paid advertising methods. By implementing effective SEO strategies, small law firms can increase their online presence, attract relevant organic traffic, and position themselves as go-to legal experts in their respective practice areas.
---
4/12 step
4. Claiming Your GMB (Google My Business) Account
Setting up your Google Business Profile(GBP)/Google My Business (GMB) account is a crucial step in marketing for small law firms, as it can help save money and solve various problems. GBP allows you to establish a strong online presence and connect with potential clients in your local area. Here's how to set up your GBP account effectively:
Claim your listing: Start by claiming your GBP listing if it already exists. This ensures that you have control over your firm's online information and can manage it proactively. If a listing doesn't exist, you can create a new one.
Provide accurate information: Fill in all the necessary details accurately, including your firm's name, address, phone number, and website. Consistency is key, so ensure that this information matches what you have on your website and other online directories. Providing accurate information increases your firm's visibility and credibility.
Choose relevant categories: Select the most relevant categories that describe your firm's practice areas. This helps potential clients find you when they search for specific legal services in your local area.
Add a compelling firm description: Write a concise and compelling description of your small law firm. Highlight your expertise, unique value proposition, and what sets you apart from competitors. This description serves as a valuable tool to attract potential clients and convince them to choose your services.
Upload high-quality images: Enhance your GBP by uploading high-quality images of your office, team members, and any other visually appealing aspects of your firm. Images add credibility and give potential clients a glimpse into your firm's professionalism and environment.
Setting up your GBP is an effective way for small law firms to save money on traditional advertising methods and increase their online visibility. By providing accurate information, choosing relevant categories, adding compelling descriptions, and uploading engaging images, you can effectively showcase your firm's expertise and attract potential clients in your local area. GBP is a powerful marketing tool that helps small law firms grow their client base and solve the problem of limited visibility in a cost-effective manner.
---
5/12 step
5. Register in Relevant Legal Directories
Another way to drive quality traffic to your law firm's website is through legal directories.
Legal directories like Avvo and Lawyers.com already have a steady stream of potential clients who may want your law firms' services.
Your job on these directories is to get positive client testimonials from past clients and provide answers that help potential clients make up their minds if they want to use your legal services. The more helpful your answers are, the more you increase quality client intake.
---
6/12 step
6. Start a Content Marketing Campaign
Once you have a quality website, you should focus on creating your thought on search engine-friendly leadership pieces.
As an attorney, you want your clients to look at you as a trusted advisor. For them to trust you, they need to know you understand your business. You do this in two parts.
First, get testimonials and previous client work. Second, back up work with quality blog posts, articles, white papers, e-books, case studies, and other content pieces.
Your law firm marketing strategy should demonstrate your thought leadership to target clients, drive organic traffic from Google, and increase your social media following.
---
7/12 step
7. Manage Your Social Media Marketing
Social media marketing is a powerful tool for small law firms to increase their online presence, engage with their target audience, and generate leads. By effectively managing social media marketing, small law firms can save money on traditional advertising while solving common marketing challenges. Here are key elements to consider when managing social media marketing for your small law firm:
Choosing the right social media platforms: Identify the social media platforms that align with your target audience's demographics and preferences. Focus on platforms like LinkedIn, Facebook, Twitter, or Instagram, depending on where your potential clients are most active.
Creating engaging and relevant content: Develop compelling content that showcases your expertise and addresses the legal needs and concerns of your audience. Share informative articles, legal tips, case studies, and relevant industry news to establish yourself as a trusted authority in your field.
Building a social media strategy: Set clear goals and objectives for your social media marketing efforts. Create a content calendar, plan regular posts, and consider utilizing tools for scheduling and automation. Incorporate a mix of educational, promotional, and interactive content to keep your audience engaged and foster relationships.
Utilizing social media for networking and referrals: Leverage social media platforms to connect with other legal professionals, join industry-related groups, and participate in discussions. Engage with your audience by responding to comments, direct messages, and inquiries promptly. Encourage satisfied clients to share their positive experiences and refer others to your firm through social media.
By effectively managing their social media marketing, small law firms can increase brand visibility, attract potential clients, and build a network of referrals. It allows you to establish yourself as an authoritative and trusted legal resource, all while saving money compared to traditional advertising methods.
---
8/12 step
8. Start Working on Referral Programs and Networking
Referral programs and networking are invaluable strategies for small law firms to save money and solve common challenges. By developing a robust referral program, you can leverage your existing client base to generate new business.
Encourage satisfied clients to refer friends, family, and colleagues to your firm, offering incentives such as discounted services, referral bonuses, or exclusive benefits. Word-of-mouth referrals have a high conversion rate and can significantly reduce your marketing expenses while bringing in quality leads.
Networking is another powerful tool for small law firms to expand their reach and establish valuable connections. Attend local business events, industry conferences, and seminars to connect with other professionals, including lawyers, accountants, real estate agents, and business owners.
By building relationships and collaborating with professionals in complementary fields, you can tap into their networks and gain access to a broader pool of potential clients. Networking not only helps you generate new leads but also enhances your reputation and credibility within the legal community.
Implementing effective referral programs and investing time in networking activities can yield long-term benefits for small law firms. By tapping into existing relationships and building new connections, you can save money on traditional advertising and marketing efforts while expanding your client base and establishing a strong presence in your local legal community.
---
9/12 step
9. Remember about Online Reputation Management
Online reputation management is a critical aspect of marketing for small law firms. Your firm's reputation directly impacts potential clients' perception of your services, credibility, and trustworthiness. By actively managing your online reputation, you can save money by attracting more clients and minimizing the risk of reputational damage. Here are key points to consider:
Monitor online presence: Regularly monitor online platforms, including review websites, social media, and legal directories, to stay informed about what clients are saying about your firm. Utilize online monitoring tools or set up Google Alerts to receive notifications whenever your firm is mentioned online.
Respond to reviews: Engage with both positive and negative reviews. Responding to positive reviews with gratitude and appreciation shows your dedication to client satisfaction. For negative reviews, address concerns professionally, offering to resolve the issue privately. By actively responding to reviews, you demonstrate your commitment to client feedback and build trust with potential clients.
Request reviews: Encourage satisfied clients to leave reviews on platforms like Google, Yelp, or legal-specific directories. Positive reviews act as social proof, influencing potential clients to choose your firm. Consider implementing strategies like follow-up emails or including links to review sites in your communication to make the review process easier for clients.
Leverage testimonials: Display testimonials from satisfied clients on your website and marketing materials. Testimonials provide powerful endorsements of your firm's expertise and can persuade potential clients to choose your services over competitors. Seek permission from clients to use their testimonials and ensure compliance with legal and ethical guidelines.
Maintain consistency: Ensure consistent branding and messaging across all online platforms. Maintain accurate contact information, firm descriptions, and service offerings. Consistency builds trust and makes it easier for potential clients to recognize and remember your firm.
By actively managing their online reputation, small law firms can attract more clients, enhance credibility, and save money in the long run. Building a positive online reputation contributes to a strong marketing foundation, allowing your firm to stand out in a competitive landscape and increase client acquisition.
---
10/12 step
10. Invest in Paid Advertising for Small Law Firms
Many small law firms include paid advertising as a part of their marketing mix. Driving organic traffic from Google and social media is great. However, it could take six months to establish a substantial presence in Google searches. Most small law firms don't have the resources to wait for search engine optimization to start generating more clients.
More than likely, you need business now, which is why you should invest in advertising, such are search engine marketing campaigns and social media marketing. It is not an instant fix, but the right mix of copy, images, and offers can help your firm. Setting aside a marketing budget to achieve these short-term marketing tactics is highly recommended.
---
11/12 step
11. Start a Lawyer Email Marketing Campaign
More than likely, as an attorney, your target audience won't require your services right away. Instead, they want you when they are in a legal jam.
Therefore, it is beneficial to keep yourself on top of mind with prospects. The best way to do that is through a regular newsletter.
You can combine this newsletter with the content you created in step three. The key is to create entertaining and informational pieces for your newsletter on a monthly basis.
By doing this, most law firms build a relationship with prospects over time. Then, when they require your services, they can keep you top of minds.
---
12/12 step
12. Look Out for Different Opportunities
Your law practice doesn't have to be large to start leveraging the power of your team to execute your marketing plans. You need a few dedicated attorneys willing to work on marketing your law firm's brand and marketing methods. If you can get a handful of attorneys and staff members, then you can leverage this team to implement your law firm marketing strategy.
What you need to do is train these people to search for the appropriate opportunities on different marketing channels, so they can action your marketing plan.
Attract
more leads
to your law firm
Final Thoughts
Is it difficult to compete as a small legal firm amidst bigger law firms for prospective clients? Of course, it is! But, that shouldn't discourage you from reaching your marketing goals. Remember, marketing efforts are geared toward creating a sustainable law firm.
If the right digital marketing strategy is well executed, you will see results, no matter what the size of your law firm. If you are ready to grow your firm with online marketing that brings in new business, then contact us today for more marketing information.
Frequently Asked Questions
What is a good profit margin for a small law firm?
A small business's profit margin usually ranges from 7% to 10%, but many law firms' profit margins are around 20% and 30% after per equity partner (PEP) fees are deducted. A law firm's structure and size determine these figures.
How much do small law firms spend on marketing?
Marketing should be budgeted at 7%-8% of gross revenue, according to the U.S. Small Business Administration. Most law firm management consultants recommend law firms spend between 2% and 5% on marketing, but the exact amount depends on several factors, including the law firm's location, its track record, and how established it is.
How do law firms acquire clients?
In addition to digital marketing, there are two main ways lawyers get new clients - referrals and reviews. Your name can be spread through networking and by attending events, allowing people to know that you are a reliable, trustworthy attorney.
Why are small law firms better?
Due to the fact that they are handling fewer clients at once, smaller firms can be more flexible with their time. They will also go the extra mile for the convenience of their clients since they care about them personally.
In what cities do you operate?