In today's digital landscape, law firms have recognized the need to adapt their marketing strategies to the evolving times. With face-to-face interactions limited during the pandemic, the importance of digital presence and engagement became paramount. Enter content marketing — a game-changer for lawyers seeking to connect with their clients in a meaningful way.
As law firms delve into the realm of content marketing, questions arise: What content truly resonates? How can we measure its impact? How do we ensure our clients find value in our creations? To shed light on these pressing matters, our experts at Comrade have written a blog post to answer all of your burning content marketing questions and give guidance on creating an effective content plan that search engines will rank highly.
Discover how content marketing can pave the way for law firms to captivate audiences, attract prospective clients, and establish a unique online presence. Explore the best practices and examples tailored specifically for legal professionals, enabling you to navigate the strategic execution of content marketing with confidence.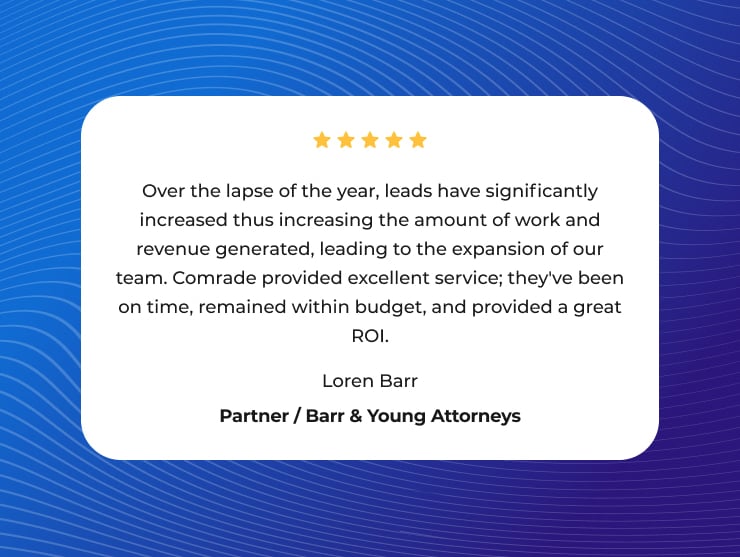 ---
Let's get to know
What Is Content Marketing for Lawyers?
Content marketing for law firms is the creation and distribution of different types of helpful content for the purposes of marketing your law firm. Creating content can take different forms, like making a blog post, video, etc.
Unlike traditional advertising, attorney content marketing is supposed to relay your message without selling a product. It is a pretty fine line. You need to show your target audience that you're an expert, and that you can solve an issue. Become their guide.
2024 edition
How to Get More Clients For Your Law Firm
---
Why Is Law Firm Content Marketing Important?
Content marketing is the only way for law firms to cut through a highly competitive and saturated online market, especially when it comes to collecting leads and converting them into cases. In fact, 84% of law firms generate leads through organic social media traffic, and considering 38% of people use the internet to find an attorney; it's well within a law firm's interest to invest in content marketing.
When executed properly, an effective content marketing strategy for lawyers has numerous benefits, such as increased business exposure, more leads, and a high ROI. Email marketing, for instance, can generate an ROI of over 4000%!
However, to achieve a consistent stream of high-quality legal leads, you need to map out their legal services buying journey from the first touchpoint to booking a consultation. Then, build a content lead generation process and consistently optimize the pipeline to streamline a potential client's journey.
Success Stories
Delivering Business Results: Our Digital Marketing Case Studies
How Content Marketing for Lawyers Works
When a prospect Googles a question that relates to your niche and sees a post that matches their search query, they will click on it, and read it. Now, you have one more website visitor!
If your content for your law firm website is top quality, this visitor will spend more time on your page, which boosts your search engine optimization performance (bringing more potential clients to your website). It also helps you achieve an important content marketing goal.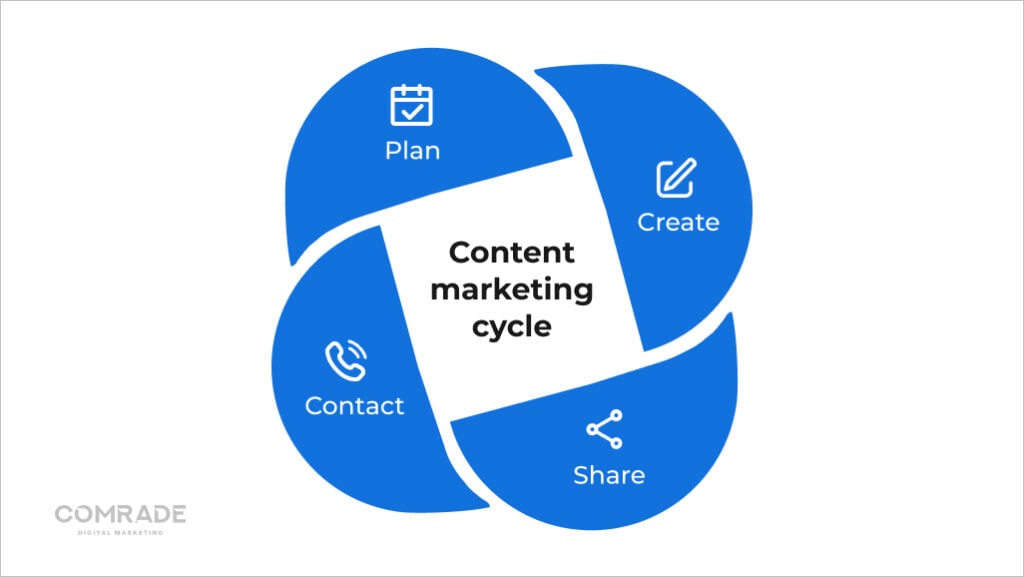 Get the contact information of potential clients.
Answering one of your prospect's questions will lead to more questions. Now is the time to offer a so-called "lead magnet" — a downloadable document with additional information or with other helpful functions (check-list, report, or other) — in exchange for your visitor's contact details.
Having their contact info lets you communicate with them in the future, offering useful attorney content marketing assets that periodically engage with them until they're ready to engage with you. This can be automated.
---
Content Distribution Channels
Regardless of what type of content you invest in, each piece should aim to build your brand, improve relationships with customers, create a trustworthy entity and prove credibility, which drives sales.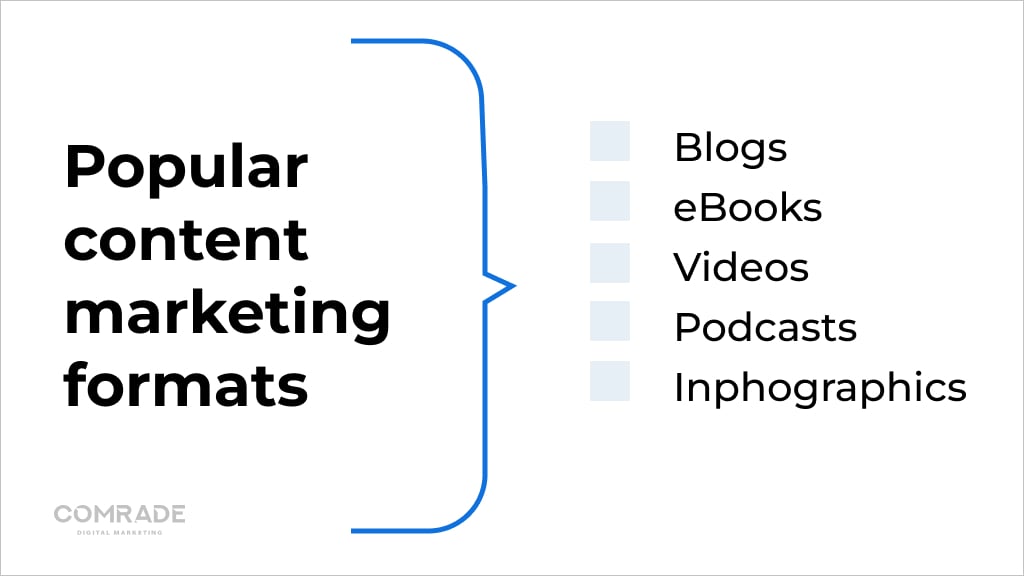 Anything you produce that people read, listen to or watch is part of your content marketing. Popular formats and content ideas include:
Blogs
eBooks
Videos
Podcasts
Infographics
Blog posts are great for answering questions in-depth, whereas short videos work best on social media and should be under two minutes. Here, you're looking to provide brief answers to questions or simple explanations.
---
10 Effective Law Firm Content Marketing Strategies
In today's digital age, content marketing has become a powerful tool for law firms to establish their expertise, build trust with potential clients, and generate leads. Whether you're a solo practitioner or part of a larger firm, these strategies will provide you with actionable insights to enhance your content marketing efforts and achieve tangible results. Get ready to take your law firm's online presence to the next level and connect with clients in a more meaningful way through compelling and strategic content.
1/10 strategy
1. Find Relevant Topics for Your Content Marketing Strategy
When it comes to your law firm's content marketing strategy, finding the right topics is the key to connecting with potential clients. So, start by digging deep into the legal topics that matter most to your practice areas. Ask yourself, what questions or concerns might your audience have?
Pro Tip: Keep your finger on the pulse! Stay updated on industry trends, legal developments, and changes in legislation. This way, you can offer valuable insights based on your expertise. Oh, and don't forget to use those web marketing tools to identify what people are searching for online related to your practice areas. That way, your content will rank higher in search results!
Remember, consistently delivering content that hits the mark will establish you as a trusted authority, attracting more leads and saving you some bucks on traditional ads.
By the way, here at Comrade Digital Marketing, we're experts at nailing down the perfect content marketing strategy for law firms like yours. So, if you're looking for some extra help, we've got you covered!
---
2/10 strategy
2. Know Your Potential Clients
Getting to know your potential clients is a game-changer in the world of effective content marketing for law firms. It's like being a detective, but instead of solving crimes, you get to uncover the secrets of what makes your audience tick! So, let's start by creating some detailed buyer personas that represent your target audience. Dive deep into demographics, legal needs, concerns, and goals, leaving no stone unturned!
But wait, there's more! Don't stop there. Roll up your sleeves and get hands-on. Surveys, interviews, you name it – chat with your website visitors to get the inside scoop on their motivations, pain points, and even their favorite ways to communicate. That's the kind of intel that'll set the stage for some brilliant content magic!
Hold on, we're not done yet. Crunch the numbers and analyze data from your website, social media, and email campaigns. It's like peeking into the minds of your audience (don't worry, it's all legal!). With this data treasure, you'll know what gets them excited and what keeps them up at night. Armed with all this knowledge, craft content that speaks directly to their hearts (and legal needs).
Let Comrade Digital Marketing help you conquer the digital world and reach more clients than ever before!
---
3/10 strategy
3. Conduct Legal Keyword Research
When it comes to boosting your law firm's content marketing game, nailing keyword research is a total game-changer, and we've got your back!
First things first, identify those primary keywords and phrases that perfectly match your practice areas. You can use tools like Google Keyword Planner, SEMrush, or Moz Keyword Explorer to find those gold nuggets – high-ranking and hotly searched legal terms.
Don't forget the long-tail keywords! They're like the secret sauce for targeting specific legal issues and answering potential clients' burning questions. Plus, they face less competition, making it a win-win!
Wanna make your content pop in search results? Prioritize those SEO keywords! Look into the search volume and competitiveness of each gem and focus your content creation efforts accordingly.
By sprinkling these magic keywords into your website, social media posts, and digital assets, you'll be rocking the organic search game, attracting top-notch traffic, and cutting down on the paid ads. You got this!
---
4/10 strategy
4. Look Up Your Competitors
If you wanna save some cash and stay ahead of the competition in the content marketing game, here's a top-notch strategy: snoop on your rivals!
Firstly, spot your main competitors in the legal world, especially those playing in your practice areas and location, and then head over to their websites. Check out what kind of articles, blog posts, and resources they're serving up.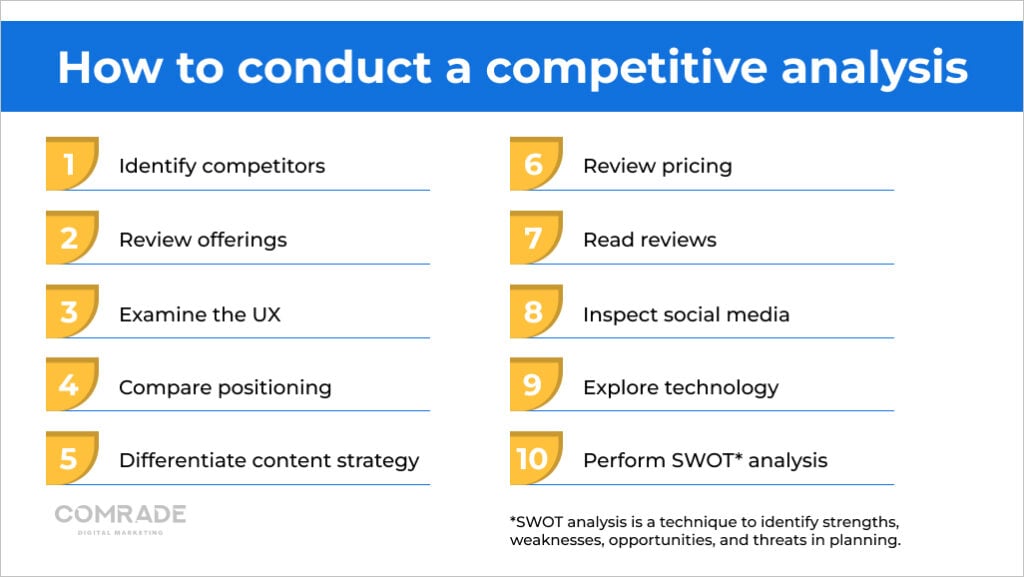 Now comes the fun part! Analyze the quality and relevance of their content. Find those sweet spots where you can stand out and bring some unique value to your potential clients. Don't forget to swing by their social media platforms too. Take notes on what topics and formats get the most engagement.
With these insights, you'll unlock the secrets of your rivals' content marketing prowess. That way, you can craft your very own content plan that sets you apart from the pack.
---
5/10 strategy
5. Keep Your Content SEO-Friendly
Want to boost your law firm's online presence? Keeping your content SEO-friendly is the way to go!
First things first – do some keyword research to know exactly what your potential clients are searching for. Place them everywhere- in the title, headings, body, and meta tags. Oh, and don't forget about those URLs and alt tags for images – keyword optimize those too!
Now, here comes the magic – focus on crafting top-notch content that's both informative and valuable. Share the legal know-how, answer common questions, and address concerns that your audience may have. You need to be authoritative and trustworthy.
By nailing SEO best practices and providing value-packed content, you'll do well in search engine results, pull in that organic traffic, and have potential clients knocking on your digital door.
---
6/10 strategy
6. Create Engaging Content
Do you know what's key to capturing your potential clients' attention? Yep, writing engaging content!
First off, get inside the minds of your target audience. Understand their likes, dislikes, and preferences. Then, tailor your writing style and language to appeal to them directly. Keep it conversational, and toss out the legal jargon no one understands.
Make your content a breeze to read by adding headings, subheadings, and bullet points. That way, even the busiest folks can quickly catch the best bits.
Pro tip: Sprinkle in some storytelling magic! Share real-life case studies and success stories to hook them in. Show off how your firm has worked wonders for clients in the past. And don't forget to throw in some eye-catching visuals like images, infographics, or videos!
Trust me, with engaging content, you'll have those potential clients turning to you for help. They'll stick around, explore more, and before you know it, become loyal clients.
---
7/10 strategy
7. Create a Blogging Schedule
If you're all about maximizing content marketing benefits while saving precious time and money, you have to nail down a blogging schedule!
Start by setting some realistic goals for your lawyer's blog. Figure out how often you want to post and what you want to achieve with each masterpiece—whether it's lead generation, showing off thought leadership, or educating your clients.
But don't overdo it! Consider your capacity and resources before committing to a posting frequency. Create an editorial calendar to help you. Jot down specific topics, keywords, and those vital publishing dates.
Don't be afraid to delegate some responsibilities within your firm. That way, you can manage the workload and get different perspectives on board.
Streamline your content creation process, stay consistent online, and watch those potential clients roll in—loving your insightful and valuable blog posts!
---
8/10 strategy
8. Consider Guest Blogging for Lawyers
Expand your horizons and establish your authority by hitting up top-notch blogs and publications in the legal or related fields and guest blogging. Find ones that match your target audience, and craft some pitches proposing topics you can contribute.
Now, when you sit down to write those guest blog posts, remember this: be informative, be engaging, and tailor your content to fit that publication's tone. Don't forget to drop some links back to your law firm's website and relevant resources to drive traffic and generate leads.
With guest blogging, you get to tap into established audiences, show off your expertise, and save money on advertising efforts.
When it comes to content marketing, Comrade Digital Marketing has your back! We're all about helping lawyers and law firms skyrocket their online presence. Let's team up and take your firm to the top with a sound content marketing strategy!
---
9/10 strategy
9. Brainstorm New Law Firm Content with AI
Embrace the future and explore the benefits of AI marketing for attorneys!
Pro Tip: Embrace the power of artificial intelligence (AI) for brainstorming fresh content ideas. Trust me; it's a game-changer!
AI-powered content generation tools are the way to go. They analyze tons of data, sniff out trending legal topics, and unveil those hot search queries and FAQs. Say goodbye to struggling with brainstorming sessions!
With AI in your corner, you can spot content gaps in your industry and discover unique angles to tackle them. It's not just about ideas—AI can help with crafting relevant headlines, structuring content, and suggesting the best keywords for SEO.
When you let AI do the content brainstorming, you stay ahead of the pack, produce top-notch content efficiently, and attract more clients while saving on your marketing budget.
---
10/10 strategy
10. Analyze the Success of Your Law Firm Content Strategy
Want to supercharge your content marketing game and save some cash along the way? Well, analyzing your law firm's content strategy is the key!
Start by setting clear goals and those nifty key performance indicators (KPIs) for your content campaigns. Keep track of website traffic, engagement levels, conversion rates, and lead generation—those metrics are like gold!
Analytics tools are your secret weapon! Unleash their power to uncover which content types really work, which channels drive the most traffic and conversions, and which topics keep your audience interested. Adjust your strategy based on those insights.
Consistently analyzing your content strategy will boost your marketing efforts, use resources smarter, and save your hard-earned cash. Oh, and don't forget—Comrade Digital Marketing can help! Our agency's here to help lawyers and law firms create strong content strategies that increase ROI.
---
YMYL and Google EEAT for Law Firms
YMYL (Your Money or Your Life) and EEAT (Experience, Expertise, Authority, and Trust) are relatively new search guidelines used by Google to determine the reliability of a law firm's website's content.
YMYL content is how Google refers to content that could potentially have a negative impact on the quality of people's lives and/or finances. Because this content has such a profound influence on people's lives, Google holds it to a much higher standard and actually has a team of people to assess its credibility.
Of course, legal content marketing falls under this banner. As a search engine, Google wants to deliver the best content for every query, and know it can trust those search results, which is where EAT for lawyers comes in.
One of the ways to make sure your YMYL content is shown by Google is to ensure it embodies expertise, authority, and trust. Search Engine Land says EEAT is about value, reliability, and integrity.
While it's not an exact science, content that finds a balance between being comprehensive and keeping it simple and following SEO best practices will achieve a higher EEAT score. And that translates to better law firm SEO.
Want to speak with an expert?
How Can a Law Firm Content Marketing Agency Boost Your Revenue?
Comrade is a digital marketing company specializing in content marketing strategies for attorneys. Our inbound and content marketing team has developed a specific methodology to help your company stand out from the crowd.
We can create or re-work your content to ensure: It is simple (your prospective clients do not understand your terminology), well targeted (this could only be guaranteed upon our extensive buyer persona modeling), and written to inspire further interest in your services without going directly for a sales pitch. Contact us for a free consultation, or to hire the best content marketing services for lawyers.
***
Frequently Asked Questions
Where can I find your company?