What Are Legal Directories?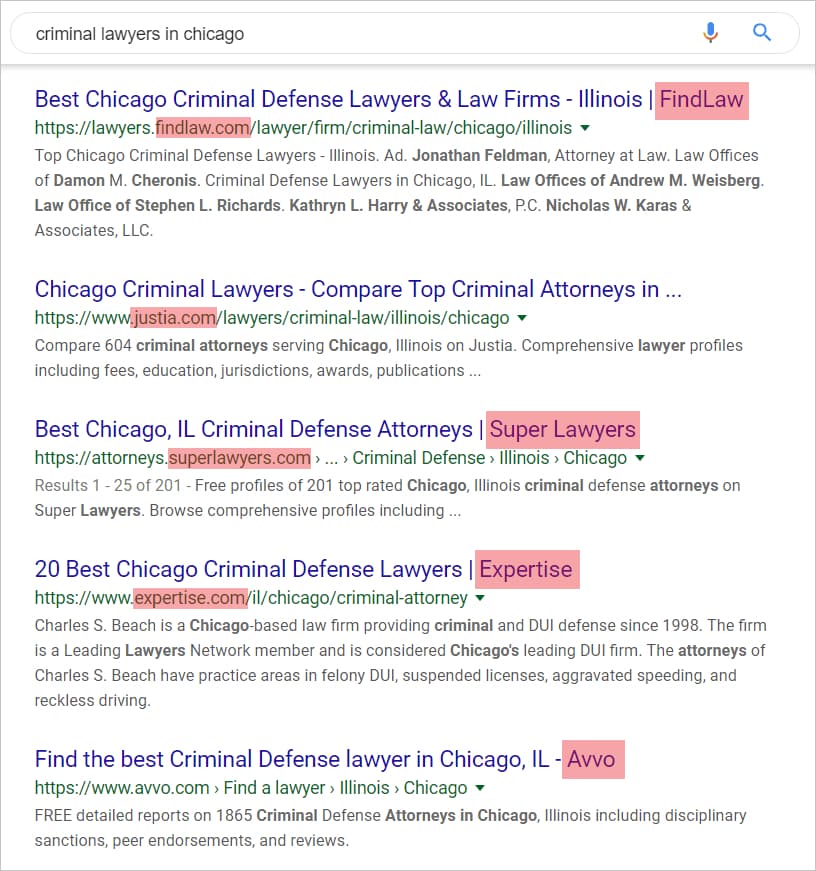 Legal firm directories are essentially repositories or databases containing attorneys and law firms, typically sorted by geographic location and practice area. Most law firms use them as a way of promoting their practice. Some directories are free, and others are available for a one-time or periodic fee.
The best law firm directories make it easier for potential clients to find your practice and also offer valuable marketing opportunities such as lead generation, search engine optimization (SEO), and social proof. Some legal directories even rank firms using criteria such as capability, experience, and expertise in their jurisdiction or practice area.
The Benefits of Legal Directories
You can reap several benefits from listing your practice in the best legal directories:
Lead Generation
You have a much better chance of getting a call about your services when your contact information is accurate and up-to-date on major legal directories. Online directories categorize businesses by industry and service, and your listing will show up for related searches. Because of their visibility, these listings often generate more leads than a company's website.
Your prospects also like directories. People prefer having relevant information properly sorted in front of them rather than going through Google search results one by one. In other words, if they see your sponsored listing, click on it, and find what they are looking for, they are likely to visit your website and contact you.
Strengthen Business Reputation
Many law firms refrain from online legal directories as legal resources because they are concerned about negative reviews. However, doing this prevents them from receiving positive reviews, which is critical for online reputation management.
The benefit of positive reviews far outweighs one negative review.  As long as you respond to negative reviews promptly, they won't affect your ranking. It actually indicates to Google that you have a high level of customer engagement, which is desirable.
Improve Brand Awareness
When a user performs a search in an online lawyer directory, it displays a list of relevant results, each with a brief snapshot, so they can decide which one to click on to learn more.
You will still be seen by users even if they don't click on your listing. Each time someone encounters your brand, they become aware and familiar with it, which prepares them for future engagement.
Connect with Clients Faster
Several directories sort business listings by location, making it easier for potential clients to find your firm. By finding directories and submitting your website to them, you will have an advantage over competitors.
The need for a law firm can be unpredictable for many customers. Having your contact information readily available online will help your business connect with clients faster.
Boost Law Firm SEO
The best legal directories exist to help people find the services they require. Because they are relevant and useful, search engines reward them. That means a link from one of these law firm directories will have the same SEO impact as a link from another high-quality website.
In search engine optimization, backlinks are links from other sites that point to a website. The more backlinks a website has, the higher it ranks in search engine results. As an added benefit, many legal directories include a brief description of your website that will enhance its visibility and attractiveness to potential customers.
The Top 10 Best Lawyer Directories
Legal directories provide yet another route for clients to find your firm. Being included in the following ones makes your firm more respectable, and Google rewards law firms listed on the best lawyer directories with higher rankings.
1. Google My Business Directory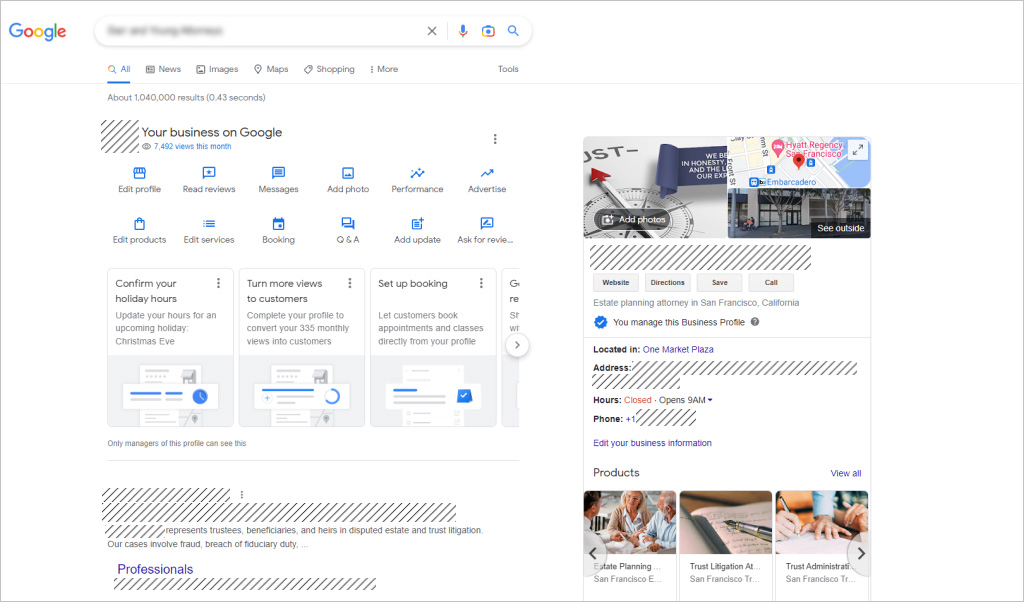 The data:
Local businesses receive 94% of calls from GMB on weekdays.
The average enterprise is discovered in 1,009 searches per month.
 56% of actions on Google My Business listings are website visits.
The Google My Business Directory (GMB) is a global listing of businesses managed by Google. Lawyers can add their law firms to the directory for free, which then appears on Google Search and Google Maps searches.
It includes information such as the law firm's name, address, phone number (NAP), business hours, etc.  As Google is the top search engine online, listing your law firm with Google's My Business is essential for SEO.
2. FindLaw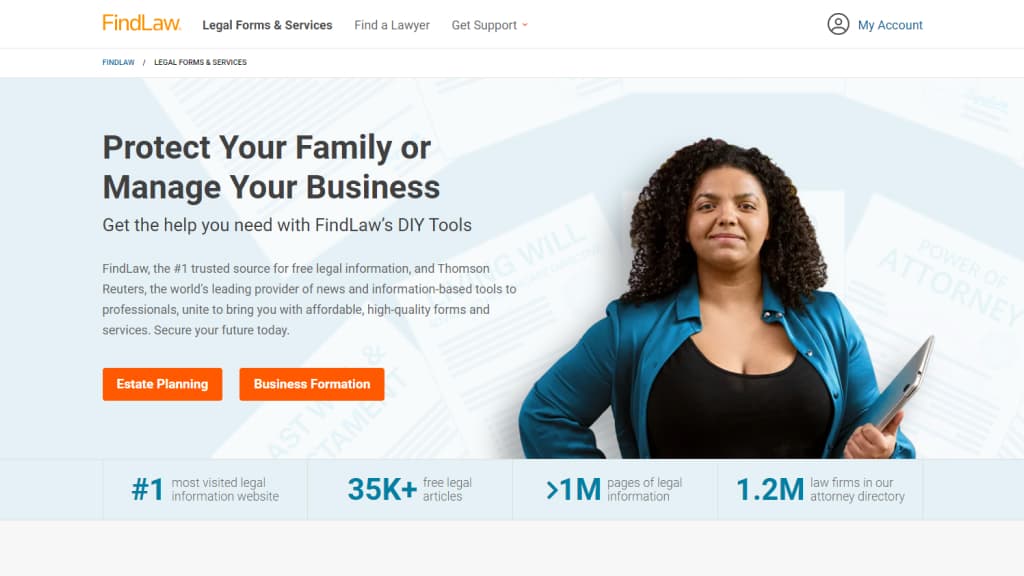 Keywords: 3.4M
Traffic: 3.4 M
Dofollow links: 105,666
A comprehensive legal database, FindLaw provides law-related information for attorneys and consumers, including statutes, news, and blogs. As a part of Thomson Reuters, FindLaw includes a Lawyer Directory featuring attorneys nationwide across over 110 practice areas. It is also affiliated with Super Lawyers, LawInfo, and Abogado.
3. Avvo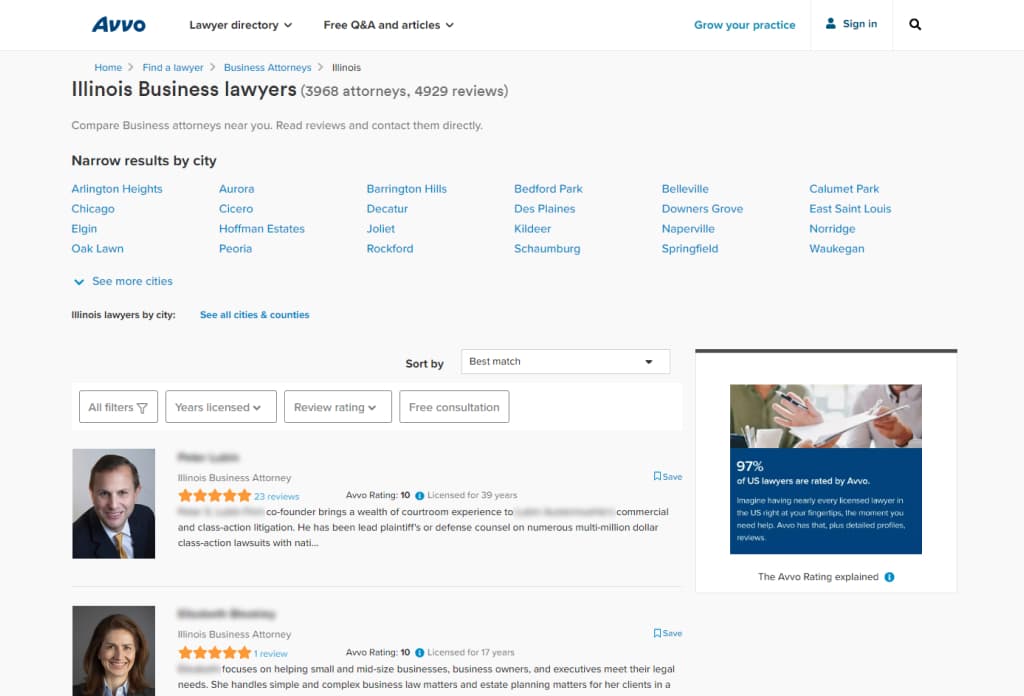 Keywords: 1.2M
Traffic: 628K
Dofollow links: 39, 473
Avvo is an online legal directory for lawyers and the public. It contains client reviews, peer attorney recommendations, and disciplinary actions taken against attorneys. Avvo's reach is wide, and it's usually one of the first sites your clients or potential clients will see on search engine rankings.
4. Super Lawyers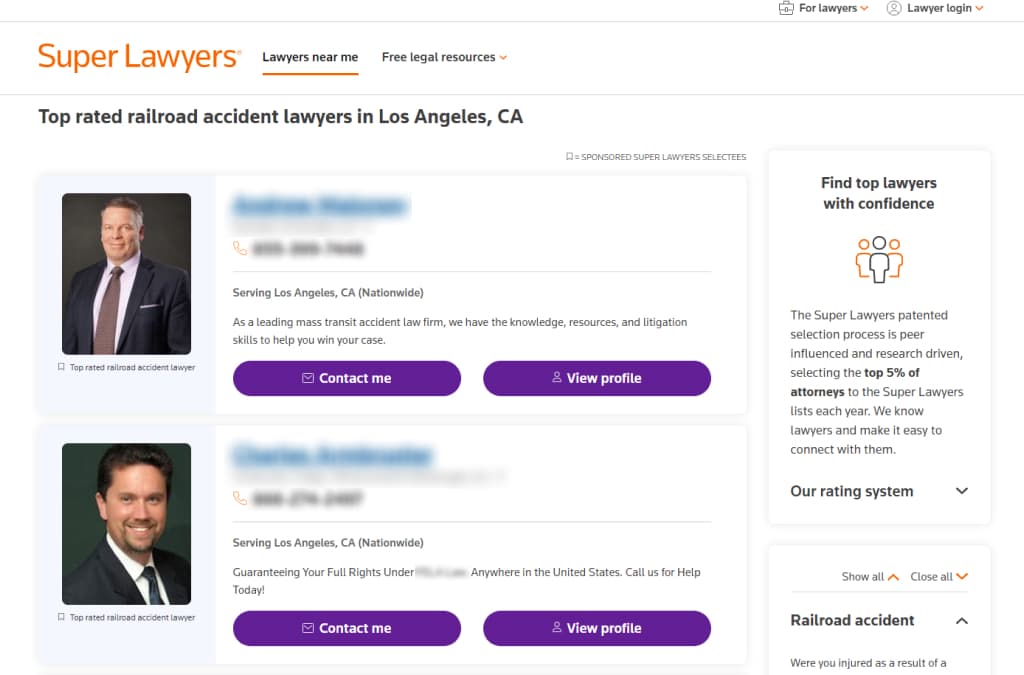 Keywords: 513K
Traffic: 843K
Dofollow links: 22,407
Founded in 1991, Super Lawyers is a peer-reviewed rating service of exceptional lawyers from more than 70 practice areas who have attained high levels of peer recognition and professional accomplishment. The selection process includes independent research, peer nominations, and peer evaluations. In addition to peer recognition, each candidate is also evaluated on 12 indicators of professional achievement.
5. Martindale
Keywords: 417K
Traffic: 218K
Dofollow links: 21,015
The Martindale-Hubbell network has evolved from a simple list to a leading global network of more than one million lawyers with a portfolio of websites and tools. Law firms can use their online products and services to enhance their local SEO rankings and attract more prospects with pay-per-click advertising, social media, and optimization services.
6. Justia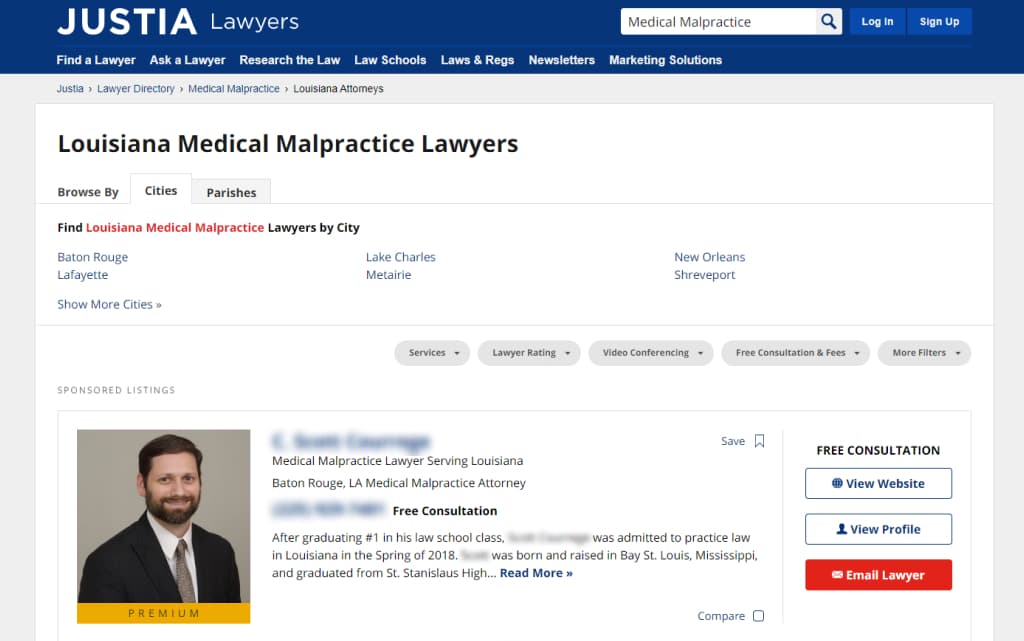 Keywords: 5.9M
Traffic: 3.3M
Dofollow links: 70,540
Aside from being a lawyer directory and portal, Justia also offers website development services and attorney SEO services. Like most legal directories, it provides both free and premium listings. Justia uses bar association information to create profiles for all lawyers in the United States. Lawyers who pay a fee to claim their profile will also appear on the Legal Information Institute (LII) website.
7. Lawyer.com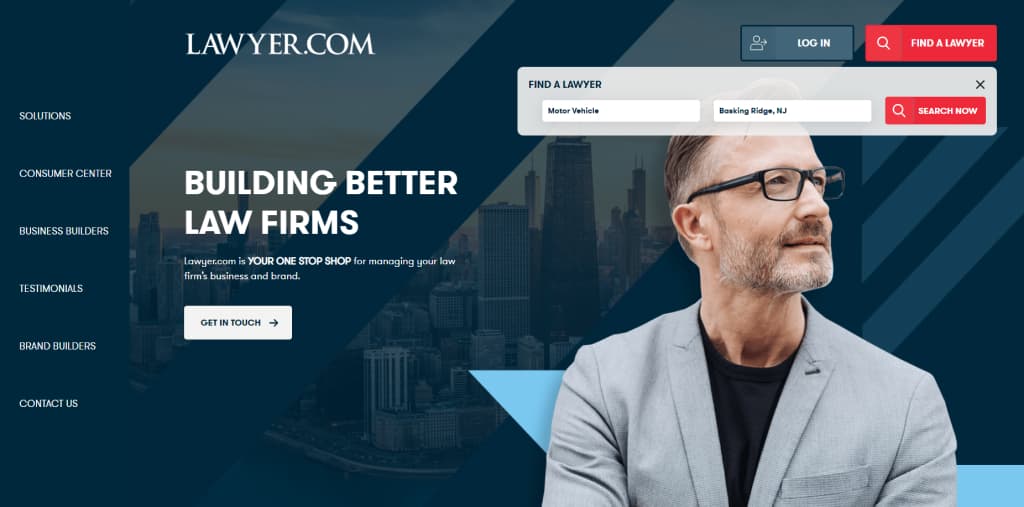 Keywords: 1.1M
Traffic: 691K
Dofollow links: 20,785
This legal directory has a Moz domain authority of 69, and a Moz page authority of 37, both of which are some of the highest in the business. Lawyers.com only does paid listings and offers a dofollow link back to your website. It provides over 700,000 keyword rankings, making it a strong contender as one of the best law firm directories in general.
8. NOLO
Keywords: 1.6M
Traffic: 2.5M
Dofollow links: 38,987
NOLO is one of the most popular and free legal directories for attorneys and law practices, with over 100,000 legal professionals listed on its site. Users can access attorney profiles, ratings, and reviews to discover an attorney or firm that fits their specific needs. NOLO also offers expert legal articles related to law topics which are helpful when searching for new legal information.
9. HG.org
Keywords: 549K
Traffic: 628K
Dofollow links: 12,286
HG.org provides freely accessible information about the law, government, and related professions for the legal profession, businesses, and consumers. With more than 4 million edited pages, it is the largest non-subscription legal directory in the world. Its directory of law firms and networks covers 195 countries with 5,000 cities in 260 practice areas.
10. Mediate.com
Keywords: 70K
Traffic: 68K
Dofollow links: 5,743
Mediate.com is ranked 8th overall among law firm directories and the only mediation directory in the top 100! It is the world's leading mediation website and provider of online services for mediation professionals and programs.
Find out how much demand there is in your geographical area
Top Personal Injury Law Firm Directories
In recent years, legal directories have become very specialized. For example, you can list your law firm in particularly competitive practice areas such as personal injury lawyer directories.
1. Enjuris
The Enjuris platform exists to assist people who are dealing with life-altering injuries and accidents. In its online personal injury lawyer directory, users can find profiles of personal injury attorneys by state. A fully customizable listing by Enjuris can maximize personal injury lawyers' exposure. Their customers report a 200% increase in website traffic within 12 months.
2. National Academy of Personal Injury Lawyers
Established in 2013, the National Academy of Personal Injury Attorneys is a professional organization that champions personal injury lawyers. With NAOPIA, attorneys have access to continued educational opportunities, and the public has access to the most accurate, current listings of top-ranked attorneys in their state, helping to ensure that all those seeking personal injury lawyers receive quality representation.
3. Personal Injury Warriors
Based in Los Angeles, Personal Injury Warriors is one of the nation's largest associations of personal injury advocates. They invite experts from legal and medical fields to discuss the latest ways the law affects personal injury claims and the medicinal developments that change potential court outcomes. Personal Injury Warriors vet attorneys before listing them in their directory.
Top Criminal Defense Directories
The following are the best criminal defense directories to list your legal services if you are a criminal defense attorney:
1. National Association of Criminal Defense Lawyers
NACDL members are all world-renowned criminal defense attorneys. To assist the public with finding representation, the NACDL offers the Find a Lawyer Directory. Users can search by name, city or state, and even distance. They can also filter their searches by area of practice.
2. The National Trial Lawyers Top 100 Criminal Defense Attorneys
America's Top 100 criminal defense attorneys is a collection of the best defense attorneys in the country. This professional organization and online legal directory represent the best American trial lawyers specializing in criminal defense or civil plaintiff law. It also provides recognition to distinguished attorneys and offers essential legal news, information, and continuing education to trial lawyers across the country.
Top Family Law Directories
As a family lawyer, your inclusion in top family law directories enhances your credibility and law firm marketing strategy.
1. North American Family Law
Individuals can use North American Family Law to identify leading practitioners in their regions. To simplify the referral process, only one attorney is listed per city, making it easy for users to select legal representation. Their research and selection process covers key locations across North America.
As well as marriage and the termination of legally recognized family relationships, the directory covers a wide range of legal issues, including divorce, child protective proceedings, juvenile law, and more.
2. American Academy of Matrimonial Lawyers
The American Academy of Matrimonial Lawyers (AAML) is an industry leader in continuing education, publications, networking, and training in Family Law. Fellows have access to a wide range of services, including virtual and in-person continuing education, seminars, networking opportunities, referral opportunities, and AAML's family law journal and publications.
3. National Academy of Family Law Attorneys
The National Academy of Family Law Attorneys recognizes the best family law attorneys in the country. Through a stringent selection process, the NAFLA awards the top family law attorneys in each state with their most prestigious "TOP 10" title. Few attorneys (less than 1%) make their list due to their exceptional level of knowledge, skill, experience, expertise, and success in family law.
How to Choose a Directory for a Small Law Firm?
Small law firms that service a specific geographical area will fare better investing in a Google My Business profile and more niche, local directories. Certainly, they should list themselves in larger directories; however, the more local ones will serve them better.
That's because 80% of local searches convert. Law varies from state to state, so there's little point in listing in massive directories only to be ranked at the bottom of the list. An optimized Google My Business profile, and investing in Local Service Ads are guaranteed to drive relevant leads to your law firm.
How to Get the Best Results From Law Firm Directories
Online legal directories inform Google and other search engines that you exist. You can maximize their potential by following these steps:
1. Start With the Most Popular (and Relevant) Lawyer Directories
Those directories that have the highest number of users specific to your industry are the best for your business.
Try 'google-ing' your business type+location (e.g., a personal injury lawyer in Leeds) and see which directories appear on the first 3 pages of Google results – those are the ones to focus on first.
Important Questions to Ask
How many people will see your listing on a monthly basis?
What is the average click-through rate?
How many leads will contact you after viewing your listing? Directory sites can track how many people click on your website's link or fill out your contact form. Although some directories may be reluctant to share that information, you (or better yet, your digital marketing agency) should insist on it.
It is also important to know your law firm's online metrics to better understand the expected ROI on this marketing investment:
What is the call-to-client conversion rate? That is, how many calls from different prospects will it take to land a paying client?
How much do you earn per client, on average?
2. Fill Out Information Accurately
Make sure that your NAP (business name, address, phone number) is the same in all directories. For example, do not use "st." if your address is "street."
Using online directories allows you to add details such as business descriptions, your URL, your firm's expertise, and images, for example. This also provides you with the opportunity to optimize your website for high-volume keywords. So, be sure to optimize your listing to the fullest extent possible!
Lastly, you must update your listing if your business number, website, or location changes. Top legal directories are dynamic websites where clients can learn more about your business. You don't want someone to leave a negative review because your information is outdated.
3. Gather and Showcase Reviews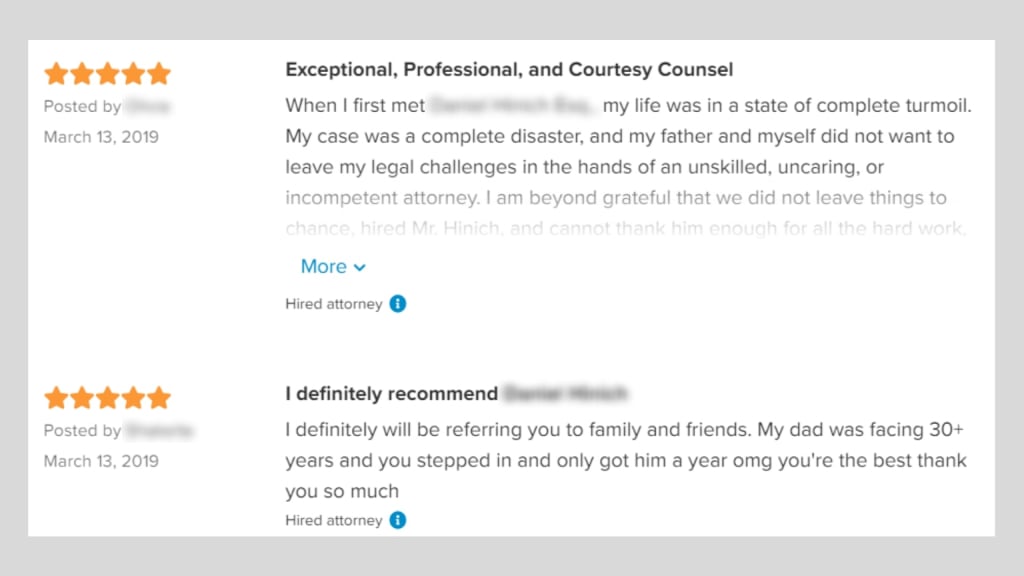 Client reviews have the power to increase credibility, visibility, and sales for your company. It is important to have good reviews and ratings to prove to clients that your law firm provides excellent service and policies.
Customers tend to trust online reviews, as most of them will browse your reviews before deciding to call you. Although clients may leave reviews organically, it doesn't hurt to develop a review strategy for showcasing social proof online.
This is why it's so critical to provide clients with an easy and convenient way of leaving reviews. Don't believe us? According to Thomas Reuters, Two-thirds of clients (over 50%) said they would be more likely to hire a lawyer with peer and client reviews.
4. Promote Your Legal Practice
Many law firms include too much distracting information in their directory listings. If potential clients want additional information, direct them to your law firm's website!
A directory listing should convey two things: 1) why a visitor should choose you (what makes you unique, valuable, and different), and 2) why a visitor should visit your law firm's website (refer to more information on your website).
An online directory listing is not intended to tell consumers everything about you, but rather to distinguish yourself as an experienced specialist from the general marketplace and encourage them to visit your law firm's website.
5. SEO Still Matters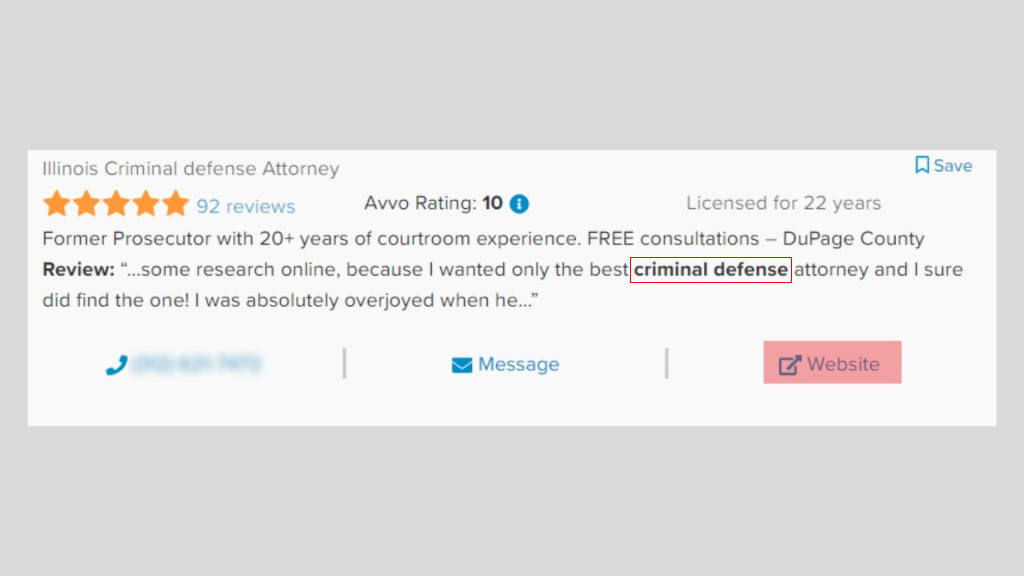 The most important driver of local SEO remains your website, and the best directories are merely tools to enhance your SEO strategy and drive more traffic to your site.
Most directories allow you to provide a link with keywords describing your site. Getting links with targeted keywords/phrases will help you rank higher than your competitors.
Maintaining your SEO strategy is also always a good idea. The popularity of keywords fluctuates; therefore, you may need to make some tweaks to yours regularly.
How to Calculate the ROI of Your Legal Directory Listing
Suppose you pay the best law firm directory $500 a month. If 1,000 people see your listing, you'll have a 3% click-through rate—that's 30 people who will click on your listing.
Let's say out of those 30 people, 20% contact you, which equals six people. A 30% conversion rate gives you two additional clients per month, meaning you've paid $250 per converted client.
Now you should know how much each client is worth to you.
Let's say you're a personal injury lawyer. You make $3,000 — $5,000 on state cases and $15,000 to $75,000 on federal cases. You can average that number out for both types of clients, but either way, the numbers work out very well — you've paid $250 per client, and you're earning thousands from each.
Some Legal Directory Considerations
Keep in mind; you should give legal directories at least 6 months to a year to show results. Don't rely on data from a single or two-month experiment. Budget a portion of your marketing budget for testing legal directory listings, and stick with the ones that perform best.
Be prepared to switch platforms if you notice a decrease in the quality or quantity of leads from a platform you previously used. Directories are in constant competition, and some simply grow more rapidly than others.
Finally, it is essential to remember that directories are useful for B2C attorneys, not so much for corporate lawyers.
Work with Legal Marketing Professionals
According to Thomas Reuters US Consumer Legal Needs Survey, almost a third of respondents who needed legal services turned to law firm directories, and 24% began conducting online research for law firms within a day.
You've come to the right place if you're looking to jump-start your digital marketing or get listed on online legal directories. Comrade is a full-service digital marketing agency that helps law firms build their presence and get more leads. Our experts blend creativity & technology to help transform & grow your business. Contact us today for a free, no-obligation consultation.
***
Need a high-performance website for your law firm?
Book a 15-min call to discuss
In what cities do you operate?
Comrade originates in Chicago, but we worked all around the United States. We can help your business grow and increase revenue whenever you are. We have offices across most major cities in the US. For example, we can offer SEO services in Baltimore or Madison. You can even find our SEO experts in Atlanta! If you want to know more about our Seattle SEO company or find out how exactly we can help you, contact us via the phone or email.