In the competitive world of personal injury law, effective marketing is crucial for showcasing the expertise of your personal injury attorneys and attracting clients. To create a winning strategy, it's important to tailor your approach based on location, specialization, and firm values. Our experts at Comrade Digital Marketing Agency have outlined proven tactics to enhance your personal injury lawyer marketing.
By implementing these strategies, you can confidently position your firm as the best choice for prospective clients with a personal injury claim. From optimizing your online presence to engaging in offline marketing efforts, these actionable ideas will help you stand out and grow your firm while respecting your marketing budget. Discover the key strategies that will set you apart in the personal injury legal landscape.
---
In the world of law firm SEO, personal injury marketing is a crowded field. In Central LA alone, you're contending with 220 million web pages just to make it to the top of the search results. It's tough going, but well worth the effort for those who succeed!

To thrive in your legal practice, your website needs to rank highly in organic search results. Having high visibility is crucial because potential clients may not take an interest in your services otherwise.
If your objective is to expand your legal practice and help people, then obtaining professional assistance is a must to achieve that goal. 
The good news is that Comrade can help.
We specialize in SEO for Personal Injury Lawyers and attorneys in competitive markets to rank for the most coveted keywords.
Area: Personal Injury
GEO: Indiana
Current Result: #3 for dui attorney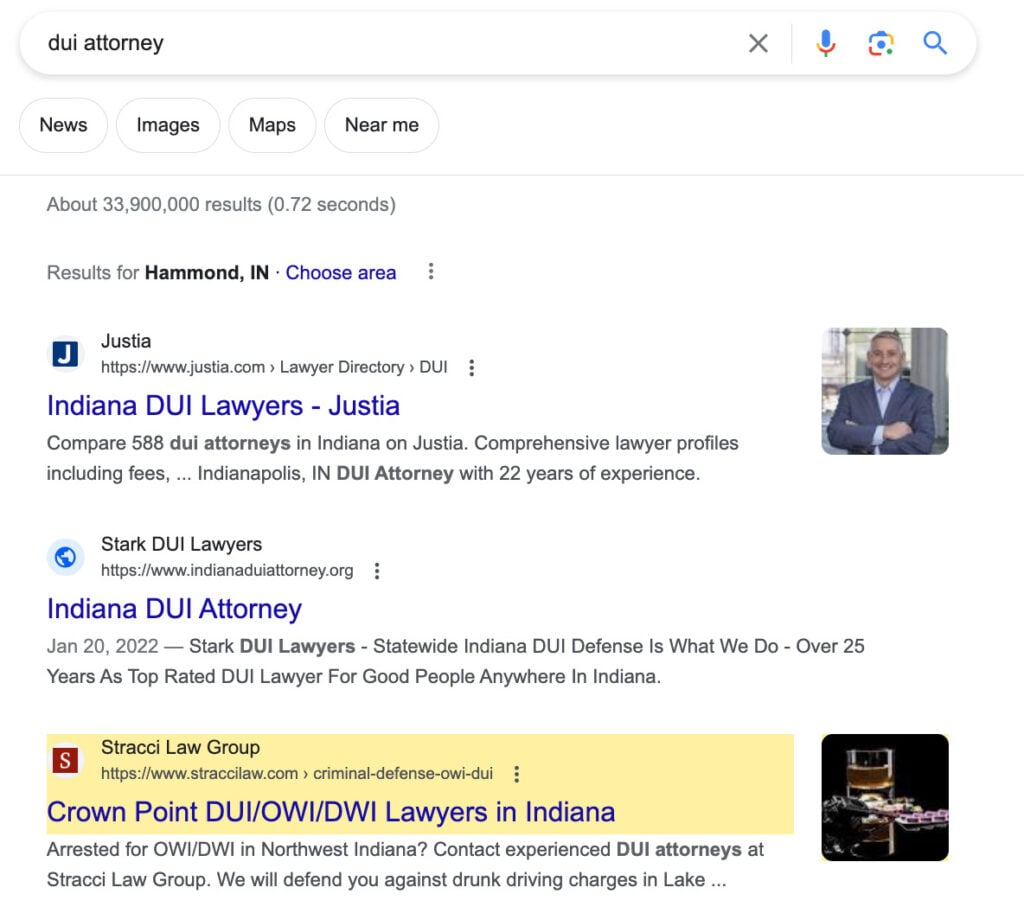 ---
Let's get to know
What Is Personal Injury Lawyer Marketing?
Personal injury lawyer marketing refers to the strategic efforts employed by a personal injury practice to promote their services, attract clients, and establish themselves as trusted authorities in the field. Law firm marketing encompasses various tactics, both online and offline, aimed at increasing visibility, building credibility, and ultimately driving client acquisition.
From optimizing websites and leveraging search engine optimization (SEO) techniques to engaging in social media marketing and offline networking, personal injury lawyer marketing aims to position firms as go-to resources for individuals seeking legal representation in personal injury cases.
By defining and implementing a tailored marketing strategy, law firms can effectively reach their target audience and differentiate themselves in a competitive market.
Comrade Digital Marketing Agency can help you with the above if you're unsure how to go about it. Schedule a free consultation.
Benefits of Leveraging Digital Marketing for Personal Injury Firms
Leveraging digital marketing offers a multitude of benefits for personal injury lawyers. Firstly, it provides a cost-effective and measurable way to reach more personal injury clients compared to traditional marketing channels. With digital marketing tactics such as search engine marketing (SEM), social media advertising, and content marketing, law firms can precisely target individuals searching for personal injury legal services.
Furthermore, digital marketing and a strategic marketing campaign enable firms to build a strong online presence, enhance their brand reputation, and establish credibility through valuable content and positive client reviews. It also allows for real-time tracking and analysis of marketing efforts, enabling firms to optimize their strategies based on data-driven insights.
By embracing digital marketing, personal injury law firms like yours can effectively increase their visibility, attract qualified leads, and ultimately grow your client base.


Success Stories
Delivering Business Results: Our Digital Marketing Case Studies
1/22 tip
1. Have Clear Marketing Goals and Start With The Strategy
Clear marketing goals are crucial for personal injury lawyer marketing success. They provide direction, focus, and measurable benchmarks to evaluate strategies for legal marketing. Specific objectives, like increasing website traffic or generating leads, align marketing efforts with business goals. Clear goals optimize resource allocation and prioritize activities for desired outcomes. They also foster motivation and a sense of achievement. By setting clear marketing goals, your personal injury firm can steer its efforts in the right direction and maximize success.
Law Firm Marketing Goals Examples
Goal Type
Wrong Goals
Right Goals
Client Acquisition

Chasing quantity of leads over quality
Indiscriminate cold-calling without research
Mass email blasts

Focusing on high-quality leads fitting target criteria
Personalized outreach based on research
Building lasting relationships

Branding

Imitating competitors' branding
Neglecting unique value proposition
Overloading with legal terminology

Developing a distinctive brand identity
Clearly communicating unique strengths
Connecting through relatable language

Online Presence

Chasing clickbait for website traffic
Ignoring SEO and site design
No focus on content quality

Creating quality content to attract and inform users
Optimizing site for search and user experience
Balancing traffic and content excellence

Social Engagement

Self-promotion without engagement
Ignoring comments and messages
Inconsistent posting

Providing value through relevant content
Actively engaging and responding promptly
Following a consistent posting schedule

Thought Leadership

Attending networking only for self-promotion
Superficial contributions to discussions
Not nurturing relationships

Actively participating to share expertise
Making meaningful contributions to legal conversations
Building lasting relationships with peers

Client Retention

Ignoring client feedback and concerns
Focusing solely on billable hours
Neglecting post-case follow-ups

Seeking and addressing client feedback
Cultivating strong attorney-client relationships
Sustaining communication post-case
Top Tips for Creating a Personal Injury Law Firm Marketing Plan:
Understand Your Target Audience: Before you start, understand who your potential clients are. Are they individuals who've been in car accidents, workplace incidents, or other personal injuries? Tailor your message to resonate with them.
Set Clear Objectives: Define what you want to achieve. It could be increasing website traffic, getting more consultations, or raising brand awareness.
Budget Wisely: Determine how much you're willing to spend on your marketing efforts. Allocate funds to different channels based on their effectiveness and your objectives.
Measure and Adjust: Regularly review the performance of your marketing efforts. Use tools like Google Analytics to understand what's working and adjust your strategies accordingly.
Unlock the secrets to successful law firm marketing with our in-depth guide, providing you with actionable strategies to attract and retain clients.
---
2/22 tip
2. Track and Analyze Marketing Efforts and Results
Tracking and analyzing marketing efforts is vital for optimizing personal injury lawyer marketing strategies. Monitoring key metrics, such as website traffic, conversion rates, and lead generation sources, offers insights into campaign effectiveness. Data-driven decisions improve resource allocation. For example, tracking identifies trends, highlights audience behavior, and enhances marketing channel performance. You can also regularly analyze data to refine strategies, identify growth opportunities, and ensure positive returns on investment. We encourage you to track and analyze results so your personal injury attorney can make informed decisions aligned with their goals.
Personal Injury Law Firm Marketing Tools
| Tool | What to Measure | Why You Need It |
| --- | --- | --- |
| Google Analytics | Website Traffic, User Behavior | To understand user behavior, identify popular pages, and track conversions. |
| Facebook Insights | Engagement, Reach, Clicks | To gauge the effectiveness of social media campaigns and understand audience preferences. |
| MailChimp (or any Email Marketing Tool) | Open Rate, Click-Through Rate, Unsubscribes | To evaluate the success of email campaigns and refine content for better engagement. |
| Google Ads | Click-Through Rate, Conversion Rate | To assess the performance of paid ads and optimize for better ROI. |
| SEO Tools (e.g., SEMrush) | Keyword Rankings, Backlink Profile | To improve website visibility in search engines and identify potential SEO opportunities. |
| Survey Tools (e.g., SurveyMonkey) | Customer Feedback, Net Promoter Score | To gather direct feedback from customers and improve products/services based on their preferences. |
| Social Media Scheduling Tools (e.g., Hootsuite) | Post Engagement, Best Posting Times | To optimize posting schedules and increase social media engagement. |
Discover how to track results and measure ROI for your law firm's marketing efforts. Dive into our comprehensive guide.
3/22 tip
3. Optimizing Your Personal Injury Law Firm Website
Optimizing your personal injury law firm website is crucial for attracting and engaging potential clients. This involves improving website structure, navigation, and user experience to ensure easy access to relevant information. By optimizing page load speed and mobile responsiveness, and incorporating compelling and informative content, you enhance user satisfaction and increase the chances of conversions. Additionally, optimizing headings and meta tags, and incorporating targeted keywords helps search engines understand and rank your website higher in relevant search results, driving organic traffic and visibility for your firm.
Website Optimization Tips for Personal Injury Law Firms:
Improve website structure for better navigation.
Enhance user experience for easy access to relevant information.
Optimize page load speed for faster browsing.
Ensure mobile responsiveness for users on various devices.
Provide compelling and informative content to retain users.
Increase user satisfaction to boost chances of conversions.
Fine-tune headings and meta tags for search engine clarity.
Incorporate targeted keywords to improve search engine ranking.
Drive organic traffic and enhance firm visibility through higher search engine ranking.
Take the first step towards effective law firm marketing by diving into our detailed guide on keyword research. Discover how to target the right keywords for success.
---
4/22 tip
4. Ensuring Easy Contact and Accessibility
Making it easy for potential clients to contact and reach your personal injury law firm is essential for converting leads. Your marketing team should ensure that your contact information, including phone number, email, and address, is prominently displayed on your website. Implement user-friendly contact forms and provide clear calls to action to encourage inquiries. Ideally, part of your law firm marketing law plan should incorporate live chat functionality for instant communication. Accessibility features such as clear fonts, readable colors, and accommodating different browsing devices ensure a seamless experience for all users, including those with disabilities.
Discover the art of captivating personal injury website design. Get inspired with our in-depth guide filled with examples and best practices.
---
5/22 tip
5. Implementing SEO Best Practices for Personal Injury Law Firms
To increase your personal injury law firm's online visibility and boost traffic, focus on SEO (Search Engine Optimization) and local SEO best practices. This involves optimizing your website's content, meta tags, headings, and URLs to include relevant keywords and phrases. Creating high-quality, informative content that addresses common questions and concerns related to personal injury law helps establish your firm as an authoritative resource. You'll want to build high-quality backlinks from reputable sources to further enhance your website's credibility and search engine rankings. By implementing SEO best practices, you improve your chances of ranking higher in search results and attracting targeted visitors to your website.
Increasing Online Visibility for Personal Injury Law Firms with this steps:
Prioritize SEO and local SEO best practices.
Optimize content, meta tags, headings, and URLs with relevant keywords.
Produce high-quality, informative content addressing personal injury law queries.
Position your firm as an authoritative resource in the field.
Build high-quality backlinks from trustworthy sources.
Enhance website credibility and search engine rankings.
Implement SEO best practices for higher search results positioning.
Attract targeted visitors to your website through improved rankings.
Unlock the potential of SEO for personal injury marketing. Learn how to optimize your website and attract targeted leads with our comprehensive guide.
---
6/22 tip
6. Claiming Your Google Business Profile
Claiming your Google Business Profile is essential for local search visibility and establishing credibility. By verifying and optimizing your profile, you ensure that accurate and up-to-date information about your personal injury law firm appears in Google search results and Google Maps. Details include your firm's name, address, phone number, website, and business hours. Having a claimed profile allows clients to easily find and contact your firm, read reviews, and view relevant photos. It also enables you to manage and respond to customer reviews, increasing trust and engagement with potential clients.
Optimize your Google My Business listing and dominate local search results. Explore our step-by-step guide to maximize your online visibility.
---
7/22 tip
7. Utilizing Legal Directories for Listings
Many personal injury practices also utilize legal directories for listing their personal injury law firm. This provides valuable exposure to potential clients actively searching for legal services. These directories specialize in connecting individuals with qualified lawyers and can significantly expand your online presence. Ensure your firm's information is accurately listed on reputable legal directories, including your contact details, areas of expertise, and client reviews if available. These directories enhance your firm's visibility, improve search engine rankings, and provide an additional avenue for potential clients to find and contact your firm.
Unlock the benefits of legal directory listings and improve your online reputation. Follow our expert guide to leverage legal directories for your law firm's success.
2023 edition
How to Get More Clients For Your Law Firm
---
8/22 tip
8. Utilizing SEM Ads for Targeted Exposure
Another area of focus for your law firm marketing plan is to utilize SEM (Search Engine Marketing) Ads. These allow personal injury law firms to achieve targeted exposure by displaying advertisements at the top of search engine results pages. By bidding on relevant keywords and creating compelling copy for Google ads, you can reach individuals actively searching for personal injury legal services. SEM ads provide instant visibility, drive high-quality traffic to your website, and offer control over budget and targeting options. With precise audience targeting and performance tracking, SEM ads enable you to maximize your marketing investment and increase the likelihood of attracting qualified leads.
Keywords Example for Personal Injury Law Firm:
Personal injury attorney
Accident lawyer near me
Injury claim lawyer
Best injury lawyers
Car accident attorney
Slip and fall lawyers
Medical malpractice attorney
Work injury lawyer
Personal injury law firm
Injury compensation attorney
Search Ad Template for Personal Injury Law Firm:
🔵 [Law Firm Name] – Expert Personal Injury Attorneys
Been in an accident? Get the compensation you deserve!
✅ Trusted by [City/State] residents
✅ No fees unless we win | 📞 Call us now: [Phone Number]
---
9/22 tip
9. Leveraging Local Service Ads (LSAs)
Leveraging Local Service Ads (LSAs) is an effective way for personal injury law firms to capture local leads through paid advertising. LSAs appear at the top of search results and provide prominent visibility to potential clients in your service area. By creating a detailed profile, including your firm's contact information, areas of practice, and customer reviews, LSAs enhance credibility and increase trust. LSAs also streamline the lead generation process by allowing potential clients to message or call your firm directly from paid search campaigns. By leveraging LSAs, you can effectively target local clients and gain a competitive edge in your specific geographic region.
Uncover the untapped potential of local ads and connect with your target audience in your area. Learn proven strategies and tactics in our comprehensive guide to local advertising.
---
10/22 tip
10. Testing Facebook Ads

For Personal Injury Lawyers
Your Google ads campaign is helpful, but don't stop there. Testing Facebook ads allows personal injury law firms to leverage the platform's extensive audience targeting capabilities. With over 2.8 billion monthly active users, Facebook provides a vast pool of potential clients in this extremely competitive industry. By creating engaging ad content and leveraging Facebook's targeting options, such as demographics, interests, and behaviors, you can reach individuals who may require personal injury legal services. Facebook ads enable precise audience segmentation and retargeting, ensuring that your ads are shown to the most relevant audience. Through continuous testing and optimization, you can refine your campaigns to maximize conversions and generate leads.
Discover the secrets to successful Facebook marketing for law firms. Learn how to leverage this powerful platform to expand your reach and attract clients with our comprehensive guide.
---
11/22 tip
11. Pay-Per-Click Marketing Campaigns for Lead Generation
Internet marketing needs to be closely tracked to determine success. Pay-per-click (PPC) marketing campaigns offer personal injury law firms a measurable and cost-effective approach to lead generation. With PPC, you only pay when a user clicks on your ad, making it a performance-based advertising model to generate qualified leads. You can strategically bid on relevant keywords and craft compelling ad copy to drive targeted traffic to your website. PPC campaigns allow for precise audience targeting, budget control, and real-time tracking of results. Leverage the data and continuously optimize your PPC campaigns to generate a steady stream of qualified leads for your personal injury law firm.
Drive qualified leads to your law firm's website through effective PPC campaigns. Dive into our in-depth guide to learn proven tactics and techniques for PPC success.
---
12/22 tip
12. Developing a Sound Content Marketing Strategy
If you want to succeed, you'll need to develop a sound content marketing strategy. This helps establish thought leadership, build trust, and attract potential clients. It involves creating a comprehensive plan that outlines your target audience, content topics, distribution channels, and key performance indicators for injury law firm marketing. When you align your content with the needs and interests of your audience, you can provide valuable information, address common concerns, and position your firm as a trusted resource. A well-defined content marketing strategy ensures consistency, helps you establish authority in the industry, and fosters engagement with your target audience.
Discover the power of content marketing for personal injury attorneys with our comprehensive guide. Learn how to create compelling content that attracts, engages, and converts clients
---
13/22 tip
13. Publishing Regular and Helpful Blog Posts on Personal Injury Topics
Publishing regular and helpful blog posts on personal injury topics is a powerful way to demonstrate expertise, improve search engine visibility, and engage with your target audience. It allows you to address common questions, provide educational content, and offer valuable insights to establish your firm as a knowledgeable authority in personal injury law. Regular blog posts not only attract organic traffic to your website through the search engine results page but also encourage repeat website visits. You can consistently deliver valuable content to build trust, nurture relationships, and increase the likelihood of converting visitors into clients.
Essential Personal Injury Marketing Ideas for Informed Decisions
Understanding Your Rights After an Injury: Learn about your legal rights when you've been injured due to someone else's negligence.
Steps to Protect Your Health and Case: Discover the crucial steps to take immediately after an injury to safeguard your well-being and potential legal claim.
Choosing the Right Personal Injury Lawyer: Find out how to select the best attorney to guide you through the complexities of your personal injury case.
Maximizing Your Compensation: Understand the types of compensation you might be entitled to, including medical expenses, lost wages, and more.
Negotiating with Insurance Companies: Gain insights into dealing with insurance companies to ensure a fair settlement for your injuries.
Avoiding Common Mistakes in Injury Claims: Learn about pitfalls to avoid that could potentially weaken your personal injury case.
Factors That Affect Your Claim's Value: Discover the factors that impact the potential value of your personal injury claim.
The Importance of Medical Documentation: Understand why thorough medical documentation is essential for a successful personal injury case.
Timelines in Personal Injury Claims: Get an overview of the typical timelines involved in pursuing a personal injury claim.
Recovering Damages for Emotional Distress: Learn about your rights to seek compensation for emotional distress resulting from the injury.
Craft compelling messages that resonate with your target audience and drive conversions with our comprehensive guide to copywriting for law firms.
---
14/22 tip
14. Exploring Video Marketing Opportunities
Sometimes, a personal injury case is best captured via video. Exploring video marketing opportunities allows personal injury law firms like yours to connect with their audience on a more engaging and personal level. Video content is highly popular and can be used to share educational materials, client testimonials, case studies, or even live Q&A sessions. Videos are easily consumable and have the potential to go viral, expanding your firm's reach. They can be shared on your website, social media platforms, and YouTube channel to increase brand awareness, build trust, and showcase your expertise. Video marketing captivates your audience and leaves a lasting impression.
Exploring Vital Personal Injury Marketing Ideas through Video
Client Testimonials: Showcase real-life success stories and testimonials from clients who have benefited from your legal expertise.
Legal Q&A Sessions: Host video sessions where you answer common legal questions related to personal injury, helping viewers understand their rights.
Explainer Videos: Create concise videos explaining complex legal concepts in an easy-to-understand manner.
Behind-the-Scenes: Offer a glimpse into your law firm's daily operations, showcasing your team's dedication to clients.
Virtual Case Walkthroughs: Take viewers through the journey of a personal injury case, from initial consultation to resolution.
Safety Tips and Prevention: Share video tips on how to prevent accidents and injuries, positioning your firm as a resource for safety.
Live Webinars: Host live webinars discussing important personal injury topics and answering questions from viewers in real-time.
Interview Industry Experts: Bring in medical professionals, accident reconstruction specialists, or other experts for insightful discussions.
Legal Document Explanations: Break down legal documents like settlement agreements, helping viewers understand the terms.
Interactive Legal Scenarios: Present interactive scenarios where viewers can make choices and learn about the legal consequences.
Animated Legal Stories: Create animated videos depicting various personal injury scenarios and how legal action can help.
Personal Stories: Share personal stories from your team, demonstrating your commitment and connection to your clients.
Comparative Case Analysis: Analyze different personal injury cases to educate viewers on the intricacies of compensation and legal strategies.
Local Community Involvement: Showcase your firm's involvement in local events, workshops, and initiatives related to injury prevention.
Day in the Life: Give viewers a glimpse of a day in the life of a personal injury attorney, highlighting the dedication and effort.
Interactive FAQ Videos: Create interactive videos where viewers can select questions, and the video provides detailed answers.
Legal Updates: Keep viewers informed about changes in personal injury laws and regulations.
Virtual Tours: Take viewers on a virtual tour of your law firm, introducing key team members and your office environment.
Emotional Impact Stories: Share stories that highlight the emotional impact of injuries, underscoring the importance of seeking legal assistance.
Client Case Studies: Dive deep into specific cases, discussing challenges faced, strategies employed, and outcomes achieved.
Unleash the potential of video marketing to showcase your expertise and connect with potential clients. Dive into our step-by-step guide tailored specifically for lawyers and learn how to create impactful video campaigns.
---
15/22 tip
15. Engaging with Social Media Platforms
Your social media platforms are a valuable strategy to build brand awareness, foster client relationships, and drive website traffic. If you're consistently active on platforms such as Facebook, Twitter, LinkedIn, and Instagram, you can share informative content, interact with followers, and showcase your firm's personality. Social media allows for direct communication with your audience, enabling you to address inquiries, provide quick updates, and share relevant industry news. Once you have consistent engagement, you can enhance your firm's reputation, nurture a loyal following, and increase the likelihood of client referrals and conversions.
Unlock the benefits of social media marketing for lawyers and create a strong online presence. Explore our comprehensive guide and learn how to develop an impactful social media strategy that drives results.
---
16/22 tip
16. Requesting Referrals from Existing Clients
Any good marketing agency knows the power of referrals. Ideally, you'll request referrals from existing clients to expand your client base. Satisfied clients can provide valuable recommendations to their friends, family, and colleagues who may require legal services. By delivering exceptional service and results, you can encourage clients to refer others to your firm. Implementing a systematic approach to requesting referrals, such as personalized follow-ups and referral incentive programs, can increase the likelihood of receiving referrals. Leveraging your existing clients' trust and positive experiences can significantly boost your firm's reputation and lead-generation efforts.
---
17/22 tip
17. Networking and Attending Industry Events
Networking and attending industry events allow personal injury law firms to establish valuable connections and expand their professional network. It's important to engage with other legal professionals, industry influencers, and potential referral sources; this can lead to collaboration opportunities and word-of-mouth referrals. Conferences, seminars, and networking events also help you stay updated on industry trends, share insights, and build relationships. Use networking to showcase your expertise, build trust, and create meaningful partnerships that can benefit your firm's growth and reputation within the legal community.
---
18/22 tip
18. Generating Local PR for the Law Firm
Generating local public relations (PR) for a personal injury law firm involves strategically promoting the firm through media outlets, community publications, and online platforms. For example, you can share news, success stories, or expert opinions on personal injury matters to position your firm as a trusted authority in the local area. PR activities such as press releases, media interviews, and guest contributions to news articles can increase your firm's visibility and reputation. Positive PR generates media coverage, boosts credibility, and can attract potential clients who are seeking reliable legal representation.
---
19/22 tip
19. Providing Exceptional Customer Service and Support
Exceptional customer service and support are crucial for personal injury law firms to build trust, enhance client satisfaction, and generate positive word-of-mouth. If you're able to deliver personalized attention, promptly address inquiries, and keep clients informed throughout the legal process, you can create a positive experience that sets your firm apart. Exceptional customer service fosters client loyalty, encourages referrals, and strengthens your firm's reputation. We encourage you to go the extra mile to exceed client expectations and provide a supportive environment that demonstrates your commitment to their well-being. Doing so increases the likelihood of client retention and future referrals.
---
20/22 tip
20. Offering Free Consultations to Attract Potential Clients
Free consultations are a powerful strategy for personal injury law firms to attract potential clients and showcase their expertise. These no-cost initial consultations allow you to create a low-risk opportunity for individuals to seek legal advice and assess their cases. Free consultations not only demonstrate your firm's commitment to helping those in need but also allow you to establish rapport, build trust, and evaluate the viability of potential cases. This approach increases the chances of converting consultations into paying clients, as individuals experience firsthand the value and quality of your legal services.
---
21/22 tip
21. Encouraging Online Reviews and Testimonials
Encouraging online reviews and testimonials is a valuable tactic to build credibility, establish social proof, and enhance the reputation of your personal injury law firm. Positive reviews and testimonials from satisfied clients serve as powerful endorsements that can influence potential clients' decision-making processes. Actively request feedback from clients and guide them to popular review platforms such as Google My Business, Yelp, and Avvo. Showcase these reviews on your website and social media posts to highlight the positive experiences of past clients. When you actively seek and promote online reviews, you can build trust, differentiate your firm, and attract a larger client base.
---
22/22 tip
22. Hiring a Personal Injury Marketing Company
Hiring a personal injury marketing company can be a strategic decision for law firms looking to maximize their marketing efforts and achieve significant growth through new clients. These specialized marketing companies have the expertise, resources, and industry knowledge to develop and execute tailored marketing strategies for personal injury law firms. They can conduct in-depth market research, implement effective digital marketing tactics, manage online advertising campaigns, optimize website performance, and track results. By partnering with a reputable personal injury marketing company, law firms can benefit from their experience and focus on their core competencies while leveraging the expertise of professionals who understand the unique challenges and opportunities in the legal industry.
Increase your traffic and revenue with digital marketing
Bonus! How to Choose a Marketing Channel for a Personal Injury Lawyer?
Goal
Marketing Channel
Pros
Cons
Increase Website Traffic
SEO
Cost-effective, long-term results
Takes time to see results
Raise Brand Awareness
Social Media
Wide reach, interactive platform
Time-consuming, requires regular updates
Local Networking
Builds trust, potential for referrals
Requires time and effort, not scalable
Get More Consultations
Content Marketing
Establishes authority, drives organic traffic
Requires consistent content creation
Improve Online Reputation
Client Testimonials
Builds trust and credibility
Requires effort to collect and manage
Online Review Platforms
Wide audience, potential for feedback
Negative reviews can impact reputation
Conclusion
In conclusion, personal injury lawyer marketing requires a comprehensive and data-driven approach to effectively reach and engage prospective clients. Throughout this article and via the above marketing tips, we've highlighted key strategies that can help grow your firm and establish a competitive edge.
However, it's important to understand that successful marketing goes beyond individual tactics and marketing methods. It requires a holistic approach that encompasses goal setting, tracking, and analyzing results, and continuous improvement. By regularly monitoring performance metrics, adjusting strategies based on data insights, and staying up-to-date with industry trends, you can optimize your marketing efforts and stay ahead of the competition.
In this dynamic and competitive landscape, adaptability is key. By embracing change, being open to new marketing avenues, and consistently refining your approach, you can position your personal injury law firm for long-term success. Remember, success in marketing is a journey of continuous learning, improvement, and adaptation.
But marketing success isn't always easy to achieve on your own. It requires a deep understanding of various tactics and strategies that you might not have experience implementing. If you need professional marketing help for your personal injury claims, our team at Comrade Digital Marketing Agency is here to help. Schedule a free consultation with our team to get started!