What's in a domain name? That which we call your domain name by any other would not be so sweet. Shakespeare aside, you want the best domain name possible for your business, so potential customers can find your website.

A domain name helps customers remember websites and serves as a representation of a person or company online. A web address can be just as significant as the website and business names it's associated with. It's a valuable digital asset, which is why it's vital to pick the right one.
According to Verisign, the internet now has 333.8 million domain names. If you want your domain to stand out, follow these easy-to-implement strategies to select the best domain for your business.
What Is a Domain Name?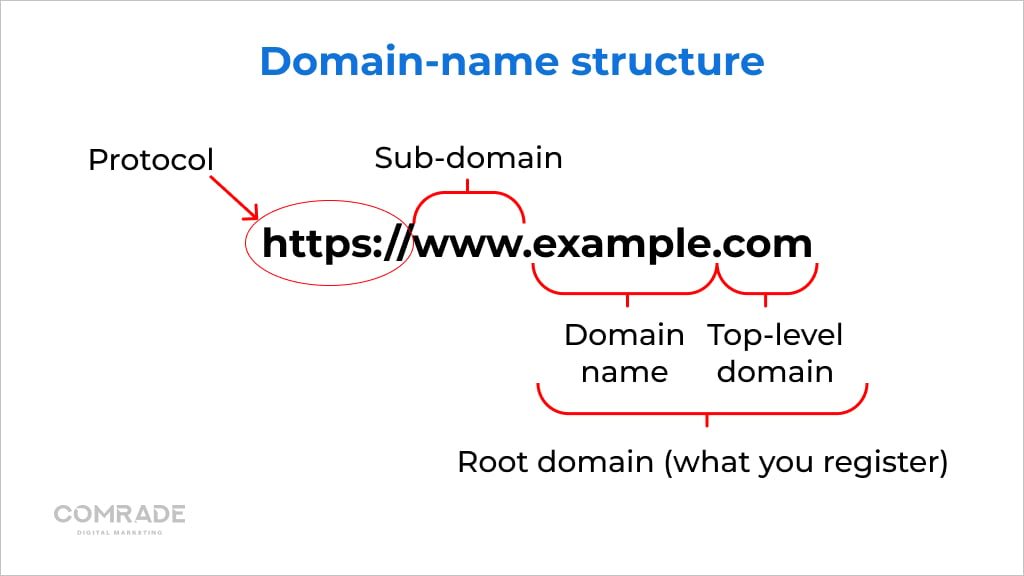 A domain name is a unique name that identifies a website. It is made up of a series of characters that can include letters, numbers, and hyphens. A domain name can be used to identify a business, personal website, or even a specific page on a website. When you type a domain name into your web browser, you are taken to the corresponding website. Here are some examples that you may be familiar with:
Second-Level Domains (SLDs)
As you can see from the list above, there are two parts to every domain name. The first is called the second-level domain name (SLD), while the second part is known as the top-level domain name (TLD) – which in most cases, appears as ".com" at the end of the web address. You have complete control over both of these components when it comes to selecting your law firm's domain name.
It's worth noting that the SLD, or the first part of the domain name, doesn't have to be associated with your law firm's brand name. It's more common for large companies (such as Google and Facebook) to use their brand name as the SLD. However, this isn't a requirement – so don't worry if your law firm's brand name doesn't fit into this category. Here are a few successful law firms that do not have a brand name in the SLD:
In order for clients to quickly understand what you specialize in and where your office is located, you should include your practice area, law firm name, or location in the first part of the domain name.
Top-Level Domains (TLDs)
When it comes to the second part of your law firm's domain name, also known as the top-level domain (TLD), you don't have to limit yourself to just ".com." While ".com" is certainly a popular option for many websites, there's no harm in regionalizing your domain name, especially if your law firm is based in a specific country. For example, lawyers in France or Italy can choose ".fr" and ".it" as their TLD, respectively. Additionally, since you are a lawyer, you can use ".law" as the second part of your domain name. Here are some examples of regionally and professionally oriented TLD names:
Let's get to know
What Is the Difference Between Choosing a Domain Name for a Law Firm and Solo Practice?
There are a few key differences to remember when choosing a domain name for a law firm instead of a solo practice. First, a law firm is likely to be a more well-known entity than a solo practice, so choosing a domain name that is easy to remember and clearly states the firm's name is significant. Additionally, a law firm's domain name should be professional and straightforward, as it will be representing the firm as a whole.
On the other hand, solo practitioners may have more leeway in choosing a domain name that is reflective of their personality or brand. Nevertheless, it is still crucial to pick a name that is simple to recall and precisely spells out the practitioner's name.


Success Stories
Delivering Business Results: Our Digital Marketing Case Studies
The Importance of a Professional Domain
A great domain protects your brand, makes it look professional, improves search engine ranking, and drives traffic. As a digital asset, it accrues value over time.
While not a strict necessity to build an online presence, having your own domain name gives you control over your brand's identity, which is a must-have for building confidence in your business.
Professional Branding
If you don't secure your preferred domain name, you run the risk of somebody else purchasing it and losing control of your brand online. It's a good idea to buy a brandable domain name, even if you don't use it, just to ensure no one else does.
Buying and selling domains is a profitable side business, so it's better, when possible, to purchase yours if you want to avoid buying it from someone else at an inflated price.
For instance, if you're the owner of a restaurant called Eastern Food Bazaar, you'd want to have a domain name as similar to easternfoodbazaaar.com as possible.
Easy Identification
Which website is easier to remember? www.toymania.com or www.toymania.com/wordpress?
It's probably the first one, right? A professional domain name is easier for customers to remember. It clearly communicates your business' identity and purpose and beats subdomains provided by third-party website hosts.
On that note, it's always a good idea when brainstorming domain name ideas to pick something that explains your company's purpose.
Complete Control
Hosting your business on a third-party platform can be risky, especially when it comes to content marketing. If the hosting site closes down, you can lose your content and online identity. Furthermore, some web hosting platforms won't let you transfer content to another platform, making it essential to carefully consider your hosting options for content marketing.
When you own your domain name, you can establish your website with any hosting company you like. The content you place there also remains yours to move to any web hosting provider you choose. This is called "self-hosting."
Comrade Digital Marketing Agency can help you with the above if you're unsure how to go about it. Schedule a free consultation.
Should Your Domain Name Have Keywords?
We get asked a lot by clients if they need to include law keywords in their domain names.
According to Google, using a keyword in a domain name does not increase a site's relevancy for searches containing that keyword.
Google's Search Advocate John Mueller has publicly said:
"In short, no. You don't get a special bonus from having a keyword in your top-level domain. I'd venture a guess that the top results don't have those keywords as a domain ending. Often, it's not even in the URL at all. That's by design."
So, there you have it. There's no need to stress about having a website address with a keyword.
How Much Does It Cost to Buy a Domain Name?
The cost of a new domain name for your law firm will usually fall between $32.98 and $149.99, depending on how common the name is. For example, the Real Estate Law Group currently has the domain name https://www.relawgrp.com/. If you want to buy it from them, they're free to sell it at any price they want. This can end up costing you a lot of money.
Of course, everyone does not like to spend a lot of their money, so there is an alternative in digital marketing. If you like the SLD part and want to have the same, you can simply change the TLD part from .com to .law. Moreover, many hosting providers encourage this practice, so such a domain will cost significantly less and possibly even be free for several months or a year.
The Pros and Cons of Using a Free Domain
We touched on it earlier when talking about domain control, but just to reiterate, using a free domain name is never safe for established businesses and professional projects because:
Information confidentiality is not guaranteed
Web hosting options are often limited
It's not always possible to migrate to a new domain later
If it's a trial service, you will need to end up paying regardless.
It may also be challenging to earn additional income through advertisements on your new website. Free domains are notorious for being used by spammers and hackers. Since most advertisers avoid these types of sights, a Google Adsense membership may be difficult to secure.
Where to Buy a Domain Name?
There are many places to buy a domain name. Some registrars, such as GoDaddy, will sell you a domain name directly. Others, such as WordPress, will sell you a domain name through a third-party provider such as Hover.
If you can't find a suitable domain registrar, then you can use a domain name search engine such as DomainTools to search for a list of registrars that sell the type of domain name you're looking for. Once you've found a few registrars, you can compare prices and features to find the best fit for your needs.
Can You Buy a Dropped Domain?
The average domain is generally valid for one year until it requires renewal. When a domain expires because it is no longer being paid for, the domain host will render it inactive, and it becomes what we call an expired or dropped domain.
If you purchase an expired domain name, there is a chance it already has an audience, established backlinks for lawyers, and incoming traffic. These benefits provide a marketing leg up, meaning it is easier to reach customers and convert them into leads.
However, you should only do this if the potential domain name suits your business, and you know its full history. The last thing you want to do is waste money on a domain that has a negative reputation from spam.
9 Ways to Choose the Perfect Domain Name
1/9 way
1. Easy to Spell
Direct traffic (the amount of web traffic a website receives from users who visit your website through a URL directly from their browsers) will drop if users cannot spell your domain name.
Prospects, who arrive at your site via direct traffic, are warm leads because they are directly seeking your services or product. Even the most diligent prospects have limits. So, don't make your domain name complicated.
Unconventional spelling (koolpool.com instead of coolpool.com), contractions ("u" instead of "you"), and neologisms (made-up words) might be clever and memorable from a branding standpoint, but they may also mean people typing in the wrong search term when looking for your business online.
2/9 way
2. Easy to Type
Generally, when coming up with a domain name, you should avoid any symbols that aren't letters. This includes dashes, hyphens, and commas. Users will forget them and have trouble typing them on touchscreens.
Double letters are also a no-go because they invite common misspellings, and might redirect your prospects to another business. This is also true of numbers. People who hear your website won't know whether you're using the numeral or spelled-out word.
If you truly must-have this in your domain, it's best to register the different variations to be safe.
3/9 way
3. Description
If your company has a generic name like Smith Law, then adding information to separate yourself from other law firms can provide a competitive advantage.
For instance, instead of smithlaw.com, you might use smithlawchicago.com. A company's full name, geography, or specialty could work. Sometimes, including the location or company niche helps.
Generic keywords tend to trend down over time in terms of their correlation with rankings and their ability to show up in results. You want something that strikes a balance between being unique but memorable enough for potential customers to remember.
4/9 way
4. Long-Term
Also, consider the long-term implications of your ideal domain name. For instance, if we continue with the law firm example, you'd want to pick a domain name that would still be fitting if your business were to scale.
If your law firm has multiple partners, then you might steer clear from using their names for your domain. The constant changing of domain names every time a new partner enters would negatively affect search engine rankings and confuses potential clients.
In the same light, you should never use a street address. If your law firm moves to a bigger office, you'll run into the same challenge.
Purchasing a few variants of your domain name is also important to protect it from competitors. By variants, we mean different domain extensions (.com and .net and .org, for example). This is especially useful because it's possible to connect multiple domains to the same website.
5/9 way
5. Check Availability
With over 333.8 billion registered URLs around the world, it takes time to find the perfect domain.
Three free tools to check your domain name availability are:
Make sure the new domain you've selected isn't copyrighted, trademarked, or being used by another company. This can result in legal issues that not only cost a fortune but mean the loss of your domain.
To check availability, type in your desired name with the extension you want to use. If your domain is available, you can buy it immediately by paying the required fees for a selected period of time, typically one to three years.
What If Your Domain Isn't Available?
If the perfect domain is already in use, you can try different spellings or extensions. So, perhaps solarpanels.com isn't available, but solarpanels.org might be. If none of the alternatives are appealing, then you can brainstorm a new name, or search for variants using a domain name generator.
If you decide to use a generated name, then you still need to run it through a domain name checker to make sure it is available.
In some cases, you can acquire a domain name if it is already taken (See: dropped domains). A domain name may be taken but perhaps wasn't used, either because the business just didn't take off, or because it was bought by someone waiting to sell or auction it for a high price.
Comrade Digital Marketing Agency can help you with the above if you're unsure how to go about it. Schedule a free consultation.
6/9 way
6. Short Domain Names
While domain names can be over 63 characters, we recommend keeping them as short as possible. A good domain is usually less than 15 characters. The rule of thumb is not to exceed 2-3 words. If the name you have in mind is longer, consider condensing it or changing it altogether.
There are several reasons short domains work better. Firstly, shorter names are easier to remember, and are, therefore, a smart idea for branding purposes.
Secondly, an overly long domain looks suspicious to search engines. Thirdly, it's more difficult for users to pronounce, type, and remember. A longer domain name can also lead to a loss of traffic, simply due to typos!
7/9 way
7. Do Not Use Adjectives
We recommend you don't use any superlative or comparative adjectives in your domain name. Even if you are the best business in your industry, these types of words don't add any clout or value to your website. And, they also take up domain real estate (remember 15 characters). It's the job of your website to sell your products and services, not your domain name.
8/9 way
8. Avoid Abbreviations
Don't abbreviate words in your domain name. If we stick with the lawyer example, we don't recommend having a domain like smithattys.com. The entire point of a domain name is to make it easier for people to find information.
9/9 way
9. Satisfy Expectations
When people hear about your domain name for the first time, they should be able to figure out what kind of content they can expect to see from your website. Domains like autotrader.com, careerbuilder.com, and autotrader.com are good examples of how what you read is what you get.
Of course, this isn't always possible for every type of business. However, as a general rule of thumb, you want to have an intuitive domain name that speaks to your business and reflects your brand—lest you wind up on the worst domain ideas list!
Law Firm Domain Name Ideas List
By now, you've probably realized picking the right domain name isn't easy. Especially if you come up with a name that's already used by someone else's website.
Luckily, there are domain name generators available to help:
Bear in mind that these domain name generators are artificial intelligence, so they're not perfect. However, they should inspire a few solid options.
Domain name tip: When clients ask us how to choose a domain name, we always recommend they determine their website's objective first. It would be a total waste of time if your domain didn't correlate with the content of your website.
Even though you may think your new domain is great, you have to scrutinize if users will have the same view. Ask a few people close to you what they think to gauge if you're on the right track.
Tips on Where to Register Your Website Domain
Domain registrars (domain name companies) sell domain names and handle the business of registering them. Once you have a domain name, you will need to choose a domain registrar where you'll purchase it.
Keep these factors in mind when shopping around for one:
Domain transfers: Read the registrar's transfer policy. If it's complicated, expensive, or you can't transfer your domain, keep looking!
Pricing: Some companies are sneaky and offer lower prices for the first year and then increase them until it's time for renewal. Others lock users into a multi-year contract.
Privacy protection: Your personal details will be at risk if the registrar doesn't have decent privacy protection. Decent protection always hides your primary contract information to keep your identity secure.
Expiration policy: Make sure your registrar offers automatic renewals or a grace period.
Subdomains: While you don't have to register subdomains separately, you do want a registrar that makes it easy to add subdomains to your website.
Want to speak with an expert?
Need Help Getting a Brandable Domain?
If this process sounds like too much work, or out of your depth, we can help. Comrade Digital Marketing Agency specializes in all things digital marketing-related. From web design to content marketing, and more, we'll make sure you achieve online success. Contact us to help you find the perfect domain name!
FAQ
How do I choose a domain name for my small business?
You should select something memorable, brandable, and easy for people to type and pronounce. Choosing a short domain name that speaks to your business will do well. A .com extension at the end of the address is 33% more memorable than other URLs.
What factors influence domain name choice?
Availability, flexibility, memorability, and ease of use affect domain name choice. Having a domain name that establishes your existing brand, helps you interact with your niche market, and boosts awareness is key to distinguishing your business from its competition.
In what cities do you operate?
Comrade originates in Chicago, but we worked all around the United States. We can help your business grow and increase revenue whenever you are. We have offices across most major cities in the US. For example, we can offer SEO services in Baltimore or Madison. You can even find our SEO experts in Atlanta! If you want to know more about our Seattle SEO company or find out how exactly we can help you, contact us via the phone or email.
How do I get a .law domain?
It's pretty easy. All you have to do is go to a domain name registration website. Here are a few of them: Namecheap, Godaddy, and Google Domains. Click on one of them, and then enter the desired domain name, adding .law at the end. That's all! If the domain name is not taken, you will be given the amount for which you can buy it.
Can I find out who owns a domain name?
If you have found a suitable domain name, but someone already owns it, don't assume the name is completely off limits. It's common practice for people to resell domains, so even if you see someone own the domain name, you may still be able to buy it. To find someone to contact about buying a domain, you can use the Whois lookup tool, which will show information about the owner. However, if the domain name is protected by domain privacy, you will only see the proxy information given by the registrar.