At Comrade Digital Marketing Agency, we've designed many great websites for clients. Well-designed websites are lead magnets, converting visitors into customers. The critical role they fulfill in digital marketing cannot be understated.
A first-rate website fuels business growth by creating a strong first impression that drives sales and improves customer retention. It is one of the most vital and powerful marketing channels a business can have.
In fact, a business can lose up to 70%-80% of potential customers if it doesn't have a high-quality website.
Building a website, which includes launching and designing it, costs anywhere between $10,000 to $150,000, while maintenance can range from $500 to $60,000 per year.
Obviously, a basic website will be considerably cheaper than a multinational company that has branches around the globe, or a retail site with a product inventory reaching into the thousands.
The number of pages, images, and amount of copy, as well as whether the developer uses a content management system (CMS) impacts the price. Some costs are one-time expenses, meaning the capital needed to build a website exceeds the maintenance costs.
In this blog, we provide ballpark figures, so you have a clearer idea of what a high-quality website costs.
Additionally, we'll discuss the pros and cons of several web development options, like Shopify, WooCommerce, BigCommerce, and WordPress, to help you with your own site design.
See how to create your own high-quality website
Average Website Development Costs in 2024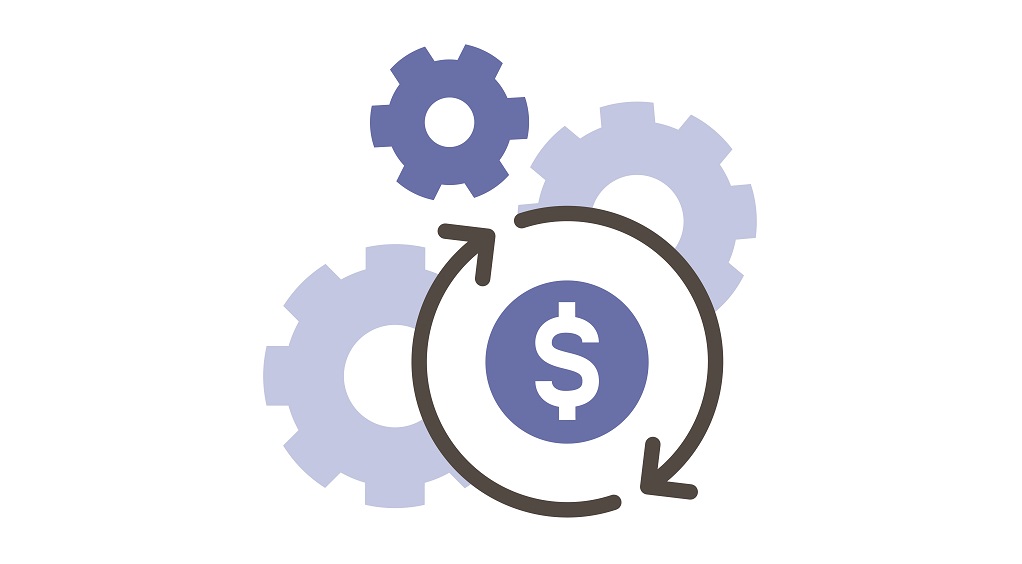 The average cost to build a website depends on your business needs and whether you hire a professional web developer or decide to use a website builder and DIY the process. The more features and custom-built components, the higher the website design cost.
There are three main ways to build a website; 1. Through a website builder with fully managed services (Squarespace, Wix, GoDaddy), 2. On a self-hosted platform (WordPress) or 3. By hiring a professional web developer.
Before we explore these options, let's answer one crucial question we get from clients all the time.
Can I build a Website for Free?
Some website builders offer a free plan or trial plan, but here's the catch: Most businesses can't really build a custom website for free. Free versions are limited, and 99% of eCommerce stores require more functionality only accessible with an upgrade.
Even free domains, like the ones you get with Wix, look like this:
[accountname]wixsite.com/siteaddress.
Discerning users will recognize you're using a free domain, which could leave the wrong impression, i.e., your business cuts corners. Moreover, it looks messy and certainly doesn't help with search engine optimization (SEO) efforts.
Perhaps the largest cost of attempting to DIY your business website for free is that you might not know what makes a website really work. Therefore, the odds are it won't get found or function well. This lack of functionality is a high website cost to pay!
Furthermore, free websites are usually full of ads, which you won't derive profits (That's why they don't cost anything.) And ordinarily, their limited bandwidth chokes potential growth, throwing away the opportunity to scale.
You also have to think about it from the perspective of the website builder company. Its sophisticated software takes time and resources to create and manage, so the limitations of a free plan are only fair. You can't expect any company to provide such a complex service without paying anything.
Remember, your website is a digital shopfront; it's the first thing your potential customers interact with online. It should exemplify your business as a professional brand.
Here are some eye-opening statistics: 75% of consumers judge a business's credibility based on its website design, while 79% of shoppers reported they would not return to purchase from a slow loading website (more than two seconds on average).
In this sense, it (literally) pays to invest in building a business website that adheres to digital marketing best practices.
If you want your business to do its best, its website must be at its best.
How much does a website cost?
The cost of building a simple website for a small business can range from $100 to $500. However, your goals may increase the cost. It can cost more than $30,000 to build a custom website with a lot of features. To get started with a website for your business, you'll need:
Domain Name. Domain names are the first thing you need to consider. It generally costs between $10 and $15 a year to purchase a new domain name for your website.
Website Functionality. Website cost is heavily influenced by functionality. A site's cost will increase as more functions are added. There is a wide range of functions available for your website, ranging from those that are vital to your business to those that are optional and designed for improving user experience.
Website Maintenance. Website maintenance is essential to your business, as it keeps your site secure and functional. In spite of this, many people do not accurately account for maintenance costs when constructing their budget.
Website Hosting Platform. Every business has different needs when it comes to web hosting. Dedicated server hosting is best if your business is strictly online. You will avoid server downtime in the event of a potential increase in traffic. Furthermore, your customers' sensitive data will be better protected with advanced security features.
Website Size. There is a considerable cost difference between building a large website and a small one. The cost of web development services will be reflected in what you pay for an e-commerce website with 500 pages. Alternatively, you can build a simple website for a fraction of that price by using a standard template and only a few pages.
| Type of website | Estimated design cost |
| --- | --- |
| Small business website (8 to 16 pages) | $2,000 to $9,000 |
| Large business website (25 to 75 pages) | $10,000 to $35,000 |
| E-commerce website (100 to 1,000 products) | $5,000 to $55,000 |
| Database website (20 to 2,000 pages) | $6,000 to $75,000 |
Option 1: Use Website Builders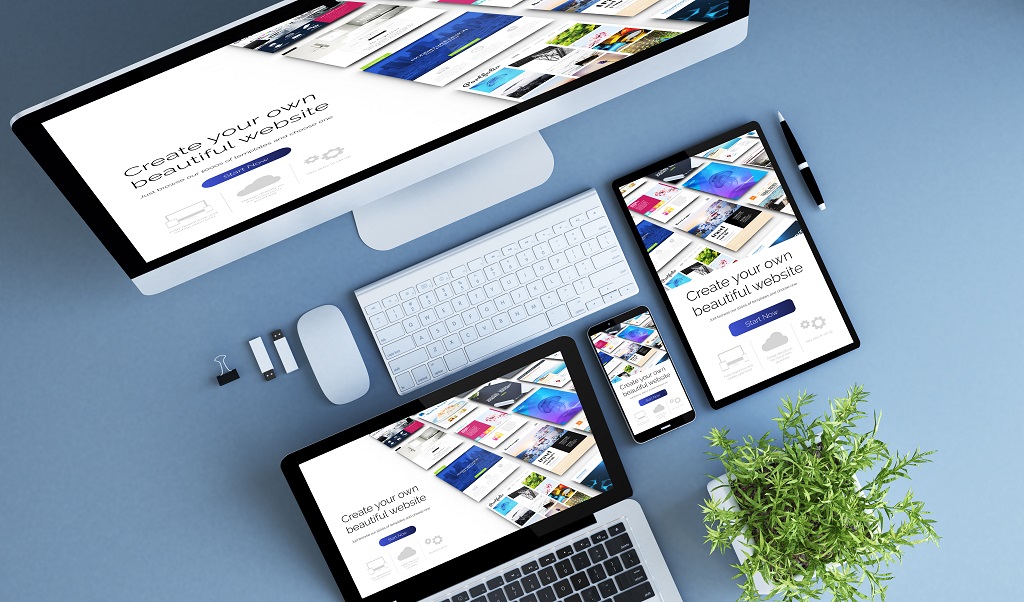 Website builders are platforms or programs that allow the construction of websites without manual code editing. Specially developed drag-and-drop software and customizable templates enable the quick and easy creation of an attractive website without hiring experienced web designers.
With these platforms, technicalities are taken care of, such as web hosting and security. You don't have to start from a blank slate, which makes it easy to achieve decent results in almost no time.
Website builders work best for companies just starting out or sites with minimal needs. Think of a small business or site's with basic landing pages to showcase portfolios.
These platforms are a solid starting point for businesses on extremely modest budgets; however, most will tend to hire website builders after one or two years.
The Advantages of a Website Builder
For small businesses and freelancers, website builders offer several benefits:
Reduced cost: Using a website builder is not as expensive as hiring a professional web developer to build something from scratch.
No coding: Website builders are designed to make web development as fast and efficient as possible. You don't have to learn HTML or any other type of coding.
Decent templates: Most DIY website builders offer high-quality typography, layouts, graphics, and templates that enhance user experience and aesthetic appeal.
The Disadvantages of a Website Builder
Naturally, there are downsides, too, if you need something more creative and comprehensive:
Limited functionality: The majority of website builders don't fully integrate SEO and lead generation practices. They also have limited eCommerce functionality that increasingly becomes problematic the more advanced shipping and third-party integrations your business requires.
Lack of originality: Since almost everyone can use the same templates, there's a possibility your website may look alike or closely identical to other businesses.
Poor customer support: There's usually little support available if you encounter technical issues. Your best bets are online tech forums or contracting the provider themselves. However, with a professional web designer, you'll receive full support and advice should you run into any issues.
How Expensive Are Website Builders?
Website builders offer different tiers of packages, ranging from $6 to $50 per month. They parcel maintenance and website development costs together, i.e., creation tools and hosting.
Like domains and hosting costs, their subscriptions are billed annually. Customers who commit to longer subscriptions, such as two years instead of one, usually receive discounts. Unfortunately, website builders generate revenue via subscriptions, so there's no way of escaping annual costs.
For this blog, we'll compare business and eCommerce website builders separately. eCommerce websites are generally more expensive overall because they have advanced capabilities, so it makes sense to separate them from website platforms that aren't strictly eCommerce orientated but are still used to build an online presence.
Godaddy vs. Squarespace vs. Wix
Powered by Website Builder 7, GoDaddy is a popular domain and website marketplace. The main difference between it and Squarespace or Wix is it is a one-stop-shop for building an online business.

GoDaddy is a hosting provider that supports over 125 apps, including WordPress, and their website builder. It offers email management, virtual private servers, website design, and more.
It's exceptionally user-friendly and will ask you a few questions about your industry and offer website theme suggestions that best suit your business needs. In terms of customer support, GoDaddy has a help center, community forum, phone hotline, and live-chat service.
Building a custom website on GoDaddy costs:
Basic: $10 per month
Standard: $15 per month
Premium: $20 per month
eCommerce: $25 per month
Wix is another website builder that has one of the best award-winning website building software (Wix Editor) currently available. It's also drag-and-drop based and comes with a variety of templates and free plugins.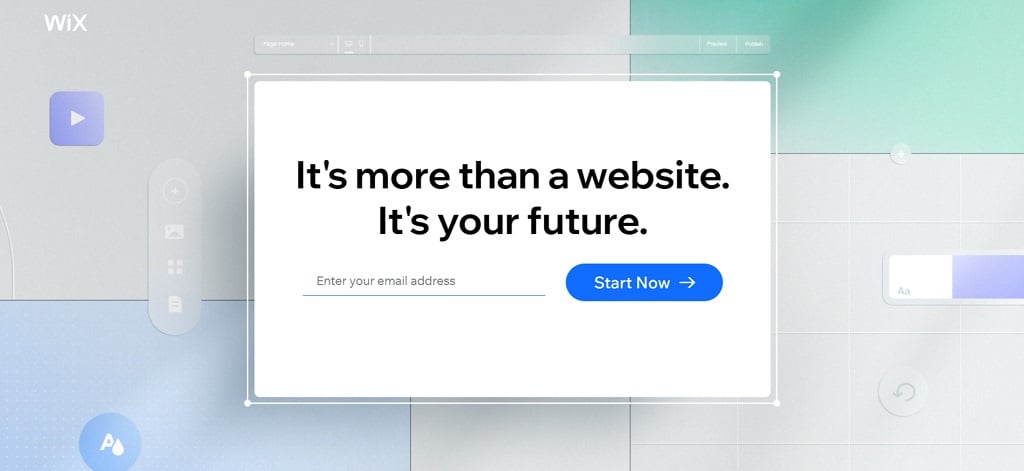 As far as customer support goes, Wix has a call-back service, support ticket, help center, and live chat service. Most problems are resolved through the help center. The website builder also offers a 1-year domain voucher with its Premium annual packages.
Website costs at Wix depend on whether you select the standard website or businesses and eCommerce plans. The eCommerce plans come with apps and other tools to make managing your business website easier, like accepting online payments, although this does incur an extra cost.
Building a website on Wix costs:
Basic: $4.50 per month
Personal use/combo: $8.50 per month
Unlimited: $12.50 per month
VIP: $25-$5
It's important to note that if you don't want Wix ads on your website, you'll need to subscribe to the personal/combo plan.
Lastly, let's discuss Squarespace. In terms of the development process, it's similar, although its website themes are limited in comparison to Wix and GoDaddy. As a visually inclined platform, it is better suited to retail stores, portfolios, and creative visual-based businesses.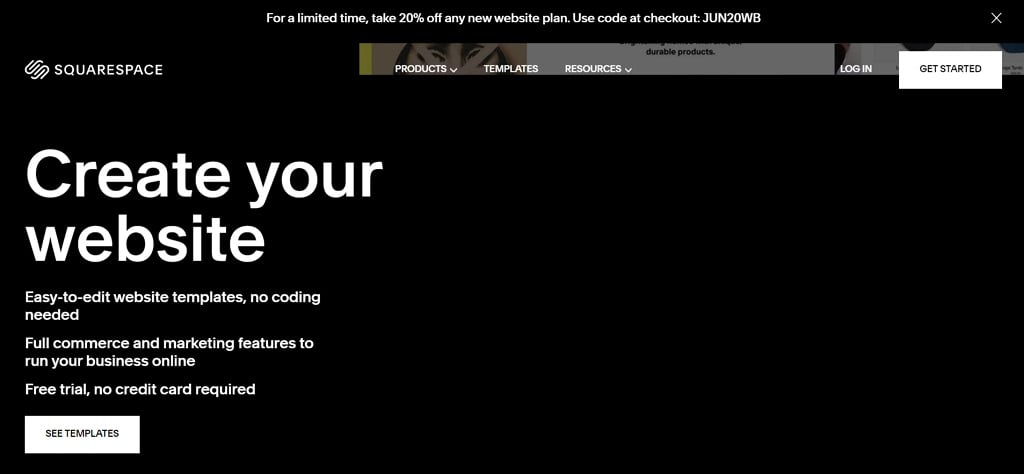 The development process utilizes a block system, sort of like WordPress, except for the actual web design. This means you can drag and drop elements, and move them around with ease.
Squarespace's help center is also a little more restricted. It only has articles, guides, videos, a community, webinars, and live chat. However, they do not offer phone calls at this time.
Website costs on Squarespace are as follows:
Personal: $12 per month
Business: $18 per month
Commerce: $26 per month
Advanced Commerce: $40 per month
Of all three custom website options, Wix is probably the best because its website builder is flexible, with robust customer service, and its pricing offers a good value for money.
If you're unfamiliar with WordPress website building or design software in general, then Wix is very likely best for you.
All in all, all three offer similar services, and for a small business needing a brochure-type website, it's truthfully much of a muchness.
Shopify vs. Bigcommerce vs. Woocommerce
As we mentioned earlier, specific platforms like Shopify, BigCommerce, and WooCommerce are better options for an eCommerce web project. They are designed especially to accommodate complex functionalities needed to buy and sell products online.
BigCommerce is an all-in-one eCommerce platform with impressive payment processing. It's often thought of as an affordable solution that suits online merchants of all sizes.
Shopify is the most flexible, feature-rich, and complete web designer platform for eCommerce businesses. It's one of the quickest and easiest platforms to start an online store.
WooCommerce is an open-source WordPress plugin that's best if you want to build a website on WordPress.
How Much Does a Website Plan Cost With BigCommerce?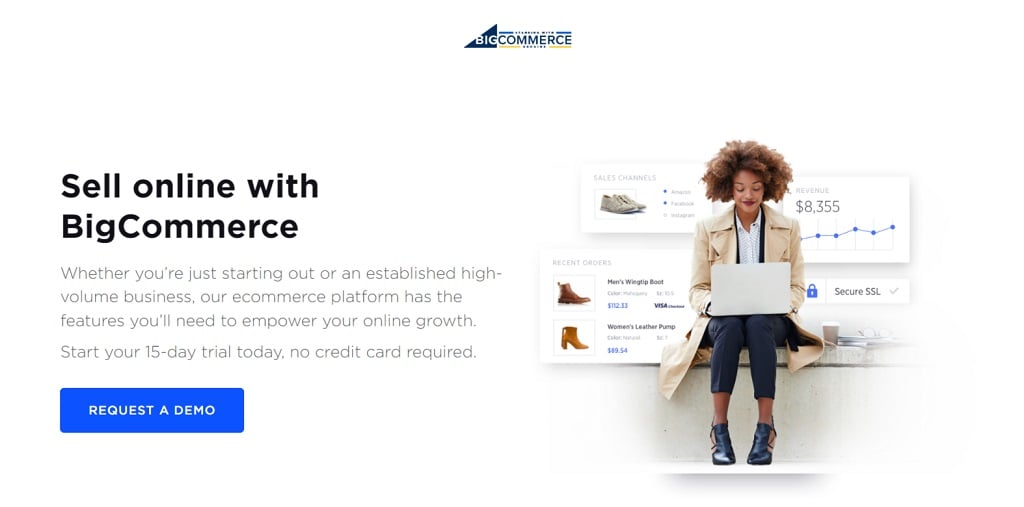 Standard: $29.95 per month (basic for startup business)
Plus: $79.95 per month (comes with marketing tools that increase conversions)
Pro: $299.95 per month (for larger businesses that need comprehensive features)
Clients save up to 15% when they pay annually for Plus and Pro plans. BigCommerce also has Enterprise-level solutions that are priced according to business needs.
How Much Does a Website Plan Cost With Shopify?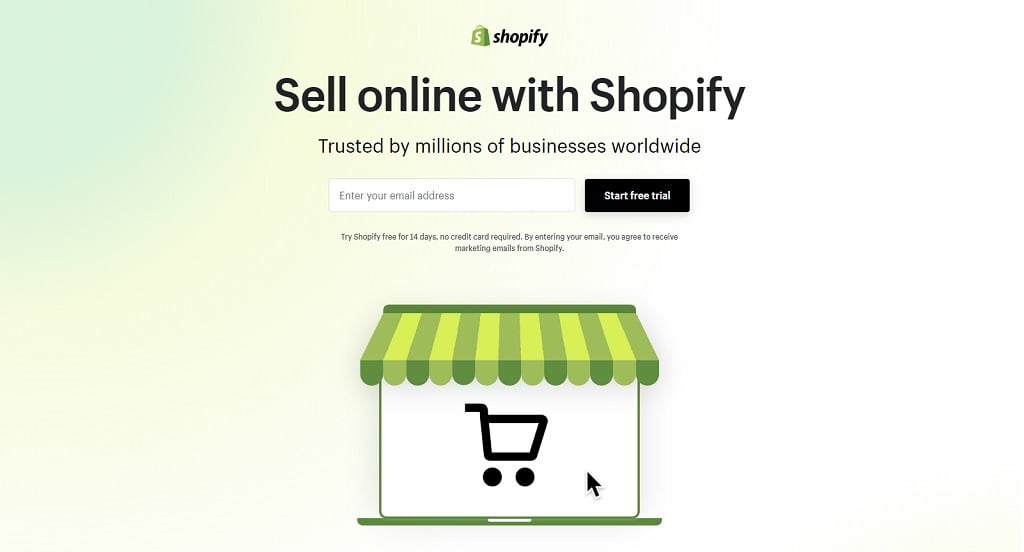 Basic: $29 per month (best for new eCommerce businesses)
Shopify: $79 per month (for growing businesses selling online and in-store)
Advanced: $299 per month (for scaling businesses that need advanced reporting)
Shopify offers a 10% discount on annual plans and a $20 discount on biennial plans when paid upfront. They also have Enterprise-grade solutions for high-volume merchants called Shopify Plus that starts at $2,000 per month or comes at a variable fee.
How Much Does a Website Plan Cost With WooCommerce?
Website costs on WooCommerce work a little differently, so it's difficult to provide a generalized one-size-fits-all price tag. While the platform is free, you have to pay for functionality. You can also visit Comrade's WooCommerce development services page to learn more.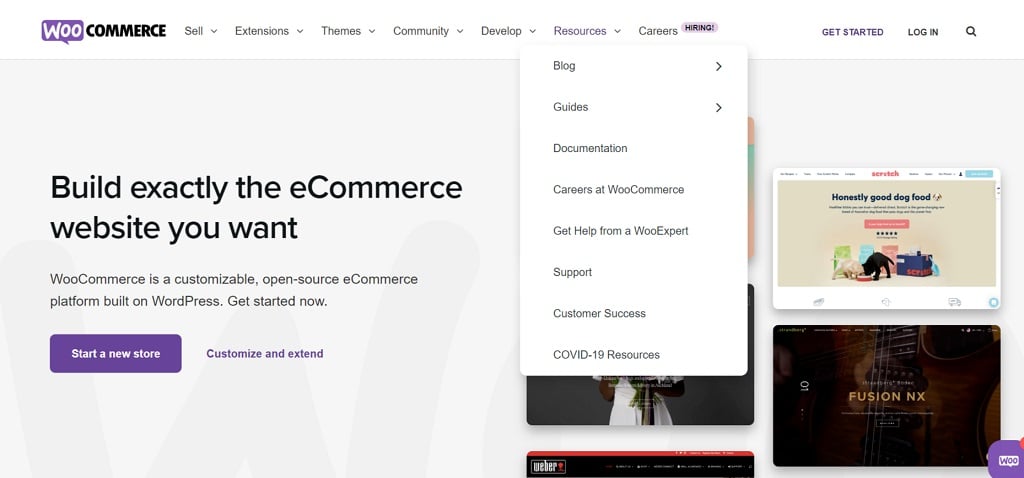 The bare minimum website costs to get started are as follows:
Domain: $12 per year
Hosting: $5—$25 monthly
Premium theme: $59 +
Plugins and extensions: Starting at $25 each
Development costs: $20-$150 per hour
Feature Comparison
All of these platforms are highly rated by users and website builders alike because they offer the web design tools needed to help businesses grow online.
We could go into immense detail about each platform but will keep it brief, highlighting each one's pros and cons.
BigCommerce is reliable and provides essential tools to build a custom website and sell across multiple channels. Users tend to like its product categories, saved payments, and on-page checkout capabilities.
It's also a good option for those who want to set up a business website but don't have HTML (coding) knowledge.
On the downside, there could definitely be more free or premium themes, better shipping tools, and more advanced built-in features. Some merchants have also noted their BigCommerce websites cost more than their counterparts.
What about Shopify? Undoubtedly, most users discuss the user-friendly nature of this eCommerce platform. For this reason, many first-time merchants like Shopify and make full use of its built-in features like fraud analysis, discount codes, abandoned cart recovery, staff logins, and finance reports.
Many merchants also highlight the convenience of Shopify's internal credit card processing platform Shopify Payments, and its ability to process orders fast and efficiently.
The main downside is Shopify could improve its web design customization (more premium theme options) and perhaps not rely so heavily on integrations, which add more than a few dollars to their existing plans.
You can still pretty much build a website that has everything you want; it's just that each additional customization ends up costing more; many advanced features are only available on the highest-paying plan!
Finally, let's talk about WooCommerce. It is by far the best eCommerce platform for those with a website project on WordPress. This open-source plugin has extensive customization capabilities and is free to download.
The only drawback is you need decent web design knowledge to leverage the plugin's full capabilities. It also requires you have a WordPress site, which means acquiring your own hosting, SSL certificate, and domain, etc.
The main difference between WooCommerce and Shopify, and BigCommerce is the former is a plugin. BigCommerce, on the other hand, is an eCommerce platform like Shopify. Compared to Shopify and BigCommerce, WooCommerce is suited to a specific type of merchant—those seeking open-source customization opportunities.
In summary, our research suggests :
You should use Shopify if you want to build a website with no hassle, value great sales tools, and don't mind transaction fees for most payment gateways.
You should use WooCommerce powered by Bluehost if you're capable of minimal coding, value good social media marketing tools, and need strong website maintenance support options.
You should use BigCommerce if you want to scale your business, and need strong marketing integrations.
The final choice ultimately revolves around your business plan, budget, and client needs.
Learn how web design platforms can help you create a well-crafted website
Option 2: Do It Yourself on WordPress

Established in 2003, WordPress is an open-source content management system (CMS) and is a popular website building option for business and eCommerce websites.
Because it's an open-source platform, anyone can modify the source code and redistribute the software, ultimately meaning its community continuously improves custom website functionality.
WordPress has a wide selection of free and premium themes to choose from. Page builders like Elementor and Divi make developing your own website even easier. With SEO, lead capture, and analytics plugins, it's possible to make a performance-driven website that ranks high in search engines.
The Advantages of WordPress
It's free: WordPress software doesn't cost a thing; however, you will need a domain name and hosting provider to install it.
Plugins: At the time of writing, there are 55,000 plugins available, with many new options added daily. Whether you want to boost SEO performance or improve social media marketing, there is a plugin for it.
Easy-to-use: Its CMS lets admins upload new content, monitor the back end, and add pages easily. Its simple drag-and-drop capabilities make editing a breeze.
The Disadvantages of WordPress
Greater vulnerability: Since WordPress is an open platform, it is vulnerable to potential hackers. Therefore, you should always assess the quality of a WordPress plugin before installing it.
Additional plugins: A WordPress website will likely need many plugins to achieve optimal functionality. While some are free, most come with price tags that can quickly add up and become rather expensive.
Frequent updates: The more plugins you have, the more updates you'll encounter. Renovating your website can also delay functionality and stop plugins from working altogether.
Coding proficiency: If you're not technically savvy, you might find the learning curve to build a business website a little steep. Certain plugin customizations also require tweaking code.
How Expensive Are WordPress Sites?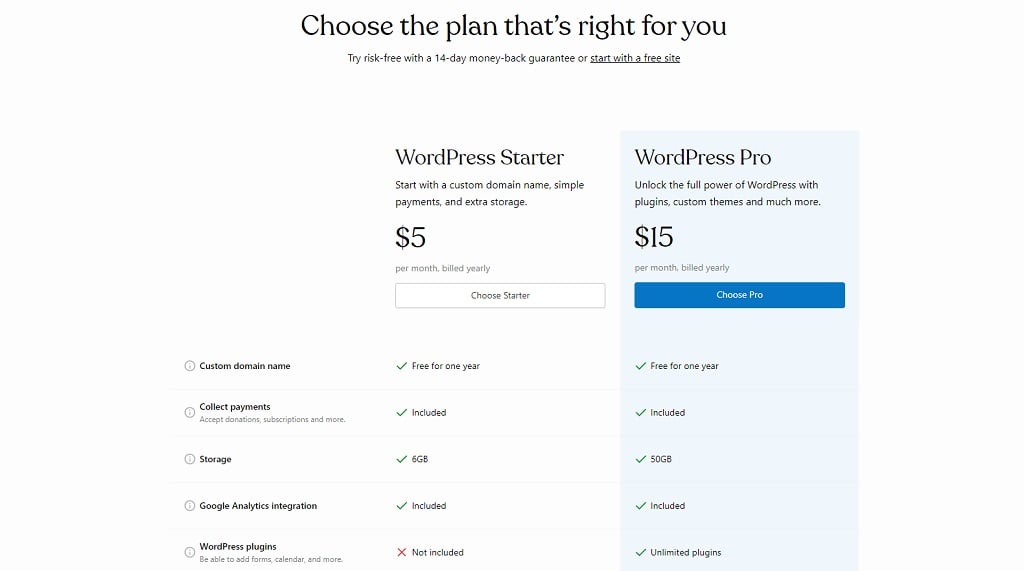 Again, this depends on your WordPress site needs. The average upfront cost is roughly $100 to $100,000, with ongoing maintenance around $75 to $15,000 per year. There are also different platform compatibility and WordPress plans to consider:
WordPress Starter Plan
Billed at $5 per month, this entry-level package includes a free custom domain for one year, payment integrations, 6 GB storage, and Google Analytics. However, it's still very limited and doesn't accommodate other WordPress plugins, premium support, premium themes, or WooCommerce compatibility.
WordPress Pro Plan
This costs $15 per month and "unlocks the full power of WordPress plugins, custom themes, and much more." It has advanced SEO tools, 50 GB, premium support, and the ability to sell products through WooCommerce. It's suitable for small eCommerce businesses.
WordPress VIP Plan
These plans start at $25,000 per year and are tailored by WordPress according to your business needs. Clients can choose from an array of enterprise-grade plugins, integrations, and APIs. If you need help, their experts will gladly guide you in building the digital experience you need.
The Cost of WordPress Site Plugins
While many plugins are free, premium ones range from $5 to $100 a month or more. Moreover, not all prices are charged per month; some require annual renewal payments or one-time licensing fees.
WordPress Starter PLAN
Billed at $5 per month, this entry-level package includes a free custom domain for one year, payment integrations, 6 GB storage, and Google Analytics. However, it's still very limited and doesn't accommodate other WordPress plugins, premium support, premium themes, or WooCommerce compatibility.
WordPress Pro PLAN
This costs $15 per month and "unlocks the full power of WordPress plugins, custom themes, and much more." It has advanced SEO tools, 50 GB, premium support, and the ability to sell products through WooCommerce. It's suitable for small eCommerce businesses.
WordPress VIP Plan
These plans start at $25,000 per year and are tailored by WordPress according to your business needs. Clients can choose from an array of enterprise-grade plugins, integrations, and APIs. If you need help, their experts will gladly guide you in building the digital experience you need.
The Cost of WordPress Site Plugins
While many plugins are free, premium ones range from $5 to $100 a month or more. Moreover, not all prices are charged per month; some require annual renewal payments or one-time licensing fees.
Below is the pricing of popular WordPress plugins:
Jetpack: Free; premium extensions around $10 to $99 per month
Akisment: Free; premium for $10 to $250 per month
Yoast SEO: Free; premium for $99 annually
Elementor: Free; premium starting at $49 per year
MonsterInsights: Free, with plans starting at $199 per year
WordPress Hosting
Another crucial thing to be aware of is that there are two WordPress sites—WordPress.org and WordPress.com. The former does not provide hosting and is where you can download and install the WordPress CMS software. The latter provides hosting, which costs between $4 and $59 per month.
It's challenging to zero in on an exact number when considering a WordPress website. That being said, you can estimate a base cost by accounting for basic factors like the plan, themes, plugins, security, etc.
So, while you can get several advanced features with a WordPress.com Business plan at $3oo per website, you can make that money go further on a self-hosted WordPress site that costs $46 per year.
Want to speak with an expert?
Call us at (312) 265-0580
Option 3: Hire a Professional Web Designer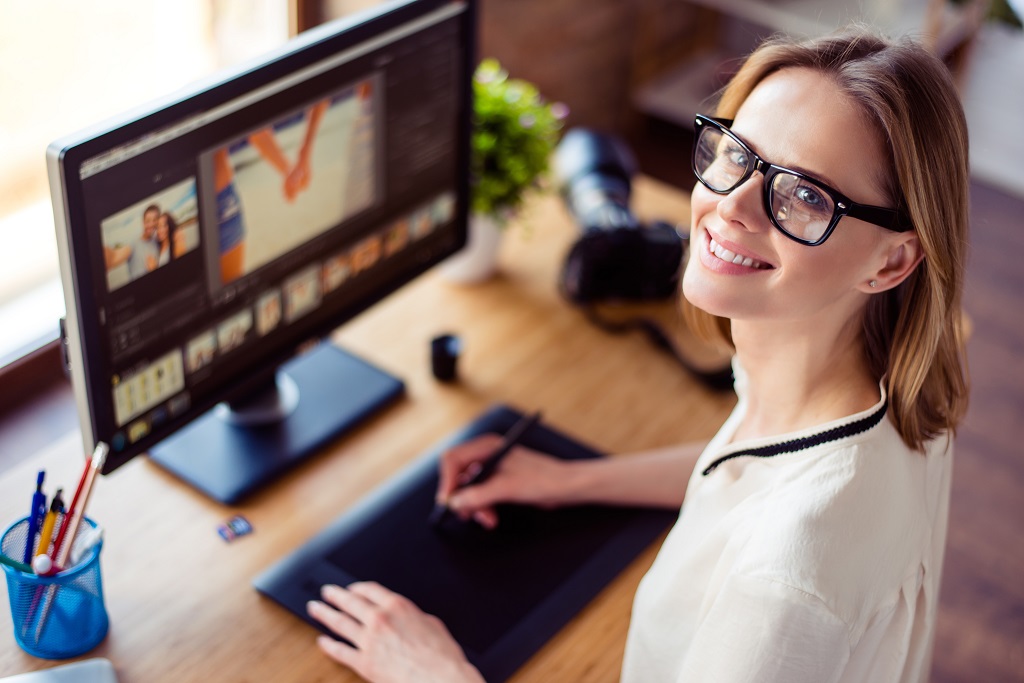 Besides professional web design costs, we can't think of any reason why you shouldn't hire a professional website builder. By hiring one, you are guaranteed an aesthetically appealing, professional, and functional website that resonates with your customers.
To paraphrase Reed, our senior account executive, a professional web designer, will take care of branding, visual design, UX methodology, custom web development technologies, SEO, and analytics according to digital marketing best practices.
There are numerous things a web agency is skilled in, such as:
Custom web development: Designing user-friendly interfaces that work on any browser, operating system, and device.
Platform-based web development: The ability to customize websites according to platforms like Shopify, Magento, WooCommerce, and WordPress.
Front-end web development: Creating everything you see on a website like links, animations, graphics, and buttons.
Back-end web development: Building and maintaining the technology that powers the user-facing (front-end) part of the website.
Continuous support and iteration: Testing, analyzing, and refining a website to ensure it reaches optimal performance.
Migration and integrations: Moving a website from one hosting platform to another, as well as being able to integrate necessary software and premium plugins.
Professional website designers provide marketing advantages and technical support. From a user experience perspective, they know when and where to add a page or section breaks, how to distribute calls to action, optimize web pages and implement proper navigation.
There are two ways to go about hiring a professional website designer. Either you can use a web agency or a freelancer. Agencies are preferable to freelance web designers because multiple specialists are needed to build custom websites (writing, designing, and coding).
It's possible to hire a designer who's also a developer, but you'll have to check what services they offer. Agencies are the best option for businesses with complex website needs.
If your online store uses experimental technology or hosts excessive pages, you should rather hire an agency. But, if you need a simple brochure-style website, then a freelance developer could work.
How Much Does Web Design Cost?
Web design service costs anywhere between $1,000 and $100,000. You're probably looking at this price range and wondering why there's such a big discrepancy, so let's break it down:
Up to $1,000
This type of website doesn't require much. Maybe a landing page, an about us page, and a basic services menu totaling around five pages. A basic website option suits companies that conduct most of their business offline, but need an online presence for local SEO purposes.
Up to $5,000
Rather than point to an offline business, an eCommerce website functions as an extension of a business or as the entire business itself. An eCommerce business website will usually integrate an order management system, delivery tracking, and live chat features.
Over $10,000
Obviously, the more customized a website is, the greater its development costs. Larger eCommerce businesses tend to need more data-focused integrations. With this comes ongoing maintenance and iteration development.
Furthermore, the higher a website costs, the greater ROI. Let's take Amazon, for example. The retail giant has a gigantic inventory and ships to multiple locations. You can imagine the sheer size and amount of data management required.
Moreover, the eCommerce giant gathers a substantial volume of customer data. Its advanced analytics means the company has greater insights into customer behavior and can better target buyers with relevant products that appeal to their needs and aspirations.
Can you see how the data a large company gathers potentially saves and makes millions over the long term?
Comrade's web solutions start a $10,000 for simpler projects and increase as customization becomes more complex; we don't follow a cookie-cutter approach. Built into our development cost is the time it takes to ideate, execute and test your website.
Our team will first assess your goals and requirements, which they outline in a Specifications Document to guide the structure of your budget and our KPIs.
For complex projects, we take a T&M (time and material) approach. This is when clients agree to pay us based on the time we spend doing the work and materials used, regardless of how much work is required to complete their business website.
How to Choose a Good Web Design Company?
So many factors go into creating the perfect website for your brand. Our advice: conduct the necessary reconnaissance and don't just select the first agency that comes up online.
Experience, culture, and portfolio matter. You'll want to analyze these carefully before deciding.
Ideally, you'll want an agency that has experience in designing websites in your industry. They should also have sufficient web designer and UX experience.
Determine if the websites they've created for previous clients are clear. Are they intuitive and user-friendly? Do they explain how they resolved their clients' pain points?
Hint: Not having case studies is a definitive red flag!
While it's possible for a good UX designer to create any website style, odds are it's better to employ the services of one who has experience creating websites for similar types of companies.
Remember, related experience matters because it means the agency is familiar with your industry's unique challenges. So, if the agency specializes in fashion and retail, but you're a law firm, it might be better to find another agency with a track record of legal clients.
The next thing to consider is company culture. There are hundreds of fly-by-night agencies looking to make a quick buck. Online appearances can be deceptive, so how do you know if the web design company is legitimate?
Firstly, any agency offering a too-good-to-be-true website price is a no-go. On the flip side, being upfront and transparent about pricing and what they can offer within specific budgets is usually a good sign.
At Comrade, we're honest with our clients. In fact, we only onboard those whom we think we can help. However severe that may seem, we take pride in our work and, as dedicated professionals, would hate to overpromise and not deliver.
If we feel like we're not a good fit, we'd rather be upfront, instead of wasting everyone's time and resources. The same goes for KPIs.
Website design and digital marketing won't change your business overnight. Developing a website takes between 150 and 500 hours!
The entire process consists of various stages, such as the discovery phase, design phase, development phase, and website improvements phase.
The agency you work with should specify clear goals with attached timelines and effectively manage your expectations. And if there is something you don't understand, they should be more than happy to explain it to you.
Extra Web Design and Development Services You Need to Pay For
Earlier, we mentioned "free" websites are never truly free. There are fundamentals you'll need to pay for, like a custom address, SSL certificate, hosting provider, content creation, and ongoing website maintenance.
| | |
| --- | --- |
| Website Domain | $10 to $20 a year |
| Website Hosting | $3 per month |
| SSL Certificate | $60 to $200 per year |
| Website Template or Theme | $50 to $5,000 |
| Website Content | $80 to $200 per page |
| Apps and Integrations | $10 to $300 |
| SEO and Marketing | $2,000 to $10,000 per month |
| Website Maintenance | $35 to $500o per month |
Website Domain
A website domain is the name of a website (the URL), like www.zara.com. While it isn't strictly necessary to create a web presence to run a business, purchasing a domain gives you control over your online identity (branding) and the content you post.
It is an absolute must-have for building confidence in your business.
Domains cost around $10 to $20 a year. Once bought, they have to be renewed on a yearly basis. Prices differ depending on which registrar you purchase your domain from, and what kind of domain you're buying (.com, .tv, .org, etc.) Different registrars offer different packages, so it's worth shopping around.
Sometimes, if the domain you want is owned by someone else, you may pay a higher price or have to choose a different name if they're unwilling to sell it. Popular domain registrars include Domain.com, GoDaddy, DreamHost, Namecheap, and Google.
Website Hosting
Web hosts are companies that offer the facilities required (technology and services) for websites to be viewed on the internet. When it comes to hosting, there are different options; shared hosting, VPS (virtual private server) hosting, dedicated hosting, and cloud hosting.
Most web hosts offer different packages for different clientele. A massive eCommerce store, for instance, will require more complex hosting capabilities than an HVAC repair company. Businesses usually start with simple hosting solutions and upgrade to more advanced plans as they grow.
Entry-level web hosting can cost as little as $3 per month, while VPS hosting can be as much as $25 per month. If your website needs a lot of disk space, or you expect a large amount of traffic, you will probably have to get dedicated hosting.
It's more expensive but comes with the option of having the server maintained on your behalf (managed hosting), or you can manage the server, updates, and security yourself (self-managed hosting).
SSL Certificate
An SSL certificate is a digital certificate that authenticates a website's identity and enables an encrypted connection. Organizations and companies need SSL certificates to secure online transactions and keep customer information private and secure.
SSL certificate prices range widely depending on a website's security needs. Some top hosting providers offer free SSL certificates as part of their hosting packages. However, the average price is around $60 to $200 per year.
Website Template or Theme
Certain website builders like Squarespace and Wix offer free themes, while others like WordPress are compatible with third-party theme providers like Template Monster. Premium templates range anywhere between $50 to $5,000 depending on functionality.
Generally, the cheaper the template, the more limitations it has. Pricier templates tend to have greater flexibility and integrations, as well as clean, current code that's well documented, should you need to upgrade or optimize web pages at a later stage.
Ecommerce Functionality
The cost of database integration, payment processing, responsive design, and the ability to host interactive media all add up. Building an eCommerce website is the same as starting any real business, and is a lot more complex than a one-page website.
Custom eCommerce functionality and back-end programming are usually the greatest cost for business websites. For example, email support and live chat are unique features that increase pricing. Or you may want customized search functionality due to the type of product you sell.
Or, if stock levels are crucial, you may need to sync the website database with your in-house inventory management system. This will increase the price, but it eliminates hours of paying employees. When functionality improves website user experience and operational efficiency, it's not something you want to skimp on, as it delivers high ROI.
Website Content
Copywriting rates vary between $80 to $200 per page, depending on who you recruit to do the job. If you contact an agency, they'll charge more than hiring a freelancer; however, there are things to consider like SEO, expertise, and how many pages your website has.
There is also a difference between editing and writing something from scratch. The job of a copywriter is to capture attention, raise awareness and convert visitors into paying customers. A good content professional spends time evaluating content comprehensively, ensuring the tone and voice of the copy line up with your brand.
Apps and Integrations
Apps and integrations allow you to add more advanced eCommerce website features without custom coding. eCommerce plugins come in many categories. Whatever function you can think of, from shipping to SEO, there will be a plugin for it.
Popular and premium plugins include:
Yoast SEO: A powerful SEO tool that improves readability and search engine rankings.
Paypal: A payment solution that supports major shopping cart integrations.
OptinMonster: The best tool for creating email signup forms, including floating bars, slide-in scroll boxes, and inline personalized lead forms.
TrustPulse: Marketing automation software that makes brands more trustworthy and pushes website leads to act.
There are over 50,000 plugins for WordPress alone. Before jumping on the plugin bandwagon, make sure you're clear on what your website needs to accomplish, and only use plugins that help you achieve your business goals.
You'll also want to double-check plug-ins are compatible with whichever platform your website is built on. Some can be used on any platform, while others are specifically built for WordPress.
You can expect to pay anything from $10 to $300 for premium plugins, and they typically require yearly renewals.
SEO and Marketing
Having an SEO-friendly website is the first step of any digital marketing strategy. If you run a business, it's a given you need a website for customers to find you. Even a simple website can be a real powerhouse for leads and sales when it's created with marketing in mind.
Website marketing costs are anywhere between $2,000 to $10,000 per month. Marketing connects businesses with customers when they're online and is effective across industries. Hiring marketers to improve SEO, PPC, and social marketing is a must to boost online rankings in organic search engine results.
Website Maintenance
Regularly updating and maintaining your website ensures it operates at full capacity. A business can spend between $35 to $500o per month or $400 to $60,000 per year on existing site maintenance.
This includes things like renewing your domain name, web hosting, and SSL certificate, as well as performing CMS updates and security patches. Website maintenance costs will vary depending on the site's size and complexity.
Hidden Costs of Inexpensive Websites
"We run a small business, and a cheap website is all we require. We want something simple. Not only that, but we're on a shoestring budget."
We hear this from clients all the time, and we get it. But cheap websites just cost more in the long run. It's like buying a cheap vehicle that constantly needs repairs.
Once you add up the cost of those repairs, you may as well have just spent money on buying a better, more reliable set of wheels.
Cheap websites are not SEO-friendly, offer a poor user experience, are slower, and don't provide good, dynamic content.
So many vital components go into web development beyond what you see on the screen. People unfamiliar with these intricacies tend to hire agencies or freelancers based on attractive designs, but there are so many other considerations frequently overlooked.
For example:
How fast is the website?
Who will update the website when required?
What kinds of optimizations are there to ensure business growth?
Can the website scale with the business?
Will you own the website?
Most digital marketing strategies take six months to work from inception to implementation. Now, imagine hiring an agency that drives poor results—that's six months of wasted time. And time is money!
Not only that, but a poorly performing website will result in a poor online reputation. If you want customers to have confidence and trust in your brand, you need to have a high-quality website built to convert.
You should think of your website in terms of ROI. Every potential customer who looks at it makes a value judgment right then and there if they wish to do business with you. And, you want to leave the best impressions possible, right?
It literally takes about 50 milliseconds (o.o5 seconds) for a user to form an opinion about your website.
So, how valuable is your web presence?
Let us show you how our web design solutions can help you grow your business
Is Paying the Price Worth the Result?
Paying a professional agency to design your website is 100% worth it if they are the real deal, and deliver on their promises. When you're attracting new customers and generating revenue that supersedes your website costs and marketing expenses, then the price of your website is almost immaterial.
We view web development and digital marketing as an investment in your business' growth. The websites we design have custom functionality. Their specialized features work together to improve visibility and push leads down the sales funnel.
To recap, a professional web designer will:
Have a better understanding of your industry from a marketing perspective
Save you time and money
Develop better designs that are mobile-friendly
Implement SEO best-practices
Adapt to new trends and technologies
Offer professional customer support to troubleshoot issues
The primary concern of an online store or website is sales. Having a professional website legitimizes your business and showcases your brand to prospective customers.
Sure, building a website comes with a price tag, but if you view it as an investment with a high ROI, it will pay for itself over time.
If you need a website update or are building one from scratch, then we help! Design and development work hand in hand. As a web development and digital marketing company, we can develop and create a simple and elegant website, regardless of how big your business is. We are always ready to help you with questions considering Shopify website development, WooCommerce development and Magento website development services.
Our talented team designs tailor-made websites to pixel-perfect standards. Your website will be sturdy, fast, and easy for you to manage. Contact us to build your professional website.
Frequently Asked Questions
Where can I find your company?