Cleaning services marketing strategies are designed to achieve a sustainable competitive advantage by understanding the needs and wants of customers. A cleaning company's marketing strategy encompasses everything from how it positions itself, to its selection of strategic partners, media relations, and channels and tactics used to boost sales.
Good cleaning services marketing strategies contain a business's value propositions, key brand messaging, as well as data on target audiences and customer demographics. As you can imagine, any cleaning services marketing plan is a multistep process that requires research, implementation, and monitoring.
Below are some tried-and-tested house cleaning marketing strategies to help you promote your cleaning business.

How to Market a Cleaning Business: Top 12 Marketing Strategies
1/12 strategy
1. Know Your Target Market
The absolute best home improvement marketing makes potential clients feel like you're reading their minds. It adroitly addresses their pain points, challenges, and goals so clearly they have no other choice but to hire your cleaning services.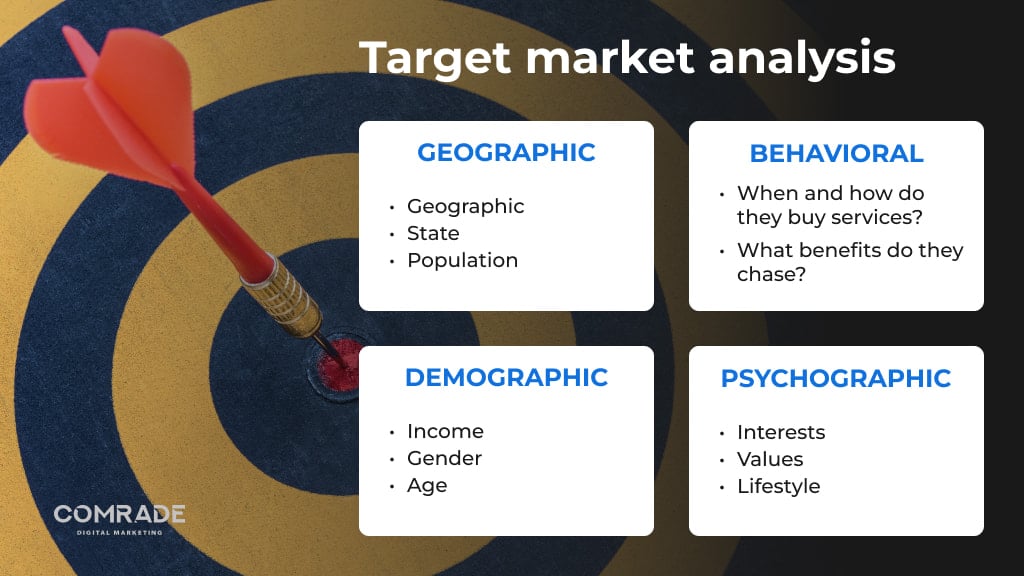 When cleaning companies embark on developing digital marketing strategies for their cleaning services business, most business owners have a vague idea of their ideal customers. However, it's often not detailed enough. You have to understand that today's digital marketing is hyper-targeted and specific.
A maid service can advertise to prospective clients based on their demographics, location, and other online habits. To achieve this bulls-eye specificity, you need to develop meticulous customer profiles.
These are detailed compilations of different types of consumers, which include: demographic, geographic, psychographic, and behavioral data to create a detailed understanding of consumers, which is an important part of developing your cleaning services digital marketing strategy.
It's possible and completely normal for cleaning businesses to have more than one customer profile. For instance, your local business might appeal to a working mother who needs help around the house, as well as office managers of medium-sized commercial businesses, and so on.
Audience targeting company GlobalWebIndex succinctly sums it up:
"Consumer profiling is about defining, segmenting, and profiling your target consumers to guide every element of your marketing efforts and brand strategy. Leading brands, agencies, and publishers provide value that lies in data that quantifies consumer behaviors and perceptions in granular detail."
Hence, it is easier to get new leads when you nurture prospects who fit ideal customer profiles.
2/12 strategy
2. Create a Cleaning Business Marketing Plan
Alright, let's dive into creating a residential cleaning business marketing plan that gets results! Your main mission is to tailor your message to fit your customers' specific needs. Just like you clean a cozy apartment differently from a towering office space, your marketing approach should be customized too.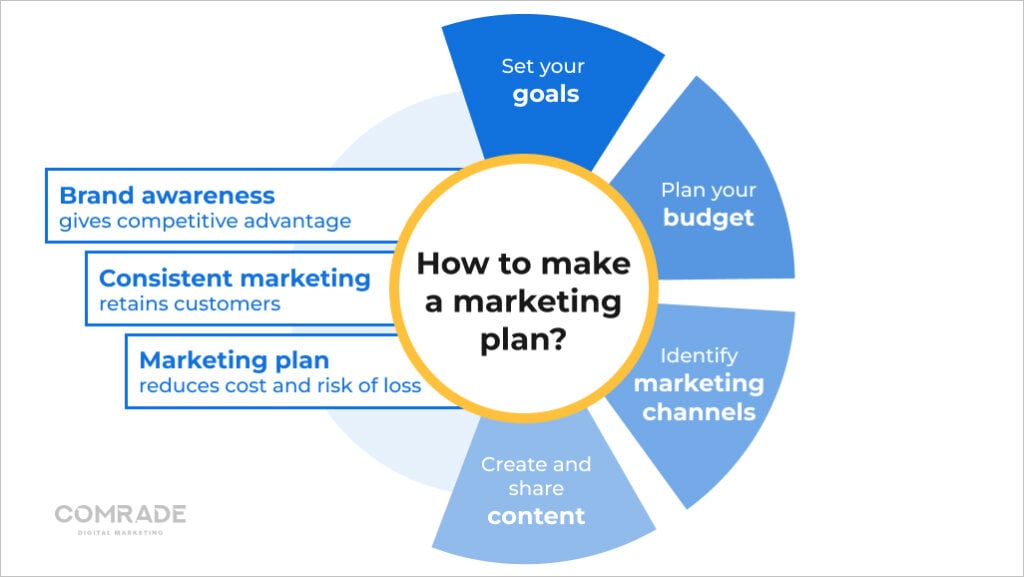 Here's the deal: crafting a successful cleaning business promotion requires thoughtful planning and some trial and error. Not every strategy will be a perfect fit for your brand or budget, and that's okay.
Before starting, take the time to define your brand, identify your target audience, and pinpoint the most effective marketing channels. By doing so, you'll be on track to reach your clients in the most impactful way possible. Let's get your cleaning business the attention it deserves!
3/12 strategy
3. Create a Cleaning Business Website That Attracts Leads
A lead generation website is like a digital storefront. Truthfully, house cleaning business leads are only as good as the website that produces them. Luckily, you don't need all the bells and whistles to create a simple lead-generating web presence. Following the house cleaning marketing ideas below will improve your website tenfold.
Calls to Action
The point of your website is to advertise your cleaning company and get more clients to book your services. It's one of the tenants of good marketing for cleaning services and indeed, good website design is denoting clear calls to action on every web page.
Every aspect of a website is designed to encourage buyers further down the buyer's journey. So, a webpage may nudge visitors to contact you, "learn more," and browse offerings. No page should be published without a valid reason.
Mobile-Friendly
63% of Google's US organic search traffic originates from mobile. Mobile-friendly websites, meaning they are operable across devices, boost sales and conversions because users can access them anywhere (see: local SEO).
They also have responsive layouts that rescale according to the device used to view them. This allows the content to adapt to different screen sizes without any rendering issues.
Fast Loading Times
The Google recommended page load time is under two seconds for eCommerce websites. Page loading time directly affects Google search rankings. Incredulously, 53% of mobile visitors will leave if a webpage doesn't load within three seconds.
Ensuring your Core Web Vitals are up to scratch can improve the digital strategy of your cleaning service, especially when it comes to user experience and page loading times. Compressing images and removing unnecessary code also helps. Sometimes too many ads and a poor web host may also be the culprit of a lagging site.

Need a high-performance website for your company?
Book a 15-min call to discuss
Clean Design
A clean website design takes the functionality of minimalism and incorporates effective stylistic and visual choices. It isn't about keeping things minimal but streamlining content for an optimal and engaging user experience.
Clean websites have simple navigation structures, meaning users can find what they are looking for from your home page (or whatever page they end up on). Moreover, they look tidy and unencumbered to the human eye, with plenty of "white space" between blocks of text and images. Look at the best real estate websites to get inspiration.
4/12 strategy
4. Optimize for Cleaning Service SEO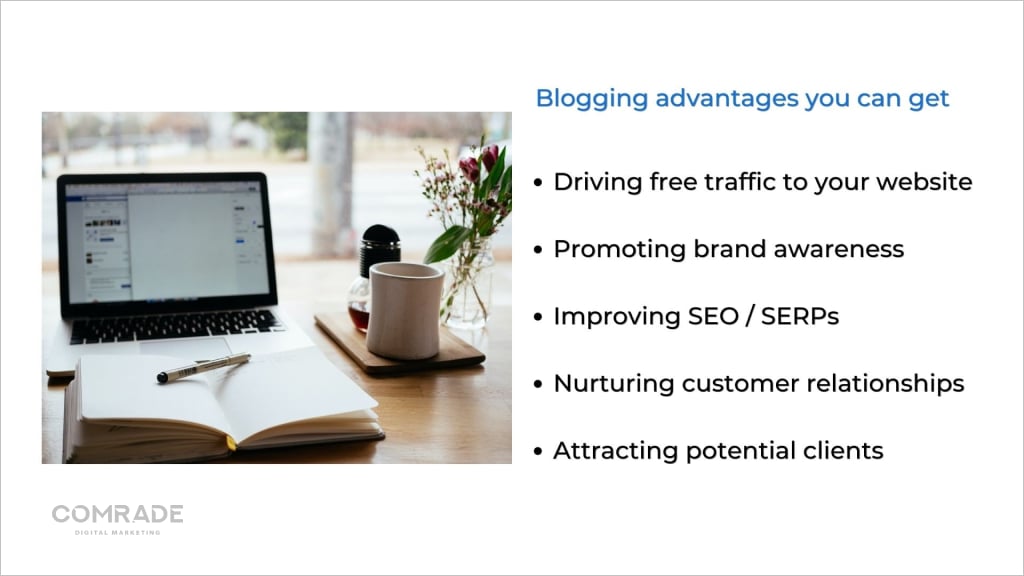 By now, you have likely heard the marketing term search engine optimization (SEO). This is the process of improving the quality and quantity of website traffic to a website or web page from search engines.
SEO targets unpaid (organic) traffic rather than paid traffic generated from click advertising. It informs both the technical and creative aspects of marketing. No house cleaning marketing strategy functions properly without it.
You can have the best website, but without SEO, it will be invisible to internet users.
For simplicity, we'll focus on on-page SEO, as this impacts content marketing strategies. When users search online, they type in specific phrases or keywords. A good house cleaning digital marketing strategy will ensure that whatever material is published online matches these keywords.
In theory, when users type in these keywords, your content should appear on Google search results pages because it contains the same keywords. Thus, creating valuable content keeps people reading, and SEO gets them to engage in the first place, which brings us to blogging.
57% of marketers say they've gained customers specifically through blogging. Some of its main advantages include:
Driving free traffic to your website
Promoting brand awareness
Improving SEO / SERPs
Nurturing customer relationships
Attracting potential clients
The role of a blog is to provide useful information to potential cleaning clients. While it may lead to sales, its primary focus is to make your brand more trustworthy and respected, improve SEO and establish your company as an industry leader.
Success Stories
Delivering Business Results: Our Home Services Marketing Case Studies
5/12 strategy
5. Manage Your Local SEO
You've got a sparkling cleaning business, and now it's time to make sure your online presence shines too! Managing local SEO for your cleaning company can significantly boost your visibility in search engines and attract more customers in your area. Check out these top benefits and essential tips to get your local SEO game on point!
Benefits of managing local SEO for your cleaning company:
Increased online visibility: Optimize your website for local search to appear in relevant local searches, reaching potential customers in your service area.
Targeted audience reach: Attract customers in your service area who are actively searching for cleaning services, increasing the chances of conversion.
Enhanced website traffic: Local SEO efforts bring more organic traffic from people in your area actively seeking cleaning services.
Improved local authority: Consistent local SEO boosts your credibility, establishing your cleaning business as a trusted local service provider.
Competitive edge: Proper local SEO gives you an advantage over competitors who haven't fully tapped into local search optimization.
Tips for effective local SEO management:
Claim and optimize Google My Business (GMB) listing: Control your business information on Google Maps and other Google services for better visibility.
Localize website content: Incorporate localized keywords and create location-specific pages to target customers in different areas.
Mobile-friendly website: Ensure your website is mobile-friendly to cater to users on smartphones and tablets.
Encourage online reviews: Positive reviews help with local SEO and build trust with potential customers.
Create location-specific pages: Develop landing pages for each city or neighborhood you serve, with relevant keywords and content.
With these benefits and tips in your arsenal, you'll be well-equipped to take charge of your cleaning company's local SEO and watch your business thrive in your local market. Embrace the digital realm, engage with your community, and watch your client base grow like never before!
Get ahead of the game. Optimize your marketing strategy for maximum revenue growth
6/12 strategy
6. Create a Business Page on Local Listings
Each year, the percentage of online searches performed on mobile devices continues to grow. Mobile and wearable devices, together with Google search, drive much more geographically relevant information to consumers.
In recent years, the number of searches including "near me," has increased by 500%. Considering a commercial cleaning business almost always services clients in specific areas, it's a no-brainer that its cleaning company digital marketing strategy should be focused on local SEO.
Local SEO is the process of improving search rankings and online visibility in local search results, such as Google's Map Pack/Local Pack. Unlike organic search results taken from Google's index of websites, the listings in Local Packs originate from the Google My Business directory.
The main difference is that the Google Local Pack contains clear calls to action, such as to visit your website or make a phone call. Another important difference is that it includes concise business information that benefits users, such as location, opening hours, and reviews.
You need to register a free Google My Business account to rank in local SEO results. Raking in positive customer testimonials or reviews, as well as developing a local SEO content marketing plan, will boost your local rankings too.
Local SEO is one of the best house-cleaning marketing strategies because it evens out the playing field for smaller local businesses, as Google tends to prefer results that have local intent. Therefore, even if you're stacked up against a bigger competitor, if your business is closer to the user, in terms of proximity, it will likely rank higher.
A Google My Business Account Tip: Make sure to fill out all details as accurately as possible. The more detail Google has, the more accurately it can scan your information and rank you. For example, if you have listed your business on Greatmore Street, don't abbreviate it to st. if you fill out the same information on another directory.
7/12 strategy
7. Start an Email Marketing Campaign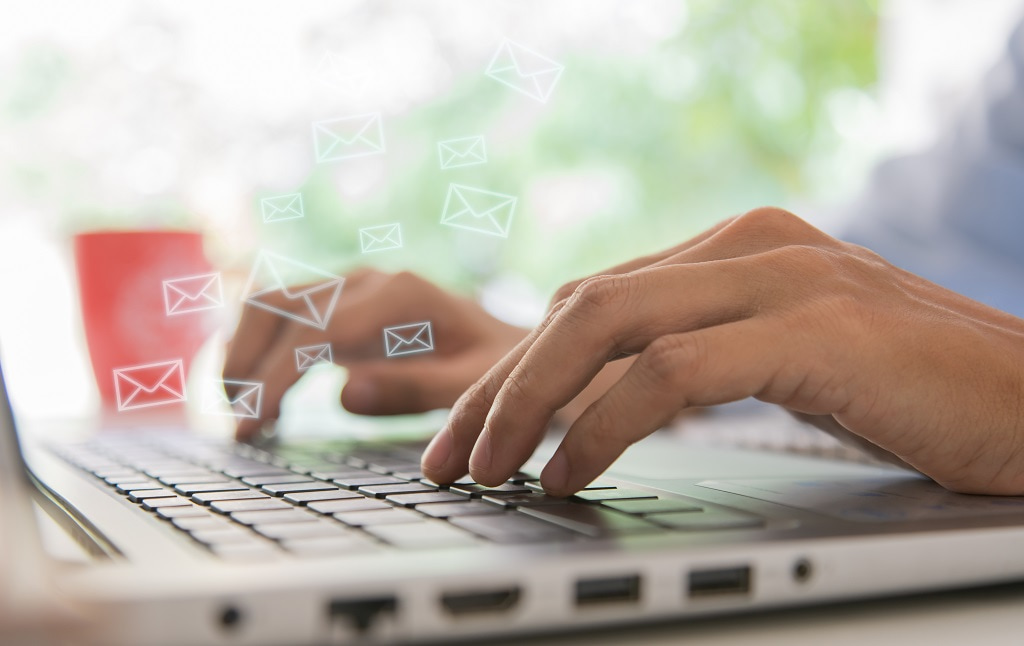 Research indicates businesses lose up to 67% of customers through a lack of relationship nurturing. Email marketing should be a core component of your customer retention strategy and cleaning services marketing plan because it is highly cost-effective, enables personalization, and, when done well, has a great engagement rate.
A cleaning business offers happy clients a regular service. What better way than to keep in communication with them through email newsletter updates? You can send them valuable tips and discounted offers and nudge potential leads to hire you.
Email marketing has an excellent ROI ($1 spent = $36) and is relatively easy and cheap to maintain. Platforms like ActiveCampaign and Mailchimp allow for amazing automation and customization.
An email marketing campaign can take many forms, depending on what stage of the buyer's funnel your clients are at:
Newsletters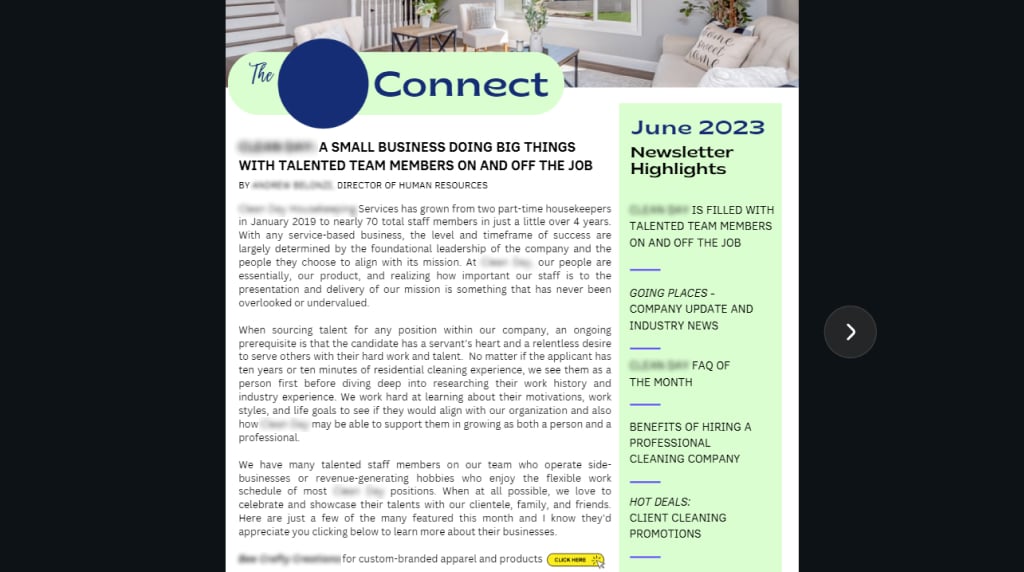 They are effective for keeping your cleaning business at the front of clients' minds. They typically include news about products and services and valuable content marketing material.
Welcome Messages
These emails are usually sent out to first-time clients after providing you with details online. Welcome messages can be used for sales generations, lead follow-ups, or brand awareness. This type of campaign works best when combined with a specific offer.
Birthday or Anniversary Messages
Commemorative messages are the oldest trick in the book. They highlight milestones important to the brand or customer and are frequently accompanied by a discount code, gift, or promotion.
Limited-Time Offers
These offers are great if you need a bump in sales. They provide potential customers discounts that expire within a certain time frame. Limited-time offers tend to gain traction quickly and generate more sales.
Post-Purchase Drip
These emails are sent as a follow-up to a purchase. They reinforce a client's decision to hire you and build brand loyalty. From an emotional perspective, they build trust and delight with customers because they deliver added value after a sale. This type of email also allows you to upsell.
Looking to scale or increase your revenue? Marketing for cleaning business is a proven way to grow
8/12 strategy
8. Create Referral Programs for Your Customers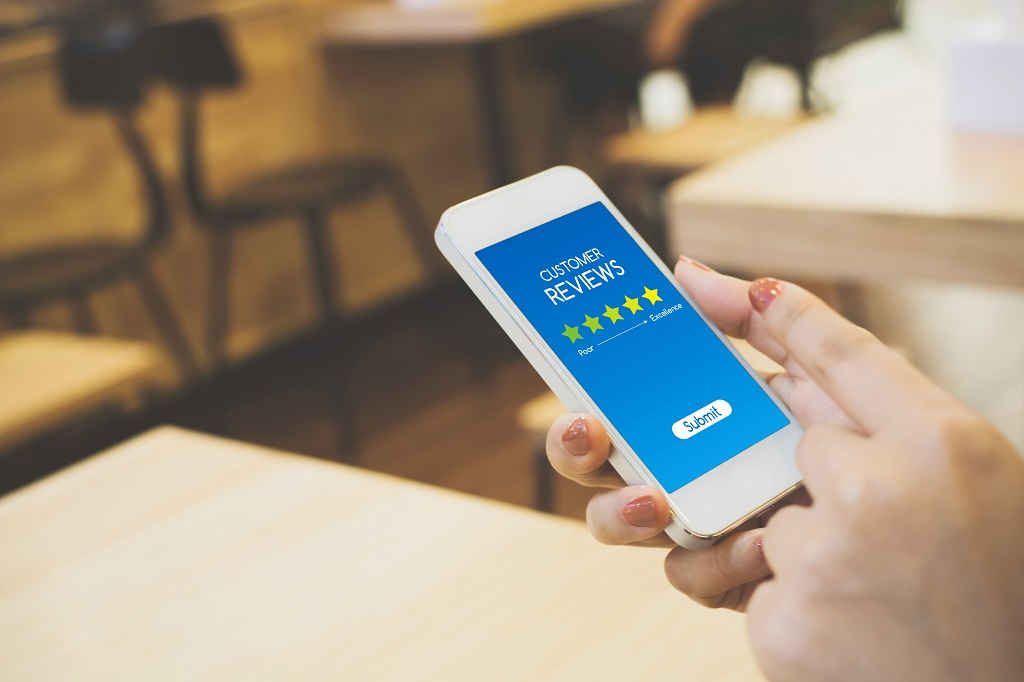 Referral marketing is a strategy that transforms passionate customers into brand advocates who directly refer your cleaning business to their networks. It's similar to word-of-mouth marketing, except businesses utilize deliberate tactics like free offers or discounts to encourage customer-led brand promotion.
Compared to other types of house cleaning digital marketing that aim at a general audience, referral marketing leverages your company's existing client base—and the trust they have with their peers—to generate new clients.
A cleaning company referral program might entail asking customers to share your profile online in exchange for discounted service or get them to encourage others to join your mailing list in exchange for something else of value.
Referral leads have a 30% higher conversion rate and work just as well for small and large cleaning businesses. Why? Because people are much more likely to buy products and services from people they know and trust.
Twenty years ago, the reach of an average person was small. For the most part, referrals were made face-to-face, over the phone, or by post. Today, social media has expanded the average person's audience to the thousands. The average person can reach hundreds of people within minutes.
A lucrative referral program makes it worthwhile for people to recommend your services, is mobile-friendly, and is designed to help a company achieve its digital marketing goals, whether that's raising online awareness or boosting sales.
9/12 strategy
9. Encourage Positive Reviews
Did you know that nine out of ten customers read reviews before making a purchase? Online reviews are no longer a "nice-to-have" feature, but a staple of your cleaning services digital marketing strategy. They will help your cleaning business get noticed by both customers and search engines, leading to more sales.
On average, reviews produce an 18% increase in sales. Other studies show that companies with a 4.0 – 4.5-star rating earn 28% more in annual revenue. The takeaway here is that house cleaning companies should focus on providing customers with excellent service that merits a 4-star rating or more.
But garnering reviews takes a little more effort than that alone. You actually have to make it easy for new customers to leave quality reviews. Most clients don't mind reviewing, but they won't go out of their way unless asked.
Therefore, as part of your house cleaning digital marketing strategy, you might send a follow-up email requesting a review. If you have an app, you might integrate a review request after they pay. It's also helpful to provide hints. So, you could ask them to rate you out of five stars and then prompt them with a request like, "tell us what you most enjoyed about your service."
Some companies even offer discounts for reviews because they know how big a role they play in Google search results. Google considers positive reviews as an endorsement of trust and rewards sites with greater visibility.
Remember, it strives to provide the best and most accurate information to user queries, so it will naturally prioritize a cleaning business with reviews over one with zero.
On that note, it is also important to respond to customer reviews. This shows that you're listening and that you care about the quality of your service, which in turn improves relationships, and generates repeat customers and new business.
10/12 strategy
10. Create a PPC Campaign
Imagine you could ignore clients uninterested in your services and only target those who needed help from a cleaning company? This is precisely what pay-per-click advertising is designed to do.
Commonly called PPC, in this form of online advertising, advertisers accrue costs when users click their ads. You bid on the perceived value of a click in relation to keywords, platforms, and target audience.
For example, if a user is searching for "commercial cleaning Ohio," an advertiser can show a relevant ad that speaks to "commercial cleaning Ohio." Pay-per-click advertising is a powerful marketing strategy used to increase sales, generate leads, and promote brand awareness.
This cleaning-services digital marketing strategy is cost-effective because you get to decide how much you're willing to spend. You also only pay for the visits you receive, so there is a direct link between cost and performance (visits).
Pay-per-click also provides incredible control over the cleaning clients you're targeting. You can target them based on age, gender, location, interest, etc., to achieve a high level of accuracy. With this detailed data, it's easy to know if an ad is working and if not, you can correct it in real-time.
Most companies create several variations of the same ad and monitor its results to see which works best. While PPC shouldn't replace SEO, it offers a short-term boost of traffic and qualified leads, which works well to amass new clients.
Start a Retargeting Campaign for Cleaning Companies
97% of people who visit your website for the first time will leave without hiring your services. To leverage their interests, and increase their likelihood of converting, you'll want to invest in retargeting.
Also known as remarketing, retargeting is a popular digital marketing technique that allows you to show visitors relevant visual or text ads to remind them that your product or services offer the best solutions.
Retargeting campaigns can be done via Google Ads or Facebook, and LinkedIn Ads. You can display your ads on social media, search engines, YouTube, other websites, and even email.
With the ever-changing landscape of house cleaning marketing, the fight for your target market's attention has to be won with not just quantity by also quality. Retargeting offers a cost-effective method to grab customers' attention and nudge them down the sales funnel.
Accelerate revenue growth with expert home cleaning services
11/12 strategy
11. Focus the Messaging on the Result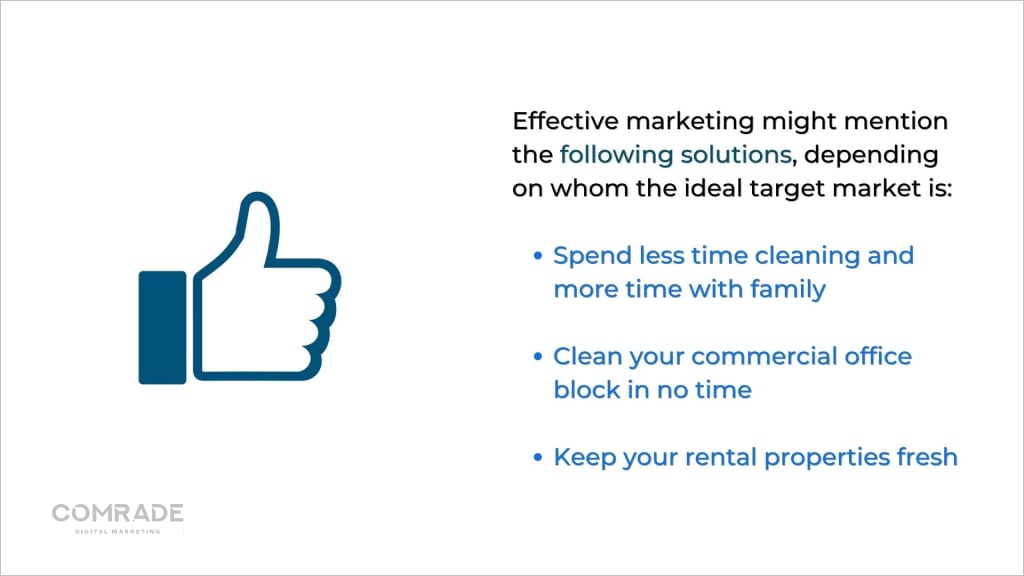 The cleaning service you provide is a means to end it. Advertising professionals always market the result. Take Coke Cola's slogan "Taste the Feeling," Nike's "Just Do It," and Croc's "Come as You Are," none of these slogans sell products; they sell and inhibit an aspirational attitude.
Let's put it more simply. What sounds more enticing? "Hire the Best Cleaners! Call us now!" or "Want floors so clean you can see your reflection? Call us!" Clients are less likely to care about the actual service than they are about the result; that's why the second sentence is more appealing.
Of course, that's not to say you shouldn't list services like floor polishing or commercial window washing. However, when marketing your janitorial services, you should appeal to your customer profile pain points. If you know their common challenges, you can talk about solutions.
For instance, effective digital marketing for a cleaning service might mention the following solutions, depending on whom the ideal target market is:
Spend less time cleaning and more time with family
Clean your commercial office block in no time
Keep your rental properties fresh
When you know what influences their purchasing decisions, you can connect your marketing message to meet the challenges they are trying to solve.
12/12 strategy
12. Integrate Offline Marketing into Your Strategy
Mobile businesses that serve specific areas still benefit from traditional marketing strategies like the ones below:
| | |
| --- | --- |
| Direct Mail | With good old-fashioned direct mail, there is no platform to learn and no complex digital techniques to master. The average person receives two pieces of physical mail per day—compared to 107 emails and 63 ads they see online. Therefore, an attractive flyer in their mailbox will definitely stand out. |
| Branded Vehicles | A vehicle wrap can get anything from 30,000 to 80,000 views per day and have the lowest cost per impression rate of any other form of advertising. Essentially, you receive free exposure every time your company car drives around with advertising messaging. Even if it's not traveling, a car wrap is still doing its job when parked. |
| Reach Out to Estate & Rental Agents | Estate agents still host house viewings, and property rental companies still need cleaning companies to keep their real estate in good shape. Occasionally, it pays to visit those companies and drop off brochures with your services, especially if you have built a good reputation in the area. |
Climb the search engine ladder – rank higher on Google with digital marketing strategy and tools guaranteed to work
Get House Cleaning Marketing Packages From Professionals
Digital and traditional marketing offer many quick and inexpensive ways of getting more cleaning clients interested in your services. A cleaning business is a highly prolific and money-making endeavor. The right cleaning company digital marketing strategy will certainly help it scale to new heights.
If you don't have as much time to dedicate to house cleaning digital marketing, or just don't know where to start, we can help. We're a full-service digital marketing agency with the know-how and experience to bring you more clients than ever and grow your revenue. Chat with us to get started!
Frequently Asked Questions
How do I market my home cleaning services?
As a local or national business owner, you can use a mix of traditional and digital marketing strategies to attract potential clients. How you go about developing your marketing plan depends on who your target audience is, and where they are on and offline. Some companies hire marketing professionals to work in-house, while others outsource their marketing efforts to agencies like ours. The best way to market your business is to have a clear strategy that outlines your marketing goals, and a suitable budget to implement your plan. Your marketing goals should always be SMART: Specific, measurable, achievable, relevant, and time-bound.
How can I get more house cleaning clients?
The easiest way to get more cleaning clients is to invest in digital marketing. It reaches a larger, more targeted audience than traditional marketing. Additionally, it is often more cost-effective due to built-in analytics that enables the careful monitoring of campaigns in real-time. To attract new clients, you need to have a mobile-friendly website and then develop a clear marketing strategy based on addressing your clients' pain points. Hiring trusted digital marketing experts not only fast tracks the process, but also guarantees results.
How can I create an ad for a cleaning business?
Digital marketing offers several types of advertising: - Display advertising - Paid search advertising - Mobile advertising - Native advertising - Email marketing - SEM - Mobile Ads - Video Ads Each of these has specific outcomes and requirements. Before you create a cleaning business ad, you should first determine its purpose and the most appropriate channel that will help you achieve it.
In what cities do you operate?