97% of consumers go online to find local businesses. That's right! Almost everyone turns to search engines like Google to find the best plumbing services nearby. Furthermore, the number of plumbing businesses in the US as of 2023 is over 110,000. So, the competition for clients is very fierce. And that's precisely why search engine optimization (SEO) for plumbers is essential. It helps you climb the search engine rankings, increasing your business's online visibility and attracting steady leads.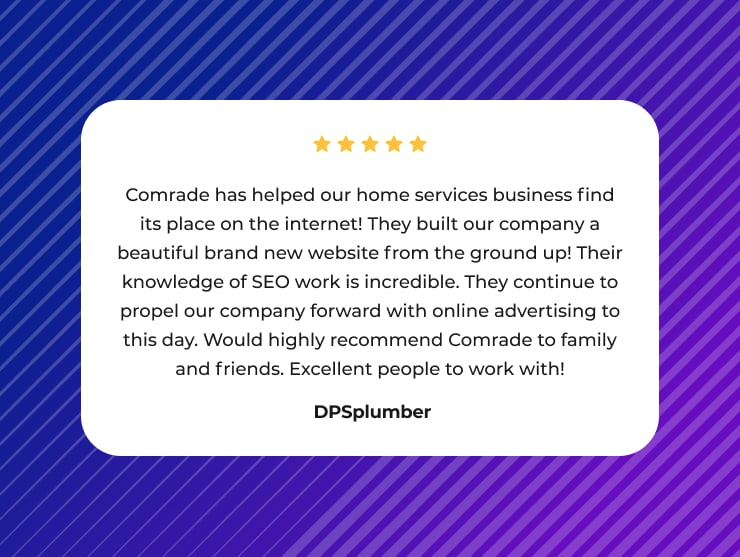 In this guide, we'll discuss why SEO is important for plumbers and explore 9 best SEO strategies for plumbing businesses. We will also discuss hiring a plumbing SEO company to manage your campaign.
Why Is SEO for Plumbers Important?
If a homeowner searches "Plumber near me" on Google, highly optimized plumbers will appear at the top of local search engine results pages (SERPs). Their website and business listing share information about services and customer reviews, making it easy for homeowners to choose who to call. That is how effective SEO is.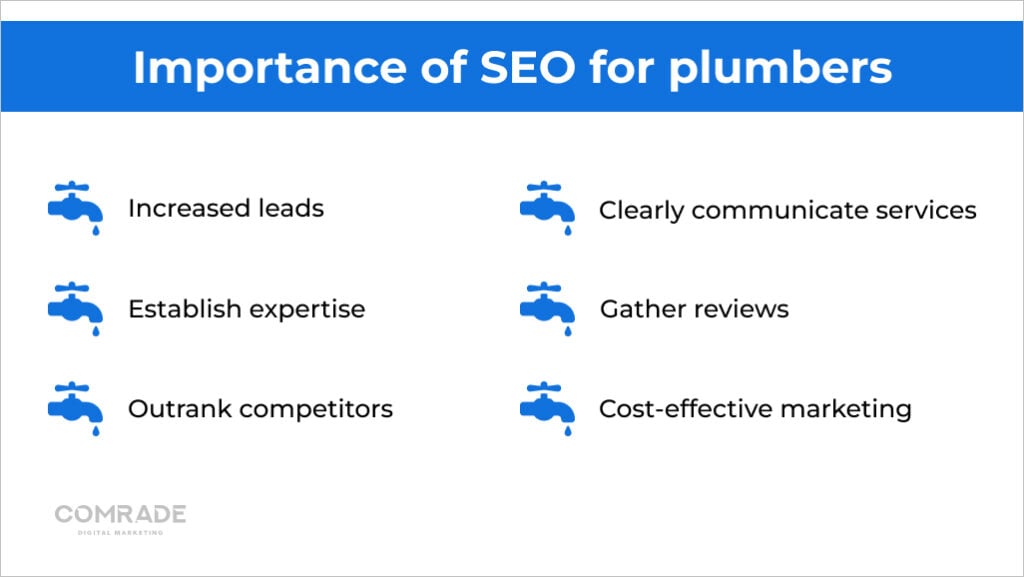 The benefits of plumbing SEO include:
Increased leads – Good SEO rankings mean more homeowners find your services online and contact you directly with questions or to schedule appointments.
Establish expertise – Optimizing your website and profiles strengthens your digital presence and lets customers easily confirm you have the experience to handle their plumbing issues professionally.
Outrank competitors – Local SEO can help you beat out other plumbers in the area on search engines for relevant keywords, driving new customers to your business.
Clearly communicate services – With plumber SEO, you can ensure your website and listings emphasize the specific plumbing services you offer, like repairs, installations, or drain cleaning.
Gather reviews – As more customers find your business online, you'll gain positive reviews that SEO helps display prominently, building your reputation and trust.
Cost-effective marketing – SEO is a cost-effective way to market your business, as it targets people actively searching for plumbing services. This means you're not wasting money on advertising to people who may not be interested in your services.
Success Stories
Delivering Business Results: Our Digital Marketing Case Studies
9 Best SEO Strategies for a Plumbing Business
Finding new customers isn't easy for plumbers working hard every day. With the right SEO, your skills can reach countless people on the internet when a clog needs fixing fast. It takes trial and error, like soldering pipes, but applying the techniques below gives plumbers.
1/9 strategy
Claim Your Google Business Profile
Google Business Profile, formerly Google My Business, is a free listing that appears on Google search results, providing customers with important information about your business, such as your address, phone number, hours of operation, and reviews. It's like having a digital storefront that showcases your business to potential customers.
But why is it important for plumbers? It allows you to control your business information directly and stand out to local customers in need of repairs. Furthermore, it appears in local search results and on Google Maps, making it a powerful tool to attract potential customers in your area.
To claim and complete your Google Business profile effectively, follow these steps:
Visit the Google Business Profile website and sign in with your Google account.
Then, Click on "Manage now."
Search for your business and click "Continue" when you find it.
Provide accurate and up-to-date information, including your business name, address, phone number, website, and hours of operation.
Verify your business through phone or SMS.
Upload high-quality photos showing your work or team.
Add categories like "Plumbing Contractors" or "Plumbing Repair."
Encourage satisfied clients to leave reviews and respond to them professionally.
Optimize your Google Business Profile with relevant plumbing keywords and phrases, such as "plumber" or "plumbing services," to help your business appear in search results for those terms.
2/9 strategy
Join Free Online Plumbing Directories
When customers search for a plumber in their area, they will likely turn to online business directories to find one. Online directories serve as digital versions of the old-school phone book for plumbing businesses, connecting customers in need with the services they require. They provide a list of businesses in a particular area, along with their contact information and other relevant details.
But it's not just about being found. Online directories also help build trust with potential customers. When customers see your business listed in multiple directories, they're more likely to trust that you're a legitimate business. It's like having a digital stamp of approval from the directory itself.
Some examples of useful free directories to join include:
HomeAdvisor
Thumbtack
Angie's List
Yelp
Yellow Pages
Google Business Profile (mentioned above)
Increase visibility and build trust with Comrade Digital Marketing Agency. Schedule a free consultation.
Why Is Nap Consistency Important for Plumbers?
Imagine calling the number you see in a business listing for help with a busted pipe only to be told, "Sorry, the number you are calling is no longer in use." Confusion is the last thing wanted when one is probably ankle-deep in the water due to busted pipes. NAP consistency prevents headaches by keeping business listings in sync.
NAP stands for Name, Address, and Phone. It's crucial information for customers to reach plumbers during emergencies. Consistency in NAP means ensuring that your business name, address, and phone number are accurately and consistently listed across all online platforms, directories, and your website. Inconsistencies create wrong impressions of disorganization or even deception. Customers may forgive one wrong number, but multiples undermine trust in your ability to answer the call when needed most.
Remember, maintaining NAP consistency is an ongoing effort. Regularly audit and update your business information on all platforms and directories to ensure accuracy and consistency.
3/9 strategy
Get Reviews from Your Customers
Reviews are a plumber's report card, showing future clients they've pleased others in the past. When people see that others have had positive experiences with your business, they're more likely to give you a try. So, where can you get reviews from? Well, there are a few places you can try. Google My Business is a great place to start. You can also try directories Yelp, Angie's List, and HomeAdvisor. And a social media channel like Facebook. You can ask your customers directly or via email for a review. Just make sure to follow up with them in a timely manner.
Once you have some reviews, it's important to manage them properly. Respond to both positive and negative reviews, and make sure to address any concerns or issues that come up. This shows potential customers that you value their feedback and are committed to providing excellent service.
4/9 strategy
Optimize Your Plumbing Website Speed
Have you ever left a slow-loading site in frustration before it finished? This is why your page speed needs to be optimized on all platforms and devices. But why is website speed so important?
It directly impacts user experience. When customers visit your website, they expect it to load quickly and efficiently. Many online users abandon pages taking more than 3 seconds. Once they leave your site, they lose interest and move on to a competitor's site if it doesn't. Additionally, website speed is a ranking factor for search engines like Google, so a fast website can improve your search engine rankings and drive more organic traffic to your site.
So, how can you optimize your plumbing website's speed? Here are some tips:
Use a fast web hosting service: Choose a web hosting service that offers fast loading speeds and reliable uptime.
Optimize images: Compress your images to reduce their file size, significantly improving page loading times.
Minify code: Remove unnecessary characters from your website's code to reduce size and improve loading speeds.
Use a content delivery network (CDN): A CDN can help distribute your website's content across different servers, reducing customer loading times worldwide.
Tools like Google PageSpeed Insights, GTmetrix, and Pingdom test your website's speed, provide detailed performance reports, and give actionable recommendations for improvement.
5/9 strategy
Write Useful Plumbing Content
Content is the foundation of your website and why people visit it in the first place. Search engines like Google use algorithms to determine which websites are most relevant to a user's search query. If your website has high-quality, useful content, it will likely rank higher in search engine results. And, when you rank higher, you'll get more traffic and attract more customers. It's a win-win!
So, what types of content can a plumbing business create? You can write blog posts about common plumbing issues and how to fix them, create videos that showcase your services, or even create infographics that explain complex plumbing concepts. The key is to create helpful and informative content for your target audience.
Comrade Digital Marketing Agency can help you with the above if you're unsure how to go about it. Schedule a free consultation.
6/9 strategy
Use Important Plumbing Keywords
How will jobs ever walk through the door if no one finds your plumbing website? Keywords are the doors – the search terms customers enter into search engines for help with clogged drains, leaky pipes, or other plumbing issues.
To conduct keyword research effectively, you can utilize various keyword tools available. Google Keyword Planner, SEMrush, and Moz Keyword Explorer are popular options that provide insights into keywords' search volume and competition level. These tools enable you to identify the most relevant and high-performing keywords in the plumbing industry, giving you a competitive edge in your plumbing company's SEO efforts
List of SEO Plumbing Keywords
Now, let's look at some relevant SEO plumbing keywords that you can use to improve your website's ranking. Here are a few examples:
| | | |
| --- | --- | --- |
| Keyword | Keyword Difficulty | Volume |
| Plumber [city name] | 50 | 265000 |
| Clogged toilet | 56 | 11000 |
| Water heater installation | 31 | 9100 |
| Shower installation | 11 | 4100 |
| Emergency plumbing services | 31 | 2400 |
| Sink repair | 6 | 2300 |
| Sewer line replacement | 31 | 2200 |
| Drain cleaning services | 13 | 1900 |
| Slab leak repair | 7 | 1600 |
| Leaky toilet | 24 | 1600 |
| Gas line installation | 19 | 1400 |
| Plumbing services near me | 48 | 1400 |
| 24-hour plumber | 29 | 200 |
| Leak detection and repair | 5 | 150 |
| Plumbing maintenance and repair | N/A | 0-10 |
7/9 strategy
Get on Point with Your On-Page SEO
The foundation of SEO for plumbers starts from within your website. On-page elements like title tags, meta descriptions, image optimization, and intuitive URLs lay the groundwork for search engines to understand your content. Plumbers must get these basics right for other efforts like keyword optimization to truly shine.
Title Tags and Descriptions
Title tags appear as clickable headlines in search engine results, while meta descriptions briefly summarize the page's content. They influence click-through rates from search results.
To optimize title tags and descriptions, include relevant keywords, make them compelling and concise, and ensure they accurately represent the page's content. Place them within the HTML code of your web pages using appropriate meta tags.
URL Optimization
A coherent URL structure helps search engines and users comprehend your page's topic and navigate your website easily. Include relevant keywords in your URLs, making them descriptive, logical, and user-friendly.
Avoid using long, convoluted URLs with unnecessary characters or numbers. Instead, use hyphens to separate words and create a cohesive URL structure that aligns with your page's content and hierarchy.
Image Optimization
Optimized images improve page load times, enhance user experience, and provide additional opportunities for keyword relevance.
To optimize images:
Compress them to reduce file size without compromising quality.
Use descriptive file names with relevant keywords.
Include alt text that accurately describes the image's content.
Furthermore, add Alt text to improve accessibility for users who may have visual impairments. Search engines can't read images but can read the alt text, description, and file name.
Comrade Digital Marketing Agency can help you with the above if you're unsure how to go about it. Schedule a free consultation.
8/9 strategy
Link Building for a Plumbing Company
Link building is an off-page SEO strategy that involves acquiring links from other websites to your own. This can help to improve your website's search engine ranking, as search engines view links as a sign of trust and authority. The more high-quality links you have pointing to your website, the higher you will rank in search results for relevant keywords.
This can lead to a significant increase in website traffic, leads, and sales. In addition, link-building can help to improve your brand awareness and credibility. There are several different ways to build links to your plumbing company's website. Some of the most common methods include guest blogging, HARO, participating in forums and Q&A sites, influencer marketing, and more.
Guest Blogging
Guest blogging is when a plumber writes blog posts for other relevant sites in their industry or location. This helps the plumber gain links to their own site, exposing their content and business to new audiences if their guest posts are shared.
HARO
HARO (Help a Reporter Out) is a service that connects journalists with sources who can provide expert commentary on a variety of topics. If you sign up for HARO, you can receive email alerts when journalists are looking for sources on plumbing-related topics. If cited, this provides a backlink to the plumber's website from the media story. This is a great opportunity to get your name and website in front of journalists, which can lead to links and other publicity.
9/9 strategy
Analyze Your SEO Progress and Evolve!
As a plumber, it is very important to inspect your work for flaws and make improvements regularly. The same applies to ongoing SEO efforts. Once you analyze your SEO campaign, you can use the results to make informed decisions. To collect information about your current SEO results, you can use various tools and techniques:
Website analytics: Tools like Google Analytics provide insights into your website's traffic, user behavior, and engagement metrics. You can track the number of visitors, their demographics, the keywords they used to find your site, and more.
Keyword ranking tools: These tools help you monitor your website's rankings for targeted keywords in search engine results. They provide data on your keyword positions and track changes over time.
Social media analytics: If you're actively promoting your plumbing business on social media, platforms like Facebook Insights and Twitter Analytics provide valuable data on post reach, engagement, and audience demographics.
Can I Do Plumbing SEO Myself?
Yes, you can certainly do plumbing SEO yourself to some extent. There are various resources, guides, and online tutorials available, like this one, that can help you understand the fundamentals of SEO and implement basic optimization techniques on your website. However, hiring a professional internet marketing company like Comrade Digital Marketing Agency may be a better choice to maximize results over the long run.
SEO involves much more than just updating metadata tags and blog posts. It requires dedicating regular time to ongoing technical SEO, keyword research, link-building efforts, and analytics review. Finding adequate weekly hours for these SEO tasks can be difficult for a busy plumbing business focused on installations and repairs.
It's also hard for non-experts to stay on top of constant algorithm changes and developments in the industry. Search behaviors evolve quickly. An agency that works with many clients has insight into the latest strategies proven to work the magic. They can also handle the technical aspects of SEO, allowing you to focus on running your plumbing business. Additionally, you get ongoing support and monitoring to ensure that your SEO strategy is effective and up-to-date.
Why Do You Need a Plumbing SEO Agency?
The skills and resources of SEO companies go beyond occasional blog posts or tweaking. These plumbing SEO services deliver continuous optimization tailored specifically for your local market through cross-channel strategies. This can ramp up high-quality traffic long-term.
The table below shows the differences between DIY SEO and working with SEO services.
| | | |
| --- | --- | --- |
| | DIY SEO | SEO services |
| Time | Time-consuming, requires energy and resources | Saves time, energy, and resources |
| Costs | Lower upfront costs, potentially more time and effort required | Higher upfront costs, more comprehensive and sustainable results |
| Results | Requires deep understanding of SEO best practices and potential for errors | Access to expert knowledge and guidance, optimized results |
| Control | Complete control over optimization decisions, tailored approach | Less control but with expert guidance for best results |
Grow Your Plumbing Company with Comrade
Running a plumbing business today requires a strong online presence to reach customers when and where they're searching. While doing some SEO yourself has benefits, maximizing results over the long term requires dedicated professionals.
Comrade, as an industry leader in plumber SEO services, we understand the unique needs of plumbing companies like yours. Their strategic and technical expertise, combined with deep industry knowledge and resources, unleashes the full power of search to grow your business.
We take a collaborative approach, never a "set it and forget it" mentality. We focus first on understanding your specific goals and target market before designing customized campaigns through measurable ROI for top rankings, more leads, and increased sales.
Not sure how well your SEO works?
Call us at (312) 265-0580 for a complimentary consultation