The global home construction industry is growing yearly and is expected to reach $14.4 trillion by 2030. Furthermore, new companies emerge regularly, flooding customers with potential businesses to hire and increasing the need for those same businesses to stand out from the crowd. In this situation, only the best- those that utilize every marketing opportunity and strategy available to them- will succeed. However, there are a variety of different techniques to choose from, and the ones you incorporate into your marketing plan should depend on your company goal, budget, target market, and others.
These strategies—digital or traditional—increase brand awareness, generate more leads, and ultimately increase sales. In this article, we will discuss 20 strategies homebuilders can use to up their revenue and succeed in the busy market.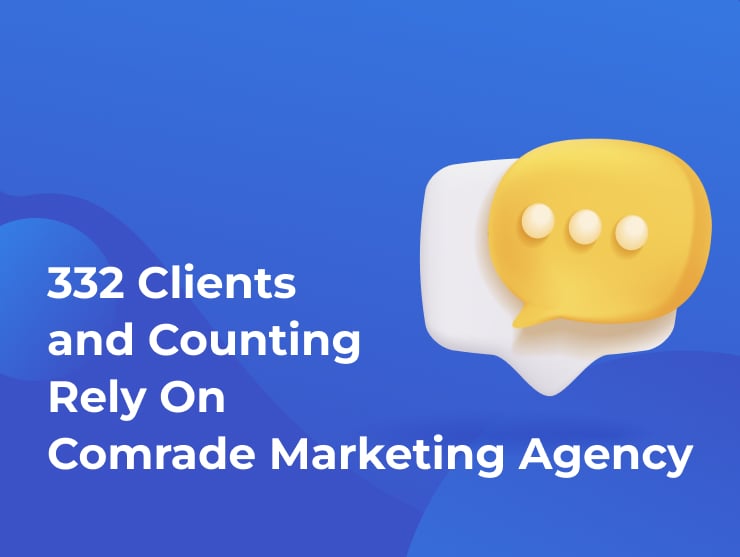 Success Stories
Delivering Business Results: Our Digital Marketing Case Studies
Let's get to know
Top 20 Home Builder Marketing Strategies and Ideas
1/20 strategy
1. Compelling Website and Home Listing Feed
A well-designed, user-friendly website is the cornerstone of your digital marketing strategy. It serves as the virtual storefront for your home-building business. It should showcase your projects, highlight your expertise, and provide essential information to potential and existing clients.
A dynamic home listing feed is integral to your website, allowing you to display up-to-date information about available homes, price ranges, and property specifications. You can integrate visually appealing images and videos, virtual tours, and information about the neighborhoods and communities where your homes are located.
Additionally, you should include customer testimonials and reviews, as well as information about your company and its history. The key is to provide a seamless browsing experience for potential buyers, making it easier for them to envision living in one of your properties.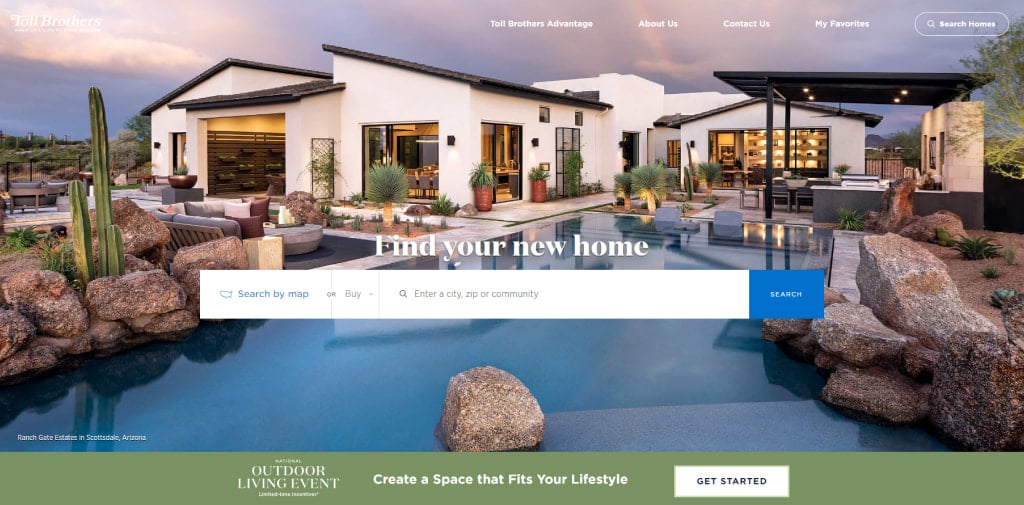 For example, look at the website of Toll Brothers, a luxury home builder in the US. Their website features stunning, high-resolution photos of their homes, detailed information, and an easy-to-use navigation menu. They also have a home listing feed that allows potential clients to search for houses to rent or buy based on their preferred location.
---
2/20 strategy
2. Third-Party Real Estate Marketplace Presence
Third-party real estate marketplaces like Zillow, Trulia, Realtor.com, and other authoritative sites, help you reach a broader audience and generate more leads. These platforms attract prospects daily, providing an excellent opportunity to showcase your properties to a wider market. So follow the instructions or steps provided on them to create detailed, informative listings. You need to ensure that your listings are complete and compelling. This means including high-quality photos and videos, detailed descriptions of your homes, and accurate pricing information. You should also respond promptly to any inquiries or leads through these platforms, which can help build trust and credibility with potential customers.
---
3/20 strategy
3. Search Engine Optimization (SEO)
75% of users do not scroll past the first page of search engine results. So, if a home builder's website does not rank well in search engines like Google, Bing, and Yahoo, they're at a huge disadvantage. SEO involves optimizing a website's content, architecture, and backlinks to improve its visibility and ranking in search engine results. Some benefits include increased website traffic, brand awareness, lead generation, and improved conversion rates.
You must pay attention to both on-page and off-page elements to increase your SEO. On-page involves inbound marketing. It includes optimizing your website's content with relevant keywords, using descriptive meta tags and titles, and ensuring your website is mobile-friendly and easy to navigate. Off-page factors include building high-quality backlinks to your website and creating engaging and shareable content that will attract links and social media shares.
---
4/20 strategy
4. Social Media Marketing for Home Builders
Social media marketing offers a cost-effective and highly targeted way to connect with clients, engage with them, showcase your projects, and share content instantly. Platforms such as Facebook, Instagram, LinkedIn, and Twitter, allow you to engage with your audience, share valuable content, and showcase your projects. The two key aspects to focus on while implementing social media marketing for your home-building business are:
4.1 Establishing Brand Voice
Your brand voice is the personality and tone that you convey through your social media content, and it plays a crucial role in setting your business apart from the competition. So, it needs to be consistent across all social media channels. Define your company's core values, target audience, and unique selling propositions to help you create a consistent brand voice.
Then, ensure that your social media content aligns with these attributes, reflecting the tone and messaging that resonate with your audience. A consistent brand voice helps to create a memorable identity for your business, fostering a sense of familiarity and trust among prospective customers and clients.
4.2 Showcasing Social Proof
Social proof is the validation and credibility your business receives through satisfied clients' endorsements, reviews, and testimonials. These help potential customers' decision-making processes, as people are more likely to trust a business that others have positively reviewed.
Examples of social proof that home builders can add to their social media include:
Testimonials from happy customers
Photos of completed projects
Awards and recognition
Social media followers and engagement metrics
Press mentions and media features
Comrade Digital Marketing Agency can help you with the above if you're unsure how to go about it. Schedule a free consultation.
---
5/20 strategy
5. Email Marketing for Consumers
Email marketing is another effective way to communicate with potential home buyers and nurture leads throughout the buying process. You can send targeted, personalized emails, stay in touch with prospects, share new property listings, and provide valuable information about your company and projects.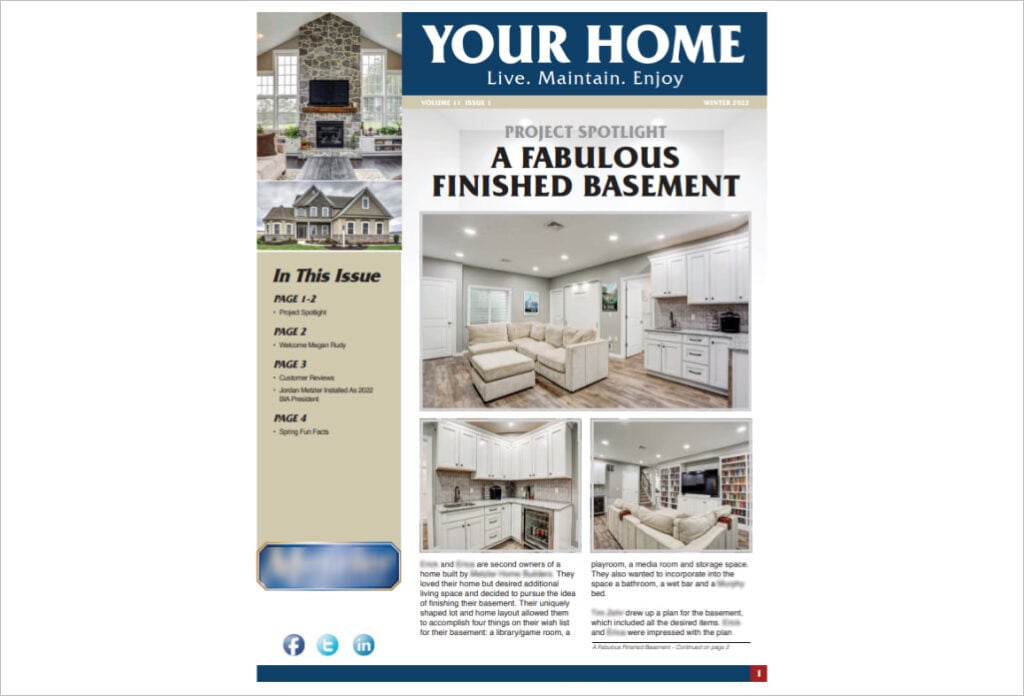 At the beginning of their journey, homebuyers could receive newsletters detailing the builder's portfolio and available services. Once the homebuyers have visited a show home, they could receive personalized follow-up emails with more information and imagery about the specific home they viewed or others. As the home buying process progresses, home buyers could be sent emails that contain information about mortgages, inspections, ongoing projects, special promotions, industry news, and other helpful resources. Furthermore, in these emails, you can introduce incentives, such as personalized floor plans or upgrades.
To get the most out of email marketing, segment your subscriber list based on criteria such as location, budget, and property preferences, ensuring that your messages are relevant and engaging for each recipient.
---
6/20 strategy
6. Email Marketing for Realtors and Brokers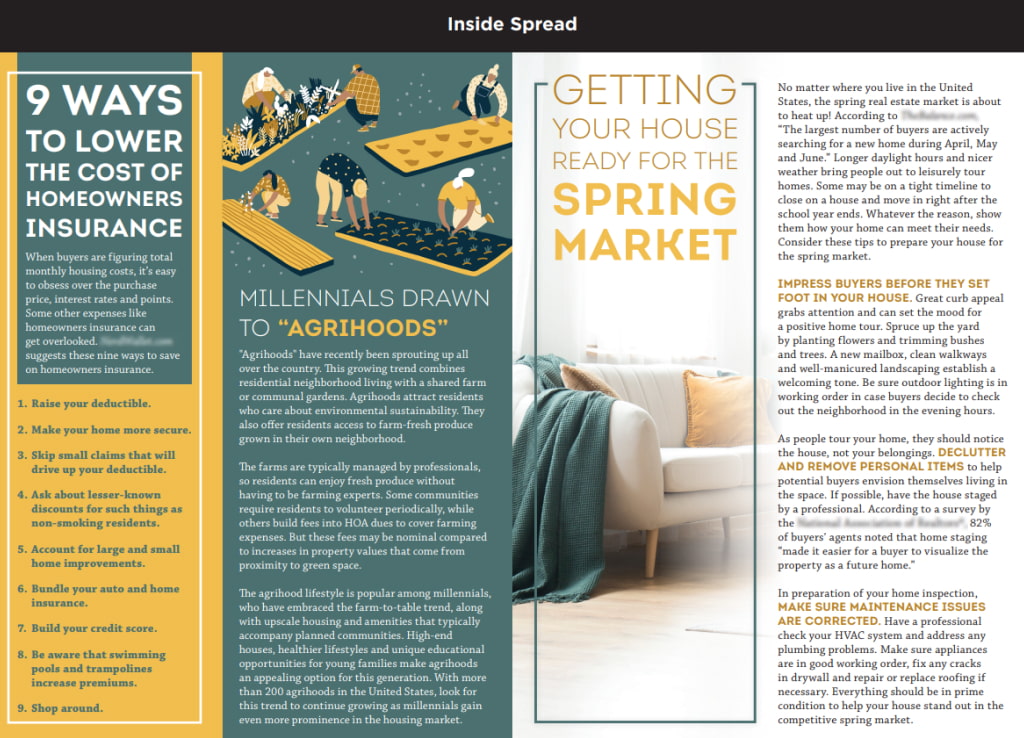 In addition to targeting consumers, home builders should also focus on building relationships with realtors and brokers. These professionals often serve as intermediaries between home builders and potential clients, so you must maintain open communication lines and establish a rapport with them. Email marketing can inform them about available homes, upcoming events, and any incentives or bonuses offered to realtors for selling inventory homes. For example, you can create a weekly or monthly newsletter with updates about your builder's portfolio and upcoming sales events.
---
7/20 strategy
7. Street or Directional Signage
While internet marketing is important, it's also important not to overlook traditional marketing tactics such as street or directional signage. Strategically placed signs can guide potential buyers to your development sites or model homes, making it easy for them to find and explore your properties.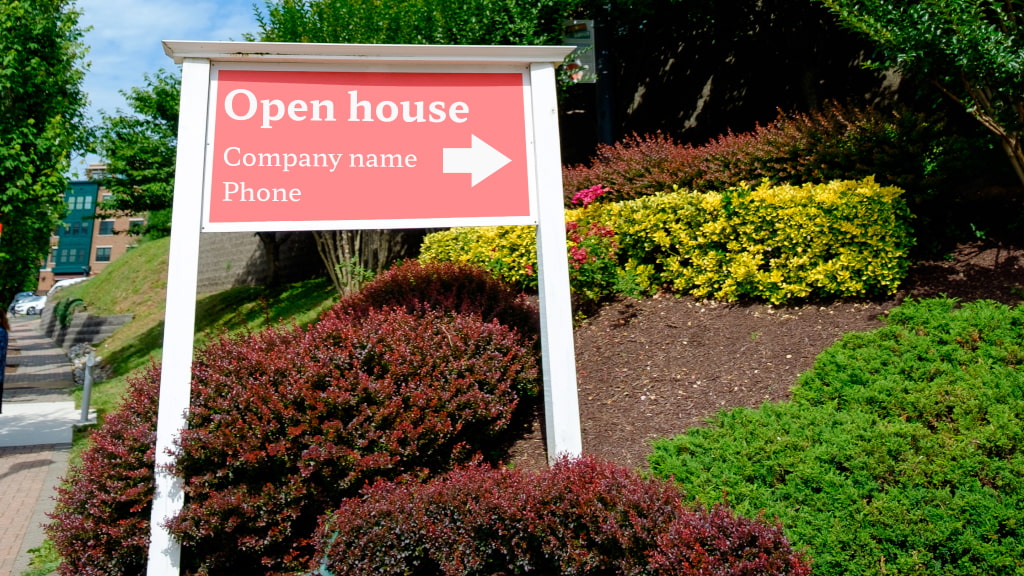 Ensure that your signs include essential information such as your company name, logo, contact details, and a brief description of the properties on offer. Use bold colors and fonts, including a clear call-to-action that encourages new customers to visit your model homes or contact you for more information.
---
8/20 strategy
8. Google and Bing Paid Search (Keyword PPC)
Paid search, or pay-per-click (PPC) advertising, is another effective way to drive targeted traffic to your website and generate leads. Google and Bing are the top search engines, allowing you to place ads on their search result pages based on specific keywords. You only pay when someone clicks on your ad, making it a cost-effective way to drive more traffic to your website.
To get started with paid search, identify the keywords your target audience is searching for when looking for a home builder. You also need to bid on the keyword. Place your bid depending on the keywords' competitive ratio but ensure it is balanced so you do not overspend. Next, create well-crafted ads with your unique selling proposition and landing pages designed to convert visitors into marketing qualified leads.
Aside from keyword targeting, you can also track the success of your campaigns through analytics and adjust your strategy accordingly.
If this seems like too much to do on your own, you can always turn to a professional digital marketing agency like Comrade Digital Marketing Agency to take the burden off your hands.
---
9/20 strategy
9. Display and Video Advertising
Display and video advertising can help you reach a wide audience and create a strong visual impact. They can be particularly effective in showcasing your properties, allowing you to include high-quality images, virtual tours, and engaging video content. These ad formats can be placed on relevant websites, social media platforms, and video-sharing sites such as YouTube, where prospective clients will likely spend their time online.
When designing your display or video ads, ensure they are visually appealing and include a clear call-to-action (CTA). Use high-quality images and videos that showcase your homes and unique selling proposition. You can also retarget viewers who have watched your video ads with other ads, increasing the likelihood that they will remember your brand and take action.
---
10/20 strategy
10. Programmatic or Geofence Advertising
Programmatic advertising involves the automated buying and selling of ad placements in real-time, allowing you to target your ads to specific audiences based on demographics, online behavior, and interests.
Geofence advertising furthers programmatic advertising by targeting users based on their physical location. Home builders can target users near their model homes or sales offices. This helps to drive foot traffic to events, model home openings, or urgent promotions.
When using these advanced targeting techniques, make sure you use dynamic ad creative that changes based on the user's behavior or location.
---
11/20 strategy
11. Event Marketing for Consumers and Realtors
Events help showcase your properties and build relationships with potential clients and industry professionals. For consumers, hosting an open house event is one way to showcase your homes. You can coordinate with local real estate agents to invite potential homebuyers to visit your models and set up appointments with your sales team. Additionally, you can host model home tours and design seminars or workshops to educate potential buyers about the home-buying process, financing options, and other related topics.
Realtors can also benefit from the events you host. You can host networking events or meet-and-greets, training sessions, broker open houses, and continuing education seminars to help them understand your services.
---
12/20 strategy
12. Home Builder In-Person Presentations to Brokers
In-person presentations to brokers can help home builders build relationships with local agencies. The presentation must be compelling and informative while covering key aspects of your services and the homebuilding process. You need to include:
Detailed information about your company and the services
High-quality visuals such as photos, renderings, and videos
Testimonials from satisfied customers
Information about the builder's process and timeline
Additionally, you can use this opportunity to answer any questions that brokers may have and provide them with marketing materials that they can use to promote your homes to their clients.
---
13/20 strategy
13. Billboard Advertising
Billboards can be placed strategically along high-traffic roads to spread awareness and direct potential clients to your development sites or model homes. The cost of billboard advertising can vary depending on several factors, including the size and location of the billboard and the length of time you plan to display your ad.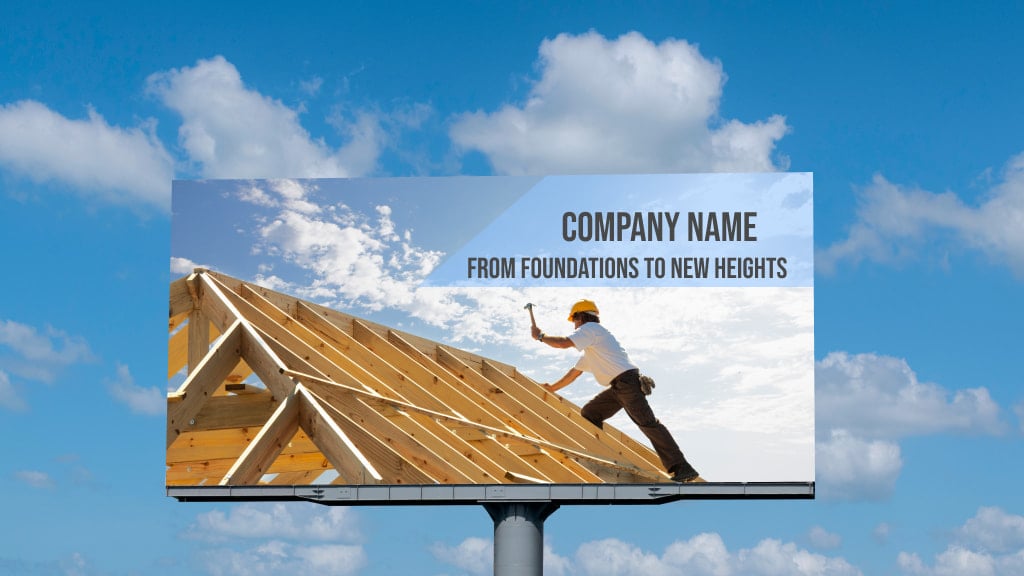 Advertising in locations with less traffic and people can be around $500 and $5,000. Companies can expect to pay between $5,000 and $10,000 at locations with a fair amount of people and traffic. Companies can expect to pay between $10,000 and $20,000 for high-traffic areas like the city center and highways.
---
14/20 strategy
14. TV and Radio Advertising
TV and radio ads can reach a large audience, especially during the commercial break of their favorite tv shows or radio program. The average cost of TV and radio advertising depends on the time of day and the program on the channel. The cost of a TV ad that can run for 30 seconds ranges from $200 to $1500 per spot, while a 60-second spot can cost from $1000 to $5000. The cost per 30-second slot for radio ads ranges from $10 to $5,000, depending on various factors.
TV and radio ads should show quality home designs, expert craftsmanship, and a strong brand message. For instance, the ads can focus on highlighting the unique features of their homes, such as energy efficiency, innovative home technology, and luxurious amenities.
---
15/20 strategy
15. Strategic Partnerships
Strategic partnerships with complementary businesses can help homebuilders expand their reach and present opportunities for cross-promotion. These partnerships can result in joint marketing campaigns or even create unique bundled services that help both parties grow their businesses.
Examples of beneficial partnerships include:
Interior designers
Home staging professionals
Mortgage lenders
Architects
Real estate agents or brokers
Home decor places
Furniture retailers
Home technology or automation companies
---
16/20 strategy
16. Print Advertising or Direct Mail
Print ads or direct mail campaigns can target specific demographics and neighborhoods. Print ads can be placed in local newspapers, home magazines, or trade publications that cater to the home building industry. Direct mail can be used to send postcards or flyers to targeted mailing lists, such as new homeowners or individuals who have shown interest in home construction or renovation. The cost of print advertising varies depending on the publication's circulation, the ad's size, and the placement frequency.
The average cost of print advertising ranges from $500 to $20,000 per month, depending on the popularity of the publication, as well as the page and size of the ad. Direct mail campaigns can cost between $0.30 and $1.00 per piece, depending on the marketing campaign size and the type of mail being sent.
---
17/20 strategy
17. Influencer Marketing
This home builder marketing strategy involves collaborating with individuals or groups with a significant following on social media platforms. Collaboration with influencers can involve sponsored content, product placements, endorsements, or even hosting events and property tours.
Influencers can create content and promote your homebuilding brand, products, and services to their followers in exchange for payment, free products, or other incentives. Homebuilders can target influencers in the home decor, renovation, or lifestyle niche interested in promoting new homes.
---
18/20 strategy
18. Event Sponsorship or Experiential Marketing
Homebuilders can sponsor events like home shows, property expos, charity events, and open house events to give attendees an interactive experience of their products and services. They can also engage in experiential marketing by putting up installations in public spaces that allow people to encounter their products and interact with their brand. For example, setting up pop-up stores, photo booth experiences, and virtual home tours.
---
19/20 strategy
19. Internal and External Referrals
Internal referrals involve current clients recommending your services to their families and friends. In contrast, external referrals involve partnering with businesses and other industry professionals who can recommend your services to their clients. Creating referral programs that reward clients and referral partners when they successfully refer new clients is important.
---
20/20 strategy
20. Content Creation and Marketing
Home builders can create various forms of content to showcase their brand, educate them and drive leads. Content marketing can include blog posts, photos, and videos highlighting new homes and architectural concepts, infographics on home design trends, 3D virtual tours, and how-to guides on home maintenance and repair. Homebuilders can also use social media platforms like Instagram, Facebook, and Youtube to share content and build engagement with their audience. Additionally, hosting webinars and virtual events on home-building trends and strategies is a great way to connect with potential clients.
---
The Importance of Online Marketing Strategies for Home Builders
The world is currently digital. Since homeowners use the internet to research and discover properties, a strong online presence is very important. But what are the benefits of online marketing as opposed to traditional strategies?
Online marketing strategies have a wider reach than traditional marketing strategies. Digital marketing helps home builders reach a more extensive audience using social media, email marketing, and search engines. However, traditional marketing strategies, such as print ads, flyers, and billboards, are limited in their reach and do not target a specific audience.
Digital marketing strategies are measurable and provide critical data that allows home builders to make informed decisions. Through online marketing strategies, home builders can monitor metrics such as website traffic, conversion rates, and click-through rates, which helps them understand their audience's behavior. With this data, they can adjust their marketing campaigns and tailor their strategies to maximize their ROI. Traditional marketing strategies such as TV ads, billboards, and flyers are challenging to measure, and it can be difficult to determine their effectiveness.
Online marketing strategies are cost-effective compared to traditional marketing strategies. Digital marketing techniques, such as social media and email marketing, are cheap, allowing home builders to reach a vast audience without breaking their budget. Traditional marketing methods, such as TV ads and billboards, can be very expensive and have a limited reach compared to online marketing strategies.
Online marketing strategies offer higher engagement with potential customers than traditional marketing strategies. The Internet allows home builders to engage with their followers and build relationships with potential customers. They can offer information, answer questions, and directly support their customers, creating a positive customer experience. However, traditional marketing strategies do not offer this engagement and relationship-building opportunity.
---
TOP Five Effective Home Builder Marketing Methods
Comprehensive website and SEO: A well-designed, user-friendly website with dynamic home listings is essential for attracting potential clients. Ensure your site is optimized for search engines (SEO) to improve its visibility and drive organic traffic. Include informative content such as neighborhood information, floor plans, and virtual tours to engage visitors and encourage inquiries.
Social media marketing: Establish a strong presence on popular social media platforms, such as Facebook, LinkedIn, Instagram, and Twitter. Use these channels to showcase your properties, share updates, and engage with your audience. Collaborate with social media influencers or industry experts to promote your properties to their audience, leveraging their credibility and reach.
Email marketing: Develop targeted marketing campaigns for consumers, realtors, or brokers. Regularly send personalized emails with relevant information, such as new property listings, special promotions, and industry news. This will help nurture leads, maintain relationships, and drive conversions.
Content creation and marketing: Produce high-quality, engaging content in various formats, such as blog posts, videos, and infographics, to showcase your expertise and educate potential clients. Distribute your content through multiple channels, including social media, email newsletters, and partnerships with relevant websites or influencers, to reach your target audience and improve your search engine rankings.
Referral marketing: Word-of-mouth marketing or referral marketing is a powerful tool that can be used to gain more clients. You need to satisfy your present customers since they are the ones who will refer you to their friends, family, and colleagues.
Climb the search engine ladder – rank higher on Google with digital marketing solutions guaranteed to work
Conclusion
Outsmarting your competitors in the homebuilding industry requires a well-planned and executed marketing strategy like the ones mentioned in this article. You can easily reach your goal when you leverage a combination of traditional and digital marketing tactics.
If you're not achieving the results you had hoped for, don't be too quick to discard a particular strategy. Often, optimization and minor adjustments can make a significant difference. However, this can be hard to keep up with as time passes, especially when you are not seeing results. It is advisable to partner with a marketing professional like Comrade Digital Marketing for your marketing efforts so that you can focus on home building.
At Comrade Digital Marketing Agency, we offer a full-service solution to help builders outsmart their competitors and achieve their marketing goals. Our team of experts can help you develop compelling web design, PPC campaigns, and SEO plans to boost your revenue.