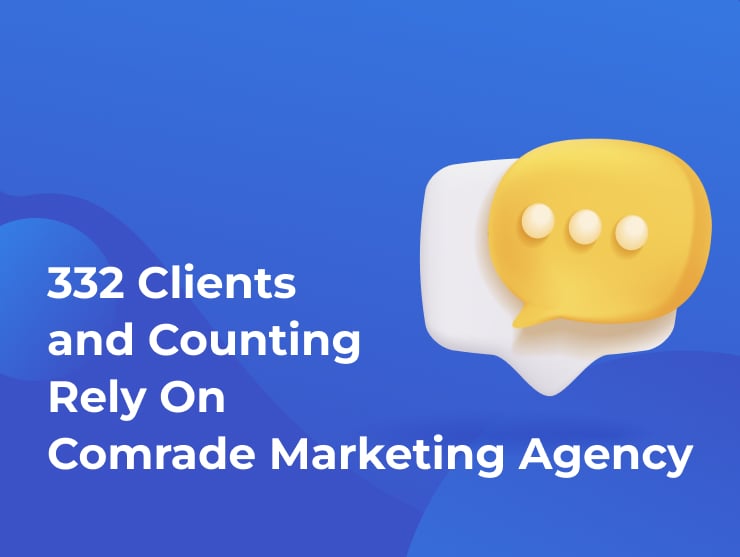 As a roofing contractor, know that running a successful business requires more than just a skilled team of roofers. According to statistics, the North American roofing market is projected to reach $47.5 billion by 2025, making it a highly lucrative industry for those who can effectively promote their services. Effective roofing company marketing is the key to standing out from the crowd and attracting a steady stream of clients.
When it comes to roofing marketing, companies need to be creative and strategic to stay ahead of the competition. There are numerous strategies to market your roofing company and attract new clients, from online advertising to local community gatherings. However, finding the right marketing mix can be a challenge, especially for those who are new to the industry.
To help you break down how best to start, our team at Comrade Digital Marketing has put together this extensive article for you. In it, we'll:
Discuss how to differentiate your roofing business from the competition
Explore how to build a strong online presence
Tell you how to engage with customers
Highlight the special marketing tactics for roofing businesses
Discuss tracking and analysis for marketing efforts
Go in-depth about must-have marketing ideas for roofing businesses
Success Stories
Delivering Business Results: Our Digital Marketing Case Studies
Differentiate Your Roofing Business from the Competition
Everyone needs a roof over their head- it's the most important part of any building, be that home, school, store, or office, to shield them from sunlight, rain, and more. Competition is stiff, so your roofing services need to be a cut above the rest in order to get new clients and retain existing ones. But how do you distinguish your roofing business from all the others out there?
Offer High-Quality Services
You need to focus on delivering excellent workmanship no matter the size of the roofing project. This helps you establish a reputation that sets you apart. Take the following points into account to aid your goal:
Skilled and experienced team: Ensure that your roofing crew consists of skilled professionals who are well-trained in the latest industry techniques. Continuously invest in their training and development to stay ahead of the curve and deliver superior results.
High-quality materials: Utilize superior-quality roofing materials that are known for their durability, longevity, and performance. Using top-notch products not only enhances the quality of your work but also instills confidence in your customers. Your reputation is worth more than money saved on cheap materials.
Attention to detail: Pay meticulous attention to every aspect of your work from precise measurements to thorough inspections of material, and documentation. Leave no room for errors or oversights, or your customers will notice and spread the word.
Timely project completion: Meet deadlines and complete projects within the agreed-upon timeframe. Strive to exceed expectations by finishing jobs promptly while maintaining quality standards, or risk a bad review.
---
Start a Referral Program to Encourage Word-of-Mouth Marketing
High quality services make word-of-mouth referrals much easier since customers are naturally more inclined to recommend you when they're pleased with your work. Recommendations from satisfied customers can significantly influence potential customers' decisions- after all, when was the last time you bought something or hired someone without reading reviews?
You can leverage this organic form of advertising to grow your consumer base by putting a referral program in place. Consider the following steps to start a successful referral program:
Incentivize referrals: Offer incentives to both the referrer and the referred customer. This could include discounts on future services, gift cards, or other rewards that motivate people to refer your business to their friends, family, or colleagues.
Promote your referral program: Make sure your current customers are aware of your referral programs. Use various marketing channels, such as your roofing website, social media platforms, and email newsletters, to inform them about the program's benefits and how to participate.
Follow up and express gratitude: When a referral results in new business, reach out to the referrer and express your appreciation. A simple thank-you note or a small token of gratitude can go a long way in strengthening customer relationships and encouraging further referrals.
---
Building a Strong Online Presence
A strong online presence can help your roofing business reach a wider audience and attract new customers who may not have found your business otherwise. In addition, a strong online presence can help you communicate more effectively with your existing customers, providing them with valuable information and resources to help them better care for their roofs. So, how can you build a strong online presence for your roofing business?
Create a High-Performance Website for Your Roofing Business
Your website is the face of your business so it needs to be designed with your clients in mind, while also aligning with your business identity. When building a high-performance website for a roofing business, there are several key elements to consider.
Optimize the website's loading speed to provide a smooth user experience.
Implement SEO best practices to improve the website's visibility in search engine rankings.
Set up website analytics tools to track visitor behavior, monitor performance, and gain insights to optimize the website and digital marketing efforts.
Ensure that the roofing website is mobile-responsive to cater to users accessing it from various devices. Implement intuitive navigation to make it easy for visitors to find the information they need.
Include descriptions of services, case studies, testimonials, and educational articles to provide valuable information to visitors.
Place calls-to-action (CTAs) strategically throughout the website to prompt visitors to take action, such as requesting a quote or contacting the company.
Make sure to prominently display contact information, including your phone number, email address, and physical address.
Incorporate customer testimonials and reviews to build trust and credibility.
Highlight any certifications, awards, or affiliations that demonstrate the expertise and professionalism of the business.
---
Optimize Your Website for Search Engines (SEO)
Search engine optimization (SEO) is the practice of optimizing your website to rank higher in search engine results pages (SERP). What does that do? Why is it important? Well, ask yourself this: when was the last time you went further than the first one or two pages of Google results? If you're not showing up on those pages, they aren't seeing your business. SEO ensures your potential customers can actually find you when they're searching for services like yours.
Some effective SEO techniques for large or small businesses include:
Keyword research: Identify the keywords and phrases that potential customers are using to search for roofing services in your area. Use tools like Google Keyword Planner to find relevant keywords and incorporate them into your website's content and meta tags.
On-page optimization: Optimize your website's on-page elements, such as title tags, meta descriptions, headers, and content, to include your target keywords and improve your relevance and visibility in search results.
Local SEO: If you serve a specific geographic area, it's important to optimize your roofing website for local SEO. This includes creating a Google Business Profile, optimizing your site for local keywords, and building local citations and backlinks.
Mobile optimization: With more and more consumers using mobile devices to search for local services, it's essential to ensure that your website is mobile-friendly and optimized for smaller screens.
If all of these tasks feel a little daunting, consider partnering with a professional digital marketing agency, like Comrade Digital Marketing. We leverage over a decade of experience in the industry to bring you more customers using web design, SEO, and PPC.
---
Claim and Optimize Your Google Business Profile
A Google Business Profile enhances your company's online presence by ensuring accurate and up-to-date information is displayed on Google Search and Maps. This makes it easier for potential customers to find your roofing business when searching for relevant services in your local area. A Google Business Profile allows the roofing company to provide essential details such as contact information, business hours, website links, and customer reviews.
You must claim your Google Business Profile to take advantage of its benefits. To claim your Google Business profile, you will need to: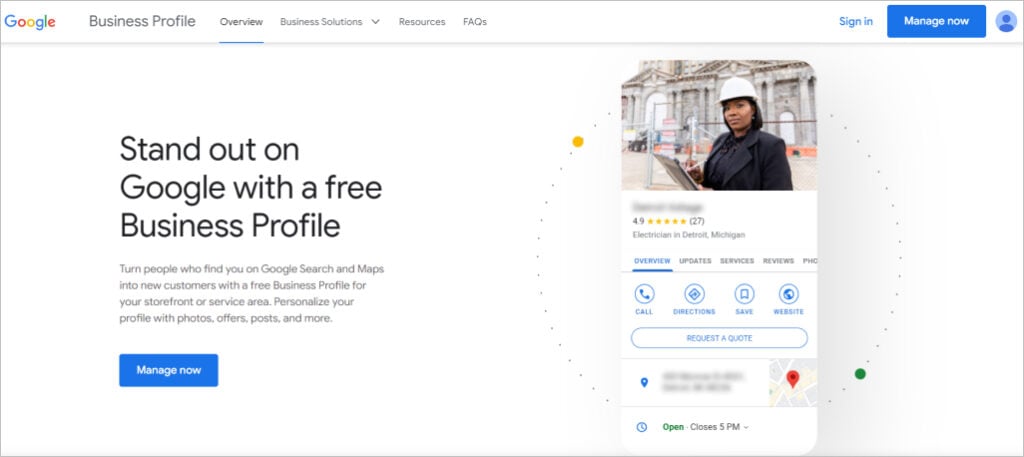 Input the name of your roofing company and click 'Continue.' If your business has multiple locations, you can add them later.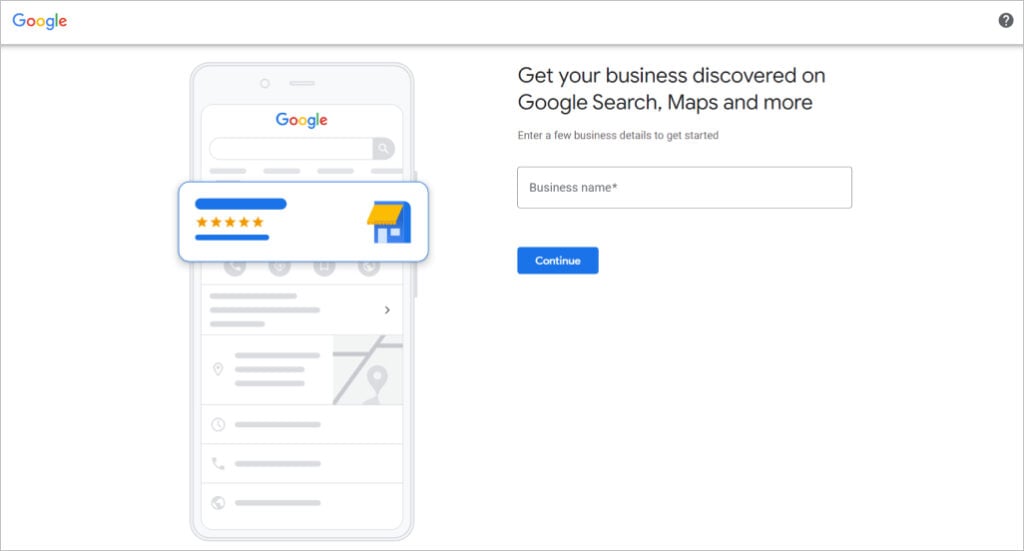 Choose a category that your company falls into.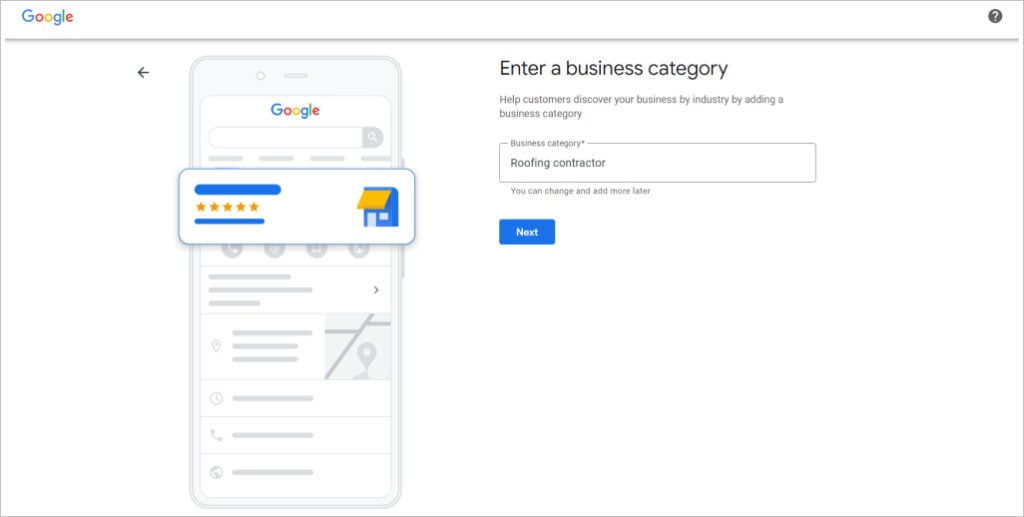 Verify your business by phone, email, or postcard. Google will send you a verification code, which you will need to enter to validate your business and claim your profile.
Once you have claimed your profile, you can optimize it by providing detailed information about your business, such as the address, hours of operation, contact information, and photos. You can also add a description of your business and services, as well as reviews from customers.
---
Get Listed in Online Directories
Online directories are websites that list businesses by category and location, making it easy for potential local customers to find local services. Here's how to get listed in online directories:
Research directories: Start by researching online directories that are relevant to your industry and location. Some popular directories for roofing businesses include Angie's List, HomeAdvisor, and Yelp. Compile the list of the directories and make a comparison to see which one is suitable for your needs.
Claim your listings: Once you've identified the directories you want to be listed on, claim your business listings on each site. This will usually require creating an account and verifying it. The process is usually similar but just make sure to follow the instructions on the directory's website.
Optimize your listings: Make sure that your business information is accurate and up-to-date, and include photos and videos to showcase your work. You can also encourage customers to leave reviews on your listings, as this can improve your credibility.
Monitor your listings: It's important to regularly monitor your listings on online directories to ensure that your information is accurate and up-to-date. Respond to customer reviews and address negative customer complaints promptly and professionally.
---
Engaging with Potential Customers
The 4 strategies in this section can aid you in connecting with your target market, generating more roofing leads, and ultimately, expanding the revenue of your roofing company.
1/4 strategy
Answer Questions on Your Website to Build Trust
Being trustworthy and informative is vital, and these are greatly improved when you incorporate answers to frequently asked questions (FAQs) into your website or other platforms that allow FAQs. You can address questions related to your services, pricing, quality, and safety measures, among other things. You can also use this section to answer questions about your business, such as your experience and qualifications.
Some examples of questions you can answer include:
What are the different types of roofing materials available?
How long does a typical roof installation take?
What is the cost of a new roof?
How often should I have my roof inspected?
---
2/4 strategy
Partner with Local Businesses for Cross-Promotion
Look for businesses that complement your services, such as home improvement stores, home builders, interior designers, real estate agents, and construction companies. You can cross-promote by offering discounts or referrals to each other's customers. You can also co-sponsor events and provide joint marketing initiatives.
For example, a home improvement store can offer a discount on roofing materials to customers who use your roofing services, and you can offer a discount on your roofing services to customers who shop at the home improvement store. Other ways to partner with local businesses include sponsoring events or hosting joint promotions.
---
3/4 strategy
Leverage Google Ads for Targeted Advertising
Google Ads can help you target potential customers based on their search history and location. This type of advertising can be particularly effective for roofing companies because people often search for roofing services when they need them urgently. Some types of Google Ads a roofing company can utilize include search, display, video, and remarketing ads.
Search ads appear at the top of search engine results pages when someone searches for roofing services in your area.
Display ads appear on other websites that are part of the Google Display Network, such as home improvement or DIY websites.
Video ads can be shown on YouTube to people who are interested in home improvement.
Remarketing ads target people who have previously visited your website or shown interest in your services.
---
4/4 strategy
Utilize Social Media Platforms to Market Your Brand
There are around 4.9 billion social media users worldwide, and this number is expected to continue growing. Additionally, 54% of social browsers use social media to research products or services. This makes social media marketing the go-to strategy for instant, cost-effective engagement with your target audience. Social media platforms like Facebook, LinkedIn, Twitter, and Instagram allow you to use feeds, stories, tags, description boxes, etc., to share text and visual information. You can use them to:
Start conversations
Showcase your work
Share customer reviews and testimonials
Offer expert tips and advice on roof maintenance and repair
Share before-and-after photos of completed projects
Create polls about a roofing project
Run contests, promotions, and giveaways
Share an excerpt from a blog post.
You can also use social media to run targeted ads to reach potential customers in your area e.g. Facebook Ads.
---
Special Marketing Tactics for Roofing Businesses
Since the industry is so competitive, you may need to come up with special marketing tactics that can give you an edge. In this part of the guide, we will discuss two other marketing tactics that can help you boost your roofing business.
Offer Seasonal Deals and Promotions
Special seasonal deals and promotions bring numerous benefits to a roofing business and its clients. These exclusive roofing deals and promotions create a sense of urgency, motivating potential customers to act quickly.
For example,
A roofing company owner might offer a discount on inspections and repairs in the fall when homeowners are preparing their homes for winter.
They might offer a discount on roof replacements in the spring when homeowners are thinking about home improvement projects.
They can run a social media contest where customers can win a free roof inspection or other roofing services.
Other examples of seasonal deals and promotions could include free gutter cleaning with a roof repair, a discount on a roof maintenance plan, or a free upgrade to premium roofing material.
---
Learn from Successful Marketing Strategies of Other Roofing Companies
It's essential to keep an eye on what your competitors are doing, especially when it comes to their marketing strategies. This can give you ideas and inspiration for your marketing plans.
Look at what your competitors are offering, such as their services, promotions, and deals. Take note of what seems to be working well for them and consider incorporating similar strategies into your marketing plans.
You can also analyze their online presence, such as their website design, social media channels, and customer reviews. See how they engage with their customers and what kind of content they are sharing on their social media accounts.
On top of that, you can also attend industry conferences and events to learn from other roofing professionals and stay up-to-date with the latest industry trends and marketing tactics.
---
Tracking and Analyzing Marketing Efforts
With so many marketing strategies being put in place, you need to track and analyze them to understand what is working and what is not. This allows you to make informed decisions, optimize your strategies, and ultimately achieve greater success.
Importance of Tracking Digital Marketing Campaigns
Listed below are some reasons why tracking internet marketing campaigns is essential:
Measuring ROI: Businesses can track the ROI from their digital marketing campaigns so that they can plan how to use their marketing budget to avoid overspending.
Identifying effective channels: You get to identify which channels are bringing in the most leads and conversions. This helps you concentrate on those channels to increase roofing lead generation. And the channels that are not doing well? You can tweak the roofing marketing campaigns.
Understanding target audience: Tracking and analysis give roofing companies insight into customer behavior. This can help you tailor your marketing initiatives to meet the unique needs of your target audience.
---
Analyzing Data to Make Informed Decisions
Data can help identify trends, patterns, pain points, and customer preferences, which helps in refining marketing strategies accordingly. The types of data you should be analyzing include:
Website traffic: Google Analytics is a useful tool for analyzing roofing business website traffic. You can monitor the number of visitors, bounce rates, and session durations.
Social media metrics: Social media platforms like Facebook, Twitter, and Instagram provide built-in analytics that allows businesses to monitor their engagement, reach, and clicks.
Email marketing: Platforms like MailChimp and Constant Contact provide open rates and click-through rates for each email. Roofing businesses can gain insight into the most effective subject lines, content, and offers with this data.
Iterating and Optimizing Strategies Based on Results
This part involves testing, testing, and testing. Companies can improve their roofing marketing strategy through various testing techniques, such as A/B testing, heat mapping. user testing, and conversion rate optimization. Tools like Google Optimize, Crazy Egg, UserTesting, and Optimizely can help roofing businesses test different variations of their website, landing pages, and advertisements, and determine which ones perform best.
---
Must-Have Marketing Ideas for Roofing Businesses in 2023
The strategies that worked 10 years ago may not work effectively in 2023. You need to stay up-to-date with the latest marketing trends and strategies so your roofing business attracts new clients and stays top-of-mind with existing ones. This section will focus on the must-have ideas that can help roofing businesses stay ahead.
---
Email Marketing as an Effective Communication Tool
With email marketing, you can create targeted campaigns that are designed to engage your audience and drive conversions. You can use email marketing to keep clients up-to-date on your services, share special promotions, promote new products, and share industry news and insights. Additionally, you can segment your email lists to target specific groups of clients, such as those who have used a specific type of roofing service in the past.
---
Implement a Referral Program for Client Acquisition
Word-of-mouth referrals are a cost-effective way to increase client acquisition for roofing businesses. That's why it's important to have a referral program in place that incentivizes your existing clients to refer new business your way. You can offer discounts or other incentives to clients who refer new business to you.
---
Create an SEO-Optimized Website for Better Online Visibility
We have discussed SEO in detail above, so you know the deal. With an SEO strategy, your business is more likely to be found by potential clients who are using search engines—Google, Bing, and Yahoo—to find roofing services in their area. You should put all the important techniques in place like on-page SEO, technical SEO, off-page SO, and local SEO.
Furthermore, your roofing business website should be easy to navigate, visually appealing, and feature high-quality content that is optimized for your target keywords. If you need help with SEO, don't hesitate to reach out to a reputable digital marketing agency to assist you.
---
Manage Online Reviews to Build a Positive Reputation
You need to manage reviews left by satisfied clients on your Google Business Profile, online directories, and other sites that accept reviews. Encourage satisfied clients to leave reviews on review sites via follow-up direct mail or invoices. Make sure to respond to both positive and negative reviews in a professional and timely manner, thanking customers for their feedback and addressing any concerns they may have.
---
Utilize Paid Advertisements for Targeted Marketing
Paid ads allow you to reach a specific audience by customizing your ads based on demographics, interests, behaviors, and location. You can choose one or more of the types of platforms you want to advertise on, such as Google Ads, Facebook Ads, or Instagram Ads. These platforms offer different ad formats that can be tailored to suit your business needs.
Paid advertisements provide measurable results with the ability to track and analyze your ad performance. Furthermore, you to adjust your marketing campaign to improve its overall effectiveness.
---
Engage with Customers on Facebook
Facebook remains one of the most popular social media platforms, with over 2.9 billion active users. You can create a business page that includes your roofing business name, address, and phone number (NAP), as well as your business hours. You can interact with customers, answer questions, and share valuable content in the form of video, text, and pictures on your feed, story, and more. It allows you to take advantage of its ad features to create targeted ads for potential roofing clients.
---
Get Listed in Online Directories for Increased Visibility
These directories, such as Yelp and Angie's List, provide valuable exposure for your roofing business. Many directories allow customers to leave reviews, which can further boost your reputation and help you attract new business. It's important to keep directory listings up-to-date with accurate information and respond to any customer reviews or feedback.
---
Utilize LinkedIn for Professional Networking
LinkedIn, which caters primarily to professional roofing contractors looking to build relationships and create business opportunities. You can leverage the power of LinkedIn to establish a professional image, share your company's values and vision, and network with industry professionals. Create a company page, share your roofing business's achievements and projects, post thought leadership articles, and participate in industry-specific groups.
---
Explore Content Marketing as a Strategy
Content marketing involves creating and sharing valuable content such as blog posts, videos, or infographics that educate and inform potential customers. You can provide valuable information about roofing services, maintenance, repairs, and new products. Additionally, optimizing your content with relevant keywords can improve your search engine ranking, making it easier for potential customers to find your roofing business online.
---
Incorporate Seasonal Specials to Attract Customers
Seasonal specials are promotions or discounts that are offered by businesses during specific times of the year, typically in response to changes in consumer behavior or demand. It's important for businesses to carefully plan and execute their seasonal specials to ensure they are effective and profitable.
Businesses should also ensure that their seasonal specials are properly advertised and communicated to their target audience, using channels such as email marketing, social media, and local advertising.
Accelerate revenue growth with expert SEO solutions
Conclusion
Whether it's creating compelling content, building a strong online presence, networking with industry professionals, or exploring new advertising channels, many roofing marketing ideas can help you boost your brand and attract more customers. You can implement these strategies with the help of an in-house team or partner with a professional marketing team while you focus on your actual projects. An agency like Comrade Digital Marketing Agency will save you a lot of time and resources when it comes to bringing in new clients.
We offer a full-service solution that includes web design, PPC, and SEO services. With our expertise and experience in the roofing industry, we can help roofing businesses develop a strong online presence, drive more traffic, and increase their revenue, year over year.