All good home services websites have one thing in common: They get visitors where they need to go with minimal friction. A well-design website builds trust and guides potential customers to act.
Factors like colors, consistency, typography, simplicity, and functionality impact user experience and perception. When designing a new website, or updating an old one, you will need to consider:
UI and UX
Graphic design
Loading speed
SEO
Unique solutions
In this blog, we provide some website inspiration and elaborate on the aforementioned technical aspects to help you develop the best home service website for your company.
Best Home Services Website Designs in 2023
The home service companies below have so many great attributes that it's impossible to mention them all, so we've touched on one or two design elements they've successfully executed to inspire your website development.
1. Artistic Windows and Doors
This clean and elegant design lets the visuals do the talking. Its hero image slideshow beautifully showcases the company's portfolio of work. At the same time, its simple menu provides visitors with everything they need to view projects, find out about the company or make contact.
Artistic Windows and Doors' website is a good example of how strong visuals can do enough to sell a service or product without too much copy. Its footer displays important contact information as well as selective social media platforms you can follow the company on. Notice there's only LinkedIn and Instagram, which illustrates discernment and careful home services marketing strategy.
2. Rockville Interiors
Given this company deals with aesthetics, it's fitting that its home services' website skews toward the visual. The horizontal navigation at the top of the home page is easy to use, while its sub-category drop-down menus keep the home page neat and tidy.
What's nice about this web design is it doesn't clutter pages with too much text or information. The large visuals and accompanying text are suitably sized for quick comprehension. There is also a clear call to action to schedule a free consultation.
3. SEKA Moving
Bold and bright, this moving company's website effectively communicates the scope of its services. The photo of the moving truck on the home page clearly indicates this company has the capacity to handle large moves.
Its horizontal menu has a tab for customers that contains valuable information. Together with the FAQ section at the bottom of the homepage, this reduces time spent answering common questions and empowers clients with the information they need to make hiring decisions.
4. Piece of Cake
Piece of Cake's website design is striking and original. Its pink, white, and purple color scheme appeals to the modern millennial market. Like most websites, it has a clear call to action and appealing visuals, as well as many 5-star reviews across different platforms.
What's particularly striking, and is a testament to the company's high-quality service, is the button for disabled customers on the left-hand side, which illustrates a commitment to go above and beyond to cater to different clients. This quirky web design really makes potential customers want to get their slice of the cake too!
5. Cove
This web design makes use of an autoplay video to communicate how easy it is to install its home security system. In fact, 94% of marketers agree videos have helped increase user understanding of their product or service, while 86% of video marketers say video has been effective for generating leads.
Cove appeals to "savvy homeowners" by stating how it reduces installation and response time, and it also lists its awards on the home page, which are visible without scrolling. This reinforces product superiority and serves as further encouragement to "see what it costs" and get a quote.
6. Gutter Guards America
What's most striking about this home services website design is the strong copy. Gutter Guards America states on the landing page that it is "America's #1 rated gutter guard." It's clear this home service business has a national footprint.
It wastes no time in getting potential customers to apply for a free estimate underneath, which is a good example of a direct call to action. When you scroll down, there is also a link to their blog that shares valuable insights with consumers. This is a common digital marketing tactic that companies use to position themselves as industry leaders and build audience trust.
7. SoClean
SoClean's hero image slideshow does a good job of communicating the retailer's sleep apnea cleaning device and associated product discounts. This home services web design makes ample use of white or negative space, so there's enough space for readers to process visual and text information.
According to color therapy theory, blue is calming, relaxing, and healing. SoClean's website's main color scheme is blue and white, which is fitting for the type of product it sells. An informative illustration of the product on the homepage is also an effective way to educate new customers on how the product works.
8. Guardian Protection
Guardian Protection's website design is a great example of how to quickly appeal to different target market segments. On the homepage, there are two buttons, one for commercial clients and the other for residential clients. This effectively directs the target audience exactly where they need to be without confusion.
This home services business's website also provides interested customers with 5-star reviews, that serve as social proof of the business' valuable services. Reviews are increasingly important, as the overwhelming majority of customers read reviews before making a purchasing decision.
9. Dazzling Cleaning
Dazzling Cleaning's website is proof that sometimes you only need a single page to market your services. The high-quality hero image showcases an immaculate white interior, which speaks volumes about the meticulous type of service the company provides.
This is further underscored by its unique selling proposition, "Experience five-star clean." Underneath the copy, there is a clear call-to-action button for visitors to "book a clean." Within the first five seconds, readers already have all the information they need.
By keeping the design neat and tidy, this website emulates exactly what the company does without having to oversell itself.
What Makes the Best Website Design for Service Companies?
Content, navigation, and graphic design work together to create a seamless experience for your website visitors. Below are a few elements to consider that will transform your website into a lead generation magnet.
UI and UX
User experience (UX) is about how visitors feel when interfacing with a website. It has to do with ease of use, utility, efficiency in performing tasks, and so forth. It is through UX that web designers carefully design prospective customers' journeys from their point of interest until their point of purchase (from the moment they enter a home services website.)
While often used interchangeably, User interface design (UI) is actually different and deals with the visual or graphic side of the website design process. It is to do with how a home service website looks and functions. UI is about making the layout pleasing and easy to understand. For example, finding contact details, or reading more about your professional services.
So, UI refers to the aesthetic elements by which people interact with a product, while UX is about the experience clients have with a product or service. You can't have one without the other.
Both aim to improve the overall user experience and work together to boost conversions. If you create a user-centric website that functions effectively, conversions will follow. This also entails making sure your website is mobile-friendly.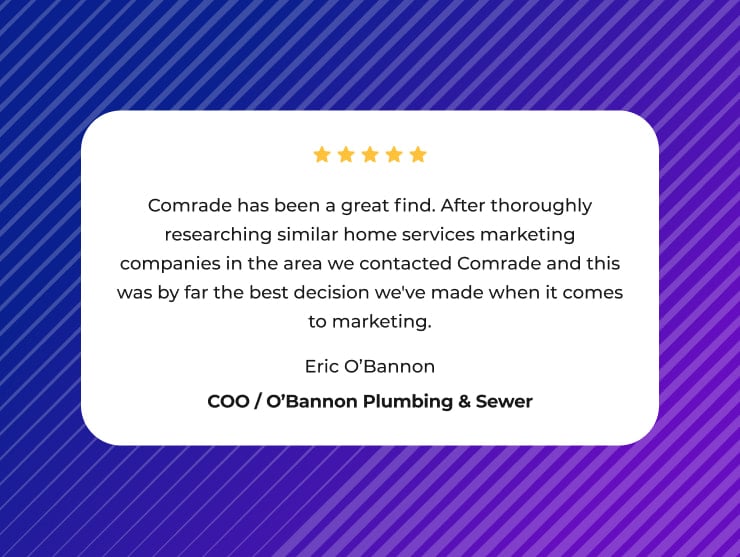 Over 50% of organic search engine results come from mobiles. Knowing a website is mobile-friendly allows users to interact and engage with your brand across devices, without being annoyed or inconvenienced.
Considering most people use their smartphones to search online, a mobile-friendly website is a must for digital marketing success!
Graphic Design
Effective graphic design encompasses a lot more than typography and images. Poor and incongruous graphic design with too much clutter and advertisements can dissuade visitors from returning.
Unless your website is super simple, we'd advise hiring a professional designer to streamline the design. They'll ensure there are clear paths for the user to follow so that visitors accomplish what you want them to when they're on your website.
Color and space, proximity, rhythm, contrast, hierarchy, alignment, and balance are all important graphic design elements. Once you've decided on design preferences, you'll need to decide if you want a balanced (stable) or off-balanced (dynamic) layout.
In the context of graphic design, there are three types of layouts:
Symmetrical: This design is formed along a vertical or horizontal axis, where the weight of the elements is evenly divided on both sides of the layout.
Asymmetrical: This is found in websites where two sides of a webpage differ from each other but contain similar elements.
Radial: With this design, elements are placed in a circular pattern, providing a sense of movement and dynamism.
Working with a professional designer will ensure that whatever design you choose reflects your home services business.


Success Stories
Delivering Business Results: Our Digital Marketing Case Studies
Loading Speed
Loading speed is part of technical SEO. It influences user experience and is a crucial element that helps search engines like google determine your business's online ranking. Google has clarified the two-to-three second mark is the maximum time most leads are willing to wait for a web page to load before looking elsewhere.
Anything slower, and you're losing new leads by the millisecond. A study by Portent found the first five seconds of page-load time have the highest impact on conversion rate. With each additional second of load time, website conversion rates drop by an average of 4.42%.
Page load time is affected by many factors. It depends on the infrastructure that hosts your home service's website, search engine optimization, website design, as well as image size, and advert volume. There's no need to stress if your website lags, as each of these factors can be optimized.
You can use Google's PageSpeed Insights or Pingdom's Page Speed Test to determine how well your website performs.
SEO
Home services SEO is crucial because it makes your home services' website receive more visitors, and that means increased traffic and opportunities to convert prospects into customers.
On-Page SEO
This is the practice of optimizing individual website pages to rank higher and earn more leads. On-page SEO refers to both the content and HTML source code of a web page that can be optimized. These are things like body copy, header, meta titles, and meta descriptions.
On-page SEO helps search engines crawl and index your website correctly because it provides clarity on what your website is about. The more information you provide search engines, in the form of correct keyword usage, the more accurately they can rank your web pages.
Technical SEO
Technical SEO has nothing to do with the actual content of your website. It is about optimizing a website's infrastructure, so search engines can interpret and index your web pages without any technical difficulties.
It covers aspects like hosting, site speed, XML map, and meta robot tags. According to Search Engine Journal, "technical SEO allows search engines to see your website is quality, and that users will have a good experience on it."
Local SEO
Local SEO focuses on optimizing a website to be found to answer relevant local search queries. Since these leads are from people who are already searching for home services, they are more likely to give you a higher conversion rate.
Setting up local SEO is relatively easy. All you need to do is sign up for a free Google My Business profile and fill in the relevant details. Gathering positive online reviews plays an important part in boosting local SEO rankings, as search engines view positive views as indicators of trustworthy business.
Unique Solutions
Every business has a unique selling proposition (USP) that distinguishes what makes its product or services better than competitors. Although a business owner will likely know what their local businesses' USP is, it's essential to communicate this on the company's website.
When doing so, leave out the jargon and use simple language your target audience will understand. It's also essential when describing your USP that you provide an obvious solution. For example, "Our affordable cleaning services make your home look like a 5-star hotel."
You should always market your business in a personal manner, expressing how it benefits customers' lives, so they can draw a direct correlation between what you do, and how hiring you will address their pain points.
Want to speak with an expert?
Call us at (312) 265-0580
Professional Home Services Business Website Designers
A home service website should have a visual and emotional impact on visitors. However, its function supersedes aesthetic appeal. A website design must always help potential customers find what they need. That is the true purpose of website design.
If you need to design a new home services website or update an existing one, our expert designers can bring your vision to life. They've built many custom websites that attract new customers and help businesses grow online. Chat to us to find out more about our website development services.
Frequently Asked Questions
In what cities do you operate?