We've never heard a client say they want less business. Most local landscaping businesses are constantly looking for new and innovative ways to grow their client bases. Search engine optimization (SEO) is the best way for clients to find you where they are, namely on the internet.
SEO for lanscapers helps your website rank high when people in your area use Google to find landscaping services. It builds long-term equity and elevates your business's profile. The best part about it is we offer SEO services for home improvement companies, including landscaping companies.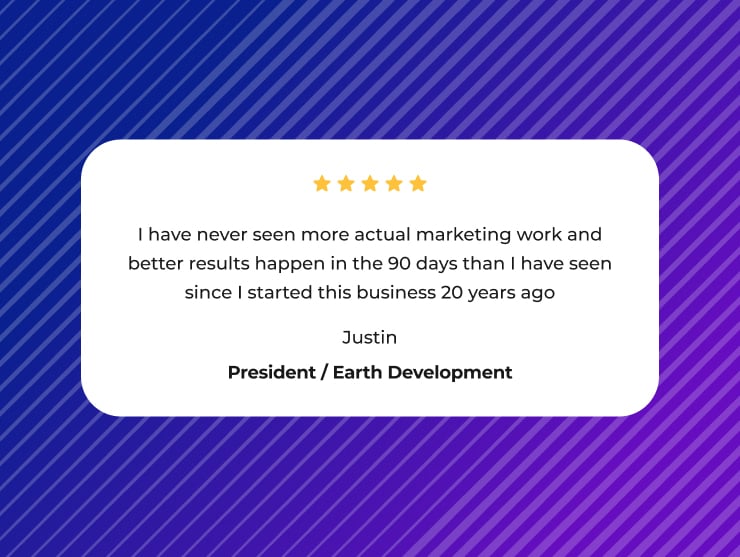 Meanwhile, you can implement these SEO strategies below to improve SEO for your landscaping company.
1/8 strategy
1. Use Relevant Landscaping SEO Keywords
According to a study by SEMrush, "if you want to rank high for a high-volume keyword, including target keywords in the title and body is a must. Over 75% of the top-20 pages have keywords in their body and over 60% have them in their title."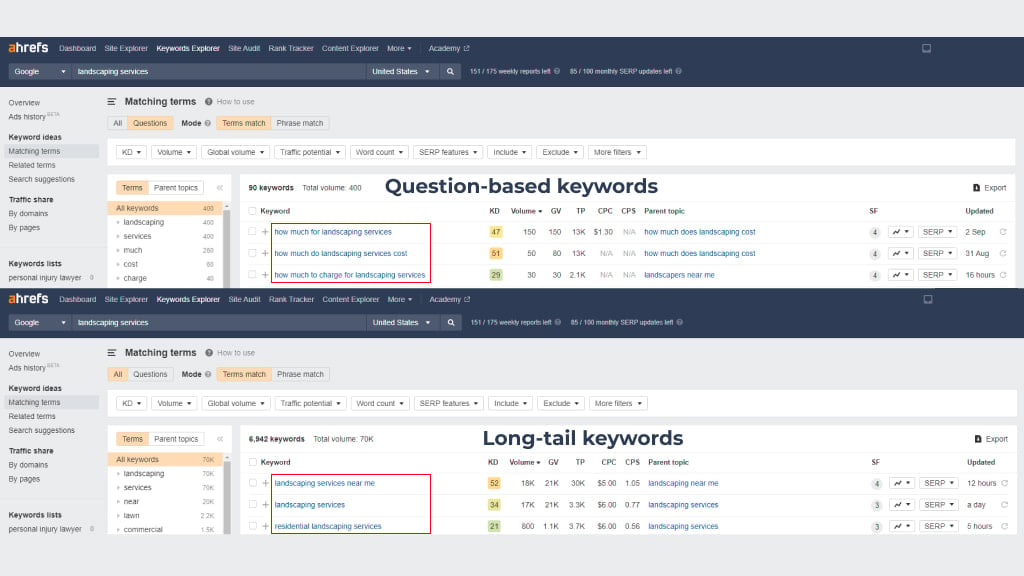 However, including long-tail keywords in your web copy and marketing materials has also proven to bring in more qualified traffic. In fact, the more diversified the semantic core of your text is, the higher your chances of ranking in SERPs.
Current statistics also show a marked increase in voice search, with as much as 41% of adults using it once a day. To optimize for voice search queries you should use:
Question-based keywords—transform queries into question phrases and provide concise answers. A question-based keyword might be something like, "When is the best time to prune flowers?"
Long-tail keywords—Consider user intent and focus on action queries. For instance, "backyard landscaping tips for winter."
Conversation content—Use natural-sounding language.
Keywords for landscaping should always match user intent. The goal is to appear in search engines because you provide valuable information for your target audience. Using a keyword optimization tool like Google Keyword Planner, SEMrush, or MOZ Keyword Explorer can help you find relevant keywords related to your business and industry.
Landscaping Keywords Examples
Keywords and keyword research are an integral part of any SEO campaign. Here are a few examples of great keywords for landscapers:
| | | |
| --- | --- | --- |
| Keyword | Volume | Difficulty |
| landscaping near me | 11000 | Medium |
| front yard landscaping | 5900 | Medium |
| backyard landscaping | 4200 | Medium |
| landscape pavers | 3200 | Medium |
| landscape maintenance | 3100 | Medium |
| landscaping service | 1900 | Medium |
| residential landscaping | 1400 | Low |
| landscape designer near me | 1100 | Low |
| garden landscaping | 700 | High |
2/8 strategy
2. Optimize Your Meta Titles & Descriptions
The best landscaping companywebsites optimize their meta title and descriptions because this information shows up in search results and improves click-through rates.
Meta titles and descriptions should reflect the content of your pages. Misleading users with false meta descriptions and titles to increase page views results in poor user experience and penalization by Google.
While keywords don't have a direct impact on page ranking, they do show up in bold in meta descriptions if they match a user's query. Therefore, it's worthwhile adding them, so long as you avoid keyword stuffing—this will only hurt your landscaping SEO efforts.
The most successful meta descriptions are ones that give readers a call to action (CTA) to visit, making them more likely to click on the link and visit your page. A CTA might be something like "read our blog," "buy now," or "learn more."
As far as titles go, Google doesn't specify a recommended length, however, most desktop and mobile browsers tend only to display the first 50-60 characters, so it's recommended you keep them below this character count.
It's best to keep title tags descriptive and concise. A good format to follow is:
Primary keyword | Secondary Keywords | Branding
See how SEO can help you stay ahead of the competition
3/8 strategy
3. Add Only Relevant Content to the Pages
Google assesses landscaping business websites according to how relevant, credible and authoritative they are. As a rule of thumb, every page on your website should be about one topic. For example, if you're writing about snow removal services, don't include information about landscaping. When you keep content focused on one main topic, it's easier to use a range of keywords related to the main theme, which is better for indexing and ranking purposes.
4/8 strategy
4. Optimize Your Website's Structure
Your website's structure is critical to both SEO for landscapers and potential clients. Search engine crawls your website's link structure to find and index pages. If it's organized, all your pages will be easily found, indexed, and ranked. Similarly, having an intuitive navigation menu helps your visitors find what they need. Generally, any information on your website should be available to a user in three clicks.


Success Stories
Delivering Business Results: Our Digital Marketing Case Studies
5/8 strategy
5. Use Content Marketing for Better Leads
To improve SERP visibility and customer conversions and remain competitive, every local landscaping business has to invest in content creation. Whether it's blogs or videos, content marketing costs 62% less than other marketing strategies and creates three times more leads.
Regardless of the shape your content takes, it will be most effective when it answers questions, provides in-depth insights, and places your target audience—not your services—at the center. SEO-optimized blogs, for example, are simple yet powerful tools for engaging customers.
These top-of-funnel assets capture web traffic and address custom pain points establishing your business's expertise while promoting your brand and keeping your company top of mind when it's time to hire landscapers.
So, how do you go about creating content that attracts qualified leads?
The basic idea: You have to know your audience and the keywords they use and create content that contains these keywords and answers the queries they type into into search bars.
Traditional advertising is based on "interruption" i.e., broadcasting your services to potential customers, whereas inbound marketing (content marketing) is permissive, and encourages customers to come to you. It focuses on nurturing long-term relationships, which is more beneficial in the long run.
Looking to scale or increase your revenue? SEO is proven to grow your business
6/8 strategy
6. Improve Your Local SEO for Landscaping
46% of all searches on Google include local intent, meaning over 40% of customers are looking for local businesses. Landscapers with optimized local listings and good local SEO are more likely to be found by nearby customers seeking their services.
If you've ever Googled a specific business or service you would have come across the first three results, known as a Google 3-Pack or local pack. These sit alongside Google Maps, displaying where a company is located, along with basic business information.
The 3-Pack's position above organic search results makes it valuable real estate for local landscaping businesses trying to reach customers with local intent. To carry out local SEO for your business, you'll need to claim and optimize your free Google Business Profile, along with listing your company in other online directories and implementing a robust customer review process.
Doing this correctly will help your business appear more prominently in the Local Pack, the Local Finder, localized organic results, and on Google Maps.
How to Set Up a Google My Business Account for Landscaping Companies
Setting up a Google My Business (GMB) account for your landscaping company is essential for increasing your online presence and attracting local customers. Here's a concise step-by-step GMB guide for landscaping companies:
Visit GMB Website: Go to the GMB website.
Sign In: Log in to your Google account or create one if you don't have it.
Business Information: Click on "Add a business" and enter your landscaping business' name. If your company name is listed, select it.
Business Category: Choose the most relevant category for your business, such as "Landscaping Service."
Location: Enter your business address. If you serve customers at their location and don't have a physical storefront, check the box for "I deliver goods and services to my customers."
Contact Details: Include your phone number and website if available.
Verification: Google will verify your business through a postcard sent to your provided address. Follow the instructions on the postcard to verify your account.
Business Description: Write a concise, engaging description of your landscaping services.
Photos: Upload high-quality images of your landscaping projects, team, and office. Include a profile picture and cover photo.
Hours of Operation: Set your business hours, including any special hours for holidays.
Attributes: Add specific details like accepted payment methods, accessibility options, and service offerings.
Posts: Regularly create posts about promotions, news, and events to keep your listing active.
Reviews: Encourage satisfied customers to leave reviews on your GMB listing.
Keep Information Updated: Regularly update your GMB account with any changes to your business details.
Monitor Insights: Use the GMB dashboard to track how customers find your business and engage with your listing.
With these steps, your landscaping company will have a well-optimized Google Business Profile that helps potential customers discover your services and build trust in your brand.
7/8 strategy
7. Write Your Content for People
At the end of the day, while SEO for landscaping companies is important, don't lose sight that you're writing for humans, not search engines like Google. Optimization is important but it's not end all be all. You want to make your writing clear, personable, and natural sounding. Landscaping SEO services are an essential part of the marketing mix, but don't let it get in the way of writing compelling content your target audience enjoys reading.
And as a cool bonus: Google also takes a note when people are actually reading your content.
Remember, search engine results no longer base rankings on keywords alone. In fact, Google's E-A-T algorithm prioritizes expertise, authoritativeness, and trustworthiness. It looks for well-written content that internet users share on social media and links to highly respected, relevant sites.
The end goal of all your content marketing should always be to convince your visitors to act, and the only way to do this is to create valuable content. So, as a quality control precaution, you should always check if your content is helping your ideal customers solve their problems.
Comrade Digital Marketing Agency can help you with the above if you're unsure how to go about it. Schedule a free consultation.
8/8 strategy
8. Make Sure Your Landscaper Website Works Great on Mobile
There are two reasons why your website must work seamlessly on mobile; firstly, Google has a mobile-first index, and secondly, most customers use their mobile phones to search for services. The best landscaping websites provide positive user experiences whether you're on your smartphone, tablet, or desktop.
Ensuring your website has a responsive layout allows it to rescale itself according to the device being used to view it. Having a mobile-friendly and responsive website demonstrates your business is flexible and adaptive and makes for a seamless customer journey.
Not sure how well your SEO works?
Get More Landscaping Clients with Comrade SEO Agency
There's a lot to SEO for landscaping. Just like maintaining your clients' outdoor space, there isn't a one-size-fits-all approach, although the above tactics and techniques can boost your landscaper SEO when used correctly.
At Comrade we provide best SEO services for landscapers to boost your business revenue. If you're looking for a landscaping marketing agency to improve your online presence or help with any aspects of digital marketing like Facebook ads for landscapers or content marketing, we can help. Contact our SEO company to improve landscaping SEO
Frequently Asked Questions
Where can I find your company?