The home services sector has experienced increased business following the work-from-home movement. Since the onset of the pandemic, over 70% of Americans have tackled home improvement projects, while the on-demand home services industry is expected to increase by 53%. By the time a customer calls a home services company, they have resolved to address an immediate problem.
Unlike retail marketing, home services marketing requires a different approach. Acquiring more leads is partly about persuading prospective customers you're good for the job, but mostly about availing your home services business to potential customers at the opportune time through effective home services marketing. The digital age has ushered in a new era of marketing, and our brief guide will get you up to speed on how to get more customers by improving your online presence.
Focus on Local Search Engine Optimization
Brand awareness for home services marketing used to be generated largely via word of mouth through local notice boards, pamphlets, or community classifieds. Now, 97% of potential customers use their smartphones to search online to find businesses nearby, and thanks to local SEO, it's entirely possible for your business to appear at the top of Google's business listing.
When done correctly, Local SEO can generate high-converting leads and local organic traffic to your web pages, as 80% of local searches bring in business.
Local SEO is one of the most qualified methods for home service businesses to grow online. According to SEMrush, it is "the process of optimizing a business, product, or service for a search query that is location-specific." Google will use a user's location to determine which home services businesses to show the user. So, when a potential customer searches for a gardening or DIY service near them, Google will display home services closest to their location.
When done correctly, Local SEO for home services, along with Google's Local Services ads, can generate high-converting leads and drive local organic traffic to your web pages, given that 80% of local searches result in business transactions. To effectively implement local SEO for home services, you must conduct location-specific keyword research, aligning your keywords with local queries. Moreover, it's crucial to establish a free Google My Business account to optimize your local online presence.
Google My Business
This tool helps businesses and organizations to manage their online presence across Google, including Search and Maps. If you've ever searched for a business online and found a list of companies with pins to their locations, review stars, and operating hours, you've seen local SEO at work. With a Google My Business account, you can respond to messages from clients, share business updates, and manage the image of your home services company when it pops up in search engines.
Using Google My Business will help your home services business rank higher on search engine results pages (SERPs) and deliver qualified leads because customers are already searching for what you have to offer. Local search tends to deliver a higher return on investment for local businesses through clicks and direct calls, improving your overall home services marketing strategy.
Invest in Pay-Per-Click Ads
Pay-per-click advertising, also known as PPC, is a common model of Internet advertising used to drive traffic from target audiences to websites in the realm of home service marketing. This approach is not limited to clicks alone. Google offers PPC models for mobile devices, which is especially relevant in the context of home services marketing where reaching local audiences is key.
Consider that 90% of the global internet population uses smartphones to search online for home services. For instance, in a call-only campaign tailored for home service marketing, you can configure ads to appear in mobile searches. These ads provide potential new customers with the convenient choice of directly contacting your home service business.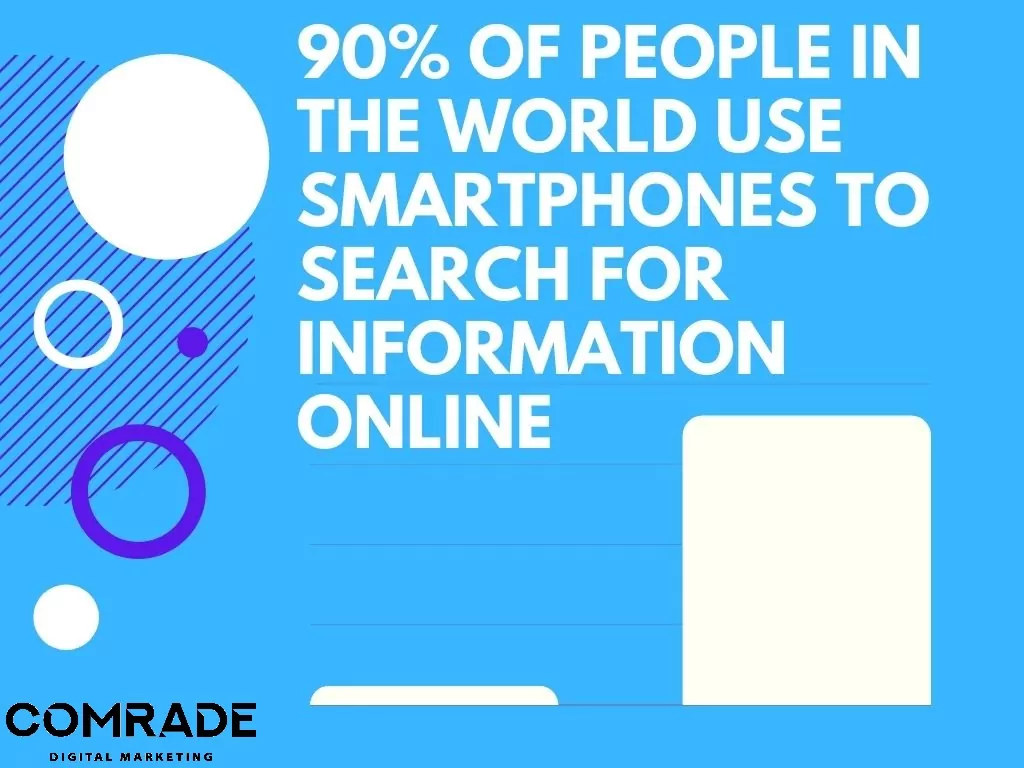 Calls expedite the home service marketing sales process. How? It's simple: It's easier for prospects to reach you, enhancing the effectiveness of inbound marketing results for in-home services. Moreover, they eliminate the necessity for clients to memorize your number before making contact, streamlining the communication flow for your home service business. Interestingly, these campaigns obviate the need for landing pages. Consequently, you gain additional time to dedicate to crafting compelling content marketing campaigns for social media marketing for home services, augmenting your home services online marketing presence.
The database containing caller information, acquired through click-to-call ads, provides you with valuable insights into your customer base. This includes data such as common call times and popular locations, which can be judiciously harnessed to refine your marketing strategy for home services.
Optimal Keywords for PPC Ads in the Home Services Business
When it comes to marketing your home services business, investing in Pay-Per-Click (PPC) advertising can be a highly effective strategy. PPC allows you to target potential customers who are actively searching for services like yours online. To make the most of your PPC campaign, selecting the right keywords is crucial. Here are some examples of the best keywords for PPC ads in the home services industry:
"Home Repair Services"
"Plumbing Contractors Near Me"
"Electrician Services"
"HVAC Installation"
"Roofing Repair Company"
"Kitchen Remodeling Services"
"Bathroom Renovation Contractors"
"Pest Control Services"
"Lawn Care and Maintenance"
"Home Cleaning Service"
Remember that the effectiveness of your PPC campaign also depends on factors like ad copy, landing page quality, and budget management. Regularly monitor your campaign's performance and adjust your keyword strategy as needed to ensure you get the best results from your investment.
Comrade Digital Marketing Agency can help you create your personal PPC strategy. Schedule a free consultation.
Build a Great Website
Any marketing agency understands that an effective website design for home services marketing must encompass several crucial elements. This includes being mobile-friendly, ensuring seamless navigation, boasting aesthetic appeal, and being optimized for local SEO. The ultimate goal is to skillfully convert leads into paying customers. Marketing for home services relies on design to make a significant impact on your business's success.
Central to this approach is embracing inbound marketing tips to create a user-friendly experience. The home service website should not only communicate the unique selling proposition (USP) of your home services business but also be intuitively navigable. Consider the example of Love & Carrots, a garden design and maintenance company, that epitomizes effective website building. It intricately weaves together impactful visuals, a clear USP, and a compelling call to action (CTA) on the homepage.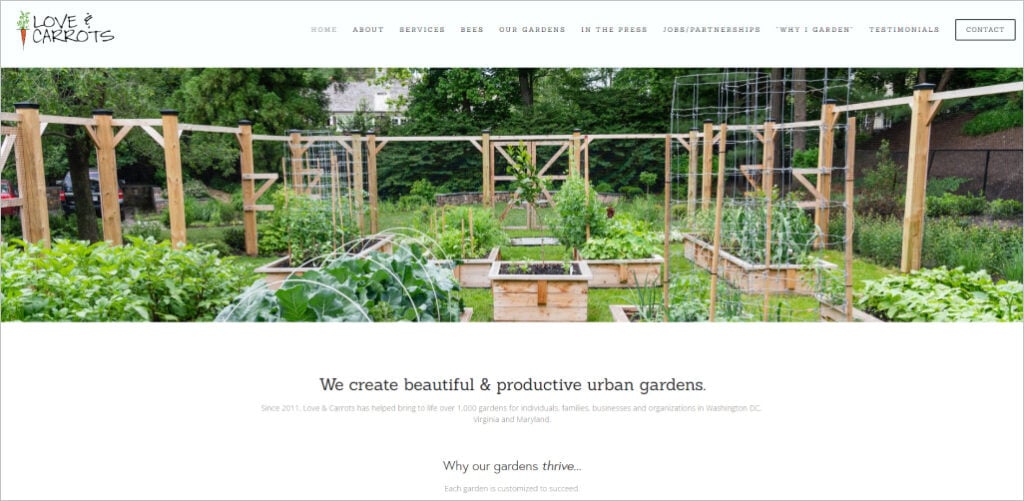 Every page of your website should actively engage potential customers, inspiring them to take specific actions aligned with your home services marketing goals. These actions might include signing up for a newsletter, initiating contact through sending an email, or even making a direct call. Each interaction serves as a stepping stone, propelling them towards the decision of availing your home services. To illustrate this point, consider the insights offered by exploring the compilation of leading real estate websites.
Regarding websites, Google's algorithm to assess website page rank is influenced by bounce rate, a crucial metric within home services marketing. Bounce rate signifies the percentage of visitors who depart your site due to prolonged loading times, a parameter emphasized in local SEO marketing for home services.
Google suggests a page load time of less than two seconds for "eCommerce website acceptability," making swift-loading websites paramount, especially in the context of internet marketing for home services. Any qualified home services marketing agency will tell you that the speed of loading significantly contributes to a positive customer experience online. Employing tools like Pingdom enables you to assess your website's loading time, a key aspect of home services digital marketing management.


Success Stories
Delivering Business Results: Our Digital Marketing Case Studies
Manage Your Online Reviews
Ready any home services marketing blog, and you'll see that reviews play a pivotal role in convincing people to choose one business over another.
Reviews serve not only as valuable feedback for home services professionals looking to refine their reputation management, but they also yield positive impacts on SEO. In this context, Google employs diverse review signals to ascertain a website's ranking within the competitive landscape of home services local SEO marketing:
Review Diversity: Your reviews should come from different sources, excluding Facebook and Google. Always try to get reviews on sites that are specific to your home services industry.
Review Quantity: The more reviews and customer testimonials you have, the greater your chances of ranking. The easiest way to get reviews is to make it part of your customer's journey by asking for them to leave reviews at the end of your transaction, whether it's on social media, via email, or app.
Review Recency: According to the Search Engine Journal, 85% of consumers believe reviews older than three months are irrelevant. A constant stream of updated reviews from satisfied customers keeps your business relevant to prospective customers and search engines.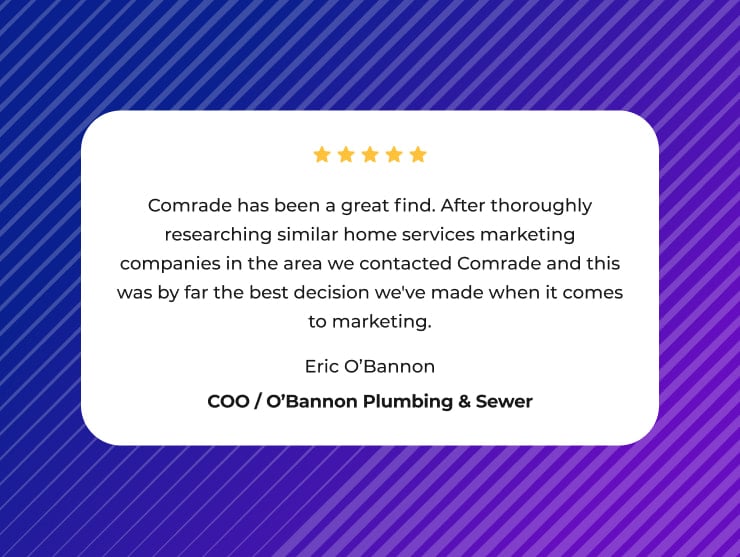 Case study: Commercial company Green Roofing and Construction uses the positive reviews on their website as a major selling point, so much so that it is the first thing you'll notice when visiting their homepage. The sheer number of satisfied reviews available demonstrates the high quality of their customer and that they're exceptionally experienced at what they do. This speaks volumes of their home services business before you've even had a chance to learn about their unique selling point or company mission.
Engage on Social Media
In the realm of marketing home services, active engagement with your target audience on social media is important. Home service company marketing that embraces social media platforms fosters brand awareness, enlarges your customer base, and nurtures connections with existing patrons. Similar to SEO, this approach requires time to gain momentum. But with consistency and strategic posting in alignment with your holistic home services marketing plan, you will see the results you're looking for.
When considering social media platforms for your home services digital marketing strategy, your primary focus should be your target audience. While Facebook naturally stands out due to its substantial user base, selecting other platforms hinges on the nature of your home services business and the preferences of your intended audience. In most cases, it's advisable for home service businesses to maintain an active presence on one or two carefully chosen social media platforms.
Content Ideas for the Home Services Industry
To effectively engage your audience and boost your marketing efforts, here are five content ideas tailored to the home services industry:
Before-and-After Showcases: Share compelling before-and-after photos and videos of your home improvement projects. Visual transformations resonate well with potential customers, showcasing your expertise and the value you bring to their homes.
Customer Testimonials and Reviews: Highlight satisfied customers through video testimonials or written reviews. Authentic stories from real clients can build trust and credibility, reassuring potential customers of your reliability and quality of service.
How-To Tutorials: Create informative "how-to" videos or articles related to common home maintenance tasks. Offering free DIY tips demonstrates your expertise and positions your business as a helpful resource, even for those not yet ready to hire your services.
Behind-the-Scenes Insights: Take your audience behind the scenes of your daily operations. Share snippets of your team at work, equipment demonstrations, or even office culture. These glimpses into your company's inner workings humanize your brand and foster a stronger connection with your audience.
Interactive Q&A Sessions: Host live Q&A sessions on platforms like Facebook Live or Instagram Live, where you answer questions from viewers in real time. This direct interaction allows you to address concerns, offer advice, and establish yourself as an expert in your field.
Engaging your audience isn't just about promoting your services but also about providing value and building trust. By incorporating these content ideas into your home services marketing strategy, you can create a compelling online presence that resonates with your target audience and ultimately brings you positive results.
Twitter and Instagram
72% of U.S. shoppers search for visual content before making a purchase. Instagram is a great platform to create and publish photos and video marketing material if you want to appeal to 18-29 year olds, as 71% of Gen Z and younger millennials use it. Its strong visual appeal works well for businesses that sell aspirational lifestyle products or services to do with interior decor, home remodeling, and landscaping.
For home services marketing, Twitter (now X) proves effective in audience engagement and customer support. While sharing videos and images is feasible, the platform's true strength lies in succinctly conveying messages in under 280 characters. It serves as a valuable home services digital marketing tool for acquiring customer feedback and amplifying reach via hashtags pertaining to specific subjects or locations. Both Twitter and Facebook offer avenues for paid advertising within the domain of marketing home services, catering to diverse promotional needs.
Facebook
Facebook wields plenty of advertising power, enabling precise targeting of your desired audience based on factors such as age, location, and interests. This platform excels at not only keeping clients informed but also enhancing brand visibility and expanding your customer base within the framework of your marketing plan for home services. Leveraging its versatility, you can effectively employ Facebook for disseminating social media posts containing blogs, 'how-to' videos, and soliciting reviews.
You can even set up chatbots that answer questions on your behalf to improve response time and customer experience. As the most used social media platform, Facebook should be part of your lead generation marketing plan. To quote writer Lauren Johson from Adweek, "Facebook's data is powerful, and its ads work with hyper-precision targeting and incomparable reach in digital advertising across Facebook, Instagram, Messenger, and Facebook Audience Network.
Follow Up on Leads ASAP
In the domain of home services digital marketing, potential customers progress through multiple stages, evolving from leads to marketing-qualified leads (MQL) and eventually to sales-qualified leads (SQL). Within this context, adept strategists utilize engineered tactics to nurture leads throughout each phase of the buyer's funnel, fostering their journey toward becoming paying customers. This process entails employing methods such as behavior automation, retargeting, and strategic utilization of email marketing for home services.
Effectively nurturing leads through follow-up email marketing ensures your local business remains top of mind when their needs align with your offerings. Crafting a conversion path that seamlessly guides leads toward making a purchase involves incorporating compelling calls-to-action and other conversion opportunities. For instance, if you operate a landscaping or garden maintenance company, you could provide a 20% discount on lawn mowing in exchange for a lead's email address. This strategy contributes to building a potential customer database, ripe for targeted marketing efforts at a later stage within your comprehensive marketing plan for home services.
In many home services marketing scenarios, it's often the first company to respond that gets the customer's business. Failing to follow up promptly gives other home services businesses the opportunity to take "steal" your potential customers. Additionally, slow responses reflect poorly on customer service and online reputation.
Build an Audience for Your Home Service Business
Utilizing email marketing for home services, you can craft personalized messages that are not only swift, adaptable, and cost-effective, but also optimized for conversions, all while cultivating relationships with both new and existing customers. Unlike paid ads or long-term SEO strategies, sending an email incurs no fee, and there are no additional charges to guarantee delivery to the majority of your database. Furthermore, there's no waiting for your website pages to ascend Google ranks, showcasing the immediacy of this home services local email marketing approach.
Due to its remarkable versatility, the email newsletter stands as an invaluable home services digital marketing tool, fostering audience growth. You can seamlessly disseminate content marketing material, alongside updates about fresh products and seasonal specials. Your communication frequency remains unshackled from algorithms, allowing your audience to engage with your content on their terms, within the comfort of their inbox. This approach is beneficial because it rekindles interest in older leads who might have forgotten about your services and influences new prospects to initiate business with you, all while aligning with the principles of home services local SEO marketing.
Work with Other Businesses
When other businesses promote your brand, they'll talk about it in a positive light. For instance, if a customer hires a landscaper they esteem, they'll likely take the landscaper's recommendation for a local residential painter seriously. According to Forbes, 78% of B2b marketers say referrals generate good to excellent leads. Referrals provide positive social proof, helping to bring in leads and build business credibility.
Working with complementary businesses can also boost revenue and expand your customer base, especially for home services companies. Digital marketing strategies come into play here. For instance, you might run a joint home services marketing campaign, whereby if leads like your and a partnered home services companies' Facebook page, they'll receive 20% off a product or service from you and that business. This type of collaborative marketing bolsters exposure through promotion and advertisement.
Unlock Success: Access Our Home Services Marketing Strategy Now!
There are tons of home services marketing tips and advice that when implemented, increase revenue. However, many businesses in the home services industry don't have a dedicated account manager or in-house team to ramp up their marketing efforts. Luckily, because of Comrade Digital Marketing, they don't need to. Whether you want a PPC plan or are a new business that needs to be found online by prospective customers, we can help. From website development to publishing relevant marketing content, our digital agency experts can do it all. Call us at (312) 265 -0580 or click here to start your home services marketing today.
Frequently Asked Questions
In what cities do you work?
How can a new website help in-home services marketing?
A new website can significantly bolster home services marketing by providing a modern and informative platform to showcase your services. It enhances your online presence, enabling potential customers to easily find and learn about your offerings. Additionally, an optimized website can improve local SEO, attracting local clients, and facilitating seamless communication, ultimately boosting customer engagement and conversion rates.