Extreme competitiveness characterizes the construction industry. As a project-based industry with a competitive bidding process, it is challenging for construction firms to induce demand for their services. In this context, construction marketing can produce a sustainable competitive advantage to win projects and help businesses differentiate themselves from competitors.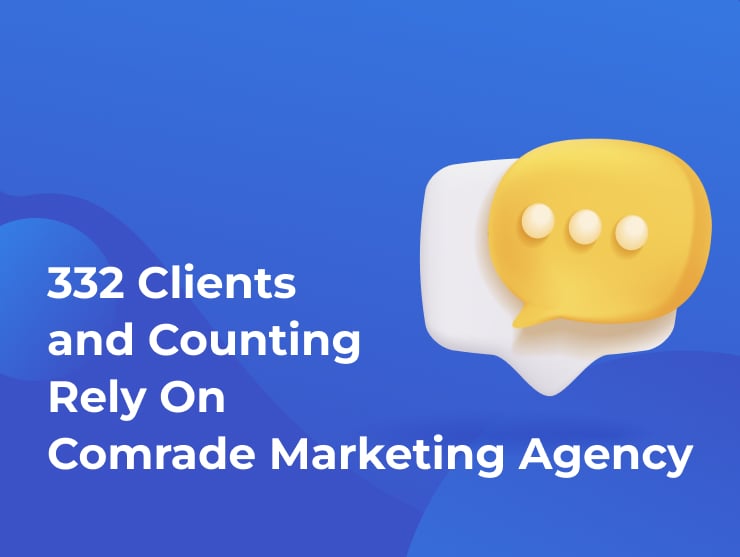 Digital marketing increases profits, sales, and client satisfaction, as well as develops brand identity, and improves customer loyalty. To rake in higher revenue, construction marketing efforts must address two key issues: targeting customers and creating value.
In this blog, we offer a variety of construction marketing ideas that deliver results and profitability.
Challenges Construction Companies Face
Despite the hunger for digital transformation, the construction industry still lags behind others when it comes to digital transformation. According to a Dodge Construction Network survey, only 15% of respondents have implemented a digital transformation strategy, and 38% said they hadn't developed a strategy, or it's not a priority.
While this refers to digital transformation as a whole, the knock-on effects permeate construction marketing. Construction companies are among the few ventures that engage in B2B and B2C on equal footing. Yet, many have not capitalized on the potential of digital construction marketing to maximize revenue in these markets.
Studies suggest there are many deeply held misconceptions about the appropriateness and general value of digital marketing campaigns. Because firm owners are unaware of the economic payoffs, they are often unwilling to incur the cost of a great construction marketing strategy.
Human factor-related marketing challenges construction companies commonly face are mainly due to:
A lack of in-house marketing expertise.
The engineer's paradigm, whereby management practices are dominated by the belief that production is the most important aspect of the business.
Inadequate resource allocation for digital marketing strategies.
Falsely equating marketing to selling.
Now that we've set the stage with an introduction to the challenges faced in marketing in the construction industry, let's dive into our top marketing tips that will help you overcome these obstacles and effectively promote your business.
Success Stories
Delivering Business Results: Our Digital Marketing Case Studies
The Best Construction Marketing Ideas to Grow Your Construction Business
1/13 idea
1. Create a Coherent Marketing Plan
Investopedia defines a marketing plan as "an operational document that demonstrates how an organization is planning to use advertising and outreach to target a specific market."
A coherent marketing plan outlines your construction firm's position, how its offering is segmented, and who its targets are. It defines what its route to market is, as well as its core mission, vision, and values. Lastly, it reveals how all the above informs your marketing messaging.
An effective marketing plan glues the strategic direction of a construction business and the delivery of results, ensuring the right activity takes place, at the right time, to the right audience through the right channels.
While the majority of marketing for construction should focus on customer satisfaction and maximizing profits, other marketing goals that fall underneath these objectives are worth considering too, such as:
Increasing brand awareness
Generating high-quality leads
Acquiring new customers
Establishing industry authority
Boosting brand engagement
Creating a coherent marketing plan may also necessitate brand refinement. If branding is something you haven't given much thought to, or your company needs to refresh its branding, now would be the ideal time.
2/13 idea
2. Create a Customer Profile
Customer profiles, or buyer persons as we refer to them in marketing, are designed to help you understand who your ideal customers are. By doing so, you're able to craft construction industry marketing campaigns that address pain points and attract prospects to your construction firm.
Buyer personas are generalized, fictional characters that represent specific segments of your ideal customer base. Unlike generic demographics or market segmentation, differences in geography or socioeconomic status don't always factor into a customer profile.
Construction companies may have multiple customer profiles, so they can tailor their offerings to match their customers' needs—for instance, architects, designers, contractors, etc.
It's important to note a customer profile for a B2C company is different from a B2B firm. The latter defines the ideal customer using firmographics like:
Company size
Revenue
Industry
Location
B2C customer profiles tend to look at specific consumer habits and preferences like interests, current lifestyle, and aspirations. Overall, customer profile data is a goldmine for sales teams because it actively helps generate new leads that fit the same criteria.
3/13 idea
3. Set Your Budget
Any new construction company less than five years old should spend 12-20% of its gross revenue on marketing, whereas established ones with some brand equity should allocate between 6-12% of the gross of their projected revenue for construction services marketing.
Marketing is an investment, not an expense. An email marketing campaign, for example, can generate $36 for every $1 spent. If you're bleeding money on marketing your construction business and aren't seeing results, then there's likely a disconnect between your marketing strategy and its execution.
It seems like a lot of money, but if you're a new and emerging brand or don't have a digital presence, you need upfront investment to capture the market, especially if customers don't know who you are.
Once your construction business has a robust digital presence, you can scale back on marketing spending. It's helpful to build your marketing budget by identifying your goals, understanding your target audience, and selecting the best marketing channels to reach your audience.
Suppose you're a small firm with a limited budget. In that case, we'd recommend first developing a mobile-friendly website that forms the foundation of a strong online presence and informs subsequent construction advertising ideas.
4/13 idea
4. Leverage Account-Based Marketing
Account-based marketing (ABM) is a strategic approach to B2B marketing that focuses on identifying high-value accounts, or companies, and creating personalized campaigns to target those accounts. The idea behind ABM is to create a more targeted, efficient approach to marketing that can yield higher conversion rates and greater revenue growth.
In the case of construction companies, ABM can be applied by identifying target accounts that are most likely to need construction services, such as property management companies, commercial real estate developers, or local government agencies, among others. Once these accounts are identified, construction companies can craft a personalized marketing strategy that addresses the specific pain points and needs of those clients.
5/13 idea
5. Create a Website
81% of consumers go online to research local companies. A website is a company's online identity and is vital to its success. Chances are, potential clients have searched online for "contractors near me" or a variation thereof. Therefore, if you don't have a construction website, you won't feature on any search engine listings.
Websites act as a business card, sales pitch, and portfolio all in one. For small contractors, a website may seem like an unnecessary expense, but the consumer landscape is changing as more and more people search online to solve their construction-related issues.
In fact, 56% of consumers don't trust businesses without a website. An effective construction site goes beyond look and appearance; it motivates visitors to do business with you. If impressive enough, it can level the playing field between small and large competitors. When creating your own website, you can take visual inspiration from some of the good website examples in our blog; and if you're ready to create a website on your own, here are some tips:
Use a website builder: There are plenty of online website builders, like Wix or Squarespace, that allow you to create a website using a pre-built template. These require no coding skills and are relatively inexpensive.
Hire a web designer: For a more customized website, you can hire a web designer to create a website for you. This option can be more expensive but can result in a more professional, tailored website.
Use a CMS (Content Management System): A CMS, like WordPress or Drupal, allows you to create a website using pre-built themes and templates. This option requires some technical skills and setup, but it can be a more flexible and scalable option in the long run.
Regardless of the option you choose, it's important to ensure that your website is mobile responsive, easy to navigate, and reflects your brand and services.
6/13 idea
6. Develop a Content Structure
Content marketing for contractors is a gateway for people to get to know your company. Blogging, in particular, is one of the most powerful construction marketing strategies as 77% of people regularly read them online. When your target audience encounters a problem, it will turn to search engines to find information that helps them solve the issue. To ensure that potential clients find your company's blog, it's important to develop a content plan that aligns with their search queries:
Analyze your competition: Identify your top competitors and analyze their website content, social media presence, and marketing tactics. This can help you understand what strategies are working for them and what your construction company can do to differentiate your brand.
Conduct customer research: Use surveys, interviews, or online research to understand what your potential customers are searching for online, what questions they have, and what pain points they're experiencing.
Leverage marketing tools for generating content ideas: You can use Google Trends to identify trending topics and related keywords, Buzzsumo to find popular articles, blog posts, and social media posts, HubSpot's Blog Ideas Generator to generate relevant blog post topics based on keywords, and SEMrush for an all-in-one SEO tool that can generate content ideas and help optimize it for search engines. And GPT tools like Copy.ai or OpenAI's GPT-3 can help you generate content ideas based on keywords and topics related to your industry.
Choose content formats: Determine what types of content will resonate with your target audience, such as blog posts, infographics, videos, or case studies.
Create a content calendar: Plan out your content topics and deadlines in advance, taking into consideration seasonal trends and industry events.
7/13 idea
7. Optimize Your Online Presence with Construction SEO
Once you get a website (and the content for it) – it's time for search engine optimization (SEO). Construction marketing SEO is crucial because it increases visibility and drives traffic, offering greater opportunities to convert contractor websites visitors into customers. It is the most viable and cost-effective long-term strategy for digital marketing in the construction industry.
SEO for contractors has two main goals. The first is to help businesses understand what potential leads are searching for online, and the second is to help create a website and relevant content that search engines can find, index, and rank.
To make their website search engine friendly, construction companies and contractors can follow these tips:
Do keyword research. The first step to any SEO campaign is to do keyword research. Tools like Ahrefs and Semrush will help you identify the terms that people are using to search for your services. Once you know what keywords you want to target, you can start optimizing your website for them.
Optimize your content. Incorporate your target keywords into headings, subheadings, and body text. Also, make sure you're creating high-quality content that is relevant to your target keywords. Your content should be informative, engaging, and well-written.
Build backlinks. Backlinks are links from other websites to your own website. They're a powerful signal to Google that your website is authoritative and trustworthy. There are a number of ways to build backlinks, but the most effective way is to create high-quality content that other websites will want to link to.
Check Page Speed Insights. Page Speed Insights is a free tool from Google that helps you measure the performance of your construction company website. It provides suggestions on how to improve your website's loading speed, which can improve the user experience and your website's ranking in search results.
8/13 idea
8. Boost Your Local SEO
Approximately 46% of all online searches include location. Since local SEO for contractors leads are from people who are specifically searching for products or services that your business offers, it is likely to provide a high conversion rate.
Why? Well, if a potential client searches "building contractor near me," then your business will pop up with a Google Maps listing, including a link to your website, reviews, and a call button, giving potential customers multiple ways to contact you.
To boost your construction company's online visibility and attract potential clients in your area, optimizing for local search is key. Check out these tips to get started:
Claim your Google My Business listing: This is an essential step for showing up in local search results. Make sure your NAP (name, address, phone number), hours, and business categories are accurate and consistent across all online listings.
Optimize your website for local keywords: Include local keywords in your website's titles, meta descriptions, headings, and content. For example, "construction company in [city], [state]."
List your business in local directories: Submit your business information to local directories like Yelp, Yellow Pages, or Angie's List. Ensure your NAP is consistent across all listings.
Build backlinks with local relevance: Reach out to other local businesses or organizations and offer to write a guest blog post or collaborate on a project. This can earn you high-quality backlinks and improve your local relevance.
By implementing these local search engine optimization tips, you can improve your local online visibility and attract potential customers in your area to your construction company.
9/13 idea
9. Engage in Social Media Marketing
Social media for contractors is a powerful way for construction businesses to reach prospects. Customers learn, follow and interact with businesses on Facebook, LinkedIn, and Twitter.
Construction professionals can use social media channels to achieve several aims, even though boosting brand awareness remains a key aim.
For example, if you want to reach a specific audience interested in construction projects at scale, you can run a highly targeted social media ads campaign. However, if you intend to improve visibility, you might publish a series of curated blogs or video content on different social media platforms.
Before posting ad-hoc, you'll want to determine your social media strategy. You don't have to post on every platform to be successful, just the ones where your audience is.
In general, LinkedIn tends to work well for B2B communication, whereas Twitter and Facebook work well for Millennials and Gen X consumers who have the earning power to hire your services.
10/13 idea
10. Start a Google Ads Campaign
Pay-per-click (PPC) is a model of Internet marketing in which advertisers pay a fee each time one of their ads is clicked. Essentially, it's a way to buy visitors to your website, instead of earning them organically.
Paid advertising in the form of PPC allows advertisers to bid for ad placement in a search engine's sponsored links when someone searches for a keyword related to their business offering. For example, if you bid on "commercial construction," your ad might appear at the top spot on Google's results page.
Following these helpful tips and construction advertising ideas to get the most from your PPC marketing efforts:
Focus on your and your competitor's long-tail keywords
Monitor results regularly and tweak where necessary
Align your landing page with your advertising message
Stick to a budget
Learn more about PPC for Construction Companies!
11/13 idea
11. Use Other Media
Construction marketing ideas are not limited to blogging alone. Have you recently completed building a skyscraper or residential development? Why not create a video with drone footage to showcase it as part of your portfolio? When you visit Construction. Co's website, be sure to check out their captivating header. A single picture speaks volumes, conveying strength, ambition, and scale in ways that words simply cannot match.
Or take The Construction Brothers podcast, produced by 6th generation builders who own a virtual building and construction company. As you can see, large and small businesses benefit from using all possible mediums to attract new clients.
White papers, infographics, Instagram stories, videos, and blog posts can be used at any stage of the buyers' journey. As of this year, online videos have made up more than 82% of all consumer internet traffic. The type of media you decide on depends on the goals of your online marketing strategies, resources, and audience.
12/13 idea
12. Follow Up on Past Customers'
When you follow up with customers, incorporating construction marketing ideas, you enhance their experience and demonstrate your concern for their needs. Customer retention is not only more cost-effective than acquisition, but it also plays a crucial role in boosting profitability. Staying connected with clients presents an excellent opportunity to upsell, secure new sales, and re-engage with dormant leads.
Additionally, email marketing delivers 122% ROI! The purpose of a follow-up email is to reinvigorate the conversation and generate a response. Effective follow-up emails are short, professional, to the point, and end with a clear call to action.
Email marketing with engaging content around topics based on Google Analytics intel and other statistics drive leads further down the marketing funnel. With today's marketing technology, it only requires a small investment of time and resources to develop personalized email marketing campaigns based on a customer's previous interactions.
13/13 idea
13. Build Your Online Reputation
Social proof drives purchases. An online reputation can make or break your construction company. Approximately 90% of consumers read online reviews before engaging with a business.
Naturally, positive Google reviews make them trust a business more.
More than that, search engines like Google use reviews to gauge website ranking. According to the Google My Business support page, "high-quality, positive reviews from your customers will improve your business's visibility and increase the likelihood that a potential customer will visit your location."
Search engines want to recommend the most credible businesses to customers. Positive reviews signal business credibility, as does your response to negative ones. Most consumers expect a brand to respond to a review within 24 hours. To accomplish this, you will need to have a review response strategy.
Not sure how well your marketing campaign works?
Building the Future: Creative Construction Marketing Ideas for Growth
There are loads of construction marketing ideas that provide opportunities to connect to your audience and convert leads into customers. Leveraging digital channels like search engines, social media, email, and your website to connect with qualified leads is a sizeable undertaking. That's why most construction companies outsource this work to a professional marketing team.
Because construction marketing presents so many options and strategies, it can be challenging to discern which marketing ideas for construction businesses work best. That's where Comrade Digital Marketing Agency can help. We're a full-service agency offering web development and comprehensive digital marketing strategy development services for construction businesses.
Contact us today to develop a great website and marketing strategy that generates more qualified leads.