According to the Pew Research Center, 85% of Americans own a smartphone. The average US adult devotes at least 6 hours online, so it's no surprise that implementing digital marketing for your plumbing company can help you reach a vast group of potential customers you might not attract using traditional advertising methods.
Digital marketing campaigns use the internet to promote services and products. As a plumbing company, digital marketing for home contractors helps you leverage search engines, social media, email, and other online marketplaces to obtain more business. It's one of the most cost-efficient and effective ways to promote your plumbing services, as most of your plumbing customers are already online.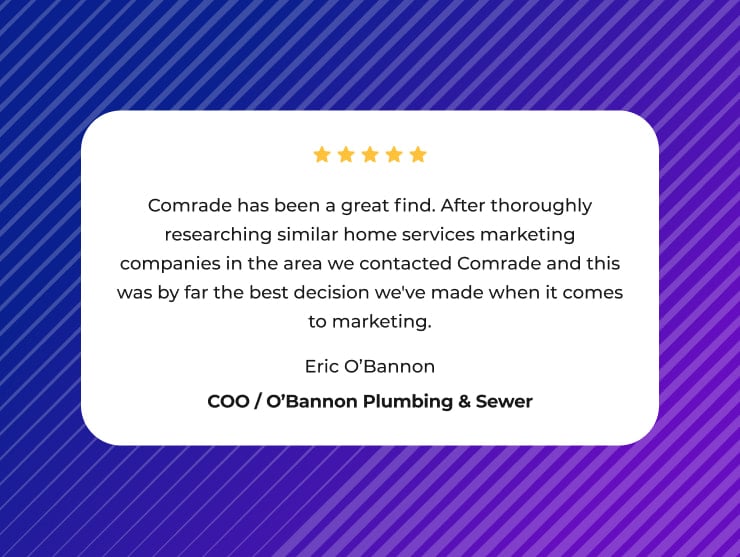 Success Stories
Delivering Business Results: Our Digital Marketing Case Studies
Let's get to know
Online Marketing for Plumbers… What Do You Need to Start?
The point of digital marketing is to increase leads and sales, but you need to have a plumbing website before you can achieve that. An effective website increases visibility and establishes your brand.
When you're leveraging online marketing for plumbers, you'll have to drive traffic back to your website or landing page. Without it, clients can't acknowledge your services because they won't be able to find you online.
Fast and High-Performance Website
Merely having a random plumbing website won't guarantee results. Your entire website needs to be strategic and employ marketing methods to engage visitors and convert them into leads.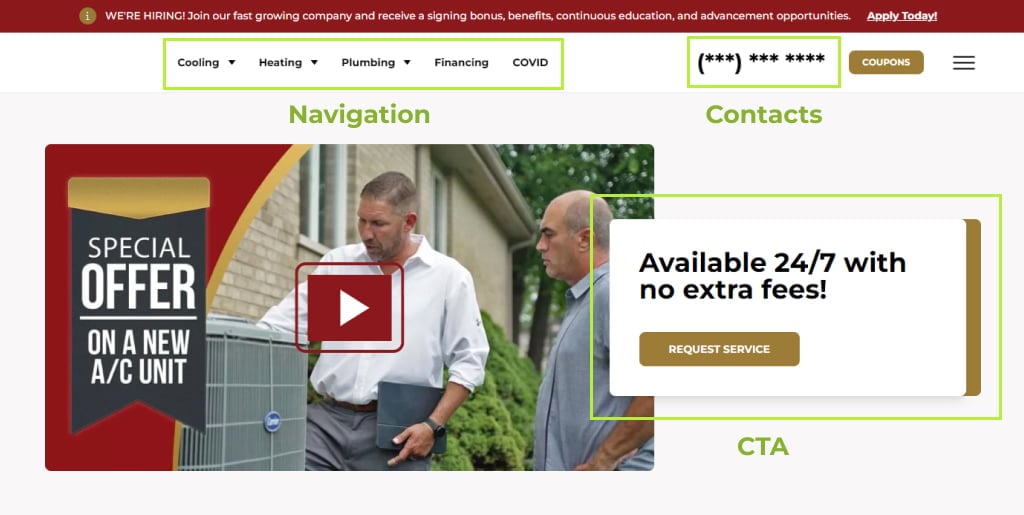 A high-performance plumber website has clear messaging outlining your services and basic contact details, as well as a copy that uses SEO, which we'll get to a bit later. It should also be mobile-friendly.
Website layouts tend to change depending on the device they're viewed on, but a high-performance website will look professional across all devices.
Great websites also have clear calls to action. In digital marketing terms, this refers to any design or copy that prompts an immediate response from website visitors, such as "purchase" or "contact."
Every page should encourage visitors to do something, whether it's to find out more about your services or schedule an appointment. Without these signifiers, visitors will quickly leave your website, causing a loss in potential revenue.
---
Showcase Your Brand Authority
A professional plumber website establishes brand authority. By showcasing your services online, you clearly establish who you are, what you represent, and what you stand for. If your website looks professional and clearly communicates quality information to clients, then they're more likely to call upon your services.
Displaying positive reviews is also an excellent digital marketing strategy that provides social proof to potential customers and boosts credibility. Over 50% of customers read reviews before making purchases, so you can bet that if your competitors have good reviews, and you don't have any, you'll definitely lose out on expanding your client base.
---
Local SEO for Plumbers to Get Fast Results
As a leading plumber SEO agency, we use Search Engine Optimization (SEO) as a baseline digital marketing campaign tactic. It's the practice of increasing the quantity and quality of traffic to your website through organic search engine results.
Basically, when people use search engines like Google to look for content, they usually type in a few words, and the search engine replies with a list of links to web pages that may answer their questions.
For example, a prospective client might type "plumbers in LA" into the search bar. By including this exact phrase, known as a keyword, as part of the copy on your website, you'll have a higher chance of Google finding and ranking you on the first page of results.
If you take it a step further and use local SEO for plumbers, you might include something like, "plumber in Venice Beach." The more specific you are, the higher the chances your plumbing business will be visible in local search results on Google.
---
Google My Business Optimization
In addition to traditional plumber SEO, most local businesses need targeted visibility on Google and use a Google My Business account to optimize their presence online. Google My Business provides you with a free business listing, as well as Google Map optimization, allowing you to connect with customers across Google Search and Google Maps.
Hence, if a client searches for plumbers in their area, and you're the most convenient option presented by Google, they will most likely choose your business over competitors. Roughly 96% of people who search online are seeking local businesses, and 80% convert into paying customers!
The biggest benefit of local plumber SEO includes boosting traffic to your plumbing website and specific web pages.
Local website traffic can directly increase your sales and make your plumbing company more recognizable to a local audience. This is especially useful for local businesses that want to promote themselves from within a specific geographic area. Because local SEO targets local businesses, it provides a greater competitive edge as you won't be competing against companies ranking nationally.
To get the most from local SEO, you should:
| | |
| --- | --- |
| Local SEO best Practices | Benefits |
| Ensure your NAP information is correct (plumbing business name, address, and phone number) | Accurate plumbing business Name, Address, and Phone (NAP) details ensure that search engines and potential customers can easily locate and contact your business, strengthening your local SEO efforts. |
| Provide as much detailed information as possible | Providing comprehensive business information, such as services offered, hours of operation, and customer reviews, not only enhances trust but also increases the relevance of your business in local search results, thereby improving your local SEO performance. |
| Verify and claim your business listing | By claiming and verifying your business listing on platforms like Google My Business, you establish credibility and authority, signaling to search engines that your business is legitimate and relevant to local searches, ultimately boosting your local SEO rankings. |
| Set up a Q&A section | Setting up a Q&A section on your business listings engages potential customers, provides them with valuable information about your services, and encourages interaction. This increased user engagement signals relevance to search engines, positively impacting your local SEO efforts. |
The Q&A section of Google My Business is useful to address information that's not commonly known. Sometimes, being available after hours can be a make-or-break factor. Providing answers in an easy-to-understand format might attract customers who, if they couldn't find them, wouldn't do business with you.
You might consider answering what your operating hours are, how much you charge per call out and how far you're willing to travel, for example.
Need a high-performance website for your company?
Book a 15-min call to discuss
---
Review for Google My Business
With Google My Business, you can request reviews from customers, which boosts credibility without much effort. According to Inc., 84% of people trust online reviews as much as word-of-mouth referrals.
Reviews improve your website's Google ranking for local plumber SEO and level the playing field. If the search engine thinks your plumbing business provides a better experience than your competitors, then you'll end up higher on local search rankings.
Google's 3-pack (the top three results for local SEO) is ideally where you want to rank. To get there, you need to ensure your plumbing business gets loads of engagement in the form of comments and reviews.
---
Invest in the Right Plumber PPC Campaigns
PPC stands for pay-per-click advertising. It's a model of internet marketing for plumbers in which advertisers pay a fee each time one of their advertisements is clicked. Plumber PPC campaigns entail setting up targeted advertising, whether display ads or email marketing, to maximize your online client reach.
PPC marketing for plumbers is cost-effective because you only pay when a user clicks through to your website. This advertising model lets you boost spending for areas and target audiences that work, and reduce the budget for those that don't, making it a highly effective digital marketing strategy.
Most PPC advertising takes place via an advertising network. Google Ads is ubiquitous and effective, as it reaches 90% of all internet users worldwide.
Setting up Google Ads for plumbers is relatively easy and efficient as it allows you to display your advertisements on Google's search result pages, in Gmail, and on website landing pages.
The difference between Search Engine Optimization (SEO) and Pay Per Click (PPC) is that traffic coming from SEO is organic because users come across it while searching on Google. In contrast, traffic generated from PPC is not free because you pay for your ad to be visible. The type of plumber PPC advertising used will depend on your specific marketing needs.
---
Search Ad
Search advertising is a technique that places online advertisements in search engine results. Advertisers typically select a list of relevant keywords and then bid to have their ad displayed when someone searches those words or phrases.

For example, if someone types, "plumbers in Santa Monica," the advertisements that appear at the top of Google's search results page will have these keywords. While plumber PPC ads can show up across sites on the web, search ads only appear in search engine results.
They're an effective way of advertising directly to your audience when they require your service or product. Search ads offer excellent results for local service businesses like plumbing companies since they lead directly to a product, service, or dedicated landing page.
---
Call Campaigns
Not to be confused with cold calling, call campaigns allow customers to conveniently call you by clicking or tapping on your advertisement without manually dialing your number. A plumbing PPC company can help you set this up by using Google Ads, which allows businesses to enable this function during specified hours, so you don't forego any opportunity to connect with plumbing leads.
Promoting your plumbing company through click-to-call ads is extremely user-friendly. Once potential customers find your ads in search results, they can contact you with minimal digital touchpoints. They don't even have to memorize your number—just click and call!
---
Plumbing Email Marketing
The website Campaign Monitor reports that email marketing obtains an impressive 4400% ROI!
Unlike other digital marketing tactics, plumbing email marketing delivers your message directly to customers when they want to read it. While social media marketing is great, there are no guarantees potential customers will see if they're not on social media at that time.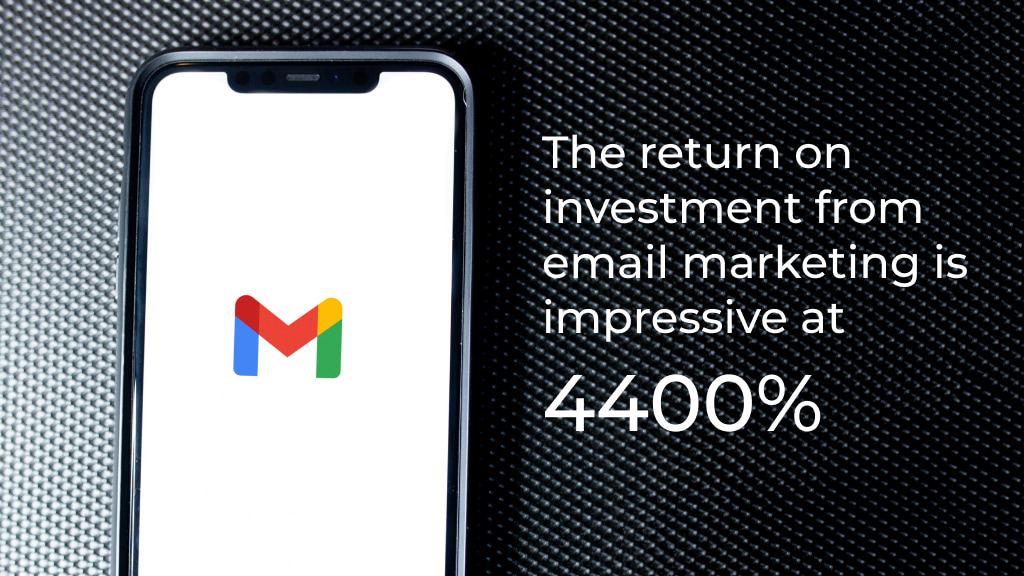 With email, it definitely lands in their inbox, and they can read it when they want, making it less intrusive. An email campaign for plumbers might alert clients to specials, request reviews, or impart invaluable advice to existing customers via a newsletter.
Plumbing email marketing works well with the sales funnel. When you have a campaign developed for conversions, you can turn prospective leads into repeat customers like a well-oiled machine. Today's automation software also allows you to provide your leads with valuable content at all stages of the buyer's journey.
It's a great online marketing strategy for keeping in touch with clients on your database, building credibility, and increasing traffic to your website.
---
Special Offers

Special offers work because they incentivize clients to utilize your local services. In an email campaign for plumbers, you might include discounts on services or products tied in with festive holidays or monthly offers. Even if a client doesn't require your services, you never know when they might forward it to friends or family.
---
Ask for Reviews
An email campaign for plumbers needn't be blatant advertising. Once you've completed a job, you should email your client requesting a review. Not only does this allow you to capture their details so that you can promote future offers to them, but it also helps you to rank higher on Google and gain insight into where you can improve your business.
---
Newsletter Emails
Email newsletters remain an effective and affordable promotional tool that provides customers with valuable information and updates on your plumbing business. You can inform them about new products and specials, provide them with advice-based articles, and thank them for their business, deepening good client relationships.
---
Is Social Media Marketing for Plumbers a Good Idea?
Social media platforms like Facebook and Instagram offer plumbing companies numerous digital marketing strategies. While there are opportunities for PPC marketing, the best way to use social media marketing for plumbers is for networking and engaging with clients and communities.
First, you should set up basic profiles and/or pages on each platform, whether it's Facebook, Instagram, Twitter, TikTok, or YouTube. Each platform works differently, so you'll have to tailor your content and strategy accordingly.
Social media management software company Hootsuite recommends implementing the 80-20 rule.
Use 80% of your content to inform, educate, or entertain your audience, and the other 20% to promote your brand or sell your services.
Regardless of which social media platform you decide to use, you'll still need to create a social media marketing strategy by:
Researching your audience (the types of content they read and engage with)
Decide which social media platforms to use
Establish what you want to achieve
Create unique and engaging content
Organize a content calendar to schedule your posts
Monitor your results and tweak campaigns when necessary
As with all digital marketing campaigns, social media marketing for plumbers should have measurable goals. So, if you wish to increase website traffic, then you need to be specific and say you want to increase traffic by 20%, for example.
---
Showcase Your Business on Facebook and Instagram
Best Plumbing in Seattle has an incredible Facebook page that's a good example of social media marketing. Plumbers like these stand out because they have a clear header, displaying their experience and services.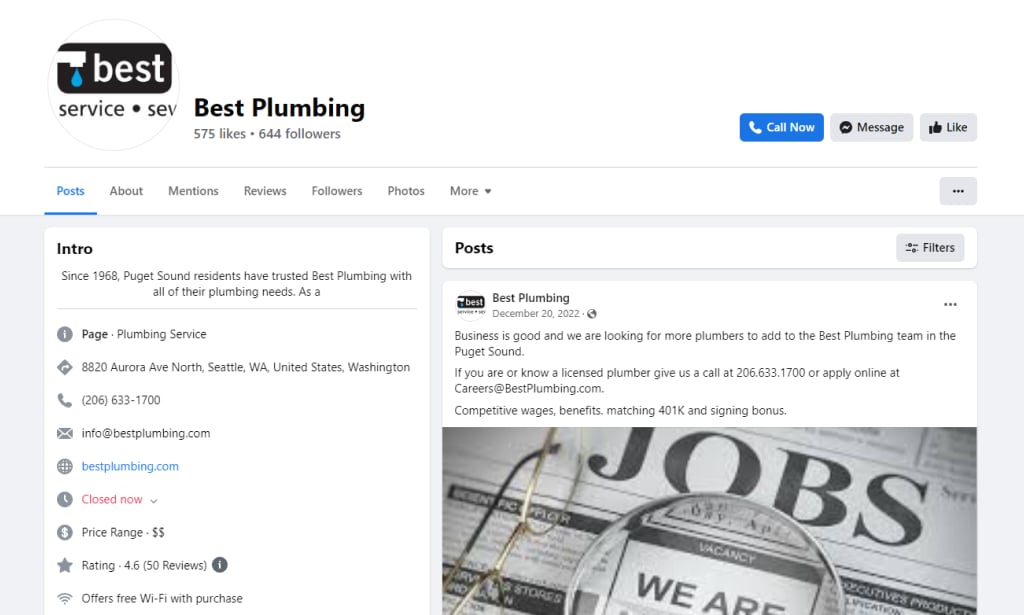 Their about section lists their address and a short bio about who they are and their work history. If you scroll down their page, you'll also notice videos, customer reviews, and blogs with insightful advice.
Similarly, if you look at Miami Shores Plumbing on Instagram, you'll find their number in their bio and a host of pictures and videos on their profile demonstrating how they've helped clients and what services they provide.
---
Try YouTube and TikTok
Video-based platforms like YouTube and especially TikTok have grown in marketing popularity. YouTube is excellent for uploading how-to videos to help clients solve straightforward plumbing issues.
In fact, 54% of consumers want to see more video content from brands and businesses they support. A video marketing campaign can increase engagement across digital channels, educate your audience and allow you to reach them with a new medium.
In contrast, TikTok appeals to the Gen Z generation and allows users to upload shorter videos of up to 60 seconds. Social marketing for plumbers on platforms, like Instagram, Facebook, and Twitter, can all be linked to your website to drive traffic and allow for a more multichannel marketing approach, where you reach more clients because you're visible on multiple platforms.
Not sure how well your marketing capmaign works?
Hire a Plumber Marketing Agency
Plumbing companies need to invest in digital marketing because more than 97% of people search online while looking for plumbing services in their area. By now, you've probably realized if your plumbing business' online presence isn't up to scratch, your rivals will book more jobs.
As a plumber marketing company, we provide full web design and digital marketing solutions to help clients improve their online presence. Whether it's developing a lead-generating website or creating a full-scale plumber digital marketing strategy, we can help! Contact us today. Our plumber digital marketing experts will take your digital marketing to the next level to increase leads and sales.
Frequently Asked Questions
Where can I find your company?