Today's HVAC companies can't just rely on classifieds and posters tied to lampposts to attract leads. Most clients searching for HVAC services turn to Google. If you find that hard to believe, a whopping 97% of people learn more about local companies online than anywhere else.
In our new normal, the burning question is: Will your HVAC business show up online?
The only way to guarantee it is by investing in HVAC search engine optimization (SEO), an essential component for any business to attract potential customers. An HVAC SEO service package can reach your ideal customers faster and for less money.
In this blog, we'll explain the benefits of having an HVAC SEO strategy and what you can do to improve your search engine rankings.


Success Stories
Delivering Business Results: Our Digital Marketing Case Studies
What Is HVAC SEO?
HVAC SEO is a strategy that aims to increase your company's search engine rankings and encourage visitors to your website by optimizing it for organic search results. The results of a Google search for "air conditioning" or "ac repair" include organic results, paid advertisements, and featured snippets. Search engine optimization is an integral part of internet marketing since organic search results are based on Google's algorithm, which includes a number of ranking factors.
Digging Deeper into HVAC Digital Marketing Strategies.
The Benefits of SEO for HVAC Companies
HVAC SEO is one of the most cost-effective marketing strategies because it targets users who are actively looking for your products and services online. The inbound nature of HVAC company SEO strategies saves businesses money, rather than outbound strategies like dropping flyers in mailboxes. Key SEO benefits for HVAC companies include:
Improved user experience
Brings you more qualified leads
Helps close more sales
Allows you to spend less money on better advertising
Builds trust and awareness
Reduces the cost of customer acquisition
While traditional marketing strategies can still be effective, the leads generated still cost 61% more than those from an inbound HVAC SEO strategies. Since SEO targets users who are actively searching for products and services you provide, the traffic is more qualified than other marketing strategies, resulting in reduced costs.
HVAC SEO for contractors offers these incredible benefits:
Increased Organic Visibility
Your business will reach clients organically, showing up in relevant searches like "HVAC contractors near me," for example. HVAC SEO is hyper-targeted and customer-centric. Because the user is already looking for what you have to offer, organic visibility will drive higher-quality traffic to your HVAC business website. And better leads mean greater visibility.
24/7 HVAC Business Promotion
Unlike paid ads, an HVAC SEO strategy doesn't sleep or stop working once you stop paying for online promotions. When your website starts to rank, you should, in theory, continue to do so with minimal SEO maintenance. Even when working hours are over, HVAC company SEO content still targets users searching for your products and HVAC services online.
Precise Measurability
Another benefit of SEO for HVAC contractors is effective campaign monitoring. With Google Analytics, it's possible to measure key metrics like organic traffic, keyword rankings, domain authority, page speed, conversions, and much more. When you know what works and what doesn't, you can direct your budget more effectively to reach leads interested in your home service business.
HVAC Website That Brings Customers
SEO consists of reorganizing your website's architecture and links to improve user experience. It helps businesses develop a robust, user-friendly website that's valued in search engines and therefore attracts more customers, leading to increased conversions.
Better HVAC Industry Credibility
An HVAC SEO strategy raises brand awareness among search engine users, who are more likely to trust a website on the first page of search engine results pages (SERPs) than paid ads. If you rank well, clients will trust you. This is the main reason why 75% of internet users never scroll past the first page of SERPs.
Impressive ROI for HVAC Contractors
SEO's average ROI is $2.75 for every $1 spent. Google search offers websites 93% of all worldwide traffic. Once you overcome the initial challenge of optimizing the technical aspects of your website in terms of keyword density, metadata, and mobile-friendliness, your website will have the potential to reach a higher ranking over time. HVAC contractor SEO will deliver ROI for as long as your business stays online.
A brief explanation of inbound marketing:
Inbound marketing is a strategic marketing approach that creates valuable content that aligns with your target audience's needs and inspires long-term customer loyalty.
Digital marketing experts distribute content across online platforms to connect with potential clients at all stages of the buying cycle. This content ranges from videos to blogs, articles, email marketing content, podcasts, infographics, op-eds, etc.
Delve into Video Marketing Techniques for HVAC Success.
Comrade Digital Marketing Agency can help you with the above if you're unsure how to go about it. Schedule a free consultation.
---
Let's get to know
10 SEO for HVAC Contractors Tips
Running a successful HVAC company SEO program is an ongoing process. Many factors play a role in SEO success, like website speed, keyword choice, technical optimizations, and backlink building. On top of that, online user behavior is constantly changing, and so are algorithms.
Hence, your HVAC SEO strategy should continually evolve with your audience and the search engines.
Follow our tips below to enhance your SEO efforts and achieve positive results.
---
1/10 tip
1. Focus on Local SEO for HVAC
Ranking high on local online searches is vital to business and HVAC SEO marketing success. More than half of customers wanting to hire HVAC services use Google, so you ideally hope to reach customers in your area when they're searching for you.
HVAC companies that develop the best-localized web presence will obtain the vast majority of sales in a local niche market—at times, even outperforming larger competitors. Since most people purchase products and services within a 15-mile radius of their homes, it's important for local services to dominate these types of searches.
Cue: Google My Business. In 2019 Google launched a set of tools allowing service businesses to share their service areas and business information via Google Maps and Search. To do the same, you just need to sign up (it's free) and accurately fill out your details!
Collecting positive business reviews and listing on other online directories like Yelp, Facebook, and Local.com also helps customers and search engines find you more easily.
An HVAC company listed on multiple credible directories signals to search engines that your business is trusted and legitimate.
To ensure optimal utilization of local HVAC company SEO and your Google Business profile, you'll want to do the following:
Present your HVAC business honestly and consistently online. Keep branding and signage the same, as well as the spelling of your business' name, address, and phone number (NAP).
Add a keyword-optimized description between 730-750 characters. Make it compelling without keyword stuffing.
Gather as many reviews as possible. Potential customers want to know what your service is like, and so does Google. There's a big difference between 4.0 and 4.5 stars. Customers can see your and your competitors' ratings. Get good reviews, and you'll climb the rankings, show up in map packs, and get more clicks, calls, and sales.
Take advantage of the FAQ section. Customers appreciate having their questions answered. Providing them with extra information via FAQs may be the convincing they need to reach out to you and not competitors.
Unlock Local SEO Strategies Tailored for HVAC Contractors.
---
2/10 tip
2. Use Appropriate Keywords in Your HVAC Marketing Content
Target keywords are words and phrases your potential clients type into search engines when they seek information on a particular topic. At Comrade Digital Marketing Agency, we're often asked by clients how we know what the right keywords are for HVAC company SEO campaigns.
It starts with HVAC keyword research.
This process takes place in the early stages of HVAC search marketing campaigns. It lays the foundation for future projects, campaigns, or content. HVAC SEO experts use keyword research to ideate new content, decide how to name product features, or optimize websites.
Surprisingly, just because a keyword is popular, doesn't always mean it's the right one. For example, let's, for argument's sake, say the "best" keyword to rank for is "HVAC." Now, if other HVAC service providers are already ranking on the first page of Google search for this keyword, then it becomes increasingly difficult to rank in the first position for the same word.
That's not to say you shouldn't use high-volume keywords, but rather that they should be tempered with other types of keywords.
The table below illustrates HVAC keyword research. You can tell which keyword is the most popular, how difficult it is to rank for, what its parent keywords are, associated cost-per-click, and cost-per-sale.
| | | |
| --- | --- | --- |
| Keyword | Difficulty | Traffic potential |
| hvac company | 70 | 9800 |
| hvac company near me | 47 | 27000 |
| best hvac company near me | 44 | 4000 |
| commercial hvac company | 28 | 4300 |
| purchase hvac company | 7 | 700 |
| cheapest hvac company | 47 | 9300 |
| best hvac company | 40 | 3300 |
| hvac company reviews | 12 | 9400 |
| hvac service company | 37 | 1300 |
| hvac company names | 10 | 350 |
| top hvac company | 38 | 10000 |
| hvac supply company | 59 | 131000 |
Keyword difficulty is an SEO metric that estimates how challenging it would be to rank on the first page of Google for a given keyword. It is measured on a scale from zero to 100, with the latter being the hardest.
So, already, we can see the keyword "HVAC company" is more difficult to rank with than "HVAC services."
There are three main elements to pay attention to when doing your keyword research.
2.1 Relevance
Google ranks keywords according to how relevant they are to search queries. Therefore, your web pages will only rank if the keyword meets the searchers' needs. Moreover, your HVAC website and marketing content must be the most qualified resource to fit the query.
This also has to do with the buyer's journey. Different keywords will appeal to potential customers at different stages. For example, someone who is interested in installing an HVAC system will most likely conduct some research before going ahead and googling an HVAC service company.
This could be the difference between "Does HVAC lower energy bills?" and "HVAC company Chicago." By the time someone looks for HVAC companies near them (See: Local SEO!), they've already decided they want one, which is different from a potential client who is only at the awareness stage of the sales funnel.
2.2 Authority
An authoritative website is trusted by users, industry experts, other websites, and search engines. When you enrich your HVAC website with valuable content that's created with HVAC search engine optimization in mind, along with acquiring backlinks from other authoritative sites, you improve your chances of ranking higher on Google.
2.3 Volume
You might rank on the first page for a specific keyword, but if none of your clients are searching for it, then you won't get any traffic, and it'll be absolutely pointless. Keyword search volume is the number of searches for a given keyword within a selected time frame.
Here's an example of HVAC SEO keywords arranged according to their volume:
| | | |
| --- | --- | --- |
| Keyword | Volume | Competition |
| ac repair | 51000 | Medium |
| furnace repair | 38000 | Low |
| air duct cleaning | 33000 | Medium |
| ductless air conditioner | 31000 | Medium |
| hvac repair | 24000 | Medium |
| air conditioning repair | 19000 | Medium |
| air conditioning service | 12000 | Medium |
| hvac system | 12000 | Medium |
| heating and air conditioning | 11000 | High |
| hvac technician | 7700 | Low |
| hvac contractor | 1000 | Low |
| air conditioner repair service | 600 | Low |
Knowing the search volumes of keywords can help you prioritize keyword topics, see the search trend of keywords, and estimate their traffic potential. Keyword volume is an important metric that helps you pick keywords with the most lead-generating potential.
---
3/10 tip
3. Write High-Quality HVAC SEO Marketing Content
Quality content achieves business goals (e.g., it drives traffic, and boosts Google search rankings, engagement, or conversions). It's what your potential clients want to read. Once you've completed keyword research, you'll have an idea of the types of topics that interest potential customers.
Helpful content that answers users' questions generates the best traffic. As for the type of content, that depends entirely on the type of content your target audience consumes.
Below are some interesting statics regarding content marketing from HubSpot:
As of 2021, people watch 18 hours of short-form online videos per week, think Instagram Reels, and TikTok.
56% of content marketers who use infographics say it is their most effective marketing content type.
60% of podcast listeners searched for a product after hearing about it in a podcast.
Long-form content, like articles and blogs, gets an average of 77.2% more links than short articles.
When developing your HVAC SEO marketing plan, you might consider three content marketing pillars: originality, engagement, and relevance. It's not enough to just provide valuable information. You also need to set content goals. This is part of what it takes to write high-quality content.
Typical goals might include:
boosting online visibility;
generating sign-ups for an email newsletter;/li>
getting more shares on social media platforms;
boosting website conversion, or
attracting more website traffic.
From an HVAC contractor SEO perspective, ideal keyword density is between 1-2%, meaning 1-2 keywords should appear for every 100 words of copy.
Including too many keywords can make Google think you are keyword stuffing (trying to manipulate Google's algorithm to rank higher), which can result in your page being demoted or completely removed.
Learn the Art of Content Marketing for HVAC Companies.
---
4/10 tip
4. Create a Solid User Experience
Best SEO for HVAC contractors works together with UX (user experience design) to give customers the best online experience. It's like a partnership where SEO targets search engines, and UX targets your website's visitors.
And part of SEO for HVAC companies is mastering technical SEO to ensure your website works like clockwork. This matters because, you guessed it, Google ranks websites that run well higher than those that don't.
To quote Backlinko:
"Technical SEO is the process of ensuring that a website meets the technical requirements of modern search engines with the goal of improved organic rankings."
HVAC websites with technical issues might have content that doesn't display properly, certain page buttons that don't work, and web pages that don't get picked up by search engine bots.
There is so much we can talk about when it comes to technical SEO, but for brevity's sake, we'll stick to website structure because it informs everything else.
As a side note: Technical SEO more often than not requires a technical SEO expert. If you want execute successful HVAC SEO marketing services, we highly recommend hiring experts to get it right the first time. Unless you know how to code, you'll just be wasting valuable time.
Back to site structure. Flat website structures work best. In this design, all pages are one click away from the home page, which creates a smooth user experience. A flat site structure allows search engines to index your site and results in greater user engagement.
It also prevents the occurrence of orphan pages, i.e., web pages without any internal links.
Lastly, creating a site with a fast download speed is good for users and search engines too. Web pages that load faster than two seconds earn more conversions and page views, and are prioritized by search engines.

Need a high-performance website for your company?
Book a 15-min call to discuss
---
5/10 tip
5. Mobile Is the Way for Your HVAC Website
In 2020 Google rolled out its mobile-first indexing algorithm. Historically, the index used the desktop version of a website's pages; however, since more than 50% of people use their smartphones, it made more sense to switch to mobile.
This means mobile devices dominate desktop computers, and having a mobile-friendly website is a must. Mobile-friendly websites are designed and optimized for hand-held devices like smartphones and tablets.
They seamlessly adjust to the size of the users' screens, providing a good user experience.
Responsive design has become the standard and allows businesses to have a website that scales across devices.
While there is a lot that goes into designing them, their improved efficiency and positive influence on HVAC company SEO are undeniable.
With mobile optimization, you'll want to consider the following:
Minimize the level of navigation involved by offering short-key access to different features.
Ensure all typefaces, buttons, and labels are consistent across the entire application.
Keep paragraphs short (30 to 40 characters per line).
Avoid excess scrolling (create navigation that can lead the user to the specific points they need to get to in the quickest way possible).
Use text colors that are aesthetically appealing to users.
---
6/10 tip
6. Work on Your HVAC Company Reputation Management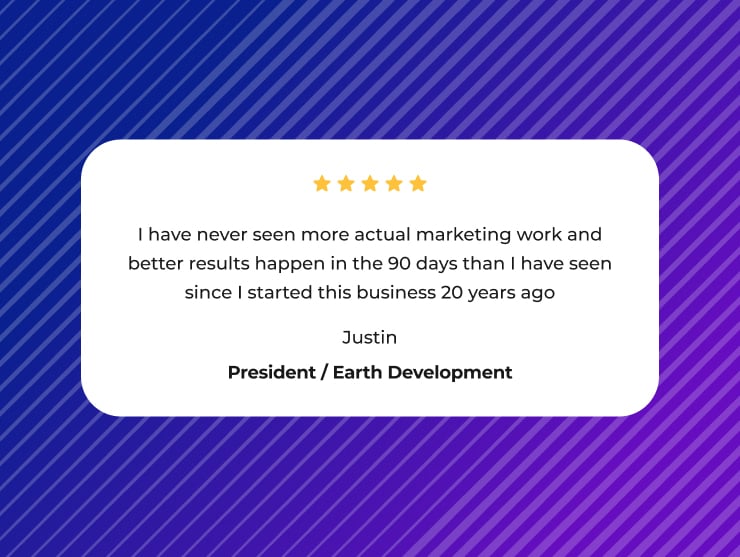 Online reviews are increasingly important to your business's online reputation and HVAC SEO marketing strategy. They help you get noticed, lead to more sales, boost search visibility, and convince customers to contact you. Roughly 90% of people won't make a purchase or hire services without first reading reviews.
Feedback has always been valued by businesses looking to improve their services, and potential customers wanting to gauge the quality of a company's work. 59% of online shoppers see reviews as being trustworthy, and it's the same for search engines.
To leverage the power of feedback to build your business reputation, you need to proactively request feedback, respond to every review (good and bad), and maintain a high frequency of reviews.
You can post reviews on your website, have them on your Google My Business profile, or even on Yelp and HomeAdvisor. When customers see numerous reviews regularly, it gives the impression that your business is popular, and instills trust.
Furthermore, a study by Harvard Business Review revealed achieving a one-star increase in overall reviewing rating can enhance revenue by 9%. This enables new local businesses to stand shoulder-to-shoulder with the more established competition.
Put it this way, which company would you rather do business with: One with 30 3-star reviews or one with 15 5-star reviews?
---
7/10 tip
7. Analyze and Evolve Your Local SEO HVAC Strategy
Search engine optimization analysis is an important aspect of your marketing strategy. It helps you improve your digital content and your website's technical features to give users a better experience and guarantees your business performs better online.
Without analyzing results, you won't be able to establish a clear direction for your SEO for HVAC business campaigns, and prioritizing the wrong elements won't result in much improvement. Having said that, you also need to establish SEO campaign goals, so you have a benchmark to measure your results against.
A local HVAC contractor has access to an unfathomable amount of data about their online performance. Almost all of it can provide valuable insights; however, it's important to hone in on a few:
Organic traffic
Click-through-rate
Bounce rate
Keyword rankings
Domain authority
New backlink and referring domains
Page speed
Conversions
These metrics offer a good starting point. Tools like Google Analytics and Search Console make it relatively easy to monitor them. Once you have a more accurate idea of how your HVAC company SEO efforts impact your business, you'll want to spend time determining which metrics help you achieve your most important goals.
---
8/10 tip
8. Use Business Citations to Improve Your HVAC SEO Rankings
Business listings on various platforms like Yelp and social media platforms help your HVAC company rank on Google Maps and page one of Google. While they may not immediately bump up your rankings, when Google sees your HVAC company is affiliated with another trustworthy website, it counts in your favor.
The more these references appear online, the more credibility and authority your site establishes with search engines, which results in appearing in more organic search results and so on.
At a minimum, a business citation should include your business name, address, and phone number (NAP). Always make sure your NAP information is the same across citations; otherwise, Google may not realize it's the same business.
Popular local directories you should use include Yelp, Angi, Foursquare, local.com, Yahoo and Local Networks, and Bing Places of Business.
---
9/10 tip
9. Elevating HVAC SEO with Structured Data Markup and Rich Snippets
As HVAC experts, we understand the importance of standing out in the digital landscape. One effective technique that often goes unnoticed is structured data markup. By integrating schema markup into your website's HTML, you're providing search engines with valuable information about your HVAC services, prices, reviews, and more. This translates into a more accurate understanding of your content, which can result in the coveted appearance of rich snippets in search results.
Putting Best Practices to Work
To ensure you make the most of this comprehensive SEO strategy, stick to some key practices. First, use schema markup that aligns with your HVAC offerings, making sure it's consistent with the content on your pages. For a thorough assessment, take advantage of Google's Structured Data Testing Tool to iron out any potential errors. The impact? Well, websites integrating structured data markup can experience an impressive 30% boost in click-through rates on search results – a testament to the power of enhancing user engagement.
---
10/10 tip
10. Harnessing HVAC Social Media for Local SEO Triumph
In the realm of HVAC SEO, one tactic shines bright: harnessing the potency of social media. This digital avenue isn't just about sharing posts; it's about establishing a meaningful connection with your local community. By actively engaging with your audience, you're not only boosting your online visibility but also cultivating a devoted following that trusts and values your HVAC expertise.
The numbers don't lie. When your content resonates, engagement soars. Studies have highlighted a remarkable 278% surge in user interactions for engaging content on social media compared to content without these elements. This means every like, share, and comment has the potential to magnify your impact and extend your reach.
Instagram Inspiration for HVAC Brilliance
Turn to Instagram, a platform tailor-made for visual storytelling. Showcase the heart of your operations with "Behind-the-Scenes" posts, offering an insider's look into your team's HVAC mastery. Highlight successful transformations through captivating "Before and After" photos, showcasing the tangible results you deliver. Empower your satisfied customers by sharing their glowing testimonials, allowing your work to speak for itself.
Twitter's HVAC Wisdom at Your Fingertips
Twitter, with its succinct nature, is perfect for quick HVAC insights. Disseminate bite-sized maintenance tips that users can immediately apply. Establish your HVAC authority by sharing the latest industry trends and innovations, captivating your audience and cementing your role as a trusted thought leader. Swift and informative responses to customer inquiries underline your commitment to exceptional service.
Facebook's Local Community Connection
Facebook's versatile platform offers a space for educational and engaging content. Produce informative videos that unravel common HVAC challenges and solutions, positioning your brand as an indispensable resource. Showcase your community involvement – from event participation to supporting local causes. To add an element of excitement, extend exclusive promotions and discounts to your Facebook followers, nurturing customer loyalty.
---
3 HVAC SEO Mistakes That Halt Your Growth
We looken on several SEO strategies that will tell you how to grow an HVAC company. However, even with the best intentions, several HVAC companies inadvertently stumble upon SEO pitfalls that hinder their growth potential. Let's navigate through three crucial HVAC SEO mistakes that you should steer clear of to ensure your digital success.
---
Mistake 1
Neglecting Mobile Optimization
As the HVAC industry evolves, so do customer behaviors, with a significant chunk of them accessing your services through mobile devices. Overlooking mobile optimization can deal a blow to your SEO endeavors. Search engines prioritize mobile-responsive websites, favoring those that offer seamless user experiences across various screen sizes. Failing to adapt can result in slow loading times, diminished user engagement, and consequently, a dip in search rankings. Ensure that your HVAC website is not only mobile-friendly but also optimized for swift loading, guaranteeing a positive user experience that translates into improved search visibility.
---
Mistake 2
Prioritizing Quantity over Quality Content
In the race for search engine supremacy, producing an excessive amount of content without focusing on quality can be counterproductive for your HVAC business. Instead of bombarding your audience with generic articles, direct your efforts towards crafting high-quality, HVAC-specific content. This means creating in-depth guides on energy-efficient HVAC solutions, troubleshooting common issues, and offering expert insights into seasonal maintenance. Not only will this set you up as an HVAC authority, but it will also attract engaged readers and potential clients. Quality content fosters user trust, organic backlinks, and a boost in search engine rankings tailored to HVAC searches.
---
Mistake 3
Neglecting Technical SEO for HVAC
While content is undoubtedly the heart of your website, overlooking the technical aspects of HVAC SEO can undermine its functionality. HVAC companies often miss the mark by ignoring broken links, slow page loading, and improper use of HVAC-related keywords in meta tags. These seemingly minor issues can lead to a poor user experience, causing potential clients to bounce off your site. An HVAC-specific technical SEO audit is essential to ensure your website is well-structured, quick to load, and optimized for HVAC-related keywords. This proactive approach not only improves search engine crawling but also enhances the overall user experience.
---
How to Find a Good HVAC SEO Company
Hiring an agency that provides a good HVAC SEO service can be challenging if you don't fully grasp how the entire process works. A word of advice: Don't believe in too-good-to-be-true promises, and don't select a company that offers low prices.
SEO for an HVAC company is a long-term digital marketing strategy that takes between six months to one year to kick in, so anyone promoting overnight results is undoubtedly taking you for a ride.
Before calling the first company that pops up on a Google search, do the following:
Check their portfolio: See what kind of clients they have, and check their clients' websites. Hire an SEO company with experience in helping home services clients, as they will probably understand your needs a little better than most.
Read client testimonials: This will offer a good indication of whether they're worth hiring.
Understand what they offer: How do they work? Do they offer SEO packages? What can you expect from working with them?
Learn how they track progress: A reputable company will provide detailed reports and recommendations on how to improve search engine optimization.
If you can't find any of this information on their website, it might be a red flag. Always go with your gut. If the company feels dodgy, it likely is.
Get ahead of the game. Optimize your website for maximum revenue growth
Work with a Professional HVAC Marketing Company
If you're serious about improving HVAC SEO, you should consider working with an internet marketing company like us. Comrade is an experienced HVAC SEO and marketing agency, that can help you with link building, Google business profiles, site speed, organic traffic, and website development. As HVAC SEO experts, we guarantee a 175% increase in traffic, on average, for our clients. Contact us today to learn more about our HVAC SEO services. We know how to grow HVAC business.
HVAC FAQs
Is HVAC SEO beneficial for my business?
HVAC SEO has the highest return on investment of all other digital marketing methods. It converts traffic 10x better than social media channels while simultaneously improving brand awareness, increasing traffic, and boosting search engine ranking. Unlike pay-per-click advertising, it works 24/7.
How can I quickly improve SEO rankings for my HVAC business?
Bear in mind there is no shortcut to improving your SEO rankings overnight. To get a higher ranking, you need to implement a comprehensive SEO strategy including on-page, off-page, technical, and local SEO, accompanied by a robust content marketing plan.
Should I hire an HVAC marketing agency?
An HVAC company that needs effective, reliable branding and marketing services should partner with a professional marketing agency to get the most out of their advertising and marketing budget. Your HVAC company will benefit from the expertise and resources provided by professional marketers.
Where can I find your company?
Comrade originates in Chicago, but we worked all around the United States. We can help your business grow and increase revenue whenever you are. We have offices across most major cities in the US. For example, we can offer SEO services in New Jersey or Phoenix. You can even find our SEO experts in Tampa! If you want to know more about our Sacramento SEO company or find out how exactly we can help you, contact us via the phone or email.