Given the high number of businesses in this industry, it's not enough to simply offer quality pest control services. To stand out from the competition, it's crucial for a company to have a strong online presence and reputation. Customers now judge businesses based on what they see online, which means that having a well-crafted pest control marketing strategy is essential for acquiring and retaining customers. You don't want to be left behind.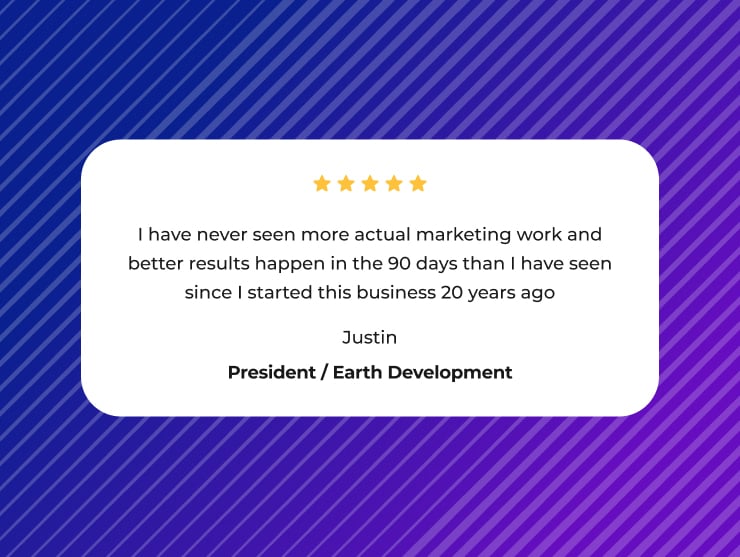 Pest control industry in the United States has grown at an average rate of 4.4% per year between 2017 and 2022, with approximately 28,512 businesses currently in operation – a 2.9% increase from the previous years
In this blog, we'll explore effective ways to market pest control services to existing clients and new customers and provide valuable pest control marketing ideas that can help improve customer acquisition and retention. By following these tips and implementing a comprehensive pest control marketing plan, businesses and pest control contractors can differentiate themselves from the competition and reach the right customers at the right time.
Let's learn
Why Pest Control Marketing Is Important for Getting More Leads
As a pest control marketing agency, we encourage all businesses to undergo digital transformation (the integration of digital technology into all business areas) and invest in developing a data-driven digital marketing strategy alongside traditional marketing efforts.
97% of search engine users search online (mostly on their mobiles) to find a local business, and those businesses set up to target the local market for qualified pest control leads experience a 61% increase in calls.

The data clearly illustrate digital marketing does work for lead generation. Overall, they are lower cost, provide a greater ROI, offer precise targeting, and generate leads with far better conversions. Since marketing is about connecting with potential clients in the right place at the right time, online is where you need to be.
Here's how to leverage the best digital strategies and tools to gain new customers and improve your pest control marketing plan.
Top 10 Pest Control Strategies for Lead Generation
1/10 strategy
1. Create a Stunning Website for Your Pest Control Company
56% of consumers say they don't trust businesses without websites. So, if you don't have a pest control website, or yours needs an update, now would be the time. In fact, having a great website is the first step of any pest control marketing strategy and efforts.
Surely, you can just advertise on social media? Why do you have to have a website, you ask? Well, marketing content generally leads back to websites, and a website is fundamental to SEO (See: Start an SEO Campaign), which is a basic requirement if you want to get found on Google search engine results pages.
How a Pest Control Digital Marketing Agency Can Help with Your Website
But, back to websites. When it comes to website development, you require both UX and UI. UX stands for User Experience Design and is mostly invisible. It includes things like information architecture, interaction design, and usability testing. UI stands for User Interface Design, which is the visual or graphic aspect of design.
Since over 50% of all online searches are performed on mobile devices, you should also aim to make sure your website looks good regardless of the screen resolution or orientation.
Here's a brief list to guide you in creating and optimizing your pest control company website:
Utilize engaging, professional imagery and videos
Display contact information prominently
Link to social media pages
Provide informative and relevant content
Ensure fast loading times
Maintain website security with HTTPS
Optimize for mobile devices!
A team of specialized experts, such as a developer, designer, content creator, SEO specialist, and marketing strategist, can help you create a high-performance website that increases sales and business growth.


Success Stories
Delivering Business Results: Our Digital Marketing Case Studies
2/10 strategy
2. Start an SEO Campaign to Enhance Your Online Presence
SEO stands for search engine optimization. It is the process of optimizing web pages and their content to be easily discoverable by users searching for terms relevant to your business and the pest control industry.
SEO consists of four aspects: on-page SEO, off-page SEO, technical SEO, and local SEO. They work together to improve your pest control website's position on search results, where the main aim is to drive qualified traffic to your website. By incorporating SEO optimization, you can enhance your website's visibility and attract more potential customers, ultimately boosting your online success.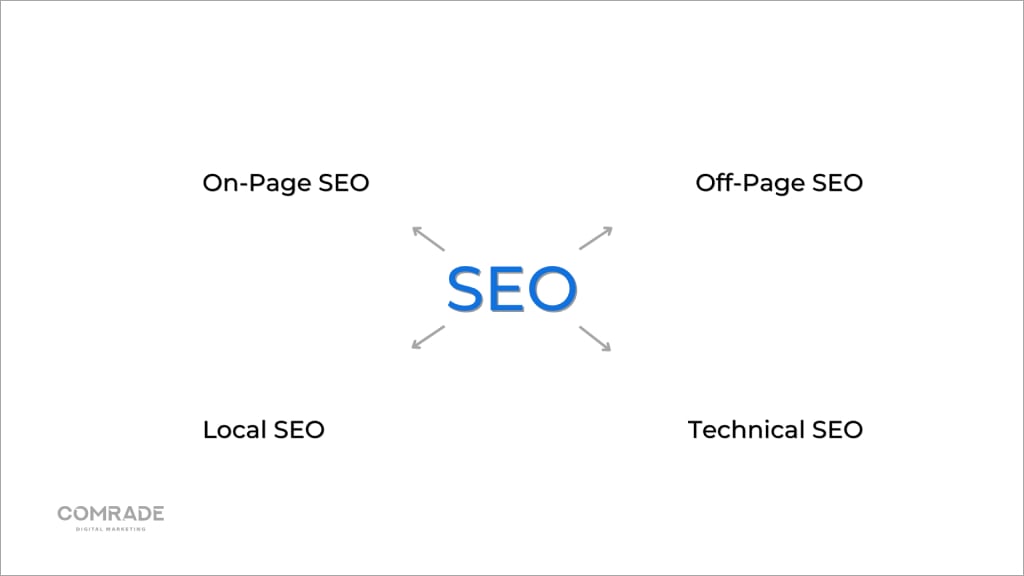 SEO has a compound effect. The more people who see your website, the more your traffic increases, and the better your chances of ranking, which leads to even more traffic! Below are three main aspects you should focus on; the fourth (local SEO), we'll get into a bit more detail shortly.
On-Page SEO. On-page SEO refers to both the content and HTML source code of a page that can be optimized. To optimize on-page SEO, you'll need to conduct keyword research. This process reveals which words and phrases your target audience is using online. Keywords can be one or two words, or complete phrases or questions. For example, "DIY pest control" or "pest control companies in Chicago."
Off-Page SEO. Off-page SEO amounts to all SEO tactics that don't involve updating or publishing content to your website. Common actions include building backlinks (links from other websites pointing towards your site), as well as increasing engagement and shares on social media. These marketing strategies get Google, and other search engines, to view your pest control website as authoritative and trustworthy. The top results in Google have an average of 3.8x more backlinks than results that appear in positions 2-10.
Technical SEO. Technical SEO involves auditing and optimizing technical elements of a website, so it is easier for search engines to crawl, and provides search engine algorithms with enough information about your website to index it accurately. The main elements of technical SEO include behind-the-scenes elements like your website's architecture, mobile optimization, and page speed. Due to coding complexity, technical SEO may warrant hiring a specialist and is recommended in most cases.
Get ahead of the game. Optimize your website for maximum revenue growth
3/10 strategy
3. How to Get More Pest Control Leads Using Local SEO
Local SEO is a must for most pest control companies and businesses. It optimizes a website to rank high for searches specific to a geographic or service area only. If you have local SEO, Google will automatically prioritize your business to show up in local pack listings and search queries by potential pest control clients nearby.
These types of search queries typically have a geographic restriction. For example, "pest control near me," "pest control Brooklyn,", "pest control providers nearby" and "pest control open now." When it comes to digital marketing for an exterminator, local SEO is the low-hanging fruit to getting more page views and higher Google rankings, as there are usually fewer competitors in a given region.
With local SEO, you want to achieve the "Google 3 pack ranking" or "Google local pack," which is part of a set of three highlighted Google-Maps-based search results, featuring the most highly ranked businesses.
To achieve this, you need to register for a free Google Business Profile account (formerly known as Google My Business).
To quote Google: "Your Google Business Profile is a free tool that allows you to take charge of the way your business appears on Google Search and Maps. With your Business Profile, you can connect with customers, post updates, list your products and services, accept online orders, and more."
Pest Control Lead Generaion Ideas for Local SEO
Be sure to fill in your NAP information correctly (business name, address, and phone number) and all other information as accurately as possible. The more detailed your profile, the better chances you have of ranking well.
Also, part of succeeding at local SEO is leveraging online reviews, including garnering more positive reviews. Review ratings are the biggest drivers of clicks on local search engine results pages. Remember, customers need social proof when choosing a business.
In fact, customer review data reveals that 63% of consumers check Google reviews before they visit a business. The quality and quantity of reviews, including addressing negative reviews, in your local listings can easily bring more quality leads or push them towards local competition.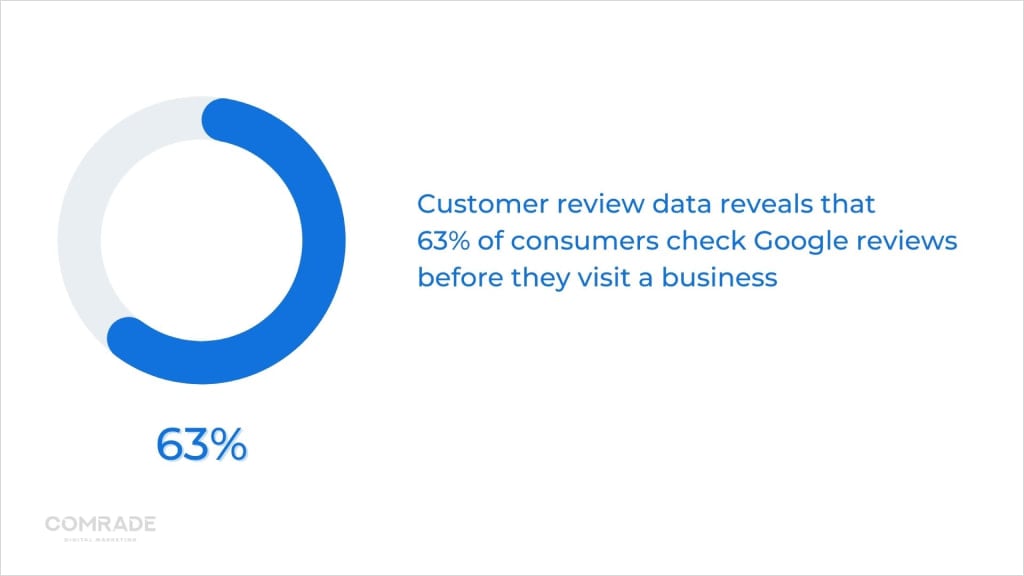 4/10 strategy
4. Take Advantage of PPC for Pest Control Lead Generation
PPC, which stands for pay-per-click, is an online advertising model where marketers run ads on a platform such as Google Ads (formerly known as Google Adwords) and pay a fee every time someone clicks on it. It is a method of "buying" visitors to your website, in addition to receiving organic traffic via an SEO strategy.
With PPC pest control advertising, you bid for ad placement by entering desired keywords into an automated auction. Through real-time bidding, the search engine determines which ads show up for a user as that individual submits their search query.
Companies pay a higher fee for prominent ads within Google's search results, for a high volume (popular) keyword than they will if they're targeting a niche audience with a keyword that has a lower search volume.
The Advantages of PPC for Pest Control Businesses
The benefits of pay-per-click pest control advertising include:
Running multiple campaigns for different keywords
Improved business exposure
Complete control over advertising budget
Instant traffic
The great thing about PPC is that you can choose to spend as much or as little as you want. Real-time data also lets you tweak ads when you receive feedback, so they're perfectly optimized for your ideal target audience.
More than that, you can target ads at specific customer segments based on demographics like location, device, and language, which leads to more effective conversions, since the ads appeal to users already searching for your services.
Different types of PPC advertising include: paid search marketing, display advertising, paid social media advertising, remarketing advertising, and Google shopping.
Generating pest control leads is hard. See how Comrade can do the work for you
5/10 strategy
5. Solicit Positive Pest Control Business Reviews
We touched on it earlier, but today consumers look for social proof (opinions provided by others) before making purchases. For this reason, many pest control providers and digital marketing experts incorporate a review system into their clients' digital marketing strategies.
Uber and Airbnb are good examples. They do their best to ensure poor service is detected and excluded from their business. Moreover, reviews signal to search engines that your business is trustworthy, and when you respond to them, they show potential customers that you care.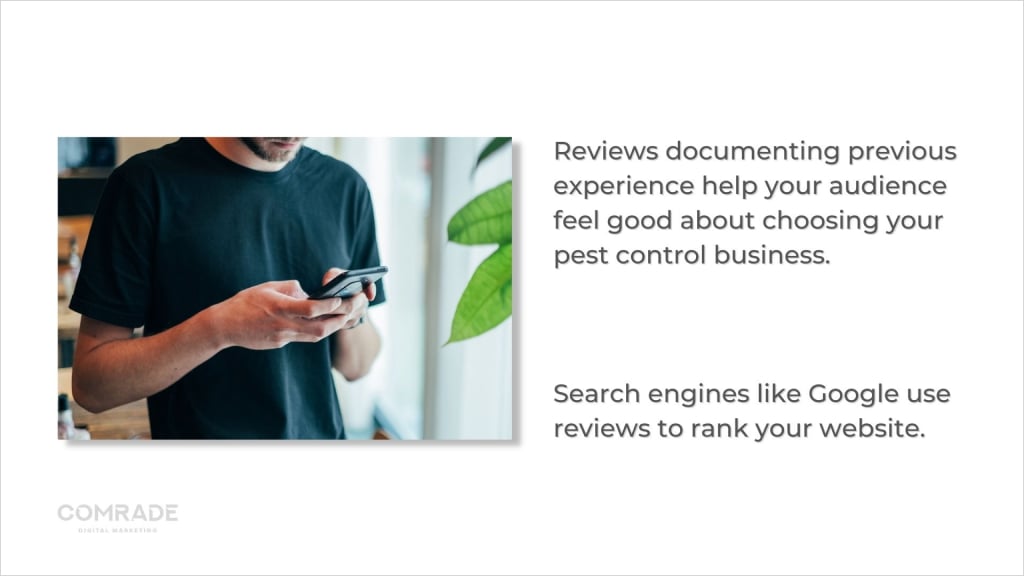 Let's take local SEO, for example. Potential clients are more likely to call a business with 20 4.5-star reviews than a business with one 5-star review. Customers would rather not spend money unless they feel confident it won't be wasted. Positive reviews documenting previous experiences help your audience feel good about choosing your pest control business.
Search engines like Google use reviews to rank your service provider website. The more recent and positive online reviews you have, the higher your website ranks. FYI: Customers spend 31% more with a business that has positive online reviews.
6/10 strategy
6. Use Email Marketing to get Pest Control Leads
Email marketing has one of the highest ROIs of all forms of online marketing, averaging $36 in return for every $1 spent. Its effectiveness comes down to reaching customers in a place they visit every day—their inbox.
So, while social media marketing provides excellent channels to connect with potential customers, you can't guarantee they'll be logged on to social media to see your pest control ads. Email marketing is important for local businesses because it's a marketing workhorse.
Not only does it help you keep in touch with past customers, but it also allows you to educate your readers, drive more website traffic, share promotions, conduct surveys, etc. You can do all these things within one channel!
Different Types of Email Marketing Campaigns for Pest Control
As a pest control digital marketing agency, we often use the following types of emails in our clients' content marketing campaigns:
Welcome emails: Thanking recipients for signing up to your mailing list. These can form part of an email sequence designed to convert the reader into a customer.
Newsletters: Informing recipients about your latest services, news, or company updates.
Gift emails: Offering recipients free content like eBooks or guides.
Promotional emails: Selling services or offering discounts.
Abandoned cart emails: Nurturing emails sent 24 to 72 hours, encouraging customers to complete a purchase.
Enhance your pest control email marketing with Comrade Digital Marketing Agency. Schedule a free consultation.
7/10 strategy
7. Leverage Social Media for Your Pest Control Lead Generaiton Strategy
We've said it before and we'll say it again: social media marketing can be a cost-effective way to develop your brand and connect with your target audience. When executed correctly, it has the potential to gain media coverage, get more positive customer reviews, promote new services and products, and drive traffic to your pest control industry website.
Using your best blog posts, videos, and other content on social media can help you promote your pest control services. You can tailor your efforts to attract more customers by analyzing the type of content that appeals to your followers. It is recommended that you post different types of content (such as posts, links, stories, and blogs) on each of your social media accounts at least twice a day.
Optimize your website, get more pest control clients. Simple as that
8/10 strategy
8. Team Up with Similar Businesses in the Area
Partnering with other local businesses can boost your revenue and expand your network reach. Reach out to local businesses like real estate agents or cleaning services to discuss potential community events and marketing collaborations.
You could partner with another company to promote each other's services on social media, via content in blog posts (hello backlinks!), or through email newsletters. If you're focussing on traditional marketing, you might share the costs of printing flyers, for instance.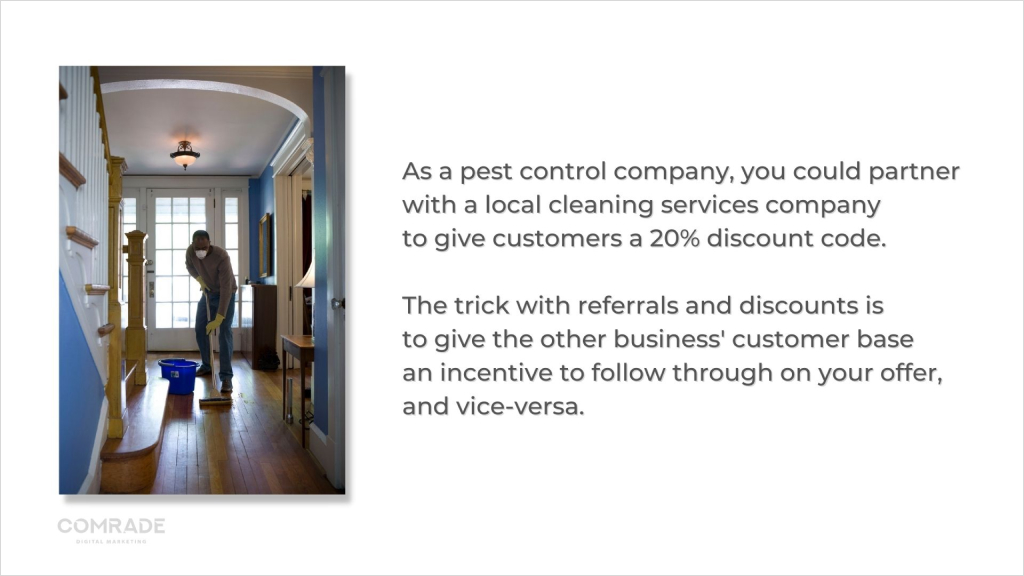 Cross-promotions are also useful. For instance, as a pest control company, you could partner with a local cleaning services company to give customers a 20% discount code. The trick with referrals and discounts is to give the other business' customer base an incentive to follow through on your offer, and vice-versa.
Thoughtful partnerships can have short and long-term benefits for both businesses. If you've never worked with another business before, now is the ideal time to incorporate it with other pest control advertising ideas.
9/10 strategy
9. Create Expert Pest Control Marketing Content
You're probably familiar with Bill Gates' famous quote: "Content is king." In the digital marketing world, content marketing reigns supreme. While the type of content may change (think of how video marketing is currently dominating), the principles remain the same.
Content marketing aligns with the inbound marketing strategy. It is designed to draw visitors and potential pest control customers in by providing useful business information first, rather than outwardly pushing your pest control service.
Content marketing is an important part of digital advertising because it answers your audience's questions, builds trust, develops customer relationships, generates leads, and improves conversions.
Our pest control internet marketing services include carefully curated content marketing strategies designed to lead customers down the sales funnel, which creates enough awareness and interest in exclusive pest control leads to persuade a potential customer to choose your pest control company.
Common types of digital marketing content include:
Blogging
Video
Email
Webinars
Social media posts
Podcasts
To get the most ROI from your content, regardless of whether you're publishing blogs, videos, or podcasts, always make sure it has a clear, measurable goal and is tailored to your audience. Keeping it consistent and up-to-date will also bolster customer loyalty and trust.
10/10 strategy
10. Integrate Offline Marketing Strategies
It might be surprising to hear that offline marketing is still beneficial and relevant. Pest control businesses can use both on and offline to achieve their advertising and marketing goals too. The better you balance both strategies, the better results you'll get.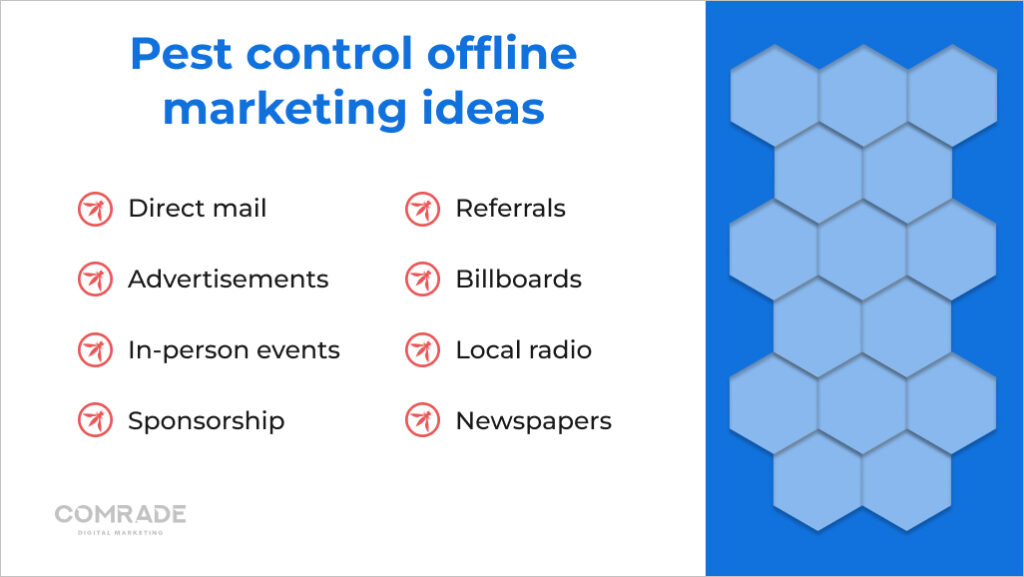 Media channels like billboards, local radio, pamphlets, and newspapers are offline channels that can be highly effective in the areas you serve. Even wrapping your vehicles can generate between 30,000 to 80,000 impressions daily! Fleet vehicle advertising boosts business recognition 15x greater than other advertising media.
Most businesses, but not everyone, are doing business online, and you could be losing out on a few local customers if you're only focused on digital methods.
How to Choose the Right Pest Control Marketing Agency?
Hiring a professional pest control marketing agency is as much of a marketing strategy as the strategies mentioned above. Choosing the right digital partner is essential to your bottom line. An inexperienced or crooked agency can quickly drain your budget and negatively affect your branding.
A good digital marketing agency will be transparent about its pest control internet marketing services and the results it can deliver. If an agency promises overnight success or instant results of a successful online advertising campaign, you should be wary. When researching different agencies and their pest control leads cost, the ones you interview should:
Have a solid track record
Demonstrate via case studies/portfolio how their strategic solutions improved business
Share client testimonials
Be honest, good-natured, and transparent
Focus on metrics
A good agency fit comes down to values, size, and budget. You would rather not partner with clients who don't share the same company values. It's important to feel good about whom you're working with. Even if the agency is great, if you sense a personality clash, then it likely won't be a fruitful relationship.
It takes a lot of time, effort, and resources to master digital marketing. With so many moving parts, there's a lot that can go wrong and inhibit your business growth. Rather leave it to professionals. And, if you don't yet have the budget for all the bells and whistles, you can always start with a mobile-friendly website.
Want to speak with an expert?
Call us at (312) 265-0580
Get New Leads with These Pest Control Marketing Ideas
Many businesses know how vital digital and mobile channels are to generate pest control leads and engaging audiences effectively online. And while they might understand how basic digital marketing works, they may not have the experience to execute the perfect strategy. Trust us, that's why we have a team!
This is where Comrade Digital Marketing Agency can develop an integrated plan to grow your business and bring you more quality pest control leads. We'll create pest control marketing strategies that align with your financial goals. As pest control digital marketing experts, we can take care of online reputation management, lead generation, SEO search engine optimization, and more. Contact us today to discuss your urgent pest control marketing ideas and needs.
Frequently Asked Questions