Over the years, video marketing has become a powerful tool for international and local businesses, including roofing companies. Video marketing can help roofing contractors build brand awareness, establish themselves as industry experts, and attract new customers.
In fact, according to a recent survey, 86% of businesses use video as an internet marketing tool, and 92% of marketers say that video is an important facet of increasing ROI. By following the four simple steps outlined in this article, building a video marketing plan for your roofing company can be an effective and affordable way to drive real results for your business.
In this article, we'll provide a step-by-step guide to building an effective video marketing plan and give the top 5 roofing video marketing examples to look up to.
1/4 step
1. Identify Marketing Goals for Your Roofing Business
When devising a roofing company marketing plan that incorporates a successful video marketing strategy, the first step is to outline your goals. This pivotal phase aids in identifying the ideal video content to fulfill your clients' needs. Within the scope of roofing company video marketing, there are a few objectives you should consider aiming for:
Brand awareness: Embracing video marketing for roofing companies effectively boosts your brand's visibility and recognition within your target audience.
Generate more leads: Utilizing videos as a powerful roofing sales tool is instrumental in imparting valuable information and motivating viewers to take decisive actions.
Increase customer loyalty: By positioning videos as trust-building resources, you can establish your business as an authoritative presence within the industry, subsequently fostering customer loyalty.
Educate your audience: Capitalizing on videos as an educational medium enables you to effectively convey your services and the tangible benefits of picking your roofing business.
Showcase your work: Videos are a great medium for showcasing your roofing expertise and highlighting your successful projects. This aids in attracting new customers and promoting your reputation.
With a robust video marketing strategy and tactful utilization of video platforms across various social media channels, you can optimize your roofing business' online presence. This holistic approach not only fosters brand identity but also accelerates your timeline for achieving your goals.


Success Stories
Delivering Business Results: Our Digital Marketing Case Studies
2/4 step
2. Create Compelling Roofing Video Content
Craft a compelling video content plan to effectively engage your audience and achieve your marketing goals for your roofing business. Remember, concise and focused videos work best, and each video should conclude with a clear call to action. To enhance your video marketing strategies, consider incorporating these types of videos:
Here are some types of videos that can be used for roofing companies:
Demos and tutorials: Showcasing how-to videos on roof installations, repairs, and maintenance effectively establishes your expertise in the roofing industry. You can create videos that demonstrate the use of different roofing materials or showcase best practices for roof repair. This type of video content contributes to a robust video strategy.
How-to videos: Creating explainer videos that guide viewers through identifying common roofing issues or proper roof maintenance can significantly enhance your roofing business's video marketing campaign.
Storytelling videos: Storytelling videos can help you build an emotional connection with your audience by sharing stories about your business and your customers. For example, you can create a video that showcases a successful roofing project and how it impacted the customer's life. This tactic works well with your video marketing goal.
Testimonials and reviews: Customer testimonial videos and reviews are a powerful way to build trust with potential customers. These video testimonials can feature satisfied customers discussing their positive experiences with your roofing services.
Social media promos: Social media marketing promos are short, attention-grabbing videos designed to promote your roofing business on social media platforms. Utilize concise and compelling social media posts to highlight specific services, showcase completed projects, and encourage audience engagement on various social media channels.
3/4 step
3. Discover a Platform for Publishing Your Roofing Company Videos
YouTube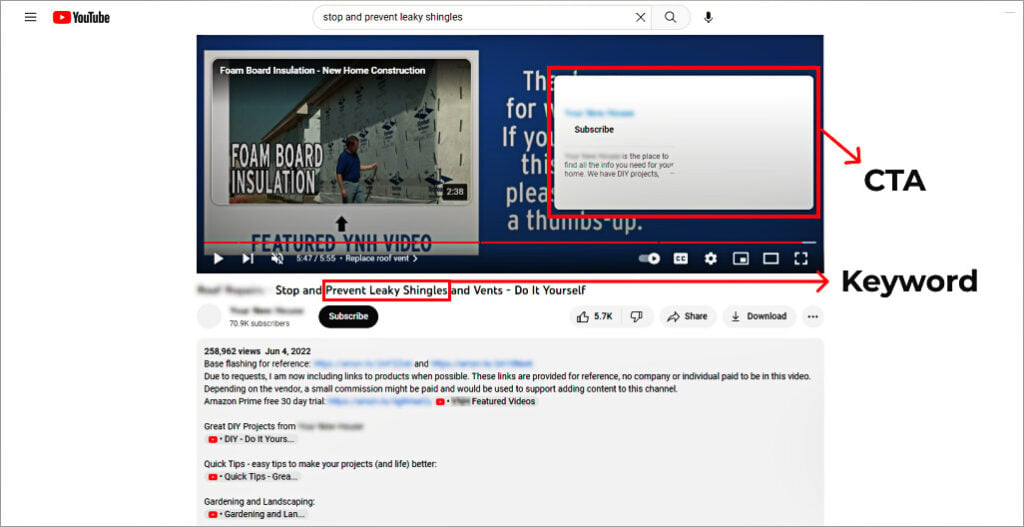 Using YouTube to publish your roofer video marketing content can help you effectively reach your target audience, build brand awareness, and establish yourself as an industry expert. By following the video marketing tips outlined below, you can create successful YouTube videos that drive real results for your roofing company.
Create a schedule for posting video content regularly: Consistency is key in building an audience on YouTube. Craft a video content schedule and stick to it to keep your viewers engaged and coming back for more great videos.
Optimize titles, descriptions, and tags to increase visibility with search engine optimization: Video creation only goes so far. Incorporate relevant keywords in your roofing video titles, descriptions, and tags to elevate your videos' rankings in search results. This approach heightens the visibility of your videos and attracts a larger audience, thus supporting your video marketing strategy.
Provide valuable and educational video content strategy: When producing videos for YouTube, focus on delivering valuable and explainer video content tailored to your target audience. This could encompass how-to videos, written content or videos about roofing materials and techniques, or compelling customer testimonials.
Use annotations and calls-to-action to encourage viewer engagement: Employ annotations and effective calls-to-action within your videos to motivate viewers to take action, whether it's subscribing to your channel or visiting your own website for more in-depth information.
These steps contribute to optimizing your roofing company's video marketing campaign, aiding your endeavor to increase brand recognition, engage viewers, and drive more leads and sales.
Facebook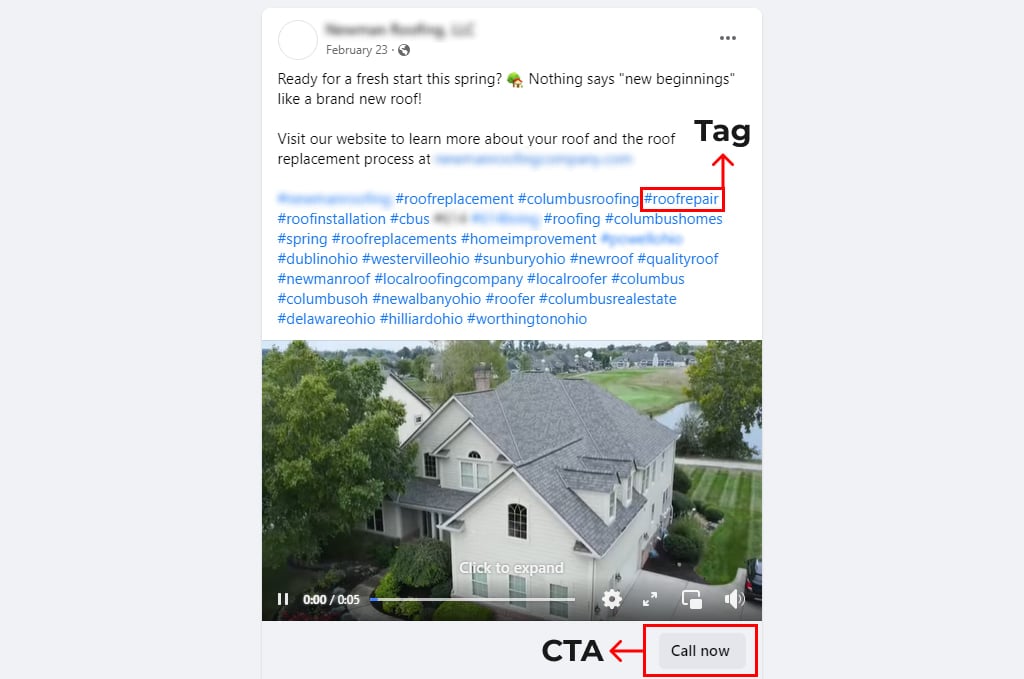 Another good platform for publishing your roofing company videos is Facebook. With over 2.9 million users, utilizing Facebook as a platform for video content can significantly enhance your reach within the realm of video marketing company, bolster PPC advertising, and foster brand awareness. Similar to Youtube, here are some tips for creating successful Facebook videos for roofers:
Create a schedule for posting content regularly: For optimal results, incorporate a well-defined video content strategy. Whether opting for animated videos or other formats, ensure a streamlined video marketing campaign. Plan the creation and production process in advance to adhere to the posting cadence. Consider creating a content calendar to keep track of your posts and organize your roofing video marketing ideas.
Optimize titles, descriptions, and tags to increase visibility: When posting your videos on Facebook as part of your video campaign, optimize the titles, descriptions, and tags using relevant keywords like "roofing company" and the specific video topic. This approach enhances visibility and aligns with your SEO strategy, potentially increasing your roofing company's reach.
Utilize video ads to reach more people in your target audience: Create a video marketing strategy that resonates with your audience's interests and preferences. Roofing Facebook ads can serve as a potent tool for expanding your reach beyond your current fan base, allowing you to attract loyal customers. By adding videos to your content marketing initiatives, you can capture leads and engage both existing and potential customers.
Leverage user engagement to build customer relationships: Don't overlook the significance of establishing strong customer connections, particularly in the context of your roofing company. By integrating interactive elements into your videos, like animated videos, and weaving these into your blog posts and web pages, you can seamlessly engage with potential clients and reinforce connections with existing ones. Swiftly responding to comments and messages and actively soliciting feedback from your audience aids in learning their needs and preferences. Such insights can then guide the enhancement of your entire video production process, from post-production using professional editing software to utilizing quality audio equipment for improved results.
Instagram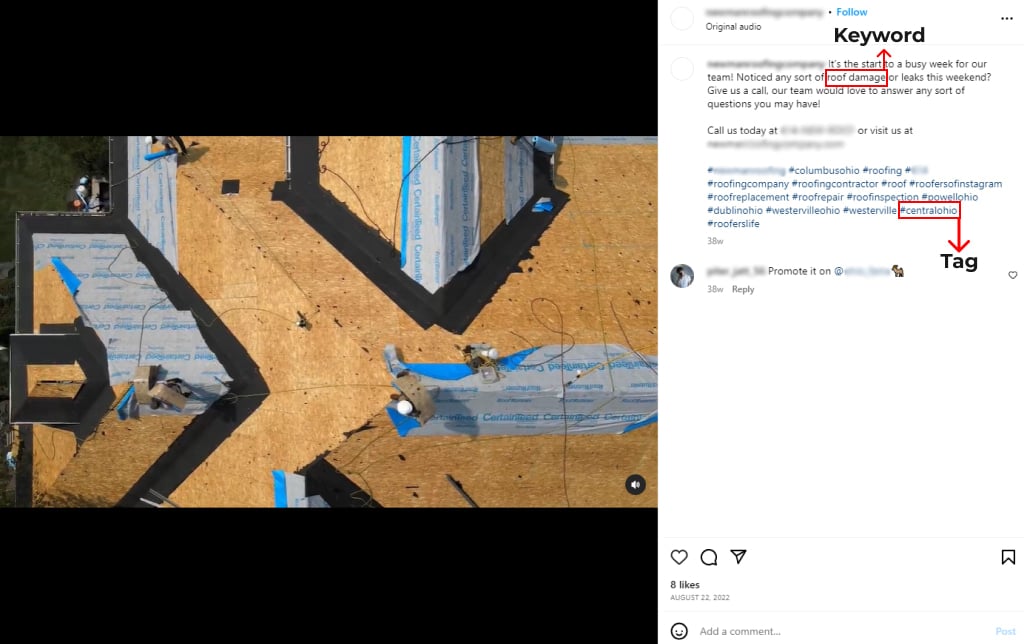 Instagram is another platform that roofing companies can use to publish their videos. Though you can post long videos on Instagram, limiting them to 60 seconds is better. Focus on creating attention-grabbing videos that get your message across quickly.
Here are some roofing video marketing ideas for successful Instagram videos:
Create a schedule for posting content regularly: Maintaining consistency is pivotal, especially when you're engaging in video marketing on platforms like Instagram. To this end, establishing a schedule is crucial for organization, enabling you to consistently share how many videos you create, be it an animated video, product video, or even a blog post. Collaborating with skilled video creators, both in-house or through a production company, can streamline your content creation process, allowing you to diversify your content. Distributing your content through multiple distribution channels maximizes its reach, enhancing your marketing funnel and increasing your chances of more sales.
Optimize titles, descriptions, and tags to increase visibility: So, how do you grow a roofing company? To ensure your videos are visible to your target audience, you need to optimize your titles, descriptions, and tags. You should use relevant keywords and phrases that will help your videos appear in search results on Instagram. Additionally, you should ensure that your descriptions are informative and provide context for your videos. Lastly, you should use tags appropriately to make your videos more discoverable and get more leads/clients with roofing company video marketing.
Utilize ads to reach more people in your target audience: Leveraging video marketing companies and understanding how to grow your roofing business, you can transcend the constraints of organic reach on Instagram. Employing PPC advertising facilitates the acquisition of new clients through well-crafted roofing company video marketing campaigns. Crafting compelling roofing company video advertisements enables you to highlight your services and bolster your brand presence. With the ability to target precise demographics and geographic locations, you can ensure optimal visibility for your videos among the most relevant audience segments.
Leverage user engagement to build customer relationships: Instagram is a social platform, and engaging with your audience is important to build relationships with your customers. You should respond to comments and direct messages on time. Additionally, you should ask questions in your videos to encourage viewers to engage with you. By building relationships with customers on Instagram, you can establish trust and loyalty, which can help drive roofing sales and grow your business.
Vimeo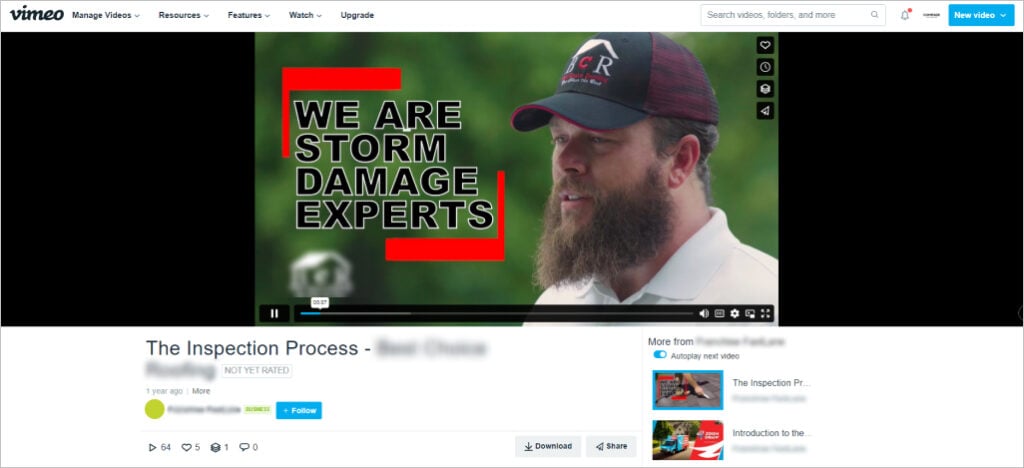 Vimeo is a video-sharing and hosting platform that you can use for publishing your roofing company videos. It is known for its high-quality, professional videos, so your videos are polished and well-produced to fit the platform's overall aesthetic. Here are some tips for creating successful Vimeo videos for roofers:
Create a schedule for posting content regularly: It is important to have a consistent and regular schedule for uploading videos on Vimeo. This can help viewers and potential customers know when to expect new content from your roofing company. Having a plan, you can also create a routine for your team to consistently produce high-quality videos on time. This can help maintain viewer engagement and attract new viewers.
Optimize titles, descriptions, and tags to increase visibility: The title should accurately and clearly describe the content of your video while being concise and attention-grabbing. The description should include keywords, relevant information, and a call-to-action for viewers to engage with your roofing company. Tags, or keywords, should be relevant and reflective of the content in the video to make it more discoverable and visible on Vimeo.
Utilize ads to reach more people in your target audience: By targeting your roofing company video advertising to specific demographics, interests, and geographical locations, you can ensure that the right people see your videos.
Leverage user engagement to build customer relationships: Responding to comments, answering questions, and encouraging user-generated content can help establish trust. You can also use Vimeo's analytics tools to track engagement metrics and make data-driven decisions to improve your content and digital marketing strategy. You can create a strong, lasting impression of your roofing company by fostering a positive relationship with your viewers.
4/4 step
4. Measure Results of Your Roofing Video Marketing Campaign
It is important to measure the results of your video marketing campaigns to ensure that you are getting the most out of your efforts. By tracking key metrics such as views, engagement, and conversions, you can gain insights into your campaigns' success and make adjustments accordingly. This will help you optimize your video marketing efforts and maximize your return on investment. So, how do you measure the results of your video marketing campaigns?
Track views: Track the number of views your videos receive to determine how many people watch your content.
Watch time duration per video/across the entire playlist: Measure how long viewers watch your videos to determine if they engage with your content and find it valuable.
Click-through rate (CTR): Track the number of clicks your videos generate to determine how effectively they drive traffic to your website or other online platforms.
Conversion rate: Track the number of people who take a desired action after watching your videos, such as filling out a contact form or purchasing.
The benefits of measuring the performance of your video marketing efforts include the following:
Understanding what's working and what's not: By analyzing your video metrics, you can determine which videos resonate with your audience and adjust your strategy accordingly.
Optimizing performance: By understanding which content and tactics are most effective, you can optimize your performance to achieve better results.
Saving time and resources: Analyzing your results can help you identify areas where you may be wasting time and resources, allowing you to focus on more effective digital marketing strategies.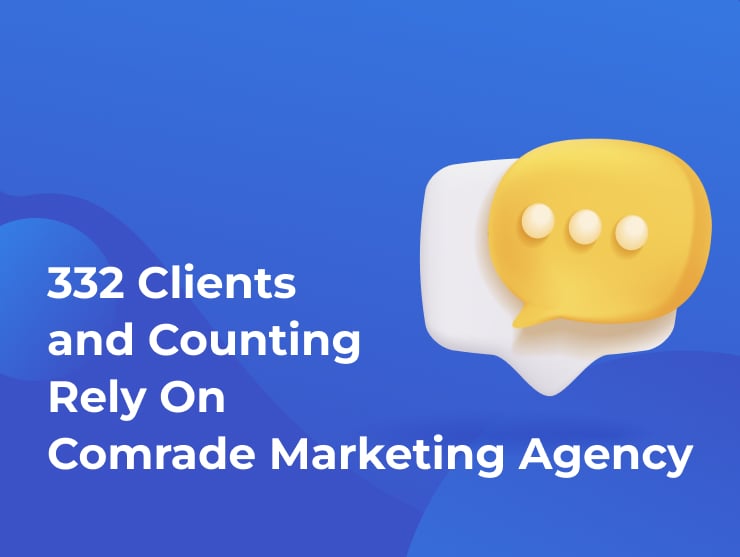 Top 5 Roofing Video Marketing Examples to Look to
The roofing video marketing examples in this section showcase a variety of approaches to creating effective and engaging video content for roofing businesses. They include:
Climb the marketing ladder – rank higher on Google with marketing solutions guaranteed to work
Reaching New Heights: How Video Marketing Can Elevate Your Roofing Company's Success
Building a video marketing plan for your roofing company can be a highly effective way to attract new customers, build brand awareness, and establish yourself as an industry expert. By following the four simple steps outlined in this article, including identifying your marketing goals, creating compelling video content, discovering a platform for publishing your videos, and measuring your results, you can create a comprehensive video marketing plan that drives real results for your business.
If you need help with your roofing marketing strategy, Comrade Digital Marketing Agency can help. We can help you create and implement a comprehensive video marketing plan that effectively achieves your objectives. Our team of experts specializes in digital marketing for roofing companies, so contact us today to learn more about how we can help your business succeed!