The digital frontier continues morphing at blinding speed, bringing with it prospects and obstacles for B2B brands and technology companies aiming to amplify their online imprint. As tactics grow more sophisticated, targeted mastery becomes mandatory to traverse the intricate terrain of B2B digital marketing.
For enterprises hoping to thrive amidst exponential change, partnering with a guiding hand able to illuminate the route ahead is a strategic necessity. The agencies curated within this guide offer that illuminating expertise.
We've handpicked ten digital marketing virtuosos ready to pilot B2B brands into the uncharted landscape ahead. They bring battle-tested perspectives forged on the frontlines of innovation. Their hands-on experience implementing bleeding-edge strategies provides a clarifying lens into the technologies and techniques driving transformative results.
By reviewing the unique capabilities of these elite firms, B2B marketers can map out their next steps on the digital frontier with strategy-aligned confidence. The opportunity awaits.
The Strategic Benefits of Partnering with a B2B Digital Marketing Agency
In today's digitally-driven business landscape, strategic alignment with a B2B-focused digital marketing agency can catalyze enterprises to optimize their online footprint and sales funnel efficacy. Collaborating with seasoned digital marketing specialists brings multifaceted proficiencies to elevate marketing programs holistically. The agency's expertise across search engine optimization, targeted content generation, pay-per-click advertising and omnichannel campaign orchestration can unlock synergistic success unachievable via fragmented internal efforts.
By leveraging cutting-edge MarTech, data-driven methodologies can be applied that are tailored for various B2B marketing scenarios. Access to turnkey analytics and attribution modeling enables near real-time optimization guided by actionable insights. Through research-backed funnel optimization, convoluted customer journeys can be clarified by aligning strategies to each stage from awareness to advocacy.
With an emphasis on sales velocity and ROI, innovation can fill sales pipelines and maximize customer lifetime value. For B2B firms navigating complex decision cycles, an integrated agency serves as a force multiplier to outmaneuver the competition. Objective specialization in executing multi-touch digital strategies can accelerate growth by penetrating fragmented markets at scale.
When speed, agility and expertise are critical, aligning with a digital marketing agency provides strategic and financial dividends.
Unlock your digital marketing potential with a B2B-focused agency that maximizes online sales and growth. Schedule a free consultation.
Different Types of Digital Marketing Services for Your B2B Business
Search Engine Optimization
Search engine optimization (SEO) helps improve organic visibility and rankings in search engine results pages. By optimizing search engine marketing, website architecture, content, and technical elements, agencies can increase relevant traffic to sites and landing pages. This inbound methodology requires continuous refinement but enables brands to attract visitors without paid search advertising.
Content Creation & Management
Custom content generation and management are core services B2B agencies provide. From blog posts and infographics to case studies and ebooks, compelling owned media helps engage target audiences. Strategic topic planning, ideation, writing, and distribution allow brands to attract and nurture potential customers with valuable information.
Pay-Per-Click Advertising
Pay-per-click (PPC) advertising through Google Ads, Microsoft Ads, and social platforms like LinkedIn leverage paid search and display networks to reach interested users. Agencies manage these large-scale campaigns, including bids, landing pages, and advanced remarketing. Tactical optimization and A/B testing aim to reduce cost per lead or conversion.
Omnichannel digital campaign management integrates various services into an overarching strategy. Agencies coordinate activities spanning media buys, creatives, landing pages, automation, attribution, and analytics. Aligned timelines, budgets, and shared reporting provide a holistic view of performance.
Lead Generation and Nurturing
Generating and nurturing sales leads are pivotal to B2B digital marketing. Agencies leverage tactics like gated content offers, email nurturing, and account-based marketing. Automation and CRM integration streamline handoff to sales teams and track prospect engagement over time. This orchestration aims to shorten sales cycles and boost conversion rates.
Top 10 Digital Marketing Agencies for B2B Companies
Comrade Digital Marketing Agency
Comrade Digital Marketing is a comprehensive, full-service Chicago agency dedicated to empowering businesses to expand their brands and boost revenue through data-driven digital marketing strategies. With a team of experts who stay at the forefront of the latest trends and technologies, Comrade takes a results-focused approach across a wide range of digital marketing services.
Comrade's offerings encompass search engine optimization, pay-per-click advertising, social media marketing, content creation, email marketing, web design and web development. They have worked with a diverse clientele spanning industries from law and healthcare to home improvement and have helped companies successfully enhance brand awareness, generate leads, and drive sales. Their hard work has earned them many prestigious awards, such as "Top Full Service Digital Marketing Company in Chicago 2023" by Clutch and "2020 Digital Design Award Winner" by Indigo.
At Comrade, transparency and effective communication form the foundation of their client relationships. They keep their clients consistently informed about the progress of their campaigns, and their strategies are tailored based on data-backed insights to align with their clients' unique business goals. They closely monitor performance to ensure that their initiatives stay on track and make swift adjustments based on real-time analytics.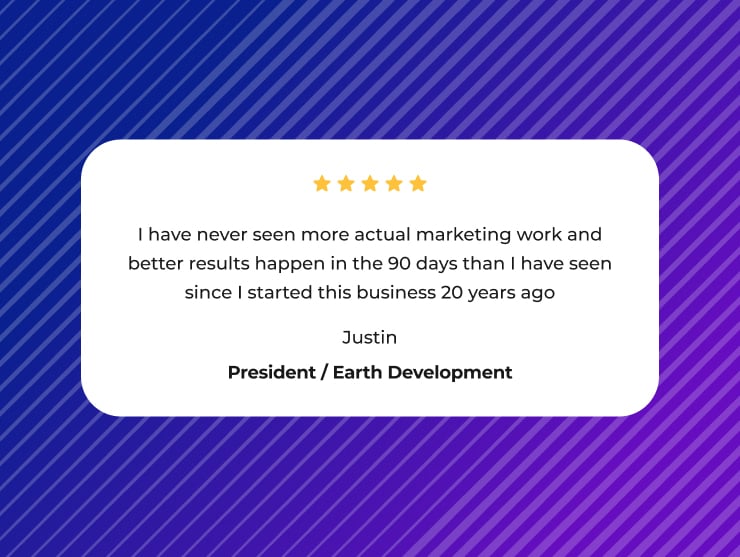 With deserved recognition and awards, Comrade leverages the right technologies to achieve tangible results. They excel at translating data into actionable insights that inform high-impact digital marketing campaigns.
For companies seeking an analytical, data-driven approach, Comrade Digital Marketing possesses the knowledge and capabilities to help brands expand through goal-oriented digital marketing services that deliver real business impact. Their commitment to achieving results through transparent communication and data-informed strategies makes them a valuable partner for driving data-driven growth.


Success Stories
Delivering Business Results: Our Digital Marketing Case Studies
SeedX Inc
SeedX Inc is a holistic marketing, technology and strategy firm that provides sustainable growth solutions for organizations. With offices in Los Angeles and Austin, their team leverages expertise in communicating with global audiences. SeedX partners with companies seeking an integrated approach covering marketing, tech and business strategy services. They also work with larger brands tackling new initiatives.
Founded in 2015, SeedX has quickly established itself as an award-winning industry leader. Their work on effective campaigns has spanned the US and abroad. As a women and minority-owned agency, diversity and inclusion are their central values.
Offerings include full-scope digital marketing across paid advertising, SEO, social, paid media, email and more. Traditional marketing like branding, PR and events complement digital efforts. Custom technology development and business strategy consulting round out their diverse capabilities.
Known for a collaborative approach, SeedX works closely with clients to understand objectives and challenges. They develop integrated strategies and provide transparent guidance during execution. Performance is tracked continuously to optimize activities and ensure initiatives remain on track to achieve desired goals.
With a proven ability to deliver results, SeedX has been recognized through numerous industry awards. Their combination of marketing creativity, technical expertise and strategic focus enables data-driven growth solutions tailored to each client's unique needs.
For organizations seeking a partner to provide sustainable growth through holistic marketing, tech and strategy services, SeedX offers the experience and capabilities for impact. Their integrated approach helps brands tackle challenges and capitalize on opportunities in an ever-evolving marketplace.
REQ
REQ is a Washington digital marketing and branding agency focused on helping companies build resilient brands, mobilize advocates and safeguard reputations. Their collaborative approach and proven ability to deliver results has made them a go-to partner for organizations seeking to make an impact and drive growth.
Leveraging deep expertise, REQ works closely with clients to develop strategies and campaigns that express brand identities in compelling ways that connect with target audiences. Core services span brand strategy, advertising, public relations, community building and reputation management.
REQ applies paid advertising, SEO, social media and other digital marketing tactics to reach and engage key stakeholders. Media campaigns are crafted to align with brand positioning and business goals.
Known for transparency and communication, REQ tracks campaign performance to optimize results and ensure initiatives remain on track to meet objectives. Adjustments are made quickly based on data and insights.
With an impressive client roster ranging from Pfizer and Disney to Human Rights Campaign, REQ has helped organizations boost awareness, generate leads and increase sales. Their results-focus and tailored approach has garnered recognition as one of the fastest growing agencies in the country.
For companies seeking an experienced marketing and branding partner to help mobilize advocates and safeguard reputations, REQ brings the expertise, creativity and analytics to build resilient brands that drive meaningful growth.
Power Digital
Power Digital is a results-driven marketing agency that partners with brands to help them reach their full potential. They offer a suite of services spanning strategy, creative, digital marketing and analytics to develop data-informed plans that connect brands with audiences and drive measurable business growth.
Leveraging deep expertise, Power Digital creates strategic roadmaps aligned with client goals and objectives. Their San Diego team of experienced creatives and designers develop campaigns that effectively engage target consumers. A full range of digital marketing services, including paid advertising, SEO, social media, email marketing and more are applied to execute strategies that deliver real impact.
Power Digital leverages data and analytics to inform their approach, constantly optimizing based on performance to ensure campaigns achieve desired results. Their data-driven focus allows them to adjust tactics while keeping strategy on track.
Known for transparent communication and a relentless commitment to outcomes, Power Digital has partnered with startups, mid-market and enterprise brands across industries. They develop custom solutions aimed at increasing awareness, generating leads and boosting sales.
With proven success driving growth for clients such as Airbnb, Dropbox and Uniqlo, Power Digital combines knowledge, creativity and analytical insight to help brands reach their potential. Their expertise in strategy, creative and digital marketing makes them a results-focused agency for businesses seeking an experienced marketing growth partner.
CommCreative
CommCreative is a results-oriented marketing agency based in Framingham, Massachusetts. They excel at helping brands in all industries connect with their target audiences through thoughtfully developed campaigns that authentically express their core identities.
With an unwavering dedication to data-driven strategy, they harness insights to inform their creative ideas, engaging consumers and driving measurable outcomes. Their comprehensive suite of services includes branding, creative development, digital marketing, media planning/buying, public relations, social media management, and overarching strategy.
Collaboration lies at the heart of their approach. They work closely with their clients to grasp their business goals and craft tailored strategies to achieve those objectives. Their team of creative thinkers then develops innovative campaigns aimed at forging deep and impactful connections between brands and audiences.
At CommCreative, they continuously monitor performance data to ensure their campaigns are optimized for the strongest possible results. Their exceptional track record, commitment to creative excellence, and data-informed strategic focus position them as the ideal marketing partner for brands seeking to connect with coveted consumers and realize their business goals.
Recognized as a Google Premier Partner, CommCreative delivers strategic, creative, and results-driven marketing solutions for clients across industries. They understand that each brand is unique, and they take pride in crafting strategies that truly resonate with their audiences and fulfill their marketing objectives.
Hunter Digital
Hunter Digital is an exceptional data-driven digital marketing agency that specializes in assisting direct-to-consumer (DTC) brands and e-commerce retailers in achieving growth through various channels. These include paid advertising, SEO, captivating content marketing, social media, email marketing, conversion rate optimization, and top-notch web design and development.
With profound expertise in these pivotal services, Hunter Digital takes an analytical approach to craft strategies and optimize campaigns for outstanding results. They continuously monitor and analyze performance data to adapt tactics and ensure that clients effortlessly attain their business objectives.
Renowned for their remarkable work with successful brands such as Adidas, Bench, and Ashford, Hunter Digital meticulously designs custom plans tailored to each client's unique goals. Whether the aim is to heighten brand recognition, generate valuable leads, or skyrocket sales figures, they consistently deliver.
Based in the heart of New York, their team stays impeccably informed about the latest industry trends and cutting-edge technologies. By applying these advanced solutions, they provide clients with nothing less than the very best. With unwavering commitment to transparency and open communication, Hunter Digital stands as the ultimate choice for DTC and e-commerce businesses seeking exceptional growth.
Backed by seasoned professionals, a data-driven approach, and an impressive track record of success, Hunter Digital offers the experience, insights, and results that growing brands crave in a digital marketing partner.
Anchour
Anchour, a full-service marketing agency based in Lewiston, Maine, specializes in helping businesses of all sizes enhance their online presence and connect with target audiences.
With a wide range of services, including website design/development, search engine optimization, content marketing, social media marketing, pay-per-click advertising, email marketing, graphic design, and video production, Anchour offers comprehensive solutions to meet diverse marketing needs.
Anchour stands out because of their passionate and highly skilled team of professionals, who are wholeheartedly devoted to achieving success for their clients. Their unwavering commitment to delivering exceptional service and tangible results sets them apart from the rest. It's no wonder that Anchour has been recognized as one of Inc. 5000's fastest-growing companies in Maine.
Being a local agency, Anchour possesses in-depth knowledge and understanding of the unique needs and goals of Maine-based businesses. This, combined with their seasoned team and comprehensive full service agency offerings, makes them the perfect marketing partner for any regional business looking to enhance their online presence and engage with more customers.
For businesses in Maine seeking innovative marketing strategies and impeccable execution, Anchour is the premier choice to fuel business growth.
Tilt Metrics
Tilt Metrics is a boutique B2B digital marketing agency focused on driving leads, brand awareness, and sales through paid search and social ad campaigns. Their team of experts takes a data-driven, results-focused approach to digital marketing strategy and execution.
For each client engagement, Tilt Metrics starts by conducting an in-depth audit of the website, existing campaigns, and target audience. Using these insights, they develop a custom strategy tailored to help clients achieve their specific marketing goals.
Tilt Metrics offers an array of digital marketing services including paid search advertising, social media advertising, SEO, content marketing, and website design and development. With a proven track record, they have formed successful partnerships with software companies, SaaS businesses, B2B tech firms, and organizations of all sizes. These collaborations have enabled them to deliver outstanding results in lead generation and digital marketing, resulting in closed revenues of over $20M. Their expertise has generated a significant count of 10,000+ valuable leads.
As a boutique, trusted performance marketing agency in Boston, Tilt Metrics leverages analytics across every initiative to optimize performance. Their proven success record, flexible service offerings, and close-knit team of experts make them an ideal choice for any B2B business looking to elevate their digital marketing strategy and execution.
Sculpt
Sculpt, located in Iowa City, is a global, remote-first B2B social media marketing agency that helps companies of all sizes grow their audience, engage with decision makers, and drive marketing qualified leads. Their team of strategists, campaign managers, and creatives takes a data-driven, results-focused approach to social media marketing.
Sculpt begins each engagement by conducting a thorough audit of the client's existing social media presence, competitor activity, audience insights, and channel opportunities. Armed with these key insights and the client's business goals, they collaboratively develop a strategic roadmap to expand audience reach and achieve growth objectives.
Sculpt's comprehensive services include social media strategy development, high-quality content creation, daily social media account management, paid advertising campaigns, influencer marketing, and more. They have forged successful partnerships with Fortune 500 enterprises, growth-stage startups, best-selling business authors, and other businesses and organizations committed to achieving tangible social media results. Their exceptional performance earned them recognition as one of the Top 100 Marketing Agencies of 2022, according to the Agency Spotter award.
As a trusted, results-oriented partner, Sculpt leverages data and analytics to optimize every initiative they undertake. Their proven success record, flexible service offerings, and global remote-work model make them an ideal choice for any business looking to elevate their B2B social media marketing strategy.
Impactable
According to Upwork, Impactable is the #1 LinkedIn Ads agency in the United States, renowned for their top-ranking services. With over a decade of unrivaled expertise, their accomplished team in San Antonio has been instrumental in facilitating the achievement of marketing objectives for over 1,000 companies across 30+ countries. Specializing in lead generation, brand awareness, and driving sales, Impactable caters to businesses of all sizes.
Their array of services encompasses the creation and management of impactful LinkedIn Ads campaigns, personalized LinkedIn Outreach to connect with ideal prospects, community management and the development of engaging content that captivates the target audience.
Functioning as a data-driven agency, Impactable leverages analytics to meticulously monitor campaign performance, ensuring optimal outcomes. Committed to providing exceptional customer service, they genuinely value client satisfaction, promptly addressing queries and assisting in fulfilling their objectives.
As the unrivaled leader in the field of LinkedIn Ads, Impactable combines their extensive experience with comprehensive services tailored to amplify any brand's LinkedIn strategy. Their hallmark approach lies in continuously optimizing campaign performance through data analysis.
If you aspire to bolster your business through LinkedIn Ads, look no further than Impactable, an outstanding choice that guarantees growth and success.
Looking to scale or increase your revenue? Digital marketing solutions are proven to grow your business
Conclusion
Digital marketing services play a crucial role in helping businesses thrive in the current digital age. In order to promote products or services online and gain a competitive edge, it is vital for businesses to partner with top-notch agencies that specialize in b2b digital marketing. The agencies listed above are among the top 10 providers in this field. By collaborating with any of these agencies, businesses can tap into their expertise and experience, effectively maximizing their return on investment (ROI) and achieving their marketing goals.
Partnering with a top b2b digital marketing agency not only provides businesses with a competitive advantage but also saves them valuable time and resources. Instead of investing in building an in-house marketing team, businesses can leverage the expertise of these agencies, freeing up their internal resources to focus on core business operations. This collaborative approach allows businesses to harness the power of digital marketing while realizing cost-efficiency and driving long-term growth.