A total of 3,759,710 construction companies operate in the US, including real estate developers, general contractors, engineering firms, remodeling companies and material suppliers. No matter the size of the company, digital marketing can benefit every business in the industry.
Businesses in the construction industry used to working in the physical world may find the digital world strange and tricky to navigate.
Our team of experts has created a beginner's guide to help your business take full advantage of digital marketing for construction companies.
Building a Digital Marketing Strategy for the Construction Industry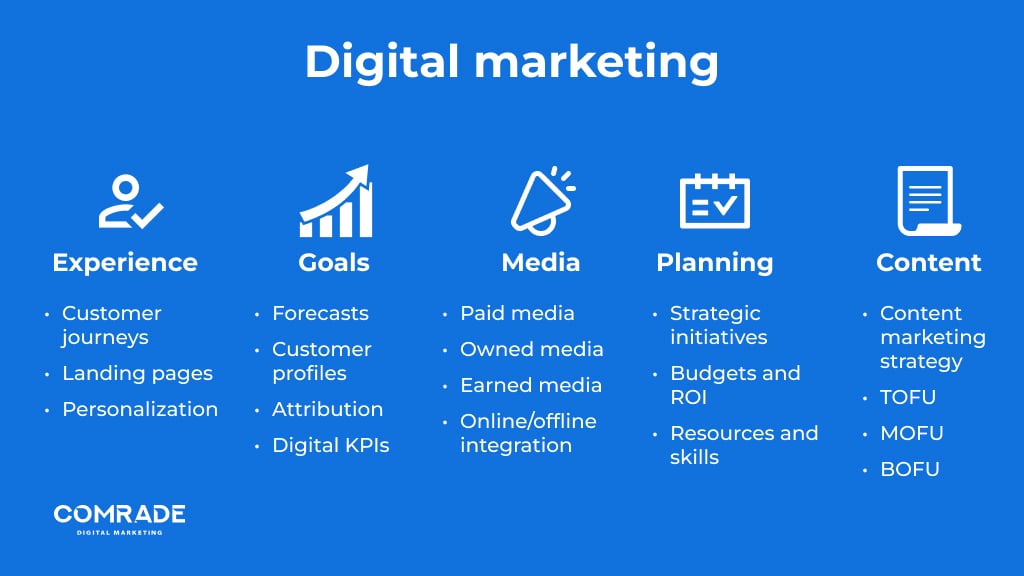 Like many industries, construction companies have experienced their fair share of challenges since the outbreak of the pandemic, such as labor shortages and project stagnancy. All businesses face unique obstacles, but in 2023, as everyone adjusts to the new normal, you don't want digital marketing to remain a stumbling block.
A competitive disadvantage and loss of relevance are two major costs outlined by the Digital Marketing Institute for businesses that don't embrace digital marketing. Failure to innovate or think outside the box will hold companies back.
In today's digital world, experimentation, agility, and flexibility are required for successful construction marketing.
Currently, the industry is crowded with traditional marketing methods. Many a construction company has not yet fully leveraged the prowess of social media platforms and even digital marketing as a whole to expand their customer base and boost their bottom line. In general, the industry is yet to adopt digital marketing on the scale of other industries. Companies that do will leapfrog the competition by establishing an early online presence where competition is relatively still scarce.
Does your construction company have a plan for growth in 2023?
For modern businesses, digital marketing is ubiquitous. Unlike a billboard, it's targeted, cost-effective and measurable, which is advantageous for smaller companies, who may not have an established presence in the current marketplace. Nowadays, many construction companies will hire a digital marketing company to focus their marketing efforts. Any digital marketing expert will tell you that online marketing requires a detailed multipronged approach, but in the meantime, let's outline a broad brushstroke digital marketing strategy.


Success Stories
Delivering Business Results: Our Digital Marketing Case Studies
Let's get to know
Why Construction Companies Need a Digital Marketing Strategy
A construction company's marketing is one of its most important tools for maximizing its performance. No matter the effectiveness of your business, you will not reach the right audience without the right marketing. Marketing plays a crucial role in construction, so do not underestimate it.
In the 21st century, Google has become the new Yellow Pages. Consequently, companies lacking an online presence will lose market share and experience gradual profits declines.
By using both paid and unpaid media, a construction marketing strategy is designed to attain business goals. In other words, it allows businesses to reach customers online, wherever they are.
In order to reach new customers, it is essential to have a marketing plan for a building materials company. With the rise of social media platforms and mobile devices, digital marketing is making it possible for businesses to reach a broader audience, increase sales, and build relationships with long-term customers.
8 Tips for Digital Marketing for Contractors and Builders Services
Your business can demonstrate value to its customers and acquire more leads by following these top 8 tips, from harnessing social media to setting up local SEO.
1/8 tip
1. Always Show Your Online Contacts
Back in the day, it used to be that you'd exchange business cards, or someone driving past a construction company's billboard would take down the name and number if it wasn't a business they immediately recognized. Most construction companies strategically place signboards around the sites they're working on, but not many include their online contact details, i.e., website and social media handles.
What Makes Social Media So Important for the Construction Industry?
While construction businesses aren't the same as retail ones, prospective customers will at the very least search for your website; some may even follow your social media accounts. As it is, 74% of marketers believe social media is an effective tool to reach potential clients. This raises another important question: Are your website and social media operational and user-friendly?
Referencing your website and social media accounts when they're in poor form may do more damage to your business operations.
It only takes about 0.05 seconds for potential clients to form an opinion about a website that determines whether they like it and if they'll stay or leave.
If you need a good reference, take a look at Bechtel, or Murray & Roberts, for example.
What Should You Check on Your Construction Website?
A great website looks good and is correctly optimized to rank high in search engine results. Each page has a clear function and directs clients to take a specific action, i.e., book a consultation, find out more or sign up to a mailing list. Of course, the end goal is always to increase sales. Drawing on the example of Bechtel's website, on the first page, you can already see the opportunity to learn more about their construction services.
A strong website will usually have the following components: purpose and clarity, usability, user-focused, navigability, great appearance, as well as ease of updates and content management capabilities, as well as SEO, and analytics.
Why Should Builders Use Social Media?
While not technically your website, your social media channels should convey a consistent look and feel, while messaging should maintain a consistent tone. Social media channels should be used for brand awareness, to reach your target audience, and position your company as an industry leader by publishing material that's part of your content marketing strategy. Think of your construction company's website as your virtual office front, and social media as its "dial-in" broadcasting platform.
---
2/8 tip
2. Build an Effective Local SEO Strategy
Local SEO – What Is It?
If you've done research on digital marketing in construction industry, you would have come across the term search engine optimization or SEO. The leading marketing software platform Yoast describes it as, "The practice of optimizing your webpages to make them reach a high position in the search results of Google and other major search engines." In rudimentary terms, SEO is the process of taking a piece of online content and optimizing it, so search engines like Google show it towards the top of the page when someone searches for something online.
What Are the Benefits of SEO for Local Construction?
No doubt, SEO is a digital marketing prerequisite and the foundation of any digital marketing strategy, regardless of the industry. It focuses on improving rankings in organic (non-paid) search results. Construction companies wanting to boost their online traffic (visitors to their website) and increase brand awareness should have local SEO, which forms part of their overall construction marketing strategy.
Is Local SEO a Good Way to Attract New Customers to Your Website?
Local SEO is the process of optimizing a construction business website for a location-specific search query. Google uses an IP address (for desktop) and geolocation (for mobile) to determine which businesses to show potential clients. So if a prospective lead searches for a local construction business, the search engine will only display those businesses relevant to their location. When it comes to a construction company's visibility, smaller businesses operating on a regional level using local SEO may have some leverage over larger national brands.
Strategies for Local SEO in the Construction and Remodeling Industry
To implement local SEO for contractors, you will need to set up a free Google My Business account. This allows you to list your company online on Google Maps and local search results, as well as provide important information about your business, including opening/closing times, contact details, reviews, and links to your website.
You can improve your website traffic and enhance your local SEO ranking by:
Listing your business address correctly
Ensuring your Facebook page has your address
Adding your address to local directory websites
Asking for customer reviews
Engaging with social media mentions (search engines monitor feedback and rank websites accordingly)
Optimize your site for voice search (46% of internet users make use of voice search when scanning for information about local businesses)
Your local SEO could be affected if your website isn't optimized for mobile, especially because Google uses mobile-first indexing, meaning that the search engine will prioritize indexing the mobile version of your website before the desktop version. If your website doesn't work well on mobile browsers, other mobile-friendly websites may rank higher than your company's.
On the upside, many website design platforms already have mobile-friendly templates, and if you get your website professionally designed, the web developer or agency should include mobile responsiveness as part of their offering.
Comrade Digital Marketing Agency can help you with the above if you're unsure how to go about it. Schedule a free consultation.
---
3/8 tip
3. Ask Clients for Reviews
Nearly 90% of consumers read reviews before making a purchase. High ratings and glowing feedback from satisfied clients build trust and social currency, whereas poor review management could turn away a massive chunk of more qualified leads. Because current consumers harness immense influence in the digital arena (we've all seen how a single Tweet can move a market), it's critical to not only have a social media presence but also a robust review and reputation management strategy.
Is It Okay for Contractors to Respond to Negative Reviews?
Of course, this doesn't mean you should shy away from negative reviews. It's pretty much impossible to avoid one or two unsatisfied customers here and there, so long as you respond to them promptly with the appropriate action.
The online reputation of a construction company serves as a trust signal that determines if your target audience will do business with you, so keeping your pulse on customer feedback is paramount.
Are Reviews Helpful to Small Contractor Companies in Improving Their SEO Results?
The number of reviews responded to and not responded to directly impacts search engine ranking. Keeping tabs on online reviews is beneficial on two fronts; 1. Showcasing positive reviews act as a conversion optimization tool 2. Implementing feedback from negative reviews can improve customer service and products. Generally, it's among good construction marketing ideas to monitor reviews on social media channels. Some, like Facebook, already have review integrations.
How Can Construction Company Social Media Experts Help You?
Each construction company will use social media differently. And remember, you don't need to have social media pages on every platform, only those where your potential leads are. Once you've established an online presence on appropriate social media, you'll want to develop a review management strategy that covers:
How quickly you respond to reviews
What members of your team will respond
A protocol for bad reviews
Sometimes responding publicly to bad reviews can work in a company's favor because it demonstrates accountability. Of course, this requires discretion; there's a difference between entertaining a troll and resolving a genuine customer complaint.
That being said, it's often much more effective to use an online reputation management tool to monitor performance and provide alerts when new reviews are posted. Hiring a professional digital marketing company to manage your social media platforms and reviews, is also an effective solution to ensure your digital marketing efforts are up to scratch.
If you want to perform a quick reputation audit of your company, all you need to do is open up an incognito Google window and type in your company name. Take a good look at the sites that appear on Google's very first page. You should also identify what Google My Business-related features appear like ratings, comments, reviews, and user-generated photos.
---
4/8 tip
4. Follow Up on Old Leads with Email Marketing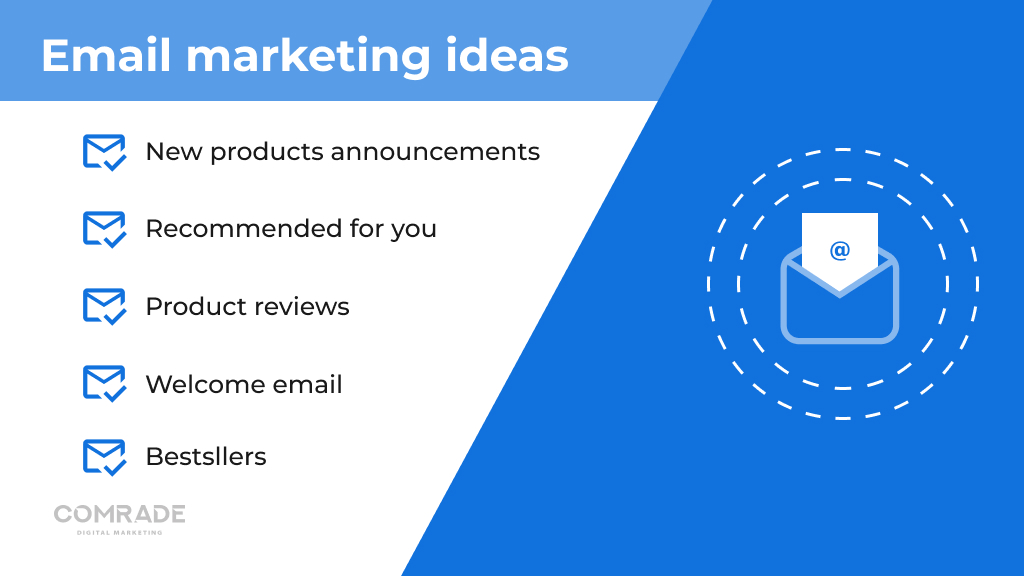 A large construction company or small handyman business won't typically service the same client regularly. However, it is always advisable to follow up on old leads so they don't turn into missed business opportunities. The best way is to meet them where they are.
Of course, you can utilize different email marketing ideas depending on the type of business you have. Let's say you have an HVAC business. Now, you might decide to send a quarterly newsletter to your client base that offers seasonal specials, updates them on new products, and contains a link to a piece of content marketing from your website that offers valuable marketing.
99% of consumers check their email every day, which explains why email marketing has one of the highest contractor marketing ROIs.
Through one email, you remind old clients of your services, advertise new products, and send more traffic to your company website, automatically improving your Google ranking. This makes an email marketing campaign incredibly effective because it can fulfill multiple contractor marketing functions at once.
---
5/8 tip
5. Engage Your Audience on Social Media
Social media marketing is an important component of contractor marketing. Potential and existing customers already interact with brands through social media, so if you're not speaking directly to your customer base on Facebook, Twitter, and Instagram, then you're missing out on countless opportunities to procure more clients. Data released by the Pew Research Center indicates that seven out of ten Americans use social media marketing to connect with each other, share information and entertain themselves.
While social media marketing includes using different platforms as a marketing channel to advertise products and services, it's also good to build community and brand engagement. Construction marketing companies will typically post text and image updates, videos, and other contractor marketing material to drive audience engagement. The Bechtel Corporation's Facebook page frequently updates their followers on events and initiatives they have been part of, as opposed to directly advertising their services, for instance.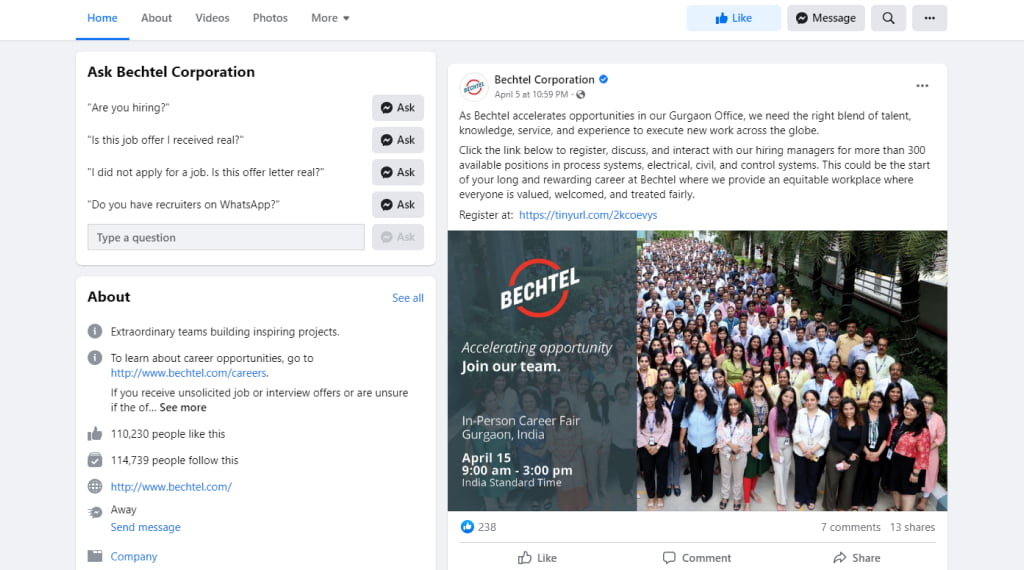 Why? Social media helps build brand awareness, identity, and positive brand association. Due to their participation in climate change initiatives and community outreach, they've established a positive reputation, which makes them seem reputable and like the sort of company you'd want to do business with. On a smaller scale, you can see how electrician company Wizard Electric uses Facebook to promote their specials and services. Other marketing ideas include social media posts that share valuable content in the form of blogs or videos to drive traffic to your website and establish your company as an expert in the construction industry.
---
6/8 tip
6. Don't Forget about Video Marketing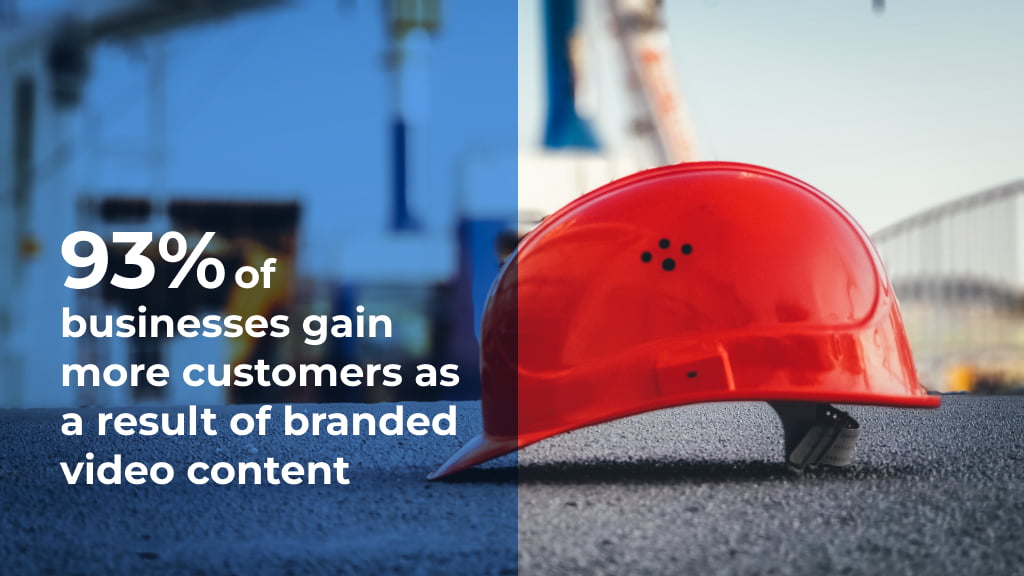 93% of businesses gain more customers as a result of branded video content. Besides being a preferred content consumption medium, video marketing adds a human face to your business, offers social proof, and proves the expertise of your contractor marketing services. Videos that do well online are usually no longer than two minutes and succinctly communicate one idea.
Your contractor marketing has to generate leads by engaging your client base in different ways at multiple touchpoints, meaning that each video has a specific purpose. Some will be to raise brand visibility, while others may be a hard sell to make a purchase. Contractors and construction companies can use videos to:
Showcase portfolio work
Highlight special projects with before and after videos
Impart valuable tips to attract new customers
When it comes to video, there are loads of contractor marketing ideas that can help your business grow. Just remember to set out clear contractor marketing goals and ensure your videos are suitable for each social media platform. For example, posting a video to your Instagram feed should only be 60 seconds, but it can be fifteen minutes long if you upload it to Instagram TV.
---
7/8 tip
7. Cooperate with Other Companies
Just as businesses are built on relationships, so too is a digital marketing strategy. HubSpot defines guest blogging as, "a content marketing tactic that involves writing and publishing one or more articles for other websites." Guest blogging will raise your company's profile and create valuable backlinks* that boost your ranking on search engine results pages.
Google is increasingly attaching authority not just to websites, but prominent industry leaders as well. For example, if Jeff Bezos were to write an article about the future of retail on a completely unranked website domain, Google would rank it higher. While the domain might not have the SEO track record, Bezos' individual authority would make the article worth being on the search engine's first page.
Guest Blogging: What Is It and How Does It Work?
Guest blogging is an easy way to create authority as a construction company. If you create content that appears in leading construction industry publications, you acquire greater legitimacy. In some ways, by syndicating your content, the publication acknowledges your authority. The more sites your content appears in one, the more authoritative you appear to search engines.
Marketing software company SEMrush highlights other advantages like:
Getting targeted traffic to your website
Capturing increased leads
Receiving quality backlinks
Developing social proof
Maintaining an online presence
A great guest blog should funnel people to an outcome, not merely your website's homepage. Most new guest bloggers don't think about where they're funneling their readers to. If your goal is to get as many email subscribers as possible, you'd create a lead capture landing page to do so. On the other hand, if you want a greater social media following, you'd encourage readers to stay up to date with your company by following your profiles.
If you're thinking it's too much work or have insecurities around writing, you needn't worry. Here's the open secret: You can hire construction marketing professionals to write and develop email marketing content, video marketing videos, and any other content required for your construction company.
*A side note on the importance of backlinks: Backlinks are incoming hyperlinks from one web page to another website. They represent a "vote of confidence" from one website to another. Search engines like Google use backlinks to find and rank the best content. Therefore, the more backlinks you have, the higher you'll rank.
---
8/8 tip
8. Keep Your Marketing Campaign Going
Marketing analytics tools provide insights needed to optimize marketing strategies and target the most profitable clients. Better leads bring more sales and improved ROI. With accurate, real-time data, you can better understand client behavior and preferences. It's impossible to know how many page views, visits, and what the traffic patterns of your website are without using Google Analytics, or tools of a similar nature.
How Analytics Can Be Used to Construct Digital Marketing Campaigns
By creating a campaign in Google Analytics, you can track how a specific online marketing for contractors campaign is performing. To better explain, let's use the example of a construction company. The company is interested in local searches because they want to capture the local business. Google Analytics will capture and provide information on social media marketing campaigns like which platform does better.
For instance, after analyzing your construction analytics, you may notice you're getting more traffic on Facebook, but most of your customer engagement is happening on LinkedIn. In which case, you would readjust your marketing strategy accordingly. If Facebook receives more traffic, then it would be wise to place paid ads on the platform, for example.
KPIs for Digital Marketing in Construction and Building
As a rule of thumb, you should track the following metrics:
Qualified leads
Customer acquisition cost (CAC)
Time spent on your construction company website
Bounce rate
Return on investment (ROI)
Customer lifetime value (CLV)
Conversion rate
Organic traffic
A thorough analytic tool will help your construction company understand the effectiveness of its entire digital marketing strategy, not just your website or social media channels. With each marketing element initiative stacked against each other, you can determine the true ROI of your digital marketing strategies. The aim is always for your construction company's digital marketing results to align with business goals.
Analytics should be baked into your construction marketing strategy, not just something that's checked once in a blue moon. When you have evidence from real-time data, you can pursue the right tactics and change those that aren't working. While it can be a struggle to track search engine marketing efforts, with the right tools and team, it really doesn't have to be.
A tip on vanity metrics: Be wary of analyzing metrics that look good to others but don't provide useful data to inform future marketing strategies. For instance, getting many likes on social media is good because it depicts an increase in visibility, but beyond that, it won't necessarily translate into increased website traffic or qualified leads.
---
The Benefits of Hiring a Contractor Digital Marketing Agency
Business owners are often pressed for time to handle their daily to-do lists and internet marketing for contractors. In the same way that architect firms hire engineers to construct buildings, construction companies hire digital marketing experts to expand their businesses.
An expert contractor digital marketing agency knows the industry, the audience, and the revenue goals of your company. In accordance with your budget and goals, they help your business market online to attract new customers, boost sales, and enhance your company's reputation.
Comrade Is Here to Help Your Construction Digital Marketing Initiatives
When it comes to construction marketing, there is so much you can do to digitally future-proof your business and turn potential customers into loyal brand advocates. The first step is having a great website that communicates your company's vision and implementing fundamental marketing tactics. It's no small task, which is why most constriction company's hire digital marketing strategy development agencies to help.
Want to speak with an expert?
Comrade offers comprehensive construction company digital marketing services from implementing social media marketing to contractor website design and development; handling paid advertising, and more. As construction digital marketing agency, we help construction companies increase targeted traffic, generate qualified sales leads, and improve their brand visibility. To find out more and get a free website audit, click here.
Why is marketing important in the construction industry?
Marketing is an integral part of the management functions for construction businesses as a means of adapting to the industry's constant changes, as well as satisfying their clients' demands while remaining competitive and improving their business strategy at the same time.
How do construction companies get customers?
Besides marketing, one of the easiest ways to get leads is to go out and talk to clients. Five to ten potential clients per week is a good target. Introducing your construction company to potential clients in your area and giving a brief sales pitch can help you grow your business.
Where can I find your offices?