Looking for inspiration for a future website for your law firm? Check our list of the 50 Best Law Firms Websites for 2024.
What Makes These High-Performance Websites So Great?
These lawyer websites aren't just well designed: They actually deliver tangible results. They accomplish business objectives, namely getting visitors to contact the law firm and ask for help. These websites enable visitors to easily find the information they need and determine whether these lawyers have experience solving similar legal challenges to their own. And, on the design side, their websites stand out in a sea of boring law firm websites; a unique, bold website design creates a natural bias toward the firm.
For example, before we started to work with Barr & Young Attorneys, they had a decent website with a poor amount of lawyer leads. After our updates and continued partnership, we managed to build them a truly beautiful website. And not just visual changes– their metrics skyrocketed, too. Their qualified leads grew 192% and the company's overall growth in terms of revenue was up 200%.
Here are a few important points we take into account when rating law firm website design:
Website graphic design. If your law firm's website is pleasant to look at, or original in its design, then there is a high chance it will attract more people.
Website UI / UX.  Make sure you don't confuse your visitors! A smooth user experience ensures high retention rates for your potential clients. A clear user interface plays a huge role here.
Site speed. This is one of the most important factors in search engine rankings. If your site doesn't load fast enough then it'll be hard for people to find it, and the ones who do find it will instantly abandon it for something quicker.
Lawyer SEO. What's the point of having a nice attorney website if no one can find it? Correct use of search engine optimization techniques will help you immensely.
Marketing elements/solutions.  Not the most crucial point, but some creativity can help you stand out in the highly competitive industry that is legal services.
And now, examples of the best law firm website designs in the industry – from business law to criminal defense lawyer websites.
The Best Law Firm Website Designs in 2024
1. Litiguard Attorneys
Founded in: 2011
Practice area: Liability, personal injury, construction law, and more
Website technology: WordPress
A very minimalistic and elegant website from Litiguard. Some law websites scream at you with their design. This one? Not so much. Because it doesn't have to. This modern law firm website knows what it is. It doesn't need to shout – it talks to you, and does so in a very professional manner. Its sealed colors help with keeping your attention in one place. As a result, CTA's can do their job very effectively.
2. Hodgson Russ Attorneys
Founded in: 1817
Practice area: Immigration law, tax law, business liability, and more
Website technology: WordPress
Another classic law firm website design. Very simple and easy to understand for users. You don't get overwhelmed and all of the information is conveyed methodically; it's easy to find whatever you might be looking for.
3. Fasken
Founded in: 1863
Practice area: Corporate law, political law, real estate law, and more
Website technology: Sitecore
Now, Fasken. We find this type of web design for lawyers very interesting. They put a lot of effort into typography, which is not as common as you might think. White space with well-designed fonts is easy to read, so nothing gets lost and the company can capture your attention on the things that matter.
4. Obsequium
Practice area: Corporate law, vehicle law, workplace health & safety and more
Website technology: WordPress
Sometimes you don't have to reinvent the wheel, but you don't want to just copy everyone either. Obsequinum shows a good middle ground. Their law firm website has several interesting animations that capture attention but are not very demanding for the website itself. So it offers something catchy visual-wise while not sacrificing technical performance or clarity.
5. Highbridge
Founded in: 2018
Practice area: Seed and venture capital law
Website technology: WordPress
The moment you see this lawyer website – you will never forget it. We mentioned at the start that interesting visual solutions might not be the most important part, but they do leave a lasting impression. This website is a prime example of this. The animation literally organizes itself the further you scroll through the website. Originality like this will definitely stay in users' minds, and they will remember this as one of the best of the many law firm websites and designs they've seen. While several best lawyer websites on this list may follow one paradigm or the other – this one stands apart from the crowd. It's not just a good law firm website – it's excellent.
6. Crucible
Founded in: 2020
Practice area: Criminal law
Website technology: RocketCMS
Crucible offers you a simple, cool-colored law firm website design that reassures you and conveys the law firm's brand and professionalism. But it doesn't get boring, which is crucial if you want to keep your potential client reading. Blocks of text are compact and different enough to keep users interested. This is another example of how you can creatively use the limited amount of space you are given.
Founded in: 2014
Practice area: Criminal law
Website technology: WebFlow
Compassion. This is the main point this law firm website design wants to convey. Everything works towards that goal. Colors, typography, illustrations. Jlongting Law wants you to feel safe, to feel comfortable. Conveying a feeling to your clients may be more effective than a thousand words. Because if the client understands you on an emotional level, they can better trust you.
8. Acapo
Founded in: 1924
Practice area: Intellectual property law
Website technology: WordPress
It might be a good idea for American firms to look at their European colleagues to pick one or two things up. The first screen of this Norwegian firm's site immediately encourages users to get in contact with the firm while not prohibiting them from exploring deeper. Next, they have a very handy layout of the industries they specialize in, as well as their motto. This website may not be as special as some other examples we have here, but sometimes going a more simple route can bring you the best possible results. Always keep that in mind!
9. Kasowitz Benson Torres
Founded in: 1993
Practice area: Business, estate litigation, and more
The next firm on our list is Kasowitz Benson Torres. We love how they use strict-color design and how well it reflects the company's philosophy and culture about achieving the very best results for their clients. And another thing we love about this beautiful website is that there are videos on its homepage. Videos provide a great user experience, especially if you use them to answer some of your prospects' more complex questions or to present your services in a simple way.
10. Bick Law LLP
Founded in: 2015
Practice area: Environmental law
Website technology: WordPress
Bick Law LLP's website is full of brave design decisions; they use colorful pictures on the first screen that perfectly capture users' attention, so they can clearly convey their commitment to providing high-quality legal services with a lot of commendations and awards. The short FAQ section later provides users with the vital information they're looking for. This simple, yet functional, and user-friendly lawyer website capture the individuality of Bick Law LLP and its services.
11. Staver Accident Injury Lawyers, P.C.
Practice area: Personal injury
Website technology: WordPress
This Chicago personal injury law firm tells you everything upfront. They give you a snapshot of all the most important stats, and the homepage allows you to dive into anything you would like to learn about the company. They also elaborate on their attorneys, experience, and testimonials. This website instills confidence on all fronts.
12. Barr & Young Attorneys
Founded in: 1998
Practice area: Trust litigation, elder abuse, and more
Website technology: WordPress
Barr & Young Attorneys' website's one-style design perfectly reflects the company philosophy. Well-developed website categories about their legal team and practice areas allow the clients to focus on the services they need. Their user interface is simple to understand while simultaneously portraying elegance and professionalism. Fast loading speeds and smooth transitions ensure high user retention rates overall.
13. Aulich Law
Founded in: 2007
Practice area: Criminal law and civil law
Website technology: WordPress
Aulich Law's eye-catching design distinguishes it from many other law firms' websites out there. We love this site's minimalist design, which also plays on contrast with changing colors when selecting another section of the menu. Such attention to detail and the easy-to-navigate structure are exactly the interesting design solutions we love to see on law firm sites.
14. TSMP Law Corporation
Founded in: 1998
Practice area: Corporate law, real estate law
Website technology: Joomla
TSMP Law Corporation's website features great lawyer web design and great media files which are the main reasons we included it in our top website list. Their uncluttered visuals provide a clear user experience. Also, they managed to avoid a crucial mistake with technical optimization. The choice of text presentation requires smooth transitions, nothing should lag or feel clunky to read, and they did a great job that should inspire your own site.
15. Davis Wright Tremaine LLP
Founded in: 1944
Practice area: Litigation, environmental law, and more
Website technology: Sitecore CMS
This website, from DWT LLP, has a very curious design solution. A lot of users face challenges when looking for information on lawyers' websites. Typically, when want to look something up, we go to search engines. And what do search engines have? That's right, a search bar! So they basically integrated their own search bar front and center. This is a very interesting decision for a front page. It also doesn't detract from anything else, because links to different sections of the site are clearly visible on top.
16. Groom Law Group
Founded in: 1975
Practice area: Financial law, tax law, and more
Website technology: WordPress
Awards, reviews, and testimonials play a huge part in making an impression for any business, and legal services are no different. So, Groom Law Group decided to put their most prestigious award right on top. And it worked! It doesn't mess with their web design for law firms. Instead, it adds to it! It's very tough to create an organic and immersive awards section, but this law firm managed to do a great job.
17. YLaw Group
Founded in: 2013
Practice area: Family law, divorce law
Website technology: WordPress
YLaw Group decided to put visuals first and foremost. Putting forward their team with the message 'be heard' is a very smart move. They are a family law firm, they have to be closer with their clients than most. Here they manage to convey their commitment to the cause and that they all come from different walks of life the moment the client lands on their website.
18. Miller Thomson LLP
Founded in: 1957
Practice area: Business law
Website technology: WordPress
Miller Thomson LLP's website's simple yet elegant design is user-friendly and engaging. It clearly presents the most important information about the organization and certainly should be added to your must-see list.
19. Gecic Law
Founded in: 2015
Practice area: Constitutional law, family law, and more
Website technology: WordPress
The website's distinctive features are a minimalist design and high-quality media which guide visitors and help them focus on what's most important. Also, that small glowing button 'Lawyer Awards 2020′ manages to catch attention without really detracting from anything else on the website. Also, these are great transitions between sections. Just look at them – don't you just want to call the company right now? What a great use of space, that greatly contributes to a positive user experience.
20. Axiom
Founded in: 1999
Practice area: Contract law, finance law, and more
Website technology: HubSpot CMS
A good example of more or less classic legal website design. A simple, elegant, and client-oriented website sets the stage for visitors to easily find all the information they might need to get to know Axiom's services, experience, and much more. Also putting such companies like eBay, EA, Coca-Cola in the review section shows their flexibility and experience in vastly different fields.
21. McCarthy Tetrault
All the top law firm websites place a strong emphasis on branding and showcasing their unique qualities. McCarthy Tetrault stands out by effectively highlighting what sets them apart from other firms through their captivating tagline.
22. Hamra Law Group
Hamra Law Group excels in providing easy access for prospective clients to get in touch with them. Their contact information takes a prominent position on the website, along with active social media engagement, ensuring that potential clients remain engaged and guided through the process.
23. West Coast Trial Lawyers
The most captivating lawyer websites immediately capture your attention, and West Coast Trial Lawyers shines in this aspect. Their homepage proudly displays their extensive team, glowing reviews across various platforms, and the impressive monetary settlements they have achieved for their clients.
24. White & Case
White & Case, an internationally renowned law firm catering to government entities, corporations, and financial institutions, has unique website requirements compared to B2C firms. Their website exudes professionalism and reliability, opting for a classic black-and-white aesthetic instead of vibrant colors.
White & Case also stands out for providing exceptional and comprehensive content within their practice area. Notably, they feature a distinctive lawyer search function, demonstrating the extensive size of their legal team.
25. Kegler, Brown, Hill & Ritter
Given their focus on serving businesses, Kegler et al. face the challenge of creating a trustworthy first impression that aligns with their clientele's expectations. To address this, they have developed a professional and user-friendly attorney website design.
Lawyer website design emphasizes the firm's global outreach and diverse range of practice areas, each accompanied by a comprehensive power page, providing visitors with valuable insights into Kegler's expertise.
26. Bend Law Group
Bend Law Group, a prominent business law group in California, encourages prospective clients to embrace their ambitions and 'dream on.' They go above and beyond by providing a wealth of information to assist small business owners in getting their enterprises up and running, all at no cost.
27. Reese Marketos LLP
Why it stands out: By incorporating a captivating video background, this law firm's website effectively captivates and maintains the interest of potential clients. The website's layout is thoughtfully structured, ensuring easy navigation and accessibility to essential information.
28. Horea Crisan
Why it captivates: The website's grunge aesthetic and bold, stylish serifs create a visually striking and cinematic atmosphere, instantly grabbing the attention of prospective clients. Prominent on the homepage are the law firm's key practice areas, including criminal law, personal injury law, business law, and workplace law.
29. Aharoni Business Law
Why it excels: The hero section of this website boasts an attention-grabbing tagline, accompanied by friendly colors and icons. Moreover, the homepage provides a clear and straightforward contact section, simplifying the process for potential clients to reach out to the firm's lawyers.
30. Foundd Legal
Why it impresses: This attorney website exudes a cozy and enjoyable atmosphere, featuring excellent use of whitespace for a well-ventilated feel. The modern typography and overall design of the law firm's website emit a creative and innovative vibe.
31. Locks Law Firm
Locks Law Firm, a distinguished personal injury law firm with offices in Pennsylvania, New Jersey, and New York, instills confidence in its clients right from the homepage by highlighting its outstanding track record—having secured over $1 billion in settlements. The website allows clients to determine if they have a case promptly, without the need for immediate contact, and conveniently provides a form to reach out to the firm directly.
32. Houston & Alexander
Houston & Alexander, attorneys from Chattanooga, optimize their website with live chat for visitor queries and lead conversion. Expertise in SEO is essential for success. They offer a wealth of localized content, including blogs, practice area power pages, and resources. Houston & Alexander effectively engage with their audience, utilizing live chat and tailored content marketing to bolster their online presence and convert leads.
33. Parikh Law
The site boasts an impressively modern and sleek design built upon a minimalist layout, effectively showcasing the attorney's expertise and experience. The skillful use of whitespace, typography, and color scheme achieves a harmonious balance and enhances the user's browsing experience.
34. 1800 Injured
1800 Injured places utmost importance on clarity and user experience, evident in their well-crafted website. Visitors can easily locate the information they need without any hassle. The website also features high-quality images that offer a personal touch, portraying the attorneys in action.
35. Zafiro Law
Zafiro Law's website features a clean and minimalist design, ensuring effortless navigation. The site maintains a sleek flow, employing a neutral color scheme and simple typography that conveys a professional and contemporary aesthetic.
36. Andreozzi + Foote
37. Vela Wood
38. Robbins Firm
39. Surrano Law Offices
40. Oykhman Criminal Defence Law
41. Bhatt Law Group
42. Brenton Legal
43. Chudnovsky Law
44. Taylor Janis Workplace Law
45. HopgoodGanim
46. DAHL
47. Miles & Stockbridge
48. IdeaLegal
49. Oyen Wiggs
50. Tremain Artaza
12 Tips for a Better Law Firm Web Design
To create a great law firm website, it needs to have strong branding, be easy to navigate, offer a lot of useful content, and be easily accessible to users. All great law firm websites adhere to these critical rules and features
In the world of law firm marketing, attorney web design is a crowded field. In Central LA alone, you're contending with 220 million web pages just to make it to the top of the search results. It's tough going, but well worth the effort for those who succeed!

To thrive in your legal practice, your website needs to rank highly in organic search results. Having high visibility is crucial because potential clients may not take an interest in your services otherwise.
If your objective is to expand your legal practice and help people, then obtaining professional assistance is a must to achieve that goal.
The good news is that Comrade can help.
We specialize in SEO for Personal Injury Lawyers and attorneys in competitive markets to rank for the most coveted keywords.
client results

Area: Personal Injury

GEO: Indiana

Current Result: #3 for dui attorney
1/12 tip
1. A Clear Outline of Your Practice Areas
Clients need to know what your law firm can help them with. Don't make them dig through your website to glean what your legal practice and areas are. Be clear and concise in conveying your areas of specialty. Prospective clients will hone in on this clear display of information and appreciate the ease with which it was found on your website.
2/12 tip
2. Professionalism Should Be Clearly Conveyed
There are countless lawyers in the marketplace, all competing for clients. Some flashy. Some understated. Some lawyer websites are lackluster and others are far more complicated to navigate than they should be. A well-designed website should convey your law firm's professionalism, high ethical standards, and clear calls to action.


Success Stories
Delivering Business Results: Our Digital Marketing Case Studies
3/12 tip
3. Your Website Should Give Visitors a Sense of Security and Trust
A properly designed website with professional branding and law firm messaging and replete with important information in an easy-to-navigate format will help to engender trust in your prospective and existing clients.
4/12 tip
4. Feature Clear Law Firm Branding
Your brand is the heart and soul of your business. It conveys the first impression to your clients and will either engender trust or turn them off. Be sure that your branding is consistent, strong, and on-message, yet approachable.
5/12 tip
5. Increase Leads and Conversions
The most important point here is that your lawyer's website is a driving tool for your business. It is not there to be a brochure, but rather to drive increased caseloads and, therefore, revenue. If designed properly, your website will do just that.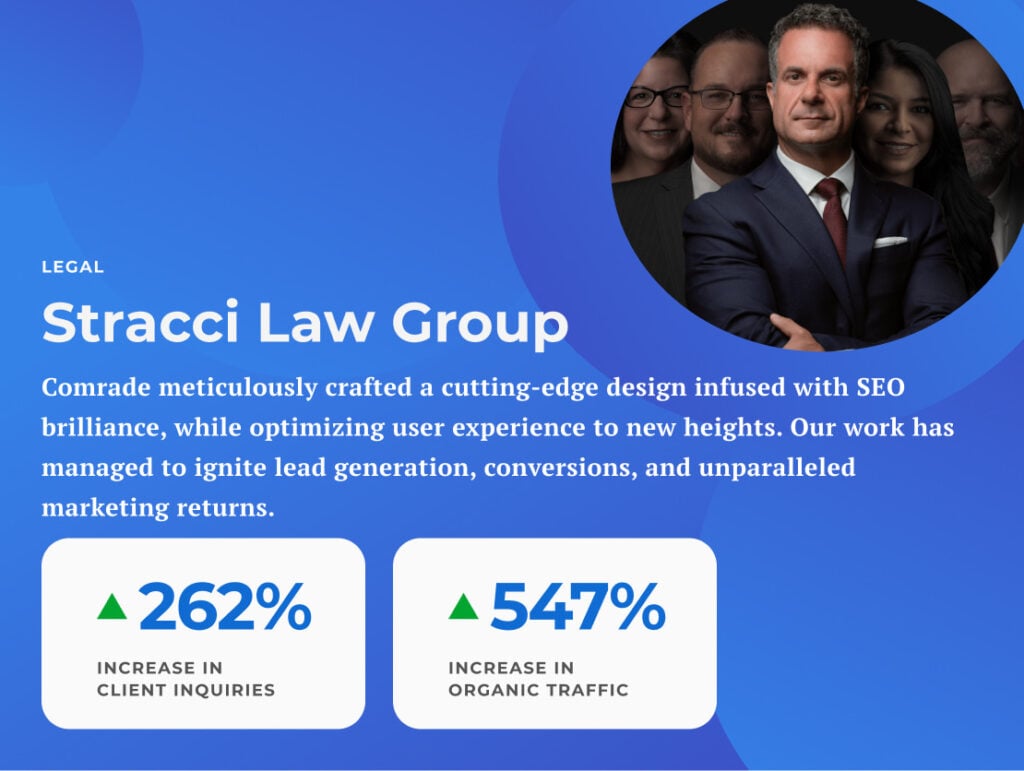 6/12 tip
6. Garner and Retain Your Clients' Attention
Your blog, client webinars, videos, helpful landing pages, and other information can all be housed in your website to serve as not only an SEO booster but a consistent mode of engagement with your clients. By providing valuable information in the form of content, your website will become prospective clients' most valuable resource.
7/12 tip
7. Don't Let Your Marketing Strategy Become Stagnant, Evolve!
A fast site speed will result in a better user experience, while slow site loading times can cause users to bounce. Studies have shown that when page loads are under three seconds they tend not to be as intrusive on the visitor and their conversion rate also improves along with them spending more time browsing your website overall. Google takes loading speeds into account when determining your website rankings. So, it's a very important factor for lawyers who want high rankings online.
8/12 tip
8. Fast Loading Speed, Modern Technologies
A fast site speed will result in a better user experience, while slow site loading times can cause users to bounce. Studies have shown that when page loads are under three seconds they tend not to be as intrusive on the visitor and their conversion rate also improves along with them spending more time browsing your website overall.
Google shows how important loading speeds are – after all, it is one of the most crucial points when ranking your website in search engines. So, if you want your attorney website to have high rankings online this is exactly what you should pay attention to.
9/12 tip
9. Mobile-Friendly Websites for Lawyers Get Leads
You might have noticed an abundance of Android and iPhone smartphone users. Whether you hate them or hold them like a blanket wherever you go for comfort, you must acknowledge the growth of mobile technology.
To succeed on mobile, you need to create content and designs that work on a multitude of screens.
As Louis Sullivan stated, "Form follows function." The reference was toward skyscrapers. Yet, he would appreciate how this concept remains true in our mobile-obsessed world.
When you design your site to fit mobile devices, you communicate your message to all your potential and current clients.
10/12 tip
10. Be SEO-Friendly
Search Engine Optimization. You've definitely heard about it a thousand times. If you didn't, let us explain why it is important. You can have the most beautiful website in the world, but if it's not optimized for such search engines as Google, no one will see it. Being SEO-Friendly is crucial if you want to create a law firm website. It doesn't bring just rankings. There are a lot of benefits to SEO.
SEO is a powerful tool that can help you get ahead of your competition. The majority of search engine users (more than 70%) are more likely to click on one of the top 5 suggestions. If you have a competitor who offers the same services, and you have good SEO then it's likely potential clients will choose you. An increase in your organic search traffic can be both a direct and indirect benefit of SEO, giving more people a chance at learning about you through search engines like Google or Bing while also increasing site visitors overall with their social promotion over other channels such as Facebook & Twitter.  A well-optimized website makes users want to share information with their peers! And last, but not least, SEO is not only about positioning your website higher up among those results, but it also improves a site's user experience and usability as well!
11/12 tip
11. It's a Niche, not a Pigeonhole
Many attorneys don't want to get pigeonholed into a specific area of law.
The challenge is unless you are the largest law firm in your town or city, you need to have a niche. People want specific information. If you do everything, then your message is not specific to your client's individual needs.
Additionally, focusing on a practice area improves your lead-generation efforts. It is easier for a residential buyers' attorney to generate leads and more clients than an estate planning and real estate attorney.
Besides, you do not have to turn down the estate business when it comes your way.
12/12 tip
12. Have Your Own Look
Where to find law firm website design inspiration? You have a million other attorney websites out there that all look like carbon copies of each other. They end up using the same stock photos with the same boring meetings with customers in the office.
While you don't want your attorney getting too creative, it is good to have an attorney who can show they are different from the herd.
Take this Barr&Young image below of how Lies are Expensive. We all heard about the wolf in sheep's clothing before. However, this image makes it strikingly clear how things can go wrong with the wrong Trustee.
Instead of bragging about how they are different, they show the visitor how they can help them with a clear vision.
Conclusion
If your law firm has a website that makes people fill out your contact form or call you, you'll enjoy a high marketing ROI and quick growth. On the other hand, if your website doesn't resonate with potential clients, you will lose time and money on advertising only to see prospects exiting your web page and calling your competitors. It's time you transform your website into a 24/7 sales rep and our Chicago-based legal marketing specialists would be happy to help you achieve that!
Want to speak with an expert?
Frequently Asked Questions
What should be on a law firm website?
It is important that your law firm website contains information about your firm, its practice areas, and its attorneys. Also, show how clients can contact you on your contact page.
Does every lawyer have a website?
Nearly three-quarters of all law firms have websites, according to the American Bar Association. And it's not just the big players. In the survey, 100% of firms with 50 or more lawyers have websites, as do 97% of those with 10 to 49 lawyers and 89% of those with two to nine lawyers.
Why do law firms need websites?
In order to effectively market a law firm, it is essential to have a well-designed website. In addition to increasing the number of conversions, a good website can establish credibility and gain trust with visitors. It is essential that your website contains information about your law firm's practice areas, attorneys, testimonials, blogs, and case studies.
Do lawyers Need SEO?
To attract quality clients, law firms continue to rely on SEO for lawyers. Statistics show that 96% of people seeking legal advice use a search engine. It is estimated that 74% of consumers take action after visiting a law firm's website.
What cities does your digital marketing company serve?