Let's learn
How Does PPC Work for a Bankruptcy Law Firm?
Bankruptcy law is a niche subset of all the law services offered, but one that many prospective bankruptcy clients are searching for in hopes of finding financial relief. And while this may be a niche offering, there's still great growth potential, particularly when utilizing bankruptcy lawyer PPC advertisements.
But how? Let's break down PPC marketing for bankruptcy attorneys and look at how PPC can grab the attention of prospective clients.
See how PPC can help you stay ahead of the competition
While a law firm SEO strategy can take some time to build and gain traction, bankruptcy law firm PPC ads start working as soon as you start paying. Additionally, a bankruptcy law firms' success with these PPC campaigns is easy to track with the ability to gather data on nearly every conversion goal. Plus, for a law firm, it works to support an array of marketing tactics, from pushing products to advocating for app downloads, garnering newsletter signups, and contest entries.
The best part? With PPC, it's all under your control. With the right keywords in specific placements and strategic search engine optimization, you can directly target new clients while remaining within your unique budget.
Still not convinced on the perks of law firm PPC for bankruptcy attoerneys? Our team at Comrade Digital Marketing is sharing all the advantages of this vital advertising strategy for bankruptcy lawyers.
Success Stories
Delivering Business Results: Our PPC Case Studies
How Can Bankruptcy Law Firms Use PPC to Their Advantage?
So, we know bankruptcy attorneys can benefit from PPC campaigns, but how can we maximize these digital marketing benefits? From great landing pages to focusing on the specifics, we share all the must-know tricks to optimize your PPC strategy. Check it out!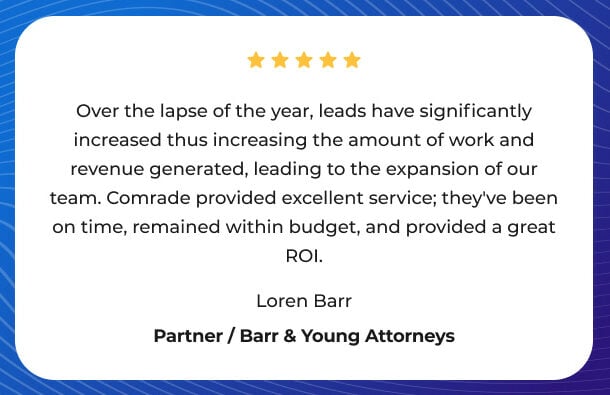 Focus on Cost-Per-Acquisition
When it comes to PPC for bankruptcy lawyers, it's a common misconception that cost-per-click, or CPC, is too high for a PPC method to be worth it. However, instead of focusing on CPC, bankruptcy lawyers should be considering cost-per-acquisition or CPA. Let's break it down.
While your CPC may be $30, if every fourth click decided to hire you as their go-to bankruptcy law firm, your CPA would be $120. That's $120 for a new client that will likely spend much more on your services to outweigh that initial price, right?
That estimate may even be on the high end. Google's Keyword Planner shows that the CPC is between $10-$40, meaning your CPA can end up being a lot lower, too. With this in mind, it's clear that while CPC may be a more up-front payment, the revenue it will bring will quickly outpace the initial costs.

Learn more about Cost-Per-Acquisition and other important PPC KPI's.
Create a Good Bankruptcy Firm Landing Page
So, you've created Google Ads and are ready to launch. But where's it linking to?
While you may have created a killer digital marketing ad, it won't add up too much if the bankruptcy law firm website it leads to can't retain customers. This means boosting your landing pages, not only for a more clear message and beautiful finish, but with a user-friendly experience that's optimized for easy use.
Comrade Digital Marketing Agency can help you with the above if you're unsure how to go about it. Schedule a free consultation.
When boosting landing pages as part of a PPC for bankruptcy law firms' strategies, focus on the following attributes:
Landing pages that are uniquely chosen for each bankruptcy lawyer ad.
Have compelling information about your bankruptcy services
Feature professional, clear, concise writing.
Pages are selected based on the specific action you want the visitor to take.
Here's how you can create landing pages for your bankruptcy attorney PPC ads that will convert visitors into clients.
Test and Analyze Everything
When it comes to a marketing for bankruptcy attorneys, the key is to be constantly evolving, which means frequently testing future digital marketing strategies for continued growth.
By testing and analyzing current PPC advertising campaigns and SEO packages, you can better understand what did and didn't work well to improve future campaigns down the line. With convenient tools like Google Optimize, you can even test your landing pages to see what will result in higher conversion rates.
Not seeing great results from previous PPC efforts? Here are some reasons that you'll want to adjust your digital marketing strategy moving forward:
Use of weak keywords
Negligent campaign planning.
Lack of monitoring of the campaign.
Improper budgeting.
Not consulting PPC experts.
Ending campaigns too early.
Poorly crafted landing pages.
If you're looking to create your PPC campaign, you must keep the above factors in mind when considering why it didn't attract qualified leads, then rework search engine optimization strategies to garner more bankruptcy clients.
Here's how analytics can help your bankruptcy law firm grow and increase revenue.
Be More Specific
It's all about the specifics! When people search for "best bankruptcy attorneys in Chicago," they are likely looking to hire immediately and locally. Looking for a bankruptcy firm within the immediate vicinity lends a hand to more competitive, more expensive ads. But what makes it all worth it? If prospective clients click on your ad, they will likely reach out to you for your services.
However, to ensure your marketing for bankruptcy beats the competition and directly targets your local audience, you have to get specific with your Google Ads and conduct an SEO audit. Let's retake Chicago, for example. Instead of using the keywords "bankruptcy lawyers Chicago," opt for even more specifics, like "chapter 11 law firm Gold Coast." This will lead potential bankruptcy clients directly to your bankruptcy law firm, versus competitors that rely on broader keyword phrases.
Does your bankruptcy law firm have a plan for growth in 2024?
Improve Your Bankruptcy Lawyer PPC with Comrade
Does PPC for bankruptcy attorneys still feel like a daunting task? No worries, our team at Comrade Digital Marketing knows just how to turn your marketing dollars into new bankruptcy clients. For an expert PPC plan, as well as assistance boosting the rest of your bankruptcy law firm marketing strategy or developing a bankruptcy law firm website, contact us at 312-265-0580 today.
Where do you offer digital marketing services?