In today's fiercely competitive legal landscape, law firms are embracing the power of advertising to differentiate themselves and attract clients. Gone are the days when referrals and word-of-mouth alone sufficed. Enter the realm of law firm advertising, where digital platforms play a pivotal role in reshaping the industry.
This article uncovers the secrets to effective law firm advertising, delving into ethical considerations, the impact of digital transformation, and the key elements of compelling campaigns. Join us on this journey of discovery as we unveil the limitless possibilities that law firm advertising offers in today's digital age.
Discover how law firms can harness these strategies to thrive in an increasingly competitive market and elevate their brand presence.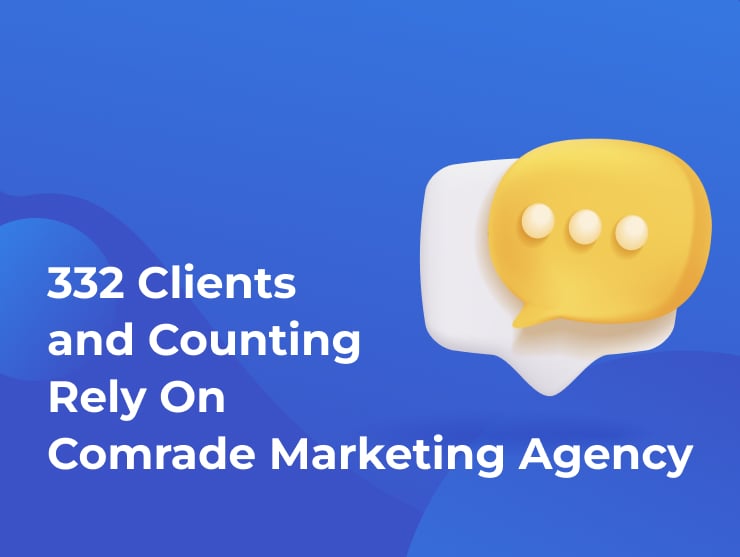 Are Lawyers Allowed to Advertise?
Lawyers can advertise within the guidelines set by the ABA and other legal regulatory bodies. However, caution must be exercised to adhere to stringent advertising guidelines. Offering incentives for referrals is prohibited by the ABA.
However, there are many lawyers advertising rules to consider and it is best that you carefully follow them if you want to succeed online as an attorney.
Below we will take a look at the advantages, places, and best practices for lawyer advertising.
---
6 Advantages of  Law Firm Advertising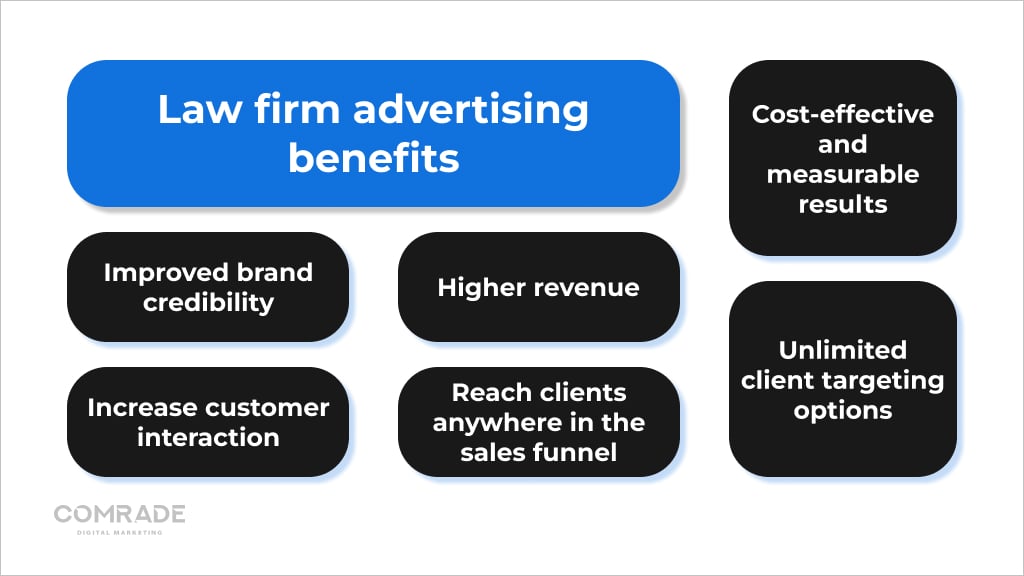 Compared to traditional advertising, digital advertising offers a higher ROI and greater market reach with fewer resources and less effort. It offers your law firm the following advantages:
1/6 advantage
1. Cost-Effective and Measurable Results
Digital marketing efforts are measurable and scalable. Traditional media entails a degree of guesswork, but with digital marketing, you can pull up hard data in real-time and adjust your marketing strategy as needed instead of starting over or scrapping campaigns. This approach can save thousands of dollars.
---
2/6 advantage
2. Unlimited Client Targeting Options
Digital marketing targets prospects based on demographic, psychographic, and geographic attributes ensuring you reach the right audience at the right time. Crafting ads for specific audience segments gets clients through the door faster and generates real growth.
---
3/6 advantage
3. Reach Clients Anywhere in the Sales Funnel
Digital marketing made customer journey mapping tangible. With online advertising, you can identify your potential client's pain points and create targeted ads for each stage of the sales funnel. It's easier to map out interactions and drive leads toward the bottom of the funnel, where they convert into paying clients.
---
4/6 advantage
4. Increase Customer Interaction
Emails, instant messaging, website content, videos, images, social media, SMS, and display ads are various ways digital advertising allows you to connect with leads and clients. Available digital advertising tools provide endless opportunities to build client loyalty and reach different audience segments on their preferred platforms.
---
5/6 advantage
5. Improved Brand Credibility
Digital advertising has helped a multitude of law firms prove they're dependable and can be relied on for exceptional service. Working on your law firm's digital presence establishes credibility across a large market. Offering expert knowledge within branded campaigns, and presenting solutions to common legal problems your audience encounters boosts credibility.
---
6/6 advantage
6. Higher Revenue
Law firms using search engine optimization, email marketing, social media advertising, content marketing, and search ads can increase their revenue substantially. 10% of the legal workforce earn over $208k per year, but if you want to double that and be part of the top 1% of US earners, you need to invest in law firm advertising.


Success Stories
Delivering Business Results: Our Digital Marketing Case Studies
Let's get to know
How Much Do Lawyers Spend on Advertising?
According to the American Bar Association (ABA), many law firms out there have tight marketing budgets. A study they did found that only around 32% of firms with 2-9 lawyers and about 14% of solo practitioners had marketing budgets in place. That means lawyers need to be keenly strategic with their advertising to get the most bang for their buck.
When you're figuring out your law firm's marketing and advertising budget, there are some important things to consider. Here are the key factors you should look at:
Firm size and goals: Take a good look at the size of your firm and the specific goals you want to achieve with your advertising. Smaller firms might have different needs and budget limits compared to the bigger firms out there.
Target audience: Know your audience! Understand who they are, what they're looking for, and how you can help. Then, research the best ways to reach and engage with them.
Competition: Keep an eye on what the other law firms in your neck of the woods are doing. Figure out how much competition you're up against and what marketing strategies they're using.
Advertising channels: There are many ways to advertise, so you have to pick the ones that work best for your audience and goals. That means online ads, print media, radio, TV, social media, search engine optimization, etc.
Cost-effectiveness: Think about the return on investment (ROI) and how far your ad dollars will go with each channel.
Tracking and analytics: To do well, you need to know what is and isn't working! Use tracking and analytics tools to see how your ads are performing. This way, you can make smart choices and keep improving your strategies.
Bottom line: setting a solid marketing and advertising budget is key for lawyers who want to get the most out of their ads. It's all about knowing your firm, your audience, and what's going to give you the best results without breaking the bank. Being strategic with your advertising will save you money and help you promote your services.
---
Effective Law Firm Advertising Strategies
Whether you want to build brand awareness or improve your bottom line, you need to have a plan that outlines your marketing strategies, tactics, activities, costs, and expected results.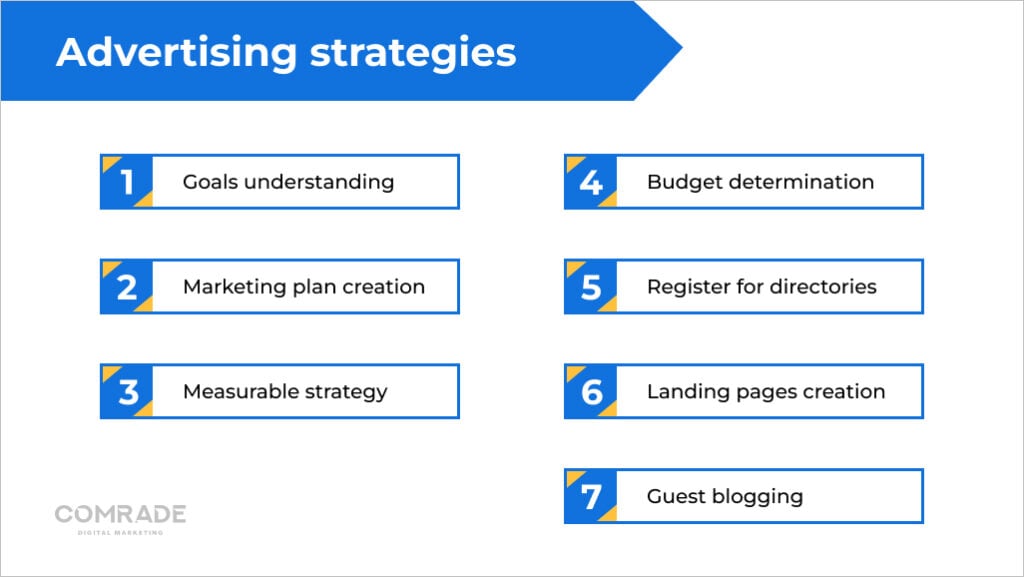 1/7 strategy
1. Understand Your Goals
An effective advertising campaign has a single focus with a specific, measurable result. Keep in mind that most law firms have multiple campaigns to achieve different KPIs that bring them closer to their overall business goals.
Advertising campaigns can be designed to do the following:
Generate leads;
Increase website traffic;
Raise awareness of your legal services within a clearly defined target audience;
Develop your law firm's professional reputation; and
Build relationships with potential referral sources such as other attorneys.
When it comes to goal-setting, most lawyers know what they want to achieve, but they don't make their advertising goals tangible enough.
For instance, let's say you're a personal injury lawyer, and you want more leads. "More leads" is vague. Would you be happy with two more leads per month? Or do you need to increase your leads by 50% in the next six months? Can you see the difference?
Setting clear and tangible KPIs is vital to keep your advertising budget and campaigns on track. You'll also want to stay away from becoming too invested in vanity metrics like followers and likes, as they don't directly translate into conversions.
---
2/7 strategy
2. Create a Marketing Plan with Advertising in Mind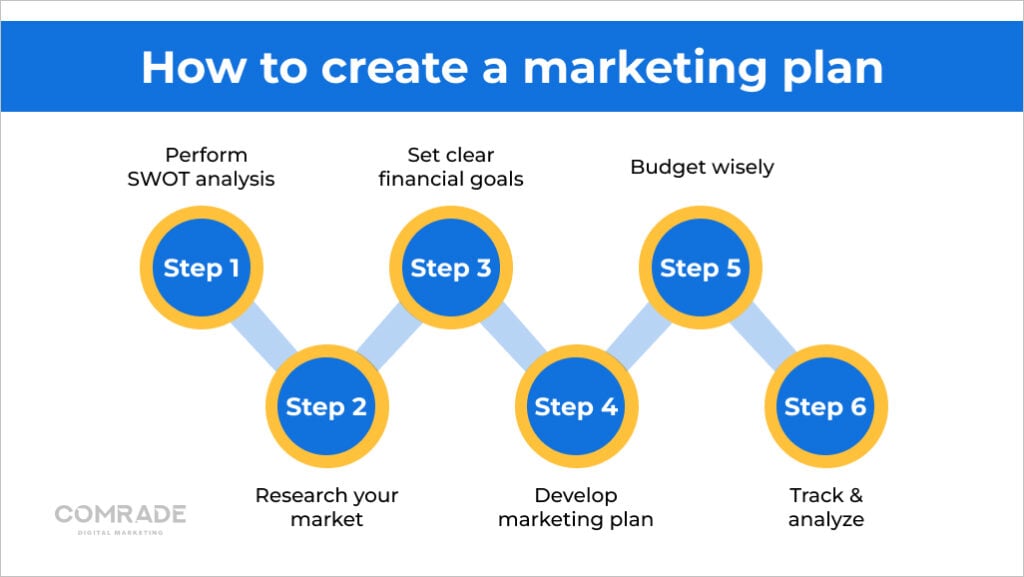 When you're putting together a marketing plan for your law firm and thinking about advertising, you have to make sure it aligns with your overall business goals. Here are some key steps you should definitely consider:
SWOT analysis: Take a good look at your firm's strengths, weaknesses, opportunities, and threats. Use those strengths, work on those weaknesses, and keep an eye out for what the competition is up to.
Know your target market: Do some serious market research to understand your ideal clients – their demographics, legal needs, and preferences. This way, you can tailor your advertising messages just right.
Set clear financial goals: Figure out exactly what you want to achieve financially – how many clients you want to get, how much revenue you're aiming for, and what kind of return on investment (ROI) you're hoping to see.
Develop a comprehensive marketing plan: Think about your branding, PR, digital marketing, and content creation. It all has to work together to create a solid brand image and get your name out there.
Budget wisely: You need to be smart with your money, especially when it comes to advertising. Keep an eye on industry trends and seasonal changes when you're deciding where to spend.
Measure and adjust: Track all the metrics – website traffic, generating lawyer leads, conversions, and costs. Analyze the data and tweak your strategies to get the best results.
And don't forget, success goes beyond just advertising. You have to take a holistic approach that considers everything – market analysis, financial goals, branding, public relations, digital marketing, content creation, etc. That way, you'll make the most impact and achieve long-term success.
If you need some help with all this, Comrade Digital Marketing is here for you – we're experts in helping lawyers and law firms reach their financial and business goals.
---
3/7 strategy
3. Have a Clear and Measurable Advertising Strategy
Regardless of your legal advertising strategy's design, it must advance your law firm in the marketplace. An effective advertising and marketing strategy is highly optimized to reach the maximum number of potential clients and ensures every expenditure serves a common purpose.
There are many facets to creating a good advertising strategy, including analysis, content preparation, research, and deciding which marketing channels best serve your advertising goals. We recommend using the S.M.A.R.T approach whereby each campaign goal is specific, measurable, achievable, relevant, and time-bound.
Having a clear and measurable marketing strategy is important because:
It helps you reach the right audience;
It helps you spend money wisely;
It keeps your law firm marketing consistent; and
It serves as a guide to shape future marketing efforts.
The last step in any effective advertising campaign is analysis. Whether for metrics such as ROI, engagement, or conversion rate, having these insights can help you refine and improve your marketing. The more you learn, the better able you are to make informed changes mid-campaign to maximize your ad spend and achieve better results.
---
4/7 strategy
4. Determine Your Marketing Budget
Before talking numbers, it's important to emphasize advertising is part of your law firm marketing strategy, not just the sporadic and random hype of your law firm online. Within your law firm marketing plan, you'll have both long-term and short-term goals, but overall, advertising is a sustained business practice with a recurring cost.
Most businesses spend between 2-18% of their gross revenue on marketing. However, because the legal sector is highly competitive, this number falls closer to 15-20% for new law firms and 6-10% for established ones, depending on location and specialty. For example, small law firms in dense cities competing against legacy firms will spend more than similar-sized firms in smaller towns.
Each law firm has a bespoke budget. If you want a good ROI, we recommend dedicating appropriate funds to expert-level marketing services. At Comrade Digital Marketing, we can:
Define your niche or target market;
Make cost-saving adjustments based on marketing performance;
Ensure your advertising is optimized for peak conversions;
Select the most suitable marketing channels based on specific goals; and
Regularly evaluate your KPIs and other metrics.
---
5/7 strategy
5. Register for Free Listings and Legal Directories
One savvy way for lawyers to cut costs and boost their online presence is by getting on board with free listings and legal directories. These platforms offer an amazing opportunity to showcase your law firm's expertise, services, and contact information to potential clients.
Make sure to claim your law firm's profile on popular legal directories and local business listings to increase your visibility in search engine results, and bring in more and more leads.
Those directories often show reviews and ratings from previous clients, giving your credibility and reputation a major boost. So, make sure to keep all your info up to date, including your firm's name, address, phone number, and website.
Here are some examples of legal directories to check out:
Avvo: Ratings, reviews, and detailed profiles of attorneys across various practice areas.
FindLaw: A comprehensive directory connecting people with lawyers based on their legal needs and location.
Justia: An extensive database of lawyers and law firms, with profiles, articles, and other legal resources.
Lawyers.com: A trusted directory that lets users search for attorneys by practice area, location, and more.
State Bar Association: Each state has its own bar association website with a directory of licensed attorneys and additional resources for the public.
Local Bar Association: Local bar associations offer directories specific to a particular city or region, connecting folks with attorneys in their local area.
By hopping on the free listings and legal directories train, you can save money on advertising while getting your name out there to the right people.
---
6/7 strategy
6. Create Landing Pages for Ads that Convert
When it comes to online advertising for lawyers, landing pages that convert are a game-changer. Forget about sending potential clients to your law firm's homepage – tailor-made landing pages are the key.
Craft the content on these landing pages to speak directly to your target audience's needs and worries. Showcase the perks of your legal services and include a compelling call-to-action (CTA) that urges visitors to take the next step, be it filling out a contact form or scheduling a free consultation.
A smooth user experience is crucial, so optimize your landing pages for swift loading times. By doing so, you'll not only maximize conversion rates but also make the most of your advertising budget, turning ad spending into new clients.
Looking for expert assistance with your law firm's digital marketing? Comrade Digital Marketing has you covered. Our tailored strategies will boost your online presence, attract more clients, and take your legal practice to the next level.
---
7/7 strategy
7. Consider Guest Blogging
One effective strategy for lawyers to boost their online presence is guest blogging! It's not only cost-effective but also helps you establish yourself as a thought leader in your practice areas. All you have to do is contribute some high-quality articles to reputable legal publications or industry blogs. You'll reach a wider audience and potentially attract clients.
Pro Tip: Make sure your articles showcase your expertise and provide valuable insights into your specific legal area. Don't forget to include an informative author bio with a link back to your law firm's website to drive traffic and up your online presence in the legal field.
Guest-blogging is not only a money-saver compared to traditional advertising, but it also helps build your credibility and attracts qualified leads.
Comrade Digital Marketing Agency can help you with the above if you're unsure how to go about it. Schedule a free consultation.
---
Types of Digital Advertising for Attorneys
Paid digital advertising includes social media advertising, banner ads, paid search ads, display ads, and local service ads. These can enhance your online presence and attract new clients with the right implementation.
Google Ads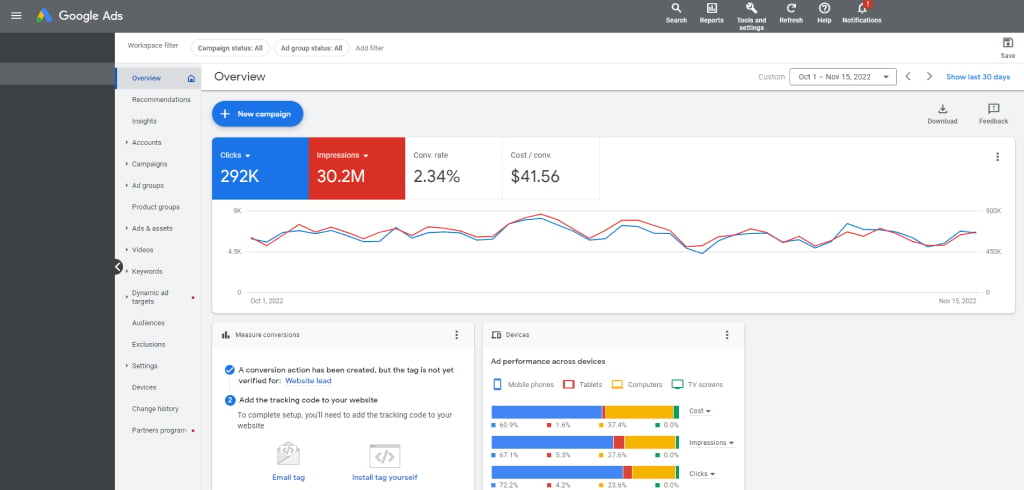 Google Ads is an excellent paid advertising platform, where you bid on keywords to reach potential legal clients. You only pay when someone clicks on your ad – it's called the cost-per-click (CPC) model.
The best part is, you're in control! You can choose the keywords, decide where your ads appear, and set your budget. Google Ads has some nifty responsive search ads too, allowing you to use multiple headlines and descriptions to show the most relevant messages.
Paid search ads show up right at the top of search engine results, giving you real exposure to your target audience. When it comes to PPC advertising for lawyers and law firms, it's the way to go. You get to engage with people actively searching for legal services – it's connecting with the right clients at just the right time.
---
Facebook Ads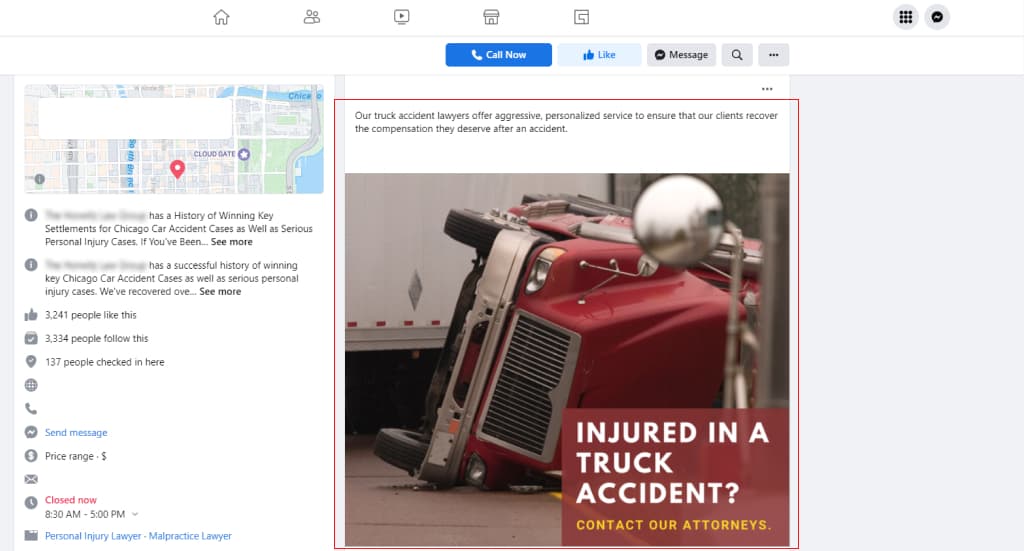 When it comes to advertising for lawyers, understanding the different types of digital advertising is crucial. Let's dive into Facebook Ads, Comrade Digital Marketing's forte, and how they can help law firms reach their target audience.
Facebook Ads and Google Ads each have their unique strengths. Facebook excels in comprehensive targeting options, connecting you with potential clients who fit your criteria. While it may not match Google's search intent, it reaches an impressive 70% of the US population on its platform.
For precise targeting, picture this scenario: You're an immigration lawyer in San Diego. With Facebook Ads, you can focus on users within a 25-mile radius who have expressed interest in immigrating to the US. And here's the real kicker – using Facebook's Lookalike Audience function, you can expand your reach to new users similar to your existing clients.
Facebook has a dynamic lineup of 11 ad formats, ranging from eye-catching images to captivating stories, messenger ads, and engaging videos. On average, conversion rates hover around 9-10%, giving you a competitive edge.
And the best part? You get real-time analytics to fine-tune your strategies without burning through your marketing budget. It's like Google Ads, but with a personalized touch that works wonders for lawyers and law firms alike.
---
Social Media Advertising
Social media marketing is quickly becoming essential for lawyers. 71% of legal professionals swear by it for attracting new clients. Platforms like Facebook, Twitter, and LinkedIn are the places to build trust and get your law firm noticed.
Social media just about posting random things—it's about social media advertising. It creates awareness and drives traffic right to the top of the sales funnel, giving your website a real boost. It can generate leads and turn curious visitors into potential clients.
Social media is also brilliant at retargeting. It means you can show your ads to people who showed interest before but didn't quite commit. It's a second chance to win them over, and research says it can amp up ad engagement by a whopping 400%.
---
YouTube Advertising
Have you ever heard of YouTube advertising? With over a billion active users, YouTube is the second-largest search engine globally, making it the perfect platform to showcase your lawyer ads and reach a massive audience.
When it comes to YouTube video advertising, you've got three main ad types to choose from:
In-stream videos: These are skippable ads that pop up before or during videos you're watching. Viewers can skip them after just five seconds. No more forced ad-watching!
Non-skippable pre-rolls: These ads hit you right at the start of videos, and you have to watch them for at least 30 seconds before you can skip. They can be quite impactful for getting your message across.
In-video bumper ads: These little 20-second gems work like full commercials and can be perfect for promoting your legal services.
Depending on your chosen ad type, your YouTube ads can show up on the homepage, search results pages, and even as related videos on other video watch pages.
---
Local SEO Is Great for Lawyer Advertising
When it comes to advertising, local SEO for lawyers is your most effective strategy. Before diving into online ads like Google Ads, make sure your website is optimized to meet search engine and user requirements. Climbing to the top of search engine ranks might take some time, but don't worry- many law firms use PPC ads to boost brand awareness in the meantime.
Local SEO is your answer for region-specific targeting. To get started, create a Google Business Profile and make sure all your details are in there. Positive reviews are like gold, so gather them up to boost your rankings, aiming for Google's 3-Pack. With better visibility, potential clients looking for local legal services won't be able to resist reaching out to your firm!
And if you need a helping hand, Comrade Digital Marketing is here for you! We specialize in crafting digital strategies that'll elevate your law firm's presence and attract those valuable clients.
Leverage Google Services Ads (LSAs) for Law Firms
LSAs take a pay-per-lead approach and give your law firm's website the chance to appear before anything else on Google search results, including regular pay-per-click advertising. They should be part of your law firm marketing strategy because they're great at driving bottom-of-the-funnel leads, who are ready to call.
Leveraging both SEO and LSAs improves the odds of potential clients clicking on your law firm website because you'll appear twice in search results. The primary benefit of LSAs is that you only pay if a potential client calls or sends you a message directly through ad options.
---
Display Ads
Display ads are a game-changer for lawyers, helping them connect with their audience effortlessly. These captivating ads pop up on websites, apps, and social media, featuring eye-catching images, text, and interactive elements.
And the targeting options are quite precise. Law firms can handpick specific demographics, interests, or browsing behaviors. Thanks to platforms like Google Ads and social media ad platforms, you can reach the exact people you want, whether they're in your local area or surfing the web with their interests in mind.
Display ads are budget-friendly too! With pinpoint targeting, your ads land right where potential clients are hanging out, giving you a higher chance of getting their attention. Plus, they get to see your services in a visually appealing way, building brand awareness and attracting new clients you didn't even know existed. Trust me, it's a win-win situation!
---
Types of Traditional Advertising for Attorneys
In this comprehensive section, we explore the various types of traditional advertising methods available for attorneys. From print media to billboards and television commercials, we'll delve into the benefits, considerations, and effectiveness of each approach. Discover how traditional advertising can help lawyers reach their target audience and make informed decisions to maximize their advertising budget.
---
TV and Radio Ads
TV and radio ads have been traditional advertising methods for law firms, but they can be costly. While they offer broad reach and the potential to target specific demographics, their effectiveness can be challenging to measure. With rising production and airtime costs, lawyers need to carefully evaluate whether these channels align with their target audience and budget.
---
Print Ads
Print ads, such as newspaper or magazine ads, can be an expensive option for law firms. While they allow for targeted placements in relevant publications, the decline in print readership and the shift toward digital media have reduced their effectiveness. Lawyers should consider the reach, circulation, and demographics of the publication before investing in print ads to ensure they are reaching their intended audience effectively.
---
Billboards
Billboards are a traditional advertising method that can generate local visibility, but they come with significant costs. While strategically placed billboards can reach a wide audience, their impact is difficult to measure, making it challenging to gauge the return on investment. Lawyers should carefully assess the location, visibility, and potential reach of billboards before incorporating them into their advertising strategy to ensure cost-effectiveness.
---
Digital vs. Traditional Advertising
When it comes to advertising for law firms, the digital vs. traditional debate can leave you scratching your head. The answer lies in finding the perfect blend of both to get the most out of your investment.
Digital advertising comes armed with precision targeting and real-time tracking. Platforms like Google Ads and social media offer data-driven optimizations, perfect for small law firms on a budget.
On the other hand, traditional advertising, like billboards and TV commercials, can work wonders in building brand awareness and reaching a broader audience. Plus, it adds a touch of credibility when combined with digital efforts.
So, the secret is a balance of both. A little digital, a little traditional – this dynamic duo delivers wider reach, brand visibility, and a high return on investment.
Attract
more leads
to your law firm
Hire an Expert in Law Firm Advertising
Today's law firms must engage with potential clients through multiple touchpoints—in-person and online. Legal advertising is a powerful tool to add to your marketing arsenal that makes your firm more visible and attractive to new clients.
Sure, you can learn the ropes yourself, but hiring a professional marketing team that understands advertising rules guarantees results. In fact, at Comrade Digital Marketing, we only work with clients if we're sure we can achieve substantial improvements.
Whether you need a new law firm website or want to revamp your advertising efforts, our experts at Comrade can help; contact us for a free consultation today.