If you're reading this, you probably own an eCommerce store and are seeking specific ways to increase revenue. What you'll find here are tried-and-tested marketing strategies that improve cash flow and increase paying customers.
Below are 40 suggestions on how to increase eCommerce sales and enhance brand awareness. Comrade Digital Marketing Agency has over a decade of experience in providing conversion rate optimization services, marketing communications and improving the overall profitability of online stores, so we know what we're talking about.
But before we talk strategy, it is important to remember the basics of the eCommerce game: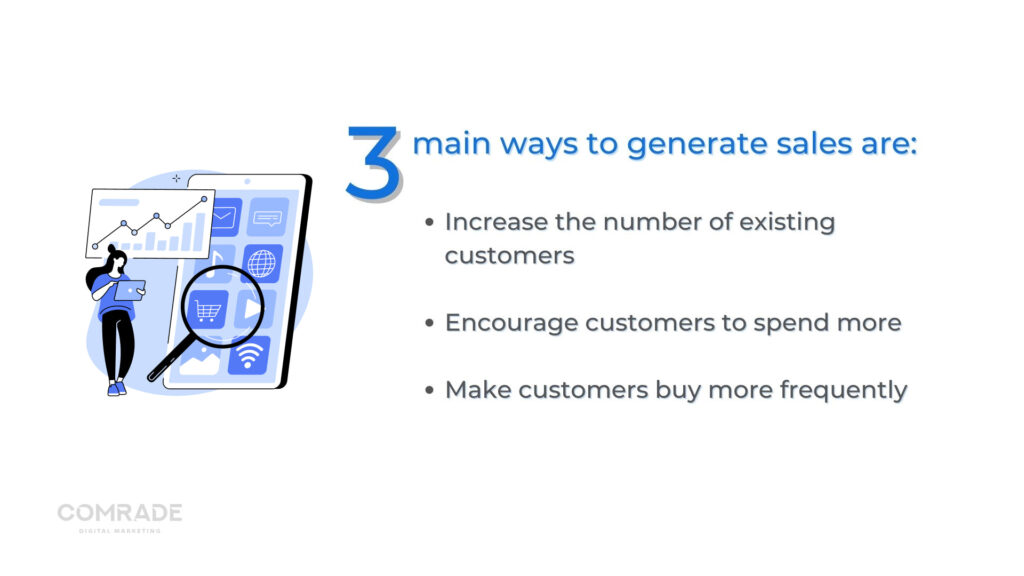 There Are 3 Ways to Increase Online Sales
The three main ways how to increase sales are:
Increase the number of existing customers
Encourage customers to spend more
Make customers buy more frequently
Below are the best strategies to leverage your target market's buying power and increase your eCommerce sales.
The Top 3 Strategies to Boost Ecommerce Sales in 2023
1. Know Where Your Customers Shop Online
If prospective and existing customers are searching for products or services through Google, Amazon, Walmart or another channel that you are on, make sure your product pages, listings, advertisements, as well as content, are visible.
Your eCommerce store won't expand if new customers don't know you exist. Investing in SEO and paid ads can improve online promotion, boosts brand identity and drive sales.
2. Provide Useful Information
Make it easy for your target customer to purchase your products. Let's say you're an online fashion retailer, for example. If a potential customer can't find information about your shipping options, they might not make a purchase.
So, ask yourself: What would dissuade you from buying from your eCommerce site if you were a customer? Try resolving these issues as soon as possible.
3. Consider the Sales Funnel
The majority of eCommerce stores don't follow up once customers have made a purchase because they don't structure their sales funnels.
A sales funnel is the process prospects go through to become customers. Each stage takes website visitors one step closer to making a purchase. This doesn't end after they make a purchase.
If you want customers to return, you need a well-planned sales funnel and marketing strategy to keep them coming back for more. Requesting feedback after a purchase, sending promotional email newsletters and nurturing relationships are how you create loyal customers.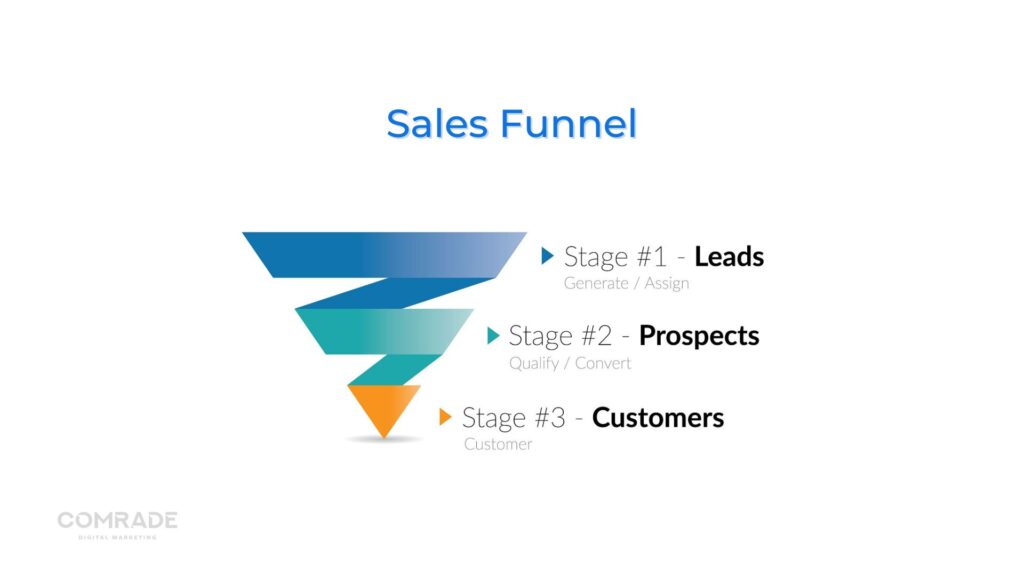 After all, acquiring a new customer can cost five times more than retaining existing ones!
If your eCommerce store is struggling, you might want to read these post-pandemic marketing tips.
Meanwhile, here are 40 strategies on how to boost eCommerce sales:
40 Ways to Get More Customers
1/40 way
1. Optimize Your Ecommerce Store with SEO
Does your eCommerce store appear at the top of Google search engine results pages? If not, you need to invest in search engine optimization (SEO).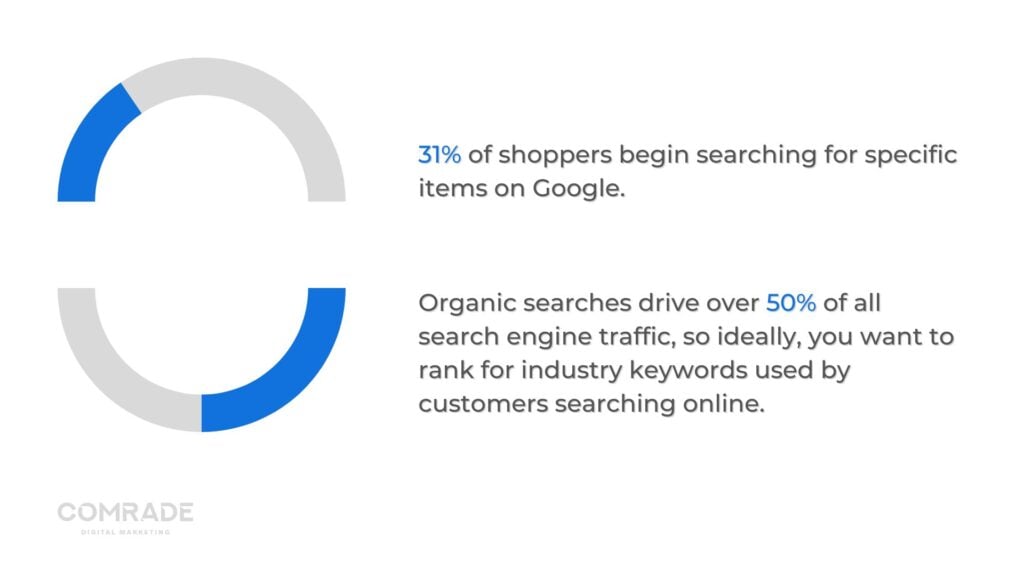 While SEO for eCommerce isn't simple, it is important to keep in mind that in accordance with RetailWire, 31% of shoppers begin searching for specific items on Google.
Without SEO, you won't rank in organic searches, which is one of the most effective methods to attract prospective customers. In fact, organic searches drive over 50% of all search engine traffic, so ideally, you want to rank for industry keywords used by customers searching online.


Success Stories
Delivering Business Results: Our Digital Marketing Case Studies
2/40 way
2. Sell on Google Shopping
Any online business should make use of this platform, as millions of users utilize Google to buy items every month.
Signing up to Google's Merchant Center is easy and free. You only start paying when you initiate pay-per-click (PPC) advertising. The great thing about PPC is you can control your budget, and spend as much or as little as you want.
Running a successful advertising campaign requires significant knowledge and constant monitoring and optimization.
3/40 way
3. Sell on BING
While Bing might not be as dominant as search engines like Google and Yahoo, more than 50% percent of US people use it.
With most types of products, Bing has a lower cost per click as well as more click-through rates. If your website is the right fit with Bing customer demographics, you'll sell many products at a lower acquisition cost.
Of course, the flip side is there's less overall search volume. Yet, you can still be a large fish in a smaller pond by capitalizing on this underrated search engine.
4/40 way
4. Sell and/or Have Products Listed on Amazon
We know not all eCommerce companies want to sell on Amazon. However, $0.49 of every shopping dollar made online comes from this eCommerce giant.
Consider listing your products on Amazon if:
You want to increase your sales volume
You don't want to lose out on website sales
Why is this a lucrative move? Nine out of ten buyers always check prices on Amazon before purchasing. That's why Amazon acts as a secondary search engine for consumer goods.
Here's a marketing hack: You don't have to sell your products on Amazon, but if you list them there at a higher price than what they're going for on your website. This discrepancy will encourage more sales from your website.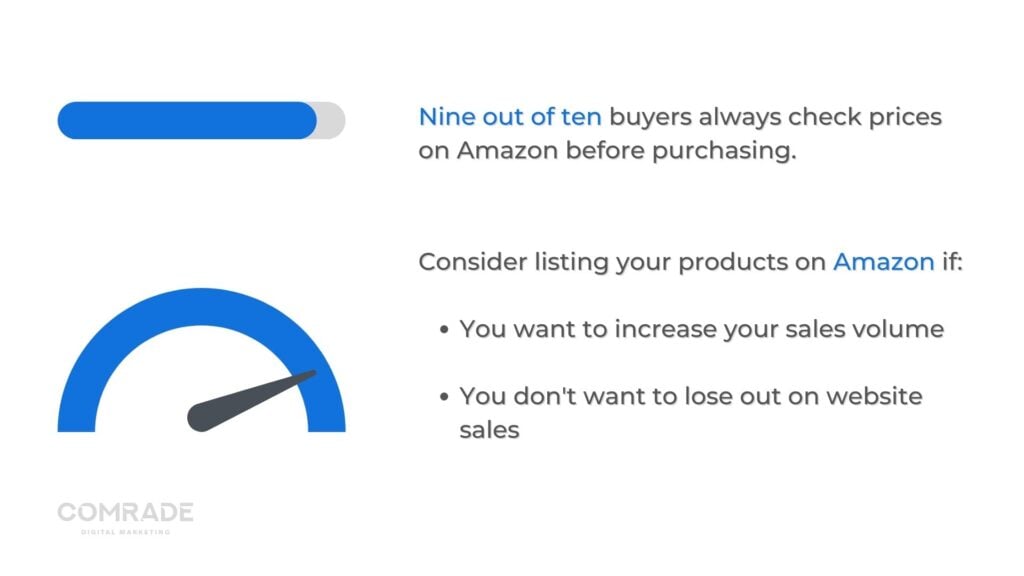 5/40 way
5. Sell on Facebook
Facebook Marketplace is a fantastic alternative for sellers who are looking for a targeted market.
eCommerce platforms associated with Facebook Marketplace include:
BigCommerce
ChannelAdvisor
ShipStation
Shopify
Zentail
Quipt
CommerceHub
6/40 way
6. Instagram Marketing
Ignore this part if you're a B2B company. However, if you're an online retailer selling food, fashion, beauty or wellness-related products and services then it's worthwhile promoting your business via Instagram.
According to Hootsuite, 130 million users on Instagram view advertisements for shopping each month. Although we don't have the exact information on the number of online sales this translates into; it is likely to mean a lot of revenue for online stores.
Skyrocket your online retail business with Instagram advertising through Comrade Digital Marketing Agency. Schedule a free consultation.
7/40 way
7. Sell on eBay
eBay has an active user base of 164 million people who move millions of dollars of goods per month. If you have great products, then you can sell them on this popular marketplace to increase online sales.
8/40 way
8. Sell on Walmart
Walmart is home to more than 465 million per month and doesn't charge its members for any set-up or running fees. Since Walmart has fewer sellers than Amazon, it offers a potential competitive advantage.
The only downside is the market can have lower profit margins and offers little to no support during the sales and returns process. For example, sellers aren't allowed to use FBA to fulfill orders.
If you decide to sell on Walmart, then you can find out more here.
9/40 way
9. Sell Through an Affiliate Network
Affiliate marketing can supplement online sales since it's practically free. It's frequently used by eCommerce stores to build online brands and loyalty programs.
Below are some resources to help you identify your affiliate partner(s) who are the right fit for your company, searchable by business niche.
10/40 way
10. Offer Fast, Free Shipping
If you're already benefitting from free shipping, then move to the next point.
Statistically, 79% of customers believe free shipping encourages them to buy more online. While shipping isn't free and usually built into business costs, it does pay to invest in this business model if you can afford to.
Another tip: Always let your customers track their orders. 53% of customers won't make a purchase if they don't know when they can expect delivery.
11/40 way
11. Have a Clear and Unrestricted Returns Policy
It's an inconvenience, but it's also a necessary part of operating costs. If you don't offer an easy and straightforward return policy, customers are likely to purchase at other stores (like Amazon or your competitor's store). Simply put, an open, simple return policy eliminates uncertainty.
Always provide the precise description of the product (bolstered through video examples, as discussed later in this blog) and the correct packaging.
Something else to be aware of is that 63% of customers reported that they would not buy a product if they couldn't find the online return policy on the website.
12/40 way
12. Reduce Abandoned Shopping Carts
According to industry standards, the average abandoned shopping percentage is 69.57%. Consumers abandon carts if they're just browsing, or if the checkout process is too complex. Hence, you need to make the process hassle-free.
You can also encourage users who have abandoned their carts to complete purchases by sending follow-up emails. AddShoppers and BouncePilot are excellent tools for this.
13/40 way
13. Create Product Demo Videos
Online clothing and shoe retailer Zappos is a great example of how to create product demo videos successfully. Putting additional time and effort into high-quality demonstration videos can improve user experience.
According to expert marketing company HubSpot, 73% of people who watch demo videos make a purchase.
Furthermore, the majority of consumers are likely to "showroom" or visit the closest retailer to view items in real-time, especially if there are no demo videos. If you don't have a brick-and-mortar store, you might never make these sales.
Additionally, 58% of internet consumers believe that shops that offer videos are reliable. Building trust among potential buyers is crucial for an ongoing income stream.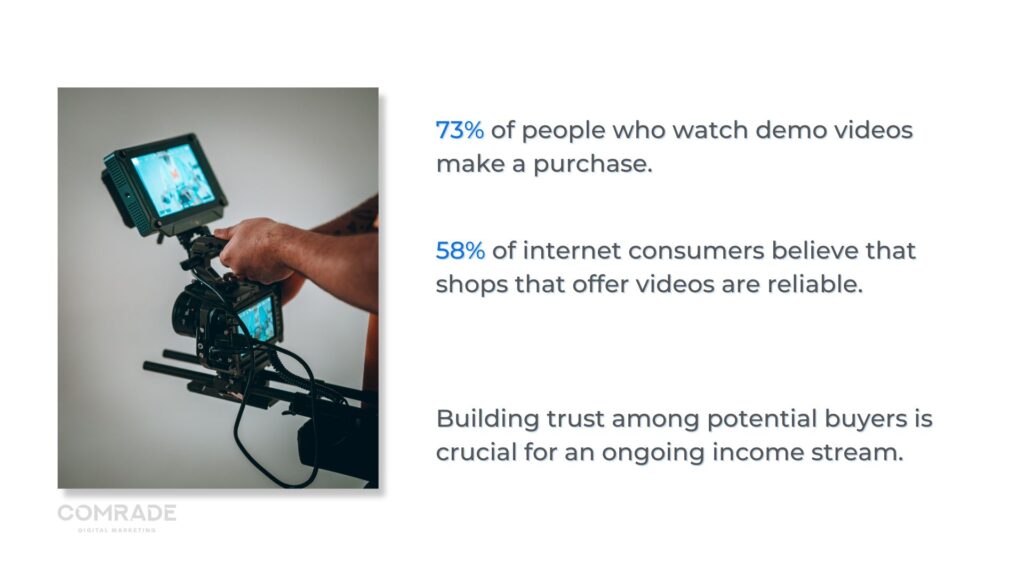 14/40 way
14. Offer a Phenomenal Customer Service
Just because shopping has become easier, doesn't mean customer service doesn't matter. Many eCommerce sites don't take the time to provide truly exceptional customer service.
Think about it like this: A dissatisfied customer can easily find another eCommerce store. The landscape is competitive, so you should always do your best to attract and retain a loyal customer base.
Contact customers who have purchased items to determine how pleased they are. Offer promotions to loyal customers and discount expensive items if and when appropriate.
Long-term customer loyalty is built on trust by showing you care and delivering on your promises.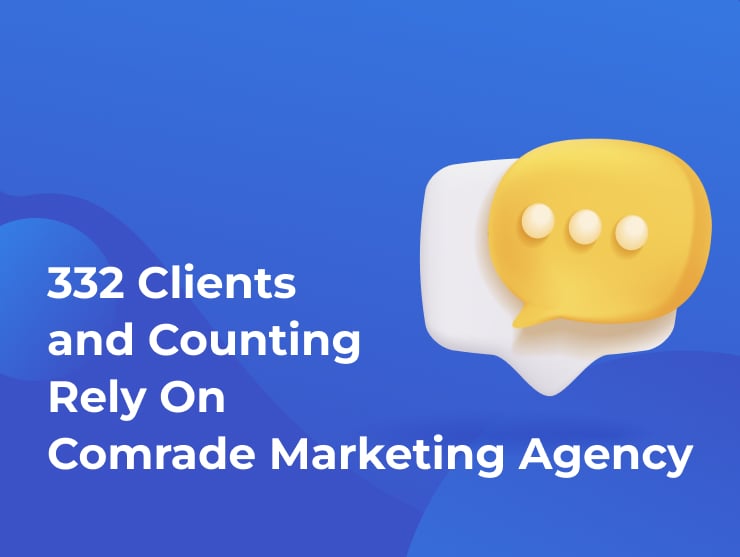 15/40 way
15. Retarget Ads to Increase Conversions
Did you know less than 2% of customers convert on their first website visit? Retargeting's goal is to get the other 98% to act!
This is important for B2B firms, as they perform 400% better than B2C when it comes to conversions.
Other compelling statistics that highlight the importance of retargeting to increase conversion rates include:
16/40 way
16. Optimize Product Pages
UX or user experience is a vital component of eCommerce. Is your website mobile-friendly? Does it load quickly? Is it simple to navigate, and does it have high-quality product images? Does the content flow in a concise and user-friendly manner?
Good UX is essential to facilitate online sales, as well as provide your target market with a positive experience. The majority of Americans shop online using their smartphones. Why is this important?
Google revealed that 62% of customers who have a negative mobile shopping experience are less inclined to become repeat customers. Yet, 69% are more likely to buy again from businesses when they have a positive experience (a rapid and simple checkout process).
17/40 way
17. Make Communication Easy for Customers
If a customer has concerns about your product or service or policies, make it your goal to address them through the channels they prefer to communicate on. This includes Facebook Messenger, WhatsApp chatbots, telephone or email, as well as social media platforms.
18/40 way
18. Get Many Positive Online Reviews
Social proof drives purchases. Displaying positive reviews gives potential customers more confidence in buying your products or services. It also strengthens your company's credibility and reliability.
The aim is to acquire as many positive reviews as possible. Even search engines like Google consider reviews when ranking websites.
Always respond to every review you receive, even if it's negative. You can also display positive reviews on your website to increase online sales.
19/40 way
19. Encourage Customer to Post Product Reviews
97% of shoppers say product reviews influence their purchase decisions. Additionally, 94% of online customers read reviews written by others and 35% claim one bad product review causes them to reconsider their purchase.
This is why reviews are so important. If you want to increase sales for a particular product, you might consider encouraging customer feedback on specific products. However, people are busy, and even if they intend to leave a favorable review, they do forget.
To make things easier, you should incorporate a review and reputation management strategy into your overall marketing strategy.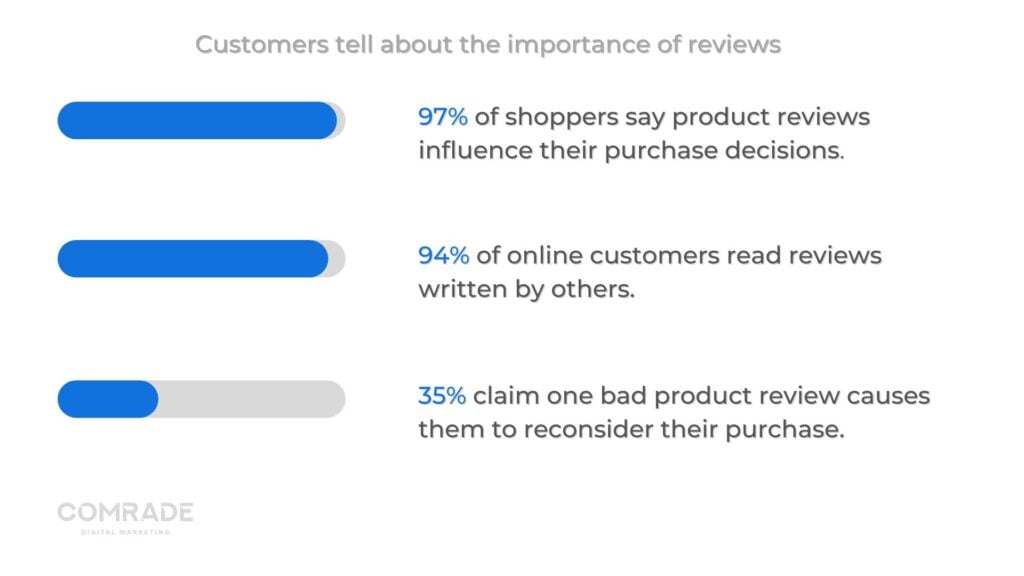 20/40 way
20. Provide Product Comparisons
You want to keep visitors on your website as long as possible and make purchasing effortless. If a potential customer has to search elsewhere for product specs, you'll likely lose them. Luckily, a variety of plugins is available. Some even provide product comparisons, which is super useful for customers.
21/40 way
21. Create Content Promoting Your Best Products
Everybody wants the best products for the lowest price. eCommerce companies can take product comparisons a step further and produce content marketing materials that list the best products in different niches.
You can write blog posts that compare items in their respective categories and are relevant to your company. Examples include:
The 65-inch TVs with the best specs
The Top smart Phones of 2020
The Top Midsize Cars Under $25,000
22/40 way
22. Show Customers How to Use Products
Sometimes customers require video product tutorials. Images and text may not always be adequate to communicate key features. This is where product tutorials can also be useful marketing tools.
This content is not only useful to customers, but it also saves your marketing team from having to put complex processes into words. 72% of people actually prefer video to text when learning how a product or service works.
Videos are quicker and more interesting because they present dynamic, illustrated, and easily understandable ways of explaining how things work.
Here are some suggestions to help you create effective mail marketing campaigns that include video marketing.
23/40 way
23. Have a Secure Website
Having a secure website is paramount to protecting your brand and customers from fraud and identity theft. Recently, customers have become increasingly vigilant about data security and only conduct business with brands they trust.
Your eCommerce store website should have an SSL certificate to authenticate its identity and enable a safe, encrypted connection. SSL stands for Secure Sockets Layer and denotes a security protocol that creates an encrypted link between a web server and web browser. It keeps data and interactions secure.
24/40 way
24. Increase Website Speed
Speed is critical to user experience and search engine ranking. The faster your website loads (on all devices) the higher it ranks. You can test the speed of your web pages with Google Analytics.
According to Google, an average score that is 90 or higher is considered quick, whereas a score of 50 – 90 is moderate and scores lower than 50 are slow.
A web development company can assist with optimizing your site's speed for mobile devices when it's not functioning as it should. This is vital for new eCommerce companies.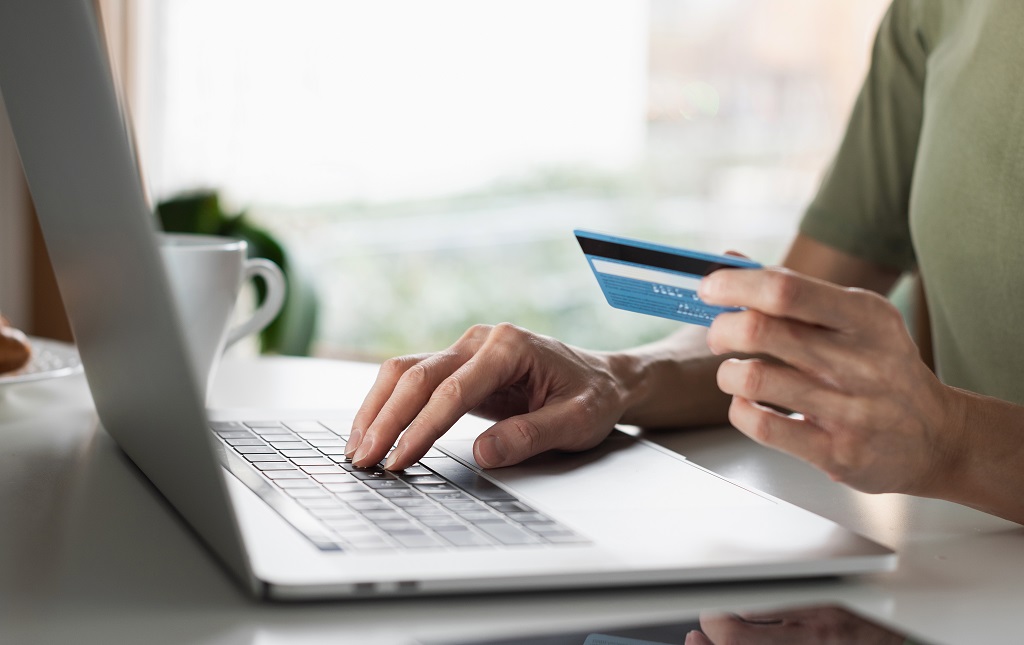 How to Make Customers Pay More
25/40 way
25. Cross-Sell Complimentary Items
Cross-selling contributes about 35% to 40% of the revenue generated by Amazon. Therefore, this effective strategy should be used to increase sales in your eCommerce store.
The following apps will accelerate your cross-selling capabilities:
– WooCommerce/BigCommerce
–Shopify
–Magento
26/40 way
26. Upsell
Upselling is an art where you influence customers to spend more of their money on products and services that enrich their lives.
Alongside having your web developer add an upselling function to your online store, you can also make use of one of the plugins listed below, depending on your eCommerce platform.
Shopify
BigCommerce
Magento
WooCommerce
–Recommendations for WooCommerce
27/40 way
27. Entice with Promotions
Explore possibilities outside of the box. Free shipping isn't the only offer you can provide customers. What about discounts? Two-for-one sales? Limited discount coupons? Or discounts when shoppers sign up to your email marketing list?
Always offer excellent incentives to increase eCommerce sales. This keeps you ahead of competitors in terms of customer experience!
28/40 way
28. Set a Minimum Spend Threshold for Free Shipping
This tactic is used to encourage consumers to spend and cover shipping costs. Offering It means some sort of condition is attached to the sale to qualify for free delivery. For instance, you might offer free shipping to all customers who spend over $50. You'll have to work out your business costs to determine a minimum spending threshold that works best for your business.
29/40 way
29. Use Scarcity Like Amazon Does
We've seen how the psychology of scarcity worked when it came to panic during the pandemic. You can apply the same principles in business.
For example, you might tell your clients an offer is only valid for a certain amount of time. Or if they click on an item, they're told it's low in stock, which encourages immediate action.
If you're struggling to come up with ideas, some amazing examples are available here.
30/40 way
30. Recommend Complimentary Products
It's all about offering added value to your clients. Do not recommend products to just get a sale. However, let's say your client has just purchased a phone. You might recommend compatible accessories based on the customer's purchase or on others who have bought the same product.
How to Encourage Customers to Purchase More
31/40 way
31. Offer Loyalty Programs
Loyal customers provide value up to 10 times more than what they paid for their initial purchase. 83% of consumers believe loyalty programs increase their spending. When creating a loyalty program to increase sales, you have to determine what benefits customers will receive and what's required of them to attain these benefits.
Loyalty programs are a lot of work, and they're only successful if both the eCommerce store and the customer benefit. In business, we refer to an "earn velocity" which is the time it takes for customers to gain the program's benefits as the primary reason for customers pursuing or quitting a loyalty program.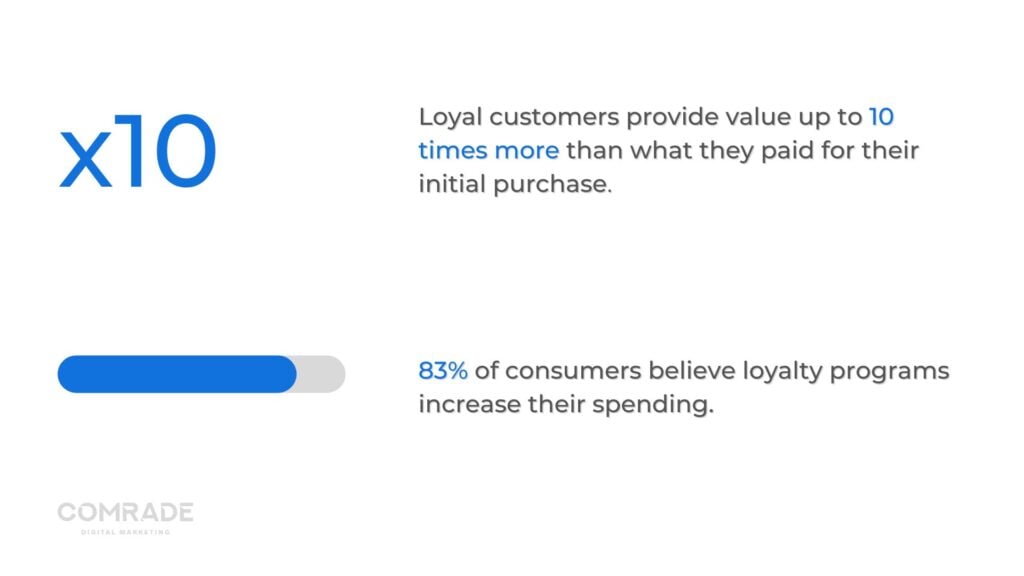 32/40 way
32. Provide "Shoppertainment"
For online businesses, this could include online fashion showcases, demonstrations, classes or even Facebook Live events. Whatever is engaging your customers will also increase eCommerce sales. Some examples include digital showrooms and gamification apps.
33/40 way
33. Seasonal Promotions
All through the year, in every season and in all weather conditions, there are opportunities. Weather-related events, holidays or school events, as well as seasons that offer promotional opportunities.
Create a calendar of seasonal promotions which outlines your ideas. Ideally, you'll need at least one promotional event each month. Consider special promotions for major holidays and occasions.
Promote your campaigns properly and make sure to include holiday shipping increases if applicable.
34/40 way
34. Insert Promo Flyer in Delivery Packages
It's inexpensive, speedy, and efficient. Rather than venturing into the expensive world of offline media, you can invest in flyers which have a high ROI. EnvatoMarket offers customizable promotional flyers for eCommerce if you need some inspiration.
35/40 way
35. Coupons
The conventional coupon code works because it gives shoppers the impression they're receiving an additional discount, along with any other promotions or sales that your store might be offering at the moment. Coupon codes are also tracked which is an effective way of measuring your eCommerce digital marketing ROI.
36/40 way
36. Tiering
Tiering is a kind of discount that encourages higher spending. Many department stores utilize tiering models. The higher the amount a buyer spends, the higher discounts the retailer can afford to offer with decent proper margins of profit.
The concept of tiering is illustrated below:
-Spend $100 and get 10% off.
Spend $150 and get 20% off.
Spend $200, and receive the gift card for $50
Buy two pairs of sunglasses and receive 20% off.
Buy 3 sets, and receive 30% off.
Purchase 4 products for hair care and get 15% off.
37/40 way
37. Scaling
Another way to increase sales is to offer scale incentives. For example:
Purchase at least two pairs of denim jeans and receive 20% off a brand-name blouse.
38/40 way
38. Grow Online Sales Accounts
This is crucial and applies to B2B companies. When a customer places an order for a costly product (particularly in a huge product category), you should follow up to thank them for their purchase and ask a few more questions to make sure they're satisfied with their purchase.
If they didn't buy the right product, then you can try to upsell or down-sell to them the best product.
Find out as much as possible about the company and the ways you can help them. With this approach, an order for $700 could transform into several hundred thousand dollars and an extended relationship.
Make sure to follow the appropriate offers!
39/40 way
39. Create Customer Subscriptions
If you offer items purchased at any frequency, create a subscription to ensure that buyers don't have to rush to buy things.
When you sell items which are gift items, inquire with buyers to select what they would like for their shopping event, and provide ideas one month prior to their birthday or anniversary.
40/40 way
40. Show You Care
Currently, the world is turbulent. The economy is on a downturn and most are experiencing financial strain. If you can help your customers in some way, then do so. Whether it's offering extended discounts or more loyalty benefits.
Excellent customer service also goes a long way too! People will always be more loyal to businesses if they feel they've helped them through a tough time. This loyalty eventually extends to frequent purchases, and it is essential to brand building.
Want to speak with an expert?
Call us at (312) 265-0580
Conclusion
These eCommerce sales strategies we've outlined above will help your online store grow. You can use some, all or combination. It's entirely up to your business goals and team capacity. If you need an expert partner providing Woocommerce development, Magento development services, and ecommerce SEO services who knows how to boost your ecommerce sales, Comrade Digital Marketing Agency would be delighted to assist you!
Frequently Asked Questions
In what cities do you work?