Criminal law is one of the most competitive legal services to market. Not only is it constantly changing as new crimes come up and old Acts are repealed, but prospects in trouble want instantaneous results. Almost 100% of potential clients seek legal help online. If they can't find you, they'll hire your competitors.
In this post, we'll discuss the most effective digital marketing strategies to increase your law firm's online presence, making it easier for clients to find you and hire you. From YouTube videos to email marketing and more, here's how to improve client acquisition.
The main goal of criminal defense attorney marketing is to get more traffic, leads, and clients for your law firm. Traditional word-of-mouth referrals are relevant, but they're outnumbered by online searches. Digital marketing is now the most cost-effective and lucrative advertising method.
The more present (accessible) and knowledgeable your law firm appears online, the more likely prospects will convert into clients. The internet is a primary source of information for many—and it's where your law firm needs to be without exception. To generate interest in your criminal defense practice, you must understand how your target audience behaves online and craft an effective marketing strategy.
Marketing criminal defense services is among the most competitive arenas for law firm SEO. In Arizona, competing to secure a top spot amid over 79 million Google search results isn't for the faint-hearted!

Your website must rank high in the organic search results; otherwise, potential clients will not contact you for assistance. Thus, you require help to achieve your objective: helping individuals and expanding your legal practice.
The good news is that Comrade can help.
We specialize in SEO for criminal defense lawyers and attorneys in competitive markets to rank for the most coveted keywords.
client results
---
How Do Criminal Defense Law Firms Get Clients?
Create an outstanding law firm website
Start with law firm SEO strategy
Set up Google Ads to get new criminal defense clients
Use local SEO and online directories
Promote your criminal defense practice on social media platforms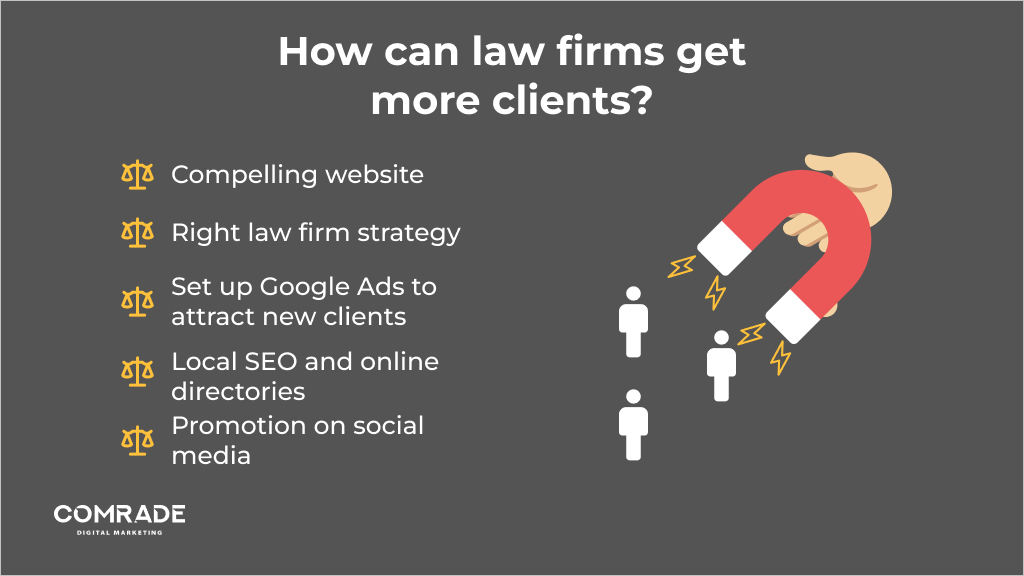 Does Digital Marketing for a Criminal Defense Attorney Actually Work?
We talk to a lot of criminal defense lawyers and ask them all how they get their business.
The conversation usually goes like this:
"…Well, it's been mostly referrals…"
These people have been in business 10, 15, 20 years. Referrals do come in, but business is anywhere from OK to slow.
If you are a criminal defense attorney that's relied on word-of-mouth referrals for clients, ask yourself:
Can I manage this client flow?
Does this guarantee I'll have more clients next month/year?
Are there enough referrals for me to select the best clients? Or am I forced to work with whoever needs my services?
We bet the answer to most of these questions is no. So, how do you intend to build a great criminal defense law firm? The good news is investing in digital marketing provides the solutions to manage all these pain points while increasing profits.


Success Stories
Delivering Business Results: Our Digital Marketing Case Studies
Let's get to know
How to Get More Criminal Defense Clients? Web Marketing for Criminal Defense Lawyers
If you really want to know how to get more criminal defense clients, the answer is online. Between 2005 and 2014, the internet went from the least popular option to look for lawyers to the most popular, according to Thomas Reuters' research.
How Digital Marketing for Criminal Defense Attorneys Truly Helps?
There are thousands of searches in every metro area in the US of people looking for criminal defense attorneys.
Those numbers can't be ignored. Only a digital marketing campaign for a criminal defense firm can transform this number into leads.
How many referrals did you say you get a month?
In 2017, the Bureau of Labor Statistics said that the median attorney income in the U.S. was $119,000. Trusting referrals to act as a predictable engine to grow your practice clearly isn't working, but we're not just here to sell you on the numbers.
We're here to tell you how to get more criminal defense clients using a sustainable marketing engine with SMART objectives behind it.
---
How to Use SMART Goals to Get More Clients for Criminal Defense Lawyers?
When people first venture into digital marketing, they often fall prey to vanity metrics, which look good on paper but don't translate into cash flow. For instance, 1,000 people liking your Facebook post doesn't equate to 1,000 new clients. In most cases, it won't mean much at all.
You have to set digital marketing goals related to income and profit.
---
Enter SMART Goals
SMART goals were outlined by corporate planning consultant George T. Doran in 1981. He noticed many business goals were too diffuse to have a meaningful impact and developed a framework to guide the setting of goals that produced better results.
The acronym represents five criteria for all goals:
Specific: Target a specific area for improvement.
Measurable: Suggest or quantify an indicator of progress.
Assignable: Specify who is responsible for the task.
Realistic: Be clear about what is realistically achievable given available resources.
Time-related: Have a clear deadline for when the result should be achieved.
So, if you were to set SMART goals for your law firm, you might decide to build brand awareness, develop trust and credibility, gain new leads, and ultimately more clients.
A SMART goal for a criminal defense law firm might be: Increase leads by 30% in the next six months by getting 1,000 prospects to subscribe to our new email newsletter.
Utilizing the SMART goal framework is the best way to ensure your marketing efforts remain on track as it quickly reveals if and when your priorities and resources are misaligned.
---
1/5 step
Criminal Defense Lawyer Marketing. Step 1: How to Be Everywhere on Google?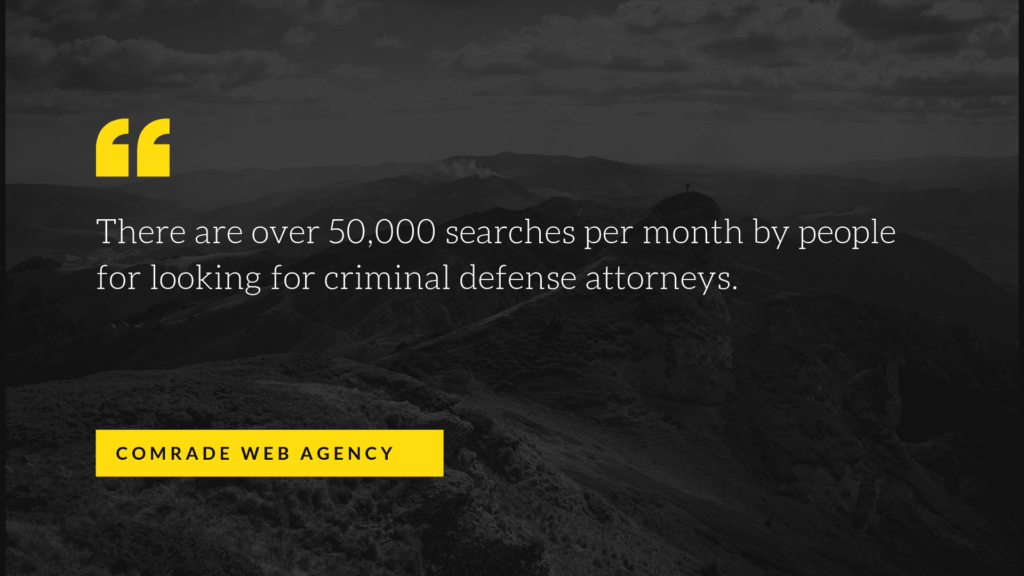 There are over 50,000 searches per month by people looking for a criminal defense law firm. Of that 50,000, let's say your metro area accounts for 4,000. How many of those clicks are you getting?
There are many ways to appear in Google Search Results, but if you want to get maximum attention from users, you need to use SEO. SEO is a key marketing channel for criminal defense lawyers.
Every time a potential client types a real question in Google related to your law firm, you want your services and expertise to appear. This is the power of SEO.
Let's take a look at how digital marketing for criminal defense law firms is used successfully to get more clients. Some of these action items you can implement now, and others you'll want to outsource to a marketing firm that specializes in working with lawyers.
How to Use Search Engines to Generate More Leads for Criminal Defense Attorneys
First, if your law firm is not found on page one of Google, the chances of getting a steady flow of new clients are next to none. Why are we so sure that it will help you get more clients? We know consumers are using Google for 3.5 Billion searches a day, but generally (75% of the time) they go just as far as page one.
Now for the HOW to get on page one of Google, and where on the page you have to be.
Let's explore some advertisement tips for criminal defense lawyers.
2023 edition
How to Get More Clients For Your Law Firm
---
Set Up a Google Ads for Attorneys' Campaign
How to use Google Ads to get more criminal defense leads:
In Google Ads, you can pay your way to the top. If you want quick page-one placement while you work the rest of your marketing strategy, Google Adwords is where you bid for the key search terms you want your sponsored ads to show up for. Before setting up your first ads campaign, you need to understand how your clients are searching for legal services.
Work with your internet marketing for lawyers agency to identify the keywords you should use to attract the right clients.
---
Optimize for Local Map Pack to Generate Criminal Defense Leads
Below the paid ads, the next thing in Google search results is the local map pack listings. Why does an attorney need to be on Google Maps to get more criminal defense clients? The user sees a map of the immediate area speckled with red dots to click for listing details, plus a shortlist of Google's "best results" with direct links to those websites.
If someone's looking for local criminal defense attorneys, you need to show up on that map. Your city might have dozens or hundreds of criminal defense lawyers. An easy first step to optimize your local SEO starts with your Google My Business page where you can specify your address, areas you serve, and more.
---
Optimize for Organic Search Results
Nearly 80% of clicks from the search go to the organic search results. These are the listings that come below the paid ads and below the map pack.
Now for HOW you'll get there.
To improve your organic search ranking, we could get into the weeds on "on-site" and "off-site" SEO for lawyers, but this would make this post too long. Check out this article to learn How to Get More Clients by Optimizing (SEO) Law Firm Website.
Here, we're going to spell out the most important and actionable first step: you need to start by getting the right content on a few specific channels to get Google to see you as the "expert."
Read through Steps 2-5 to learn about each of those channels and how to build your reputation, boost your organic Google visibility, and get more criminal defense clients along the way. There are a lot of marketing opportunities for defense attorneys on Google because a thousand potential clients search for law services.
Comrade Digital Marketing Agency can help you with the above if you're unsure how to go about it. Schedule a free consultation.
---
2/5 step
2. Register in Law Firm Online Directories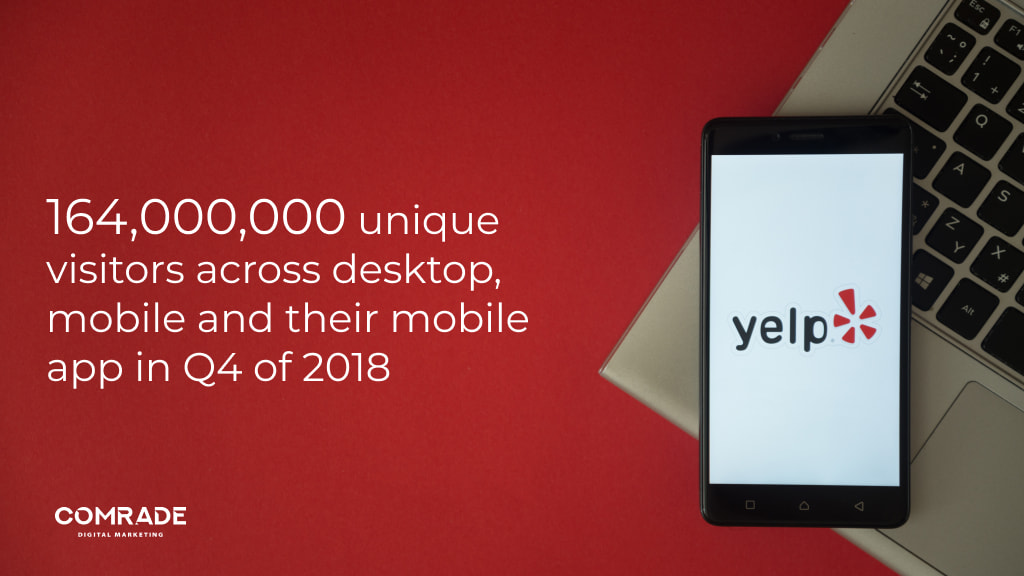 You know about Google, but you might not have ever considered it to be a directory. Well, it is. Yelp is another popular directory that has reported 164 million unique visitors across desktop, mobile, and mobile apps in just a single quarter of 2018. Since then, the searches have only grown! That's a lot of searches being done for everything from restaurants to salons and photographers…to lawyers. To generate more criminal defense clients you must be where customers are looking for your services.
In that same Yelp fact sheet, we learn that 80% of Yelp searches are done via a mobile device. We can assume those numbers are similar for Google reviews, Avvo.com, SuperLawyers, and other attorney-specific review sites. Many prospective clients are searching for your services on their phones.
And if prospective clients are searching these directories on their mobiles, what do you think the likelihood is that they're going to click to page two, three, or four?
That's right, they won't.
Online Directories Are an Integral Part of Digital Marketing for Criminal Defense Attorneys
Directories are popular because consumers can access a high volume of service options with ratings to back them up. Just like people still rely on (and often prefer) family and friends' recommendations, seeing a list of reviews on a reputable directory is like getting recommendations at high speed.
But users will be browsing these reviews via mobile devices, and they will be quick and decisive about where to click. Your window of visibility is small.
---
How to Get More Criminal Defense Clients Using Directories?
So, how do you get clicks on these directories? Like with Google Ads, you can pay your way to the top, and we recommend it most of the time. Paying for a sponsored spot on page one of a directory for key terms brings a big ROI for two reasons:
First, if you or your firm's name starts with anything after the letter "C" or "D," or if you haven't built your review history yet to show up as the highest-rated, without sponsored placement you will be buried and your directory listings will not get seen at all.

Second, these directories show up in organic search results on Google, too. Say someone searches for the "best criminal defense lawyer in Chicago." They'll see the Google Ads and the map pack, followed by the organic results. In those organic results, at least one or two of those links will be lists of the "best criminal defense law firms in Chicago" according to Yelp, Avvo, or another one of the other top directories. So you want to be on the first page of that list.
If you want to learn more about the benefits of optimizing your directories listings, read what ThriveHive has to say on the subject.
---
3/5 step
3. Engage in YouTube Marketing for Law Firms
YouTube is a crucial piece of your marketing puzzle. There are plenty of reputational reasons why you should be posting videos, but we'll give you something more quantifiable: YouTube is the second-largest search engine in the world.
The question is, how do people search on YouTube? And how does that affect law firm internet marketing?
Here's your key concept to leverage: consumers use YouTube to ask questions.
Billions of people turn to YouTube every month to get answers to their questions. So, for your prospective clients who aren't ready to talk to an attorney yet but who are nervous about their problem and looking for information, you need to have answers ready for them to find on YouTube.
---
Why Don't Lawyers Use YouTube Often?
Maybe YouTube marketing sounds a little mysterious to you. Or maybe you're not so sure about how your hairdo will look on camera, the equipment you'll need, or what you'll say in a video.
Maybe this is why lawyers aren't using this essential marketing tool. But if you follow these three steps, you'll be posting optimized content on YouTube in a snap:
First, for the next 30 days, keep a pen and paper by the phone. Write down the questions you get—all of them. Put stars by the common questions and put exclamation points by the ones you think are especially shrewd. Keep on listing these questions until you have 30, 40, 50 of them. Remember that to get more clients, you need to know what clients are searching for.
Next, buy yourself a $20 tripod and a $50 mic. Then set your phone on the tripod and record an answer to each of those questions.
Then, post your videos to YouTube. Your digital marketing agency can help you optimize videos with law firm SEO services for higher video ranking, and the whole process can all be streamlined easily.
How YouTube can be a powerful part of a complete digital marketing strategy for criminal defense lawyers.
You know prospects are coming to YouTube with questions. And when they find your videos, you'll personally be the one answering them. Later, when these prospective clients are finally ready to talk to an attorney, you'll have their attention because you've already proven you know what you're talking about. Video ADS is one of the best criminal defense lawyer advertisement techniques.
---
4. Create a Law Firm Email Marketing Campaign
Direct mail marketing is the process of sending marketing content via mail directly to your target audience's postboxes. Today's equivalent is direct email marketing. This digital marketing strategy not only advertises your services, but also improves relationships with leads and existing clients.
Direct mail marketing for law firms has one of the highest ROIs. For example: Did you know 98% of people open an email on the same day it's delivered?
When consistently and correctly applied, a direct email marketing strategy can provide your firm with a steady flow of trackable leads.
---
What Types of Emails Can You Send to Promote Your Law Firm?
A law firm's direct email marketing strategy should always be part of a larger, integrated digital marketing campaign with consistent and well-thought-out messaging.
Generally, there are four popular types of email marketing campaigns you can utilize to grow your client base:
Email newsletters: Whether you send news, tips, or legal updates, periodic newsletters maximize credibility, build client confidence and keep your law firm top of mind.
Acquisition emails: By sending out attractive offers and informative content, you can convert leads into active clients.
Retention emails: These targeted emails are sent to existing clients to increase engagement and loyalty, ensuring they hire you when they need legal help.
Promotional emails: As the name suggests, promotional emails are best used to boost general awareness of your legal services.
Direct email marketing is a powerful tool used to acquire, engage, and retain clients. Many law firms design email marketing funnels to capture leads at every stage of the buyer's journey.
---
5/5 step
5. Create a Great Criminal Attorney Website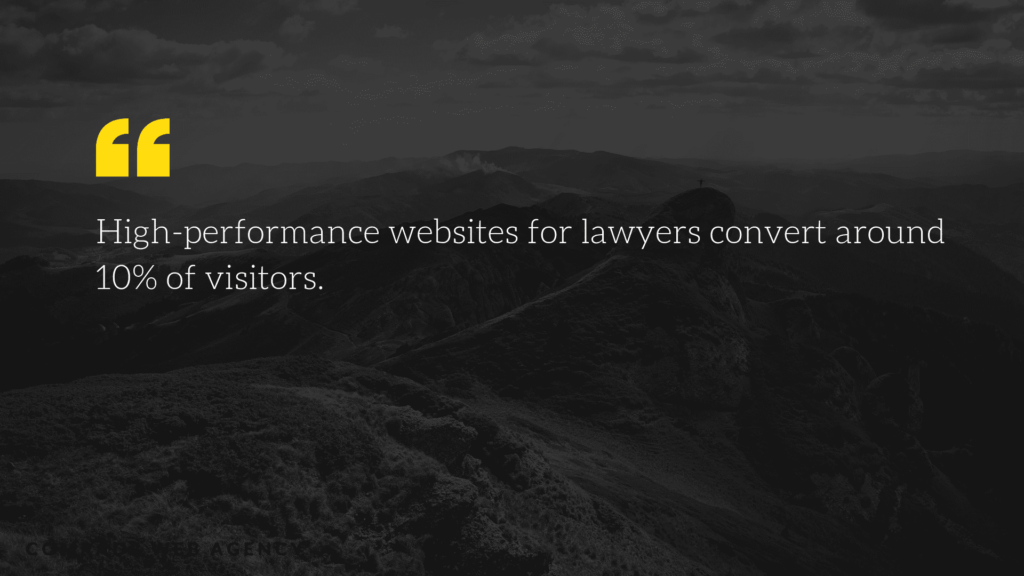 As demonstrated with directories and YouTube content, there are two groups of "lookers" performing searches online for lawyers in your practice area. And you need a high-performance website optimized for both of these groups and the unique types of searches they perform. We'll break down the big difference between these two groups below.
But first, a definition. What IS a high-performance website?
Most attorney websites are underperformers, converting about 1 of 100 visitors. That doesn't seem too dismal if you compare it to the whole-web average website conversion rate of 2 of 100, but that equally low conversion rate shouldn't make you feel much better.
Here's how to create that high-converting website for both of the key audiences you need to reach.
---
Prospective Clients Ready to Call
This group of prospects is googling things like, "best criminal defense attorney in Chicago." They're the prospective clients ready to talk to a lawyer, but they still have to choose which.
Let's say you've already executed all the steps above, and now you're highly visible where these prospects are looking (on Google and directories). Once you get those prospects' clicks to your website, your site has to meet their needs and convince them that you're the lawyer they should call.
Here are the key things to consider:
Make it clear you solve the problem they have. If someone is googling criminal defense attorneys, then they're facing a legal problem and need help. The first thing they need to know is whether you solve whatever type of case they have. Instead of the standard "practice area" tab on top of your website, try listing out "problems we solve." You can list assault, drug possession, bribery—whatever types of criminal cases you work the most. When a prospective client arrives at your site and sees their issues clearly spelled out, you'll keep them on the site long enough for step two.
Next, offer a case study or reviews to show how effective you are: this is proof that you not only take certain kinds of cases but win them. Some Bar associations may not allow the use of case studies or reviews in law firm internet marketing, but there is an ethical workaround. If this is the case in your state, talk to your digital marketing company about getting directory "widgets" installed on your website. These are small icons that update in real-time for Google, Avvo, or any other directory where you have active ratings. Consumers know they can click on these icons to see your reviews and ratings. These are two essential steps to meet those ready-to-call prospects' needs, but like everything in marketing, there are layers of other tactics and steps. Read more about the 7 Things Law Firm Website Has to Have for More Visitors to Call Your Firm and Ask for Help, because when we're talking about this first group of prospects, the time is literally now or never.
---
Prospective Clients Who Need More Information—and More Time
It's straightforward to think about optimizing your website for those prospects above who are ready to call.
But those prospective clients actually make up the minority of prospects visiting your website.
This second, bigger audience are those people in need of criminal defense counsel who are NOT ready to call. They're looking first for answers to their questions because they want to feel more confident about their options before they pick up the phone.
The steps to reach this audience are simple:
Optimizing a high-performance website for this group shares some steps in common with your YouTube content strategy. If these people are asking questions, your first step is to give them answers. Remember that list of questions you crafted and used for your YouTube content? For each of those questions, post an answer on your website blog. And make it a good answer—if prospects aren't satisfied with the information, they'll leave your site in a matter of seconds.
Answering questions thoroughly satisfies these prospects' needs and also showcases your expertise. Prospects quickly realize that you know what you're talking about and that you can help them.
Once you have your blog filled with valuable answers to all the right questions, you then give this audience even more information—but in exchange for something else. These prospects are trying to collect their thoughts and get organized, and they're under the pressure of a very real problem that they need someone to help them with soon. You can be that someone and give these prospects something before they ever pick up the phone. How? Design a downloadable resource like a checklist or a white paper that speaks directly to the problem they face. Think, "how to choose the right criminal defense attorney" or "the steps in a criminal defense case," or something similar. Next, have your web design agency install that resource behind a form on your blog that asks users for their names and email addresses. You already know what problems these prospects need information on, so you can imagine what kinds of resources they'll find useful and will be willing to leave their names and emails for.

Finally, you need to know what to do with those email addresses. Your marketing company should set up an autoresponder on your website that sends additional information to the prospects who downloaded your resource. As we said, you already know what problem they face. You even have library-related questions and answers loaded onto YouTube and your website, so following up is a matter of sharing more related information with them from your growing library of answers.
By sending these prospective clients more resources and information over time, without any sales pitch, you can win their confidence. You'll demonstrate your expertise as well as your ethics. And when they are ready to talk to an attorney, the natural choice will be you.
Want to speak with an expert?
Call us at (312) 265-0580
Your Client-Attraction Plan in Action
The reality for prospects looking for criminal defense counsel is that none of them were ever dreaming of the day when they would need your legal services. You're meeting clients at a vulnerable and challenging time, and the need for high-value information before they talk to you is essential.
This step-by-step guide is your engine to meet prospective clients where they are and give them what they need in a way no one else is doing.
Maybe you already knew half of these tactics or have even explored or tried some of them. But, as Samuel Johnson so aptly said, "most people don't need instructions, they need reminders."
Consider this ultimate step-by-step guide to get more criminal defense clients your reminder. There are so many smart marketing strategies that most lawyers are ignoring. Start by reading more of our how-to articles or by giving us a call today.
Frequently Asked Questions
What is the best type of advertising for lawyers?
Online marketing is the most effective type of advertising for small and medium law firms. The benefits of digital advertising are that it is targeted, cost-effective, and easily measurable. Furthermore, digital approaches offer flexibility across channels, invite mobile engagement, and are quicker to market than traditional methods.
In what cities do you operate?