Many estate planning law firms struggle to get a consistent stream of leads. Yet, our clients, who are in this industry, are doing great.
Attorneys rely on referrals. And, although these are great, it's impossible to predict their ROI. Some months there are loads, while others there are none, which creates a nerve-racking, vicious cycle that can stunt your firm's growth.
So, we decided to share our best marketing strategies for probate lawyers. Want to know how to get estate planning clients? Read on to learn how to ace your estate planning attorney marketing strategy.
Estate planning marketing is one of the most highly competitive segments for law firm SEO. In LA, alone, there are over 12 million web pages you must outdo to rank on top of search results.

For your legal practice to thrive, your website must rank high in organic search results. High visibility is necessary, or else potential clients won't be interested in your services.
So, if your objective is expanding your legal practice and helping people, you need professional help to achieve it.
The good news is that Comrade can help.
We specialize in SEO for Estate Planning Lawyers and attorneys in competitive markets to rank for the most coveted keywords.
client results

Area: Estate Planning

GEO: California

Current Result: #1 for conservatorship attorney
Marketing Strategies for Probate Lawyers: Webpage Optimization
The number one rule in digital marketing is: Be where your potential clients are looking for you. Where does your target audience look for lawyers? Pretty much where they look for anything else these days, on Google!

If you can get your website to show up on the first page of Google — we're talking about organic results, which are the results after the ads and the map listings — you can have life-changing results. We know it's competitive, especially in the legal industry, but it can be done, and we have proof of it.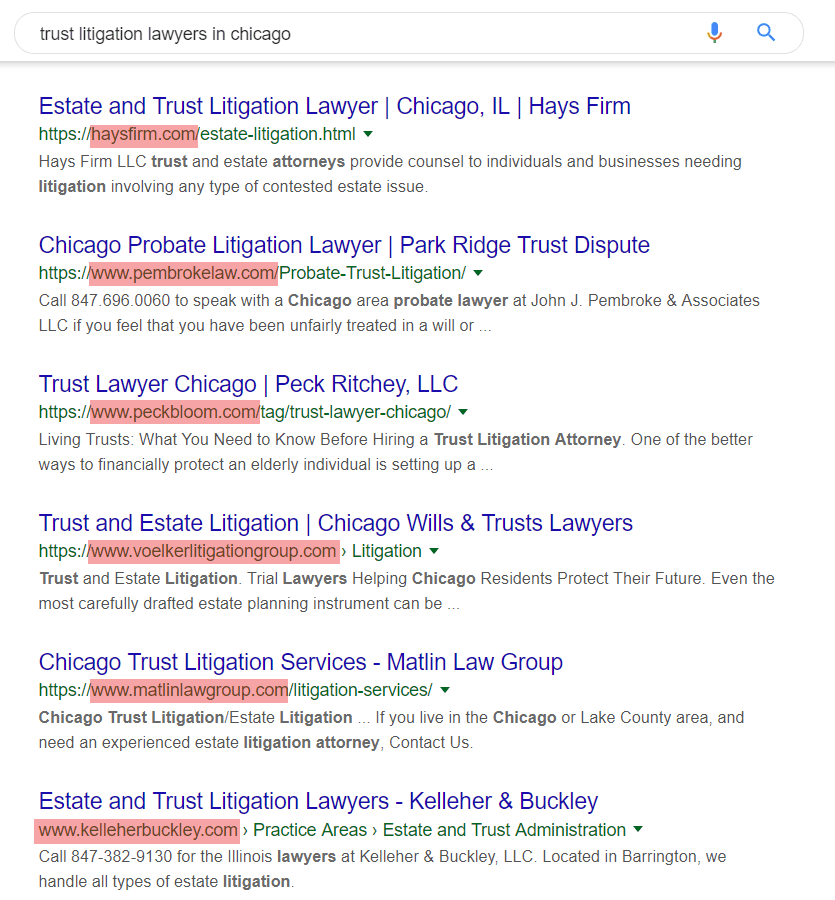 Most attorneys we talk to can't be bothered optimizing their website for SEO because they don't believe it is possible — and yet, we've done it for many of our clients. You just need to invest time, money, and patience.
Conservatively speaking, SEO can achieve a 40%-50% traffic increase year after year. However, search engine optimization results only really become visible from about six to twelve months. Keyword competition, domain age, inbound links, and website effectiveness are several factors, among many, that affect how fast or slow your SEO strategy works.
The best is to hire an expert web marketing for lawyers firm to help you rank higher on organic listings.


Success Stories
Delivering Business Results: Our Digital Marketing Case Studies
Probate Lawyer SEO
Search engine optimization (SEO) is a set of marketing practices designed to improve the appearance and positioning of your web pages in organic search results. It's one of the most important marketing strategies for probate lawyers.
SEO consists of on-page SEO, off-page SEO, local SEO, and technical SEO. Some techniques include:
Researching keywords
Content marketing
Linking between your site and other websites
Ensuring your website is accessible and readable both to humans and search engines.
SEO is a fundamental and long-term strategy and takes a while to produce results—usually between three and six months. As your search engine ranking increases, you'll experience a corresponding demand in key business-development metrics like website visits, incoming calls, and client queries.
Local SEO Map Results
When new clients search for estate planning lawyers, right above the organic results, they will see 2-5 so-called "map listings", or what we call Google's "local pack". These consist of an estate planning firms' name, address, opening hours, reviews, directions, website link, and every so often a direct link to call.
Roughly 97% of your prospective clients searching online want help close by. So, signing up for a free Google My Business account is essential to ensure your estate planning law firm pops up in their local search.
Making sure your local SEO is up to scratch is an important part of online marketing, especially for businesses that operate in specific locations.
Estate planning law firms with local SEO will:
Receive more qualified leads
Reduce ad costs
Have long-lasting rankings on Google
Experience better conversion rates
Receiving positive reviews is also a ranking factor for local SEO, so be sure to develop a review acquisition and management strategy within your marketing plan.
PPC Campaigns
SEO vs PPC — many estate planning firms ask us what they should focus on. While both have their pros and cons, one thing is certain — if your website doesn't show up in the organic search results, you should definitely invest in pay-per-click advertisements.
These are usually the top 3 results that show up in online searches, and while the cost per click can get fairly expensive when done right, these Google Ads campaigns can provide a 200% return on investment.
Estate planning attorney marketing should always include PPC. The best thing about any PPC campaign is that you get to determine the budget, and you can continuously tweak ads (A/B testing) with target keywords to optimize reach and improve web traffic. PPC is one of the most cost-effective advertising tactics, and it works well alongside a robust SEO strategy.
You should spend a little time reading more about PPC for lawyers and what to expect, so you know whether your online marketing agency is producing cost-effective local service ads.
Not happy with your law firm's website performance?
Online Directories
Should you be on directories if you're also on Google? Yes, as we already mentioned, you should be anywhere where a potential client may look for you, and many people look for estate planning lawyers on Avvo, Super Lawyers, Yelp, and a few other legal directories.
Directories rank very high on Google. Chances are that a prospect looking for a trusted law firm will look through a directory.  So, it's also additional exposure.
People love directories because the information there is organized even better than it is on Google, plus platforms feature reviews from your past clients, which, by the way, you should work hard on collecting!
To get the best results, you should pay for a premium listing. Why? Well, if your estate planning law firm's name starts with anything after A or B (the results in most platforms are organized alphabetically), your prospects will never find you.
Invest in getting one of the top three or four listings so that your target audience sees your company, your website, your reviews, and gives you a call.
Content Marketing
Content marketing is a staple component of any robust estate planning attorney marketing strategy. It's used to attract, engage, and retain clients by sharing relevant articles, videos, podcasts, and other media.
If you're new to content marketing, we advise starting with a blog. Make a list of common questions you get from clients and turn the answer to each question into a blog post.
You can write about topics that address common concerns regarding wills, property, probate, estate taxes, and trusts. Just make sure that your blog articles focus on answering one main question that's relevant to your local target audience. There's no point in talking about things from a general perspective if your state has specific laws.
Websites with blogs have 400% more indexed pages than those without. So, having a blog also does wonders for SEO. If your blog contains keywords that match your target audience's search intent then you'll rank highly on internet searches.
Social Media for Estate Planning Attorneys
Other marketing strategies for probate lawyers include using social media to communicate with prospective clients. Social media provides the perfect opportunity to drive leads to your law firm's website.
Plenty of people assume social media is about selling, but it's actually about connecting with your target audience and building a community.
The general rule is to post content wherever your audience is. To ensure you get the most out of your social media interactions you should:
Post consistently to build credibility and trust.
Make your posts conversational.
Respond to all comments, whether good or bad. This fosters good rapport and increases visibility.
Share high-quality images or videos when posting on social media.
According to the Bar Association survey, the most popular social media platforms for law firms are LinkedIn, Facebook, and Twitter. Just remember, sharing quality content equals quality leads!
How to Get Estate Planning Clients with a High Performing Websites
The average law website converts at 2%. Yes, only 2% of the prospective clients who visit your site will contact you.
Wondering how to market an estate planning law firm? Start with getting a high-performance website that:
1. Helps Solve Problems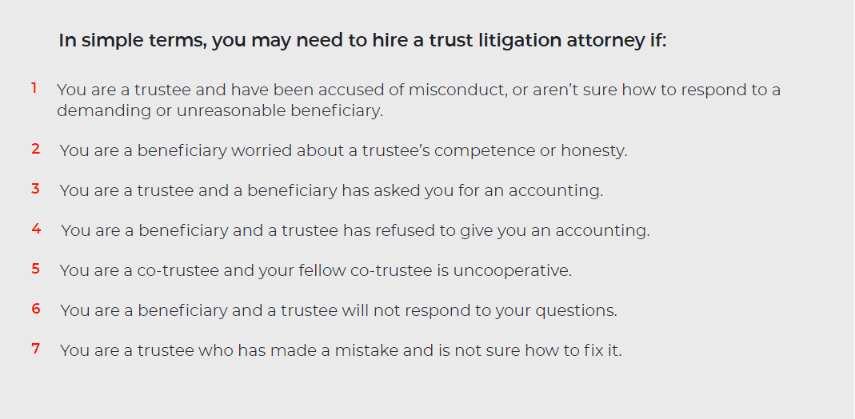 Listing all the practice areas you focus on is fine, but it is not as effective as explaining what problems your services solve. Use anecdotes and layman's terms to explain how you can help solve problems they want you to solve.
For example, you might have different sections clearly labeled, "living wills", "trusts", "power of attorney" and so on. You have to remember that litigation may be intimidating for clients, so making it as easy to understand as possible goes a long way toward converting leads into paying clients.
2. Displays Social Proof

You say you can solve these estate planning problems, but do you have proof? If your bar association allows it, post testimonials on your website. If not, use badges from the various platforms you're on — Yelp, Google, and others — where people can click and read what your former clients have to say about hiring your legal services.
3. Is Mobile-Friendly
Did you know that over 60% of online searches are performed on mobile? There is hardly any point in investing in marketing strategies if your site doesn't work on a mobile phone.
Many law firms make the mistake of developing a great website, only for it to work poorly across devices. A mobile-friendly website loads fast and makes it easy for your prospects to contact you from whichever device they're using.
YouTube Marketing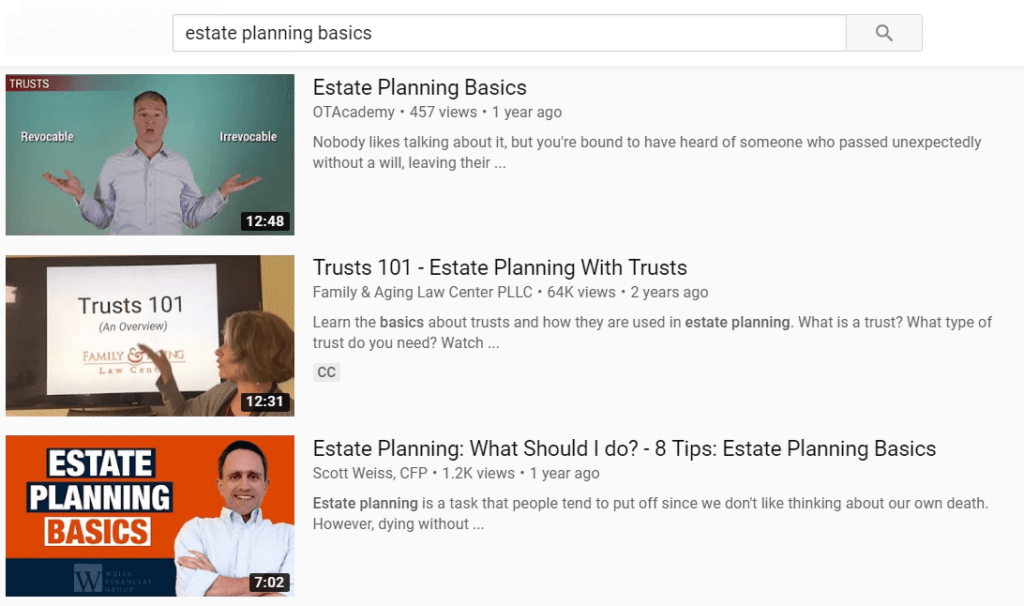 YouTube is the 2nd largest search engine in the world. It's much easier for most people to consume video content than it is to read an article. That's why many prospects start their research by going to Youtube and learning about the legal issues they are facing.
This is why you must include YouTube marketing in your marketing mix — just learn more about how to do it fast and easy. And don't worry about sharing too much — your clients won't turn into lawyers, and nor do they want to do all the things you do. They just want to know that you know how to do them. All videos should present you as an expert in your practice area.
So, from now on, make it part of your estate planning attorney marketing strategy — to answer any estate planning questions you get asked with a video. Why? Well, 86% percent of video marketers say video has been highly effective for generating leads.
So, if you work on publishing videos that provide valuable information and answer FAQs, potential clients will naturally come to you when they are ready to hire an estate planning firm.
Collect Online Reviews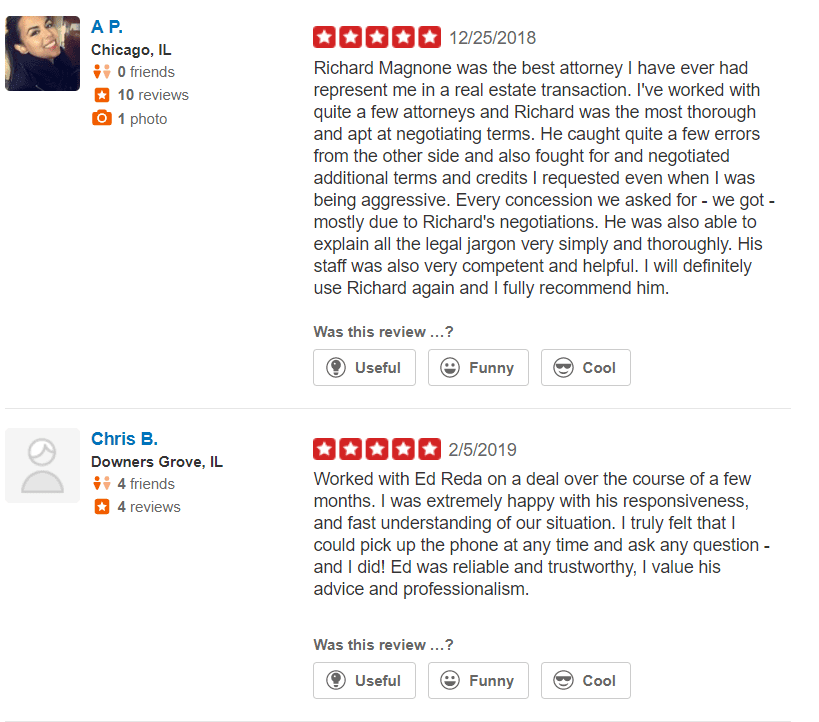 Why is Yelp such a massive hit these days? It's not because they list a lot of businesses geographically, it's because they feature honest reviews and many of them.
Part of your estate planning attorney marketing efforts should always be focused on getting reviews online. The more you get, the better. Just ask! Ask your clients, then remind them, it's that simple. If you want more tricks on how to get reviews, read them here.
If you do everything on that list — or even most of the things on there — you will consistently see great results. Yet, most estate planning lawyers can't be bothered, which is why they get poor or, at best, mediocre results — even if they are spectacular lawyers!
Increase your traffic and revenue with marketing solutions
Hire Estate Planning Attorney Marketing Experts
Of course, these are merely the basics of estate planning attorney marketing. There's still social media management and content marketing to think about. Because most estate planning attorneys need to focus on their business, they outsource their marketing to legal marketing experts.
Comrade Digital Marketing Agency offers comprehensive digital marketing services for law firms. If you want to get more leads, sign more clients, and grow your revenue, then talk to us! We'll help you attract the estate planning clients you want.
Your perfectly optimized content goes here!
Frequently Asked Questions
Where can I find your company?