Law firms are no strangers to marketing. In fact, they have been doing it for decades. However, how they go about attorney marketing has changed over time. With a law firm, there are many different avenues that can be taken to market it. The most commonly used method is through print advertising, such as in newspapers and magazines. However, in the digital age, we have seen a shift towards online marketing and SEO-friendly content creation, with social media being one of the primary methods of communication between law firms and potential clients.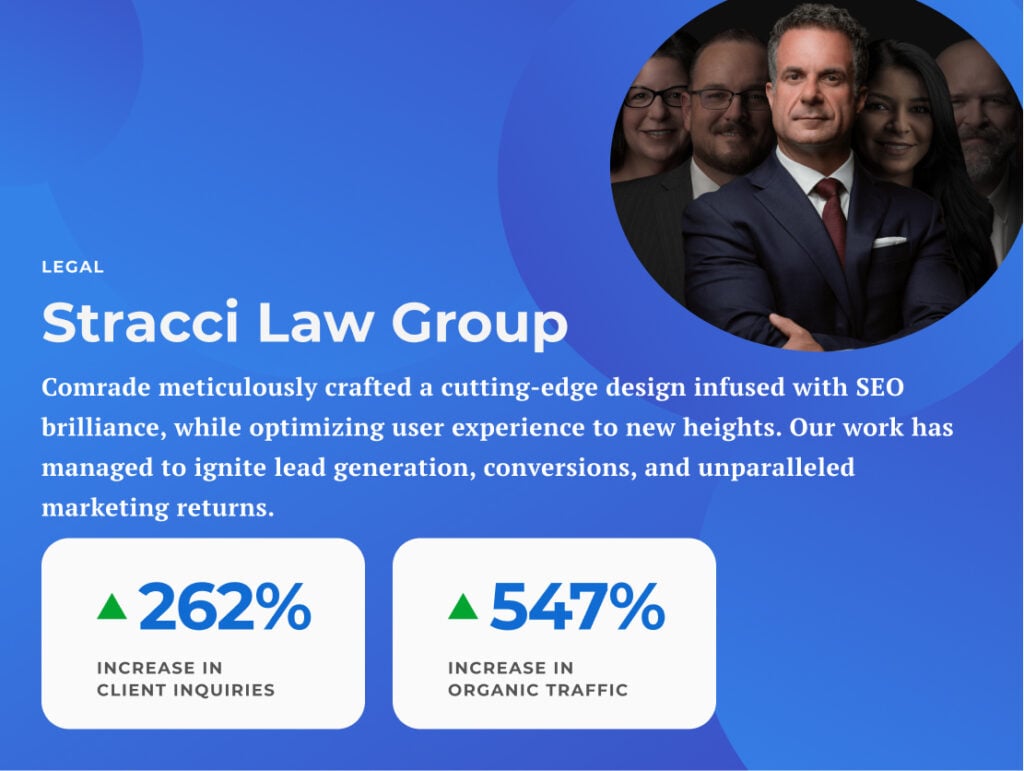 This is where a legal marketing company comes into play for law firms. A lawyer marketing company will help manage all aspects of a business's online presence, such as creating content for websites and social media accounts; this ensures they always have fresh content and clients never forget the firm's services or offerings.
Every law firm executive understands that digital marketing is essential for business growth, but which company should you turn to for services? All of them are highly experienced and guarantee fantastic results. It's really hard to find a truly professional company. That's where we come in. Comrade Digital Marketing has been working with lawyers since 2008, so we know which companies can be trusted and which can not.
What Is a Legal Marketing Firm?
A legal marketing firm is just what it sounds like: a company that provides marketing services to law firms. They work with marketing agencies, advertising agencies, and direct mailers. They are in charge of branding, content marketing, and PPC campaigns for law firms. They also provide social media management services and SEO assistance.
Unlike ordinary web agencies, best law firm marketing companies are more narrowly focused on a specific area, making them more legally savvy. Most often, such companies employ people with extensive knowledge in this area. Moreover, with their experience, these agencies will be able to develop the most suitable marketing strategy for your law firm, which will help you achieve the best results in attracting new clients and increasing profits.
Law firm marketing agencies often have a wide range of expertise that they can offer their clients. It allows them to provide a complete package of services to all of their clients in one place.
How to Choose the Best Legal Marketing Agency
Legal marketing is a tricky field to navigate. The legal marketing industry is rife with agencies that are either too big for your needs or too small for your budget. It is essential to research their work history and reviews to make sure you choose the right agency for your needs. Here are some crucial things you should pay attention to when choosing a law marketing agency:
Their experience in marketing for lawyers and law firms
How much time they spend on each project
Whether their agency can meet your needs
Whether they have the digital marketing services you need
If they have a relevant portfolio
Positive feedback from real clients
Whether they take full responsibility
The qualifications or certifications they have
Comrade Digital Marketing Agency can help you with the above if you're unsure how to go about it. Schedule a free consultation.
Comrade Digital Marketing Agency
We promote openness and trust as a full-service marketing agency, so we know listing ourselves among the best digital marketing agencies would be biased.
Comrade has been providing digital marketing services to law firms since 2008. During this time, we have worked with various legal companies focused on different areas, from criminal defense to family law to business law. We do excellent work for our clients: our average result among them is a 2.5x boost in organic search traffic, a 120% growth in PPC revenue, a 70% rise in lead sales, and a 35% increase in conversion rate. You can become one of these clients who will get the same good results, just contact us!
Since marketing strategies take time to produce results, agencies tend to work with clients for several months or years. Therefore, it is crucial to choose a candidate with a solid track record and with whom you can establish a positive working connection. Since we always put the needs of the client first, we feel confident in our partnerships with firms.
Lawyers have always been coveted clients for digital marketing agencies. Why? Lawyers have a lot of disposable income and are usually very busy, which means they don't have a lot of time to waste. They're willing to pay for quality services, and won't settle for mediocre results.


Success Stories
Delivering Business Results: Our Digital Marketing Case Studies
What a Digital Marketing Agency Can Do for a Law Firm
Digital marketing agencies can provide lawyers with a wide range of services, from website design and development to SEO and content marketing. And because lawyers are such a desired client, there's a lot of competition among agencies. That's why it's important to choose an agency that has a proven track record of success.
In order to give you a better understanding of the agencies available and what they have to offer, we have put together the following list of the top legal marketing companies.
---
Let's get to know
Comrade Digital Marketing Collects All the Best Legal Marketing Agencies in the USA
Rankings
In the eyes of personal injury lawyers, this digital marketing agency for law firms has successfully established itself as the go-to business.
This agency focuses on local SEO and link building. Link building is the most challenging digital marketing technique due to the complexity of its campaign implementation. Customers don't need to worry, though, because Rankings has a successful track record in this area of digital marketing.
Moreover, Rankings can effectively get links from reputable lawyer directories as well as reputable media publications such as the New York Times, The Huffington Post, MSM, Yahoo, and others.
---
Scorpion
Scorpion provides you with information that is tailored to your company and community. Their staff will help you appear in Google, Bing, and Yahoo search results and create a blog and social media content to engage with consumers. Moreover, they will offer technology to power your website, live chat, lead generation, email campaigns, and other business requirements.
With Scorpion's artificial intelligence-powered ad-buying platform, you can attract more clients while spending less. You may communicate with your consumers more effectively and quickly accept payments thanks to their LiveChat and Mobile App technologies. They even give you a team to manage your technology and marketing so you can focus on other things.
Moreover, Scorpion's team makes it easy for local businesses to make sense of everything going on in their market, in their business, and with their customers to gain insights, develop effective plans, and take action. This SEO company ensures that marketing channels and budgets deliver results, customers are loyal, and guidance and support are provided every step of the way.
---
LawRank
LawRank was established with the sole objective of positioning lawyers on Google's top page. Their ideal customer is someone who has used at least one other law firm digital marketing agency and is aware of the expense and work required with SEO.
The fact that their ideal client is aware of the potential benefits of first-page rankings for their business is what matters most. For competitive fields of expertise (criminal law, personal injury law), they have first-page results in competitive markets (Los Angeles, Miami, etc.).
This marketing agency for law firms collaborates directly with its customers and provides them with the information they require for success. To ensure that their customers may benefit from their marketing efforts, they consider every component of the sales funnel.
---
Grow Law Firm
The fact that Grow Law Firm seeks to double the revenue of 2,000 small law firms should tell you everything you need to know about this company's digital marketing expertise and mission.
Grow Law Firm has a dedicated team of marketing professionals who are ready to go the extra mile, use their talents, and deliver the results you want for your business. They will not provide services if it cannot be predicted with certainty that the investment will pay off for their clients.
Instead of wasting time on meaningless statistics like "likes" and "followings," Grow Law Firm focuses on key performance indicators that will increase your profits: qualified lead sales and corresponding cost per lead.
They are responsible and maintain accountability for the work they do and the results they bring. Their employees behave as though they are in charge of every cent used to promote your company. That's why it's the best choice for many lawyers who want to have a reliable team!
---
Gladiator Law Marketing
Since they are client-focused, they base their business decisions on what will benefit their customers the most. The company's fundamental principle is openness, which gives many law firms a great deal of choice in their online marketing campaigns.
Their team will analyze your current marketing efforts and law firm website, your competitors and marketing trends, and your business's objectives to develop a unique strategy for promotion. Using the legal marketing resources at their disposal, they will develop strategies that respond to the ever-changing landscape of the Internet and align with your company's goals to deliver the best results.
Gladiator Law Marketing is a top choice if you require significant SEO work, display advertising, and an incredible website design. They are one of the best legal marketing firms and they serve a wide range of sectors.
---
iLawyerMarketing
iLawyerMarketing is a legal marketing agency with clients all over the country, including California, Arizona, Colorado, Texas, Florida, New York, and other states. The iLawyerMarketing team focuses on advanced web design and SEO, the practice of assisting a website to boost its presence on the search engines for specific target keywords.
Having a website alone is not enough in today's harsh legal industry. If you want to optimize the number of leads generated by your website, you need to create a site that leaves a memorable impact. Therefore, iLawyerMarketing strives to make your website attractive, eye-catching, and better than your competitors' law firm websites.
When a person searches online for a lawyer, it's critical to realize that they typically visit only five different legal websites, no more. That's why the more attractive your website is, the more likely it is that visitors will stay on your site rather than one of your competitors.
---
On The Map Marketing
When it comes to internet marketing and site design, experience is crucial. On The Map Marketing's professionals have made a name for themselves as industry leaders in cutting-edge website design and digital marketing. And they can prove it with their awards from well-known organizations in the industry, including Clutch, SEOblog, Top 10 SEO, Upcity, and the Shopify Certified Partner Network.
On The Map Marketing has the most talented team of web developers, designers, and SEO consultants in their fields, which is why they can take any business of yours to the top of Google.
Moreover, their team keeps track of all the data from their different marketing strategies. The greater the results one of them brings in, the more money they'll invest in it. Thus, the money that you have invested in promoting your company will not be spent on useless marketing moves.
---
SmartSites
SmartSites was created by brothers Alex and Michael Melen, who grew up loving everything digital. Through creativity and hard work, SmartSites soon rose to the top of the list of fastest-growing companies in the United States. Since its launch in 2011, its unwavering dedication to its customers has earned it over 100 5-star ratings. They deliver results that go above and beyond their clients' expectations.
Without the proper aesthetic appeal, even high-quality content would be useless since no one will stick around on an unattractive website. SmartSites has experienced web designers to fix this issue. Moreover, they have tried-and-true PPC techniques which will help you connect with the most relevant leads, whether you specialize in medical malpractice or litigation.
SmartSites also provides a complete solution for digital marketing. To ensure that your company goals are met, they will manage everything: your content, visibility, website development, and design. They will bring maximum benefit to your company by offering customized solutions.
---
PaperStreet Web Design
PaperStreet Web Design develops truly great websites for its clients. This company has been helping law firms grow their legal operations since 2001. While their primary activity is website design, they also venture into content writing, law firm SEO, PPC, and digital marketing.
They have helped several companies develop their brands and have won numerous awards; over 70 awards from companies like Webby, W3, Communicator, Davey, Lawyerist, Marcom, Ava, IMA Awards, and many more have been given to their brilliant staff in the last three years. Even more impressively, they won six out of ten Lawyerist prizes in 2020, another in 2021, and two more in 2022.
Through internet marketing and SEO, PaperStreet Web Design has also helped businesses advertise their services and expand their clientele. Great content, conversion-oriented designs, and a successful SEO and Google Ad program are their primary marketing tools. Moreover, they solely employ legal writers.
---
BluShark Digital
BluShark Digital is at the forefront of SEO strategies, and its results prove it. Their internet marketing strategies focus on the four cornerstones of SEO: link-building, technical optimization, creative content, and local SEO. With the proper application of these crucial aspects, a website can become more trustworthy and authoritative in the eyes of Google, rank higher on search engine results pages (SERP), and deliver high-quality results.
Google favors technically optimized websites just as much as it values presenting pages that provide the best answer to a user's search query. Make sure your website is technically sound to keep users and Google happy. It's crucial that a website loads swiftly and runs smoothly on all digital platforms.
With over 50% of Google searches coming from mobile devices, lawyers who only have a desktop version of their website are losing more than half of their leads. For this reason, every website that BluShark develops has a responsive design that adapts to your screen size.
The BluShark Digital team promotes your business online using all accessible marketing strategies to bring a lot of people to your website.
---
Accel Marketing Solutions, Inc.
Marketing services for lawyers and law firms are a specialty of Accel Marketing Solutions, Inc. Their marketing professionals are aware of what it takes to succeed online and you can be sure you are in capable hands when you work with Accel Marketing. They actively develop and manage an efficient marketing strategy while you concentrate on your legal business.
The website designers at Accel Marketing are professionals at making your law firm stand out. Their mobile-friendly websites are made to maximize your online presence and give visitors a sense of the spirit of your business. Moreover, based on your requirements and the guidelines established by Google, Bing, and Yahoo, the SEO experts at Accel Marketing will create a tailored SEO strategy for you.
Their video production team is ready to highlight your legal knowledge by improving your search engine results with high-quality films containing relevant educational information.
Few have as much PPC expertise as Accel Marketing. They can create the most successful Pay-Per-Click ads and maximize your return on investment thanks to their data-driven strategy and extensive A/B testing. The services that this company can offer go beyond that. This agency stands out from the competition due to its excellent staff and quality of service.
---
NOMOS Marketing
NOMOS Marketing strongly believes that effective marketing can improve accessibility and usability. In order to reach the desired audience, they develop customer-facing marketing strategies that include storytelling, top-notch visual content, design, and technology. Ultimately, their goal is to support the growth of your legal practice.
The NOMOS Marketing team includes various professionals such as writers, designers, advertisers, and brand builders. This agency creates a unique combination of innovative design, awesome content, and the best digital advertising methods to reach new clients.
What's more, NOMOS Marketing offers customers deeper insights, more targeted strategies, faster results, and simplified reporting. Services provided by this company cover every stage of the sales process, and customers can get specialized assistance at any time during their marketing campaign.
---
Optimize My Firm
The Optimize My Firm team is based in North Carolina and works with customers in cities all around the country, including Philadelphia, Los Angeles, and other places in between. They are a real 21st-century business, with 99% of its staff working remotely. Due to their ongoing work in the background, they are able to provide on-the-spot help for their customers, giving advice and responding to inquiries.
Optimize My Firm specializes in search engine optimization for legal companies. They work with both large companies and small ones. Unlike other agencies, who pit their customers against one another, they commit all of their efforts to assisting you in dominating your industry. Their employees will help you generate more leads, which means you will have more new cases and, ultimately, more income. Moreover, they will create a cutting-edge SEO strategy to help you outperform your competitors on Google.
---
MeanPug Digital
Even if you are unfamiliar with their business, you have probably seen their work. they've developed many of the best personal injury marketing campaigns. MeanPug is a full-service digital marketing company that focuses on assisting plaintiff law firms in increasing their clientele. They have helped generate billions of dollars for some of the country's top legal firms.
Their journey started with small start-ups and led to the largest personal injury legal firms. They have helped big firms with their digital sales and built start-up businesses from zero to $100 million in annual revenue in less than three years and can assist you in adopting these strategies and techniques since they know what works. Working with MeanPug puts you in direct contact with driven entrepreneurs that like a challenge.
Their designers will make sure that your site is as aesthetically beautiful and user-friendly as possible and that your content looks fantastic and grabs the attention of potential clients. Moreover, MeanPug Digital has created fresh branding for some of the most established law firms. Their team is ready to work with you to grow your company, whether you need to start from scratch with a new brand or refresh an existing one.
Not happy with your website performance?
Conclusion
We hope you got a lot from this article on legal marketing companies. Armed with this knowledge, we know that you can get the best for your law firm by contacting a legal marketing agency to help you grow your business. So what are you waiting for? Choose one for you and promote your services now!
If you're ready to get started, contact Comrade Digital Marketing Agency today!