Top digital marketing agencies are companies that specialize in brand development and lead generation. They focus on the digital promotion of brands, products, or services online. The tactics they employ to improve brand awareness and business revenue vary according to their client's specific requirements.
Best marketing agencies have teams of dedicated digital marketing specialists (like strategists, consultants, and content creators) who work together to deliver quantifiable results that promote their client's business growth and improve their market share.
In today's world, every business should invest in digital marketing because it connects brands with customers when they are online (most of the time) and is effective in all industries. Digital marketing links brands with target audiences when they are on Google through PPC, SEO, social media, search engines, and email marketing.
Digital marketing agencies can assist with skyrocketing the ROI of your digital marketing campaigns without having to assemble an in-house team.
Let's take a look at some top digital marketing companies that can improve your ROI.
Comrade Digital Marketing
As a full-service digital marketing agency, we value transparency and trust, and it would be completely biased to put ourselves on a list of top-notch digital marketing agencies.
Because marketing strategies take time to yield results, agencies tend to work with clients for a few months at a time.
Therefore, it's super important to hire one with an excellent track record and with whom you can develop a good working relationship. To us, the client always comes first, so it's imperative you find an agency that best suits your needs.
Our team has over a decade of successful projects and continues to provide expertise with the sole purpose of growing revenue. Comrade Digital Marketing Agency is a one-stop-shop servicing all digital marketing needs from website development to SEO (and also franchise SEO services) and paid advertising.
We have a client retention rate of 92% and produce a 175% increase in web traffic and a 150% increase in leads on average for all clients.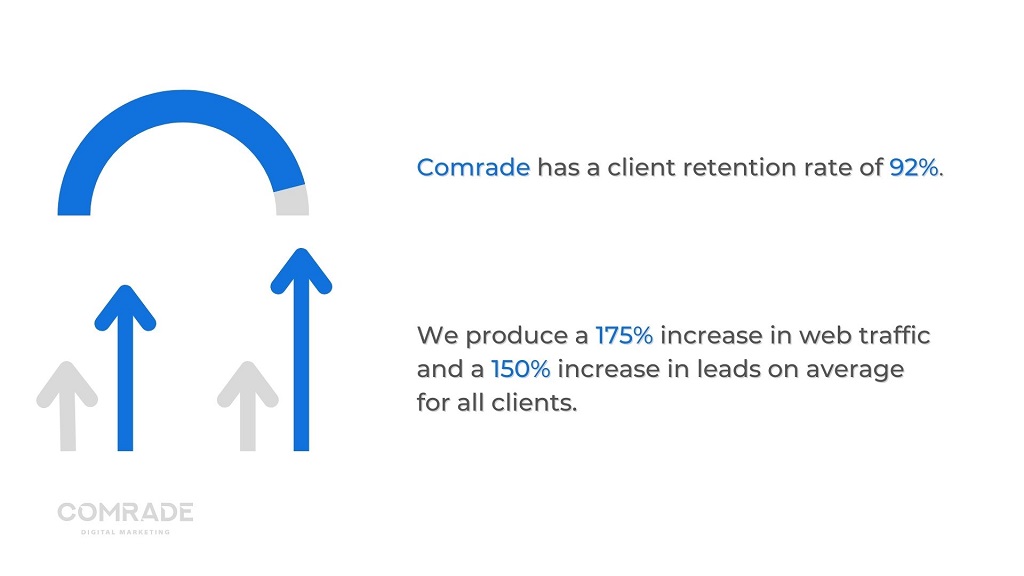 Nevertheless, we've put together this list to give you an idea of the agencies out there and what they have to offer. While the digital marketing sector is competitive, we believe this inspires healthy motivation for professional marketers to provide the best service for their clients.
After all, the primary goal for any advertising agency should be the success of their clients.
11 Best Digital Marketing Agencies in 2023
1. WebFX
Founded: 1996
Headquarters: Harrisburg, Pennsylvania, United States.
Specialization & Specialty: A full-service digital marketing agency that developed CrawlerFX, a proprietary technology, to crawl and analyze client websites.
WebFX has generated more than $1 billion in revenue for its clients and has a 91% client retention rate. If its reputation is anything to go by, this digital marketing agency is one of the best performance marketing agencies in the country.
It is a market leader in marketing automation and has amassed over three million qualified leads for its clients. WebFX has a great track record in lead tracking, lead management, targeted advertising, and review management.
What also stood out to us about the agency is its impressive ability to lower the percentage of duplicate content for companies, as well as help them build impressive and versatile backlink profiles.
WebFX also pays close attention to improving its clients' website's Core Web Vitals, which is an important ranking factor in search engine results pages.
2. Blue Corona
Founded: 2008
Headquarters: Charlotte, North Carolina, and Gaithersburg, Maryland, United States
Specialization & Specialty: Blue Corona used to be a general digital marketing agency but now works exclusively with home services companies.
As a nine-time Inc. 5000 marketing and services technology company, Blue Corona helps businesses use technology to increase sales, reduce marketing costs, and differentiate their brands online.
The company's inbound marketing methodology focuses on helping small and mid-sized businesses accurately track their advertising and marketing.
Its specialties include ad tracking, analytics, content marketing, conversion rate optimization, email marketing, SEO, social media, and web design and development.
From our perspective, Blue Corona achieves commendable results for developing strong backlink profiles for their clients, particularly when it comes to website structure and interlinking internal pages.
They also focus on building strong Google My Business profiles (local SEO), which makes sense as they service home service businesses that tend to serve specific geographic areas.
3. Straight North
Founded: 1997
Headquarters: Downers Grove, Illinois, United States
Specialization & Specialty: Straight North is by far one of the best SEO agencies.
Straight North is one of the few marketing agencies that generates, validates, and reports online sales and leads in real-time. Employing over 100+ full-time employees, this digital marketing agency offers lead validation services like no other.
Their team diligently listens to phone recordings and reads inquiry forms to separate qualified leads from misdeals, spam, and sales solicitations.
This unique service allows them to test and improve campaigns as soon as possible, providing clients with an unprecedented level of reporting accuracy.
As one of the best digital marketing agencies, serving a large variety of industries, Straight North is an excellent choice if you need serious SEO work, email marketing, display advertising, and a responsive website.
4. Thrive
Founded: 2005
Headquarters: Dallas, Texas, United States
Specialization & Specialty: Comprehensive digital marketing services for small businesses in health, medical, home services, legal, and manufacturing industries.
Thrive has a wide base of international clients. As a top-ten rated SEO agency, Google Premier Partner, and one of Inc 5000 fastest growing companies, this digital marketing agency produces an average growth rate of 80+% for its clients.
It is also a proud member of the International Franchise Association (IFA), which is handy to know if you require digital marketing services to maintain brand consistency across locations and websites. Undoubtedly, Thrive has the expertise to service enterprises, franchises, and multi-location companies.
Additionally, it offers good link-building services for clients, as well as a solid web page design structure, which on the whole, leads to improved user experience and better marketing strategy results.
5. Ranking.io
Founded: 2013
Headquarters: Fallon, Missouri, United States
Specialization & Specialty: One of the best digital marketing agencies for personal injury lawyers.
Rankings ranks number on Google for "SEO for lawyers," and that should tell you everything you need to know about the company's digital marketing capabilities. This one of the best digital marketing firms has securely positioned itself as the go-to company for personal injury lawyers.
The two digital marketing services that stand out, particularly for law firms, are the agency's focus on local SEO and link-building. Rankings can successfully acquire links from large lawyer-specific directories, as well as established media outlets (high-quality domains) like NY Times, The Huffington Post, MSM, Yahoo, etc.
Of all digital marketing strategies, link building is the toughest because its campaign execution can be complex. However, this aspect of digital marketing isn't something clients have to worry about, given Rankings' accomplished track record.
6. Scorpion
Founded: 2001
Headquarters: Salt Lake City, Utah, United States.
Specialization & Specialty: Scorpion is renowned for its technology stack that offers unparalleled automation. They're a good fit for established law firms, as well as healthcare, medical, and franchise businesses.
Their blend of AI and professional expertise helps clients set, measure, and reach financial goals. As a full-service performance marketing agency, Scorpion is trusted by over 14,000 businesses to create customized internet marketing plans with a high ROI.
This digital marketing company builds its clients' websites on a proprietary CMS, which streamlines the web development processes; however, if a client decides to terminate services with them, they might have to build another site from scratch.
Yet, overall, the company offers a host of digital services, including better link building, local SEO, content, and search engine marketing. Their artificial intelligence-led ad buying and customer management software is among the best out there.
7. Ignite Visibility
Founded: 2013
Headquarters: San Diego, California, United States
Specialization: A leading performance-marketing agency offering a full range of digital marketing services. Ignite Visibility uses a proprietary multichannel forecasting system and software to help clients hit business goals.
Ignite Visibility has been named the number one SEO company, paid media company, social media company, and best digital marketing agency in the US. So, if accolades are anything to go, this agency is definitely one of the best.
The agency manages roughly 100 million in advertising dollars a year, working with some of the best brands in the world. Ignite Visibility doesn't discriminate against clients, working with both big and small companies.
Its proprietary software-driven and source-based forecasting built on competitive analysis and business data help clients build a unified cross-channel marketing strategy driven by best-in-class creatives.
8. Power Digital Marketing
Founded: 2012
Headquarters: San Diego, California, United States
Specialization: Power Digital Marketing works with larger brands in the B2C, D2C, B2C, and equity space.
From online reputation management to web design services and everything in between, Power Digital Marketing is an ROI-focussed agency that's built a reputation as one of the current best digital marketing companies.
Its novaPlatform software analyzes over 85 million data points to examine business growth opportunities and build a plan to execute them. This proprietary software uses AI to track progress across channels in a customer-to-user dashboard.
With the novaPlatform, clients get more in-depth insights, sharper strategies, faster results, and easier reporting. Essentially, the digital agency provides effective marketing strategies designed by machine learning and analyzed by experts.
While Power Digital Marketing offers a broad range of digital marketing services, its team comes with "laser-focused expertise." The company's services span the entire sales funnel, with dedicated specialists to help clients through their marketing journey.
9. Coalition Technologies
Founded: 2009
Headquarters: Culver City, California, United States
Specialization: A top-rated SEO company specializing in web design, email strategy, social media, and PPC.
Coalition Technologies has a global team spanning from LA to Seattle, India, the Philippines, and Europe. The company maintains a 97% client retention rate and 99% customer satisfaction.
With over 600+ successful case studies, Coalition Technologies continues to provide exceptional online marketing services to a wide range of industries and clients. It focuses on conversion, optimization, sales, customer retention, and marketability.
Perhaps not astounding for a disruptive advertising company of this nature, Coalition Technologies' clients earn a collective $10,000,000 in revenue each month through online sales and receive nearly 15,000,000 website visitors.
What we really like about this internet marketing company is its SEO-first approach. Any result-driven digital strategy should always have a strong SEO foundation. It's clear, given its admirable track record, that Coalition Technologies deliver results time and again.
10. Rise Interactive
Founded: 2004
Headquarters: Chicago, Illinois, United States
Specialization: Rise Interactive is powered by Connex®, a cross-channel media optimization platform that ensures the best ROI. This marketing agency tends to work with larger brands and Inc.1000 companies.
As a full-service digital marketing agency, Rise Interactive combines award-winning media expertise with the power of content marketing to scale businesses and brands.
Its proprietary software Connex® unifies and normalizes marketing data to uncover audience, creative, product, and location trends, and was named Product of the Year in the Sales and Marketing Technology Awards.
Rise Interactive offers comprehensive marketing services specializing in digital media, analytics, and customer experience. Their proprietary approach optimizes media spending fluidly to whichever channels or tactics are driving a client's highest ROI, and is always done with full transparency.
11. Cardinal Digital Marketing
Founded: 2009
Headquarters: Atlanta, Georgia, United States
Specialization: SEO, Facebook marketing, PPC management, programmatic display advertising, and conversion rate optimization for multi-location companies and brands in the healthcare, legal, franchise, and restaurant industries.
Cardinal Digital Marketing has an average client tenure of 5.2 years. Like some others listed here, it's also a Google partner and Inc. 500 Private Company. What makes this marketing agency unique is it doesn't claim to offer everything.
Instead, it focuses on a few select services that guarantee online marketing results. The first is programmatic advertising. This is the process of using automated technology for media buying, providing total visibility over media campaigns.
Secondly, it helps clients fix low conversion rates from social media marketing, website and landing pages, as well as email campaigns. Cardinal Digital Marketing's veteran specialists can build a customized plan to boost conversions.
Why Do You Need Digital Marketing Services?
Professional Expertise
Living in a world with decentralized knowledge allows anybody to study digital marketing. Between Google and YouTube, you could probably learn enough to become a one-person marketing team.
But, at the end of the day, it comes down to time and specialty. While it's always good to have basic digital advertising knowledge, when you hire a digital marketing agency, you get immediate access to expertise.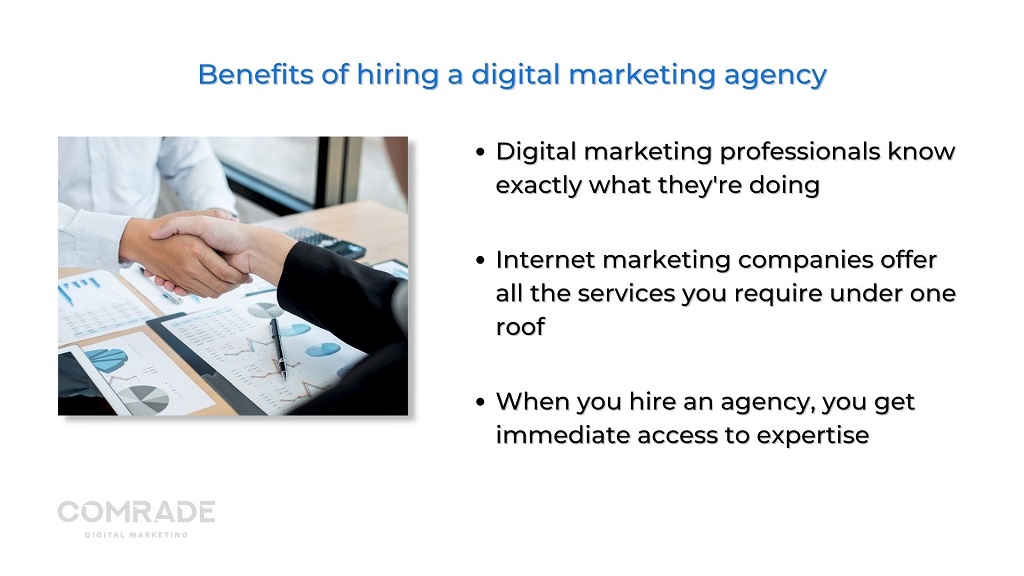 Digital marketing professionals know exactly what they're doing. They'll help your company perform at its best. Often, to accomplish the simplest of tasks, you need a strategist, copywriter, web analytics specialist, and project manager.
When you hire an agency, you get the full package and don't have to hire individual freelancers to achieve digital marketing goals.
From a financial perspective, it simply does not make sense to waste time and resources seeking and hiring expensive specialists who work on an hourly basis. Rather, work with a digital marketing company that offers all the services you require under one roof.
Measurable Results
An agency for digital marketing, including a digital marketing agency for small business, ensures every dollar spent is accounted for. From social media marketing to search engine optimization and email marketing campaigns, an agency will track the results of your marketing efforts.
Because agencies are hired to improve online performance and generate more business leads, they're just as concerned with delivering ROI as you are.
They can identify relevant metrics across channels and provide insightful information about your business, target audience, and online performance.
They also know which metrics matter and how to implement strategies that align with your business goals. The top digital marketing agencies generate more leads, improve conversion rates, and increase website traffic and sales.


Success Stories
Delivering Business Results: Our Digital Marketing Case Studies
Cost-Effective
Outsourcing your digital marketing to an agency cuts the payroll and taxes associated with hiring an in-house team. Most agencies work on a per-project or goal basis, so you choose when, where, and how much you spend.
When you outsource digital marketing efforts to an agency, you get access to an entire team, such as an SEO expert, Google Ads expert, and so on. This provides greater specialization at a lower cost.
Another good thing is the best digital marketing services provided by marketing firms are scalable. As your business grows, you can just tell your marketing agency what your new goals and budgets are, and they can adjust their prices and services accordingly.
Lastly, something that big and small businesses forget is the tools needed to execute your digital marketing strategy. Keyword research, email automation, and analytics tools all cost money. However, if you hire an agency, you don't have to worry about spending a dollar on purchasing licenses and software.
Maximize your digital marketing potential with Comrade Digital Marketing Agency. Cut costs, gain specialization, and access scalable services. Schedule a free consultation.
How to Choose a Good Digital Marketing Agency?
The best digital marketing agency will result in better online engagement and improved profits for your business. Hiring a marketing company is a bit like hiring talent at work. You have to do research, talk to candidates, and assess whether they're the right fit.
Let's discuss what to look out for and what to avoid in selecting an agency:
Hiring Tips
Always check for successful case studies. Most reputable agencies present case studies on their websites. You should look for ones in your industry to gauge the quality and scope of the agency's work.
Read customer reviews. Again, many agencies gladly showcase their reviews on their websites, social media channels, and review platforms. An agency with zero reviews is potentially dodgy, while one with only 5-star reviews is possibly being dishonest.
Because reviews can sometimes be tricky to gauge, you should ask to speak with one-to-three references to get honest feedback from old client opinions.
We can't stress this enough: agencies can work wonders, implementing the best marketing strategy for your business. However, they can't do this if they don't know what your goals are.
Make 100% sure they understand your goals and are comfortable with them. Get this in writing if you have to! Of course, you also need to be clear and specific about what you want to achieve.
For instance, it's better to say, "we want to increase revenue by 20%," and not "we want to increase revenue."
Make sure you understand how the agency is going to help you achieve your desired goals. A reputable agency will provide a clear plan, and be happy to explain (in detail) how their strategy will improve business.
Understand which KPIs the agency will track, and ensure they're aligned with your goals.
Go through the contract terms: the length, what's included, and what everyone's responsibilities are.
Ensure you'll own all deliverables if you decide to cancel the contract. This includes the website, content, analytical tools, data collected, etc.
Meet with the agency's account manager assigned to you, and ensure they're a good fit for you, as they'll be your main point of contact throughout the process.
Red Flags to Watch Out For
For every remarkable agency out there, there are always going to be opportunists looking to make a quick buck and take clients for a ride. For starters, if an agency offers immediate results, then they are either hoodwinking you or too inexperienced to execute professional digital marketing campaigns.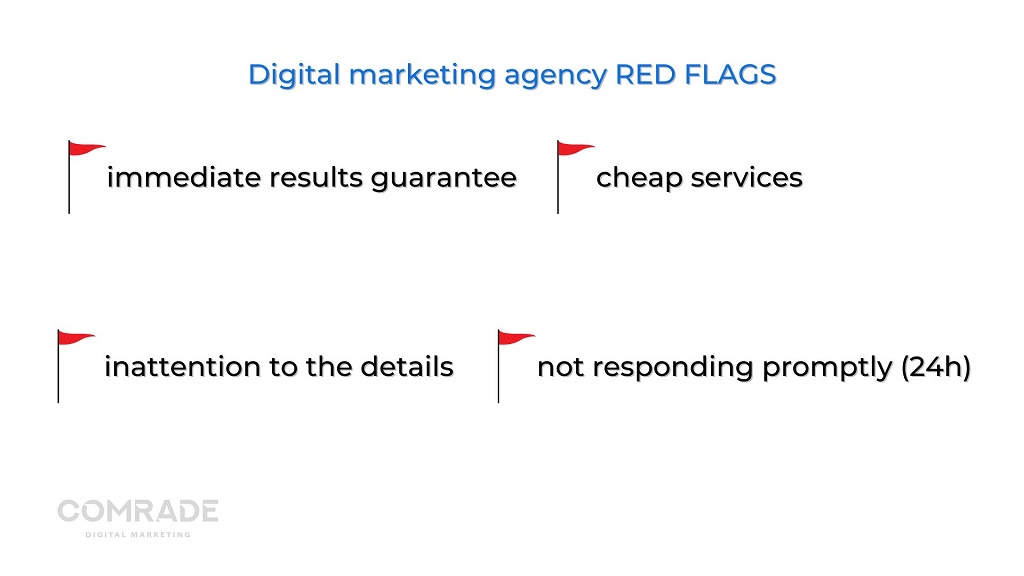 To give you an idea, most SEO campaigns take six to twelve months before you see results. Hence, a good agency will take the time to develop a custom SEO strategy, instead of spewing hypothetically promises.
Another thing to be wary of is pricing. Determining the cost of any digital marketing strategy can be tricky because they're customized and budget-dependent. Some agencies offer packages, while others work on service-based costing.
For example, at Comrade Digital Marketing Agency, we suggest clients start with at least $1,500 per month and then work with them to determine how we can help them start to achieve their goals within their budget.
Digital marketing services aren't cheap. If an offer sounds too good to be true, it likely is. More often than not, cheap marketing results in techniques like keyword stuffing, paid links, poor content, and buying traffic which Google can penalize a website for and demote its ranking.
Hiring a cheap agency can damage your brand and overall business. Fixing their mistakes can cost you even more in the long run. If you don't know how much things cost, that's also okay. Shop around for quotes and do research to get an idea of ballpark prices you might expect to pay.
You should also never feel like you're chasing an agency to get back to you. Not responding promptly might foreshadow larger hurdles down the road. Most professionals would agree a 24-hour response time is adequate, unless you're working on something that is time-sensitive and requires quicker responses.
Lastly, you'll want to pay close attention to the amount of research the agency does about your company and its competitors. Digital marketing is data-based and precise, so the agency you hire should do its research and have loads of questions to ask you about your business.
If it feels like they're not paying attention to details or seem to have a cookie-cutter approach, then you shouldn't be working with them. Digital marketing is all about the details. A good strategy is based on research (data), is strategic, and pays meticulous attention to detail. So will a reputable agency.
The Highest Ranked Digital Marketing Agencies on UpCity and Clutch
The following table combines the most popular digital marketing agencies as ranked by UpCity and Clutch.
| | |
| --- | --- |
| UpCity | Clutch |
| 1. WebFX | 1. Disruptive Advertising |
| 2. SmartSites | 2. KlientBoost |
| 3. RevLocal | 3. Sapphire Software Solutions |
| 4. SocialSEO | 4. Brainvire Infotech Inc |
| 5. Red Spot Design | 5. Belkins |
| 6. Disruptive Advertising | 6. CIENCE Technologies |
| 7. M16 Marketing | 7. Doctor Multimedia |
| 8. Thrive | 8. Uplers |
| 9. Jives Media | 9. Straight North |
| 10. The Media Captain | 10. Delante |
| 11. Fair Marketing Inc | 11. Ignite Visibility |
| 12. Kobe Digital | 12. Incrementors Web Solutions |
| 13. Funnel Boost Media | 13. Storm Brain |
| 14. Dsquared Media | 14. Megaphone Marketing |
| 15. NEWMEDIA | 15. Oyova |
See how high-performance digital marketing services can help your business grow
Work with Comrade Digital Marketing Agency
Hiring the right digital marketing agency in USA takes time, research, and homework on your part. It's like making a business investment. No sound business owner would rush into making such a decision without knowing the details and expected ROI.
At Comrade Digital Marketing Agency, our customer-centric approach ensures utmost transparency, while our marketing expertise guarantees a high ROI. We only work with companies whom we feel are a good fit, and would never promise what we can't deliver.
If you're seeking a full-service digital marketing agency, then we'd love to chat with you and determine if and how we can help you grow your business.
Frequently Asked Questions
Where can I find your services?