PPC advertising is an effective way to market your real estate business online. By targeting specific keywords and phrases, you can reach potential buyers and sellers who are actively searching for properties like yours. Moreover, PPC ads can be customized to specific locations, demographics, and even device types so you can ensure that your ads are reaching your ideal audience.
While organic traffic is always the goal, PPC can be a great complement to your SEO efforts and can help you generate leads and sales in a more immediate way. If you're not already using PPC for your real estate business, consider giving it a try – it could be just the boost you need to take your business to the next level.
The real estate market is unpredictable. Whether you're a single agent or a team working for a real estate broker, every qualified lead counts. With cost-effective PPC, you have optimal levels of advertising control. That's why leading real estate digital marketing companies use it to help their clients' businesses. And you should too.
We've put together a helpful PPC real estate guide, explaining what this advertising method entails and how to set up real estate PPC campaigns that drive traffic and revenue.
Let's learn
What Is Real Estate PPC Advertising?
Pay-per-click advertising (PPC) is a form of online advertising in which advertisers pay each time a user clicks on their ads. It's widespread and commonly used among B2C businesses due to the highly targeted nature of its campaigns. Ad prices are set by bidding, which gives you the option of being flexible with your ad spend.
The beauty of PPC for the real estate industry is that your advertisements are only displayed to potential customers already expressing intent, i.e., already searching for the types of properties on your books. Therefore, you're spending money on potential clients who are already in the buying cycle.
What Do PPC Advertisements Look Like?
Pay per click allows you to run text search ads that appear on both Google and Bing search engines when someone types in a keyword you've bid on. Here is an example of a text search ad from Google Ads.
How Much Money Should You Invest in Real Estate PPC Campaigns?
Many factors must be considered when deciding how much to invest in PPC advertising. Your business goals, target audience, and budget will all play a role in determining your PPC spending.
To start, you'll need to set a budget for your real estate PPC campaign. How much you're willing to spend will depend on your business goals. Are you looking to generate awareness or drive conversions? Once you've decided on a budget, you can start spreading your money across various platforms. For most single agents, we recommend investing a minimum of $1000 per month, with an optimal budget of $2000 to $3000 per month.
Next, you'll need to consider your target audience. Who are you trying to reach with your PPC ads? What are their needs and interests? By understanding your target audience, you can create ads that are more likely to resonate with them.
Finally, you'll need to monitor your PPC campaign to see how it's performing. Are your ads reaching the right people? Are they generating clicks and conversions? By regularly monitoring your campaign, you can adjust your spending as needed to ensure that you're getting the most out of your PPC investment.
5 Benefits of PPC Advertising for Real Estate Agents and Businesses
Google Ads for real estate in the form of PPC is a way to buy visits to your website. PPC ads with high commercial intent receive 65% of all clicks, and this is only one of the many benefits it offers real estate business.
Only Paying for Results
In other advertising models, you pay a fee for having your ad displayed (impressions) but don't have any guarantee it will generate results. With PPC for real estate agents, there is a direct link between cost and performance because you only pay when a user reaches your website or landing page.
Effectively Targeting Your Audience
Real estate Google Ads always reach the appropriate audience. Audience segmentation yields better results since advertising messaging is tailored specifically to resonate with different buyer personas. Thus, Google's advertising platform's laser-targeted segmentation options mean you won't waste a single click. And the higher the percentage of clicks, the lower the cost of the ad.
Staying Top-of-Mind
PPC real estate marketing provides instant exposure for high-volume searches in the blink of an eye. From search ads to video campaigns on YouTube and display banners, you can publish your ads on many platforms affiliated with the Google Network to ensure your real estate business remains top of mind.
Faster Results than SEO
While it can take between three and six months to see results from your SEO strategy, it's possible for real estate PPC marketing to boost traffic within 24 hours! Of course, this isn't a long-term solution as SEO is still necessary for sustainable growth. However, if you have a new real estate listing you urgently want to alert clients to then PPC is an effective solution.
Increased Client Engagement
Real estate PPC marketing ads placed in premium contexts are viewed for longer and have higher engagement. Google Ads also allows you to target potential clients who have already visited your website and expressed an interest in your business. Thus, it is a cost-effective way to increase engagement and sales conversions.
Comrade Digital Marketing Agency can help you create your personal PPC marketing strategy. Schedule a free consultation.
Success Stories
Delivering Business Results: Our Digital Marketing Case Studies
4 Steps to Run a Real Estate Google Ads Campaign
If you're running a PPC campaign, your ad should compel people to click. We've broken down the process into four major steps to give you an overview of how this advertising method drives paid traffic to your website.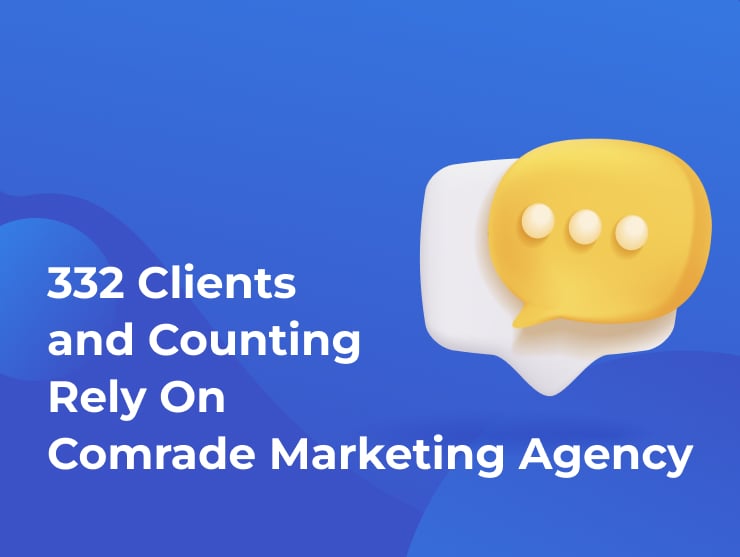 1/4 step
1. Figure Out Your PPC Outlet
Google Ads, Bing Ads, Facebook Ads, and Twitter Ads all offer pay-per-click advertising. Google Ads is the most popular because it dominates 86%-96% of the market share worldwide. Given that most people use Gmail and Google search, it's by far a better option compared to Bing.
Facebook is another strong contender, enabling PPC video, photo, or carousel ads. Once created, ads can be used in a variety of spots on the social media platform, including the sidebar, desktop or mobile newsfeed, and audience network. They can also be displayed on your audience's Instagram feed as well.
Then there's Twitter. It is more niche but can still be effective if your campaigns are correctly optimized through an intricate process of keyword and tweet engager targeting. This social media platform allows you to choose between three forms of ads—promoted trends, promoted accounts, and promoted tweets. You can boost a specific topic with promoted trends, increase account exposure with promoted accounts, and expand reach on a post with promoted tweets.
Your digital marketing strategy should target customers across multiple touchpoints. Most businesses use a combination of these platforms to reach clients when they use different platforms during the day. Of course, of utmost importance is ensuring your real estate PPC marketing is present on the platforms your audience frequents most.
2/4 step
2. Choose Ad Format for Your Real Estate Business
Real estate PPC marketing comes in many shapes and sizes. In the case of Google Ads, picking the right ad format and keywords (which we'll get to in a second) is important as the search engine ranks ads based on their quality and relevance.
Below are the most common formats for real estate companies:
Search ads—These ads display on web pages that show results from search engine queries.
Display ads—Images, videos, or GIFs shown to users on websites or apps.
Remarketing ads—Targeted ads to potential clients who have already visited your real estate website.
Video ads—Promotional content that displays before, during, or after streaming content or on social media platforms.
Paid social ads—Any ads on social media that are paid for.
Photo ads—Ads that feature one or several photos.
Gmail ads—Google Ads that appear at the top of users' inboxes.
3/4 step
3. Gather Keywords and Create a Landing Page
Real estate PPC keywords are the foundation of your pay-per-click advertising. The success of your PPC campaigns is determined by how effective your keywords are at matching user intent. Using ones relevant to your business offering and buyer search intent ensures your ads show up to clients most interested in your property listings.
Once you have a list of relevant keywords, you need to create a landing page. This is a standalone web page, created specifically for a marketing or PPC advertising campaign. It aims to capture information from potential clients in exchange for something of value. In a real estate context, you may offer a property brochure or encourage them to book a viewing.
Additionally, your landing pages' content should contain compelling web copy with strategic keywords, and images, videos, or interactive elements to make your offer more compelling. In the end, the goal is always the same: Turning a visitor into a sales lead.
4/4 step
4. Run, Analyze, and Improve Your Ads
Publishing your PPC ads is half the mission. The other half is getting to grips with real estate PPC management. Effectively managing your PPC campaigns is important because it is the only way to gauge the success of your marketing efforts and control ROI. With a good PPC campaign, you can make changes and improvements in real-time based on your target audience's response.
How Long Does It Take a Real Estate PPC Campaign to Close a Sale?
A real estate agent who uses Google Ads typically closes a deal 3-6 months after starting their campaign. It generally pays for the entire year of running the PPC program. It's essential to think of PPC as a long-term investment because, on average, it takes a lead 12-18 months to close. For example, you may have a 1% closing rate during the first year of a PPC campaign. However, this does not mean that the closing percentage cannot be increased. In fact, with the proper workflow and follow-up, you can increase your close rate by up to 2-3%.
Get ahead of the game. Optimize your PPC marketing strategy for maximum revenue growth
Hire a Real Estate PPC Company That Guarantees a High ROI
Why fumble through pay-per-click advertising when you can just hire an agency to do the work for you? Comrade Digital Marketing Agency specializes in pay-per-click campaigns and conversion rate optimization for real estate agents and companies. We never invest in impressions and clicks that aren't relevant to your business. Contact us today to find out more about our PPC management for real estate.