Established entrepreneurs or small business owners looking to increase visibility should keep reading to learn how to make their mark in Chicago because in this article, we'll discuss effective strategies for promoting your business in Chicago and gaining a foothold in this bustling market. We will:
Highlight general marketing strategies for Chicago businesses
Explore offline marketing strategy tips for Chicago businesses
Explain online marketing tips for Chicago businesses
Let you know how to be on top of your Chicago marketing game
General Marketing Strategies for Chicago Businesses
Chicago is a vibrant city of businesses of all sizes and industries, making it an ideal place to establish and grow a successful business. However, with so much competition, how can companies stand out from the crowd and make sure their message reaches their target audience? The answer lies in effective marketing strategies. Fortunately, the city of Chicago offers a range of options for businesses looking to maximize their reach and increase their visibility. Here are some pointers that may be helpful:
Research Your Chicago Market
Before you can develop effective marketing strategies, you need to understand your target audience. This means researching the demographics, preferences, and behaviors of the Chicago consumers you're targeting. Depending on your business and target audience, you may also want to focus on specific districts or neighborhoods within the city, such as the Loop, River North, Lincoln Park, or Wicker Park.
Establish a Brand Identity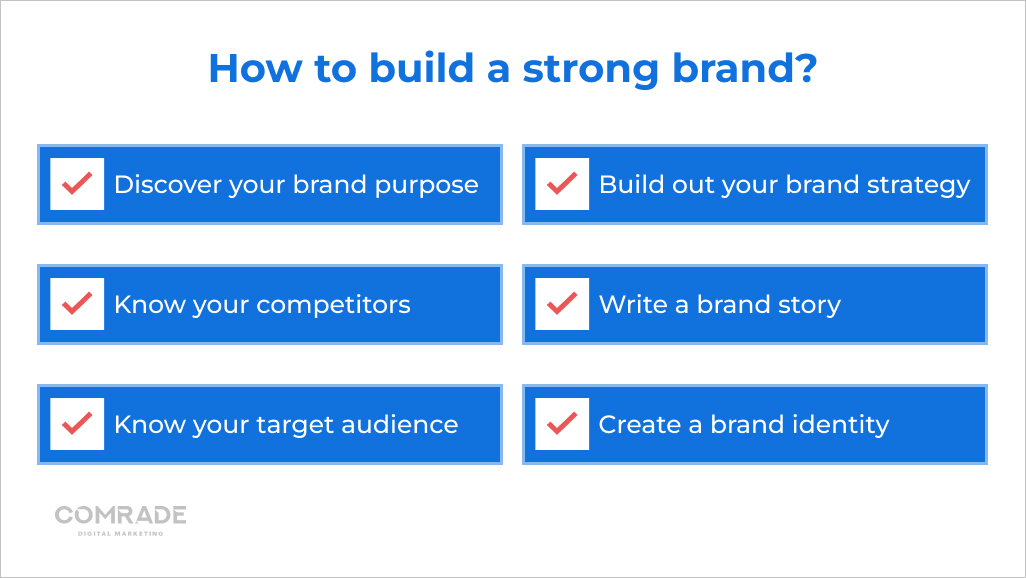 A strong brand helps distinguish your business from competitors and creates a lasting impression in the minds of consumers. This involves creating a brand name, logo, and messaging that accurately reflect your business values and appeal to your target audience.
Create Local Awareness
Once you've established your brand identity, you must promote it to potential clients. This may involve advertising, social media, email marketing, or other tactics that increase local awareness of your business like:
Leverage local publications: Consider contacting Chicago publications to write a guest post, feature, or advertise in their print or digital editions.
Give back to the community: Participating in local events and charity drives can help businesses generate awareness and reach new audiences. You could sponsor a local charitable event or host fundraisers to raise awareness for your brand and support a good cause.
Offer local-focused promotions: These can help both large and small businesses generate buzz and create brand awareness. Offer discounts or freebies to customers and promote these special deals on social media channels and through local publications.
Attend local networking events: Networking events can be a great way to meet other business owners and potential customers. Attend local events like chamber of commerce meetings, community functions, and conferences to help build relationships and get your brand in front of more people.
Utilize local influencer marketing: Consider partnering with local bloggers, Instagrammers, or other influential community members to share your product or service with their audience.
Target Specific Chicago Locations
Depending on your business goals, focusing on specific locations within the city where your target audience is most concentrated may be beneficial. This could involve targeted advertising or promotions in these areas, such as sponsoring local events or partnering with nearby businesses.
Partner with Local Businesses in Chicago
By identifying complementary businesses and forming strategic partnerships, companies can leverage the unique strengths of each partner to create a strong and successful business ecosystem in the city.
For example,
A Chicago-based roofer could partner with a construction company in the city to offer full-service solutions for customers looking to build or renovate their homes or businesses. This partnership could combine the expertise of both businesses to offer comprehensive solutions and improve customer satisfaction.
A Chicago-based countertop installer could partner with local businesses that specialize in supplying granite or other types of stone for countertops. This would allow both businesses to cross-promote services and reach new customers in the local market.
Chicago-based landscaping companies could partner with other local businesses such as nurseries or home and garden stores. This would allow them to offer customers a wider range of products and services and increase their visibility in the community.
A Chicago-based shipping company could partner with a local packaging company or brokers to offer comprehensive shipping solutions to businesses in the city. This partnership could help both companies improve their reach and visibility in the market, benefiting their customers by providing a one-stop shop for shipping and packaging services.
Offline Marketing Strategy Tips for Chicago Businesses
While digital marketing tactics are certainly effective, they may not always guarantee the same level of visibility and engagement as traditional marketing methods. Offline marketing can help businesses generate buzz, build trust, and foster a stronger local presence. Investing in offline marketing can be worth it for Chicago businesses that want to promote their brand and reach out to their target audience in a specific location.
Print Business Cards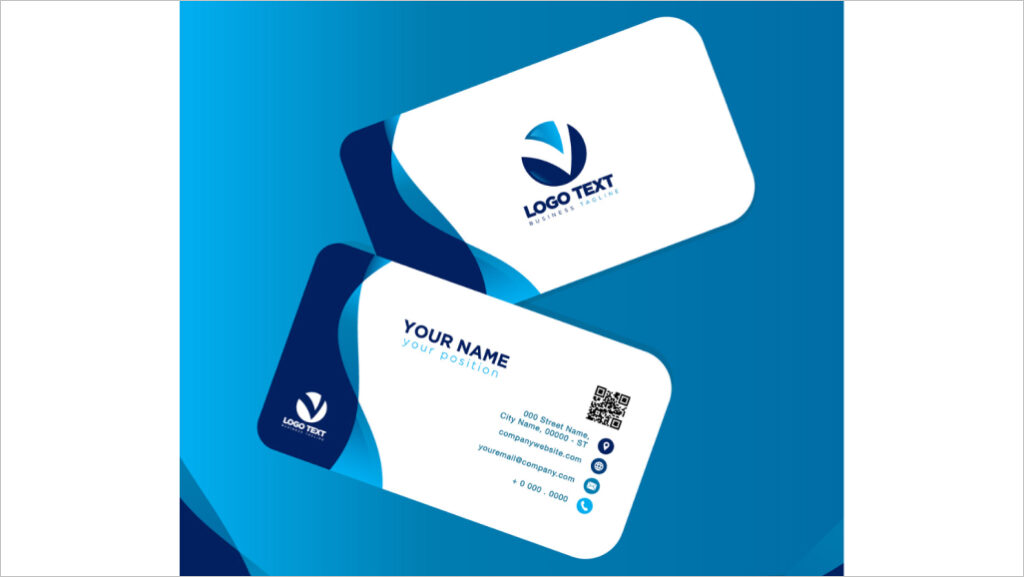 Source: Professional Business Identity Cards / Visiting Cards
One classic offline marketing tactic businesses should consider is printing business cards. Business cards allow businesses to make a good impression, share their contact information, and provide a tangible reminder of their brand. In Chicago, there are many places where businesses can make high-quality business cards at affordable prices.
To maximize the impact of business cards, businesses should design them creatively, include all relevant information, and distribute them strategically to the right people. Some of the best options include Moo.com, Vistaprint, and Staples. Prices can vary in quantity, color, design, and paper quality. Business cards generally cost $20 to $100 for a pack of 100.
Create Merchandise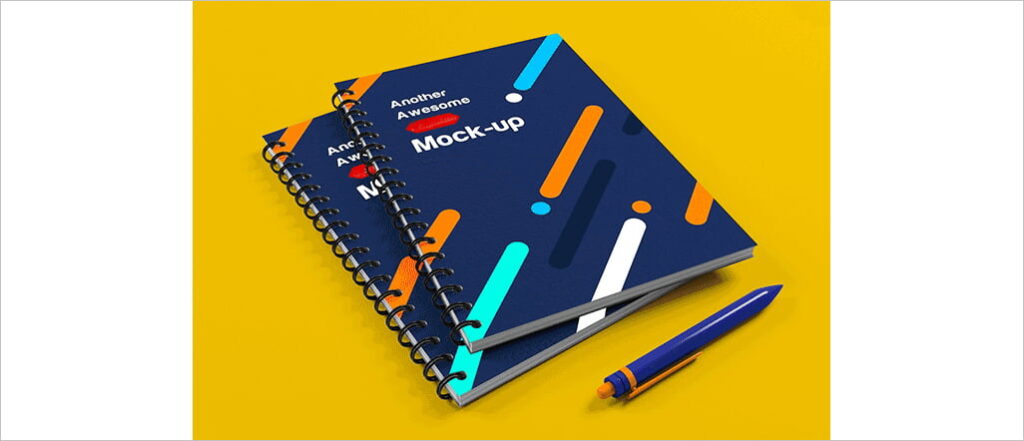 Source: Free Notebook Mock-up
You can create basic merchandise, such as t-shirts or hats with your logo, using online custom printing services like CustomInk or Printful. However, partnering with a professional designer or manufacturer can ensure higher quality and better results if you want unique or complex merchandise.
Some companies that specialize in merchandising include Spreadshirt, Threadless, and Redbubble. Prices can vary depending on the complexity of the design, materials used, and quantity ordered. The average cost for a t-shirt with a custom design can range from $10 to $30.
Advertise on Chicago Billboards
Billboard advertising can still effectively reach a large audience, especially in high-traffic areas of the city. Some good billboard placements in Chicago include along the Kennedy Expressway, Lake Shore Drive, and the downtown area. The cost of billboard advertising can vary depending on the ad's location, size, and duration; it can range from $3,000 to $20,000 per month.
Create a Chicago Local TV Ad
The cost of creating and distributing a TV ad in Chicago can range from a few thousand dollars to hundreds of thousands of dollars, depending on the production quality and the number of times the ad is aired. However, the upsides of TV advertising include the ability to reach a wide audience and create a memorable impact with a professionally produced ad. Local TV stations like ABC 7, NBC 5, and FOX 32 offer advertising packages for businesses.
Create Even More Local Ads for Chicago's Newspapers and Radio!
Popular magazines and newspapers in Chicago include The Chicago Tribune, The Chicago Sun-Times, The RedEye, and Chicago Magazine. Ad costs for these publications can vary greatly depending on the ad's size, placement, and frequency. For example, a full-page ad in The Chicago Tribune can cost around $10,000. Similarly, radio ads can vary in cost depending on the station and time of day. Another instance is a 30-second ad on a popular Chicago radio station during peak hours costing around $1,500.
Sponsor a Local Event in Chicago
You can find a list of local events in Chicago on websites such as Eventbrite and Time Out Chicago. Sponsorship prices vary widely depending on the event's size, scope, and audience. A small community event may only cost a few hundred dollars to sponsor. In contrast, a large-scale festival or fundraiser can cost tens of thousands. The upsides of sponsoring a local event include increased brand visibility, community engagement, and potential networking opportunities with other sponsors and attendees.
Attend Chicago Trade Shows
Chicago hosts trade shows throughout the year in various industries, such as food and beverage, technology, and healthcare. Ad costs for these events can also vary greatly depending on the size and scale of the event. For example, a booth at the International Manufacturing Technology Show can cost up to $50,000. The upsides of attending trade shows include showcasing a business's services to a targeted audience, building relationships with other industry professionals, and potentially generating new leads or sales.
Organize Master Classes, Workshops, Seminars, and Other Events in Chicago
Whether you're interested in digital marketing, business strategy, or any other industry, there are many events. These events allow businesses to showcase their expertise, connect with customers and other businesses, and promote their products and services. Here are some examples:
Seminars: Provide an excellent opportunity for attendees to learn from industry experts in a more formal setting. They typically focus on a specific topic, including lectures, presentations, and Q&A sessions.
Masterclasses: An intensive learning experience led by a professional with specialized expertise in a particular field. They're typically focused on a specific skill or technique and may include hands-on practice and feedback from the instructor.
Workshops: Interactive events where attendees work together to solve problems or explore new ideas. They often focus on a specific topic, including group exercises, brainstorming sessions, and break-out discussions.
Conferences: A large-scale event that brings together experts, professionals, and enthusiasts from a particular industry or field. They typically feature keynote speeches, panel discussions, and networking opportunities.
To successfully organize these events, businesses should consider factors such as venue selection, event promotion, and their own content development. In order to attract attendees, it is important to invest time and resources into marketing and promotion efforts such as email campaigns, social media advertising, and word-of-mouth referrals.
Online Marketing Tips for Chicago Businesses
With the internet being the primary source of information and shopping for many consumers, businesses must establish a strong online presence to remain competitive in today's digital age. Your potential customers might be scrolling through the internet and just click your ad, blog article, social media account, etc.
Engage in PPC for Chicago Companies

One of the most effective online marketing strategies for Chicago companies is pay-per-click advertising or PPC. PPC allows businesses to target specific keywords relevant to their products or services and pay to display their ads at the top of search engine results pages (SERPs) when someone searches for those keywords.
To make the most of PPC, it's important to research and choose the best Chicago-related keywords for your ads. For example, if you're a restaurant in Chicago, targeting keywords such as "best deep dish pizza in Chicago" or "Chicago steakhouses" could be effective. However, conducting keyword research is important to ensure you're not overpaying for too competitive or irrelevant keywords.
Pay Attention to Chicago Local SEO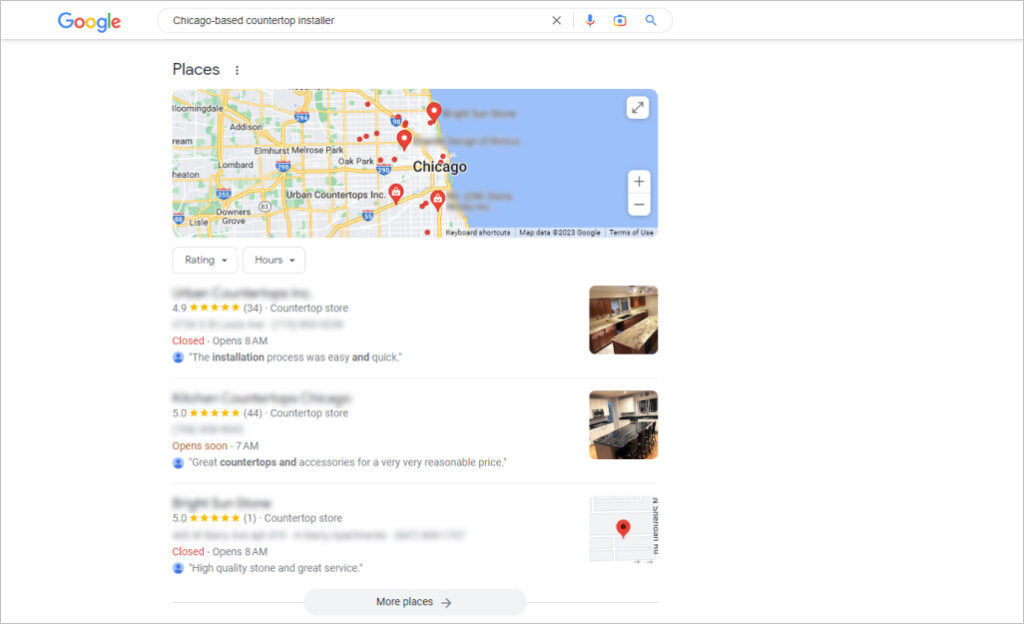 Another key aspect of online marketing for Chicago businesses is local search engine optimization (SEO). This involves optimizing your website and online presence to appear at the top of local search results when someone searches for keywords related to your business.
Local SEO is essential for businesses that want to grow their customer base in the Chicago area. It helps ensure your business is visible to local customers actively searching for products or services like yours.
To optimize for local SEO, you'll need to ensure that your website and online profiles contain accurate, up-to-date information such as your business name, address, phone number, and hours of operation. It's also important to claim your Google My Business listing and consistently gather positive reviews from satisfied customers.
Finally, keeping an eye on your competitors regarding online marketing is important. Your competitors in the online world might not be the same as those you compete with in the physical world. You should know who is ranking at the top of local search results for relevant keywords and be willing to adjust your online marketing strategies accordingly.
Set Up a Google My Business Profile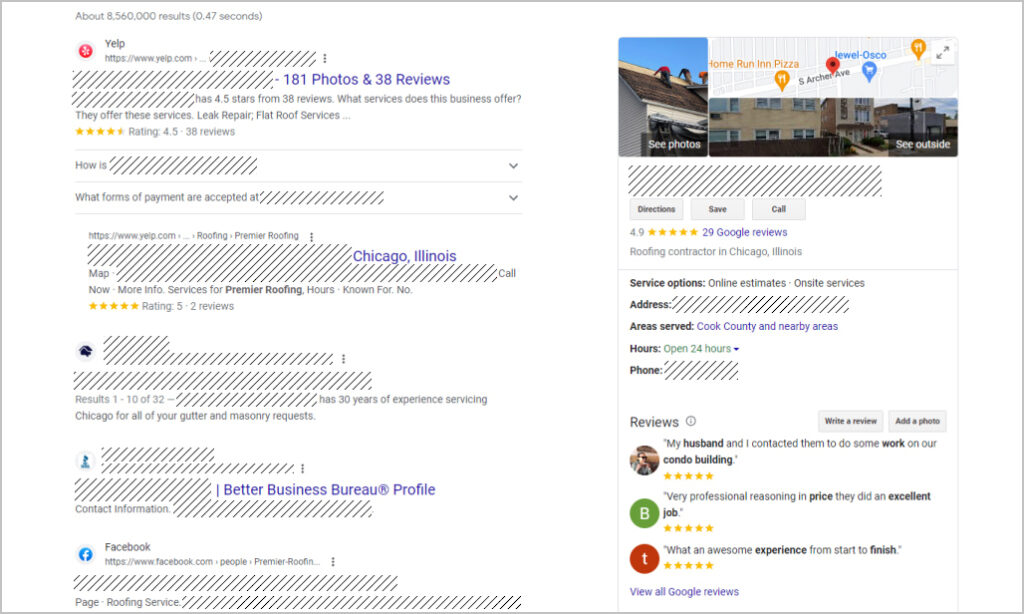 Google My Business (GMB) is a free tool offered by Google to help businesses manage their online presence across various Google services, including Google Maps and Google Search. It is a critical component of local SEO as it allows businesses to get easily found by customers in their local area.
GMB is particularly important for businesses as it allows them to target customers searching for products or services in their local neighborhood. Optimizing your GMB profile can increase your visibility online and attract more customers to your Chicago business.
Some of the ways you can leverage your GMB profile are:
Add accurate and detailed information about your business to your GMB profile, such as your address, phone number, website, business hours, etc.
Use high-quality photos or videos that showcase your products or services and give customers a glimpse of your business before they arrive.
Encourage customers to leave reviews and respond to all reviews promptly, whether positive or negative, to enhance your online reputation.
Use Google Posts to share updates, offers, events, or product highlights with your audience.
Analyze your GMB insights to understand how customers interact with your business on Google and make necessary adjustments to improve your online presence.
Register for Local Chicago Directories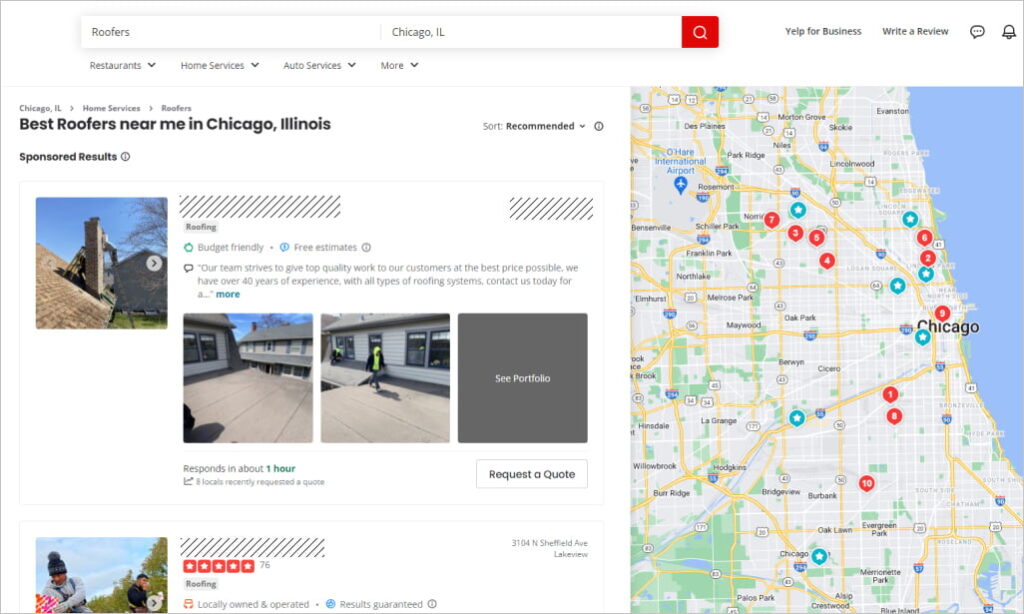 Local directories are online platforms that list businesses located in specific geographic areas. When you register on these directories, businesses can increase their online visibility, credibility, and reputation. Some of the benefits of local directories are:
Potential customers can find your business quickly and easily without having to search extensively on Google.
Your business information will be displayed accurately and consistently across various directories, which can improve your SEO ranking.
Local directories allow customers to leave reviews and ratings, enhancing your online reputation.
To register for local Chicago directories, businesses should consider the following:
Choose directories that are relevant to your industry and location. Some popular directories for Chicago businesses are Yelp, Local.com, Citysearch, and Yellowpages.
Ensure your listing is complete, accurate, and consistent across all directories. This includes your business name, address, phone number, website, and other relevant information.
Monitor your reviews and ratings on these directories and respond promptly to positive or negative feedback.
Regularly update your listing with relevant information, such as business hours, offers, or events, to engage with potential customers.
Optimize your website, boost your business. Simple as that
Be On Top of Your Chicago Marketing Game
It's important to stay On Top of Your Chicago Marketing Game. One way to do that is by incorporating and using the tips and strategies mentioned in the article. Another way is to work with a trusted partner like Comrade Digital Marketing Agency. Comrade Digital Marketing Agency offers expert services to help businesses succeed in today's competitive digital landscape, from web design and development to SEO, PPC, and social media marketing.
Whether you're looking to improve your search engine rankings, drive more traffic to your website, or increase conversions and sales, Comrade has the expertise and experience to help you achieve your goals.