Comrade Digital Marketing Named 2022 National Excellence Award Winner in Chicago by UpCity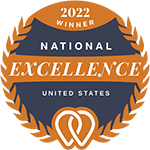 UpCity is a digital marketplace that helps businesses find different types of reliable and trustworthy service providers. Winning UpCity's National Excellence Award is a huge honor for any digital marketing agency in the business. If a digital marketing agency has received this award, you can be sure they have a stellar reputation and are trusted by other industry professionals.
Comrade Digital Marketing has a 5.0-star rating on UpСity. Take a look at the reviews.
Comrade named 2022 Best Digital Marketing Agency in Chicago by Expertise.com
Expertise is a leading B2B marketing research and review aggregate company. They named Сomrade one of the Best Chicago Digital Marketing Agencies in 2022 in the following categories:
Digital Marketing Agency
SEO Agency
PPC Agency
Web Design Agency
Web Development Agency
Agencies that achieve this award are chosen based on a number of factors, including average review scores, client feedback, market impact, and consistency.
Read More
Support Your Local Businesses: Top 10 Other SEO Agencies in Chicago
Achieving success in digital marketing requires a personalized approach, and Comrade is well aware of this fact. We understand that building trust with your marketing partner is crucial for the best results, and no single agency can cater to all your needs alone. As a full-service digital marketing firm, Comrade has the expertise and experience to deliver outstanding outcomes. However, if you're looking for other options, we have put together a list of 10 Chicago-based digital marketing agencies that may be able to assist you.
Rise Interactive is a full-service digital marketing agency with expertise in digital media, customer experience, and advanced analytics. Their data-driven approach to digital marketing helps clients achieve their online goals by delivering personalized customer experiences, driving measurable business results, and increasing ROI.
Centerpoint Advertising & Design is a full-service creative agency that specializes in branding, web design, and digital marketing. Their team of experts provides targeted marketing strategies and visually captivating designs that help businesses attract customers and increase brand awareness.
Solid Digital is a full-service digital agency specializing in website design, development, and marketing that helps businesses build custom digital experiences that drive audience engagement and boost conversion rates.
97 Switch is a full-service marketing agency that provides customized and results-driven digital marketing solutions to help businesses improve their online presence, drive traffic, and increase revenue.
1o8 is a digital marketing agency that specializes in SEO and PPC advertising. Their targeted digital strategies and careful attention to ROI help clients improve their online ranking and drive more traffic to their website, thereby increasing revenue for the business.
Digital Silk is a creative agency that specializes in web design and development, digital marketing, and branding. Their focus on user experience and digital design enables businesses to create impactful and engaging digital experiences that drive brand growth and customer loyalty.
Operation Technology is a digital marketing agency that provides web development, SEO, and digital marketing solutions that help businesses position themselves as industry leaders and reach their full online potential.
Five Jars is a marketing agency that helps startups and SMBs grow faster through customized marketing strategies and data-driven solutions. They specialize in online growth through SEO, PPC, and conversion optimization.
Pixelette is a digital agency that focuses on providing custom solutions for businesses through web development, marketing, and design. Their team of experts creates unique and visually stunning digital experiences that help businesses stand out and reach their online goals.
Gate 39 Media is a marketing agency that specializes in the financial and agricultural industries. They provide comprehensive marketing strategies and custom digital experiences to help businesses grow their customer base and increase brand visibility. Their deep industry knowledge and expertise enable clients to stay ahead of the competition in a highly competitive market.