OUR PROMISE
Providing SEO services to Dayton businesses and eCommerce stores
Average results generated for our clients
2.5x

INCREASE IN SEO TRAFFIC
120%

INCREASE IN PPC REVENUE
70%

SALES QUALIFIED LEADS INCREASE
35%

CONVERSION RATE INCREASE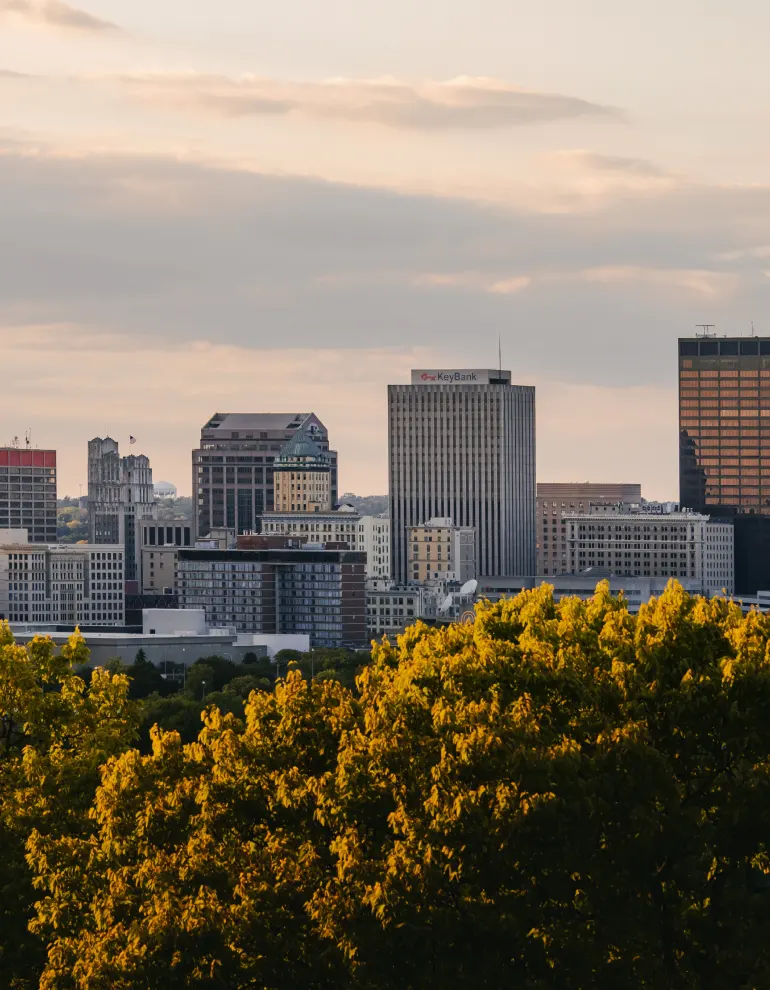 Dayton SEO Company
Multiply your ROI with cost-efficient SEO solutions that work!
Looking for a dependable
digital marketing agency
to boost your Dayton-based business? Look no further than Comrade! As a leading SEO company, we offer a wide range of services, including web design, paid advertising, brand development, and customized marketing strategies to fit your unique needs. Not only do we guarantee results, but we also offer free consultations to ensure that you're satisfied with our services before you sign on with us. Our team of experts has experience working with a variety of businesses in Dayton, from small businesses and eCommerce platforms to B2B and B2C enterprises. No matter what industry you're in, we've got the knowledge and expertise to help your Dayton business succeed!
Dayton is a vibrant city located in southwestern Ohio, with a population of over 140,000 people. The city has a rich history, having played a significant role in the industrialization of the Midwest, particularly in the automobile and aerospace industries. Today, Dayton is home to a wide range of businesses, from small startups to major corporations, and has emerged as a destination for those looking to start a business or expand an existing one.
One of Dayton's main attractions is its modern, diverse, and expanding economy. The city has long been a hub for manufacturing and is now diversifying into newer industries such as advanced materials, healthcare, and logistics. Several large companies have their headquarters in Dayton, including the Mahle Behr Dayton LLC, Emerson, and Dayton Power and Light, among others. These industries provide significant job opportunities to the residents of Dayton and also attract new talent to the city.
Dayton's focus on fostering a supportive environment for startups and small businesses has also contributed to its economic growth. The city has made it a priority to provide resources and support for entrepreneurs, including offering affordable commercial space, access to capital, mentorship, and networking opportunities. This supportive environment has earned Dayton a reputation as a top city for entrepreneurs, and the Small Business Administration's Office of the Advocacy even named Dayton the fourth-best large city in the United States for small businesses.
In addition to its thriving industry and supportive business environment, Dayton has a great quality of life, making it an attractive place to live and work. The city has a rich cultural scene, including museums, theaters, and restaurants, as well as access to beautiful nature parks and outdoor recreational opportunities. Dayton is also home to several excellent universities and colleges that attract top talent to the area.
When it comes to neighborhoods, Dayton offers a diverse and exciting array of options, each with its unique character and attractions. The city's five biggest neighborhoods are Northwest Dayton, downtown, Belmont, Old North Dayton, and University Row. Northwest Dayton is a primarily residential area with diverse architecture, while downtown is the cultural and business hub of the city. Belmont has a small-town feel, with tree-lined streets and parks, while Old North Dayton is known for its historic architecture. University Row is a vibrant, student-centered neighborhood that is home to several educational institutions, including the University of Dayton.
In conclusion, Dayton is an excellent place to start or expand a business. With an expanding economy, a supportive business environment, a thriving cultural scene, and a variety of unique neighborhoods, Dayton is a dynamic and exciting city with endless possibilities. Plus, with its affordable real estate and access to a talented workforce, Dayton is a particularly attractive location for startups and small businesses looking to establish a foothold in the Midwest. Partnering with a Dayton digital marketing agency can help new and growing companies effectively build their brand and connect with local markets in the city.
Support Your Local Businesses: Top 10 Other SEO Agencies in Dayton
At Comrade, we recognize that SEO success is not a one-size-fits-all approach. We understand the importance of building trust with our clients to achieve the best possible outcomes. While we are confident in our ability to provide comprehensive SEO services, we understand that some clients may prefer a different approach. In recognition of this, we have compiled a list of 10 prominent digital marketing agencies in Dayton that offer a range of services that may be a better fit for your specific needs.
SEM Resource – Offers custom SEO and digital marketing solutions to businesses of all sizes.
Legnd – A full-service digital marketing agency specializing in SEO, web design, and social media marketing.
Brand enhancement – Provides SEO, social media, web design, and PPC advertising services for a wide range of industries.
Ghostlight Media – A boutique digital marketing agency specializing in SEO, social media, and web design.
BURKE – Provides a variety of marketing services including SEO, PPC, social media, and email marketing for clients.
Tangible Solutions – A full-service digital marketing agency that offers SEO, web design, social media, and video marketing services.
Thrive Internet Marketing – A full-service digital marketing agency providing SEO, social media, PPC, and web design services.
Boston Digital – Offers data-driven SEO and digital marketing strategies to businesses that want to increase brand exposure and generate leads.
Black Fin – Specializes in SEO, web design, content marketing, and other digital marketing services for law firms and professional services.
Braintrust Interactive – Offers SEO and PPC advertising services that help increase website traffic, generate leads, and improve online visibility.
Dayton SEO Services
SEO Agency Solutions Designed to Grow Your Business
Local SEO
Our local SEO services will help local Dayton companies improve their web presence on popular search engines. Ranking high on search engine results pages will drive more local traffic to your website and attract more qualified leads, ultimately increasing your revenue.
National SEO
Our national SEO services are a great fit for Dayton-based businesses that want to attract a broader audience. By targeting national keywords, we help businesses drive traffic from all over the U.S. to their site.
E-commerce SEO
If you are an online retailer based in Dayton, our e-commerce SEO services will ensure your products are seen by your target audience. We optimize product pages and descriptions for search engines to increase your brand visibility and ultimately help generate more online sales.
Content Marketing
Content is a significant factor in the success of SEO. Our content marketing services will provide your Dayton business with quality, compelling, and engaging content that will keep your target audience interested. This will drive traffic to your online platform and help generate more leads.
Pay-per-click Advertising
Our PPC advertising services will help you drive targeted traffic to your Dayton website quickly and efficiently. We help local businesses create customized campaigns that include delivering ads to specific geographic areas.
Social Media Advertising
Our social media advertising services will help you reach potential customers in Dayton via popular social media platforms. Our team of experts will create an effective ad strategy to help increase your brand visibility, obtain leads, and ultimately generate more sales.
Talk to experts
Not sure which service you need? No worries, based on our research, we will propose a strategy to achieve needed growth!
"Our priority is to conduct comprehensive research and validate, with concrete data, that we can achieve positive outcomes before accepting a new project, leveraging our 15+ years of experience in the SEO industry."
Our Process
How We Achieve SEO Results
Step 1
SEO Audit
In order to help your business improve its organic search performance, we conduct a complimentary SEO audit to identify any foundational issues. This is one of our first steps in determining the digital marketing strategy that best fits your business needs. The results of the audit will shape how we approach the development of your custom digital marketing plan.
Step 2
12-month SEO Strategy
As a next step, we perform a competitive analysis and develop a 12-month road map to create a custom digital marketing plan that aligns with your business goals. For each step of the process, we will estimate the timelines and budget and allocate the necessary resources. Steps along the way will include keyword research, content calendar creation, and monthly SEO planning.
Step 3
Execute Ongoing SEO
After we determine the necessary steps that will help achieve your desired results, our hands-on team will get to work. The tasks required may include website optimization, content creation, technical clean-up, and link building, as well as email and social media marketing. We tailor our services to meet your specific marketing needs and current state.
Step 4
Measure, Report, Adjust
We provide monthly marketing reports to evaluate the success of our marketing efforts and adjust strategies for optimal results. The reports are based on key performance indicators (KPIs) such as the number of leads, cost per lead, and organic web traffic. Using this data, we can guide future marketing strategies to ensure your digital marketing plan continues to meet your business goals.
Our Work
Results Achieved by Our Dayton SEO Clients
Recognition
Trusted Dayton SEO Company
partners:
awards:
Elevate Your Business with Our Expert SEO Services
Book your complimentary audit today, and our team of SEO professionals will thoroughly analyze your website's SEO. We will provide a detailed report outlining any issues, opportunities, and tips to optimize your SEO strategy. Don't miss out on this opportunity to take your business to the next level!
HOW WE CAN HELP
Why Dayton Businesses Choose Comrade SEO Company
Dayton businesses choose Comrade SEO Company because they trust us to deliver expert SEO services that exceed their expectations. As a top-tier SEO company, we take the time to understand our clients' unique needs and create customized digital marketing strategies to help them achieve their goals. Our team of SEO experts combines their extensive knowledge and skills with cutting-edge tools and technology to provide high-quality, data-driven SEO solutions for Dayton businesses. Additionally, we provide transparent communication, consistent reporting, and unbeatable customer service to ensure our clients are fully satisfied. When it comes to delivering expert SEO services and helping Dayton businesses succeed, Comrade SEO Company is the clear choice.
Respect in the industry
We're proud partners with industry leaders such as Google, HubSpot, and Shopify, just as we are at the forefront of delivering superior SEO services and outstanding marketing results to elevate businesses in Dayton, Ohio. Our team's successful track record has been recognized by industry experts, including UpCity, FWA, Hermes, and Clutch, who have awarded us numerous prizes for our top-notch marketing efforts.
Tried and tested expertise
As digital marketing experts with over a decade of experience and having helped over 300 clients, we have an in-depth grasp of what works and what doesn't when it comes to SEO and digital marketing. We develop custom marketing strategies tailored to your unique Dayton business aspirations and challenges. Our goal is to transform your leads into paying customers and help your business continue to grow.
Data-driven approach
Our data-driven approach to SEO and digital marketing ensures that we make strategic decisions based on analytics and thorough research. We maintain a transparent and precise process to understand each client's needs and target audience. Monthly reports to clients allow for tracking progress, budgeting, and continuous improvement, ultimately increasing your chances of achieving your goals and taking your business to the next level.
Best services and competitive prices
We're a Dayton SEO company that is committed to providing cost-effective marketing solutions that demonstrate a high return on investment. Our seasoned team can manage your entire SEO and digital marketing strategy or optimize specific areas such as website upgrades or content marketing. At Comrade SEO Company, we're dedicated to helping Dayton businesses expand their boundaries and achieve their visions through our award-winning digital marketing solutions.
We usually deliver a 4.5x ROI for our clients
Request a Quote
Increase brand awareness & loyalty
Increase your qualified leads
Elevate your conversion rate
Foster a repeat customer base
Decrease cost per lead
Increase return on marketing investment
Ready to Take Your Dayton Business to the Next Level?
FAQ
Here's What Our Dayton Clients Want to Know
What Services Do You Offer?
As a Dayton SEO company, we offer a variety of digital marketing services that include custom SEO campaigns, content creation, website optimization, PPC advertising, and social media management. By providing a tailored approach, we help deliver consistent, reliable results that fit your unique business needs.
How Long Does it Take to See Results?
The time it takes to see results can vary depending on different factors, such as the competition in the industry or the complexity of the SEO strategy. However, typically, you should start seeing measurable results within three to six months of implementing your SEO campaign. We prioritize delivering effective, fast results to meet your business goals.
How Do You Measure SEO Success?
At Comrade SEO Company, we use measurements such as organic web traffic, the number of leads generated, and cost per lead to evaluate the success of our SEO campaigns. We provide a monthly report that outlines KPI progress and features next steps to improve your SEO strategy that ultimately helps to improve your overall business performance.
What Sets Your Company Apart From Others?
Our unique approach and willingness to listen to our Dayton clients sets us apart from other SEO services providers. We prioritize maintaining open, transparent communication lines to understand our client's needs and ensure they achieve measurable, reliable results. Our SEO professionals, combined with state-of-the-art technology and tools, provide comprehensive, customized solutions that meet your needs and exceed your expectations.
Comrade SEO Company – Dayton, OH
Using data-driven SEO strategies and a team of expert professionals, Comrade Digital Marketing Agency delivers unmatched results for clients in Dayton and nationwide. Our tailored and customized SEO solutions ensure maximum amplification of your web traffic and conversions, while simultaneously reducing your marketing spend. Trust us to provide top-notch SEO services and achieve measurable, reliable results that help take your Dayton business to the next level.
Comrade SEO Company proudly offers services to local businesses in Dayton and surrounding areas: