How Our Chicago SEO Company Gets Results
Step 0. What Do You Want From An SEO Agency?
The internet is full of blogs and videos where people almost scream at you that you need an SEO strategy, and you need to hire an SEO company right now. They tell you that you wouldn't believe how much this company grew after they hired SEO experts, or that a search engine optimization company is crucial for your success. We know how hard it can be to find good people who are right for this job, and especially for what you want to do. A lot of people stumble across different scammers or simply inexperienced upstarts. But what do you really want from an SEO consultant?
You want your SEO company to work efficiently, to deliver results fast – in 3 or 4 months tops.
You want to understand what people are doing to your site. Full transparency is a really important part of building trust between a business and an SEO expert.
You want to not just be shown some numbers and unfamiliar metrics, you want your SEO consulting company to explain what all of these things mean.
You want SEO services to be affordable. No one wants to overpay for things they don't really understand or when they don't see actual results and improvements.
Your SEO company shouldn't work for your competitors. Who knows what client they might prefer more? Maybe they are just going to use you to boost competition? There needs to be a sense of loyalty and trust.
And finally, you want your SEO expert to be an actual expert in your industry. No weird experiments, no first-time jobs. They have to know what they're doing.
The worst thing is, that with a lot of companies you sometimes have to choose between all those things! Here at Comrade Digital Marketing, we fully understand how you feel. With us, you will get the full package – a risk-free, client-first, success-oriented approach. But words don't mean much here, let us prove it to you. How do you ask? Easy – contact us to schedule full complementary research, with no strings attached. Moreover, let us tell you what goes into it and what you can expect from our process.
Step 1. Complementary Research
The first thing we do, the moment you contact us, is a full-scale audit. We will do the following:
Measure your website's loading speed
Evaluate the quality of your backlinks
Analyze your search engine rankings positions (SERP)
Create a 20-point SEO performance evaluation checklist
Suggest several steps to optimize your SEO content strategy
Evaluate your web-design
Look at your website conversion rates
Evaluate the quality of content on your website
Our SEO professionals will present you with the full scope of your current situation and prospective work. This is all completely free, safe, and confidential. We are not familiar with any company that does the same amount of research with no commitment. If you decide to continue working with us after that, that is when the real deal starts.

See how SEO can help you stay ahead of the competition
Step 2. The Real Work Begins (1st month)
So, we signed the contract, did all the necessary paperwork and now our SEO consulting company can begin helping your business to improve. This is where the real work begins. Yes, our complimentary audit is pretty comprehensive, but it will look like snorkeling dive in comparison. The first month of our work is an actual, full-on, deep scuba dive into all the nooks and crannies of your website, its statistics and its analytics.
Our goal is to convert research into successful action. We start with researching your competitors and taking notes of what they do right and wrong. This part is crucial because a lot of industries require different SEO strategies and it is essential to see what works in order to avoid mistakes. Next, our SEO specialists present you with a short-term and long-term marketing strategy. This SEO strategy can include:
Keyword optimization.
This is one of the most common obstacles for a website's SEO growth. Proper use of keywords can work wonders. While a lot of cheap SEO agencies try to cover a wide range of keywords but don't get high results in any niche, professional SEO companies know the power of proper keyword optimization and can use it to facilitate good growth online.
Mobile optimization.
You may think that this should be a given these days, but a lot of people still overlook how their site performs on a mobile device. You lose a lot of website traffic and potential clients ignoring the technical SEO aspect of your business! Mobile traffic grew 68% in Q1 2021. People are on the internet, potentially looking for your services and if they can't open your website properly they will go to your competitors, no matter how nice your site actually is.
On-page SEO.
This is how you actually get found online. With on-page SEO, search engines are able to determine if a user's search is relevant to your website by analyzing your website content. Google updates its algorithm continually in order to fulfill the searcher's needs and better understand the searcher's intent. Your website should evolve along with Google's algorithm. Whether your business is big or small, this type of SEO should be the backbone of your digital marketing strategy.
Off-page SEO and link building.
Off-page SEO is a different type of optimization that still affects your search engine rankings. This type of SEO is tremendously valuable because it lets search engines know that your site is highly valued by others in the online world. By gaining links from other sites, you are being endorsed by them as a quality website. For websites that perform other types of SEO equally well, external sources are used to break ranking ties so search engines know how best to rank websites on search engine results pages (SERPs).
Content (is king).
Proper content strategy plays a big role in growing your organic search traffic. It is important to market content that answers the questions of your audience. The benefits of content marketing include better conversion rates, better customer connections, and more leads. Customers expect unwavering quality and consistency from their favorite brands.
Creating a high-quality website.
It is crucial that your website looks good since it is often the first impression you leave on potential customers. The first point of contact with them will be your website if they find you through a search or a link a friend provided them. That initial impression should be positive. A quality website has to look good, but it also has to work well. It is a good idea to browser test your website to ensure it looks and functions correctly across all of them. The quality of a website also depends on its polish. There can be no mistakes in spelling and grammar, no examples of 90s web design, no blurry images, and no loose ends. Websites are tools, so make them good from the outset.

Not happy with your website performance?
Implementing social media marketing.
Social media offers great marketing opportunities to businesses that are active on them. It increases brand awareness among prospective clients, builds relationships with your audience, and boosts your traffic and rankings, all of which can lead to higher conversion rates and bigger sales for you!
Creating ROI metrics and setting up analytical reports.
We are fully transparent about all of the work we do. We will send you an extensive report each month, where we lay out everything we already did and what we are going to do next. But the most important part is that it wouldn't just be a pile of numbers and graphs that you can't read. We are going to explain everything to you. We want to help you understand what's going on because this will ensure the success of the project.
An SEO campaign is a multi-faceted endeavor that requires a lot of experience to handle right. We can discuss plans, reports, search engine optimization, what we want to, and what we are going to do all day, but actions speak louder than words. So let's take a look at a company that grew immensely after our SEO agency started working with them.
Step 3. First SEO Services Results and Analysis
We worked with an American Tent, which is a manufacturer and supplier of tents in the United States. They came to us with a slow, underperforming website, already burned by previous marketing agencies and wanting to rebrand. The issues were clear – bad experiences with other companies accompanied by a drop in SEO rankings due to poor rebranding. So, what did we do? Exactly what we just explained!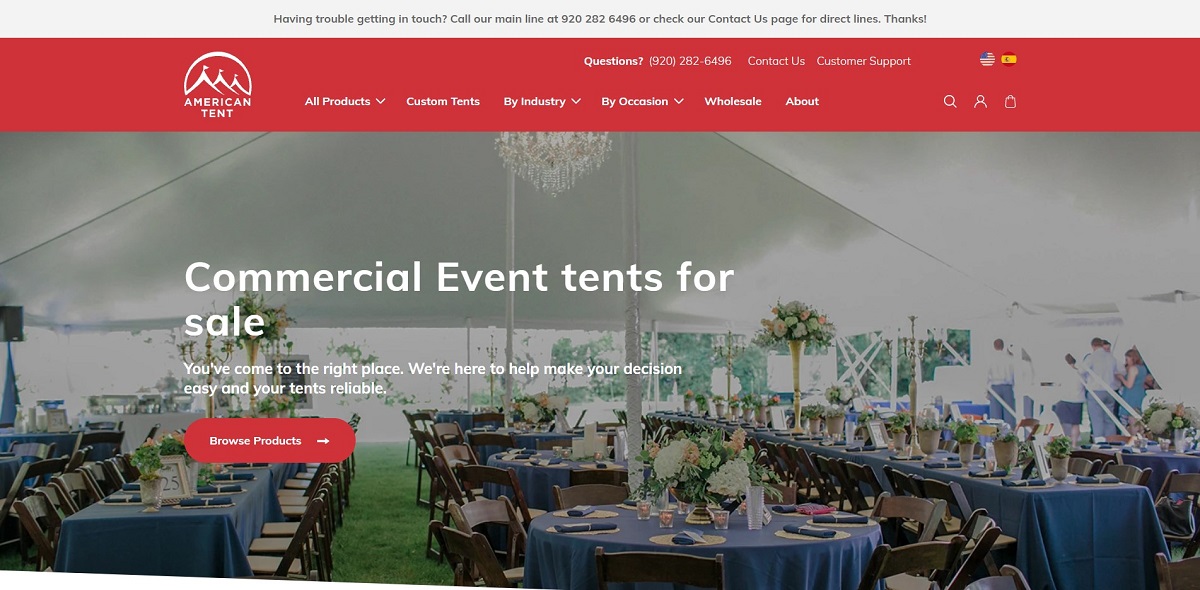 After doing complementary research, the first month of work was focused on isolating the pain points of their website and where other agencies went wrong. Fresh eyes can bring a new perspective to the problem and that is exactly what Comrade did.
Website redesign.
As we already mentioned, their website was slow, clunky, and underperforming as a conversion tool for potential clients. We decided to develop a completely new website on the Shopify platform, that would perform sales functions far more efficiently. We managed not only to create a fast and appealing website, but also to convey the brand's aesthetics and reputation in the industry.
Technical optimization.
The next step was creating the best user experience (UX) possible. We implemented substantial SEO and structural changes to enhance the site's functionality and speed, especially on mobile. In addition, our team restructured the website framework and sitemap. Our experts added new categories and landing page,s facilitating a seamless buyer's journey for all prospective clients.
Search Engine Optimization
That was just the technical side of things. On the marketing front, we also had a lot of work to do. To generate more inbound traffic we launched a robust SEO (and PPC) campaign as well as a reputation management campaign. We created a thought-out content marketing campaign so the company could attract more leads and rank higher on search engines. We didn't just drop everything on American Tent – our experts provided constant SEO consulting to help the firm ensure its ongoing success. We created different ROI metrics and analytics to help them see what work is being done and what the results are.
This work was our priority. During our partnership, our digital marketing agency was fully transparent and clear. We sent analytical reports each month, explained all stats, growths and falls, and each and every graph. If our client had any questions regarding the overall strategy, its implementation or results, we were always ready to answer.
Step 4. Analytics and Corrections
So, what happened after all that? The company saw a big increase in clients and traffic and ranked fifth on Google among all relative keywords, going as high as third for some. Quality leads grew 177%, the company was making record-breaking sales week after week. Remember one of the American Tent's original issues? The rebranding one. With Comrade's marketing strategy, American Tent managed to mitigate the drop and after they saw their SEO rankings double in the next six months. This is how Comrade works. We deliver measurable results to our clients, it's our top priority.
At the end of our contract we do another full-scale audit, this time focusing on the work we've done, the current state of things, and what could be improved. We use 35 different metrics to see where the greatest growth happened, what stayed unchangedб and where we should focus next. We also provide a full analysis of ROI increase, which is a guarantee we give when we start working.
Optimize your website, boost your business. Simple as that
If you want to grow your business risk-free, with surefire results, trust, and transparency, while implementing both personal approach and modern technologies then contact us. If you are still not sure, then remember – you can always start by scheduling complimentary research with no commitment required.