Salt Lake City SEO Company
Drive More Traffic to Your Salt Lake City Business with Our Targeted SEO Services
OUR PROMISE
Providing SEO services to Salt Lake City businesses and eCommerce stores
Average results generated for our clients
2.5x

INCREASE IN SEO TRAFFIC
120%

INCREASE IN PPC REVENUE
70%

SALES QUALIFIED LEADS INCREASE
35%

CONVERSION RATE INCREASE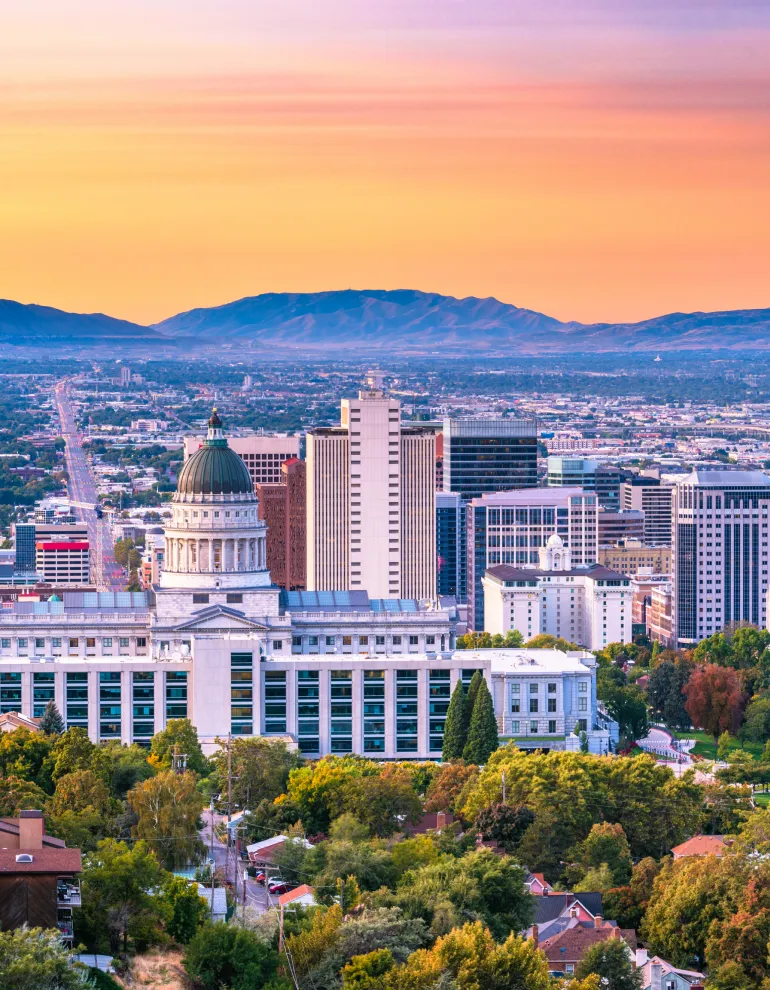 Salt Lake City SEO Company
Multiply your ROI with cost-efficient SEO solutions that work!
Are you searching for a reliable digital agency to boost your business in Salt Lake City and beyond? Turn to Comrade, a top-rated
SEO Company
with a comprehensive range of services to meet your unique requirements. Our strategies include SEO, paid advertising, web design, brand development, and customized marketing strategies, all designed to drive measurable results for your business. We offer guaranteed results and a free consultation to help you make informed decisions. From e-commerce platforms and small firms to B2B/B2C enterprises and more, we have the experience and expertise to deliver results for any industry. Contact us today to learn how we can take your Salt Lake City business to the next level!
Salt Lake City is the largest and capital city of the US state of Utah. The city boasts a thriving economy with a diverse range of industries and businesses. With a population of over 200,000 people, it is a bustling urban center that provides an attractive mix of traditional Western culture and modern innovation.
The city's economy is booming, and it has become a hub for technology and software development. Salt Lake City is home to Adobe's second-largest campus, alongside other technology powerhouses such as Domo Inc, and Overstock, which are all setting up shop in the city. The area's focus on technology has established Salt Lake City as a leading innovator in the industry and created a diverse range of job opportunities for locals.
Salt Lake City's economy is supported by other thriving industries, such as healthcare, tourism, finance, and professional services. The city has numerous world-class medical facilities, with Intermountain Healthcare headquartered there providing high-quality healthcare throughout the entire state of Utah. With several beautiful locations such as Zion National Park, Salt Lake City has become an ideal location for tourists, leading to growth in the tourism sector.
The city's financial industry has also grown considerably in Salt Lake City, with global companies such as Goldman Sachs, Fidelity Investments, and Wells Fargo setting up in the area. With such a focus on innovation, it is no surprise that manufacturing is also a significant sector in Salt Lake City, with diverse companies well-established and supported by its highly educated workforce.
Salt Lake City has five biggest neighborhoods, which provide affordable housing and diverse cultural experiences. Sugar House offers a vibrant urban atmosphere while East Bench/Foothills provides a unique experience, combining urban and rural atmosphere. Central City/Liberty Wells is a historic neighborhood that provides charming shops, cafes, and businesses. Glendale/Rose Park provides a more family-friendly atmosphere, with plenty of parks and schools available. Downtown/Central City provides a bustling urban center with a great nightlife and many job opportunities.
Salt Lake City provides an incredible environment for entrepreneurs to grow and develop their businesses. The city has a stable policy regime that is supportive of innovation and business growth. The highly talented and trained workforce is another notable benefit for businesses looking to set up in Salt Lake City. This highly skilled workforce attracts global leading businesses and startups in various industries.
In conclusion, with its thriving economy, high quality of life, vibrant cultural scene, and supportive business environment, Salt Lake City presents itself as a great place to start and grow a business. With its diverse range of industries, highly skilled workforce, and excellent leadership, the city offers endless opportunities for business growth.
Support Your Local Businesses: Top 10 Other SEO Agencies in Salt Lake City
Achieving real results with SEO demands a customized approach, and Comrade recognizes this reality. We know establishing confidence in your marketing partner is essential for optimal outcomes, and no one agency can single-handedly fulfill all of your needs. As a full-service SEO company, Comrade possesses the skill and experience to achieve remarkable success. However, if exploring alternative options, we have compiled a top 10 list of 10 for those who look for a Salt Lake City digital marketing agency.
Disruptive Advertising – Disruptive Advertising is a Salt Lake City-based full-service digital marketing agency that specializes in PPC advertising, social media advertising, and conversion rate optimization.
Avalaunch Media – Avalaunch Media offers a broad range of digital marketing solutions that include video production, social media marketing, content marketing, branding, and SEO.
Boostability – A national SEO agency, Boostability believes that effective organic search strategies should be accessible to businesses of all sizes.
Big Leap – Big Leap is a Salt Lake City-based digital marketing agency that provides customized organic search strategies, content marketing, link building, and technical SEO services.
SEO.com – SEO.com is a full-service digital marketing agency that provides a wide range of SEO services including technical SEO, on-page optimization, and keyword research and analysis.
Inflow – Inflow is a well-regarded SEO agency that specializes in creating and implementing customized conversion optimization and content strategies for e-commerce businesses.
SEO Werkz – SEO Werkz is a full-service digital marketing agency that provides local search engine optimization, enterprise SEO, pay-per-click advertising, and more.
Fluid Advertising – Fluid Advertising is a Salt Lake City-based marketing agency that offers PPC advertising, social media advertising, SEO services, web design and development, and more.
Red Olive – Red Olive is a digital agency that specializes in web development, marketing, and SEO services for small and mid-sized businesses.
M16 Marketing – M16 Marketing offers SEO services such as keyword research, on-page optimization, technical SEO, and link-building services. They are a full-service marketing agency also offering social media marketing, branding, and website design.
Salt Lake City SEO Services
SEO Agency Solutions Designed to Grow Your Business
Local SEO
We offer local
SEO solutions
that let your Salt Lake City business rank high in local search results in order to improve visibility and better reach to potential customers. Our local SEO techniques include optimizing your Google My Business page and listings, local keywords, and inbound links from reputable sources.
On-Page Optimization
Enhance your website's pages with our on-page optimization services for your Salt Lake City business. We utilize a variety of techniques, including keyword research, website content optimization, and meta tags optimization, to increase your page quality, relevance, and user experience.
Off-Page Optimization
Our Salt Lake City off-page SEO services work to help you build domain authority and improve your website's ranking in organic search results by developing high-quality backlinks and social media engagement.
E-commerce SEO
Our experts provide E-commerce SEO solutions that can increase your online visibility, drive more traffic, and improve your overall sales conversion in Salt Lake City. We offer website optimization across product descriptions, categories, and themes that provide easy navigation for customers.
Content Marketing
Our content marketing team creates engaging and informative content that fosters brand awareness, draws new visitors, and keeps your existing customers engaged with your Salt Lake City business.
SEO Auditing
We perform exhaustive SEO audits that identify technical issues, assess website performance, and evaluate overall SEO health for your Salt Lake City business, providing actionable insights that help you improve your website's ranking.
Talk to experts
Not sure which service you need? No worries, based on our research, we will propose a strategy to achieve needed growth!
"Our priority is to conduct comprehensive research and validate, with concrete data, that we can achieve positive outcomes before accepting a new project, leveraging our 15+ years of experience in the SEO industry."
Our Process
How We Achieve SEO Results
Step 1
SEO Audit
Before entering into a formal agreement, we at provide an initial complimentary SEO audit, enabling us to identify any issues that may impact your Salt Lake City business's organic search performance. It's the first step toward determining the most suitable digital marketing strategies for your business, and we use the information gathered to craft an SEO roadmap specific to your company's goals.
Step 2
12-month SEO Strategy
After conducting an audit, we delve deeper by conducting a competitive analysis, developing an SEO roadmap, and aligning it with your business objectives. We will set a timeline for each step and allocate budget and resources accordingly. This process includes keyword research, creating a content calendar, and developing a monthly SEO plan to ensure a smooth and reliable journey for your Salt Lake City business.
Step 3
Execute Ongoing SEO
Using our hands-on team of professionals, we tailor our actions to deliver the results you need. This may involve website optimization, creating content, technical cleanups, link building, and social media marketing, as well as email marketing. We customize the scope of our activities based on the current state of your marketing campaigns and their new KPIs.
Step 4
Measure, Report, Adjust
Our Salt Lake City clients receive monthly marketing reports that track key performance indicators (KPIs), including organic web traffic, number of leads, and cost per lead. With these metrics, we can assess and provide insights for current marketing strategies and make any necessary adjustments in the future.
Our Work
Results Achieved by Our Salt Lake City SEO Clients
Recognition
Trusted Salt Lake City SEO Company
partners:
awards:
Elevate your business to the next level! Book a Complimentary Audit with Comrade SEO Company today.
Our experienced SEO professionals will provide a comprehensive analysis of your website's SEO, which includes reports of found issues, opportunities, and helpful tips to enhance your website's organic search performance. Let Comrade guide you towards success and help you achieve your business goals. Don't wait, take the first step and book your complimentary SEO audit today!
HOW WE CAN HELP
Why Salt Lake City Businesses Choose Comrade SEO Company
Comrade SEO Company is the leading provider of SEO services in Salt Lake City. Our clients trust us because we have a proven track record of delivering innovative and effective SEO solutions. Our team of experts has extensive industry knowledge and experience, which enables us to cater to our clients' individual SEO needs while providing them with effective results. We place a premium on transparent communication, commitment to quality and adapting to the ever-changing search algorithms. From search engine optimization (SEO), content marketing, PPC advertising to social media optimization, our SEO company provides comprehensive solutions that assist Salt Lake City businesses to improve their online visibility and boost revenue growth.
Respect in the industry
We are Salt Lake City's leading SEO company and proud to have partnerships with industry legends such as Google, HubSpot, and Shopify. With an unbeatable track record for outstanding online marketing, PPC, and SEO work, we have been recognized by UpCity, FWA, Hermes, and Clutch with numerous awards that credit our exceptional marketing efforts.
Tried and tested expertise
Comrade's team has SEO experts with over ten years of experience and a robust track record of having helped over 300 clients to success. Our tried and tested expertise helps us understand what works and what doesn't, providing customized solutions specific to your business needs that transform your leads into paying customers.
Data-driven approach
We take an insightful and data-driven approach to aid us in making well-informed decisions before initiating any marketing strategy. Effective marketing entails comprehensive research, transparency, and accuracy which we count on to establish reliable KPIs based on a thorough understanding of your target audience and their needs. As a result, we offer monthly reports to our Salt Lake City clients to track our progress, understand the strategies used to achieve results, and ensure effective budgeting for continuous improvement and success.
Best services and competitive prices
We are dedicated to offering cost-effective marketing solutions that not only deliver good value for money and high ROI, but that also push our clients beyond boundaries and to new horizons. Our seasoned team can manage your entire digital marketing strategy and SEO campaigns or focus on optimizing specific areas of your website or content marketing. At Comrade Digital Marketing Agency, we are committed to delivering the best services at competitive prices, helping you elevate your Salt Lake City business and achieve your goals.
We usually deliver a 4.5x ROI for our clients
Request a Quote
Increase brand awareness & loyalty
Increase your qualified leads
Elevate your conversion rate
Foster a repeat customer base
Decrease cost per lead
Increase return on marketing investment
Ready to Take Your Salt Lake City Business to the Next Level?
FAQ
Here's What Our Salt Lake City Clients Want to Know
What is SEO and how does it work?
SEO is essentially a method of enhancing your Salt Lake City business website's visibility and ranking through organic search engine results. In other words, all the technical procedures and tactics applied to your website so that search engines like Google can rank you higher. At Comrade, we provide comprehensive SEO services that optimize your website's content, structure, and visibility to give you better results in search terms.
What SEO services does your company offer to businesses in Salt Lake City?
We offer a broad range of SEO services that cater to the needs of businesses in Salt Lake City. These services include Local SEO, On-Page Optimization, Off-Page Optimization, E-commerce SEO, Content Marketing, and SEO auditing. Our skilled professionals provide customized strategies that cater to specific business requirements that drive greater visibility, organic traffic, and revenue growth for your business.
What sets your SEO services apart from others in the Salt Lake City region?
We are Salt Lake City's leading SEO company, recognized for providing top-notch SEO services that elevate businesses to the next level. We take a strategic and analytical approach to optimize and continually improve your website's search engine performance coupled with exceptional UI/UX experiences and digital marketing tactics that achieve goal-centric KPIs. Our transparent communication, tailored strategies, and commitment to excellence set us apart as one of the premier digital marketing agencies in Salt Lake City.
How long does it take to see results from SEO services?
The time it takes to see results from an SEO campaign varies depending on the business, goals, industry, and competition. At Comrade Digital Marketing Agency, we set realistic goals and optimize best practices for quick results. We judge our performance based on the progress of KPIs and the overall ROI of an SEO campaign. Typically, after the initial technical setup, businesses typically see organic growth in the first three months, and our team will ensure consistent growth thereafter with updated strategies.
Comrade SEO Company – Salt Lake City, UT
Using data-driven SEO strategies coupled with an expert team of dedicated professionals, Comrade Digital Marketing Agency offers unmatched results for clients in Salt Lake City and nationwide. We rely on our data-driven approach and in-depth knowledge of SEO to craft compelling strategies to help your business attract more traffic and conversions.
Comrade SEO Company proudly offers services to local businesses in Salt Lake City and surrounding areas:
Salt Lake City Metropolitan Area