For home services providers, the digital marketplace is a vast frontier full of opportunity yet also fraught with complexity. As more of their prospective customers inhabit the online world, many home services businesses from HVAC contractors to landscapers increasingly need to stake their digital claims.
But this unfamiliar terrain can often prove difficult to navigate alone. That's where specialized digital marketing agencies come in. Like capable guides for the digital wilderness, they lead the way so home services providers can focus on their craft while expert partners chart the course for their online growth.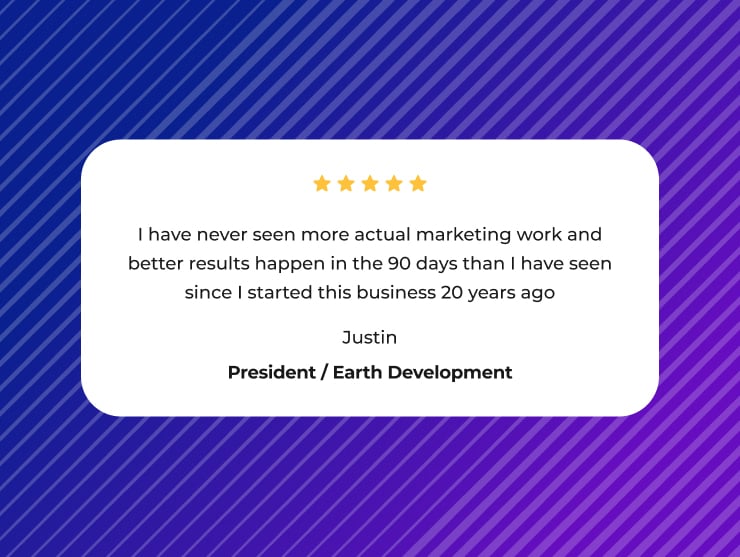 The agencies that flourish in this niche intrinsically understand the home services space and have refined the tools and strategies to help clients win in hyperlocal outposts.
In this blog, we'll profile ten digital marketing agencies making breakthroughs for home service providers and brands through innovative campaigns fine-tuned to cut through noise and drive conversions from local audiences. Let's meet the creative crews and tactical teams putting home service providers on the digital map.
How Can a Home Services Marketing Agency Boost Your Visibility?
As digital marketing experts with years of experience specifically in the home services marketing niche, we highly recommend home services brands focus on three essential promotional solutions to power growth in today's digital landscape:
Search Engine Optimization – Robust SEO is what separates industry leaders from the rest of the pack. Key optimization strategies include:
Technical website audits to identify and fix issues hurting rankings
On-page optimization to improve page speed, mobile-friendliness, etc.
Local SEO best practices to rank for geographic searches
Content strategy and creation focused on ranking for high-value keywords
Link-building campaigns to build authoritative backlinks
Monitoring rankings and refining approaches over time
Pay-Per-Click Advertising – Geo-targeted PPC ad campaigns can precisely engage homeowners actively searching for home services in your area. Tactics include:
Laser-focused targeting by service, geo-location, keywords, etc.
Highly-relevant ad messaging for different services
Conversions to calls, form fills, bookings, etc.
Management of cost-per-lead, budgets, and ROI
Social Media Management – A strategic social media presence helps humanize your brand, provide useful home tips, and nurture customer relationships through channels like Facebook, Instagram, etc. This entails:
Content creation, posting cadence and community management
Social ad campaigns to acquire followers and promote content
Monitoring reviews and online reputation
Integrating social with other marketing efforts
Gaining a substantial competitive edge and achieving accelerated growth is paramount for forward-thinking brands. To accomplish this, partnering with a seasoned marketing agency that has a deep focus and expertise in the home services niche is no longer just an option, but an absolute necessity.
Such a partnership ensures that your brand receives tailored strategies specifically designed to enhance your online presence, optimize customer acquisition, and maximize your overall marketing ROI. By leveraging the vast knowledge and proven techniques of a specialized online marketing agency, you can confidently navigate the complex digital landscape and position your brand for long-term success.


Success Stories
Delivering Business Results: Our Digital Marketing Case Studies
Top Digital Marketing Agencies for Promoting Your Home Services Company
1. Comrade Digital Marketing Agency
Comrade, a Chicago-based agency, offers home services brands a true competitive edge through customized digital strategies fine-tuned specifically for driving conversions in this niche. Their comprehensive services for home service professionals range from visually-appealing website design that aligns with service offerings to technical web development enabling seamless customer booking experiences.
At the core is their mastery of inbound marketing, SEO and PPC tailored to capture motivated local homeowner audiences. Their home services marketing team immerses themselves in the latest trends and intricacies of the space to optimize targeting and campaign performance. Ongoing optimization coupled with clear reporting provides the roadmap to extend reach and boost market share.
Since 2008, Comrade has built a reputation for aligning their home services digital marketing programs with larger business goals to deliver tangible ROI. A transparent approach, ironclad guarantees and proven commitment to long-term partnerships give home services brands the confidence to entrust them with the digital foundations for growth.
For home service leaders seeking an online advantage, Comrade Digital Marketing provides the niche-specific expertise, solutions and trust to skillfully amplify their brand across channels. With the inclusion in Top B2B Agencies Globally by Clutch, Comrade's reputation in the industry speaks for itself. Discover the Comrade difference.
2. Valve and Meter
Founded in 2017 and headquartered in Indianapolis, Valve+Meter leverages hard numbers and analytics to deliver proven performance marketing results for home services brands. Their name says it all – they fine-tune the two key variables of driving new business and optimizing cost per lead.
The Valve+Meter team immerses themselves in each client's offerings and goals to develop completely customized digital marketing plans. Core capabilities span search engine optimization, pay-per-click ads, social media marketing, email and more. At the heart of their approach is testing, measuring and relentlessly optimizing based on real-time data.
Regular reporting provides transparency into what's working and where adjustments may be needed. This accountability ensures marketing initiatives stay focused on ROI. Their optimization expertise enables scaling campaigns while keeping costs in check.
For home service companies seeking data-driven marketing solutions tailored to their niche, Valve+Meter provides the dedicated partnership needed for digital success. Proven by their rating on Google – 4.8 stars out of 5, their passion for measurable results has fueled growth for clients since 2017.
Discover how Valve+Meter can optimize your marketing "valves and meters" to boost leads and drive new business. Their track record speaks for itself – let the data tell the story.
3. Raincross
Listed on the Inc. 5000 for America's fastest growing companies, Raincross has stayed ahead of the curve since 2013.
The Riverside-based Raincross team lives and breathes digital – combining certified expertise across web design, SEO, paid ads, social media, email marketing and more. Their comprehensive service offerings are tailored to each client's unique goals. No pre-packaged solutions here.
Raincross stands out through their dedication to customers' success. They offer guarantees on inbound marketing services, so brands see a return on investment. Ongoing optimization ensures campaigns adapt as market conditions change. And their own growth streak speaks to a commitment to excellence.
For home services leaders seeking data-driven online marketing services and solutions that deliver, Raincross provides deep niche expertise. Highly responsive customer service and customized plans are the norm. Raincross immerses themselves in clients' worlds to drive real impact across digital platforms.
Let Raincross put their award-winning digital agency to work for your brand. Their consistent inclusion on the Inc. 5000 is no accident – it reflects their passion for fueling clients' growth. Partner with Raincross to gain a true competitive edge.
4. The Diamond Group
Breaking through takes an agency with depth and adaptability – two strengths of The Diamond Group. Approaching the mark of 30 years of experience in the digital marketing industry, The Diamond Group evolves marketing plans as new platforms and strategies emerge.
The comprehensive in-house services span website design, SEO, social media, email marketing and beyond. Yet their customer-centric focus ensures each solution integrates seamlessly to meet unique brand goals. Ongoing optimization and responsive support reflect their commitment to long-term partnerships.
The Diamond Group team, headquartered in Wilmington, lives at the forefront of digital, certified across the latest marketing technologies. But they never lose sight of clients' needs in pursuing innovation. Their tenure has honed an ability to balance strategy with practical execution.
Home services brands seeking an integrated digital presence and sales pipeline turn to The Diamond Group. Their decades of experience translate into tangible ROI across channels. Partner with The Diamond Group to gain sustainable momentum online and off.
Their customer-first approach has delivered results for hundreds of brands since their establishment in 1995. Let The Diamond Group's expertise work for you at this pivotal time to elevate your digital marketing capabilities. The future looks bright with these seasoned pros at your side.
5. Timmermann Group
For home services companies seeking show-stopping digital marketing, St. Louis agency Timmermann Group delivers. Winner of several award nominations, such as W3, Webby and Communicator, Timmermann Group has redefined home services marketing strategies and possibilities since 2003.
Blending artistry with analytical precision, Timmermann Group custom-builds integrated branding, web, SEO, social and more. Their passion for innovative design is matched only by their drive to directly impact clients' bottom lines. Data-driven strategies ensure optimal ROI across channels and campaigns.
Yet what truly sets Timmermann Group apart is their collaborative approach. They immerse themselves in clients' worlds to uncover unique branding and messaging opportunities. The result is digital marketing that speaks authentically in each brand's voice.
Industry accolades affirm Timmermann Group's talent for resonating creatives anchored in strategy. But even more powerful is their track record of tangible outcomes for diverse clients.
For home services leaders seeking show-stopping digital marketing services, Timmermann Group hits the mark. Trust their award-winning team to maximize your online visibility and conversions through custom digital solutions. Capture customer attention in new ways with Timmermann Group's help.
6. Vizion Interactive
Since 2005, Vizion Interactive has provided custom digital solutions for clients of all sizes and niches. Their comprehensive services span SEO, PPC, social media marketing, web design and beyond. Yet what truly sets them apart is their relentless focus on ROI. Every campaign aims to maximize reach, generate conversions and align to unique business goals.
Vizion Interactive, headquartered in Irving, deeply researches clients' worlds to produce digital marketing that feels innate to each brand. Their analytical prowess enables data-backed optimization at all stages. Companies partnering with Vizion Interactive can expect transparent and collaborative relationships marked by insight sharing.
With an average 4.9-star Clutch rating, Vizion Interactive has proven their ability to deliver for brands ready to command attention online. Trust their analytical rigor and creative vision to help your home services company break through. Partner with Vizion Interactive and seize your competitive digital edge today.
7. Boostability
For home services companies seeking white-glove SEO solutions, Boostability delivers customizable strategies engineered for revenue growth. Specializing specifically in White-label SEO, this Lehi-located agency brings over a decade of expertise helping diverse brands rank higher and convert visitors into customers.
Founded in 2009, Boostability offers a full spectrum of SEO services backed by measurable results. Their analytical approach includes ongoing keyword research, website optimization, link building and technical audits. Local SEO, ecommerce SEO and other niche-specific tactics further enhance opportunities for visibility.
Yet Boostability's greatest strength is their consultative process. They collaborate closely with clients to understand unique objectives, challenges and target audiences. This enables fully customized SEO roadmaps to support individual business goals.
Boostability also equips other companies with strategies to uplift their own clients' online presence. Their proven methodology empowers these partners to deliver ROI-focused SEO at an enterprise scale.
For those home services business leaders seeking tailored SEO solutions from specialists, Boostability hits the mark. Trust their analytical rigor, industry expertise and passion for customer success to elevate your brand's ranking and revenues. Partner with Boostability and achieve your online potential.
8. Operation Technology
The Chicago-based team of Operation Technology has helped businesses strengthen their digital presence and drive measurable growth. Their comprehensive services, from website design to SEO and social media marketing, are tailored to help home services companies attract and convert customers online.
Since their foundation in 2009, the Operation Technology team brings over a decade of digital marketing expertise. They work closely with each client to understand their unique goals, challenges and target audiences. These insights inform customized strategies designed to help clients execute effective digital marketing campaigns.
Their consultative approach, combined with their technical skills and industry knowledge, has delivered results for diverse brands. Operation Technology has increased website traffic, generated leads, boosted sales and more for clients across sectors.
They've also won recognition for their work, including Clutch's Top Web Designer United States in 2018 and SEOblog's Top Rated SEO Company in 2019. Awards speak to their commitment to innovation, transparency and achieving client success.
Yet Operation Technology's greatest strength is their service ethos. They offer robust customer support along with a free consultation to all prospective clients. For home services companies seeking a digital marketing partner invested in their success, Operation Technology delivers.
9. GoMarketing
GoMarketing has been the go-to digital marketing partner for businesses seeking measurable growth since the inception in 2008. With team located in Thousand Oaks, California, their comprehensive services help companies sell more online – from website design to SEO, PPC, social media marketing and beyond.
But more than just experts in today's digital advertising landscape, GoMarketing is a team of strategic partners. They take the time to understand each client's unique needs and goals. These insights inform highly-customized digital marketing campaigns designed to deliver results – over $65 million in sales and 1.2 million leads generated for clients thus far.
GoMarketing's data-driven approach means their own content marketing strategies are constantly optimized based on performance. Their seasoned team of certified professionals have their fingers on the pulse of emerging tech and trends. Yet their focus remains on your success.
With GoMarketing as your digital marketing partner, you gain a true extension of your team. Their passion is helping your business reach its potential through innovative and effective digital marketing strategies.
Awards speak volumes about their commitment to excellence – over the years, GoMarketing has been recognized as a top digital marketing agency both locally and nationally.
10. Socius Marketing
Tampa-based Socius Marketing is an excellent digital marketing partner for home services, home improvement, and healthcare businesses seeking to expand their online presence. With an array of cutting-edge strategies tailored to each client's unique goals, Socius Marketing helps brands boost visibility, engage potential customers, and drive sales in the digital space.
Their comprehensive services, including website design, SEO, social media marketing, and more, are thoughtfully integrated to create cohesive digital marketing campaigns. Socius Marketing's holistic approach considers the brand's objectives, target audience, and pain points to develop customized solutions that deliver real impact.
At the core is a team of dedicated digital marketing experts. They consistently update their skills to leverage emerging technologies and trends while relying on hard data to optimize campaigns. This balanced blend of human insight and analytical thinking informs strong strategies.
With the success track starting in 2006, Socius Marketing has already partnered with hundreds of home services, home improvement, and healthcare brands to grow their customer base. Yet their biggest rewards are achieved through clients' ongoing growth and success. Socius Marketing aims to become a true long-term partner invested in realizing each brand's full digital marketing potential.
For home services, home improvement, and healthcare businesses seeking measurable online growth, Socius Marketing has the expertise, experience, and passion to deliver. Reach out to them today to learn more.
Looking to scale or increase your revenue? Digital marketing is proven to grow your business
Conclusion
Finding the right home services marketing agency is crucial to growing your online presence and generating more leads. The best digital marketing agencies here in our top 10 list offer cutting-edge strategies, experienced teams, and proven results for home service brands. Whether you need SEO to get found locally online, social media marketing to highlight your expertise, or integrated solutions to nurture customer relationships, these top agencies have the expertise to meet your unique needs.
Collaborate with the right digital marketing agency to elevate your brand, connect with high-intent customers, and gain a competitive advantage in your market. Use our list as a guide to finding the perfect home services marketing agency fit for your home service business goals and let their innovative marketing fuel your online growth. With the right strategy and execution, you'll be on the path to winning more business in the digital space.