The internet has become a thriving hub for small businesses to expand their reach and attract new customers. But, let's face it, standing out in the vast online landscape can be quite a challenge.
That's where the practice of internet marketing comes in. It involves a range of strategies like search engine optimization, social media outreach, and web development, to effectively promote businesses in the digital world. Unfortunately, many small business owners lack the time and expertise to navigate these waters alone. Thankfully, there are expert agencies that specialize in internet marketing services.
In this blog post, we'll showcase the top 10 agencies that cater to small businesses, offering comprehensive internet marketing strategies to drive their success.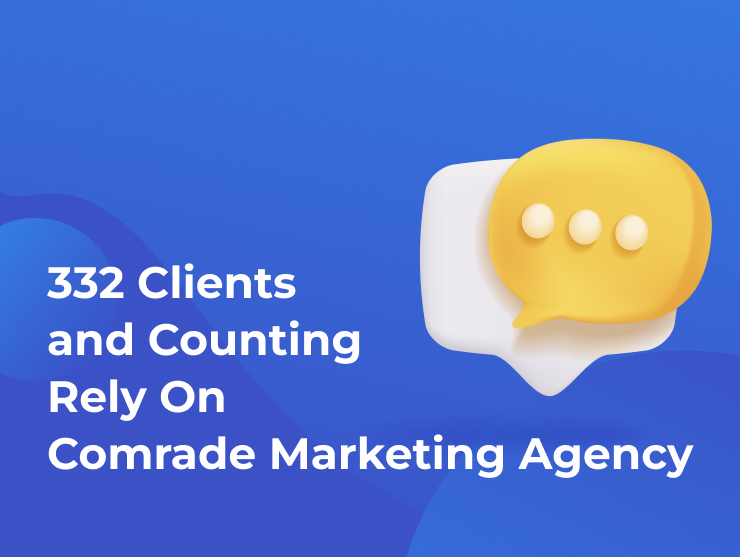 How Digital Marketing Services Can Help Your Small Business Succeed
Digital marketing services can play a significant role in boosting the growth of small to midsize businesses. Here are a few key services that can prove to be highly valuable:
Search Engine Optimization (SEO): By optimizing your website with relevant keywords and improving its visibility on search engines like Google, SEO helps drive organic traffic to your site. It can result in increased brand exposure and higher chances of acquiring new customers.
Social Media Advertising: Utilizing popular social media platforms such as Facebook, Instagram, and Twitter, businesses can connect and engage with their target audience. It allows for targeted advertising, building brand awareness, and driving traffic to your website.
Content Marketing: Creating and sharing valuable content (such as blog posts, videos, and infographics) helps establish your expertise in the industry and attracts potential customers. Content marketing also plays a crucial role in improving search engine rankings and driving organic traffic.
Pay-Per-Click (PPC) Advertising: With PPC advertising, businesses can display ads on search engines and pay only when users click on their ads. This method ensures that you only invest in reaching potential customers who have shown interest in your products or services.
Website Design and Optimization: A well-designed and user-friendly website is crucial for small businesses. It should not only attract visitors but also provide a seamless browsing experience, leading to higher conversion rates and customer satisfaction.
These are just a few examples of the digital marketing services that can benefit small businesses. Finding the right combination and strategy can greatly contribute to your online success.


Success Stories
Delivering Business Results: Our Digital Marketing Case Studies
How to Choose a Small Business Digital Marketing Agency
When looking for the best digital marketing agencies to help your small business, it is important to look for one that offers a range of services, such as SEO, PPC, Social Media Marketing, Email Marketing and Content Creation. Additionally, you should consider a marketing agency with expertise in serving small businesses. Ask potential partners about their previous projects and successes in order to get a better understanding of how they can help you achieve your goals. Furthermore, review their portfolio to see if it aligns with your brand and overall strategy. Finally, establish a budget and compare costs between different agencies before making a decision. By considering all of these factors you will be able to find the best digital marketing agency for promoting your small business online.
Comrade Digital Marketing Agency
Comrade Digital Marketing Agency is a full-service digital marketing agency that specializes in providing small business owners with comprehensive internet marketing solutions, including keyword marketing campaigns. With over 10 years of experience, Comrade has the expertise to create and implement effective digital campaigns that will drive results for your business. They offer services such as search engine optimization (SEO), pay-per-click (PPC) advertising, social media advertising, content marketing, website design & development, email marketing, online reputation management and more. With their creative insight and deep knowledge of digital marketing trends, they are dedicated to helping you maximize your reach and engage with your target audience effectively.
• Comrade office is located in Chicago, IL.
• Founded in 2007, Comrade has been providing services for over 13 years.
• Comrade Digital Marketing Agency has an impressive 4.9/5 rating on Google with hundreds of satisfied clients and over 50 employees.
Ignite Digital
This highly reputable agency specializes in cutting-edge digital marketing strategy, offering an extensive range of comprehensive services tailored to enhance your online presence. Their team of experts excels in various fields, including search engine optimization to boost your website's visibility, pay-per-click advertising to drive targeted traffic, social media management to engage and connect with your audience, and email marketing to nurture customer relationships. With a keen understanding of the ever-evolving digital landscape, they deliver customized solutions that guarantee maximum effectiveness and long-lasting impact for small businesses like yours. Trust them to elevate your brand's online performance and drive more sales to prospective customers.
• Ignite Digital is a full-service digital marketing agency based in Toronto, Canada.
• They specialize in providing custom web design and development, SEO services, social media marketing, and more.
• Ignite Digital has been helping businesses achieve success online since 2014.
WebFX
WebFX, a renowned and highly respected agency, offers a comprehensive range of digital marketing services to cater to various business needs. Their exceptional expertise spans search engine optimization, Email marketing, social media management, content marketing, and much more. With a strong focus on delivering tailored solutions, WebFX collaborates closely with small businesses, ensuring their digital marketing strategies are customized to perfection. Partnering with WebFX guarantees a highly effective and results-driven approach to maximize online visibility and drive business growth.
• WebFX is a full-service digital marketing agency that offers website optimization, SEO, PPC, and social media services.
• WebFX has over 20 years of collective experience in the digital marketing industry.
• WebFX has serviced clients in over 500 industries across six different continents.
Disruptive Advertising
Disruptive Advertising excels in providing a comprehensive suite of highly tailored internet marketing services, meticulously designed to empower and elevate small and medium sized businesses. With a strategic focus on Pay-Per-Click advertising, social media marketing, local SEO, and a plethora of other cutting-edge techniques, they leave no stone unturned to ensure that every aspect of a small business's online presence is meticulously optimized for unparalleled success.
• Founded in 2002, Disruptive Advertising is an industry-leading digital marketing agency based in Utah.
• The agency has helped hundreds of companies create successful marketing campaigns and grow their businesses using data-driven strategies.
• Disruptive Advertising has earned an impressive 5 out of 5 stars in customer ratings.
Titan Growth
This agency is a true expert in the field of On Page SEO and PPC management. They pride themselves in their ability to assist small businesses in achieving top rankings on search engine results pages. By collaborating closely with clients, they develop bespoke solutions tailored to meet their unique requirements and goals. With their comprehensive expertise and commitment to excellence, this agency delivers outstanding results that drive measurable success for businesses of all sizes.
• Titan Growth has offices in the U.S., Canada, and Europe.
• The company employs over 400 people globally.
• On Glassdoor, Titan Growth has a 4.3 star rating from employees.
Single Grain
Single Grain is dedicated to providing comprehensive internet marketing services that cover a wide range of strategies. Their expertise includes search engine optimization, display advertising, insightful content marketing, and more. With a strong focus on empowering small businesses, they leverage their in-depth knowledge and skills to assist in developing and nurturing a robust online presence. By expanding customer reach and facilitating accelerated growth, their services contribute to the success and prosperity of businesses in the digital landscape.
• Founded in 2009, Single Grain is a leading full-service digital marketing agency.
• The company offers services ranging from SEO, PPC, and content marketing to web design and development.
• Single Grain is trusted by top brands like Amazon, Uber, and Salesforce for their digital marketing needs.
KlientBoost
This agency specializes in small business marketing, with a focus on pay-per-click (PPC) advertising. They provide meticulously customized solutions to help boost website traffic and generate higher sales. What sets KlientBoost apart is their dedicated team of experienced professionals who closely collaborate with clients to develop and execute highly targeted campaigns. By doing so, they ensure that businesses can effectively reach their goals and maximize their online presence. With a comprehensive approach, KlientBoost leaves no stone unturned in delivering impactful results in small business marketing.
• KlientBoost is a conversion rate optimization firm founded in 2013.
• KlientBoost is located in San Jose, California.
• KlientBoost has been recognized by Clutch for its ability to deliver high-quality customer service and results.
Digital Shift
Digital Shift is a prominent provider of comprehensive internet services specifically designed for small businesses. Their range of services includes ECommerce SEO, PPC advertising, online advertising, social media management, and website optimization. The team of experts at Digital Shift is dedicated to crafting effective strategies that enhance online presence, drive more traffic, and increase customer engagement. With their strategic approach and proven track record, Digital Shift is the go-to choice for small businesses seeking to thrive in the digital landscape.
• Digital Shift is a digital marketing and technology firm, focused on helping businesses of all sizes succeed in the digital world.
• Digital Shift offers a wide range of digital services, including web design & development, e-commerce solutions, SEO and social media campaigns.
• The company employs a team of experienced professionals who specialize in creating custom online strategies to help optimize visibility and reach.
LYFE Marketing
This agency specializes in providing comprehensive internet marketing services to small Ecommerce businesses. Their range of services includes managing social media accounts, implementing PPC services, and optimizing search engine rankings through SEO strategies. With a dedicated approach, they collaborate closely with clients to fully understand their specific needs and objectives. By developing a customized marketing strategy tailored to each business, this agency ensures the attainment of their clients' goals while maximizing their company online presence and visibility.
• LYFE Marketing is an Atlanta-based online marketing and social media company.
• Founded in 2010, the agency specializes in creating innovative content, identifying key audiences, and leveraging digital tools to drive engagement and conversions.
• LYFE provides services to businesses across industries including healthcare, travel & leisure, hospitality, retail, non-profits and more.
Blue Corona
Blue Corona is an industry-leading digital marketing agency committed to helping businesses across the globe grow. With over 10 years of experience, Blue Corona has earned a reputation for delivering innovative and effective marketing solutions to help businesses maximize their reach and gain meaningful insights. Services include search engine optimization (SEO), pay-per-click advertising (PPC), website design, social media management, email marketing, conversion optimization, video production, data analytics, reputation management, local SEO services, and more. Additionally, their experienced team can create custom marketing strategies catered to any budget that will provide long-term success without sacrificing quality.
• Blue Corona is located in Gaithersburg, Maryland.
• The company was founded in 2008.
• It has an A+ rating from the Better Business Bureau.
Accelerate revenue growth with expert internet marketing solutions
Conclusion
Small businesses aiming to broaden their reach and attract new customers must harness the power of internet marketing. The awesome agencies we've mentioned provide customized solutions for local businesses, tailored to their business goals.
These top digital marketing agencies offer all the services you need to boost your online presence and reach new customers – from SEO and PPC to social media and web design. Partnering with one of these agencies can help your small biz thrive online, and take your company to new heights. Give it a shot and see the difference it can make for your business goals.