More than half the world uses social media for over two hours every day. This is why service-based businesses big and small have integrated social media platforms into their online marketing strategies to expand customer reach and grow sales.
The primary reason to invest in electrician social media marketing is its immediacy. With it, you can easily interact with existing and potential customers with just a few clicks. This develops rapport and trust from those considering using your electrical services and, at the same time, improves brand awareness.
Electrician digital marketing combats business stagnation. With the average age of clients changing, Millennials and Gen Z comprise a substantial section of customers, and they're familiar with eCommerce and expect service-based businesses to operate online.
In this blog, we look at social media marketing for electricians, its benefits, and how it helps you get new customers.
What Is Social Media Marketing (SMM)?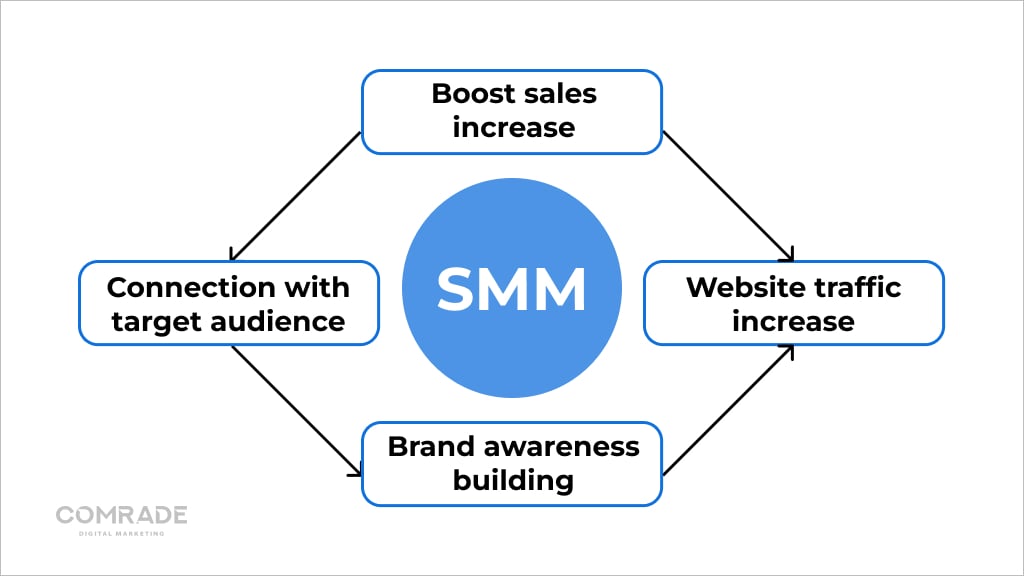 Social media marketing for electricians is a form of digital marketing that leverages the power of social media platforms to connect with target audiences, build brand awareness, increase website traffic and boost sales. It involves maintaining a measurable marketing strategy with SMART goals that are beneficial to business growth.
Content marketing, online community engagement, and paid advertising are tactics within social media's toolkit used to connect with customers and help them understand your company's services or products. In the early days of social media marketing, companies primarily used platforms to drive more traffic to their websites and increase sales.
While this is still the case, nowadays, business social media profiles are viewed not just as communication platforms but as extensions of brands themselves. In this sense, social media humanizes brands, making them more personal and communicative than ever before.


Success Stories
Delivering Business Results: Our Digital Marketing Case Studies
Why Is Social Media Marketing Great for Promoting Electrician Businesses?
Social media sites are premised on connectivity. Because it links countless social media users at any time from anywhere, it presents a myriad of marketing opportunities.
The benefits of social media for electricians include:
Sales funnel nurturing: Data derived from social media offers more in-depth insights into how to improve your sales funnel. Social media also makes it possible to connect with potential buyers at any stage of the sales funnel. Common electrical contractor advertising ideas like electrician social media posts, comments, and ads can be used to nudge buyers down the funnel.
Cost-effective budgeting: Precise audience targeting and the fact that creating social media profiles is free, makes it a cost-effective marketing channel. Real-time analytical feedback also helps you spend your marketing budget wisely.
Social listening: Tracking brand mentions on social media and analyzing them for insights and opportunities helps you understand how people feel about your business and its competitors. Unlike traditional marketing, these immediate insights can drive real-time conversions.
Building stronger relationships: Electrician social media marketing is more about building lasting relationships than merely selling and promoting. It offers the perfect way to connect with customers directly, whether it's sharing new products or requesting product feedback.
Generating more leads: High rates of social media engagement can directly connect your business to its audience, improving visibility and conversions.
Increase brand awareness: Strategic social media marketing establishes electricians as experts, showcasing projects and safety tips, building trust, and attracting local customers.
What Platforms Should Electrical Contractors Use for Marketing?
Narrowing down your social media platforms allows you to focus efforts and derive the highest ROI. Your company's goals and target audience's social media preferences determine which platforms will work best.
Electrician Facebook Page and Facebook Ads
This platform continues to reign as the king of social media with 2.94 billion active users. Facebook marketing for electricians is highly targeted, allowing electrician businesses to publish Local Awareness ads that reach customers on their mobile devices. Its re-targeting options can also advertise to people who have already visited your business website.
Setting up an electrician Facebook Page lets you connect with potential customers and offer key information about your services, as well as social proof in the form of reviews, which encourages customers to do business with you. Facebook caters to a variety of people, incorporating many media aspects from text to messenger to photos. It's not as limited as Twitter or Instagram, which is why we've placed it at the top of the list.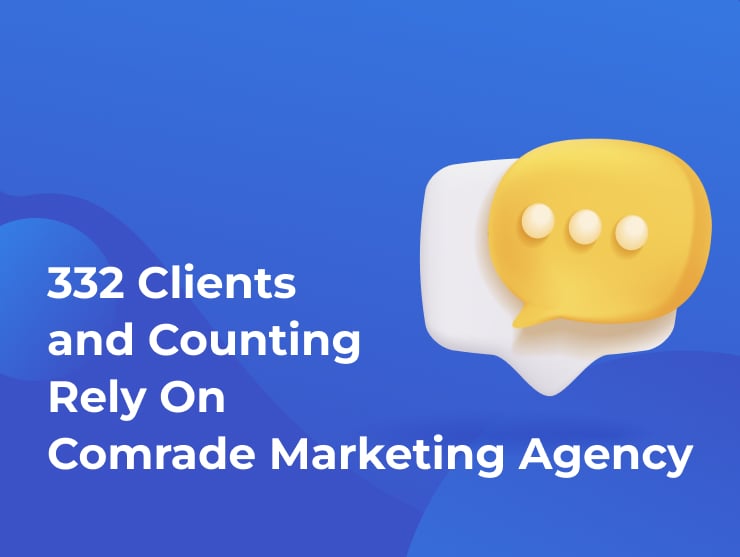 Facebook Electrician Ads Example
Ever thought about letting your happy customers do the talking for you? Let's dive into the use of customer testimonials in your engagement ads, and why this can be an excellent move for your business. It's like having your own cheerleading squad, but in digital form.
So, why is this strategy so ingenious? Well, because people trust people. When potential customers see real folks raving about your service, it's the modern-day equivalent of a friend's recommendation.
It's not just about the words- it's about the feeling of authenticity. No one wants to take your word for it, they want everyone else to weigh in and confirm it's the right choice.
Twitter Account
With 206 million active daily users, Twitter should be part of your electrician social media marketing strategy. This social media platform lets you share information quickly and start conversations with your target audience in personal and meaningful ways. The famous character limit encourages the creation of quick and compelling ads that drive sales.
Additionally, if someone mentions your products or service, you can "like" or "retweet" their comments, which is a convenient way to engage with customers. On the contrary, should a customer complain about your services on Twitter, you can direct message them to resolve the issue in real-time.
Twitter Electrician Ads Example
Want your electrical expertise to shine? Let a neat electrician tip or trick be your spotlight. By showcasing your know-how, you're not just offering a solution—you're exhibiting your skills to potential clients and building trust. As that trust and confidence is established, more people will reach out.
Electrician Instagram Page
Approximately 80% of personal Instagram accounts follow at least one business, which is telling for businesses wanting to invest in organic and paid marketing on the app. This visual platform is perfect for electrician companies who are interested in content marketing that's visually skewed and appeals to Millennials and Gen-Z audiences. Instagram is ideal for before and after images, DIY videos, and simple advertisements.
Instagram Electrician Ads Example
Want to stand out in the crowd? It's all about showcasing what makes you the best of the best, and Instagram is a great choice. Remind potential clients about the unbeatable services you bring to the table with a good picture and some carefully chosen words, along with a rock-solid promise of 100% satisfaction.
YouTube Channel for Electrical Business
According to recent video stats, 78% of people watch online videos every week, and 55% view online videos every day. Marketers know consumers love branded video content. UK electrician Jordan Farley is a good example of how you can grow your audience and brand credibility with YouTube. Another advantage YouTube has is that you can cross-pollinate other social media platforms with YouTube videos increasing the ROI of your marketing efforts and audience reach.
Engaging Social Media Post Ideas for Electrical Businesses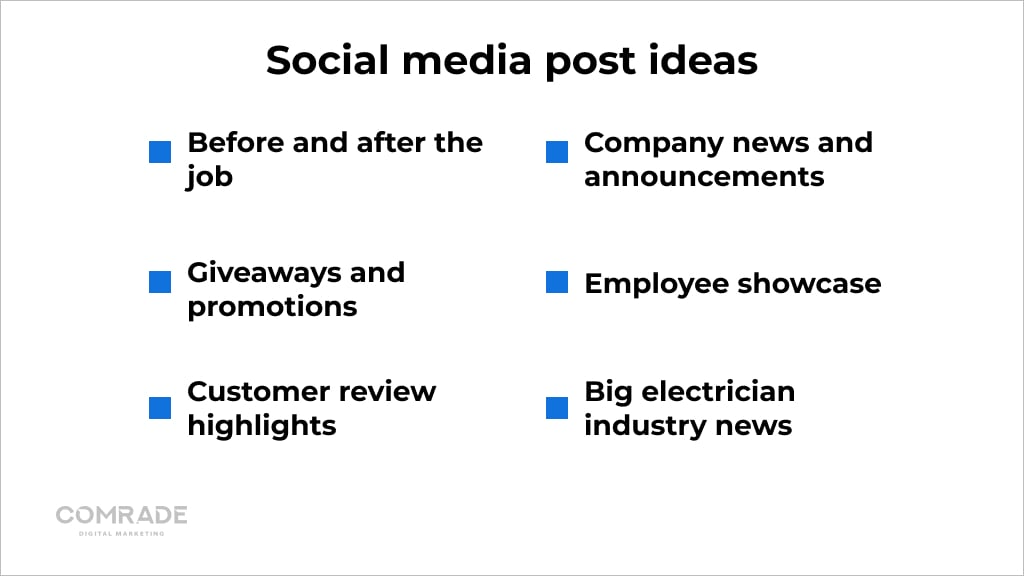 You can supercharge your social media strategy with the right marketing tactics. Below are some tried and tested social media ideas for electricians you can use for all of your social media channels:
Before and After the Job
Before and after photos are common across social media. They highlight your skills and show customers what they can expect from your services. Essentially, they provide social proof and improve accountability. In this context, a picture is indeed worth 1,000 words. These photos are extremely effective on Facebook and Instagram.
Giveaways and Promotions
Marketers use social media contests to increase brand following and audience engagement. The most effective way to run giveaways is to request followers complete a certain action. For instance, subscribing to your email newsletter to be eligible to win. Competitions are a cost-effective way to expand your audience reach and generate leads.
Customer Review Highlights
Because 90% of consumers read reviews before making a purchase, it's become customary for businesses to share reviews on social media. Some platforms like Facebook integrate reviews directly on business social media pages, while for others like Instagram, businesses need to upload user-generated reviews to their Stories' highlights or create carousel image posts for their feeds.
Company News and Announcements
Other engaging social media post ideas include disseminating important company news and messages. This adds value to your stakeholders and customers in a targeted way that keeps them informed about significant company developments. Using social media makes it easier to broadcast seasonal discounts, a change in operating hours, and other valuable business information.
Employee Showcase
Publishing staff profiles on social media is one of the best ways to promote company culture and humanize your brand. It's also smart PR to let your customers know you appreciate and respect your employees' hard work. Putting a human face to a brand makes your electrician company more personable and approachable, which can improve conversions.
Big Electrician Industry News
​​Electrical companies constantly have to deal with changing industry regulations, which means providing constant updates to educate consumers on what is permissible. Social media offers an easy way to communicate these changes. For example, your electrician blog ideas might include creating content specifically to educate consumers on new regulations, which you can disseminate via your social media platforms.
Optimize your website, boost your business. Simple as that
Additional Social Media Marketing Tips for Electricians
Social media marketing for electricians is now a standard communication platform for all companies engaged with digital marketing for electricians.
Here are our top tips to make sure you leverage these platforms to the max.
Post consistently: How often you post depends entirely on how you plan an advertising campaign. Social media is fast-paced, and content quickly becomes obsolete. That's why posting regularly is essential to remain at the top of people's minds.
Invest in quality: Like all content marketing, your social media content should be of value. Posting irrelevant and useless content can damage your reputation.
Be original: When you create original content, you position your electrical company as an industry leader in your niche. Good content appeals to your target audience and authentically communicates and reflects your business values.
Set SMART goals: A social media marketing plan that lacks objectives won't accomplish anything. Increasing leads and boosting engagement entail different strategies, so you need to be clear about what you want to achieve. At Comrade Digital Marketing Agency we set SMART goals, meaning they are specific, measurable, achievable, realistic, and timely. For example, instead of saying you want to "increase leads," it's better to say, "increase leads by 20% in three months." The latter is the equivalent of a SMART goal.
As an electrician or electrical company, you're dealing with people all the time. Developing a social media strategy exponentially grows your customer reach, so more people find your services and hire you to help them with their electrical needs.
Comrade is an electrician search marketing company that can bring you more customers. Social media doesn't exist in a vacuum, so we provide other services like website design, content marketing, and paid advertising. We know how to market an electrical contracting business and would love to help with yours to bring your business more revenue.
Frequently Asked Questions
In what cities do you work?