Countertop businesses have a unique challenge in the digital landscape – how to cut through the noise and ensure that potential customers find their products and services when they need them the most. That's where SEO comes into play.
Imagine your countertop business showing up at the top of search results when someone is looking for granite, quartz, or marble countertops. It doesn't have to be out of reach; it's a tangible reality that we'll discuss in this article. Get ready to dive into the world of SEO for countertop businesses and learn how to elevate your online presence and bring new customers in.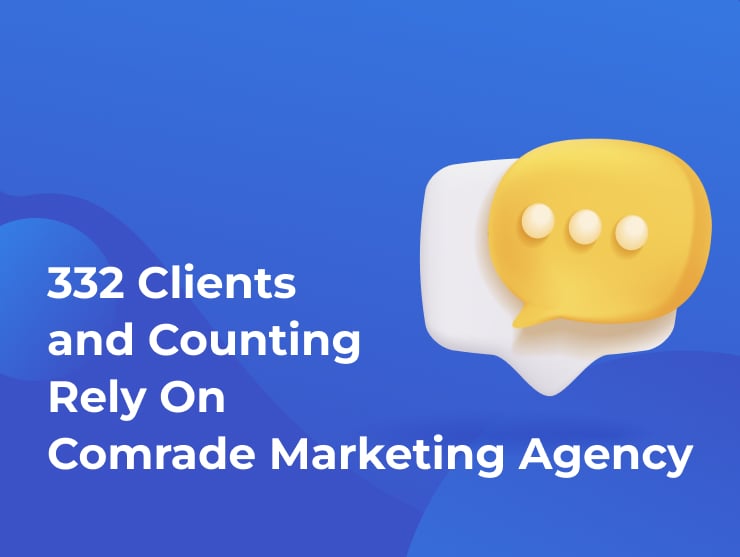 What Is SEO for Countertop Businesses?
SEO, or Search Engine Optimization, is the art and science of improving your online visibility, and for countertop businesses, it's the key to standing out in a crowded digital landscape. It involves optimizing your website and online presence so that when potential customers search for countertop-related services, your business appears prominently in search engine results.
SEO for countertop businesses isn't just about ranking higher on Google; it's about connecting with your target audience when they need your services the most. It's a strategic approach that involves using the right keywords, creating engaging content, and enhancing the user experience to ensure your business not only gets found but also chosen by those in need of quality countertops. At Comrade Digital Marketing, we specialize in tailoring SEO strategies that drive real results for countertop businesses like yours.
Why Countertop Businesses Should Embrace SEO Strategies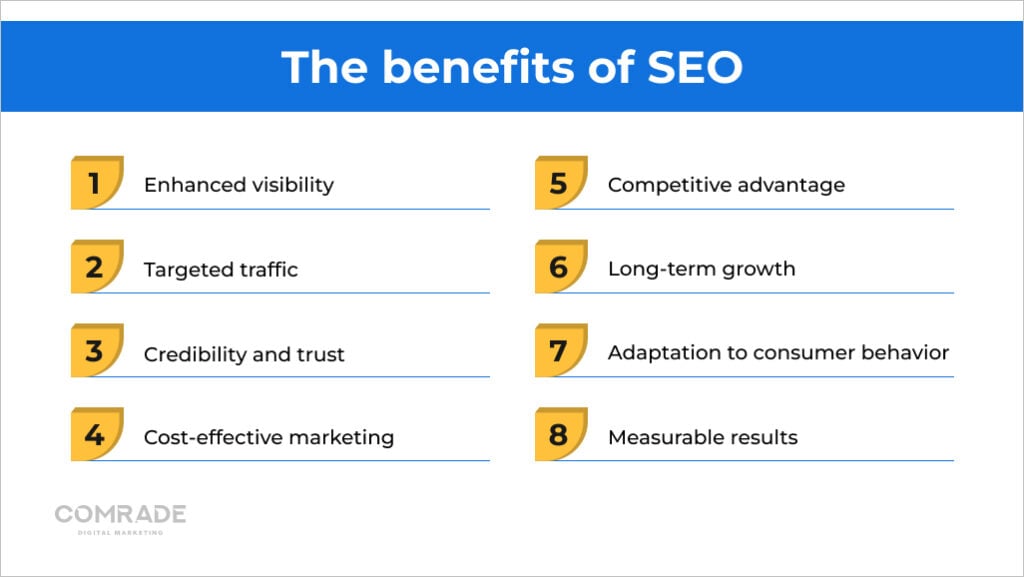 In today's digital age, the success of any countertop business is significantly tied to its online presence and SEO (Search Engine Optimization) strategies. There are compelling reasons why countertop businesses should wholeheartedly embrace SEO:
Enhanced Visibility: SEO helps your countertop business appear at the top of search engine results when potential customers are looking for your services. It's the digital equivalent of having a prime location in a busy shopping district.
Targeted Traffic: SEO allows you to attract highly relevant traffic for your SEO campaign. People who are actively searching for countertops or related services are more likely to become customers when they find your website.
Credibility and Trust: Websites that rank high in search results are often perceived as more credible and trustworthy by users. SEO can build your business's reputation in the eyes of potential customers.
Cost-Effective Marketing: Compared to traditional advertising, SEO offers a cost-effective way to market your countertop business for more customers. It provides a high return on investment (ROI) by reaching the right audience at the right time.
Competitive Advantage: Embracing SEO strategies can give your countertop business a competitive edge. You can outrank competitors, capture market share, and become the go-to choice for customers.
Long-Term Growth: SEO isn't a quick fix; it's a long-term strategy. Once you establish a strong online presence through SEO services, it can continue to deliver results for your countertop business over time.
Adaptation to Consumer Behavior: With more people turning to the internet to research and make purchasing decisions, SEO aligns your business with changing consumer behavior.
Measurable Results: SEO provides valuable data and analytics for your campaign that allow you to track your website's performance and make informed marketing decisions.
In conclusion, for countertop businesses aiming to thrive in the digital era, embracing SEO strategies is not just an option; it's a necessity. Don't miss out on the countless opportunities that SEO can bring—take a step toward greater online success today while avoiding keyword stuffing and ensuring effective on-page SEO with internal links to attract valuable traffic.


Success Stories
Delivering Business Results: Our Digital Marketing Case Studies
10 Proven SEO Techniques for Countertop Companies
To stand out in the competitive world of countertops and gain visibility on search engines, you'll need to implement effective SEO strategies. These ten valuable SEO tips are essential for any countertop business looking to collaborate with an SEO company and achieve sustainable online growth.
1/10 technique
1. Keyword Research and Selection
Keyword research is a fundamental step in any SEO strategy for countertop businesses. Start by identifying relevant keywords and phrases that potential customers might use when searching for countertop solutions. Consider keywords like "granite countertops," "quartz countertop installation," or "custom kitchen counters." Utilize keyword research tools like Google Keyword Planner, SEMrush, or Ahrefs to find high-volume keywords with low competition. Once you've compiled a list of target keywords, prioritize them based on relevance and search volume.
For example, if you specialize in granite countertops, focus on long-tail keywords like "affordable granite countertops in [your city]" or "best granite countertop installers near me." Incorporate these keywords naturally into your website's content, including product descriptions, blog posts, and meta tags. This targeted approach will improve your website's visibility in search engine results, helping potential customers find your countertop business more easily. Remember, while optimizing your content for search engines, you need to avoid keyword stuffing, as it can harm your rankings and user experience.
2/10 technique
2. Optimize Website Content
Optimizing your website's content is crucial for attracting both search engines and potential customers. Start by creating high-quality, informative, and engaging content related to countertops. For instance, if you offer a variety of countertop materials, create detailed product pages for each type, providing information on durability, maintenance, and design options. Include high-resolution images showcasing your work, and ensure your content is well-structured with headings, bullet points, and relevant keywords.
For example, if you're promoting quartz countertops, create a page that not only describes their benefits but also addresses common customer questions, such as "Are quartz countertops stain-resistant?" or "How to clean quartz countertops." Additionally, regularly update your blog with informative articles like "The Latest Trends in Kitchen Countertops" or "How to Choose the Right Countertop for Your Bathroom."
This not only enhances your SEO but also establishes your authority in the countertop industry, making customers more likely to trust and choose your services. If optimizing your website seems daunting, consider enlisting the services of a digital marketing agency like Comrade Digital Marketing to help you implement these strategies effectively.
3/10 technique
3. Mobile-Friendly Design
In today's digital landscape, having a mobile-friendly website is not just an option; it's a necessity. Many potential customers will access your countertop business's website through their smartphones or tablets. Therefore, it's crucial to ensure that your website is responsive and optimized for mobile devices. This means that the layout, images, and content should adapt seamlessly to various screen sizes.
For instance, when a potential customer searches for "marble countertop installation" on their mobile device, your website should load quickly and display all the essential information without the need for excessive zooming or horizontal scrolling. Google also prioritizes mobile-friendly websites in its search rankings, so a mobile-responsive design not only improves user experience but can also boost your SEO.
If you're unsure about how to implement a mobile-friendly design, consider consulting with a digital marketing agency like Comrade Digital Marketing. They can help ensure that your countertop business's website is accessible and user-friendly across all devices.
4/10 technique
4. Local SEO and Google My Business
Local SEO is a game-changer for countertop businesses looking to attract customers in their vicinity. Start by claiming and optimizing your Google My Business (GMB) listing. Ensure that your business name, address, and phone number (NAP) information is accurate and consistent across all online platforms. Add high-quality images of your countertop installations and encourage satisfied customers to leave reviews on your GMB profile. These steps not only improve your online visibility but also enhance trust and credibility with potential clients.
For example, if someone searches for "quartz countertop suppliers near [your city]," a well-optimized GMB listing will increase your chances of appearing in the local map pack, which is prominently displayed in search results. Additionally, create location-specific content on your website and target keywords that include your city or region, such as "custom granite countertops in [your city]."
Implementing local SEO strategies like these can significantly boost your online presence and drive more foot traffic to your countertop showroom or service area. If you find local SEO challenging, consider leveraging the expertise of a digital marketing agency like Comrade Digital Marketing, specializing in local SEO for countertop businesses.
5/10 technique
5. High-Quality Backlinks
Building high-quality backlinks is a crucial aspect of SEO for countertop businesses. Backlinks are links from other reputable websites to your own. They signal to search engines that your website is trustworthy and authoritative within your industry. To acquire backlinks, start by creating valuable, shareable content on your website. This might include detailed guides on countertop selection, maintenance tips, or industry trends.
For instance, you can create a comprehensive guide on "How to Choose the Perfect Countertop Material for Your Kitchen" and reach out to home improvement websites or interior design blogs to feature your guide as a resource. When these websites link back to your content, it boosts your website's authority in the eyes of search engines. Additionally, consider partnerships with local businesses or countertop suppliers who can feature your work on their websites. Earning these backlinks can improve your SEO and drive more organic traffic to your site.
Comrade Digital Marketing Agency can help you with the above if you're unsure how to go about it. Schedule a free consultation.
6/10 technique
6. Technical SEO Optimization
Technical SEO is the foundation that ensures your website is crawlable and indexable by search engines. It involves various technical aspects that impact your site's ranking. Start by optimizing your website's loading speed, as slow-loading pages can negatively affect user experience and SEO rankings. Compress images, enable browser caching, and minimize code to improve load times.
For example, if a user clicks on your website looking for "marble countertop options," they're more likely to stay and engage with your content if your pages load quickly. Another crucial technical aspect is ensuring your website's structure is well-organized with clear URLs, proper header tags, and an XML sitemap. This helps search engine bots understand and index your content more efficiently.
Regularly check for broken links and resolve them promptly to maintain a seamless user experience. If managing technical SEO seems complex, consider consulting with a digital marketing agency like Comrade Digital Marketing to ensure your website is technically optimized for SEO success.
7/10 technique
7. User Experience (UX)
User experience (UX) is a critical factor in SEO and the overall success of your countertop business's website. Google takes into account various UX metrics when ranking websites. Ensure that your website is easy to navigate, with a clear menu structure that helps visitors find information quickly. This is particularly important when potential customers are looking for specifics like "affordable quartz countertops."
For instance, your homepage should provide a clear path to your product pages, contact information, and any educational resources you offer. Additionally, optimize your website for fast loading times, as slow-loading pages can result in high bounce rates. Mobile responsiveness is key to a positive user experience since many users access websites on their smartphones. A seamless and user-friendly website not only keeps visitors engaged but can also lead to higher conversion rates and better SEO rankings.
Need a high-performance website for your company?
Book a 15-min call to discuss
8/10 technique
8. Content Marketing Strategy
Developing a content marketing strategy is a powerful way to establish your countertop business as an industry authority and drive organic traffic to your website. Start by identifying your target audience and their pain points. Create content that addresses their needs and interests. For example, if your target audience includes homeowners looking for kitchen remodeling ideas, you can create blog posts like "Top Countertop Trends for Modern Kitchens."
Consistency is key in content marketing. Regularly publish informative blog posts, videos, or infographics that resonate with your audience. Promote your content through social media channels and email newsletters to reach a wider audience. Encourage engagement by allowing comments and sharing buttons on your content. A well-executed content marketing strategy not only enhances your online presence but can also lead to more backlinks and social media shares, further boosting your SEO efforts.
If managing these aspects of SEO for your countertop business becomes overwhelming, consider partnering with a digital marketing agency like Comrade Digital Marketing. They can provide expert guidance and support to help you achieve your SEO goals.
9/10 technique
9. Social Media Integration
Integrating social media into your SEO strategy can amplify your countertop business's online presence. Start by creating and optimizing profiles on popular social media platforms like Facebook, Instagram, and Pinterest. Share visually appealing images of your countertop installations, along with informative captions and relevant hashtags. Encourage satisfied customers to leave reviews on your social media pages, as positive reviews can boost your credibility and attract more potential clients.
For instance, regularly posting images of your stunning marble countertop projects on Instagram with captions like "Elevate your kitchen with our luxurious marble countertops" can engage your audience and drive traffic to your website. Social media platforms also allow you to interact directly with customers, answering their questions and providing valuable insights. Sharing your blog posts and other content on social media can further enhance your SEO by driving more traffic to your website and increasing its overall visibility.
10/10 technique
10. Regular Monitoring and Analytics
To ensure the effectiveness of your SEO efforts for your countertop business, it's essential to regularly monitor and analyze your website's performance. Set up Google Analytics to track metrics such as website traffic, bounce rates, and conversion rates. Analyze the data to gain insights into user behavior, such as which pages receive the most visits and where visitors tend to drop off.
For example, if you notice that the "Quartz Countertop Maintenance" page has a high bounce rate, it may indicate that visitors are not finding the information they need. You can then optimize the content on that page to better address user queries. Regularly check your website's ranking in search engine results pages (SERPs) for relevant keywords, and make adjustments to your SEO strategy as needed.
By closely monitoring your SEO performance and analyzing data, you can identify areas for improvement and make informed decisions to enhance your countertop business's online visibility and overall success. If you need assistance with SEO analytics and monitoring, consider partnering with a digital marketing agency like Comrade Digital Marketing to ensure your SEO efforts are consistently optimized for better results.
Optimize your website, boost your business. Simple as that
Conclusion
Optimizing your online presence is essential for the success of your countertop business. These 10 SEO tips can make a significant difference in attracting potential customers and staying ahead of the competition. However, mastering SEO can be a complex task, and that's where Comrade Digital Marketing comes in.
Our digital marketing agency specializes in helping businesses like yours achieve remarkable online visibility. Whether you need assistance with SEO, website design, or digital marketing strategies, our team is here to support you. Don't hesitate to reach out to us today to discuss how we can elevate your countertop business to new heights. Contact us now to get started on your journey to digital success.