Online search drives three times more clients to healthcare providers. Plastic surgery practices are primed to embrace this shift, as the global plastic surgery market is projected to reach $48.84 billion by 2026 as demand for procedures continues to rise.
A strategic digital marketing approach can help busy practices maximize this opportunity by guiding more qualified patients directly to their website. A well-crafted plastic surgery digital marketing strategy allows you to target specific demographics, tailor your messaging to resonate with your ideal patients, and showcase your expertise compellingly and engagingly.
In this guide, we'll break down tactics to help your practice connect, convert, and grow at an authentic online pace. We will start by delving into the importance of understanding your ideal plastic surgery patients – their demographics, needs, and pain points – to create a targeted plastic surgery marketing strategy. Next, we will guide you through building a robust online presence, getting more clients, producing valuable content, and tracking campaign performance.
Understanding Your Ideal Plastic Surgery Patients
The typical plastic surgery patient is 18-54 years old, with younger individuals seeking procedures like rhinoplasty and breast augmentation and middle-aged patients opting for facelifts or body contouring. Although women account for most procedures at 94%, both genders undergo plastic surgery. Patients come from diverse socioeconomic backgrounds, though financial assistance plans can help broaden accessibility. Motivations include addressing dissatisfaction with specific features, boosting self-confidence, enhancing attractiveness, or correcting functional concerns.
To appeal to the desires of your ideal plastic surgery patients, your plastic surgery marketing strategy should highlight the benefits of your services, showcase your expertise, and provide valuable information. Here are some strategies to consider:
Develop a visually appealing website
Use social media marketing
Create informative content
Utilize email marketing
Leverage patient reviews
Highlight your credentials
Offer free or discounted consultations
Partner with influencers
Building Your Online Presence with Plastic Surgery Marketing
Attracting new patients to your cosmetic surgery practice is like guiding them through a marketing funnel. You start by casting a wide net to capture potential patients' attention, then gradually narrow the funnel as you educate and engage them, ultimately leading them to conversion. A strong online presence increases your visibility, establishes credibility, and showcases your expertise to potential patients.
Let's dive into specific tactics that will have prospective patients looking to book with you.
Create a User-Friendly Website Optimized for Conversions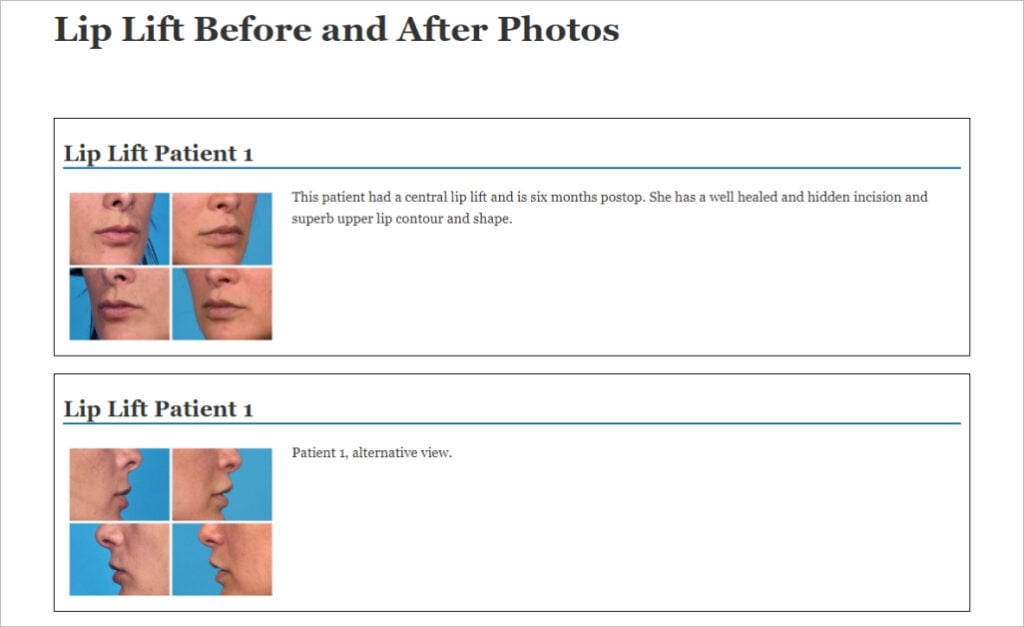 The importance of a user-friendly website cannot be overstated. Clients will find you through search engines or when they click on your link in directories, social media platforms, and others. When they find you, you need to impress them. To ensure your website is not just aesthetically pleasing but also optimized for conversions, consider incorporating the following important elements:
Organize content logically, use descriptive labels, and include a prominent menu with clear sections.
Optimize for mobile viewing to ensure a seamless experience across devices.
Use action-oriented language and place CTAs strategically throughout the site to encourage consultations, appointments, or newsletter subscriptions.
Include before-and-after photos, videos, and appealing imagery to showcase successful outcomes and transformations.
Display testimonials and reviews prominently to establish credibility and reinforce patient trust.
Integrate an online booking system and include a prominent scheduling tool to make it easy for visitors to schedule appointments.
Offer informative content that addresses common questions and concerns about plastic surgery to establish expertise and build trust.
Implement SEO Best Practices to Improve Search Visibility
Search engine optimization (SEO) improves a website's or web page's visibility in search engine results pages (SERPs). A well-optimized site increases your chances of being found by potential patients searching for information about plastic surgery.
There are a number of SEO best practices that you can implement to improve your search visibility.
Effective SEO begins with keyword research to identify potential patients' relevant terms.
On-page optimization incorporates those keywords through headings, descriptions, URLs, and internal linking.
Local SEO strategies like claiming a Google Business Profile are important too, along with location-specific content and keywords targeting your practice area.
Creating valuable, informative content like blogs, guides, stories, and videos establishes your expertise while generating links. Focus content on topics like procedures, recovery, industry trends, staff, and facilities to engage prospects.
Building local citations and participation in community events boosts local relevance.
Lastly, guest blogging or collaborating with related websites and influencers broadens your practice's reach and helps the acquisition of quality backlinks.
Manage Your Online Reputation via Reviews and Testimonials
Reviews and testimonials can make or break your business since so many clients read them before they opt for any services. They are social proof, showcasing the experiences and outcomes of real people who have undergone plastic surgery with your practice. Of course, quality services are key to positive online reviews and testimonials. Once you have quality services, you can ask satisfied customers to leave a review.
To encourage satisfied patients to leave reviews, consider implementing the following strategies:
Request reviews through personalized emails, post-appointment surveys, or website/waiting area reminders.
Simplify the process by providing clear instructions and direct links to popular review platforms.
Offer small, ethical incentives for patients who leave reviews, such as discounts or thank-you gifts.
There are times when you get negative reviews. These reviews reduce your practice's integrity, so you need to take care of them accordingly. Address negative feedback promptly and professionally. Acknowledge the patient's concerns and apologize for any negative experience they may have had. Demonstrate empathy and a willingness to resolve the issue. Then:
Address the patient's concerns directly and explain your steps to resolve the issue. Provide a solution or offer a compromise.
Take it offline. Invite the patient to contact you directly to discuss their concerns further.
Regardless of the tone of the negative review, always respond calmly and professionally. Avoid getting defensive or engaging in arguments. Remember that your response is visible to the public and potential patients.
Thank the patient for their feedback and let them know that you value their opinion to show that you are committed to improving your practice and care about patient satisfaction.
Follow up with the patient to ensure their issue has been resolved satisfactorily. This shows that you are committed to providing excellent patient care and are willing to go the extra mile to ensure patient satisfaction.
Cultivate a Strong Social Media Presence on Relevant Platforms
When it comes to plastic surgery, it's very likely that your prospective patients are scrolling through your socials before they contact your practice. There are various platforms you can use, each with appeal and characteristics, but all serve one purpose—to put your plastic surgery clinic in front of a wide range of potential clients.
Facebook, popular amongst middle-aged people, allows the sharing of educational content, updates, and testimonials.
Instagram is a visual app ideal for showcasing work through before-and-after photos and videos. It's incredibly popular among the younger demographic.
YouTube establishes expertise through procedure explanations, educational pieces, and testimonial videos.
Twitter engages followers with quick updates and engagement with followers.
Since social media includes advertising features that allow you to target specific demographics and reach a wider audience, consider the following for your social media marketing strategy:
Targeted Ads: Use the targeting options provided by each platform to reach potential patients based on demographics, location, and interests. Craft compelling ad copy and visuals that resonate with your target audience.
Retargeting campaigns: Implement retargeting campaigns to re-engage with users who have previously interacted with your plastic surgery website or social media profiles. This keeps your practice top-of-mind and increases the likelihood of conversion.
Success Stories
Delivering Business Results: Our Digital Marketing Case Studies
Getting More Clients for Your Plastic Surgery Practice
Every practice wants one thing: more clients. For plastic surgeons, this means more patients coming through the door and more procedures being performed. But how do you achieve this goal?
Paid Advertising Options and How to Target Them Effectively
Paid ads are search ads on platforms like Google and Bing, as well as social media ads on Facebook, LinkedIn, and Instagram that allow plastic surgeons to reach potential patients actively searching for procedures. In this type of ad, your plastic surgery practice pays each time clients click on your ads. Furthermore, keyword bidding ensures ads appear for relevant terms like "breast augmentation" or "facelift." Each platform offers unique targeting:
Google by keyword, demographic, and network.
Facebook by age, gender, interests, and location.
LinkedIn by job title, industry, and company size.
Instagram by age, gender, interests, and location.
Plastic surgery marketing can also focus on different targeting strategies to get their ads out there. They are:
Location targeting displays ads to specific cities, states, or zip codes.
Interest targeting connects to interests like "cosmetic surgery."
Demographic targeting uses factors like age, gender, and income.
Behavioral targeting focuses on behaviors like "researching plastic surgery."
Email Marketing Campaigns to Nurture Leads and Conversions
Email is one of the most cost-effective ways for plastic surgeons to nurture potential patients from initial interest into booked consultations. Email marketing helps build meaningful relationships online through personalized content.
Some key strategies include:
Segment your lists by stage in the funnel, procedures of interest, or demographics for customized messaging. This helps you send tailored content.
Create a mix of educational, procedural, and practice content in your campaigns. Value-heavy articles showcase your expertise while beautiful before/afters spark real interest.
Send no more than 1-2 emails weekly, maintain top-of-mind awareness, and respect people's inboxes. Identify email value and provide an easy way to opt-out.
Measure digital marketing campaign effectiveness by tracking open, click-through rates, and other metrics alongside conversions from leads to consultations. Continuously improve content quality based on user engagement signals.
Consider more robust automation like welcome and follow-up series for consistent nurturing across the funnel. But keep messages conversational and personalized.
Digital marketing can be easier with the Comrade Digital Marketing Agency. Schedule a free consultation.
Create Targeted Landing Pages and Lead Capture Forms
Landing pages are standalone web pages that serve a single purpose: to convert visitors into leads. They are typically used in conjunction with paid advertising campaigns, and they are designed to persuade visitors to take a specific action, such as signing up for a newsletter, downloading an informative guide, or scheduling a consultation.
The role of landing pages is to capture high-quality leads from targeted sources like campaigns or pages on your main site. Here are some tips for designing and optimizing landing pages for specific procedures or patient demographics:
Identify your ideal patient and tailor your landing page to their needs, interests, and pain points.
Use simple language that's easy to understand, and avoid technical jargon or complex medical terms.
Emphasize the benefits of your services, such as improved appearance, enhanced self-confidence, or quick recovery times.
Incorporate high-quality images or videos that showcase your work, facilities, and staff.
Ensure your landing pages are mobile-friendly, as more and more people are accessing the internet from their smartphones.
Include testimonials, reviews, or case studies to demonstrate your expertise and build trust with potential patients.
Ensure your call-to-action (CTA) is clear, prominent, and actionable. Use action-oriented language like "Schedule Your Consultation Today" or "Learn More About Our Services."
Test different variations of your landing pages to see what works best for your audience, and make data-driven decisions to optimize your results.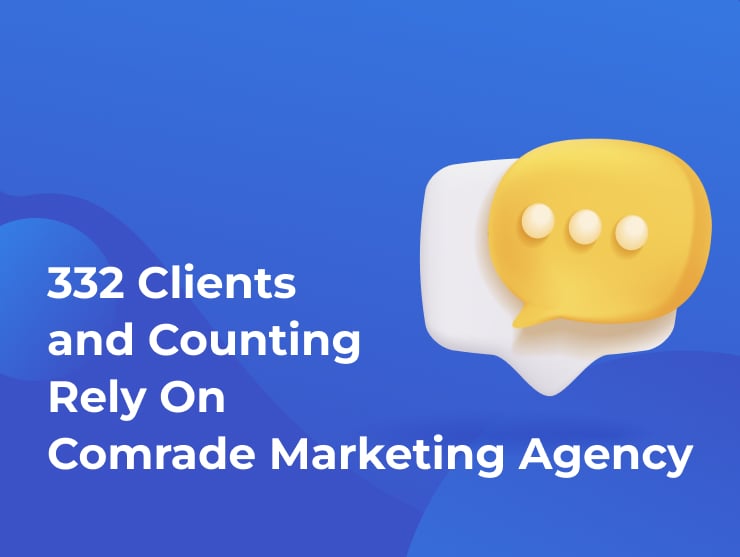 Retarget Past Visitors to Convert Them into Patients
Retargeting involves using technologies like Facebook pixels or Google ads to re-engage those who visited your website but didn't convert. These past visitors demonstrated interest, making them quality retargeting candidates. There are a few different ways to implement retargeting.
Use Google Ads or Facebook Ads to create custom audiences based on users who have visited specific pages on your website, such as your homepage, procedure pages, or blog posts.
Set frequency caps to control how often your ads are shown to retargeted users. You don't want to overwhelm them with too many ads, but you want to keep your practice in mind.
Create compelling ad creatives that resonate with your target audience. Use high-quality images, clear messaging, and strong calls to action to encourage users to return to your site and schedule a consultation.
Retarget users across multiple channels, such as Google search, Facebook, Instagram, and display networks. This ensures that your ads are seen by potential patients wherever they go online.
Rotate your ads regularly to keep your messaging fresh and prevent ad fatigue. This can be done automatically through auto-rotation or manually by pausing or deleting ads.
Produce Valuable Content for Patients
When you produce valuable content, you create informative and relevant content that provides patients with information regarding health conditions, treatment options, and general healthcare tips. This can be done through various channels such as blog posts, articles, videos, or social media posts.
Blogging and Content Creation Strategy to Attract and Educate Ideal Patients
This specifically focuses on using blogging to attract and educate potential patients who fit into your target audience. It involves developing a content creation strategy that aligns with the practice's goals and caters to the needs and interests of the target audience. Blogging:
Establishes the practice as a trusted source of information and thought leader in aesthetic treatments/concerns.
Addresses common questions and educates readers to become well-qualified leads ready for consultation.
Sparks interest in new procedures by diving deeper into options, costs, recovery, etc.
To identify relevant topics, conduct keyword research to identify topics that your target audience is searching for. Use tools like Google Keyword Planner or SEMrush to find keywords related to your services. Then, pay attention to patients' questions during consultations or phone calls. Use these questions as inspiration for blog topics. Furthermore, keep up with the latest industry news and trends. Write about new developments, breakthroughs, or controversies in your field.
When creating valuable content:
Write in a friendly, conversational tone that's easy for readers to understand. Avoid using overly technical language or jargon.
Use headings, bullet points, and short paragraphs to make your content scannable and easy to read.
Incorporate high-quality images, videos, or infographics to break up text and make your content more engaging.
Keep your blog posts concise and to the point. Aim for a length of 500-700 words.
Video Marketing Best Practices for Plastic Surgeons
Video marketing for plastic surgeons allows you to create and share informative and engaging videos that connect with potential patients and showcase various procedures. The power of video in connecting with potential patients is undeniable. They provide a dynamic and interactive way to relay information, build trust, and establish a personal connection. Unlike written content, videos allow viewers to see and hear the plastic surgeon, providing a sense of familiarity.
To create professional-quality videos, plastic surgeons should keep in mind the following tips:
Scripting: Plan your video by writing a script that outlines key points and ensures a clear and concise delivery. Be mindful of the language used, keeping it informative and easy to understand for the intended audience.
Filming: Invest in high-quality equipment, including cameras, microphones, and lighting. Good lighting is particularly crucial to ensure visibility and clarity. Consider filming in a clean, professional environment that reflects your practice's image.
Editing: Use professional video editing software to enhance the quality of your recordings. Trim unnecessary footage, add engaging visuals or graphics, and include captions or subtitles to improve accessibility.
Optimizing for different platforms: Tailor your videos to suit the platforms you intend to share them on. Each platform may have specific requirements and preferences for video formats, aspect ratios, and length. Optimize your videos accordingly to ensure maximum reach and engagement.
Furthermore, it is important to consider the patient's perspective when creating these videos. Some important factors to keep in mind include:
Inclusivity and diversity: Represent a wide range of patients in your videos, showcasing that plastic surgery is for everyone regardless of age, gender, or ethnicity.
Empathy and sensitivity: Handle complex topics with compassion and empathy. Ensure that your videos address potential insecurities or concerns that patients may have and provide reassurance.
Leverage Patient Stories and Before/After Photos
Patient stories offer a unique perspective that goes beyond clinical information. They allow potential patients to relate to individuals who have undergone similar experiences and see your services' positive impact on their lives. Hearing about previous patients' journeys, challenges, and ultimate success can help build confidence and alleviate concerns or doubts.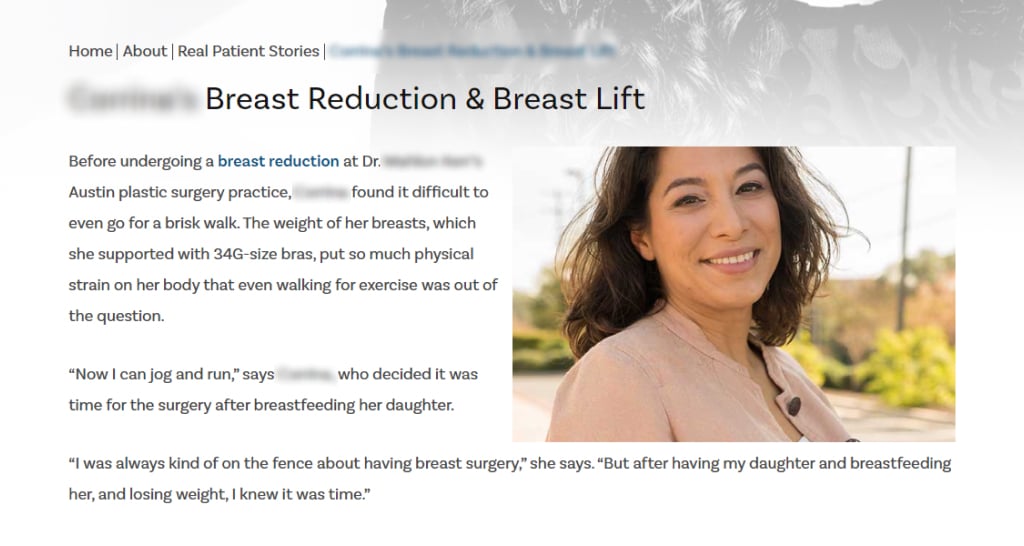 Medical practitioners must obtain explicit patient consent before sharing their stories or images, ensuring patients know how their information will be used and can decline if preferred. You need to respect their privacy and confidentiality when asking for consent. Use only first names or initials when sharing patient stories and images. It is also crucial to de-identify the photos by removing identifying features like tattoos, birthmarks, or objects in the background. This protects the patient's anonymity while still showcasing the transformation.
When presenting before/after photos, it is important to ensure consistency and transparency.
Use high-quality images demonstrating the results to maximize the impact on potential patients.
Provide detailed information about the treatment or procedure, including an explanation of the process, recovery time, and potential risks to help potential patients make informed decisions.
Partner with Influencers to Expand Reach
Influencers have built a social media following, often through sharing content related to a specific niche or industry. Their followers are often highly engaged and interested in topics they influence, making them a valuable target audience for your practice. Partnering with influencers can help you tap into these audiences and generate awareness and interest in your plastic surgery marketing services.
The ways to identify and approach relevant influencers include:
Research: Begin by researching influencers in the plastic surgery industry with a significant following and engagement. Look for individuals who align with the values and image of the plastic surgery practice.
Relevance: Ensure that the influencer's content and target audience are relevant to the services offered by the plastic surgery practice. For example, partnering with an influencer focusing on skincare might not be as beneficial if a practice specializes in breast augmentation.
Engagement: Evaluate the influencer's level of engagement with their audience. Look for influencers with many comments, likes, and shares on their posts, as this indicates an active and engaged fan base.
Now, when you want to approach them, you need to:
Personalize your approach: When reaching out to influencers, customize your message to clarify that you have researched and understand their content. Show genuine interest in collaborating with them and explain how it can be mutually beneficial.
Offer value: Highlight how the partnership can benefit the influencer's audience. Offer unique content, exclusive discounts, or giveaways that align with the influencer's interests and followers' needs.
Negotiate mutually beneficial terms: Discuss the terms of the partnership, including compensation or exchanges, rights to use content, and duration of the collaboration. Ensure that both parties are satisfied with the agreed-upon terms.
Tracking the success of influencer campaigns helps you understand their impact on your practice. You can track metrics such as website traffic, social media engagement, lead conversions, and patient inquiries to measure the effectiveness of the collaboration. Additionally, monitor feedback and conversations generated by the campaign to get valuable insights into how potential patients perceive your practice and services.
Track Performance and Continual Optimization
Your chosen KPIs should align with your objectives: to increase brand awareness, drive website traffic, generate leads, or improve sales. Some common KPIs in digital marketing for plastic surgeons include website traffic, conversion rate, click-through rate, cost per acquisition, return on investment, and engagement metrics such as likes, comments, and shares on social media.
Methods for collecting data to refine campaigns vary depending on the platforms and tools you use. Tools like Google Analytics or similar platforms track website performance, user behavior, and conversion data. These tools can provide valuable insights into visitor demographics, traffic sources, and engagement metrics. Furthermore, most social media platforms offer built-in analytics tools that provide data on reach, engagement, and audience demographics. If you utilize email marketing, track metrics like open rates, click-through rates, and conversion rates to gauge the effectiveness of your campaigns.
Once you have collected the data, you can refine your campaigns by analyzing it. A few methods for analyzing data include:
A/B testing: Conduct A/B tests to compare different variations of your plastic surgeons digital marketing campaigns. Test elements like headlines, images, calls to action, or landing page designs to identify what resonates best with your audience.
Heatmaps and user recordings: Heatmaps visually represent where users click, scroll, and spend the most time on your website or landing page. User recordings capture real-time visitor sessions, allowing you to see how users navigate your site. These tools help identify areas where users may encounter issues or experience confusion, enabling you to improve for better user experience and conversion rates.
Surveys and feedback: Regularly collecting insights directly from your target audience through surveys, feedback forms, or social media polls can provide valuable qualitative data. This qualitative data can help you understand customers' preferences, pain points, and satisfaction levels, allowing you to optimize your campaigns and better tailor them to your audience's needs.
Climb the search engine ladder – rank higher on Google with digital marketing solutions guaranteed to work
Key Takeaways and Next Steps
We have covered various aspects of digital marketing for plastic surgeons to help you build an online presence, get more clients, produce valuable content, and track performance. Now, it's time to take action. Start implementing digital marketing strategies to elevate your plastic surgery practice. Whether you create engaging videos, share patient stories, collaborate with influencers, or refine your campaigns through data analysis, when done right, it can significantly impact your practice's growth and success.
If you want professional assistance in implementing and managing your digital marketing efforts, consider partnering with a plastic surgery marketing agency like Comrade Digital Marketing. Our full-service options allow us to plan, execute, and optimize your online marketing for plastic surgeons campaigns to maximize results. Contact us now to take your plastic surgery practice to new heights.