In today's increasingly competitive healthcare landscape, if you're not marketing, you're behind. Effective marketing has become an essential tool for those looking to grow their practices and engage with patients in the realm of medical marketing for doctors.
While the primary focus of any medical professional is providing quality care, neglecting marketing tactics can hinder the ability to attract new patients and retain and care for existing ones. By adopting innovative marketing strategies tailored to the unique needs of doctors in the field of medical practice, medical professionals can attract new patients, establish themselves in the field, and ultimately drive practice growth.
In this article, we'll explore a range of proven marketing techniques that doctors can leverage to increase patient engagement and effectively communicate their expertise in the realm of medical marketing for doctors.
From optimizing website content and utilizing search engine optimization (SEO) techniques to leveraging social media platforms and implementing patient referral programs, let's dive into the many digital marketing for doctors strategies that can be employed to build a thriving patient base.


Success Stories
Delivering Business Results: Our Digital Marketing Case Studies
How to Market Yourself as a Doctor
In the past, doctors could rely on word-of-mouth and referrals to attract new patients. But now we all turn to the internet to research healthcare providers. This means that doctors need to have a strong online presence in order to be found by potential patients.
To effectively market yourself as a doctor, it's crucial to:
Assess your current marketing efforts: Identify areas for improvement and build a solid foundation in marketing for doctors. Evaluate whether your online marketing techniques in medical practice are driving the desired results and if your social media marketing strategies are engaging potential clients.
Identify your target audience in marketing strategy for doctors: Conduct market research, surveys, and focus groups to gather valuable demographic and psychographic data. This information will enable you to tailor your marketing strategies to address your existing and potential patients' needs, preferences, and motivations.
Utilize digital marketing channels: This strategy should include a variety of marketing channels, such as search engine optimization (SEO), pay-per-click (PPC) advertising, and email marketing. SEO can help your website rank higher in search results, which will make it more visible to practice website visitors.
In the next section, we'll break down each of these digital marketing channels and explore how you can leverage them to enhance your medical practice and attract a steady stream of patients. We'll discuss best practices, strategies, and tips for optimizing your online presence and effectively connecting with your target audience.
Top 9 Marketing Strategies that Boost Your Medical Practice
1/9 strategy
1. Optimize Your Website for Patient Experience
Your medical website is often the first point of contact for potential patients, so it's crucial to make a great impression. Here are some quick tips to ensure you have a user-friendly website:
Ensure your website is easy to navigate, with clear headings, intuitive menus, and a logical site structure.
Provide comprehensive information about your practice, services, and medical expertise. Highlight your specialties and unique offerings.
Incorporate high-quality images and videos to engage visitors and showcase your facilities and staff.
Make sure your website is mobile-optimized, as most users access the internet through their smartphones. Your website should adapt seamlessly to different screen sizes and resolutions.
Integrate online appointment booking functionality to provide a convenient and streamlined experience for patients.
A professionally designed website that is optimized for search engines will not only attract more visitors, but also encourage them to explore your healthcare services and ultimately book an appointment.
2/9 strategy
2. Ensure Visibility on Online Directories Such as Healthgrades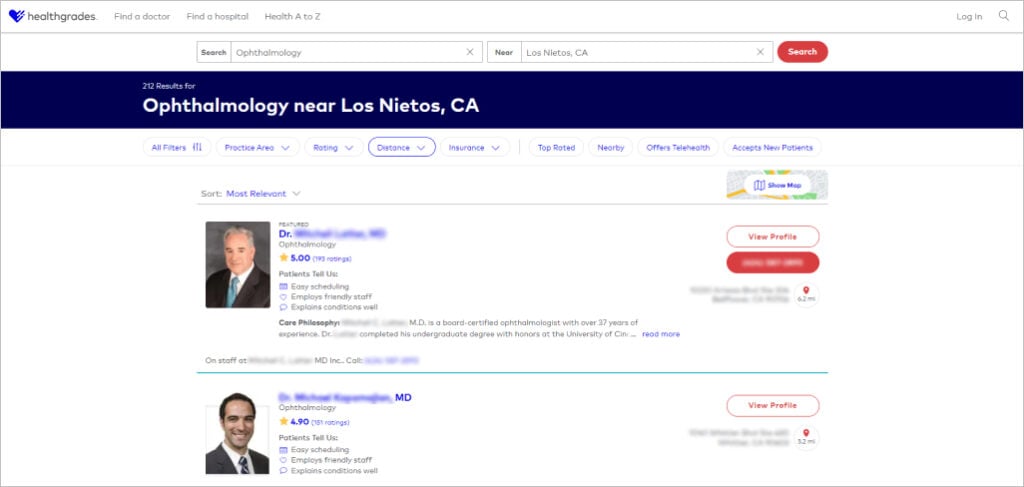 Online directories like Healthgrades, Vitals, and RateMDs play a pivotal role in increasing your online visibility and expanding your reach. To maximize your presence on these directories and create a strong digital marketing strategy for doctors, consider the following steps:
Claim and optimize your profiles on these platforms. Ensure accurate contact information, a professional photo, and a detailed description of your practice and services.
Regularly update your profiles with any changes in contact details, office hours, or specialties.
Encourage satisfied patients to leave positive reviews on your profile. Positive reviews can significantly impact your reputation and contribute to patient acquisition, bolstering your efforts to grow your practice.
3/9 strategy
3. Improve Local Visibility
Improving your local visibility is crucial for attracting patients from your community and growing your medical practice. Consider the following strategies to create a strong digital marketing strategy for doctors:
Claim and optimize your Google Business Profile. Provide accurate and up-to-date information about your practice, including photos, hours of operation, and contact details.
Ask satisfied patients to leave reviews on your Google Business Profile. Patient reviews play a significant role in building trust and credibility with prospective patients. Encourage your current patients to share their honest experiences with your practice and staff on review sites. Positive online reviews not only enhance your credibility but also improve your local search rankings.
Engage with your local community through social media, local events, and partnerships. This can help you build relationships and increase your visibility among the local population.
By implementing these strategies, you can establish a robust online presence and enhance your visibility as a physician, which will lead to more patients and higher profits that will keep your business thriving.
4/9 strategy
4. Utilize Content Marketing to Showcase Expertise
Content marketing plays a crucial role in demonstrating the expertise of your medical practice and educating patients about your services. By producing high-quality, informative content in marketing for doctors, you can position your practice as a trusted resource for healthcare information. Patients are looking for someone they can trust who knows what they're doing- make sure that's you!
Not to mention, well-crafted content can improve your search engine rankings, driving more potential patients to your website and increasing your online visibility.
Blogging for Better SEO and Patient Education
Blogging is an effective way to improve your website's search engine optimization (SEO) while providing valuable information to patients in the healthcare industry. By creating informative and engaging blog posts in medical marketing for doctors, you can educate patients about your services, answer common questions, and showcase your expertise in healthcare practices.
Regularly updating your blog with fresh, relevant content will not only boost your search engine rankings but also help build trust and credibility with your audience in medical marketing strategy.
Understanding the basics of SEO for healthcare providers is essential for improving your content visibility and attracting more patients in the healthcare industry. SEO helps optimize your website and content so that it appears higher in search results on search engines like Google. By incorporating relevant keywords, you increase the chances of ranking higher and reaching your target audience in healthcare practices.
Conducting keyword research is a fundamental step in optimizing your website content in medical marketing for doctors. Tools like Google Keyword Planner or SEMrush can help you identify the terms and phrases potential patients use when searching for healthcare providers. Once you have a list of keywords, strategically incorporate them into your website content, meta tags, headings, and image alt text in healthcare practices.
In addition to targeting general keywords, it's beneficial to take advantage of long-tail keywords in medical marketing strategy. These are longer, more specific phrases that are less competitive and easier to rank for. For example, instead of targeting a broad term like "dentist," you can focus on a more specific phrase like "pediatric dentist in [location]." By using these specific long-tail keywords and tailoring your content accordingly, you can attract users who are actively seeking your services and increase your chances of ranking higher in relevant searches.
Video Marketing to Engage Patients
Video marketing for doctors is a powerful tool for engaging patients and building trust. By creating informative and compelling video content, you can showcase your expertise, address common patient concerns, and highlight the benefits of your services.
Including video content on your website and social media platforms can significantly improve your online visibility and make it easier for potential patients to choose your practice over competitors.
5/9 strategy
5. Harness the Power of Email Marketing
Building an Email List and Crafting Effective Campaigns
To establish a strong email list for your medical practices, begin by gathering email addresses from both your patients and website visitors. Incorporate sign-up forms on your website and offer incentives to encourage subscriptions, such as exclusive content or special discounts.
Once you've built a sizable list, create regular newsletters that provide valuable tips, share updates about your medical practice, and present promotional offers to engage your audience in medical marketing for doctors. Crafting captivating subject lines is essential to capture attention and entice recipients to open your emails.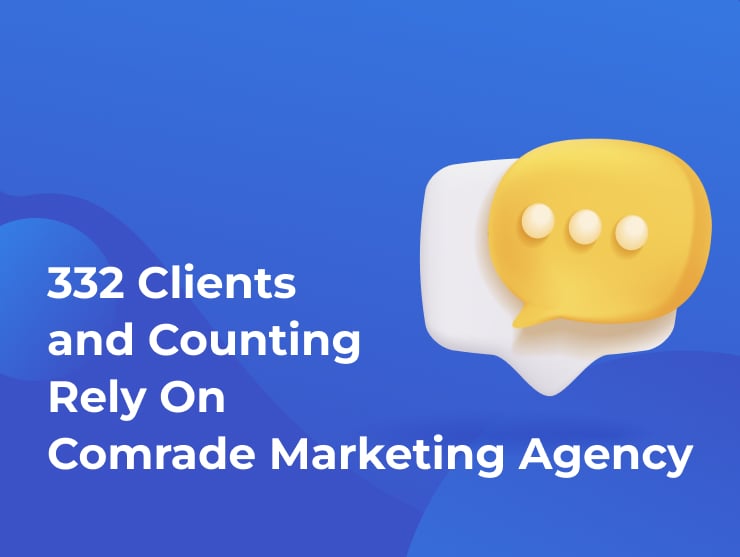 Ensuring HIPAA Compliance in Healthcare Email Marketing
Maintaining compliance with the Health Insurance Portability and Accountability Act (HIPAA) is paramount in healthcare email marketing. Ensure that you use secure email platforms that prioritize data protection. Obtain patient consent before sending any marketing emails and ensure that sensitive patient information is never shared.
Email Marketing Best Practices in Healthcare
Maximize the impact of your email medical marketing campaigns with these best practices:
Segment your email list: Divide your email list based on patient demographics, interests, or medical conditions. This enables you to tailor the content to specific groups, increasing relevance and engagement.
Personalize emails: Address recipients by their name and customize the content to suit their needs and preferences. Personalization enhances the connection between patients and your practice in medical marketing campaigns.
Test and optimize: Experiment with different subject lines, send times, and email formats to optimize your campaigns. A/B testing can help determine which elements resonate best with your audience, improving open rates and click-through rates in medical marketing campaigns.
Email marketing is a powerful tool for effectively communicating with your patients and promoting your services. By crafting personalized and engaging email campaigns, you can keep patients informed about your practice, share industry news, and offer special promotions. Leverage the power of email marketing to maintain strong connections with your patients and encourage them to choose your practice for their healthcare needs.
6/9 strategy
6. Explore the Benefits of Digital Advertising for Medical Practices
Paid advertising, including Google Ads and social media ads, offers a valuable opportunity to expand your reach and drive traffic to your website. By targeting specific demographics and utilizing relevant keywords, you can ensure that your ads are seen by potential patients actively seeking your services. Types of paid advertising include:
Search engine advertising (e.g., Google Ads): You simply bid on relevant keywords to have your website appear at the top of search results.
Display advertising: Allows you to place banner ads on websites that attract your target audience.
Social media advertising (e.g., Facebook and Instagram ads): Offers the opportunity to promote your practice to users based on their interests, demographics, and behaviors.
Retargeting ads: Displays ads to users who have previously visited your website, encouraging them to return and take action.
Investing in digital advertising can yield significant returns for your medical practice and help you stay ahead of the competition.
7/9 strategy
7. Building a Physician Liaison Marketing Program
Physician liaison marketing can help increase new patient referrals and strengthen relationships with local physicians. By establishing partnerships with local doctors and tracking referral success, you can increase patient referrals and benefit both practices.
Building a physician liaison marketing program is an effective strategy for expanding your healthcare network and driving practice growth.
8/9 strategy
8. Track Referral Success
Tracking the success of your physician liaison marketing strategy is crucial for optimizing your efforts and driving practice growth. By measuring referral success, you can evaluate the effectiveness of your partnerships and make data-driven improvements to your program.
Regularly tracking and analyzing referral data will help you identify areas for improvement and ensure your physician marketing program continues to generate positive results.
9/9 strategy
9. Analyzing Data to Track Your Medical Marketing Efforts
Informed decision-making is essential for optimizing your medical marketing tactics and achieving the best possible results. By analyzing your marketing data, you can identify trends, measure the success of your doctor marketing strategies, and make data-driven decisions to enhance your practice's overall marketing performance.
Data analysis can help you understand which medical marketing channels are most effective and which campaigns resonate with customers.
Identifying Key Performance Indicators (KPIs)
Key Performance Indicators (KPIs) are essential for measuring the success of your marketing strategies and making data-driven decisions. By identifying relevant KPIs, such as website traffic, conversion rates, and patient engagement, you can track your progress toward your marketing goals and tweak your campaign to make it better.
Using Analytics Tools for Data-Driven Decisions
Leveraging analytics tools can greatly enhance your ability to make data-driven decisions and optimize your marketing campaigns. By tracking and analyzing your medical marketing data with tools like:
Google Analytics
Adobe Analytics
HubSpot Analytics
Mixpanel
Kissmetrics
You can gain valuable insights into your audience's behavior, measure the success of your marketing strategies, and identify areas for improvement. Using analytics tools empowers you to make informed decisions that drive better results for your practice.
Growing a business is hard see how SEO can do the work for you
A Final Word on Medical Marketing for Doctors
In conclusion, a well-rounded medical marketing plan is essential for attracting new patients and boosting revenue in 2023. By implementing strategies such as optimizing your website, leveraging social media channels, utilizing content marketing, harnessing the power of email marketing, boosting local SEO and online reviews, exploring digital advertising, building a physician liaison marketing program, and analyzing medical marketing data for informed decision-making, you can ensure your practice stays ahead of the competition and continues to grow.
Now is the time to take action and elevate your medical marketing game! Contact our team at Comrade Digital Marketing to learn how we can help you implement a marketing strategy that will bring your practice new patients and greater revenue.
FAQs
What are the 5 P's of healthcare marketing?
The 5 P's of Healthcare Marketing - Product, People, Place, Price, and Promotion - are essential to any healthcare organization, with the order of importance often determined by individual needs. Each of these elements must be carefully considered when creating a successful healthcare marketing strategy. Product refers to the services and products offered by the organization. People refer to the staff and customers that interact with the organization. Place refers to the physical location of the organization and how it is organized.
What is medical marketing for doctors?
Medical marketing for doctors is a process of providing general information about treatments to patients, promoting certifications of providers and staff and sharing healthcare news to attract new patient leads. It is important for doctors to have a comprehensive marketing strategy that includes both online and offline tactics. This includes creating a website, optimizing for search engines, utilizing social media, and engaging in traditional advertising. Additionally, doctors should consider creating content such as blogs.
What are some effective ways to enhance my medical practice's online presence?
Optimizing your website for patient experience and leveraging social media platforms are great ways to get your medical practice noticed online. Take advantage of these tools to give your business a boost! Creating a website that is easy to navigate and provides helpful information to patients is essential. Additionally, utilizing social media such as Facebook, Twitter, and Instagram can help you reach a larger audience and build relationships.