We'll cut right to the chase. These high-performance home care websites go beyond just aesthetically pleasing designs. They are designed to achieve specific objectives: namely, providing visitors with a seamless user experience and empowering them to make informed decisions about home care services. These websites stand out from the competition with their unique and captivating designs, capturing the attention of potential clients and their families.
Here are key factors we consider when evaluating home care website designs:
Captivating visual design: An eye-catching and visually appealing design sets a home health website apart, creating a memorable impression that resonates with potential clients.
Intuitive user experience: A seamless and user-friendly interface ensures that visitors can easily navigate the free website, find the information they need, and take desired actions, leading to increased engagement and conversions.
Lightning-fast site speed: Blazing-fast loading times are crucial for home care websites, as they improve user satisfaction, enhance search engine visibility, and minimize the risk of visitors abandoning the site due to slow performance.
Strategic SEO optimization: Implementing effective search engine optimization techniques tailored to the home care industry helps boost website visibility and organic traffic, and ultimately attracts the right audience in need of home care services.
Innovative marketing solutions: Employing creative and innovative marketing elements, such as compelling storytelling, interactive features, or personalized experiences, helps home care providers stand out from the competition and forge stronger connections with potential clients.
Now, let's explore what we consider the top 10 home care websites across various specialties, all of which showcase excellence in design and functionality.
10 Best Home Care Websites in 2023
1. Visiting Angels
Visiting Angels is a leading home care website that welcomes you with a clean and user-friendly design. With easy navigation and a comprehensive menu, it allows you to quickly find the information you need. Their website showcases their personalized care services, caregiver profiles, and client testimonials. The site offers a helpful blog section that covers a wide range of topics related to home care. Visiting Angels ensures that their website provides a seamless user experience, making it a top choice for those seeking compassionate and reliable in-home care.
2. Bluebird Care
Bluebird Care's website stands out with its modern and intuitive design, aimed at empowering individuals to maintain their independence at home. The site features a clear menu structure that allows visitors to easily explore their range of services, including tailored care plans and specialized support options. The site also offers an informative blog, detailing useful tips and insights for home care recipients and their families. With a focus on accessibility and an inviting layout, Bluebird Care's website reflects its commitment to delivering compassionate and person-centered care.
3. Comfort Keepers
Comfort Keepers impresses with its thoughtfully designed website, fostering a sense of comfort and trust. The site offers a wealth of information about their services, which can be easily accessed through a well-organized menu system. Visitors can explore specialized care options and read heartwarming stories of real clients. The site also provides educational resources, including articles and guides, to help individuals make informed decisions about home care. Comfort Keepers' website truly reflects their dedication to enhancing lives through their compassionate and comprehensive approach to care.
4. The Key
The Key's website is a testament to simplicity and convenience. With a clean and minimalistic design, it ensures that visitors can easily navigate through their range of home care services. The site's menu structure is straightforward, allowing users to find the information they need with ease. The Key prioritizes user experience, offering an online portal that allows clients to manage their care services conveniently. Their website showcases their commitment to providing high-quality care and empowering individuals to maintain their independence at home.
5. Home Instead
Home Instead's website is designed to create a welcoming and inclusive online home for those seeking exceptional home care services. The site features an inviting color scheme and an intuitive menu layout, guiding visitors to explore their personalized care options. With engaging content, including informative articles and heartwarming client stories, Home Instead's website offers a holistic view of their commitment to enriching the lives of seniors and their families. Their focus on providing quality care and fostering a sense of community shines through their well-crafted online presence.
6. All Ways Caring
All Ways Caring's website embodies accessibility and convenience, putting nurturing care at your fingertips. With a user-friendly design and intuitive menus, it allows visitors to easily navigate through their comprehensive range of services. The site features interactive tools and resources, such as a care cost calculator and an informative blog, to assist individuals in making informed decisions about home care. All Ways Caring's website is a testament to their commitment to providing personalized and compassionate care that meets the unique needs of each individual.
7. Honor Care
Honor Care's innovative website elevates the home care experience. With a modern and visually appealing design, it captivates visitors and reflects Honor Care's commitment to excellence. The site showcases their specialized services and care teams, providing a glimpse into the personalized care journey. Honor Care's website also features an easy-to-use menu system, allowing visitors to quickly access information about their offerings and innovative technology solutions. The site exudes a sense of professionalism and forward-thinking, highlighting Honor Care's dedication to transforming the home care industry.
8. HomeCare.com
HomeCare.com's user-centric design empowers individuals by offering choice and control over their home care needs. The website boasts a clean and intuitive interface, making it effortless to navigate through its extensive network of caregivers and services. Visitors can search for caregivers based on specific criteria and access detailed profiles with information and reviews. HomeCare.com's website ensures transparency and convenience, enabling individuals to make informed decisions and find the perfect caregiver match for their unique requirements.
9. Right at Home
Right at Home's website serves as the gateway to exceptional home care services. With a warm and inviting design, it welcomes visitors to explore its comprehensive offerings. The site's well-structured menus guide users through the various care services, specialized programs, and caregiver support. Right at Home's website also features informative resources, including educational articles and testimonials, providing insights into their commitment to delivering compassionate and person-centered care. Navigating their website sets individuals on the right path toward finding the right care solutions for their loved ones.
10. ElderCare Home Care
ElderCare Home Care's website facilitates caring connections by providing a wealth of information and resources. The site showcases their compassionate care services through a visually appealing design and intuitive navigation. Visitors can easily access information about their specialized care programs, testimonials from satisfied clients, and helpful articles related to senior care. ElderCare Home Care's website fosters trust and reassurance, reflecting their dedication to providing personalized and reliable home care solutions that promote the well-being of seniors and their families.
What's the Difference between Home Care and Assisted Living?
Home care and assisted living are two distinct options for individuals who require assistance with their daily activities. Home care refers to receiving care and support in the comfort of one's own home. It involves professional caregivers visiting the individual's residence and providing various services tailored to their needs, such as personal care, medication management, and companionship.
On the other hand, assisted living facilities are residential communities designed to provide a higher level of support and care. These facilities offer private apartments or rooms where residents can live independently but with access to assistance as needed. Assisted living provides 24/7 supervision, assistance with activities of daily living (ADLs), meal services, social activities, and access to on-site healthcare professionals.
The key difference lies in the living environment and level of care. Home care allows individuals to remain in their own homes, while assisted living offers a communal living setting with a range of services and amenities. The choice between home care and assisted living depends on the individual's preferences, needs, and level of required assistance.


Success Stories
Delivering Business Results: Our Digital Marketing Case Studies
Tips for a Better Home Care Web Design
Clearly Convey Your Professionalism
In the realm of home care websites, projecting professionalism is paramount. Your online presence should radiate trust and expertise, instantly resonating with potential clients. Opt for sleek and contemporary designs that mirror your competence. Streamline layouts, spotlight your services, credentials, and expertise, and opt for polished visuals to create an uncluttered, professional impression.
Amplify your credibility by showcasing certifications, affiliations, and endorsements. At Comrade, one of the most important things we tell our clients to do is integrate feedback from content clients as social proof, reinforcing professionalism. Highlight your team's expertise, underscoring your dedication to exceptional care. For a unified appearance, maintain brand consistency in visuals and typography throughout your website.
In a digital landscape teeming with web technology and other search engines, a professional approach is not just good – it's vital. Don't let your business name become synonymous with a bad idea. Leverage your website as a powerful tool to shine in a timely fashion, fostering trust and resonating with referral sources and home care agencies alike.
Give Visitors a Sense of Security and Trust
Creating a sense of security and trust is vital for home care websites. Visitors need to feel confident in your ability to provide a safe and reliable service for their loved ones. Incorporate trust signals such as client testimonials, reviews, and success stories.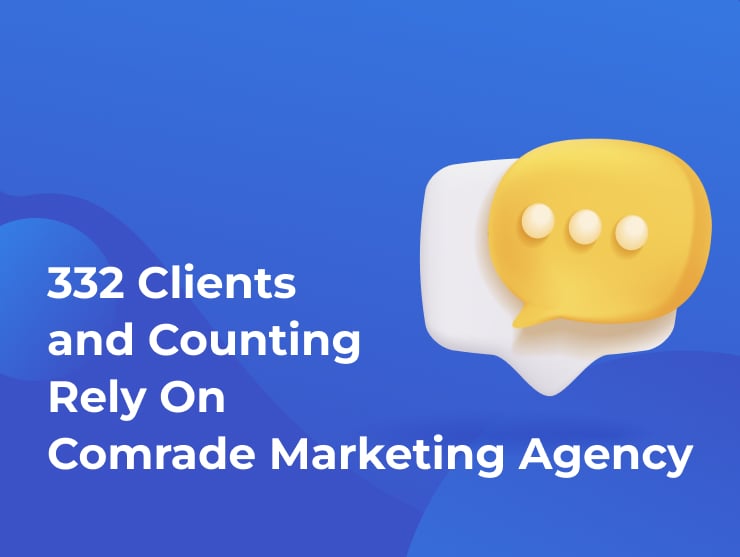 Display any certifications, licenses, or affiliations prominently to instill trust. Use security badges or seals to assure visitors that their personal information is safe. Provide clear and concise information about your privacy policy and data protection practices. Ensure that your website is secure with SSL encryption.
Address any concerns or frequently asked questions regarding safety and security. By prioritizing transparency and trust, you can make visitors feel comfortable and confident in choosing your home care services.
Feature Clear Branding
Strong branding is essential for a successful home care website. Develop a clear and consistent brand identity that resonates with your target audience.
Create a memorable logo that reflects your company's values and mission. Use a cohesive color scheme and typography that aligns with your brand. Implement your branding elements consistently across your website, including headers, footers, buttons, and imagery.
Incorporate your brand's messaging and unique selling propositions throughout the website's content. A strong and recognizable brand identity helps you stand out from the competition and builds trust and loyalty among your clients.
Level up your brand with Comrade Digital Marketing Agency. Schedule a free consultation.
Get Your Clients' Attention
In a competitive industry like home care, capturing your clients' attention is crucial. Boring just won't cut it. Make sure your website stands out and engages visitors from the moment they land on your web pages. Use captivating headlines and compelling introductory paragraphs to hook your audience.
Incorporate visually appealing elements such as high-quality images and videos that showcase your services and happy clients. Utilize clear and concise call-to-action (CTA) buttons to guide visitors toward important actions, such as scheduling an appointment or contacting your team.
Implement interactive features, such as online forms or chatbots, to encourage engagement and provide instant assistance. By captivating and keeping your clients' attention, you enhance the potential to convert visitors into up-to-date customers.
Evolve Your Marketing Strategy
To stay ahead in the competitive home care industry, it's essential to continually evolve your marketing strategy. Keep up with the latest digital marketing trends and techniques to attract and retain clients.
Utilize social media platforms to build an online presence and engage with your target audience. Implement content marketing strategies such as blogging, creating informative articles, and sharing valuable resources. Collaborate with local healthcare providers or senior living communities to expand your reach.
Leverage email marketing to stay in touch with your current and potential clients, providing updates and valuable information. Continuously analyze and optimize your marketing efforts based on data and feedback to ensure the effectiveness of your strategies.
If you're worried marketing will be too time-consuming, turn to a professional agency like Comrade Digital Marketing. We have the expertise, experience, and dedication needed to get your website optimized to attract new users and generate more profit.
Make Sure You Have a Fast Website
A fast-loading website is crucial for user experience and search engine optimization. According to our team at Comrade, it absolutely can't be overstated. Visitors expect websites to load quickly, and a slow-loading site can lead to frustration and high bounce rates. Optimize your website's loading speed by compressing images, minifying CSS and JavaScript files, and utilizing caching techniques.
Invest in reliable hosting services that can handle your website's traffic and provide fast loading times. Regularly monitor your website's performance and address any issues promptly. A fast website not only improves user satisfaction but also positively impacts your search engine rankings, ensuring your home care website remains competitive and accessible.
And Mobile-Friendly Too!
In the era of smartphones, having a mobile-friendly website is no longer optional; it's essential. Ensure your website is responsive and adapts seamlessly to different screen sizes and devices. Mobile users should have a smooth and intuitive browsing experience, with easy navigation and legible content.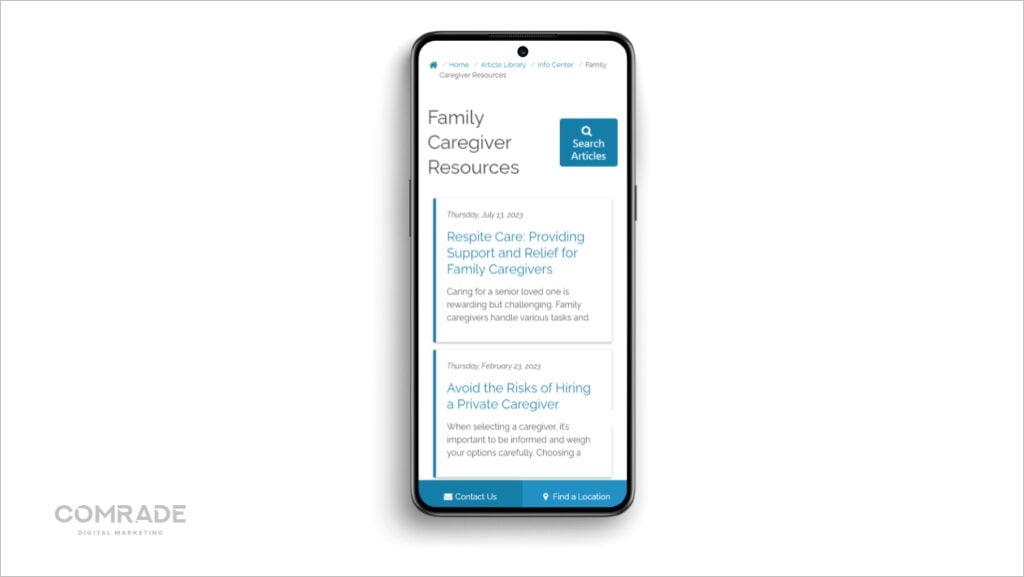 Optimize your website's layout and design for mobile devices, eliminating any unnecessary elements that may hinder user experience. Test your website on various mobile devices and browsers to ensure compatibility and responsiveness.
A mobile-friendly website enables potential clients to access your services conveniently, enhancing your online visibility and user engagement.
Optimize for SEO
To increase your website's visibility and attract organic traffic, it's crucial to optimize it for major search engines. Conduct keyword research to identify relevant terms and phrases used by your target audience. Incorporate these keywords naturally within your website's content, including headings, subheadings, and body text.
Optimize your meta titles and descriptions to improve click-through rates on search engine results pages. Improve the website's loading speed, implement proper header tags, and ensure all images have descriptive alt tags.
Establish a strong internal linking structure to enhance navigation and crawlability. Regularly monitor your website's analytics and rankings, and make necessary adjustments to optimize your SEO (Search Engine Optimized) performance.
Use Large Fonts
Legibility is vital when it comes to home care websites. Ensure that your text is easy to read by using large fonts. Large fonts enhance readability, particularly for older adults or individuals with visual impairments.
Select clear and legible fonts, avoiding overly stylized or decorative options. Use font sizes that are easily readable on desktop and mobile devices. Additionally, utilize appropriate line spacing and paragraph spacing to enhance readability further.
By prioritizing legibility through large fonts, you create a user-friendly experience that caters to a broader audience.
Create Large Clear Images
Visual appeal plays a crucial role in engaging website visitors. Incorporate large, clear, and high-quality images that reflect your home care services.
Use images that evoke a sense of comfort, compassion, and trust. Display pictures of your team members, showcasing their professionalism and friendliness. Feature images of satisfied clients or happy family members to establish an emotional connection.
Ensure that the images are optimized for web use to maintain fast loading times. By utilizing large and clear images, you create a visually pleasing and impactful website that resonates with potential clients.
Need a high-performance website for your company?
Book a 15-min call to discuss
Conclusion
We've said it already: Having a strong online presence is essential for home care businesses that want to connect with their target audience. The 10 best home care websites in 2023 discussed in this article serve as an inspiration for creating an impactful online platform that attracts and engages potential clients. From user-friendly interfaces to informative content and seamless navigation, these websites exemplify the best practices in the industry.
To transform your home care website into a powerful marketing tool, partner with Comrade Digital Marketing, a leading digital marketing agency specializing in web design and online strategies. Contact us today to learn how we can help your home care business thrive online and reach further. Let's work together to bring your digital presence to the next level and grow your business!