Humans make quick judgments based on visual cues, and a plastic surgery website is no exception. From the moment someone lands on your homepage, your design communicates your expertise, values, and vision. An unpolished or poorly conceived site could easily turn qualified prospects away to a competitor with a more professional online presence. So, to keep potential customers on your site, you need a well-designed website.
In this blog post, we will delve into the world of plastic surgery web design and explore its importance in connecting with your online audience on a personal level. We will analyze the best practices employed by successful plastic surgery websites, uncover the essential elements that drive engagement and conversions, and provide you with practical design tips to make your surgery website an irresistible digital destination.


Success Stories
Delivering Business Results: Our Digital Marketing Case Studies
Analyzing Top Plastic Surgery Websites with the Best Practices
Beneath the surface of smooth skin and sculpted physiques should lie a website designed with clients in mind. We have reviewed 20 best plastic surgery websites that leveraged some of the best practices. The top sites listed below give an insight into what your potential website should be like.
1. The Oaks Plastic Surgery
The Oaks Plastic Surgery website embraces a sophisticated color scheme of black, white, grey, and blue tones, instantly creating a warm atmosphere. The header image gives an insight into what the practice offers, and the 'START YOUR JOURNEY' message is a compelling call-to-action (CTA) that encourages visitors to scroll down for more information. The hamburger menu on the top-left corner allows visitors to easily access the firm's services and contact information, making it a convenient way to navigate the website.
2. CG Cosmetic Surgery
CG captures attention when visitors land on the site by prominently displaying pricing for select procedures. The website demonstrates strong local search engine optimization (SEO), emphasizing its focus on serving the Miami area. Notably, they included a live chat feature on each page that enhances visitor engagement and facilitates quick inquiries. The menus above efficiently outline their services, categorized by body and face, and provide access to pages dedicated to their surgeons, testimonials, information about the practice, and contact details.
3. Ela Plastic Surgery
Ela Plastic Surgery's website design embraces a visually appealing darker color palette, catering to most internet users who favor darker interfaces. The homepage maintains a clean and uncluttered layout while providing all the essential information needed. The hamburger menu in the top right corner offers visitors easy access to details about the practice services offered, a gallery showcasing transformative results, a blog section, and additional information about their locations. Notably, including a localized page for Spanish speakers can broaden the practice's reach and attract more potential patients.
4. The Plastic Surgery Center
The Plastic Surgery Center presents a detailed homepage that effectively showcases their services, accolades, contact information, and vital statistics. The menus positioned above provide clear navigation, granting visitors access to pages dedicated to information about the practice, their team of surgeons, surgical and non-surgical procedures, and a gallery displaying visual representations of their work.
Given their multiple locations, the website includes location-based pages, offering potential patients in specific areas relevant details about the practice and services available nearby.
5. The Swan Centre for Plastic Surgery
The Swan Centre for Plastic Surgery leverages local SEO by prominently mentioning "Atlanta" across its homepage, indicating its focus on serving patients in that area. The homepage offers concise yet informative content about the practice, services provided, highly experienced surgeons, contact details, location, and reviews. This website is the first on the list to explicitly mention services tailored for men, with a dedicated page catering to their needs. The other menus outline pages such as About, Services, Gallery, Pricing, and Contact, ensuring easy access to relevant information for visitors.
6. Visage Facial Surgery
Visage Facial Surgery's website exudes an air of luxury and sophistication with its white and gold color scheme. The site quickly provides visitors with key information about the practice and its services. The menus positioned above offer clear navigation, outlining sections dedicated to their About page, Testimonials, Gallery showcasing before and after photos, reviews, media mentions, FAQs, and more.
7. Shafer Clinic Fifth Avenue
Upon landing on the Shafer Clinic Fifth Avenue website, visitors are greeted by two smiling faces, establishing a warm and welcoming tone. Scrolling down reveals sections highlighting the clinic's awards, services offered, information about the doctor, media mentions, and patient reviews. The website's design effectively showcases the expertise and positive reputation of the clinic. The hamburger menu positioned in the top right corner allows visitors to access key pages such as About Us, Testimonials, Services, News & Videos, and Special Offers.
8. Liu Plastic Surgery
Liu Plastic Surgery's website design employs a color scheme of black, white, and gold, evoking a sense of luxury and refinement. The homepage offers visitors a comprehensive overview of the practice's services and locations across California. The top menu provides easy navigation, featuring sections dedicated to their About page, Services offered, Gallery showcasing before and after photos, Resources, Shop, and Contact information.
9. VIP Plastic Surgery
VIP Plastic Surgery's web design stands out with its vibrant tropical color palette,  creating a vibrant and visually appealing design. The website presents essential information about the practice, including basic information, services provided, and patient reviews. The hamburger menu gives visitors access to key pages like About, Media, Services, Photos, Reviews, and Contact.
VIP Plastic Surgery's website features a dedicated Male Services page catering to potential male patients' needs and interests.
10. The Plastic Surgery Center of Maryland
The Plastic Surgery Center of Maryland's web design captivates visitors with its rich color scheme. The top of the homepage features three compelling calls to action, immediately grabbing attention. The site provides important information about the practice and services offered. Additionally, it offers insights into Dr. Rosenberg, M.D., the founding member of The Plastic Surgery Center of Maryland, establishing credibility and expertise.
The menus above outline sections dedicated to their About page, Procedures, Gallery showcasing before and after photos, Resources, Skincare, and Contact information.
11. Care Plastic Surgery
12. LINE Plastic Surgery Center
13. Bay Area Plastic Surgery
14. Rapaport Plastic Surgery
15. Smith Plastic Surgery
16. Sieber Plastic Surgery
17. Boynton Plastic Surgery
18. Edina Plastic Surgery
19. Rowe Aesthetics
20. Prischmann Facial Plastic Surgery
The Basics of Plastic Surgery Website Design
Think of your website as the digital front door to your practice – it's often the first impression potential patients have of you and your work. But where do you start? Don't worry; we've got you covered. In this section, we'll cover the basics of plastic surgeon website design, from the must-haves to the nice-to-haves and everything in between.
Understand the Target Audience
A plastic surgery practice website's target audience is typically people considering having cosmetic surgery. They may be interested in learning more about the different procedures available, the risks and benefits of surgery, and the cost of surgery. They may also be looking for information about plastic surgeons in their area. This information will help you create a website that resonates with your audience and provides them with the information they need to make informed decisions about their plastic surgery options.
So, who is your target audience? Typically, plastic surgery patients fall into one of the following categories:
Cosmetic surgery patients: These patients want to improve their appearance through surgical procedures such as breast augmentation, liposuction, facelifts, and rhinoplasty.
Reconstructive surgery patients: These patients want to repair or restore a body part damaged due to injury, disease, or congenital disabilities.
Non-surgical patients: These patients are interested in non-invasive treatments such as Botox, fillers, and laser treatments.
Here are some tips for understanding the target audience for a plastic surgery website:
Conduct market research to learn more about the target audience's demographics, psychographics, and needs.
Create personas to represent the people who might visit the cosmetic surgery website.
Use social media and other online channels to interact with the target audience and learn more about their interests.
Ask for feedback from the target audience about the plastic surgery web design and content.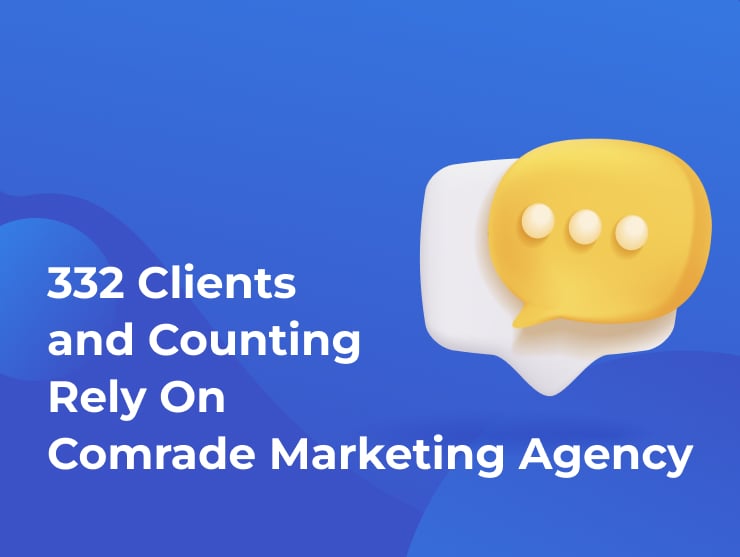 A plastic surgery website should have clear and concise navigation to ensure users can easily find the information they seek. The primary navigation menu should be prominently displayed upfront with key categories like procedures, before/after galleries, testimonials, pricing, and contact details. These cover the most important areas visitors seek.
It's important to avoid overwhelming the users with an excessive number of menu options. Instead, designers should prioritize the most relevant and frequently accessed pages to be included in the main navigation menu. Less frequently accessed pages can be placed in secondary or dropdown menus to maintain a clean, uncluttered design. Along with the main navigation menu, incorporating a search bar can be beneficial, especially for users who have specific questions or want to find information quickly.
Mobile Responsiveness
When a website is not mobile-responsive, it can lead to a poor user experience as users will have difficulty navigating and viewing the content on their smartphones or tablets. This can, in turn, result in high bounce rates and loss of potential patients.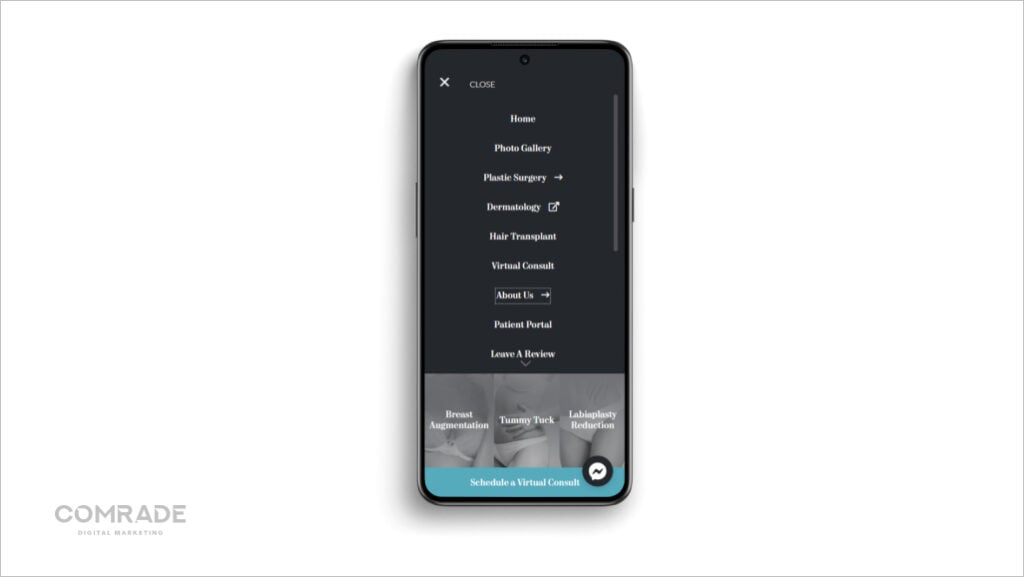 To ensure mobile responsiveness, there are several considerations to keep in mind during the plastic surgery web design process:
Responsive layout that adapts to different screen sizes and resolutions.
Easy navigation with clear sectioning and minimal confusion.
Fast loading speed through image compression, minimizing graphics, and optimized code.
Touch-friendly elements with large, well-spaced buttons and links.
Readable font sizes for easy reading without excessive zooming.
Well-structured content with logical organization and clear headings.
Visually prominent call-to-action buttons for scheduling consultations or requesting information.
Importance of High-Quality Visuals
Plastics is about visuals, so it's no surprise that this is absolutely vital. Visual storytelling can evoke emotions, inspire trust, and showcase the artistry behind plastic surgery. Patients want to see real results across different procedures. As a visually-driven field, plastic surgeons rely heavily on visually appealing and presenting eye-catching hero images, before and after photos, and captivating graphics. This showcases the practice's expertise and results, leaving a lasting impression on potential patients.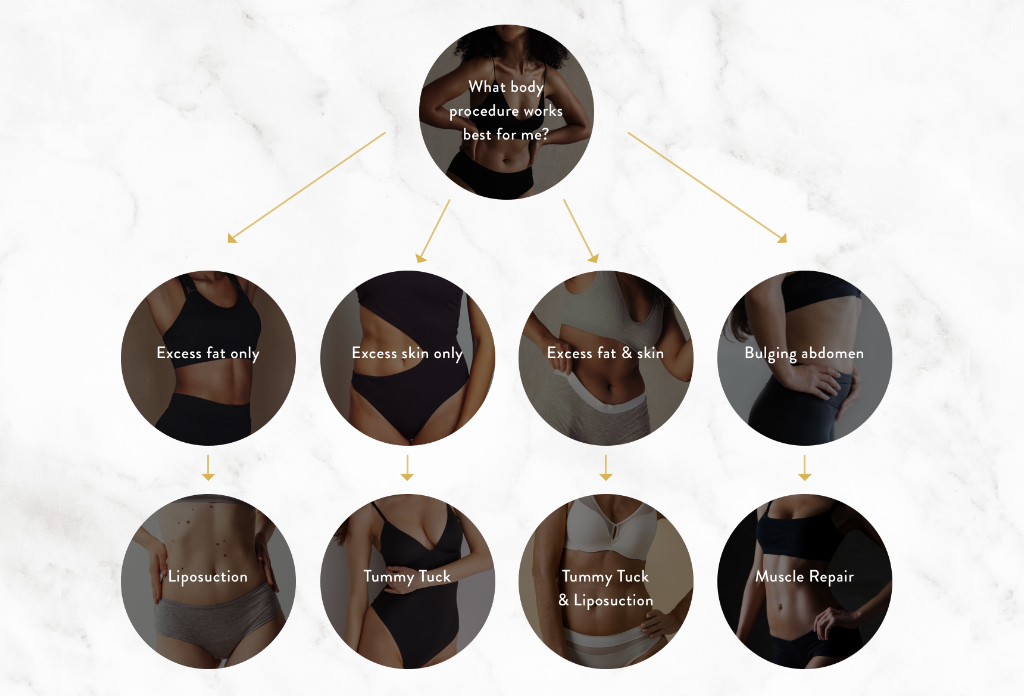 The before and after photos should be high-quality, clear, and well-lit to help visitors visualize the transformations they can achieve. Graphics and animations can also educate patients about the procedures and services offered by the practice and help them understand the benefits and results they can expect.
Privacy and Security Considerations
Privacy and security are paramount for plastic surgery websites since they handle sensitive personal and medical information, including medical history, photographs, and contact details. Potential patients must trust that their data will remain private and secure if they feel comfortable becoming clients. Implementing security measures such as SSL certificates, secure forms, and encrypted data transmission helps safeguard patient information and prevents unauthorized access or data breaches.
Furthermore, plastic surgery practices must adhere to relevant privacy regulations, such as HIPAA in the United States or GDPR in the European Union. These regulations outline specific requirements for handling patient data securely and respecting their privacy rights. These regulations protect the patients and the practice from legal and reputational risks.
Essential Elements for a Successful Plastic Surgery Website
With endless squares begging for clicks, crafting a website destined for success demands more than aesthetics. It takes addressing core components proven to guide qualified prospects toward booking consultations. So, what are these essential elements your plastic surgery website needs?
Engaging Homepage Design
The homepage of your plastic surgery website is like the grand entrance to your practice—a virtual doorway that welcomes visitors and entices them to explore further. It's where first impressions are made, and potential patients decide whether to stay or move on. To enhance the design of your homepage:
Create a visually stunning hero image that captures attention and reflects your expertise/results. Use high-quality photos or illustrations.
Craft concise yet impactful headlines and taglines communicating your unique value proposition and benefits clearly.
Build trust by showcasing positive patient testimonials and reviews as social proof of your credibility and results.
Encourage the next step with clear and prominent CTAs throughout the page to guide visitors to schedule, request info, or explore procedures.
Transform your plastic surgery website's homepage with Comrade Digital Marketing Agency. Schedule a free consultation.
Informational Pages
While an engaging homepage sets the stage, the informational pages of your plastic surgery website serve as the backbone of your online presence. These pages provide in-depth details about your practice, procedures, and patient experience.
Some of the informational pages that a plastic surgery website might include are:
Procedure pages: These pages should provide detailed information about the different procedures offered by the practice, including what to expect before, during, and after the procedure, as well as the benefits and risks associated with it.
Meet the team: Introduce your team of skilled surgeons, nurses, and support staff. Share their qualifications, experience, and areas of expertise. Include professional headshots and brief bios to establish a personal connection with potential patients.
Services pages: These pages should provide information about the practice's services, such as breast augmentation, body contouring, and facial rejuvenation.
About us pages: These pages should provide information about the practice's history, mission, and values, as well as the qualifications and experience of the surgeons and staff.
Success stories: Share inspiring success stories and patient testimonials that highlight the life-changing impact of your procedures. Use real patient experiences to showcase patients' transformation and emotional journey under your care.
Online Appointment Scheduling and Contact Forms
One of the most important elements of a successful plastic surgery website is the ability for patients to schedule appointments online. This feature allows potential patients to request a consultation or appointment conveniently. Online appointment scheduling also helps to streamline the practice's workflow, reducing the need for phone calls and paperwork. It should provide options for selecting preferred dates and times, as well as any specific requirements.
In addition to online appointment scheduling, it's important to include contact forms that allow patients to get in touch with the practice easily. These forms should be easy to find and use, including fields for the patient's name, contact information, and a brief message. This allows patients to quickly and easily request information or ask questions about the practice's services.
Patient Education and Resources
Provide detailed and informative descriptions of the procedures you offer. Explain the benefits, risks, and expected outcomes using language that is easy for patients to understand. Include information about the process, recovery time, and any necessary preparation. Showcase before and after photos of actual patients to demonstrate the transformative results of your procedures. Organize the galleries by procedure type and provide captions or descriptions highlighting the improvements achieved.
Furthermore, provide clear and concise instructions for patients to follow before and after their procedures. Include information on pre-operative preparations, medication guidelines, and post-operative care. This helps patients feel informed and prepared, leading to smoother procedures and recoveries.
Integrate Social Media Presence
Your website should include clickable links that take existing and potential clients to popular social media platforms such as Facebook, Instagram, Twitter, and YouTube. Then, you should:
Maintain consistent branding across your website and social media profiles. Use your practice's logo, colors, and visual elements to ensure a cohesive and recognizable brand image.
Utilize social media to share visually appealing content such as before/after photos, videos of procedures, and testimonials.
Actively engage with your social media followers by promptly responding to comments, messages, and inquiries. Encourage discussions, answer questions, and provide helpful information.
Use social media platforms to create a community around your practice. Share educational content, patient stories, and plastic surgery industry news. Encourage followers to share their experiences and engage with your content.
Blog Section for Educational Content
A blog section is a great way for plastic surgery practices to educate patients about their services and provide valuable information about plastic surgery procedures. Blog posts can cover a wide range of topics related to plastic surgery, including specific procedures, recovery tips, lifestyle changes, and industry trends. The blog posts should be written clearly, concisely, and engaging. To enhance understanding and engagement, incorporate visuals, such as images or infographics.
Furthermore, optimize your blog articles for search engines by incorporating relevant keywords. This helps improve your website's visibility in search results and attracts organic traffic to your blog section. To enhance SEO effectiveness, consider including meta tags, headings, and internal links. Then, include relevant CTAs within your blog articles to encourage readers to take the next step.
Frequently Asked Questions (FAQS) Page
Anticipate common questions and concerns regarding recovery, potential risks, post-operative care, and more. Create a dedicated page to address those concerns. These answers on the FAQs page save you time and that of potential visitors, as they can easily find answers to their questions.
You have to group related questions under appropriate categories to improve readability and navigation. This allows visitors to quickly find answers to their concerns without scrolling through a long list of questions. For more complex questions, offer additional information to understand the topic comprehensively. You can include links to relevant blog articles or external resources for those seeking more in-depth information.
Design Tips and Best Practices
There are so many practices to incorporate into your cosmetic surgery website design to make it aesthetically pleasing and convenient to visit.
Use a clean, modern aesthetic with high-quality images and responsive design.
Maintain consistent branding through logo, colors, and imagery across all pages.
Employ easy-to-read typography sized well for all devices with clear formatting.
Optimize page speed and loading time for a smooth user experience.
Incorporate videos to uniquely demonstrate procedures and share patient stories.
Need a high-performance website for your company?
Book a 15-min call to discuss
Designing Results-Driven Plastic Surgery Websites with Comrade
All the website design basics, elements, and practices mentioned in this article enable a plastic surgery business to create a website that enhances positive first impressions, engages visitors, and drives conversions. The 20 best plastic surgery website designs also encompass these practices. However, the work doesn't stop once your website is launched. The digital landscape changes rapidly, so it's important to periodically update older pages, optimize for new technologies and mobile usage, and incorporate fresh designs as needed.
Investing in professional plastic surgery web design is highly encouraged for plastic surgery practices. A well-designed website reflects your practice's professionalism and provides a superior user experience. We recommend contacting experienced healthcare marketing companies like Comrade Digital Marketing Agency for comprehensive website design and digital marketing services. Our team of experts will work closely with you to design and promote a customized plastic surgery website design that converts browsers into paying patients.