Below, we've assembled 10 of the top nursing home websites we could find. These high-performance nursing home websites go beyond just aesthetics. They excel in delivering exceptional user experiences and achieving specific goals. They provide visitors with easy access to vital information, helping them make informed decisions about nursing home care. These websites stand out among the rest with their unique and captivating designs, creating a strong impression on potential residents and their families.
Here are key factors we consider when evaluating nursing home website designs:
Engaging graphic design: A visually appealing and original design captures visitors' attention, making them more likely to explore further.
Seamless UI/UX: Ensuring a smooth and intuitive user experience keeps potential residents and their families engaged and more likely to choose your facility.
Fast site speed: A quick-loading website is essential for both user satisfaction and search engine rankings, as it improves accessibility and reduces bounce rates.
Effective SEO optimization: Implementing proper search engine optimization techniques increases a website's visibility and attracts organic traffic.
Innovative marketing solutions: Creative marketing elements help nursing homes differentiate themselves in the competitive industry, leaving a lasting impression.
Now, let's explore the examples of the top 10 nursing home websites across various specialties, showcasing excellence in design and functionality.
The Best Nursing Home Websites in 2023
1. Panorama
Panorama is a comprehensive nursing home website that offers a user-friendly interface and a wealth of information for residents and their families. The homepage showcases vibrant images, reflecting a warm and inviting environment. Visitors can easily navigate through the site using the clear menu options, including sections for services, amenities, and healthcare.
The website also features virtual tours, providing an immersive experience to explore the facility. Panorama's website serves as an informative resource, ensuring visitors can access details about their care options, activities, and community events.
2. GenCare Lifestyle
Gencare Lifestyle presents a modern and visually appealing website that caters to the needs of seniors looking for assisted living and nursing home services. The website features a clean and elegant design, with intuitive navigation menus for quick access to essential information about the nursing home facility.
Visitors can explore various sections, such as care options, amenities, and living arrangements, all complemented by high-quality imagery of the residential facility. GenCare Lifestyle's website also includes a blog and testimonials, providing valuable insights and real-life experiences to potential residents and their adult children and families.
3. Robson
Robson is a nursing home website that exudes sophistication and professionalism. The site showcases a contemporary design, with a focus on showcasing the luxurious amenities and services provided. A prominent menu bar allows users to effortlessly explore different sections, including floor plans, dining options, and wellness programs.
The website also incorporates interactive features such as virtual tours and downloadable brochures, enabling prospective residents and family members to gather comprehensive information about the facility. Robson's website is a testament to their commitment to creating a visually stunning and user-friendly online presence.
4. Bella Vista at Park Avenue
Bella Vista, part of Park Avenue Lifestyle Communities, offers an inviting and informative website for seniors seeking nursing home services. The website welcomes visitors with a visually appealing layout, showcasing the stunning facility and serene surroundings. With well-organized menus, users can easily navigate through various sections, including services, activities, and accommodations.
Bella Vista's website also includes a gallery of photos, highlighting the comfortable living spaces and beautiful outdoor areas. Prospective residents and their families can find comprehensive details about the community, amenities, and healthcare services offered.
5. Sheridan Village Rehabilitation and Care Center
Sheridan Village Rehabilitation presents a professional and informative website tailored to the needs of individuals seeking rehabilitative care. The website features a clean and accessible design, offering easy navigation to key sections such as services, amenities, and patient testimonials.
Sheridan Village Rehabilitation's website emphasizes its commitment to personalized care through detailed information about its rehabilitation programs and therapies.
With a focus on clarity and transparency, the website ensures potential residents and their families have a comprehensive understanding of the facility's offerings and the expertise of their staff.
6. City Creek Post-Acute Care
City Creek Post-Acute Care Center showcases a modern and user-friendly website that emphasizes their commitment to compassionate care. The website features an inviting color scheme and intuitive navigation menus for effortless browsing. Visitors can explore different sections, including services, amenities, and testimonials.
The website also highlights the facility's dedication to engaging activities and community involvement. With its visually appealing design and informative content, City Creek's website offers a glimpse into their warm and caring environment.
7. Trellis Centennial
Trellis Centennial is a nursing home website that combines functionality with an elegant design. The website features a sleek layout, showcasing a tranquil and modern atmosphere. Visitors can easily access essential information through the well-organized menu, which includes sections such as care services, amenities, and dining options.
Trellis Centennial's website incorporates a virtual tour feature, allowing prospective residents and their families to virtually explore the facility's inviting living spaces and common areas. The website effectively conveys the dedication of Trellis Centennial to providing personalized care and a vibrant community.
8. Sunray Healthcare Center
Sunray Healthcare Center presents a professional and informative website designed to assist individuals seeking nursing home care. The website boasts a clean and organized layout, with a menu that enables visitors to easily access important sections, such as services, amenities, and patient resources.
Sunray Healthcare Center's website provides detailed information about its specialized care programs, rehabilitation services, and expert staff. The inclusion of testimonials and a photo gallery offers valuable insights into the warm and supportive environment provided by the facility.
9. Frontier Management
Frontier Management's nursing home website offers a comprehensive platform for exploring their range of senior living communities. The website features a clean and modern design, with intuitive navigation menus that allow visitors to seamlessly browse through different locations and care options.
Frontier Management's website showcases its commitment to individualized care through detailed descriptions of services, amenities, and dining options. The inclusion of floor plans, photos, and resident testimonials enhances the user experience, providing a holistic view of the quality of care and community atmosphere available at each location.
10. Aventine Senior Living
Aventine Senior Living presents a visually appealing and user-friendly website catering to seniors in search of assisted living and nursing home services. The website features a modern design, with intuitive navigation menus for easy exploration of key sections such as care options, amenities, and activities.
Aventine Senior Living's website offers valuable information about their person-centered approach to care, emphasizing independence and a fulfilling lifestyle. The inclusion of virtual tours and a blog enhances the user experience, providing a glimpse into the vibrant community and supportive environment offered by Aventine Senior Living.
What's the Difference between Nursing Homes and Assisted Living?
Nursing homes and assisted living facilities both provide care for elderly individuals, but they differ in terms of the level of assistance and medical services offered. Nursing homes, also known as skilled nursing facilities, are designed for individuals who require extensive medical care and assistance with daily activities. They have trained nursing staff available 24/7 to provide round-the-clock medical supervision and support. Nursing homes typically offer specialized services such as rehabilitative therapies, medication management, and skilled nursing care.
On the other hand, assisted living facilities cater to individuals who need help with certain activities but do not require constant medical supervision. These facilities offer assistance with daily tasks like bathing, dressing, and meal preparation. Assisted living provides a more independent living environment with varying levels of support and may also offer social and recreational activities.
Understanding the distinction between nursing homes and assisted living facilities is crucial when considering long-term care options for yourself or a loved one, as it helps ensure the appropriate level of care and support is provided based on individual needs.


Success Stories
Delivering Business Results: Our Digital Marketing Case Studies
Tips for a Better Nursing Home Web Design
Clearly Convey Your Professionalism
When designing a nursing home website, it's crucial to clearly convey your professionalism. This can be achieved through a clean and organized layout, professional color schemes, and high-quality images.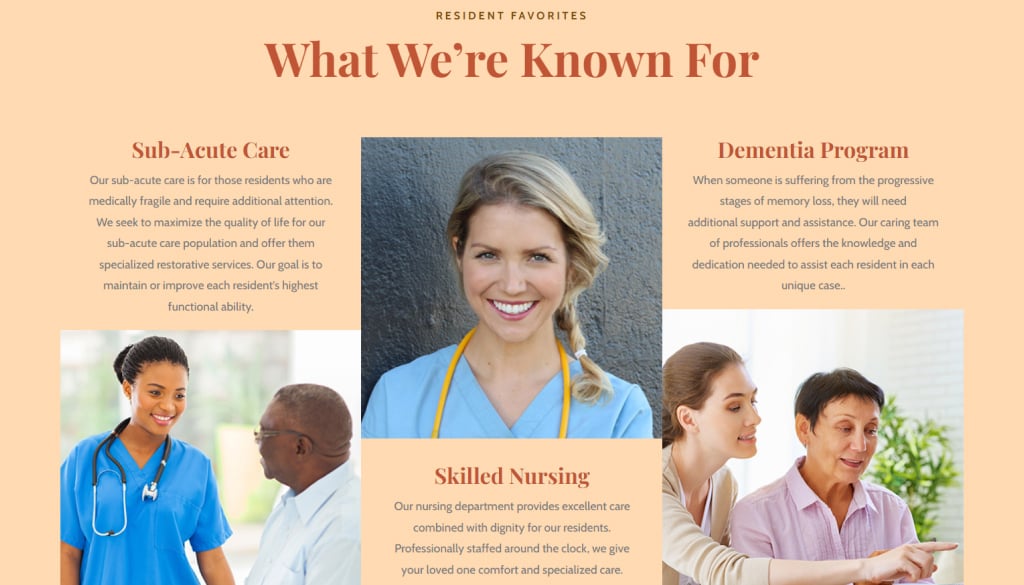 Use professional language and provide comprehensive information about your services, staff expertise, and facility amenities. Display your certifications, accreditations, and affiliations prominently to build trust with potential clients.
Incorporate testimonials from satisfied residents and their families to showcase your dedication and commitment to providing excellent care. Highlight your staff's qualifications and experience, emphasizing their expertise in geriatric care. By clearly conveying your professionalism, you can instill confidence in visitors and make a lasting impression.
Give Visitors a Sense of Security and Trust
When searching for a nursing home, families want to ensure their loved ones will be safe and well-cared for. Your website should give visitors a sense of security, trust, and personal care from the moment they land on your homepage.
Incorporate trust signals such as security badges and certifications to assure visitors that their personal information is safe when filling out forms or making inquiries. Display any quality awards or recognitions your facility has received to showcase your commitment to excellence.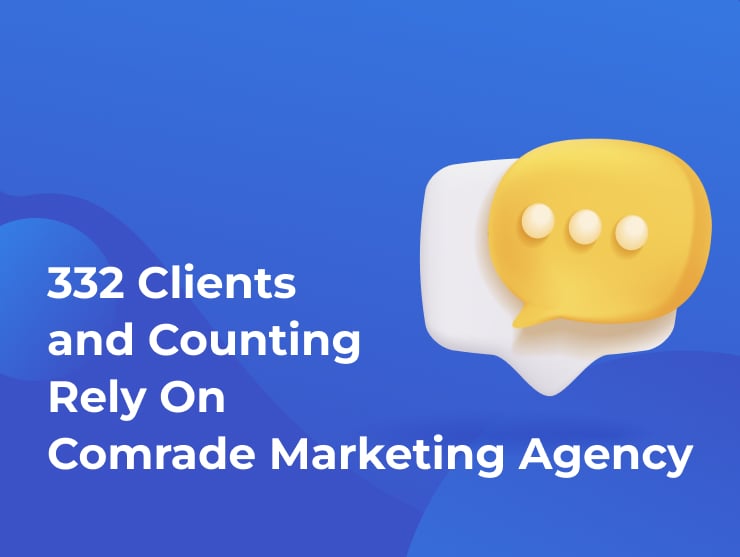 Feature testimonials and success stories from residents and their families to build trust and demonstrate the positive experiences others have had with your nursing home. Additionally, provide clear information on your safety protocols, security measures, and qualified staff to further enhance visitors' sense of security and trust in your facility.
Feature Clear Branding
To stand out among other nursing home websites, it's essential to feature clear branding throughout your site. Create a unique and memorable logo that represents your nursing home's identity and values.
Use consistent branding elements such as color schemes, fonts, and visual styles across all pages of your website. Ensure your branding reflects the compassionate and caring nature of your services.
Incorporate your logo and tagline prominently on the homepage and other key sections to reinforce brand recognition. Consistent branding helps build trust and recognition among visitors, making your nursing home more memorable when they compare options for their loved ones' care.
Level up your brand with Comrade Digital Marketing Agency. Schedule a free consultation.
Get Your Clients' Attention
In a competitive market, it's crucial to grab the attention of potential clients when they visit your nursing home website. To achieve this, focus on captivating headlines and compelling calls to action. Use concise and engaging content that addresses the unique needs and concerns of your target audience.
Feature vibrant and high-quality images that showcase the warm and inviting environment of your nursing home. Incorporate interactive elements such as videos or virtual tours that allow visitors to experience your facility firsthand.
Utilize testimonials or success stories prominently to highlight the positive experiences of residents and their families. By effectively capturing your clients' attention, you increase the chances of them exploring further and ultimately choosing your nursing home.
Evolve Your Marketing Strategy
In today's digital landscape, it's important to evolve your marketing strategy continually. Stay updated with the latest trends and best practices in web design, content marketing, and search engine optimization (SEO). Regularly assess and analyze the performance of your website using web analytics tools to identify areas for improvement.
Implement strategies such as blogging, social media marketing, and email marketing to engage with your audience and attract new prospects. Consider leveraging online review platforms and directories to increase your online visibility and reputation.
By continuously evolving your marketing strategy, you can stay ahead of the competition and effectively reach your target audience.
Make Sure You Have a Fast Website
In the online world, speed matters. Ensure that your nursing home website loads quickly to provide a seamless user experience. Optimize your website's performance by minimizing unnecessary scripts, compressing images, and utilizing caching techniques.
Remove any outdated or irrelevant content that may slow down the loading time. Consider using a reliable hosting service that can handle your website's traffic and demands.
A fast website not only improves user satisfaction but also positively impacts your search engine rankings. In a competitive industry like nursing homes, a slow website can result in visitors leaving and potentially choosing a competitor instead.
And Mobile-Friendly, Too!
With the increasing use of mobile devices, it's crucial to have a mobile-friendly nursing home website. Ensure that your website is responsive and adapts seamlessly to different screen sizes and resolutions.
Optimize the mobile experience by simplifying navigation, using larger buttons, and ensuring text is easy to read without zooming in. Test your website on various mobile devices to ensure a consistent and user-friendly experience.
A mobile-friendly website allows potential clients and their families to access information about your nursing home easily, whether they are on their smartphones or tablets.
Optimize for SEO
To improve your nursing home website's visibility in search engine results, it's essential to optimize it for SEO. Conduct keyword research to identify relevant keywords and incorporate them naturally into your website's content.
Optimize your meta tags, headings, and image alt tags with relevant keywords. Ensure that your website's structure is search engine-friendly, with a clear hierarchy and easy navigation.
Develop a content strategy that focuses on informative and engaging content tailored to your target audience. Additionally, encourage online reviews and testimonials to enhance your online reputation and credibility.
By implementing SEO best practices, you increase the chances of your nursing home website ranking higher in search engine results and attracting organic traffic.
Use Large Fonts
When designing your nursing home website, prioritize readability by using large fonts. Many seniors may have visual impairments or difficulties reading small text. Opt for clear and legible fonts such as Arial, Verdana, or Open Sans.
Increase the font size to ensure comfortable reading on various devices, especially for mobile users. Additionally, consider using a higher contrast between the font color and the background to enhance readability further.
By using large fonts, you make your website more accessible to all visitors, including those with visual challenges.
Create Large Clear Images
Incorporating large, clear images on your nursing home website can significantly enhance its visual appeal and storytelling capabilities.
Feature high-resolution images that accurately represent the warm and caring environment of your facility. Showcase various areas such as comfortable rooms, inviting communal spaces, and well-maintained outdoor areas. Opt for professional photography to capture the essence of your nursing home accurately.
Large, clear images can evoke emotions and help potential clients visualize themselves or their loved ones living in your facility. Use images strategically throughout your website to complement your content and create an engaging user experience.
Need a high-performance website for your company?
Book a 15-min call to discuss
Conclusion
We have explored the top 10 nursing home websites that excel in design, functionality, and user experience. These websites serve as excellent examples of how to create an online presence that engages and informs visitors while showcasing the unique features of each nursing home. Whether it's intuitive navigation, compelling content, or seamless booking processes, these websites have demonstrated their commitment to providing a user-friendly experience.
If you're looking to enhance your nursing home's online presence and create a website that stands out from the competition, Comrade Digital Marketing is here to help. Our agency specializes in creating customized, high-performing websites that captivate your audience and drive meaningful results. Contact us today to learn more about how we can elevate your nursing home's online presence and attract more visitors for increased revenue.