In order to succeed as a divorce lawyer, you need a steady stream of new clients, and that's not easy to get. One way to achieve this is through search engine optimization (SEO). SEO is the process of optimizing a website's content and structure to improve its ranking on search engine results pages (SERPs). 68% of online experiences start with a search engine, and most users don't even look beyond the first page of results. You're missing out on potential clients if your website isn't ranking well on Google and other search engines.
However, mastering SEO isn't easy. Search engines use complex algorithms to determine which websites should rank highest for specific search terms, and these algorithms are constantly changing. That's why divorce lawyers need to implement various SEO techniques available, and sometimes require outside help to do it properly.
In this article, we will explore:
How family law firms can get more cases with divorce lawyer SEO
The key elements of effective SEO for divorce lawyers
Some technical SEO best practices for divorce lawyers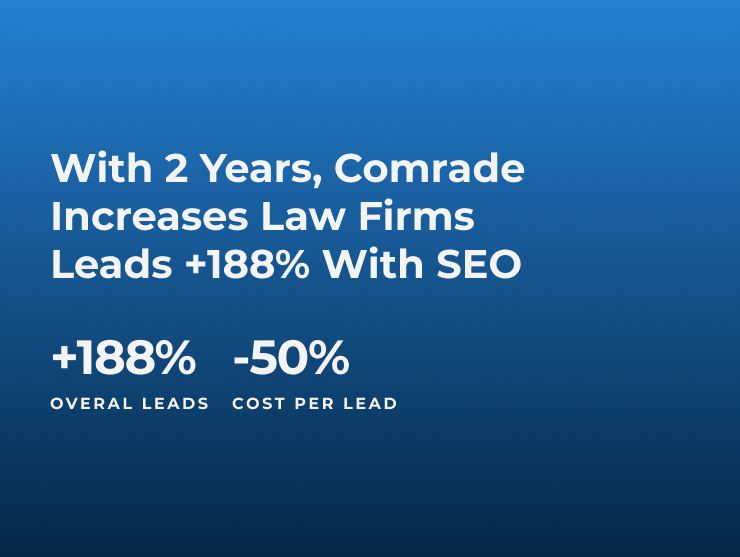 ---
How Family Law Firms Can Get More Cases with Divorce Lawyer SEO
SEO can help family law firms attract more targeted traffic to their website, leading to more qualified leads and potential clients. Family law firms can draw potential clients looking for their specific services by optimizing their website content for particular keywords and phrases connected to divorce and family law. For example, a family law firm in New York can publish a blog post targeting the keyword "child custody lawyer in New York." As a result, the firm can attract more website traffic from potential clients searching for that specific service, which leads to more qualified leads and new cases.
SEO can help family law firms increase online visibility by improving search engine rankings.
SEO can help family law firms build credibility and trust with potential clients by demonstrating their expertise and knowledge of divorce and family law.
A marketing strategy can also be cost-effective for family law firms, especially compared to traditional advertising methods such as print and television ads.
It helps family law firms keep up with the competition, who are almost certainly also using SEO and other online marketing strategies.
Success Stories
Delivering Business Results: Our Digital Marketing Case Studies
Let's get to know
Key Elements of Effective SEO for Divorce Lawyers
Now, let's delve into each crucial element that contributes to a robust SEO strategy for divorce lawyers. From on-page optimization and keyword research to link building and managing reviews, we will explore how these elements work together to enhance your online presence and attract more clients.
By mastering these key elements, you'll have the knowledge and tools to elevate your SEO game and stay ahead of the competition. So, let's dive in and uncover the essential components that drive successful SEO for divorce lawyers.
Optimize Your Google Business Profile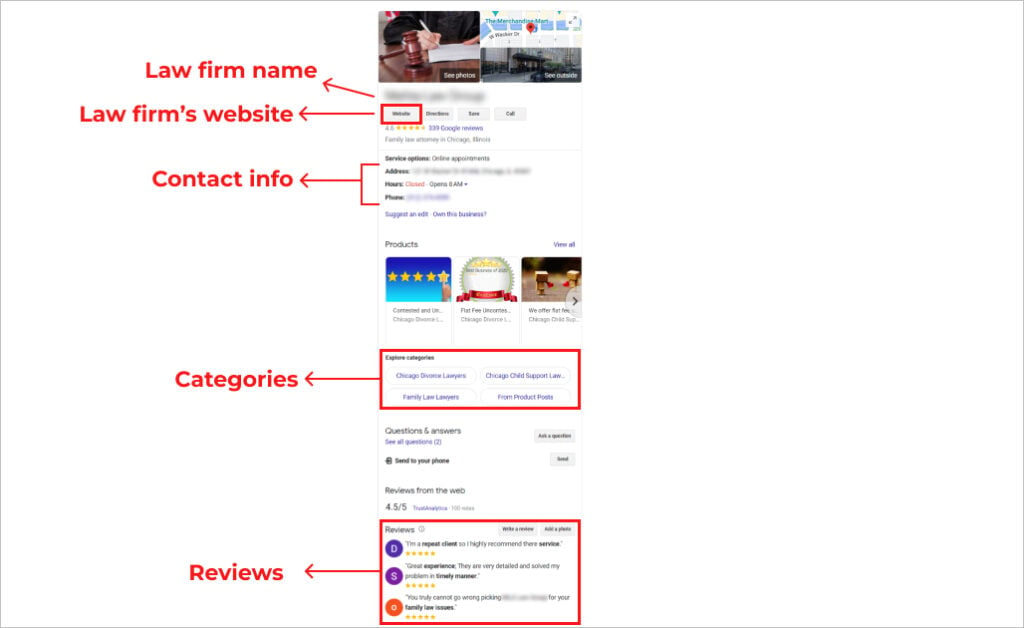 Google Business Profile is a free tool that allows businesses to manage their online presence, particularly in local search results. You need to optimize your profile to get the most out of it, and here's how you can make that happen:
Claim and verify your GBP listing: If you haven't already, claim your GBP listing and verify your business information to ensure that it's accurate and up-to-date.
Add relevant business information: Add your business name, address, phone number, website URL, and hours of operation to your GBP profile. This information needs to be accurate, complete, and up-to-date.
Choose the right categories: Select the most relevant categories for your business, such as "divorce lawyer" or "family law attorney."
Add photos and videos: High-quality photos and videos to your GBP profile can help potential clients better connect with your business and attract more clicks to your website.
Encourage customer reviews: Encourage satisfied clients to leave reviews on your GBP profile, as this can help improve your search engine rankings and attract more leads. When was the last time you picked a service provider or product without reading reviews?
---
Update Your Family Law Firm's Citations and Directory Listings
Citations and directory listings are online mentions of your business name, address, and phone number (NAP) on various platforms, such as online directories, local business listings, and review sites. These listings help establish the credibility and legitimacy of your business in the eyes of search engines and potential clients.
To optimize citations and directory listings:
Ensure that your NAP information is consistent across all platforms.
Submit your business to relevant and reputable directories, including legal-specific directories.
Provide accurate and complete information, including additional details like website URL, business hours, and description.
---
Schema Markup for a Divorce Lawyer Website
Schema markup is a structured data vocabulary that helps search engines understand the content on a website and display it more prominently in search results. It provides specific information about a business, such as contact details, reviews, opening hours, and more, making it easier for search engines to index and display relevant information to users.
For divorce and family lawyers, schema markup can help highlight specific details, such as areas of practice, attorney biographies, and client testimonials. Here's how to use schema markup on your divorce lawyer website:
Identify relevant schema types: Determine which schema types are most relevant to your practice, such as "Attorney" or "LegalService."
Implement schema markup: Add schema markup to your website using HTML tags or a plugin. This can help search engines understand the content on your website and display it more effectively in search results.
Test your schema markup: Use Google's Structured Data Testing Tool to ensure your schema markup works correctly.
Comrade Digital Marketing Agency can help you with the above if you're unsure how to go about it. Schedule a free consultation.
---
Location Pages on a Family Law Firm's Website
You need to create location-specific pages on your website if you have multiple office locations or serve clients in different areas. These pages provide valuable information to both search engines and potential clients based on the location it serves.
Each location page should include relevant information, such as the office address, phone number, business hours, and a unique description of the services provided at that location. Incorporate location-specific keywords to optimize the page for local search queries.
Furthermore, you should incorporate the localization strategy if you have offices in locations with more than one language. This adapts the language of the location you choose. For instance, you can have your headquarters in Chicago, branches in some states in the US, and others in countries like Spain, UAE, and Germany, and can localize your website to have these languages.
---
Local Keyword Optimization Techniques for Divorce Attorneys
Incorporate local keywords into your website content, meta tags, headings, and URLs. Target keywords that include your city, region, neighborhood, and relevant divorce-related terms. For example, "divorce lawyer in [city]," "family law attorney [neighborhood]," or "child custody lawyer near [location]." Optimize landing pages with location-specific content and ensure your website includes your business address and phone number on every page.
---
Uncover Profitable Keywords for a Family Law Practice
Keyword research is the foundation of any effective SEO strategy. Family law attorneys need to identify and target the most profitable keywords potential clients use when searching for divorce-related services. So, to uncover these keywords that will benefit your law firm, do the following:
Use keyword research tools: Tools such as Google Keyword Planner, SEMrush, and Ahrefs can help you identify relevant keywords and phrases that potential clients use to search for divorce lawyers.
Analyze your competitors: Look at the keywords your competitors are targeting and consider whether you should be targeting those same keywords.
Focus on long-tail keywords: Long-tail keywords are longer and more specific keyword phrases that can be less competitive and more targeted than broader keywords. Focus on targeting long-tail keywords that are relevant to your practice.
Consider user intent: Consider the intent behind the keywords that potential clients use to search for divorce lawyers. Are they looking for information, or are they looking to hire a lawyer? Tailor your content and keyword targeting accordingly.
Profitable Divorce Lawyer Keywords (Examples)
The keywords below are examples to get you started.
"Divorce lawyer near me"
"Family law attorney [city/region]"
"Divorce attorney [city/region]"
"Child custody lawyer"
"Alimony attorney"
"Property division lawyer"
"Divorce mediation services"
"Spousal support attorney"
"High net worth divorce lawyer"
"Legal separation attorney"
"Domestic violence lawyer"
"Prenuptial agreement attorney"
"Uncontested divorce lawyer"
"Divorce process explained"
"How to file for divorce."
After using your research tools to identify these keywords, you must ensure a good balance of search volume, relevance, and competition in your target location.
---
Craft Engaging and Relevant Family Law Content
You need to create content that addresses the common concerns, questions, and challenges faced by individuals going through a divorce or family issues. The types of content that can be created include informative blog posts, frequently asked questions (FAQs) sections, case studies, eBooks, white papers, videos, and podcasts.
Informative blog posts can address common questions and concerns that individuals facing divorce may have, providing valuable information and establishing the law firm as an authoritative source.
FAQ sections can cover a wide range of topics related to divorce, such as child custody, property division, and alimony, helping potential clients find answers to their specific questions.
Case studies provide real-life examples and outcomes of divorce cases the law firm has handled, showcasing their expertise and success.
Ebooks and white papers can dive deeper into specific divorce-related topics, allowing the law firm to showcase its knowledge and expertise comprehensively.
Videos and podcasts can deliver engaging content in a more interactive format. These include interviews with divorce lawyers, discussions on relevant legal topics, or client testimonials.
Incorporate the keywords you've identified into your content naturally, ensuring it flows smoothly and remains user-friendly. Remember to include relevant and compelling call-to-actions (CTAs) within your content, guiding visitors to take the desired actions, such as contacting your firm for a consultation.
---
Title Tags and Meta Descriptions for Family Law SEO
Title tags and meta descriptions are important elements of on-page SEO. The title tag is an HTML element that specifies the title of a webpage, and it appears as a clickable headline in search engine results. Meta descriptions, on the other hand, are brief summaries of the web page's content displayed below the title tag in search results.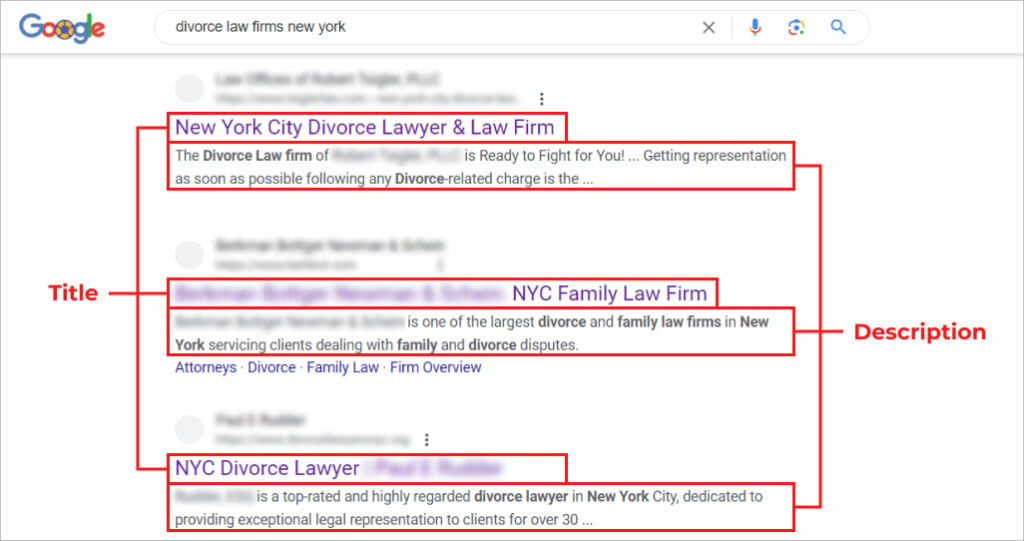 Title tags should be concise, compelling, and relevant to the page's content. They should include targeted keywords to improve search engine visibility and attract user click-throughs. The ideal length for a title tag is around 50-60 characters to ensure it is fully displayed in search results.
Meta descriptions provide a concise overview of the web page's content and should entice users to click through to your website. They should be well-crafted, engaging, and accurately reflect the page's content accurately. You must include relevant keywords in the meta description, just like the title tag. The recommended length for a meta description is around 130-160 characters.
---
Check Your URL Structure
The URL structure plays a significant role in both user experience and SEO. A well-structured URL should be descriptive, readable, and reflect the webpage's content. Including targeted keywords in the URL can also benefit SEO.
A clean URL structure should avoid unnecessary parameters, numbers, or symbols. Instead, it should use words and hyphens to separate different URL sections. For example, a well-structured URL for a divorce lawyer's service page could be: "example.com/divorce-lawyer-services."
Using a logical and hierarchical structure for URLs can improve website navigation and make it easier for users and search engines to understand the organization of your website.

Need a high-performance website for your company?
Book a 15-min call to discuss
---
Optimize Header Tags
Header tags (H1, H2, H3, etc.) are HTML elements used to structure the headings and subheadings on a webpage. These tags not only enhance the visual appearance of the content but also provide a hierarchical structure for search engines to understand the importance and context of the text. We use them all throughout this article, and everything else we create for ourselves and our clients!
The H1 tag represents the page's main heading and should be used only once. It should contain relevant keywords and clearly indicate the page's topic. Subheadings, such as H2, H3, and so on, can divide the content into sections and subsections. You must include keywords relevant to your firm and its services in these subheadings.
---
Image Optimization Rules to Improve Divorce Lawyer SEO
A high-quality image shows how professional your law firm is while enhancing a website's user experience and SEO. Here are some key considerations for image optimization:
File size: Compress images to reduce file size without compromising quality. Large image files can slow page load times, negatively impacting the user experience and SEO.
Alt text: Use descriptive and keyword-rich alt text for images. Alt text provides text alternatives for visually impaired users and helps search engines understand the image's content.
Image file names: Give images descriptive file names that reflect the content or subject matter. Use relevant keywords when appropriate.
Image sitemaps: Include images in your XML sitemap to ensure search engines can discover and index them.
Responsive images: Optimize images for different devices and screen sizes to ensure they display properly on desktops, tablets, and mobile devices.
Captions and surrounding text: Include relevant captions and provide context by surrounding images with descriptive text. This can improve the understanding and relevance of the images for search engines.
---
Build Quality Backlinks for Divorce Law Firms
One of the key off-page SEO strategies is building quality backlinks. Backlinks are links from other websites that point to your site. Search engines consider backlinks as votes of confidence, indicating that your website is trustworthy and authoritative.
There are several strategies that can be employed to build quality backlinks.
The most important is to create quality content that other websites want to link to. This can include blog posts, videos, infographics, and e-books.
You can also write guest blog posts for other websites in the legal industry. Be sure to include a link to your website in your author bio or the post's content.
Participate in online forums and online communities, providing valuable insights and answering questions while also including a link to your website when relevant.
Contact other websites in the legal industry and request a link to your website. Make sure to target websites relevant to your practice with high domain authority.
Leverage local directories and online legal directories. Make sure to claim your law firm's listing and include a link to your website.
---
Leverage Social Media for a Family Law Firm Visibility
So many law firms and individuals use one or more social media channels to communicate and engage with followers. Popular social channels like Facebook, Instagram, Twitter, and LinkedIn provide excellent opportunities for family law firms to reach a wider audience fast. With these platforms, you can:
Share relevant content on social media, such as blog posts, videos, and infographics, with your followers.
Engage with your audience by responding to comments and messages on social media.
Run targeted ads to reach potential clients interested in divorce and family law services.
Participate in online communities related to divorce and family law.
Promote upcoming events and update followers on the schedule.
Each platform is similar but has its distinct characteristics and usage. With:
Facebook: Create a professional business page, share informative divorce-related articles and posts, and engage followers by answering questions or responding to comments. You can also run targeted advertising campaigns to reach a specific audience.
Instagram: Use visually appealing images and graphics related to family law, and share client success stories or snippets of legal advice. Utilize relevant hashtags and engage with your audience through comments and direct messages.
Twitter: Share quick tips, legal updates, and divorce and family law news. Engage in conversations by replying to relevant posts, retweeting useful content, tagging important individuals or accounts, and following influencers or organizations in the legal field.
LinkedIn: Establish a professional presence for your law firm, create informative articles or posts, join relevant legal groups, and engage in discussions. Connect with other professionals in the legal field to expand your network.
LinkedIn and Facebook are by far your best bet as divorce lawyers- focus your attention there.
---
Online Reputation Management for Divorce and Family Lawyers
It's simple: your online reputation needs to be amazing. Your prospects should immediately get a positive impression of you based on your online presence, because anything negative will hurt your firm's credibility. This is why you need to manage your online reputation. Here's how:
Monitor online reviews: Regularly monitor popular review platforms such as your Google Business Profile, Yelp, and legal-specific review sites. Respond promptly and professionally to both positive and negative reviews. Show appreciation for positive feedback and address any concerns or issues raised in negative reviews, demonstrating your commitment to client satisfaction.
Encourage client reviews: Proactively ask satisfied clients to leave reviews on relevant platforms. Include links or instructions in your email signatures, on your website, or in follow-up communications to make it easy for clients to share their experiences. Positive reviews enhance your reputation and act as social proof, influencing potential clients to choose your services.
Online complaint resolution: If you encounter negative feedback or complaints, handle them professionally and empathetically. You can respond publicly to help mitigate the impact of negative reviews and reach out privately to understand the client's concerns and seek a resolution.
Brand monitoring: Utilize online monitoring tools to stay updated on mentions of your law firm or brand across various platforms. This allows you to promptly address any mentions or comments, maintain a positive online presence, and engage with potential clients who may be discussing or seeking legal services.
---
Guest Blogging and Influencer Outreach
Guest blogging involves writing and submitting articles on other websites as guest authors. Influencer outreach involves reaching out to influential people in the legal industry and asking them to share your content or include a link to your website on their website or social media profiles.
To guest blog and reach out to influencers, do the following:
Identify relevant blogs and influencers: Research legal blogs, websites, and influencers in the divorce and family law niche. Look for platforms with a strong online presence that attracts your target audience.
Develop high-quality content: Craft informative and well-researched articles that provide value to the target audience. Focus on addressing common legal issues, offering practical advice, or sharing insights and expertise.
Pitch guest posts: Reach out to blog owners or editors with a personalized pitch, highlighting the value of your proposed content and how it aligns with their audience's interests. Emphasize your divorce and family law expertise to establish credibility and increase the likelihood of acceptance.
Collaborate with influencers: Identify influencers or industry experts with a significant following and credibility in legal or family law. Collaborate on content projects, such as co-authoring articles, participating in webinars or podcasts, or hosting joint events. This helps you tap into their audience and leverage their influence to expand your reach.
---
Register for Family Law and Divorce Attorneys Online Legal Directories
Online legal directories are platforms where potential clients search for specific legal services and professionals. They tend to come up very high in search results, so don't overlook them! Research them and choose a reputable directory that attracts relevant traffic. There are a few types of legal directories, such as:
General legal directories: These directories cover various legal practices and attract a diverse audience. Examples include Avvo, FindLaw, and Justia.
Niche legal directories: These directories focus on family law and divorce attorneys, making them highly relevant to your practice area. For example, DivorceNet.
Local directories: Listing your law firm in local directories increases your chances of attracting clients from your region. Examples include Yelp, Google Business Profiles, and Yellow Pages.
Bar Association directories: This local or state bar association caters to lawyers and law firms in your area.
Create a compelling and detailed profile for your law firm on each directory. Include accurate contact information, practice areas, notable achievements, and client testimonials where applicable. Then, ensure your law firm's name, address, and phone number (NAP) are consistent across all directories.
Inconsistent information can confuse search engines and potential clients, impacting your visibility and conversions. Don't forget reviews. Ask for them from clients or peers (where applicable) to enhance your reputation.
---
Technical SEO Best Practices for Divorce Lawyers
Technical SEO involves optimizing the website's structure, layout, and coding to make it more user-friendly, faster, and easier for search engines to crawl and index. It's vital because search engines use complex algorithms to analyze websites and determine their search engine rankings. A technically well-optimized website is more likely to rank higher in search engine results pages (SERPs) than an unoptimized one.
Some key technical SEO elements that law firm website owners should focus on are:
Website speed optimization: Optimize your website's loading speed by compressing images, minifying CSS and JavaScript files, and leveraging browser caching. A fast-loading website improves user experience and reduces bounce rates, positively impacting your search engine rankings.
Mobile-friendly design: With most online searches conducted on mobile devices, you must have a responsive and mobile-friendly website. Ensure that your website's design and content adapt seamlessly to different screen sizes, providing an optimal browsing experience for mobile users.
Proper URL structure: Use clean and descriptive URLs that include relevant keywords and make it easier for search engines to understand the content of your web pages. Avoid lengthy or complex URLs that can confuse both search engines and users.
XML sitemap: Create an XML sitemap that lists all the pages on your website. Submit the sitemap to search engines to ensure they effectively crawl and index your web pages.
Schema markup: Implement structured data markup, such as Schema.org, to provide additional information to search engines about your website's content. This can enhance the visibility of your website in search results by displaying rich snippets, such as star ratings, reviews, and business information.
Canonicalization: Prevent duplicate content issues by implementing canonical tags on your web pages. Canonical tags indicate the preferred version of a page to search engines, consolidating the ranking signals and avoiding content duplication.
Optimized meta tags: Craft unique and compelling meta titles and descriptions for each page of your website. Incorporate relevant keywords while maintaining a clear and concise description that entices users to click through to your website from search results.
Internal linking: Implement a strategic internal linking structure within your website. Link relevant pages together using descriptive anchor text to help search engines understand the relationships between your web pages and improve the overall website navigation.
There are several tools that can help law firm website owners with technical SEO, like Google Search Console, SEMrush, Ahrefs, Screaming Frog, GTmetrix, and Moz Pro. If you need help, try partnering with a seasoned digital marketing agency specializing in legal services, like Comrade Digital Marketing.
Increase your traffic and revenue with search optimization
Selecting the Right SEO Specialist for Your Divorce Law Firm's Success
Mastering SEO gives your divorce law firm a strong online presence, attracts new clients, enhances lead generation, and increases ROI. We hope this guide gave you some helpful info on effective SEO, including on-page optimization, keyword research, content creation, off-page strategies, local SEO tactics, and technical best practices. Your family law practice can implement all these, but keep in mind that seeing results from SEO can take a while, and can be very time-intensive.
That's why it's crucial to find a partner that understands your firm's unique needs and possesses the necessary expertise to drive tangible results. By partnering with a reliable and experienced SEO specialist, such as the experts at Comrade Digital Marketing Agency, you can unlock the full potential of your online presence. With our PPC, web design, and SEO services, we can help your law firm achieve higher search engine rankings, attract more qualified leads, and ultimately grow your revenue.