Content marketing for personal injury lawyers is a strategic marketing approach focused on producing valuable, relevant, and consistent content to attract and retain a clear target market and encourage them further down the buyers funnel, i.e.,towards client acquisition.
In the world of law firm SEO, personal injury marketing is a crowded field. In Central LA alone, you're contending with 220 million web pages just to make it to the top of the search results. It's tough going, but well worth the effort for those who succeed!

To thrive in your legal practice, your website needs to rank highly in organic search results. Having high visibility is crucial because potential clients may not take an interest in your services otherwise.
If your objective is to expand your legal practice and help people, then obtaining professional assistance is a must to achieve that goal.
The good news is that Comrade can help.
We specialize in SEO for Personal Injury Lawyers and attorneys in competitive markets to rank for the most coveted keywords.
client results

Area: Personal Injury

GEO: Indiana

Current Result: #3 for dui attorney
Evergreen Content Ideas for Personal Injury Lawyers
Evergreen content provides information in the form of blogs, videos, and podcasts that is continually relevant for readers over long periods of time and can be reused by marketers to attract new clients.
Attract
more leads
to your law firm
Describe Your Practice
Potential clients searching for personal injury lawyers are likely already looking to solicit your services. Having dedicated pages explaining each type of personal injury your law firm handles not only streamlines the consultation process it also provides the opportunity to include more keywords and rank higher on Google Search Engine results.
Make Guides
Guides that cover how to file claims and what to do after an accident can drive profitable action. They're not "hard sells" but subtly position you as an industry leader and showcase how potential clients can benefit from your services.
Give Free Advice
According to SEO Tribunal, 77% of internet users read blogs. Users are always searching for helpful information, and if your blog's advice is SEO-friendly, correlates to what they're looking for, and has a clear call-to-action (CTA) at the end, it can create instant leads. Some popular topics may include who can be held liable for a personal injury claim and paying for medical expenses after an injury.


Success Stories
Delivering Business Results: Our Digital Marketing Case Studies
Make Your Personal Injury Website Convenient
Describe Without Specific Terms
Keep your website as simple as possible for clients to navigate and understand. Potential leads want to comprehend the legal process and how you can help them without getting bogged down by professional jargon. In addition, they need clear and helpful information they can act on.
Avoid Useless Content
One of the most important things when it comes to content marketing for lawyers is that all your content must be high-quality and relevant to your firm. For example, if you specialize in medical malpractice, then don't include content about road accidents. In addition, every piece of content should be carefully calibrated and geared towards client acquisition throughsearch engine optimization.
Make Your Website Mobile-Friendly
Statistics released by Review 42 indicate that 70% of web traffic comes from mobile, and 61% of users will never return to a website that is not mobile-friendly. Therefore, your website's copy and layout should translate to mobile, without affecting quality and navigation ease, as most of your clients will discover you with their smartphones.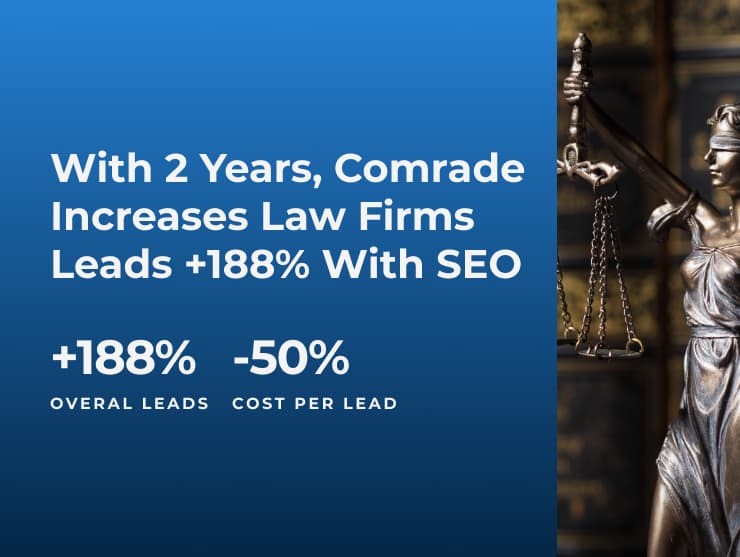 Make Different Content for Your Personal Injury Websit
Use Video
Videos can be professionally shot or self-made and informal like blogs, depending on your brand strategy. They're great for conveying quick bits of information and connect with potential clients. Keeping them under two minutes, and adding captions, enables viewers to watch them no matter where they are.
According to Statistica, 223 trillion people in the U.S. use social media. Sharing news, policy updates, and connecting with users on social media builds credibility, visibility and drives traffic to your website from a massive audience.
Introduce Your Team on Social Media
Users form better relationships with brands when they can connect to the people behind them. Introducing team members on social media by organizing Q&A Livestreams to answer FAQs or sharing their bios and experience provides exposure and further credibility.
Does your law firm have a plan for growth in 2023?
Conclusion
Comrade is a boutique digital marketing agency helping law firms worldwide build successful digital strategies that increase revenue. With over 12 years of experience, we have the knowledge and experience to help you attract more clients. Call us at (312) 265-0580 or click here to find out more.
Frequently Asked Questions