Unlocking the power of SEO is a game-changer for lawyers who want to stand out in a competitive digital landscape. More potential clients in today's technology-driven world are turning to Google search to find legal services. That's where SEO comes into play, enabling law firms to maximize their online visibility, attract qualified leads, and ultimately grow their business.
Our law firm SEO company put together this comprehensive guide that dives into the intricacies of SEO for lawyers, equipping legal professionals with the knowledge and strategies needed to rise above the noise. From keyword research and on-page optimization to local SEO tactics and content creation, let's dive into the key techniques that can propel your law firm's website to the top of the results pages. As a result, you'll be able to unlock the untapped potential of SEO and pave the way for your firm's online success.
In this Law Firm SEO Guide, we'll cover the following essential topics:
Why Search Engine Optimization is Key to Success for Lawyers
Important Ranking Factors
A Step-by-Step Guide to Improve Your Results
How to Measure ROI
Law Firm SEO in 2023: The Era of AI
What Is Attorney SEO?
Search engine optimization (SEO) for lawyers is the process of improving a law firm's website to increase its ranking in search results. This means that when potential clients search for a law firm, higher-quality websites will appear higher in the search results.
Essentially, that's what SEO for law firms and attorneys is all about.
Why Is Lawyer SEO So Important?
Search engine optimization is vital for law firms as it enhances online visibility, builds credibility, drives website traffic, and provides a competitive edge. With 17% of legal consumers finding lawyers via online search, SEO serves as a cost-effective marketing strategy. 
SEO for lawyers has always been an integral part of a successful law firm's marketing strategy because your potential clients search for a law firm online. The reality of online search is this: The top five organic search results that come up on any search query get 65% of all clicks. This means that law firms that rank higher will undoubtedly get more traffic.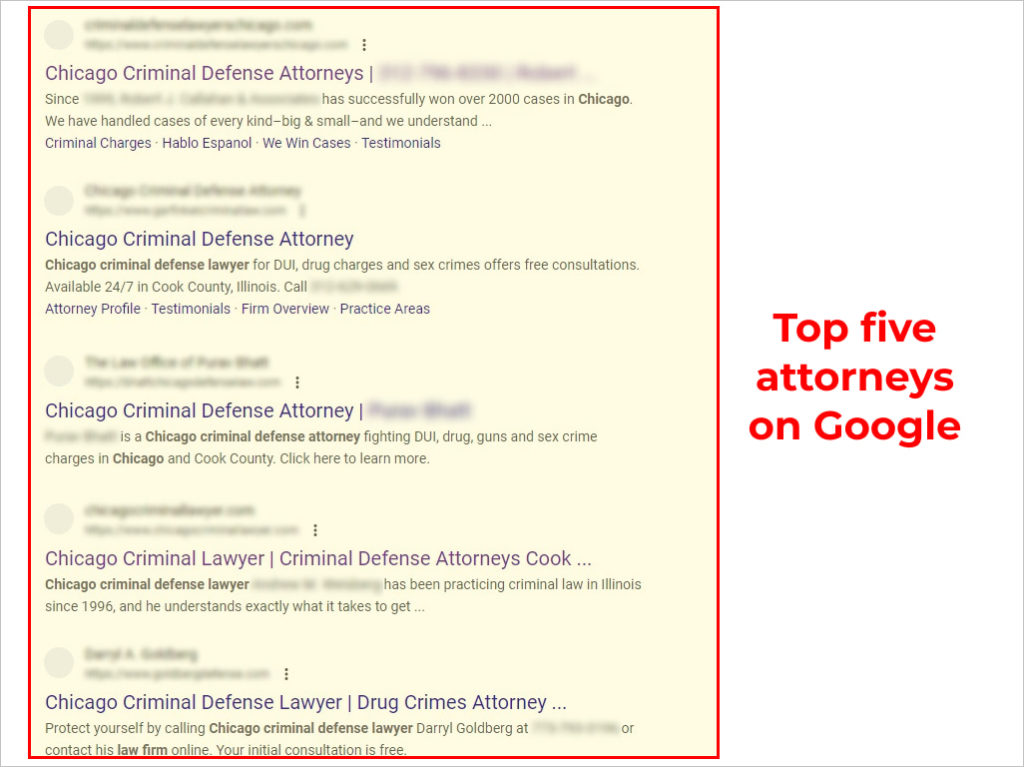 When potential clients need legal services, they often turn to the Internet as their first step in finding a suitable lawyer. Here's an example of how this engagement typically unfolds, along with a list of commonly used keywords:
| Stage | Description | Keywords |
| --- | --- | --- |
| Problem Identification | The potential client realizes they need legal guidance for a specific issue. | Personal injury lawyer, divorce attorney |
| Research Phase | The client researches their legal matter to gather more information. | How to file for bankruptcy, steps to take after a car accident |
| Location Specification | The potential client adds location-specific terms to their searches. | Best criminal defense lawyer in [city name], family law attorney near me |
| Specialization Search | If expertise is required, the potential client searches for specialized lawyers. | Intellectual property attorney, immigration lawyer |
| Comparison and Reviews | The potential client assesses the reputation and credibility of potential lawyers through reviews and ratings. | Lawyer reviews, top-rated law firms |
| Contact Information | Once a suitable lawyer is identified, the potential client searches for contact details to initiate communication. | Phone numbers of [lawyer name/firm name], email addresses of [lawyer name/firm name] |
Understanding how potential clients engage with their online search intend and the keywords they commonly use can help lawyers optimize their online presence and target their SEO strategies effectively.
How do you get into the top five results? What does Google look for in a website? As the search engine states, "[they're] designed to help people find what they're looking for."
This is where SEO comes into play! It can help you fulfill the main requirements search engines have for website content, such as:
Utility
High-quality
Well organized
The ultimate goal of an SEO campaign is to get new clients by improving your law firm's website in SERPs. Law firms SEO services are the framework for structuring your website and producing content that achieves your business goals.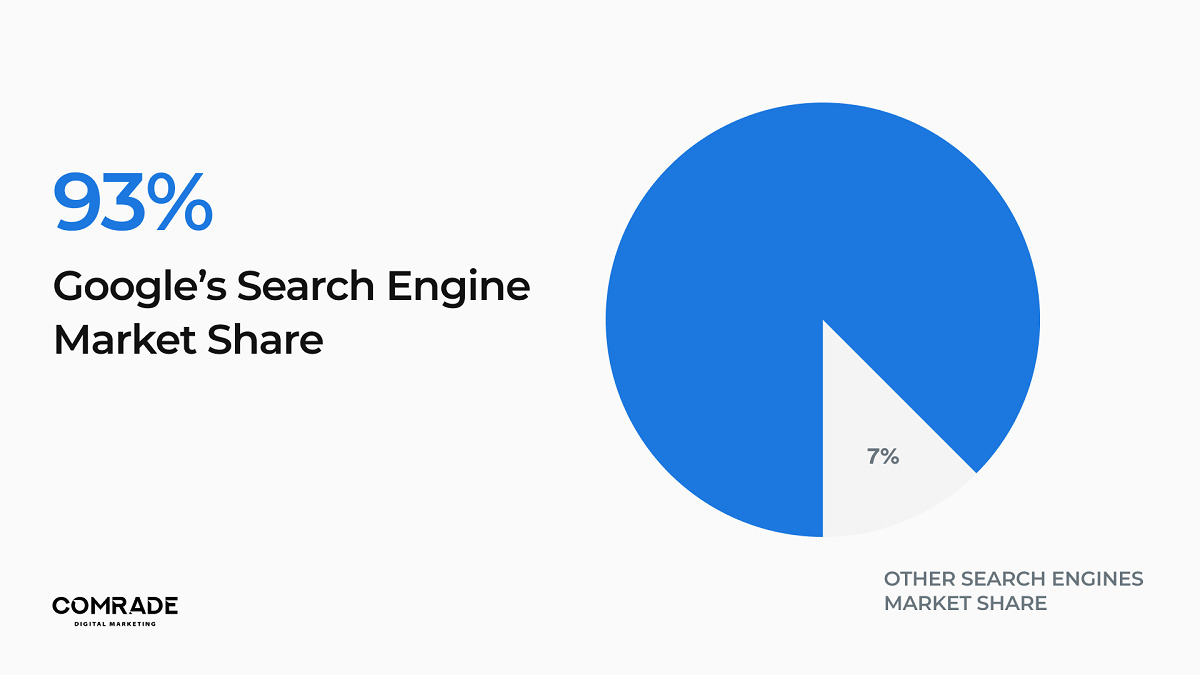 Mastering SEO is key to being rewarded by Google. The best SEO companies for lawyers possess these skills. Google sshould be your main focus, as it receives almost 93% of all search traffic. This is what drives digital marketing for law firms.
Success Stories
Delivering Business Results: Our Digital Marketing Case Studies
Let's get to know
Lawyer SEO Factors That'll Help You Reach the Top
To achieve success in law firm SEO, you must understand the relationship between SEO strategies and ranking factors. SEO ranking factors are the criteria search engines use to evaluate and rank websites in their search results. By aligning SEO efforts with these factors, such as quality content, website structure, mobile-friendliness, backlinks, and user experience, you can enhance your chances of ranking higher in search engine results pages.
Effective implementation of SEO strategies that focus on these ranking factors helps optimize your website's visibility, attract organic traffic, and improve its overall rankings. The more you understand and address these factors, the easier it is to unlock the full potential of SEO for driving targeted traffic and achieving online success.
---
1/6 factor
1. Competing in Attorney SEO
Search engine optimization competitiveness, particularly for attorneys SEO, hinges on two primary aspects: competitive geo markets and competitive industry niches. The competition level varies significantly based on the geographical location (GEO) and the specific practice area of law.
For instance, a personal injury attorney in a densely populated city may face stiffer competition in SEO than a rural estate planning attorney due to the difference in demand and population density. Similarly, certain practice areas may inherently be more competitive due to their high demand or profitability.
Moreover, just as in the traditional business market, there are established brands and leaders in the Google search results. These dominant players often have a significant online presence, making it challenging for smaller or newer firms to rank highly in search results without a robust SEO strategy. Therefore, understanding and considering these competitive factors is crucial when implementing an effective SEO strategy for law services.
In competitive geo markets, a law firm's local SEO plays a crucial role in your search engine ranking. For instance, a lawyer's website will rank higher and faster in a smaller town with fewer competitors. Conversely, in bustling cities like New York or Chicago, achieving results from SEO strategies requires more time and effort due to increased competition.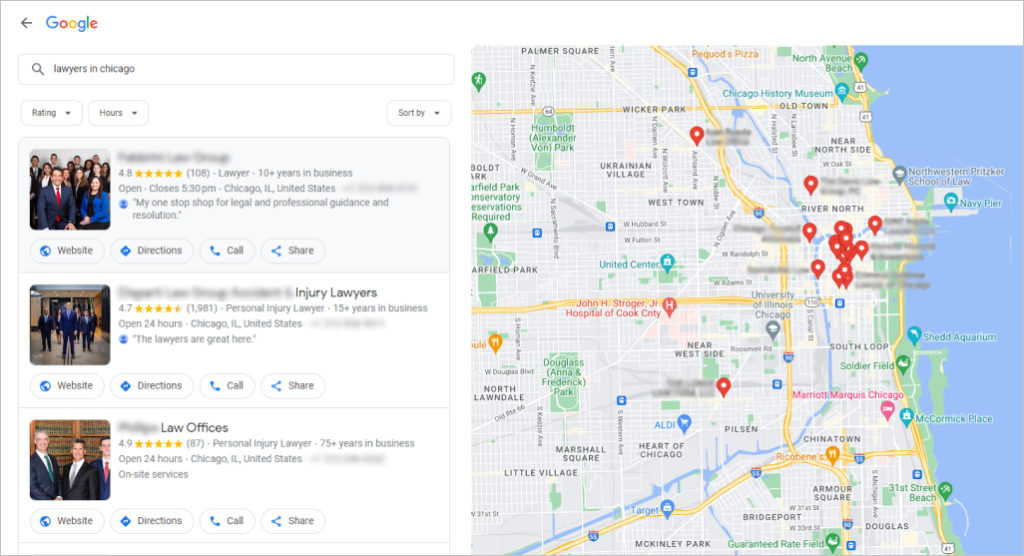 Similarly, focusing on a narrow practice area in a less competitive industry niche yields faster results. Established websites that have been around for years dominate popular keywords, making it difficult for new websites to displace them in rankings. Performing an SEO competitive analysis becomes vital to identify high-competition keywords and helping you optimize local SEO.
Ultimately, SEO success requires that you think about three types of competition:
industry competitors,
SEO competitors
keyword competitors.
These categories often overlap, as industry competitors are likely targeting a similar audience and optimizing for similar keywords.
You'll want to understand the competitive landscape for developing effective SEO strategies and positioning your website for optimal visibility and ranking success.
Attract
more leads
to your law firm
---
2/6 factor
2. L

aw Firm's Website

Domain Age
When it comes to SEO results, it's similar to starting a fitness journey. Just as a trainer considers your starting point for designing a fitness program, SEO experts consider factors like your website's domain authority, optimization, and relevant content. The age of your website and the frequency of newly published pages also play a role. It's important to set realistic expectations.
For instance, an important ranking factor to consider is the age of a website. Websites that rank in the top 10 are typically at least 2 years old, while those that secure the coveted top 1 ranking are often 3 years old or more. This is because Google understands and values the reliability and trustworthiness that comes with age.
High domain authority also plays a pivotal role in SEO success. Websites with high domain authority are seen as more trustworthy and credible by Google, especially in sensitive areas like law services. This is why around 95% of newly published pages don't reach the top 10 within their first year. However, with the right SEO strategy, some may achieve this feat within two-to-six months.
This doesn't mean that a small law firm can't succeed in its SEO efforts. On the contrary, small law firms can still achieve high rankings with a well-planned and executed SEO strategy. However, it's important to understand that patience and a long-term approach are crucial for SEO success. The age of the domain and its authority should be considered when setting up an SEO strategy, as these factors can significantly influence the effectiveness of the SEO efforts.
There are many factors that go into creating the perfect domain. Discover the secrets to selecting the perfect domain for your law firm.
---
3/6 factor
3. The Required Effort for a Successful Lawyers' SEO Campaign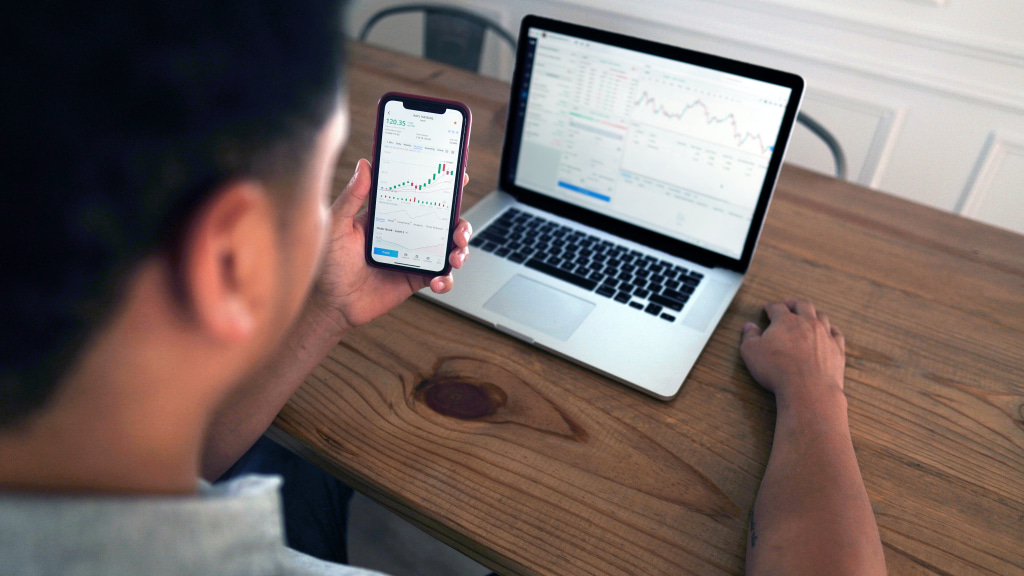 The amount of effort and resources invested in your SEO process is a critical factor in determining the speed and effectiveness of your results. This includes not only financial resources but also time and expertise. How much effort, money, and time are you willing to allocate to your lawyers SEO campaign?
For instance, if you're considering setting aside $500 per month, it's important to understand that this may not be sufficient to develop a comprehensive strategy, create and publish high-quality content, and engage in other crucial SEO activities such as building links.
Hiring an expert SEO company can be a significant investment, but it's often necessary for successful SEO. These companies have the expertise to optimize your website, create valuable content, and build high-quality links that increase your website's authority and visibility in search engine results pages (SERPs).
The effort you put into your SEO campaign can be seen as the number of high-quality materials produced, such as blog posts, articles, and backlinks. Just like in traditional business, the quality and quantity of your output can significantly impact your results.
If you invest more in an SEO strategy— anywhere between $2500-$5000 per month — your website could earn one of those coveted top 5 Google positions much faster. You'll get a lot of well-researched, relevant, keyword-rich, quality content created and distributed to other relevant websites, and more of your prospects will read or watch it.
---
4/6 factor
4. Ensuring High-Quality Content and Proper Keyword Usage
Content creation is vital for SEO, but it goes beyond publishing articles. Marketers must address search intent, and understand why users search. Keyword stuffing is no longer effective; content needs to satisfy user intent, not just use high-ranking keywords. Prioritizing new informative content through a blog benefits SEO. Blogs are easily shared and provide a constant stream of fresh information favored by Google's algorithms.
Unique content on your site helps secure multiple positions in SERPs, rank for more keywords, and reach a broader audience. Committing to content marketing and integrating a blog into your website will expand your SEO opportunities and improve your online presence.
When creating content, keep the following in mind:
| Principle | Description | Example |
| --- | --- | --- |
| Answer User Queries | Your website content should directly answer the search terms used by potential clients. | If your keyword is "family lawyer in Texas," your site should provide detailed information about your family law services in Texas, answering potential questions like your location, practice areas, pricing, and reputation. |
| Keyword Optimization | Your content should be optimized with relevant keywords to help search engines understand your site's focus. | If you're a family lawyer in Texas, you should include this keyword in your title tags, description tags, headings, subheadings, paragraphs, and the page's URL. |
| Variety of Content | Your site should feature a variety of content that addresses different keywords within the same category. | If your primary keyword is "family lawyer in Texas," create content around variations like "best family lawyer in Texas" or "affordable family lawyer in Texas." |
Explore effective strategies to create compelling content for your law firm's website.
---
5/6 factor
5. Inbound Links and Off-Page Citations.
Inbound links, known as backlinks, occur when another website links back to your site. A website with many backlinks signals to Google it's of high quality; therefore acquiring links is an important element of SEO. Conversely, sites with only a few links will struggle to remain competitive.
Essentially, Google realized the only way to know if a site is worthwhile is to find out how many people are talking about it and what they're saying. A website's backlink profile with high-quality backlinks for lawyers improves ranking, increases referral traffic, and promotes brand awareness.
Like SEO, link building takes time because you only really want high-quality links from authoritative, trustworthy, and related websites. If your website is new, backlinks will be the only links to your website's pages and are crucial to Google's understanding of your website content.
Unfortunately, there aren't magic shortcuts, and building a backlink profile takes time and work. Page targeting a competitive keyword can take anywhere from two to six months to increase its ranking from backlinks. Be patient and over time, you'll find yourself at the top of the search results page.
Inbound links are only one factor of inbound marketing attorneys can engage in. Unlock the power of inbound marketing strategies for law firms.

Need a high-performance website for your company?
Book a 15-min call to discuss
---
6/6 factor
6. Technical SEO
Technical SEO is a crucial aspect of SEO for law firms, significantly impacting their online performance. It essentially measures how well your law firm's website is optimized for search engine crawling and indexing, encompassing factors like site speed, mobile-friendliness, security, and sitemaps.
Given its complexity, many law firms opt to hire an SEO expert to ensure their website meets all the technical SEO requirements. Here are some key points to consider:
Google's Guidelines: It's important to ensure your website adheres to Google's Webmaster Guidelines, which provide valuable tips on technical SEO.
Website Speed and Mobile-Friendliness: Your website should load quickly (ideally under 2.5 seconds) and be optimized for various screen sizes, particularly mobile devices.
Navigation: A well-structured, easy-to-navigate website not only benefits users but also helps search engine bots find and understand your pages. This can be achieved by creating simple menus and frequently linking to other important pages on your site.
Initial Setup: A strong technical SEO foundation from the outset can save you from future stress, especially if your website is relatively small.
More SEO tips
Top 17 Tips to Improve Your Law Firm SEO
So, you'd love to get those clicks from prospective clients? No problem, all you have to do is increase the position of your law firm website in organic search results. Here's how:
1/17 tip
1. Discover relevant keywords for your law firm.
Keyword optimization is a crucial aspect of on-page SEO for lawyers. Conduct comprehensive keyword research to identify relevant terms and phrases that potential leads may use when searching for legal assistance. You can then strategically incorporate these keywords into your website's titles, headings, meta descriptions, and content.
However, make sure to prioritize user experience and readability. The keywords should flow naturally within the content and provide value to the reader. Avoid keyword stuffing, as search engines penalize such practices.
When you optimize your website with relevant keywords, you increase the chances of appearing in search results when your target audience is searching for legal assistance, driving organic traffic to your site.
Uncover the best keywords for law firms with expert keyword research techniques
Here's an example of legal keywords for various practice areas:
| Practice Area | Keyword Examples |
| --- | --- |
| Personal Injury Lawyers | "personal injury lawyer", "accident injury lawyer", "workplace injury attorney" |
| Family Law Attorneys | "family law attorney", "divorce lawyer", "child custody attorney" |
| Car Incident Lawyers | "car accident lawyer", "auto accident attorney", "traffic collision lawyer" |
| Criminal Defense Lawyers | "criminal defense lawyer", "defense attorney", "DUI lawyer" |
| Immigration Lawyers | "immigration lawyer", "visa attorney", "deportation defense lawyer" |
| Bankruptcy Lawyers | "bankruptcy lawyer", "debt relief attorney", "chapter 7 lawyer" |
To discover additional keywords, you can search through the SERP or utilize one of these tools:
Google Keyword Planner
SEMrush
Ahrefs
Moz Keyword Explorer
Ubersuggest
AnswerThePublic
---
2/17 tip
2. Create High-Quality Legal Content
You might have heard the saying that "content is king." It's true; developing high-quality content is paramount in establishing your expertise and credibility as a lawyer. Create informative and engaging content that addresses common legal questions, provides valuable insights, and demonstrates your knowledge in your field. You can further optimize your content by incorporating the keywords you identified during keyword research.
Use proper headings and subheadings to structure your content and make it easily scannable for readers. Provide accurate and up-to-date information that's relevant to your target audience.
Consistently publishing high-quality content allows you to enhance your website's visibility in search engines and establish trust with those who rely on your expertise.
Unlock the secrets of successful content marketing for lawyers and learn how to create compelling legal content.
---
3/17 tip
3. Increase Page Load Speed
How quickly your website loads is crucial for user experience and rankings. Slow-loading pages can lead to higher bounce rates, negatively impacting your SEO strategies. For example, you can optimize your website's load speed by compressing images, leveraging browser caching, minifying CSS and JavaScript files, and ensuring you have a reliable hosting provider.
Regularly monitor your website's performance using tools like Google PageSpeed Insights and Google Search Console to identify and address any speed-related issues. A faster website improves user satisfaction, encourages longer browsing sessions, and increases the likelihood of conversions. Additionally, search engines consider page load speed as a ranking factor, making it essential to prioritize this aspect of on-page SEO.
---
4/17 tip
4. Create a Mobile-Friendly Design
With more people using their mobile devices than ever before, having a mobile-friendly website is critical to your Google rankings. Ensure that your website is responsive and adapts seamlessly to different screen sizes and orientations. You can also test your site on various devices and browsers to guarantee a smooth and user-friendly experience for mobile users.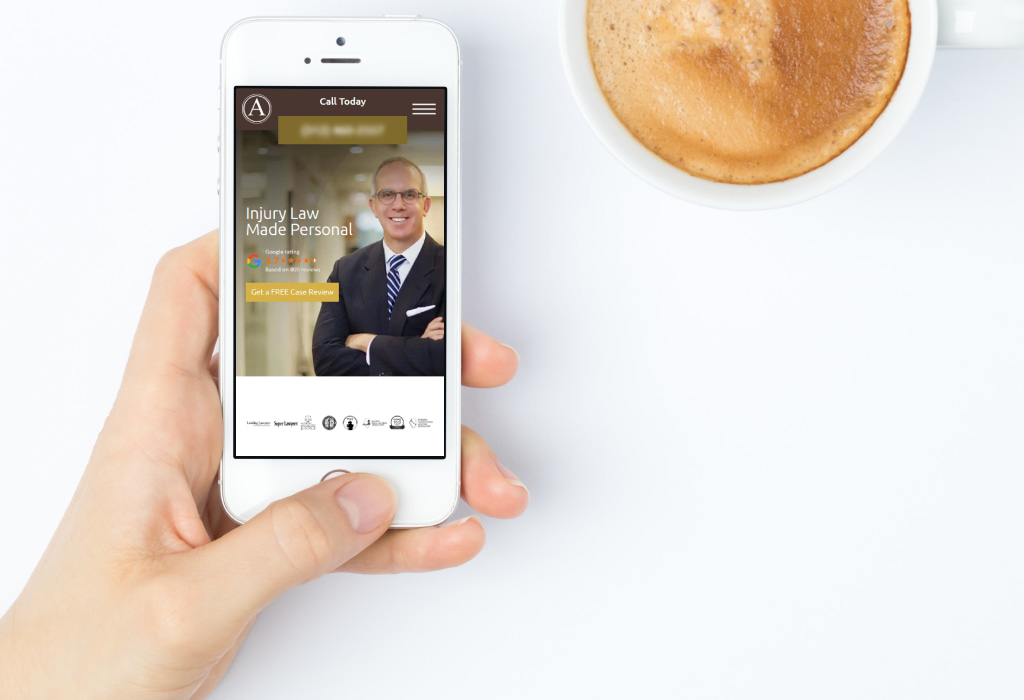 A mobile-friendly design not only improves user experience but is also a ranking factor in search engine algorithms. Websites that aren't optimized for mobile may face lower online rankings and miss out on those who primarily use mobile devices.
By prioritizing mobile-friendly design, you cater to a broader audience and enhance your chances of attracting and retaining clients.
Learn the essential steps to create a stunning law firm website that captivates potential clients.
---
5/17 tip
5. Optimize Title Tags and Meta Descriptions
Title tags and meta descriptions play a significant role in attracting clients to click on your website's search results. This means that your site should have compelling and accurate title tags and meta descriptions. Incorporate relevant keywords while providing a concise and informative summary of the page's content.
Well-crafted title tags and meta descriptions increase the visibility of your website in search results, encourage click-through rates, and improve your overall SEO results. Remember to make them unique for each page, ensuring that they accurately represent the content and entice users to click on your link.
When you optimize title tags and meta descriptions, you increase the chances of driving qualified traffic to your website.
---
6/17 tip
6. Claim and Optimize Your Google My Business Listing
Google My Business (GMB) is a vital tool for local SEO for lawyers. Start by claiming and verifying your law firm's GMB listing on your Google Business profile. Ensure that all the information provided, such as your business name, address, phone number, and website URL, is accurate and up to date. This type of content will appear on Google Maps so you want it to be accurate. You should also select relevant categories that best describe your legal services. Enhance your GMB listing with high-quality images showcasing your office, staff, or legal specialties.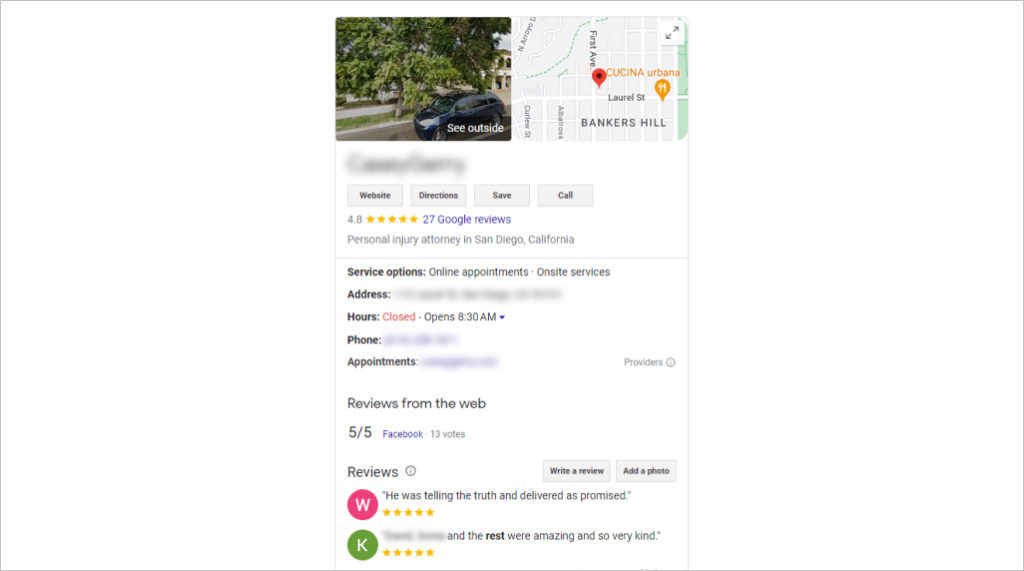 Encourage clients to leave reviews, as positive reviews improve your reputation and boost your visibility in local search results. Optimizing your GMB listing helps search engines understand your firm's location and relevance, making it easier for future clients to find you.
Increase your law firm's visibility in your target market using effective local SEO strategies for lawyers in addition to creating a GMB profile.
---
7/17 tip
7. Track Your NAP Consistency
NAP consistency refers to maintaining accurate and consistent Name, Address, and Phone number information across all online platforms. Your law firm's NAP information should match exactly the information on your website, social media profiles, legal directories, and other online listings.
Inconsistent NAP information can confuse search engines and potential clients, leading to lower local search rankings. Make sure to regularly audit your online citations to correct any inconsistencies and update your information as needed.
Consistent NAP data helps platforms like Google associate your law firm with its location, improving your chances of appearing prominently in local search results and attracting clients who are specifically looking for legal services in your area.
Unlock the potential of accurate NAP listings for your law firm's success.
---
8/17 tip
8. Create High-Quality Localized Content
Developing localized content is essential for targeting your specific geographic area. Create informative articles, blog posts, and landing pages that address local legal topics, laws, regulations, or recent developments that are relevant to your target audience. Incorporate local keywords within your content to improve its local relevance.
By producing localized content, it's easier for sites like Google to better understand the geographic focus of your law firm, increasing the likelihood of ranking higher in local search results. Engaging with the local community and prospective clients through valuable content not only strengthens your online presence but also positions your law firm as a trusted authority in the local legal landscape.
Learn how to create engaging law firm blog posts that resonate with your target audience.
---
9/17 tip
9. Follow Online Reviews and Do Reputation Management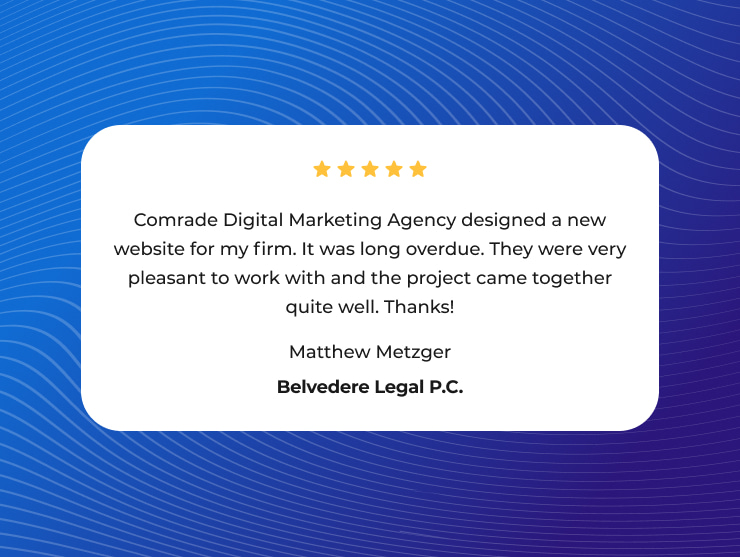 Online reviews have a large impact on local SEO for lawyers. Encourage satisfied clients to leave positive reviews on platforms like Google, Yelp, Avvo, or other relevant directories. Monitor and respond to reviews promptly, both positive and negative, to demonstrate your commitment to client satisfaction. Positive reviews not only enhance your law firm's reputation but also influence local search rankings as they're seen as a trust signal.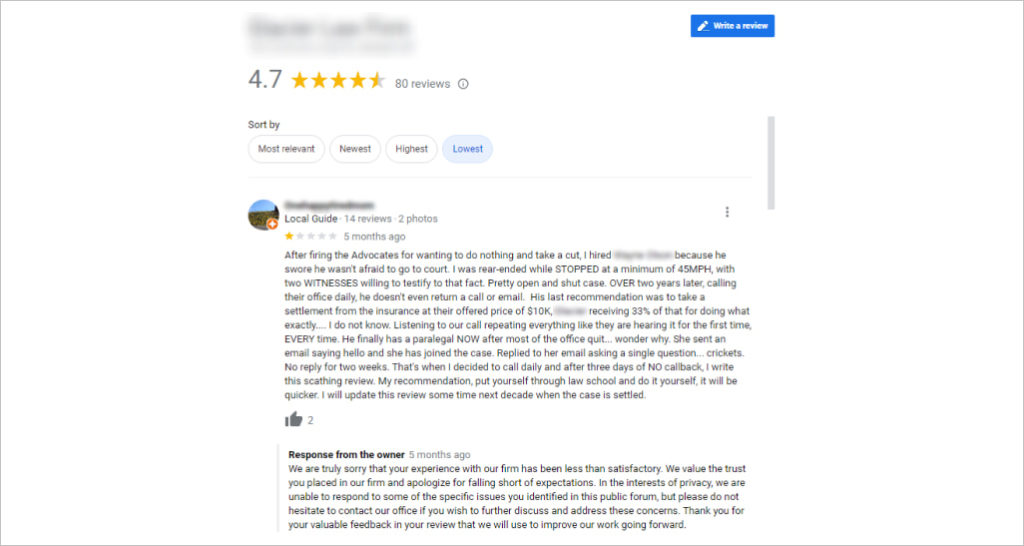 Not all reviews will be positive, so addressing negative reviews professionally and constructively showcases that you're willing to resolve issues and shows potential clients that you value their feedback. Actively managing your online reputation through reviews and responding to them helps build trust and credibility with potential clients seeking legal services in your local area.
Master the art of reputation management to build trust and credibility for your law firm with our in-depth guide.
---
10/17 tip
10. Build Local Citations and Backlinks
Local citations and backlinks play a crucial role in local SEO for lawyers. Local citations refer to mentions of your law firm's NAP information on other websites, such as local business directories, legal directories, or industry-specific websites. Ensure that your law firm's information is accurately listed in relevant local directories, maintaining consistency across all citations.
Acquiring high-quality backlinks from reputable local websites further strengthens your local SEO efforts. Seek opportunities for local partnerships, sponsorships, or collaborations that can generate backlinks to your website. Building a strong network of local citations and backlinks shows search engines that your law firm is reputable and relevant within the local community, positively influencing your local search visibility and attracting potential clients in your area.
Harness the power of local SEO for lawyers and backlinks to strengthen your law firm's online presence.
---
11/17 tip
11. Don't Forget about Link Building
Off-page SEO for lawyers involves building high-quality backlinks from reputable websites. Seek opportunities to acquire links from directories, local organizations, industry associations, or authoritative legal websites. Develop valuable content that other websites find useful and are willing to link to. Collaborate with other professionals in the legal field, contribute guest articles, or participate in legal forums to earn relevant backlinks. Quality backlinks are a sign to search engines that your website is trusted and relevant, which can result in improved organic search rankings.
Unlock the secrets of successful link-building strategies for law firms.
---
12/17 tip
12. Increase Your Social Media Engagement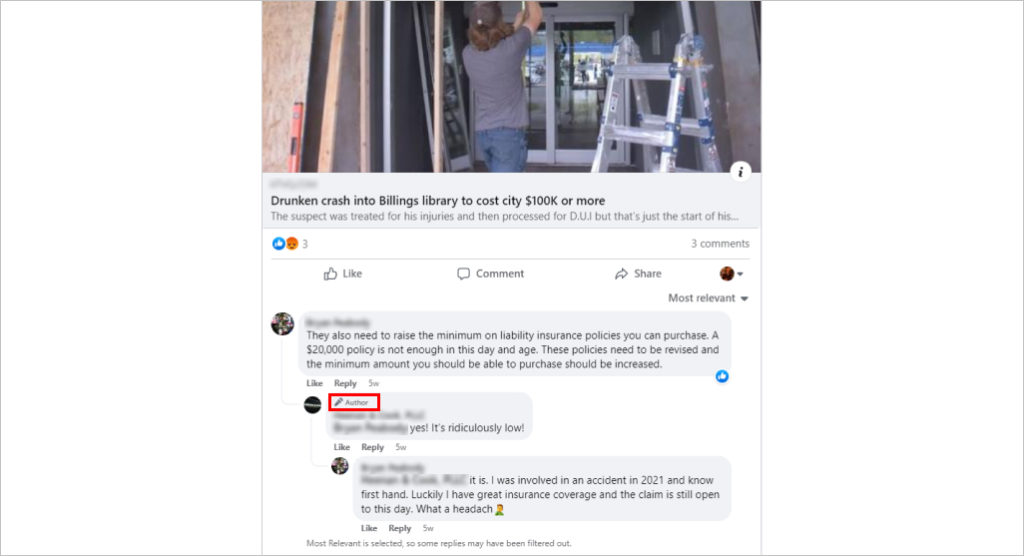 Make sure that you have active engagement on your social media platforms; this is essential for off-page SEO. Create and maintain social media profiles for your law firm on platforms such as Facebook, Twitter, LinkedIn, and Instagram. Regularly share informative content, engage with followers, and participate in relevant conversations. Social media signals can impact rankings and improve your online visibility. A strong social media presence can expand your reach, establish your expertise, and attract potential clients who are active on these platforms.
Harness the potential of social media marketing for lawyers to attract and engage clients with our tried and tested strategies.
---
13/17 tip
13. Get More Local Business Citations
Ensure your law firm's information, including NAP (name, address, phone number), is accurately listed in local business directories, legal directories, and online maps. Consistent and accurate citations across various platforms signal that your law firm is reputable and relevant to the local area. Aim to be listed in prominent directories and local listings that cater to your practice areas. Optimizing your law firm's local citations increases your chances of appearing in local search results when potential clients search for legal services in your area.
Discover the essential tools for efficient local business citation management for your law firm.
---
14/17 tip
14. Engage in Guest Blogging and Thought Leadership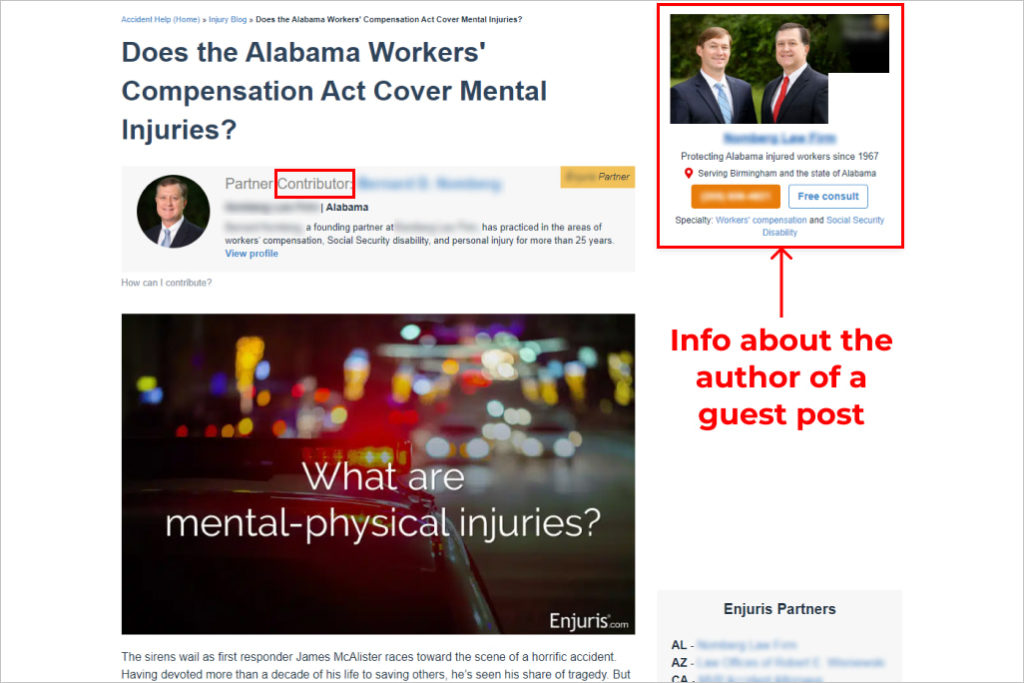 Establish yourself as a thought leader in the legal industry through guest blogging and contributing articles to authoritative legal websites or industry publications. Share your expertise, insights, and legal knowledge to demonstrate your credibility and authority. Guest blogging allows you to reach new audiences, gain exposure, and acquire backlinks to your website. By providing valuable content to reputable sources, you can enhance your online presence, attract potential clients, and improve your law firm's off-page SEO efforts.
Leverage the power of guest blogging to establish your law firm as an industry thought leader.
---
15/17 tip
15. Register for Legal Directories
Legal directories are essential for boosting lawyer SEO as they enhance your firm's visibility, credibility, and trust. Listing your law firm in reputable directories helps increase exposure to potential clients searching for legal services. Local directories boost local SEO efforts, helping your firm appear in relevant local search results. Being listed in respected directories establishes professionalism and expertise, attracting clients. Plus, backlinks from these directories improve your website's authority and search engine rankings. Niche directories allow the targeting of specific audiences interested in your practice area.
As we've mentioned, the information in your directory listings needs to be accurate and updated, and you should regularly manage and monitor these listings to maximize their SEO benefits. Legal directories are valuable resources for lawyers looking to expand their online presence and attract potential clients.
We can help you navigate the world of legal directories to increase your law firm's visibility and credibility.
---
16/17 tip
16. Set Up a Proper URL Structure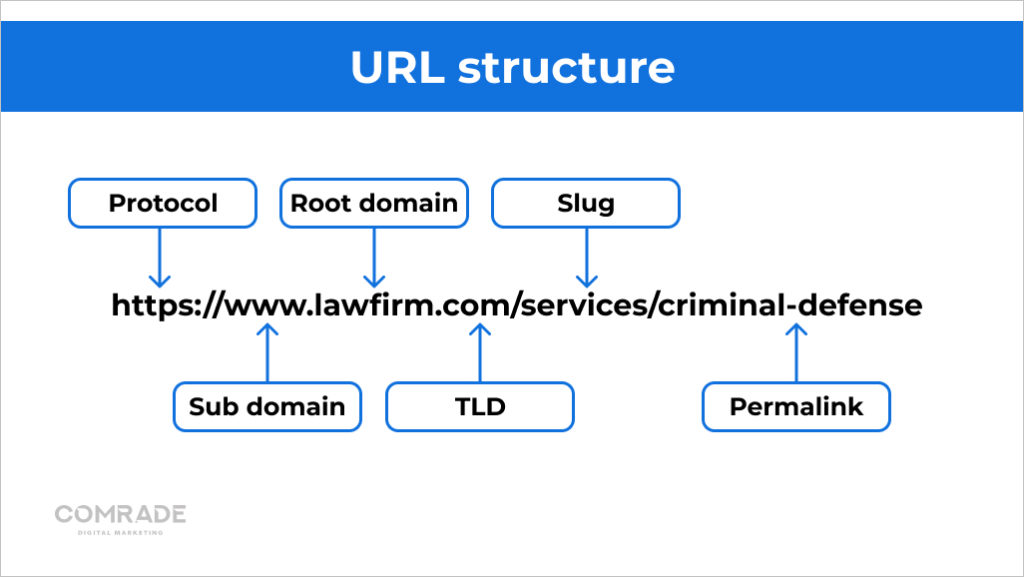 Successful SEO for law firms consists of using descriptive and keyword-rich URLs that indicate the content of each page. Incorporate relevant keywords in the URL structure to improve search engine visibility and user understanding. Be sure to avoid lengthy or complex URLs that could confuse both search engines and users.
Learn how you can optimize your law firm's website URL structure for improved search engine rankings.
---
17/17 tip
17. Implement Schema Markup
Implement structured data markup, such as Schema.org, to provide search engines with additional information about your law firm's website. This helps them understand and categorize your content more accurately, potentially leading to enhanced search visibility and rich snippets in search results.
In our guide, we discuss how to implement schema markup for your law firm's website to enhance search engine visibility.
Comrade Digital Marketing Agency can help you with the above if you're unsure how to go about it. Schedule a free consultation.
---
Important: How to Measure ROI on SEO for Law Firms (With Examples)
It's not enough to just make changes for search engine optimization, you also need to know what works and what doesn't if you want to succeed in the legal industry. That's why it's crucial to know how you calculate ROI for lawyer SEO. Сalculating SEO ROI is similar to calculating any other business investment. To measure SEO efforts successfully, you need to have specific goals. For example, an objective cannot simply be "increase conversions" it has to be "increase conversions by 40%." Let's take a look at common SEO strategies to measure your web pages' SEO ROI.
In this blog, we thoroughly discuss the significance of measuring marketing ROI for the success of your law firm.
Important Benchmarks in ROI for Legal SEO
Start by establishing the right benchmarks (preferably before your SEO agency implements SEO). There are many digital marketing goals you can achieve with an SEO strategy, such as receiving higher organic search traffic, improving brand awareness, customer acquisition, and actual revenue.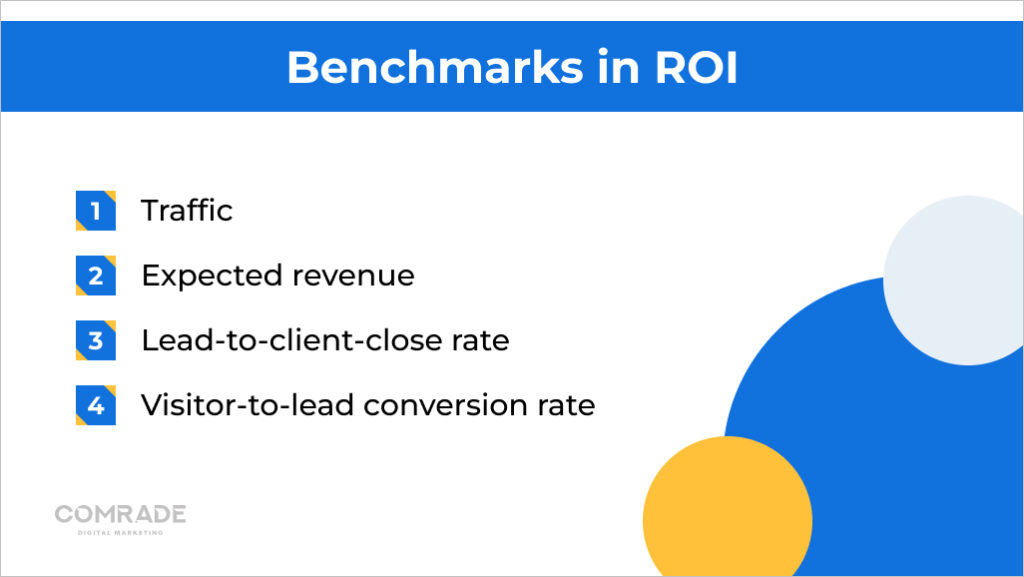 Whether you're executing your SEO campaign internally, or outsourcing SEO services, the benchmarks below will help you evaluate success.
Traffic: The number of website visitors you receive monthly.
Visitor-to-lead conversion rate: The percentage of visitors who come to your website and are captured as leads. This metric is an indicator of your ability to attract the right organic traffic.
Lead-to-client-close rate: Also called a sales conversion rate, this metric showcases the proportion of qualified leads of a company that result in actual sales.
Expected revenue: This refers to the forecast amount of dollar value your law firm will earn from sales and services.
---
A Basic Legal SEO ROI Formula
There are many tools you can use, like Semrush or Google Analytics, to derive metrics that help measure the ROI of SEO. Some offer insight into organic traffic, while others look at search engine rankings or conversion tracking.
The tools you use to measure SEO ROI depend on the key performance indicators of your digital marketing strategy for law firm SEO.
A basic SEO ROI formula might look something like this:

(Gain from Investment—Cost of Investment) / Cost of Investment
You should calculate the expenses of your Search Engine Optimization for lawyers' investment to get your "Cost of Investment," and then reference whatever platform you use to get your "Gain from Investment."
When determining SEO cost, you need to include agency outsourcing or in-house management, as well as SEO software tools and platforms used.
---
SEO Strategy Goals for Increased ROI
Once you have clear benchmarks, you can set clear goals. For example, if you're currently acquiring four new clients from your website per month, and the revenue per client is $5,000 on average, then your website brings in approximately $20,000 of business per month.
Say you want to get to $100,000 per month, now you need to get 20 clients. An expert digital marketing company with a focus on SEO for law firms can tell you if that's a realistic goal, and then create a roadmap, including an appropriate marketing budget estimate, that'll get you from point A to point B.
Working with SEO experts offers a distinct competitive advantage. In the legal industry, in-house resources are often unequipped to deal with the daily demands of paid advertising, SEO campaigns, and social media marketing channels. Over 62% of law firms outsource their marketing efforts for this very reason.
---
How to Track SEO Results for Better ROI
Many fly-by-night marketing agencies provide no SEO ROI. Any reputable marketing company that offers SEO work should provide consistent and detailed performance reports of how your website and marketing content are performing online.
Each report should examine advanced web ranking, website traffic, organic conversions, and any other benchmarks you have deemed necessary to measure. Additionally, these results should be derived from reliable sources, such as Google Analytics data.
Be prepared to report back to your marketing agency, telling them how many new clients you've received, and the revenue you've generated.
In summary, a good SEO report that delivers marketing ROI should stipulate:
SEO progress made
What marketing tactics have been implemented and their impact
Further SEO recommendations to drive revenue growth
---
An Example of the ROI for Law Firm SEO
Let's say you're spending $5,500 per month, $66,000 per year. For the first three to four months, you see no difference in case flow.
For months five to seven, you sign up six clients monthly (and can track the two additional clients per month back to the marketing efforts). In months eight to 10, you sign up nine new clients monthly. And, in months 11 to 12, you get 12 new clients per month. That's three new clients per week!
So, for an SEO investment of $66,000, you signed 37 new clients. Considering an average client value of $5,000, you generated a 280.3% return on your investment in year one.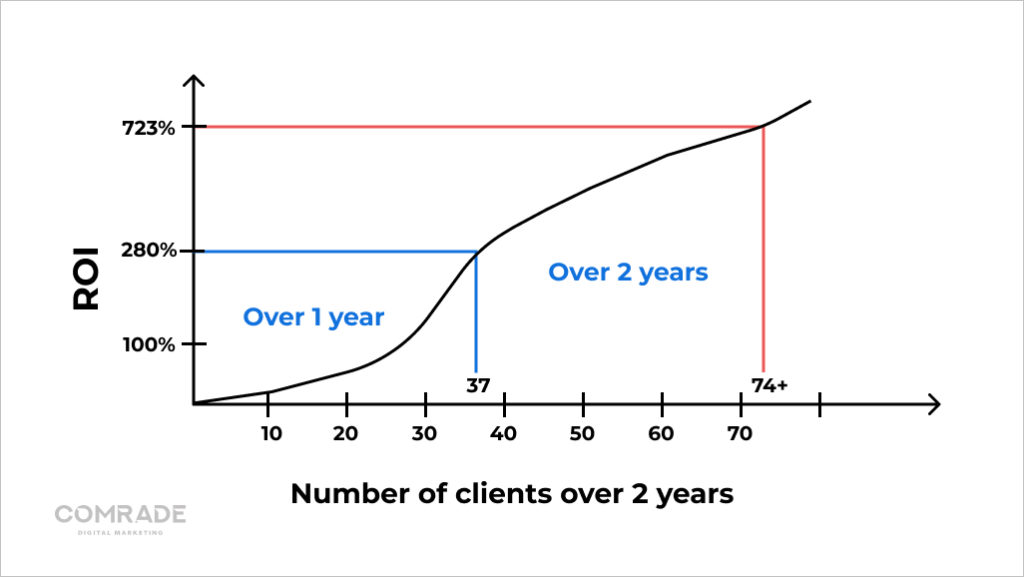 Things should considerably pick up in year two. Even if you stay at the twelve clients per month level, your ROI on $66,000 in marketing spend will be 727.3%. Not too shabby.
However, there's a common SEO ROI pitfall to consider: Many attorneys become disheartened within a few months because they do not see the positive ROI results they want, and are spending money they'd rather keep.
Although it can be hard, it's best to keep your cool and be patient – SEO is a marathon. Review monthly SEO reports from your marketing experts and look for positive trends. You should see an increase in organic traffic and the results of conversion optimization start to pay off within three to four months.
After two to three quarters, you'll have an excellent grasp of the average value you're getting for your money.
---
Why Does Calculating ROI on SEO for Attorneys Matter?
Having an accurate idea of the ROI of SEO is powerful. This data can be used to get further buy-in for additional investment, showcase digital marketing success and, of course, inform the SEO campaign's further development.
---
How Is SEO Changing in 2023?
SEO for law firms changes as Google's algorithms become smarter, devices upgrade and consumer behavior adapts. This year there are a few SEO trends to be aware of:
Increased Voice Search
More than 41% of adults use voice search at least once per day, which is altering keyword usage. Improving SEO in this specific area entails using longer, conversational phrases. When people type, they tend to abbreviate, which is different from how they naturally speak.
---
The EAT Principle
Google likes content that adheres to the EAT principle. It uses expertise, authoritativeness, and trustworthiness to determine whether content should rank in SERPs. EAT isn't an algorithm; it's a concept in Google's Search Quality Guidelines that's become increasingly dominant in recent years.
---
More Structured Data and Rich Snippets
Schema markup is a coding vocabulary that helps Google better understand and extract content from your law firm's web pages to showcase as rich snippets. These are Google search results enhanced with additional data like images or reviews, for example.
Rich snippets can place your website above the first organic result, even if it doesn't rank on the first page of SERPs. Because people prefer to click on results that provide them with information, rich snippets have a higher click-through rate, and they increase website traffic.
---
New Trend: The Use of AI for Lawyer SEO
Artificial intelligence (AI) has revolutionized various industries, and its impact on search engine optimization (SEO) for lawyers is important to consider. AI refers to the development of computer systems that can perform tasks that typically require human intelligence. In the context of SEO, AI technology enables machines to analyze vast amounts of data, identify patterns, and make data-driven decisions to optimize websites.
AI in SEO involves algorithms and machine learning techniques to enhance the effectiveness and efficiency of SEO strategies. It helps sites like Google to better understand user intent, improve search result accuracy, and deliver more relevant and personalized search results. AI algorithms continually learn from user behavior, adapt to changes in search engine algorithms, and provide better user experiences.
Discover the secrets to effective law firm copywriting and elevate your online presence.
Definition of AI in the context of SEO for lawyers:
In the context of SEO for lawyers, AI refers to the implementation of artificial intelligence techniques and technologies to improve the online visibility and search engine rankings of law firm websites. It involves leveraging AI algorithms, machine learning, and natural language processing to optimize content, enhance user experience, and drive organic leads to legal websites.
AI in SEO for lawyers enables law firms to stay competitive in the digital landscape by effectively targeting relevant keywords, creating quality content, optimizing technical aspects of their websites, and improving user engagement. It helps law firms gain a competitive edge by utilizing data-driven insights and automating certain SEO processes.
With AI in SEO for lawyers, law firms can analyze large volumes of legal content, identify trends and patterns in user search behavior, and tailor their SEO strategies accordingly. It allows lawyers to focus on providing valuable services while relying on AI technology to enhance their online presence, reach a wider audience, and attract potential clients.
---
Understanding AI-powered Keyword Research for Lawyers
AI-powered keyword research tools have become invaluable for lawyers in optimizing their online presence. These tools utilize AI algorithms to analyze large amounts of data and identify relevant keywords with high search volumes and low competition. By understanding the language and intent of legal users, AI-powered keyword research allows lawyers to use and implement the most effective keywords to target in their SEO strategies. This helps them reach their target audience and attract potential clients.
---
Role of AI in Legal Content Creation
Creating quality content is crucial for lawyers to establish their expertise and attract online visitors. AI plays a significant role in legal content creation by automating certain tasks and enhancing efficiency. AI-powered content generation tools leverage natural language processing and machine learning to analyze legal documents, extract key information, and generate relevant and engaging content. This technology assists lawyers in producing informative blog posts, articles, and website content more efficiently, freeing up their time for other essential legal tasks.
---
AI-based Solutions for Technical SEO for Lawyers
Technical SEO refers to optimizing the technical aspects of a website to improve its visibility and online rankings. AI-based solutions have emerged to address the challenges of technical SEO for lawyers. These solutions employ AI algorithms to analyze website performance, detect and fix technical issues, and enhance website speed, mobile responsiveness, and overall user experience. By leveraging AI in technical SEO, lawyers can ensure that their websites comply with guidelines, resulting in better visibility, increased organic traffic, and improved user satisfaction.
In summary, AI in SEO for lawyers harnesses the power of artificial intelligence to optimize law firm websites, improve rankings, and attract relevant organic traffic. It combines data analysis, machine learning, and natural language processing to enhance the online visibility and success of law firms in the digital realm.
Does your law firm have a plan for growth in 2023?
Request a Law Firm SEO Audit from Comrade
Comrade is a digital marketing company specializing in website design and law firm marketing. Our 10+ years of SEO experience have allowed us to perfect our legal-specific SEO approach and have made us extremely detail-oriented.
We add relevant markup and keywords in titles, images, and heading tags; we optimize your visual content by using keyword-rich descriptions, to name a few, and continuously work on offsite local SEO, and content marketing. SEO for law firms is something that we excel at and we're happy to help develop a tailored plan for you.
Our law firm SEO experts can even advise you with voice searches for lawyers. Call us for a no-obligation consultation and website audit. From there, we can start customizing the most effective law firm SEO strategy for your business.
FAQs
In what cities do you work?
Comrade originates in Chicago, but we worked all around the United States. We can help your business grow and increase revenue whenever you are. We have offices across most major cities in the US. For example, we can offer SEO services in Chicago or Miami. You can even find our SEO experts in Austin! If you want to know more about our Milwaukee SEO company or find out how exactly we can help you, contact us via the phone or email.
How much do law firms spend on SEO?
Generally, small law firms spend between 5-10% and larger firms between 2-5% of their gross revenue on their SEO efforts. Smaller firms tend to invest in aggressive campaigns to capture their market share. More established firms tend to spend less because they're already known. In major metropolises where competition is fierce, the cost of SEO ranges between $2,500 to $3,000 per month.
How many people are searching for lawyers on Google?
Statistically, one in three people seeking legal help will turn to search engines like Google before consulting friends or family. Over 40% of legal clients report using online review sites and directories to vet potential law firms. This number is set to increase as younger, internet-first generations reach their full earning potential.
What to look for in an SEO agency lawyers?
When hiring an SEO agency, make sure they:
Have an impressive portfolio with case studies to back up results;
Communicate honestly and transparently;
Follow realistic, data-driven strategies;
Clearly outline how they're going to develop your firm's SEO campaign;
Provide progress reports that outline how further improvements will be made; and
Have positive reviews and encourage you to get feedback from their past clients.
How long does SEO take to yield results?
Every optimization strategy is different. Generally, companies can expect SEO results to yield an improvement in organic traffic after roughly six months, while the full results become present around 12-24 months. Your website, content quality, and overall niche competitiveness influence how quickly you see results from SEO. It's important to remember that SEO strategies have a compound effect, and they're a long-term goal, not a quick fix.
Why do SEO results take time?
SEO results take time to reflect because they rely on multiple ranking factors. SEO keyword difficulty, competition, inbound links, and domain age all impact a site's ranking. SEO success can take a longer or shorter time depending on how you approach each of these factors. Changes that SEO companies recommend may be small, like metadata updates and technical SEO upgrades, or big, like a full website overhaul. Regardless, faster action brings quicker results. With that said, each step of the SEO process must be given due time to execute. Seeing as though SEO is the foundation of all digital marketing, you want to ensure that your efforts are solid.