There were over 1.3 million licensed lawyers in the United States as of 2022, with a significant percentage specializing in immigration law. The competition for clients for various immigration cases is intense, so standing out from the crowd is beneficial for your immigration law firm.
But more important than just standing out is being found in the first place. If you're not showing up on the first couple of pages of Google results, aren't likely to see your firm at all. You need an effective SEO campaign to ensure you rank higher and drive more qualified traffic to your law firm's website. Search engine optimization (SEO) involves optimizing your website and online content to rank higher on search engine results pages (SERPs) for relevant keywords and phrases. SEO is used by 76% of law firms as a part of their digital marketing plan.
In this comprehensive guide, we'll discuss everything you need to know about SEO for immigration lawyers, including:
The importance of SEO for immigration law firms
How immigration law firm SEO works
Developing an effective immigration lawyer SEO strategy
How long it takes to see results from SEO
Short Summary
SEO is essential for immigration law firms to remain competitive in the industry.
Strategies like keyword research, content optimization, and technical SEO can help improve search engine visibility and attract potential clients.
Tracking performance with KPIs helps identify areas needing improvement to boost online presence quickly.
The Importance of SEO for Immigration Law Firms
Increased visibility and exposure: SEO helps immigration law firms gain visibility and exposure through higher rankings in search engines like Google. This allows them to attract more potential clients searching for immigration lawyers and legal services.
Better leads and client acquisition: Higher rankings in search engines lead to more organic traffic and click-throughs to your immigration law firm's website. This translates to more leads and potential new clients as people searching for immigration attorneys find your firm.
Improve online presence: SEO helps optimize your law firm's website and content to match potential clients' searches. This improves the firm's online presence, making it more discoverable to relevant searchers.
Cost-effective marketing: Compared to other forms of marketing, such as advertising or pay-per-click campaigns, SEO is a more cost-effective way for immigration law firms to attract potential clients. Once an immigration law firm website is optimized for SEO, it can continue to attract traffic and generate leads over time without requiring significant ongoing investment.
Builds credibility and trust: High rankings in search engines for relevant keywords build credibility and trust with searchers. They see the rankings as a sign of your law firm's expertise and authority in the immigration legal field.
Enhanced brand awareness: Consistent rankings for brand names and attorney names over time help improve brand awareness among people searching for immigration lawyers, heightening your law firm's reputation and recognition.
Assists in content marketing: SEO helps promote and drive traffic to your educational and informative blog posts and website content. This establishes the firm as a thought leader on relevant legal topics.
Long-lasting results: SEO produces long-lasting results for immigration law firms. Unlike other forms of marketing that may stop producing results once the campaign is over, SEO helps immigration law firms maintain a consistent online presence and attract potential clients over the long term.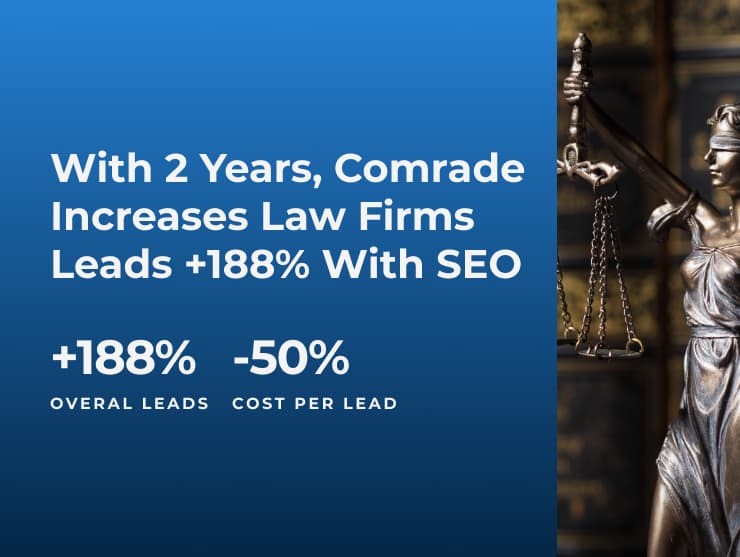 Competitive Landscape
The competitive landscape of immigration law firms can vary depending on the location and size of the firm, as well as the specific services they offer and the target client demographic. However, in general, immigration law firms face significant competition from other law firms and online resources that provide immigration-related information and services.
Large law firms with established reputations and extensive resources may have an advantage over smaller firms, as they can often offer a wider range of services and have more extensive marketing and branding efforts. However, smaller firms may be able to compete by specializing in specific areas of immigration law or offering more personalized services to their clients.
In addition to competition from other law firms, immigration law firms also face competition from online resources that offer immigration-related information and assistance. These resources may include government websites, online forums, and immigration advocacy groups and can be a valuable source of information for individuals seeking to navigate the immigration process.
Digital marketing agencies like Comrade Digital Marketing can help make your firm visible among all the big competition- get in touch today!
Success Stories
Delivering Business Results: Our Digital Marketing Case Studies
Let's get to know
How Does Immigration Law Firm SEO Work?
An immigration law firm's SEO strategy should involve multi-channel marketing to boost search engine rankings and drive organic web traffic. The aim is for your firm to see more visitors from SERPs (search engine result pages) coming directly through their websites. This requires carefully integrating various targeted SEO tactics in your content, directories, website, social media, and more.
On-Page SEO for Immigration Attorneys
On-page SEO refers to optimizing individual pages on a website to improve their search engine rankings and attract more traffic. On-page SEO involves various techniques and strategies focused on improving individual web pages' content, structure, and HTML code. The goal of on-page SEO is to make it easier for search engines to crawl and index a website's pages and to provide a better user experience for website visitors.
There are key elements to on-page SEO that immigration law firms need to know.
Title tag: The title tag is an HTML element that specifies the title of a web page. It should include the primary keyword and be no longer than 60 characters.
Meta description: The meta description is a brief summary of the web page that appears in search engine results. It should include the primary keyword and be at most 160 characters.
Header tags: Header tags (H1, H2, H3, etc.) are HTML elements that indicate the headings and subheadings on a web page. They should include the primary keyword and help organize the content in a logical and easy-to-read structure.
Content: The content on a web page should be high-quality, informative, and engaging. It should include the primary keyword and related keywords naturally throughout the content, but not in a spammy or repetitive way.
URL structure: The URL structure should be search engine friendly, simple, and descriptive, including the primary keyword if possible. For example, a URL like "www.examplelawfirm.com/immigration-services" is more effective than a generic URL like "www.examplelawfirm.com/page.php?id=12345".
Internal linking: Establish a logical internal linking structure to guide users and search engine crawlers through the website. Link related pages together using optimized anchor text, allowing for a better understanding of the website's structure and content relevance.
Image optimization: Images on a web page should be optimized to include alt tags that describe the image and include the primary keyword if relevant.
Mobile-friendly design: The website should be mobile-friendly and responsive, as mobile devices account for significant web traffic.
Schema markup: Implement schema markup to assist search engines in understanding the content of the website better. Schema markup provides additional context, allowing search engines to display rich snippets in search results, such as star ratings or reviews.
Page speed: Optimize the website's loading speed by minimizing file sizes, leveraging caching techniques, and optimizing code.
Comrade Digital Marketing Agency can help you with the above if you're unsure how to go about it. Schedule a free consultation.
Keyword Research and Analysis
Keyword research identifies the words and phrases people will likely use in their search for immigration attorneys. This research helps determine the keywords to target and create relevant content around. For immigration attorneys, some example keywords might include "immigration lawyer," "green card attorney," "visa consultant," or "deportation defense."
Here are some tips for conducting keyword research and analysis for immigration attorneys:
Start by brainstorming a list of potential keywords related to your immigration law practice. This can include keywords related to your services, target audience, and geographic location.
Use a keyword research tool to help you identify relevant keywords with high search volume and low competition. Some popular keyword research tools include Google Keyword Planner, SEMrush, and Ahrefs.
Once you have a list of keywords, analyze them to determine which ones are the most important for your law practice. Consider factors such as search volume, CPC, and competition.
Use keywords throughout your website, including title tags, meta descriptions, headers, body copy, and images.
Optimize your website for mobile devices. More and more people are using their phones to search for information online, so ensuring your website is mobile-friendly is important.
Additionally, you can also use long-tail keywords specific to immigration law across all networks.
What Are Long-Tail Keywords?
Long-tail keywords are longer, more specific phrases with lower search volumes that are less competitive but can be highly targeted to a particular audience.
Long-tail keywords are phrases like:
Immigration attorney specializing in H-1B visas in New York
Immigration lawyer near Los Angeles
How do I obtain a green card?
Immigration lawyer for green card application in Chicago
Content Creation and Optimization
Content creation and optimization is an important component of immigration law firm SEO. Immigration law firms can create a variety of content that is informative, engaging, and relevant to their target audience. Here are some examples of content that immigration law firms can make:
Blog posts: These can cover various topics related to immigration law, such as changes in immigration policies, visa application processes, deportation defense strategies, and more.
Infographics: These can be a visually appealing way to present complex information related to immigration law, such as visa application timelines or the process of obtaining a green card.
Videos: These can effectively engage potential clients and provide valuable information. Immigration law firms can create videos that explain immigration law concepts, interview clients, or showcase their expertise.
Case studies: These can provide potential clients with real-world examples of how the law firm has helped clients in similar situations. This can help build trust and credibility with potential clients. Just make sure you have client consent before sharing anything!
How to Use AI for Content Tasks
AI, or artificial intelligence, can automate many content-related tasks for immigration law firms. For example, AI tools like ChatGPT can generate topic ideas for blog posts, identify relevant keywords to include in content, and analyze content performance to make data-driven decisions.
AI can also be used to personalize content for potential clients based on their demographics and behavior. For example, AI tools can analyze website visitor data to determine which types of content are most popular among different demographics and then serve personalized content to those visitors based on their interests and preferences.
Technical SEO and Website Optimization
Technical SEO involves various techniques and strategies that improve the website's technical infrastructure, speed, and user experience.
Some key technical SEO factors for immigration lawyers include:
Site architecture: A clear and well-organized website structure makes it easier for search engines to crawl and index the site's pages. Immigration lawyers should ensure that their website has a clear hierarchy of pages and a logical structure, or else risk leaving Google and potential visitors confused.
Website security: Secure Websites (HTTPS) are more likely to rank well in search engines. Immigration lawyers should ensure their website is secure and user data is protected.
XML sitemap: An XML sitemap provides search engines with a list of all the pages on a immigration lawyer website, making it easier for them to crawl and index the site.
Canonicalization: Canonicalization involves specifying the preferred URL for a page, which can help avoid duplicate content issues and improve search engine rankings.
404 pages: 404 pages are displayed when a user tries to access a page that doesn't exist. Immigration lawyers should ensure that their 404 pages are user-friendly and provide helpful information to users.
Local SEO for Immigration Lawyers
Local SEO refers to strategies that aim to improve the visibility and relevance of an immigration law firm in local search results for people searching for immigration legal services within a specific geographic area or location.
The main goals of local SEO for immigration lawyers are:
Attract more clients searching locally – People searching for an "immigration lawyer near me" or a lawyer in their city/state.
Show up in local maps listings – Like the "local pack" in Google search results and Google Maps for relevant geo-targeted searches.
Rank higher for local keyword phrases – Like "Atlanta immigration attorney," "Dallas h1b visa lawyer", etc., targeting clients within a specific location.
Google My Business and Local Profiles
Google Business Profile (GBP) is a free tool provided by Google that allows businesses to manage their online presence on Google, including their business information, reviews, photos, address, phone number, website, and operating hours. Immigration lawyers can claim a free Google Business Profile and optimize it by adding accurate and up-to-date information about their business. They can also add photos and respond to reviews to increase engagement with potential clients.
Geo-Modified Keywords and Geo-Targeting
Lawyers can improve their chances of appearing in relevant local search results by including location-specific phrases, such as "immigration lawyer in [city name]," into their website content, blog posts, and metadata. Additionally, immigration lawyers can utilize geo-targeting in their online advertising campaigns. Platforms like Google Ads allow them to target ads to specific geographic regions, improving their visibility and ensuring their ads reach their intended local audience.
Legal Directories
Legal directories are online directories that list and provide information about attorneys and law firms, and they're a great way to be seen at the top of search results while you wait for SEO to kick in. These directories provide a platform for lawyers to present their credentials, expertise, and contact information to potential clients searching for legal services. Some popular legal directories include Avvo, FindLaw, Justia, and LawLink. Immigration lawyers should choose reputable directories specific to their legal practice area and ensure their profiles are complete, up-to-date, and well-optimized.
Link-Building Strategies for Immigration Law Firms
Link building refers to getting other websites to link to your website. Links from external sites help improve your ranking in search engines by passing link equity and authority. There are various ways to build links to your website, which we will discuss below.
Acquire High-Quality Backlinks
Backlinks are links from external websites that direct users to your law firm's website. However, it is not just about quantity but also the quality of these backlinks. Search engines value backlinks from reputable and authoritative websites, as they indicate credibility and trustworthiness. Here are a few ways to acquire high-quality backlinks:
Outreach: Reach out to other legal professionals, immigration experts, or relevant organizations to establish professional connections. Collaborate on content or offer to contribute guest articles, as this can result in high-quality backlinks. Don't be shy!
Local Chambers of Commerce and Associations: Join local chambers of commerce or professional associations related to immigration law. They often include website directories where you can obtain backlinks.
Guest Posting and Content Marketing
When you think about link building, the first things that come to mind are guest posting and content marketing. When you guest post, you write an article for another website relevant to your industry. In your article, you can include a link to your website. This is a great way to get your website in front of a new audience and build backlinks.
Consider the following when engaging in guest posting and content marketing:
Research: Identify websites or publications that cater to your target audience and accept guest contributions. Look for platforms that have a high domain authority and a relevant readership.
Quality content: Craft well-researched, unique, and valuable articles that address immigration law-related topics. Focus on providing actionable advice, insights, and solutions to readers' problems.
Author bio and backlinks: In the guest post, include a concise author bio highlighting your expertise and linking to your law firm's website. Avoid over-promotion and prioritize delivering valuable content to establish trust with readers.
Relationship building: Maintain a positive relationship with the website owners or editors you collaborate with. Be professional, responsive, and appreciative of the opportunity. This increases the likelihood of future guest posting opportunities.
Tracking and Measuring SEO Performance
Data, data, data! Analyzing and assessing SEO performance helps determine your tactics' success, allowing for informed decisions that enhance results. This data can be utilized to optimize existing approaches or implement changes to improve outcomes.
Google Analytics and Search Console
Google Analytics and Search Console are Google tools that can help with tracking and measuring SEO performance. Google Analytics provides a wealth of data on website traffic, user behavior, and conversions. With this tool, you can analyze the number of visitors, bounce rate, session duration, and conversion rate. You can also track the traffic source, including organic search, social media, and referral links.
On the other hand, Google Search Console focuses specifically on a website's performance in Google search results. It provides insights into the search queries that drive traffic to your website, the page ranking for those queries, and the click-through rate (CTR) for each page. You can also see how your website performs regarding mobile-friendliness, speed, and security.
One of the key features of the Search Console is the ability to identify and address technical SEO issues. For example, it can alert you to crawl errors, broken links, and security issues that may affect your website's performance in search results. You can also use Search Console to submit sitemaps, monitor backlinks, and identify opportunities for improving your website's search engine rankings.
KPIs for Immigration Lawyer SEO
When it comes to KPIs for immigration lawyer SEO, some of the key indicators to track include website traffic, keyword rankings, lead generation, and conversion rate. Website traffic metrics such as the number of visitors, page views, and session duration can help you understand how effectively your website attracts potential clients. Keyword rankings can show you how well your website ranks in search results for relevant search terms.
Lead generation metrics such as form submissions and phone calls can help you evaluate the effectiveness of your website in generating leads. Conversion rate metrics, such as the percentage of website visitors who become clients, can help you determine the ROI of your SEO efforts.
How Long Does It Take To See Results from SEO?
The amount of time it takes to see results from immigration law firm SEO can vary depending on various factors, including the level of competition for targeted keywords, the size and complexity of the firm's website, and the effectiveness of its SEO strategies. In general, it can take several months to a year or more to see significant results from SEO efforts, as search engines need time to crawl and index the firm's website and evaluate its relevance and authority for targeted keywords. Patience is key!
However, there are several factors that can impact the speed at which results are achieved. For example, suppose the firm targets highly competitive keywords with a lot of search volume. In that case, it may take longer to achieve top rankings. Conversely, if the firm targets more niche or long-tail keywords with less competition, it may see faster results.
It's also important to note that SEO is an ongoing process, and results can improve over time as the firm continues to optimize its website and content and build backlinks and citations.
Get in touch to see how our SEO solutions can take your business to the next level
Conclusion
SEO can benefit immigration lawyers looking to grow their online presence and attract more clients. Immigration lawyers can improve search results and exposure by optimizing website content, acquiring high-quality backlinks, utilizing local SEO strategies, optimizing technical features, and tracking performance. This leads to more website traffic, greater brand awareness, and, most importantly, more client inquiries and conversions.
However, executing an effective SEO strategy requires time, effort, and expertise. Immigration lawyers who want to maximize their SEO results should partner with a professional digital marketing agency like Comrade Digital Marketing. With extensive experience implementing successful SEO campaigns across various industries, Comrade can develop and manage a comprehensive SEO strategy tailored specifically to meet the needs and goals of immigration law practices. Rather than handling SEO internally, immigration lawyers can rely on Comrade's team of seasoned SEO experts to handle all the details.
Free up your schedule and focus on what's most important – providing quality immigration law services to your clients.
Frequently Asked Questions
What is SEO in a law firm?
In a law firm context, SEO, or search engine optimization, refers to optimizing a law firm's website and online content to rank higher in search engine results pages (SERPs). An effective SEO strategy can help a law firm attract more potential clients by making it easier for them to find the firm's website when searching for relevant keywords. An SEO strategy for a law firm typically involves keyword research, on-page optimization, content creation, link building, and ongoing monitoring and analysis.
Where do immigration lawyers make the most money?
The salary of immigration attorneys in California is above the national average, with an annual income of $121,299. This amount represents a 1% higher pay rate than other states due to the large population and complexity of immigration laws which demand more legal services from such professionals. The high requirement for qualified personnel makes this state an attractive place to practice law within this particular field.
What is the best major for an immigration lawyer?
There is no one "best" major for becoming an immigration lawyer. Immigration law is a specialized area of practice that requires a law degree and a deep understanding of U.S. immigration law and policy. However, specific undergraduate majors may be more relevant or helpful for aspiring immigration lawyers, like political science. Majors such as Sociology and Psychology are also invaluable when providing immigrants with optimal solutions for their respective cases—both being pertinent fields that cannot be overlooked if aspiring to become an immigration lawyer.
What are the main components of an effective immigration lawyer SEO strategy?
An effective SEO strategy for immigration lawyers needs to be comprehensive, involving keyword research to find the best search terms, developing content that draws organic traffic in, and technical optimization to avoid missing out on visibility and link building with other related sites.
How long does it take to see results from SEO efforts?
When executing SEO strategies, it is essential to maintain patience and consistency. Results will not show up immediately. It takes approximately 6-9 months for your SEO efforts to bear fruit, so be patient!