Let's get to know
What Makes a Good Website Design for Bankruptcy Lawyers?
Bankruptcy clients consistently solicit legal marketing services online. Bankruptcy law firm websites with little to zero search engine optimization won't rank highly in search engines.
But, technical aspects aside, you also need to have a law firm website design that looks great. And if you want a good website for your digital marketing strategy as a bankruptcy law firm, you need to follow a few simple rules:
Optimize your website, boost your business. Simple as that
1. Be Professional
The first thing your prospective clients have to see is that you are a serious business that will bring results. Have clear outlines of what you do and what your experience in bankruptcy law is. Don't make them sift through your website to find the key information about your business. A well-designed website should convey your law firm's professionalism, high ethical standards, and clear calls to action.
Here're a few tips you can use to build an effective law firm website.
2. Create Clear Branding
Nowadays, the competition is high, so it is important to stand out in the sea of different bankruptcy law firms. One of the best ways to do it is to create a clear and distinct branding. Combined with a well-designed WordPress website development, your bankruptcy firm is sure to make a positive impression on new clients.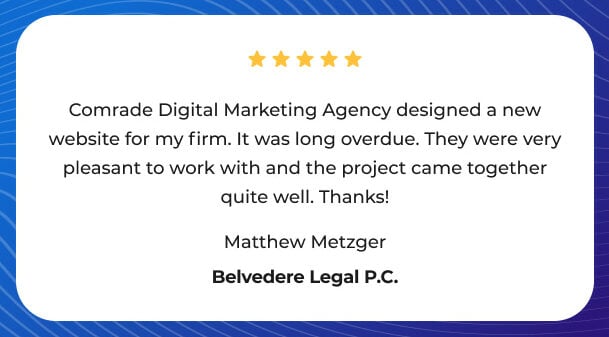 Here's what is law firm branding and how to make it work.
3. Build Authority
Your website is the main driving force for your company. It is not just an information brochure – it is a powerful tool that can bring a lot more clients when used correctly. Linkbuilding, connections to other firms, and a good portfolio help to build a case as to why clients should choose you as their Bankruptcy attorney.
Authority is just one way to bring in new lawyer clients. Here's how you can do it. 
Success Stories
Delivering Business Results: Our Digital Marketing Case Studies
Best Bankruptcy Attorneys Websites, 2024
McSwain, Nagle & Giese P.C.
Clear design that immediately indicates what this firm specialty is and later goes into depth regarding specifics. Clients can go directly to the type of help they need or get some useful information about their services.
Elliot Legal Group
Here you can clearly see the firm's portfolio, accomplishments, and recommendations, which instantly affirms customers they're dealing with a professional.
Law Offices of Robert S. Lewis
Another website that instantly shows you their accomplishments and testimonials, while also displaying a clear structure of supporting pages illustrating their areas of expertise.
Toronjo & Prosser Law
While demonstrating their understanding of the bankruptcy processes, this firm also focuses on their locality that not only helps connect with customers from Dallas but also works in favor of ranking high on search engine results, thanks to local SEO.
The Sexton Law Firm
This firm uses appeals to American sentiments of freedom and defending personal rights to create a good first impression on its website's first page. They also use testimonials, layout their general strategy, and help clients navigate different areas of their specialty.
Moran Law
Having a clear call to action right from the start is certainly a good way to attract attention. And this company instantly strengthens its offer by highlighting its achievements, which provide proof of its effectiveness. Being solution orientated and offering a free consultation is a sure way to attract potential clients.
Bouhan Falligant
A good, slick, and modern web design, that the company doesn't use to hide its flaws, but rather to show its strengths; like its history and highly qualified team of attorneys. Not many firms can allow themselves to create such a stunning website, but it definitely will deliver results and bring in new business.
Ellis|Winters
A very modern type of attorney website design that embraces simplicity. The landing page attempts to spark customers' interests and build authority, while links at the top right provide a lot of in-depth information about the company's practices and attorneys.
Simon Peragine Smith & Redfearn
A bit of the middle ground between all the previous variants. A modern design of the header is followed by a brief description of the firm's competence and accomplishments. They also focus on the local aspect of their work that can really resonate with countless potential bankruptcy clients.
Bienert Katzman Littrell Williams LLP
Occasionally, a simple way can be the best. BKLW doesn't beat around the bush – they describe their track record, their attorneys, and their potential in working for you. Short, to the point, and very effective.
Want to speak with a digital marketing strategy expert?
Will These Websites Help Bankruptcy Law Firms?
All these websites we mentioned are more than just design. They deliver actual results on business objectives for the company and help find information for the user. They work not only for the bankruptcy law firm itself but also for potential clients. Furthermore, they stand out, they are different, as a result, you can get increased traffic for your law firm, more sales, and continue to grow your business. If your bankruptcy law firm ever needs help creating an effective and pleasant design for a website, we, here at Comrade Marketing Agency, are always ready to help you with our bankruptcy law firm marketing expertise.
If you wonder how to build a law firm website that is successful in bringing traffic and revenue then contact us for a free consultation.
In what cities do you work?