Great websites do not magically appear in 30-minutes.
Instead, websites created that fast look like templated carbon copies of every other site on the internet.
Templated sites skip valuable steps in the website design process that make it difficult to later market your site (and by extension your business) to your clients. Who wants that?
The reason is that most carbon copy sites usually miss essential components needed to convert clients.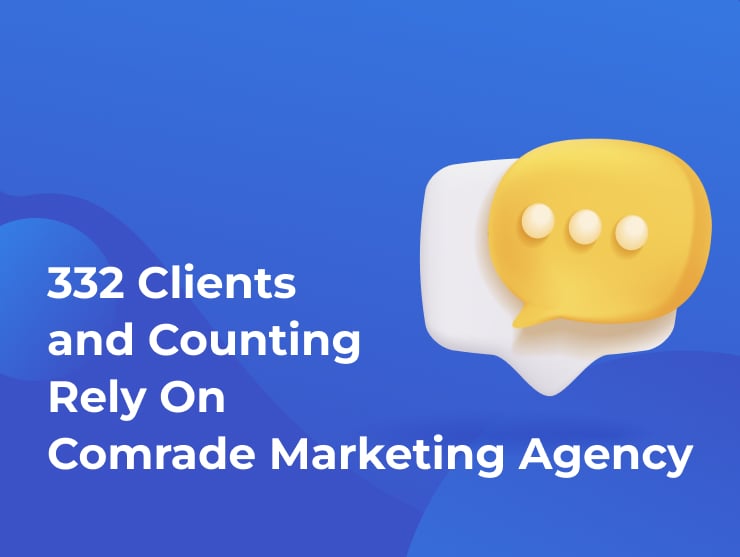 The biggest missing ingredient is a clear sales funnel to generate leads and a search engine strategy to drive targeted traffic.
Now, if you want a business card on the internet, then go ahead and design a website in 30-minutes.
However, if you want a site that generates leads and drives qualified traffic, you need a quality website design process. Fortunately, we spent the last ten years at Comrade perfecting our design process. While the steps below will not create a website in 30-minutes, you can see how large-scale enterprises build their sites to delivers traffic and leads.
After all, you need a website to generate revenue for your company, not a business card that maybe a handful of people will see.
5-Step Guide to a Website Design Process
Every website design process works a little differently. It depends on the expertise of your web design agency (and their web designers) as well as on the type of your business, e.g. if you own an eCommerce store, you better turn to the Top New York eCommerce Development Companies. However, the regular flow of a website design process incorporates the following steps.
1/5 step
1. Set website objectives
The discovery session provides an opportunity to evaluate the strengths, weaknesses, opportunities, and threats (SWOT) of a project before it starts. You probably heard the statement begin with the end in mind. The discovery session helps us create a website with your goals in mind.
During your discovery session, we sit down with you one-one to:
Discuss your project goals
Explore current website challenges
Identify and remove concerns about the website
Research your industry and competition
Review the website branding guidelines
2/5 step
2. Create compelling website content
Before we design the website, we need the website content. Yes, content, internet marketing, and web design are tightly connected. The words on the page affect how you layout the site, so designers prefer to design a website around the current website copy. The copywriter can:
Write copy that fits your company's objectives and values
Optimize content for search traffic
Choose client photos & logos to place near the content
3/5 step
3. Design a results-oriented website
Once the copywriter finishes, the design starts. At this point in the website design process, it is time to:
Decide on the color palette and visual style
Choose the final images that match your brand positioning
Layout the website navigation
Showcase your unique story
Create a buyer's journey, so your visitors become clients
4/5 step
4. Develop a responsive website
The design is the front of the website. However, so much happens behind the scenes for a website on the back end of the website. Your customers never pay attention when your site works, but you never hear the end of it when your site breaks.
To ensure you have a smooth, responsive website we:
Integrate Content Management System (CMS) into your site
Develop functionality (forms, e-commerce, layout, sitemap, social media, etc.)
Improve the load time, so your website runs fast
Optimize your website for search traffic
Install a mobile responsive site
Add accessibility features, so those with disabilities can access your site
Connect the website to third party applications like Google Search Console, Amazon Web Services, Hubspot, and Facebook Pixels
5/5 step
5. Test your website to make sure it works
Once you finish the site, the real work begins. If you want to make sure the launch goes smoothly, you need to test everything first. Here are a few things you should review before launching your site to the public.
Inspect website in multiple browsers and devices
Configure hosting environment
Test website links and navigation to confirm they work
Double check content for spelling, grammar, and clarity
Check images for size and alt-text tags
Confirm the page formatting is universal (E.X. font sizes and colors)
Turn on the site cache, minify pictures, & connect images to a CDN
Fill out all forms and complete the lead generation process to make sure prospects receive the information they requested
Launch website
Final thoughts
There you go! You now have a website design process that can help you build the site your company needs to compete and thrive online and have simplified web marketing for your SEO specialists. However, knowing the process, and understanding how to use it for your business are two completely different things. If you want to leverage this website design process for your business, please contact our team of internet marketing, website design experts today for a free consultation.
Frequently Asked Questions
What is website design in digital marketing?
Website design is essentially the process of creating websites, according to the tech terms computer dictionary definition. The process includes a number of factors, including website layout, color choice, fonts, graphics, and content creation.
What is the difference between digital marketing and web design?
Sales and profits are the priorities of marketing, whereas functionality and appearance are those of web development. In order for a developer to create the desired website, a digital marketer outlines a brand's objectives and prerequisites.
In what cities do you operate?